Planning a trip to the capital city of Ireland? With many things to do in Dublin, this city is the country's chief port, the center of financial and commercial power, and the seat of culture.
Known for its friendly citizens and party culture, Dublin is split north and south by the Liffey river, which is also the source of water for the Guinness Brewery to which it is home. If you're not a beer fan theres plenty of gin distilleries and whiskey tasting experiences!
With connections to literature, Dublin is home to one of Europe's most prestigious universities – Trinity College. The university was the stomping ground for literary heavyweights such as Jonathan Swift, James Joyce, Samuel Beckett and Oscar Wilde, whose well-worn words still linger down the city's cobbled streets today.
Whether you want to go on a storytelling pub crawl or you want to get lost in the picturesque towns, Dublin has a little something for everyone.
I had the honor of living in Dublin for a year and a half and it will FOREVER be one of my favorite cities in the world!
Best things to do in Dublin
Wondering where the best things to do in Dublin? If you're looking for one of the friendliest countries on earth, then look no further than Ireland. There must be something to the rolling green hills, castles, whiskey, rain, Guinness beer, and rugged coastline as it draws millions of visitors!
1. Learn about religion at Cheaster Beatty Library
At Dublin Castle, You will find a library filled with more than 20,000 manuscripts, rare books, miniature paintings, clay tablets, costumes and other objects of artistic, historical and aesthetic importance.
The collection was owned by mining engineer Sir Alfred Chester Beatty (1875–1968). The Artistic Traditions Gallery on the 1st floor begins with memorabilia from Beatty's life. The Sacred Traditions Gallery on the 2nd floor gives a fascinating insight into the rituals and rites of passage of the major world religions – Judaism, Christianity, Islam, Buddhism, and Hinduism.
Address: Dublin Castle | Admission: Free
2. Find Bambi at Phoenix Park
Photo Credit: @macare.nna via Instagram
Boasting over 40,000 acres of desert and mountain parks and preserves, Phoenix is the place for hiking aficionados.
If a crowded trail isn't your thing, the city offers plenty of lesser-known trails that offer tranquil, breathtaking views of the town. Home to a herd of deer, the city's zoo and the president of Ireland's official residence, Áras an Uachtaráin. Phoenix Park is the largest Park in Europe.
Admission: Free
3. Explore Dublin Castle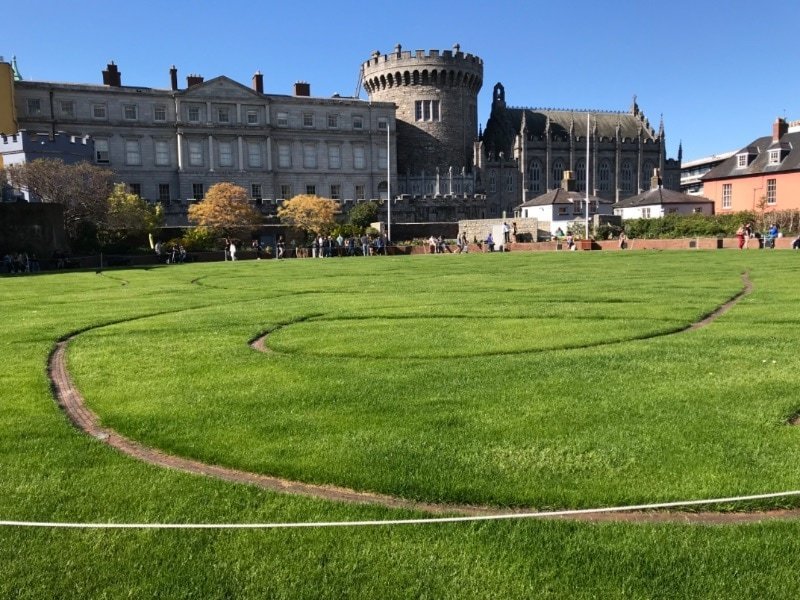 Visiting the iconic castle should be on every "things to do in Dublin Itinerary"!
Erected in the early thirteenth century on the site of a Viking settlement, Dublin Castle served for centuries as the headquarters of English, and later British, administration in Ireland. In 1922, following Ireland's independence, Dublin Castle was handed over to the new Irish government.
4. Go for a tasting at the Irish Whiskey Museum
Learn about the origins of Irish whiskey, its rise to glory, its dramatic fall and of course, the current revival of new Irish whiskeys. Explore different rooms with Irish whiskey memorabilia dating back to the 1800s.
A shebeen (Irish: síbín) was originally an illicit bar or club where excisable alcoholic beverages were sold without a license.
Whether you're a whiskey connoisseur or just love the culture of Dublin, this museum is ultra-modern and stands out among the crowd. You will learn about the true magic of making whiskey and why Irish whiskey is triple distilled.
Address: 37 College Green | Admission: Each tour is different. More information at irishwhiskeymuseum.ie
5. Have a pint at the Guinness Storehouse
A trip to Dublin would be incomplete without a trip to Ireland's most popular attraction.
The journey starts with a tour of the storehouse, learning how to pour the perfect pin and ends with a pint of the Black Stuff in the world-famous rooftop Gravity Bar. Admission: +-€20 (You get a discounted ticket if you book online. Discounts start from 25% and are applied based on the timeslot and day tickets are booked.)
6. Say a prayer at St. Patrick's Cathedral
Built-in honor of Ireland's patron saint, the Cathedral is opposite the famous well where St Patrick is believed to have baptized converts on his visit to Dublin. It's the National Cathedral of the Church of Ireland and dates back to 1220.
Admission: €7 per adult
7. Tour Jameson Whiskey Distillery
Dublin is home of Jameson since 1780, the Bow Street distillery in Smithfield is the place to go to learn more about whiskey and wash it all down with a tasting experience.
Admission: €20 adults | €16 students
8. Book of Kells at Trinity College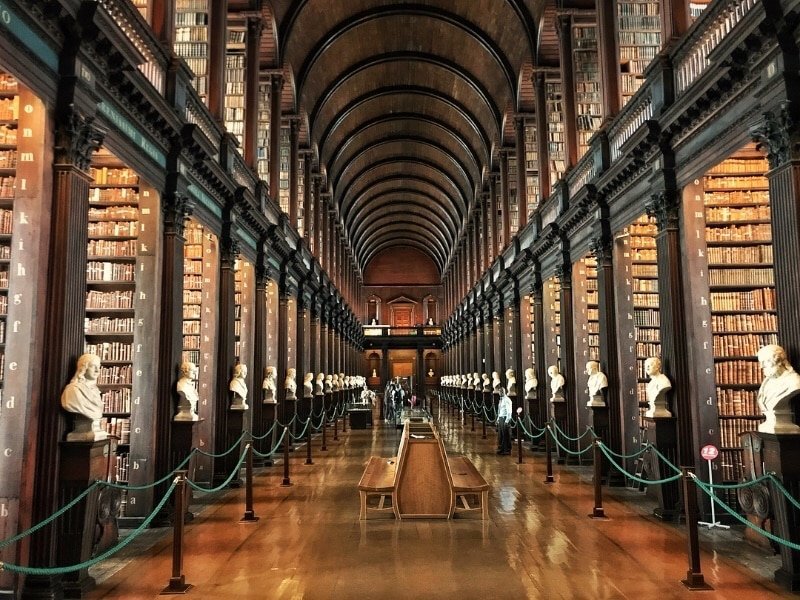 Literary junkies will rejoice as they browse the well-stocked stacks at this library.
Open since the middle of the nineteenth century and located inside Trinity College, the Library carries new and used books beyond your wildest dreams, including the manuscript of the 4 Gospels of the New Testament, created around 800 AD, also known as the Book of Kells. Any 21st-century version of Beauty & The Beast's Belle would feel right at home here.
9. Visit Kilmainham Gaol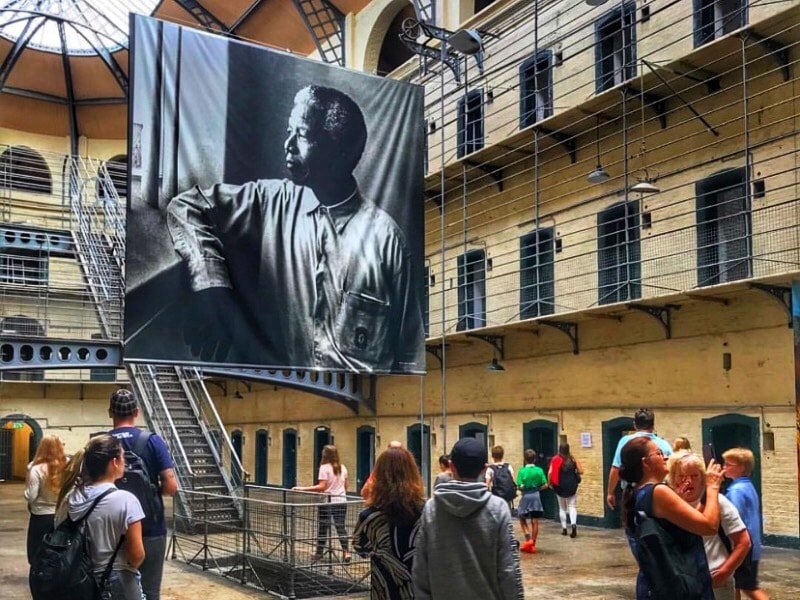 It's an eerie, yet intriguing visit as it was a prison that operated from 1796-1924.
Many of Ireland's most "rebellious" criminals were incarcerated here as well as children as young as 7 years old for petty thefts.
10. Get a history lesson at The National Gallery of Ireland
The National Gallery of Ireland is one of the best ways to spend an inclement afternoon in Dublin.
It holds the national collection of European and Irish fine art. The collection dates back to the mid-19th century and includes 14,000 artworks: 2,500 oil paintings, 5,000 drawings, 5,000 prints, and some sculpture, furniture and other works of art.
Take a free audio guide from the information desk or take a free tour to properly immerse yourself in the European and Irish masterpieces.
Address: Merrion Square West| Admission: Free
11. See the Hugh Lane Gallery
Operated by Dublin City Council and its subsidiary the Hugh Lane Gallery Trust.
It houses one of Ireland's foremost collections of modern and contemporary Irish and international art. With over 2000 works of contemporary and modern art.
The main attraction is the painter Francis Bacon's studio which was relocated in its entirety from London and gives an incredible insight into the cluttered, haphazard nature of the artist's method.
Address: Charlemont House, Parnell Square N | Admission: Free
12. Stroll through St. Stephens Green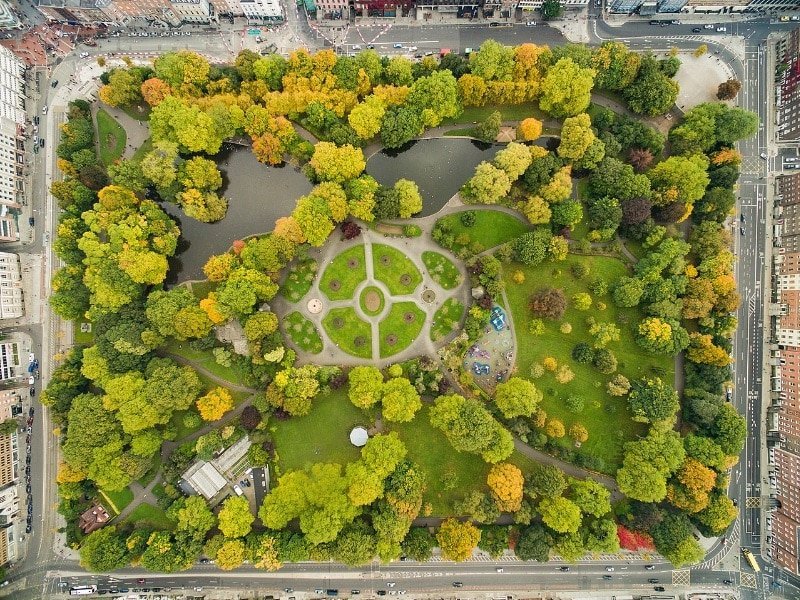 One of Dublin's prime people-watching spots.
The center pond with ducks is a kid's favorite. It's a melting pot of artists and musicians, kids and families, dog-walkers, skateboarders and chess players. Sit on one of the many benches that line the perimeter—this is what real Irish site-seeing looks like.
Admission: Free
13. Try Murphy's Ice Cream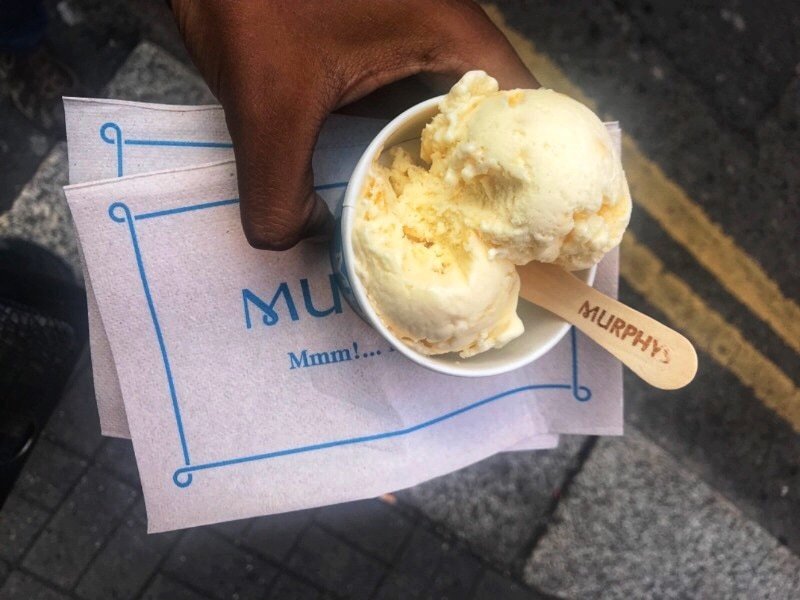 Serving up quality ingredients in imaginative flavors, like the 'Salty Pimp' and 'Rocky Roadhouse,' their cone creations are a necessary guilty pleasure!
14. Watch a show at the Gaiety Theatre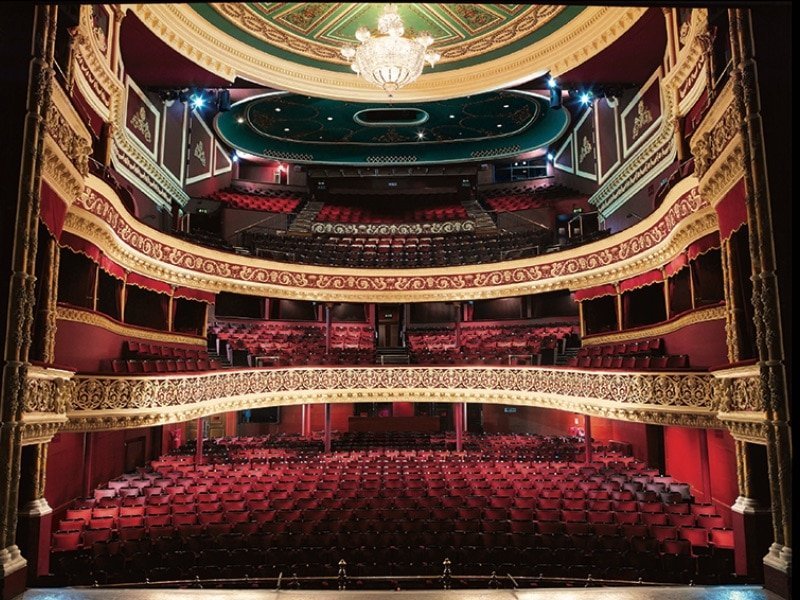 Dublin's Gaiety Theater has been a landmark since 1871, but it's been a historic venue for musicals, drama, revues, comedy, concerts, dance, festivals, and pantomime.
15. Walk Dublin's oldest pedestrian bridge, Ha'penny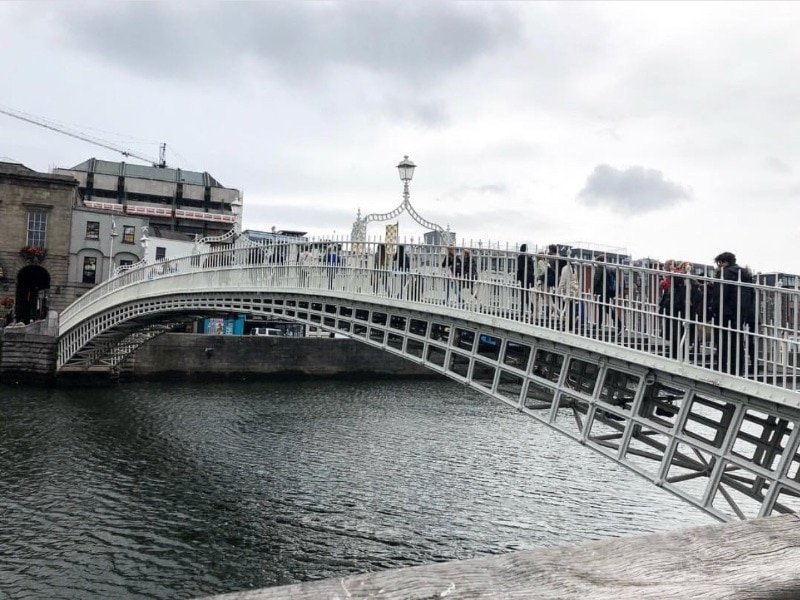 Dublin's most iconic and recognizable bridge is, of course, also its most crowded.
The bridge offers scenic skyline views that draws a lot of tourists, so aim for the early morning if you want to avoid the rush. Though the breathtaking sunset in the early evening might just be worth dealing with a few extra people. It got its name because you once had to pay half a penny to cross it.
16. Shop at Farmleigh Farmers Market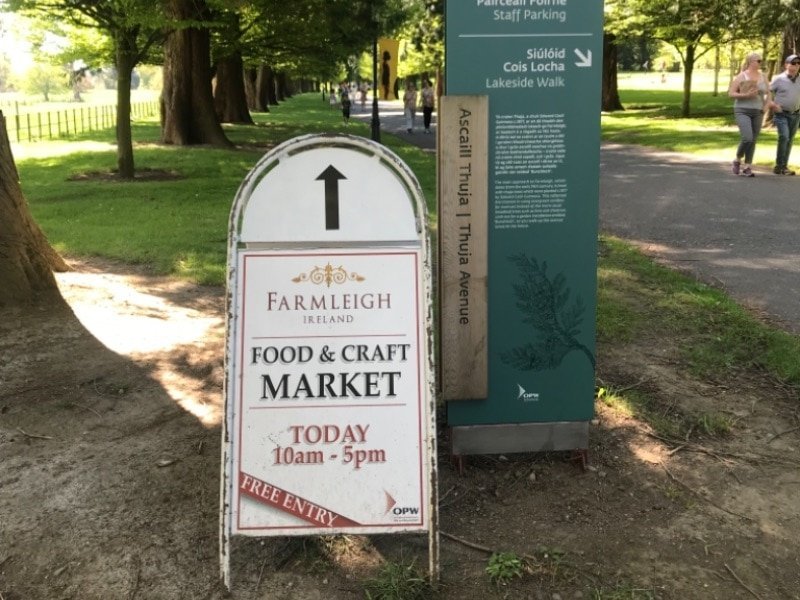 Escape the city's hustle and bustle and stroll through the stunning gardens which were formerly one of the Dublin residences of the Guinness family.
In the spring, the cherry blossoms bloom, turning the gardens into a breathtaking sea of fluttering pink petals.
17. Go for lunch on Bulls Island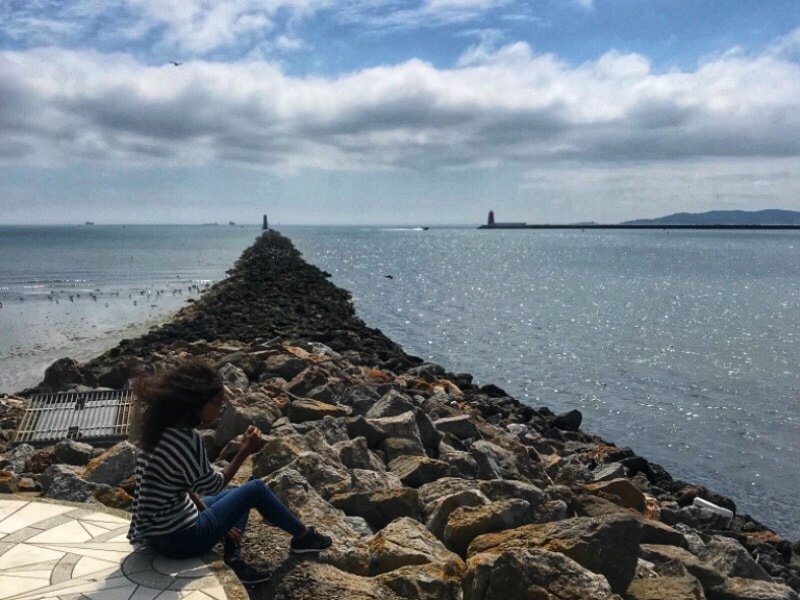 Bull Island is a low lying, dune covered sand spit in Dublin Bay off the coast of the city's north side.
As a National Nature reserve, it is a paradise for birdwatchers and wildlife enthusiasts, and a good place for walking.
18. Go Fishing in Howth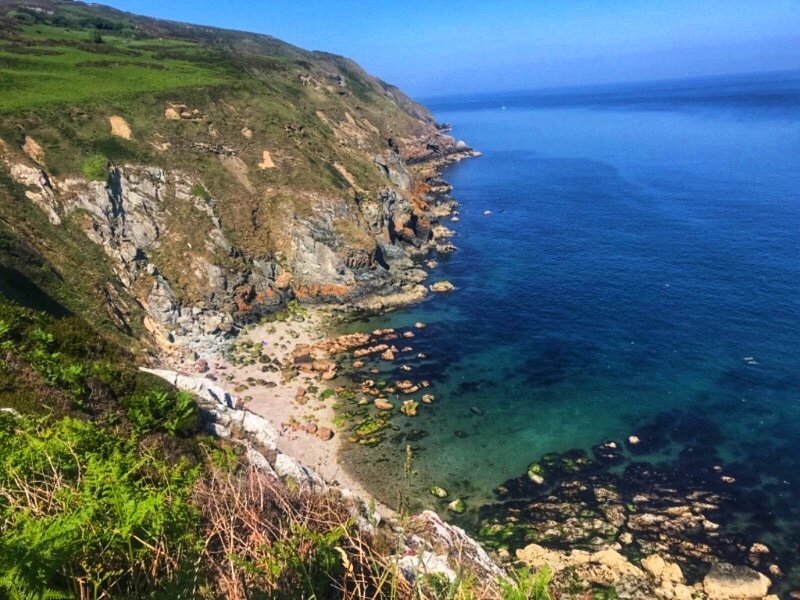 The Howth Coastal Walk was recently awarded a Trip Advisor Certificate of Excellence, which starts at the car park at Balscadden Bay where a path leads up and around the Nose of Howth and onto the clifftops.
If you continue uphill, there are excellent views of Lambay Island and Ireland's Eye (be careful on the cliff edge) and a slight detour to the south takes you to Baily Lighthouse (pictured). At the highest point of the walk (171m), you'll reach the Ben of Howth – marked by an ancient burial cairn. The 7km takes 2-3 hours.
19. Visit Malahide Castle
Malahide Castle is one of the oldest castles in Ireland, owned by the Talbot Family for almost 800 years.
It's steeped in history, but a recent refurb allows visitors the opportunity to browse an interactive interpretive area on the ground floor.
20. Watch a movie at the Stella Theatre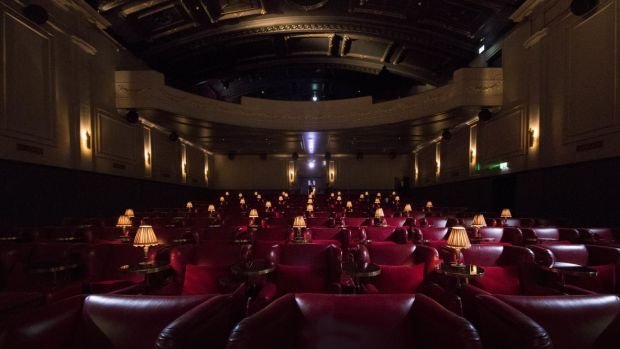 The Stella Theatre first opened in 1923, has had many incarnations since today it's a cinema.
21. See the oldest building in the city, Christ Church Cathedral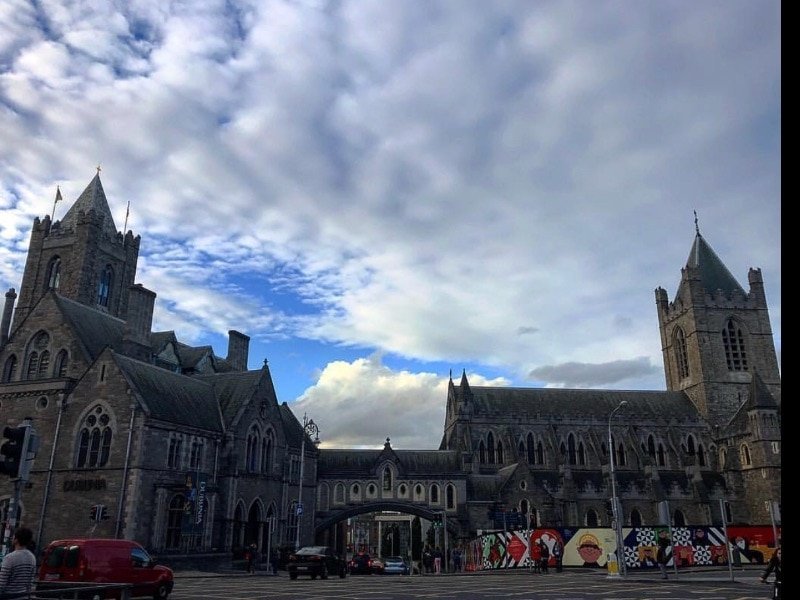 Renowned for its beauty, architecture and exquisite floor tiles, it is home to the famous 12th Century crypt, one of the oldest and largest in Britain and Ireland.
Perfectly located in the heart of Medieval Dublin, it was founded in 1030 by Sitriuc, King of the Dublin Norsemen and was incorporated into the Irish Church in 1152 and eventually led by the famous Archbishop and patron saint of Dublin, Laurence O'Toole.
22. Learn about Irish History at the EPIC (The Irish Emigration Museum)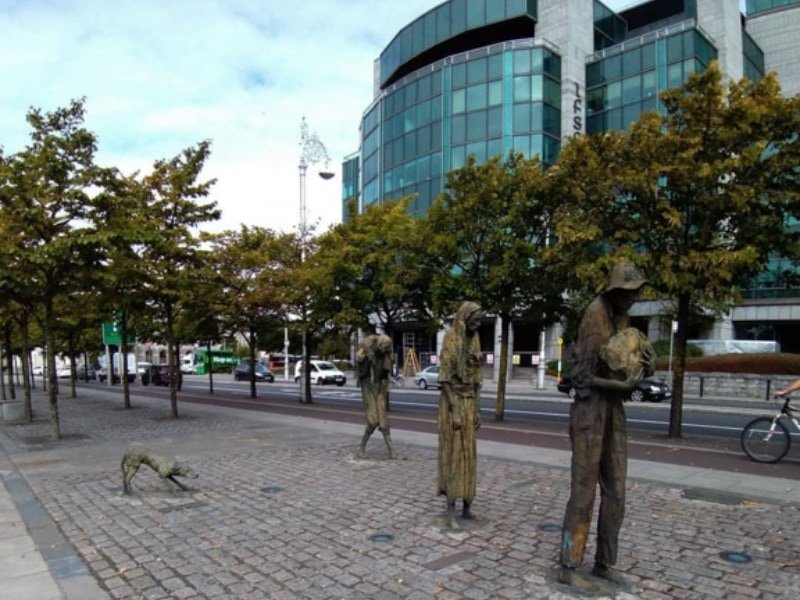 EPIC (The Irish Emigration Museum) tells the story of the more than 10 million people who left Ireland over the centuries, bringing visitors on a journey through the Irish emigration experience, exploring why people left and the adventure, adversity, and triumph that awaited them.
23. Learn about Ireland's National Sport at the GAA Museum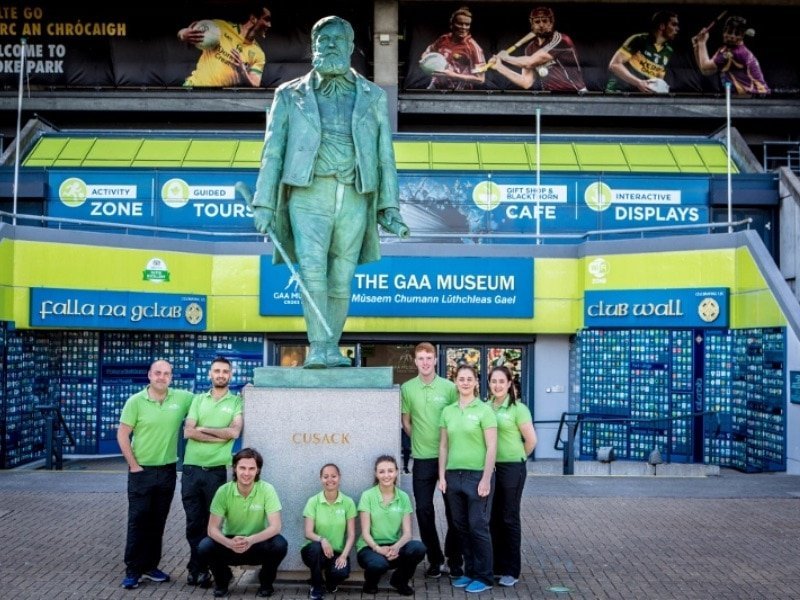 Museum of Gaelic sports (Gaelic football, hurling, handball, and camogie) with interactive exhibits.
24. Explore Greystones
The Greystones Cliff Walk is one of the things to do at the weekend or whenever you have a day off.
It is a stunning coastal path along the cliffs and follows the railway line which connects Dublin with Wicklow and Waterford. Easily accessible from Dublin by hopping on the DART at Connolly station, and a pleasant day out in both Summer and winter! Just wrap up warm as its quite windy.
25. The Royal Canal Way Walk
Start: at Castleknock railway station and finish at Leixlip's Louisa Bridge Station With your back to Castleknock railway station, turn left and join the canal towpath.
Soon you teach the Deep Sinking, a narrow limestone fit where the path rises 10m above the water. Back in the 19th century, this section something's proved fatal for draught horses towing barges through the chasm below.
The path rough underfoot here, but a smooth, newly-resurfaced tail takes over from Clonsilla onwards. The landscape grows more rural now, with fields bordering the path. Five bridges mark your progress towards Leixlip, where the Ryewater Aquaduct carries the canal over the River Rye.
26. South Wall Walk to Poolbeg Lighthouse
Past the famous Poolbeg chimneys, the walk is about a 4km round trip. In the end, you can look back at the iconic red and white stacks that shape the Dublin skyline. Keep an eye out for porpoises and seals along the way.
27. National Leprechaun Museum
Explore the world of Irish folklore and mythology by traveling through a magic tunnel and being shrunk to the size of a leprechaun, which is around 3 feet tall!
This is a fairytale for adults and children alike, this interactive experience gives a deeper sense of Irish cultural identity and imagination.
Address: 57 Jervis Str | Admission: Dependent on the day and time €10-16
Best day trips from Dublin
Dublin is one of the best cities to stay in Ireland, because of the great public transport system and location, you can easily go anywhere!
Ireland is small so it's very easy to go on a day trip from Dublin to virtually any part of the country.
Wexford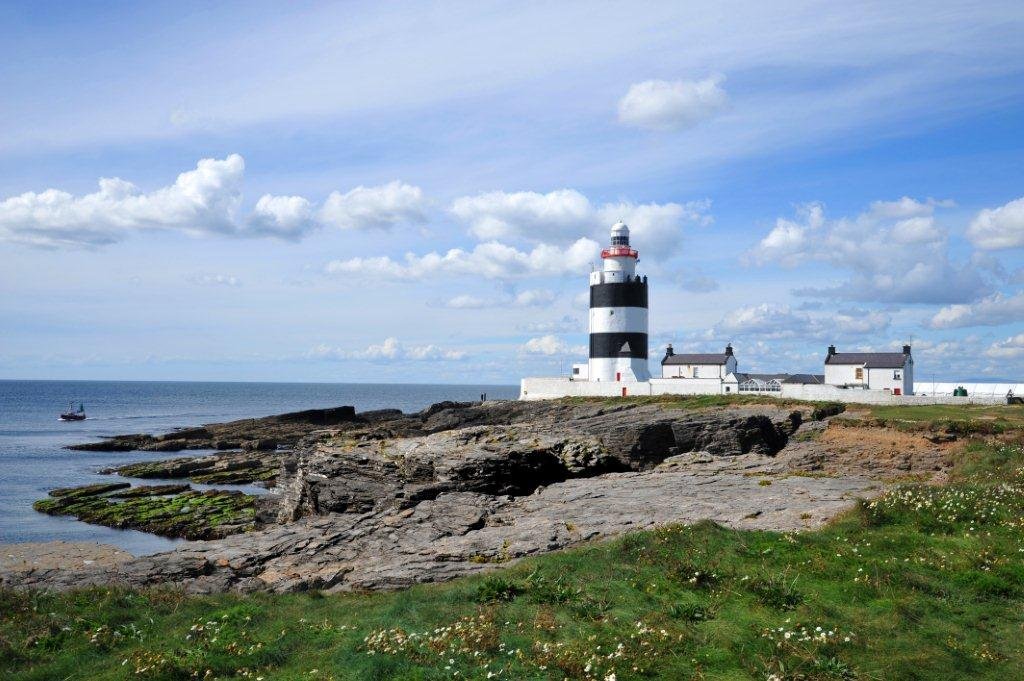 Wexford is a quaint town located about an hour and a half on the southeast coast of Ireland.
The county is filled with thousands of acres of parks and gardens, including the historic Irish National Heritage Park and the 11th century Johnstown Castle and Gardens.
A scenic drive to the Hook Peninsula is well worth the 50+ minutes trip from Wexford town, where you will find the Loftus Hall – Ireland's most famous haunted house and Hook Lighthouse – the world's second-oldest working lighthouse that is still operating to date.
In the small town of New Ross in Wexford, you'll find a replica of The Dunbrody Famine Ship that transported thousands of Irish survivors (including US President John F Kennedy's great-grandfather who sailed from New Ross in 1848) on a month-long trip to New York City. Just 12KM south of New Ross, stop by The John F. Kennedy Memorial Park & Arboretum to admire the 4500 types of trees and shrubs from all temperate regions of the world.
Head back into town for a stroll on the waterfront and dinner at Ireland's Best Seafood Restaurant 2018, La Côte. There are many things to do in Wexford, including the annual Opera festival which is held every October.
Cliffs of Moher and Galway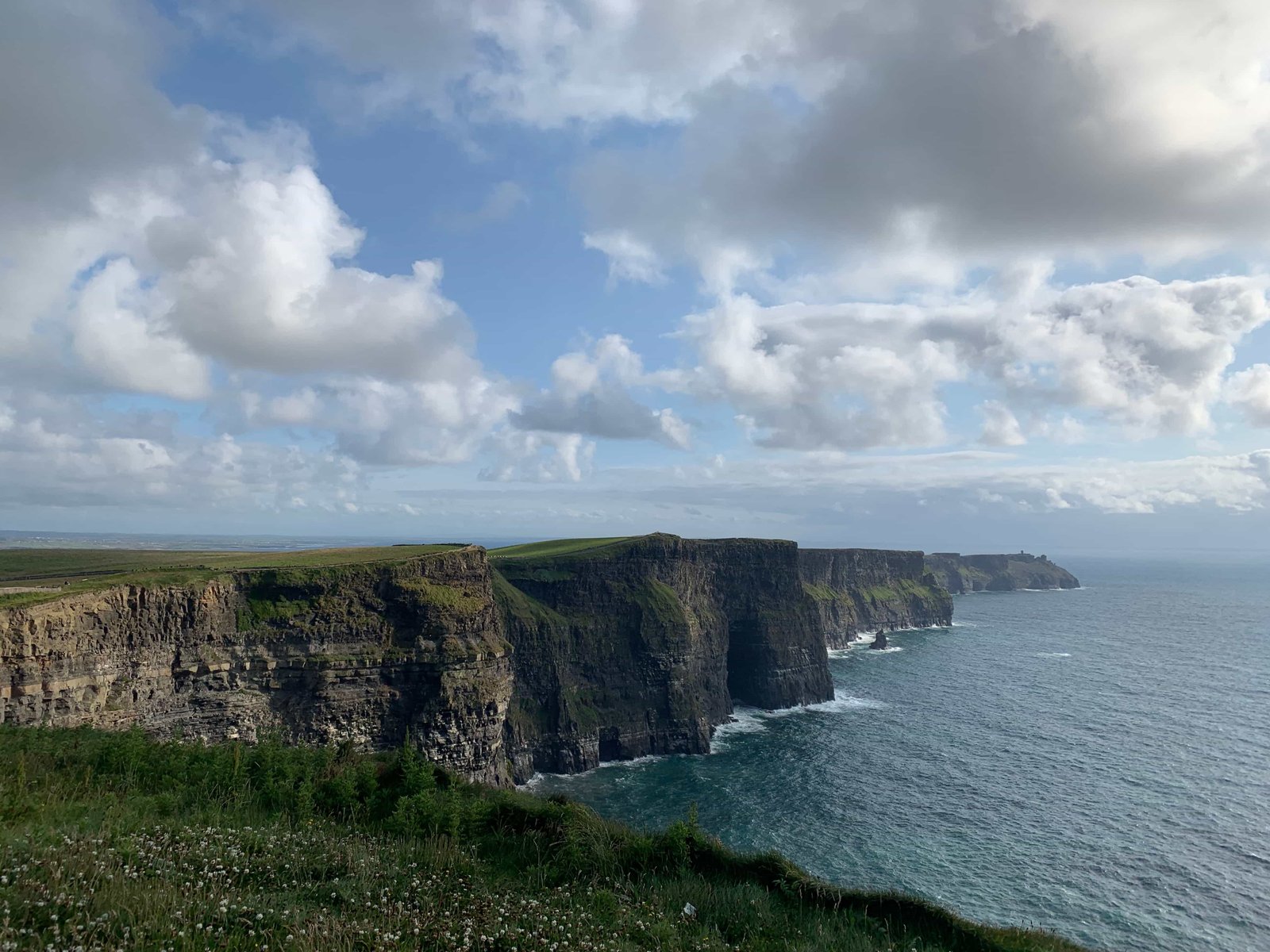 At the very edge of Europe lie the stunning Cliffs of Moher which soar 700 feet above the untamed Atlantic Ocean.
Take a day out to experience the breathtaking beauty of the cliffs, the Wild Atlantic Way, Galway City and the wild limestone Burren National Park on Galway Bay.
After seeing the cliffs, head to Galway – this Irish city is the fifth largest in the country and a major vacation destination for those visiting Ireland. It's drawn us back three times, and we know we will be back again in the future. There are daily day tours from Dublin to Galway and they all stop at the Cliffs of Moher! It's one of the biggest and most popular attractions, not just in Ireland, but in Europe and well worth the effort.
Suggested Reading: Exploring the Cliffs of Moher and surrounding areas
Kilkenny
Home to one of the finest examples of a 12th century Norman castle in the world.
The quaint Kilkenny City was the capital of Ireland in the middle century! Today its narrow streets are full of colorful shops and buildings and make Kilkenny City the perfect destination for a day trip from Dublin.
Belfast, Northern Ireland
Head to Belfast in the United Kingdom, Just a 2-hour drive from Dublin, this fantastic city with a rich history (good and bad) is the birthplace of the ill-fated luxury Titanic.
Belfast is in the UK and if you're not an EU or American citizen, you will need a UK visa!
You can learn about the famous ship at The Titanic Experience or go on a Black Taxi tour to learn about the political tension between Northern Ireland and the Republic of Ireland and even write on the Peace Wall like Bill Clinton!
Waterford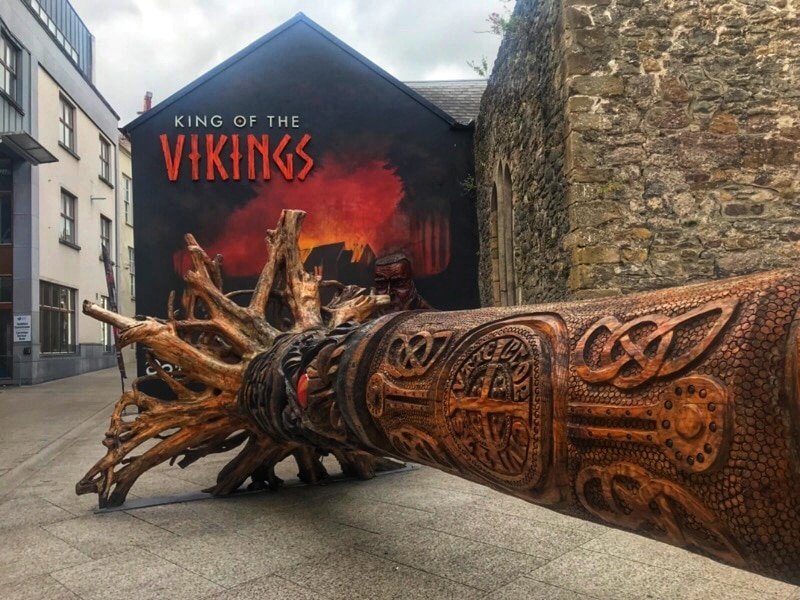 Home of the Vikings and crystals, Waterford is a great place to visit for the weekend or even a day trip from Dublin!
The city was founded by Vikings in 914 A.D. – making it Ireland's oldest town! It's also home to the famed glass manufacturer Waterford Crystal which opened in 1783.
Today made the famous Times Square Centennial Ball weighing nearly six tons and twelve feet in diameter. Although the company doesn't produce their products in Waterford anymore, they offer daily tours and crystal making classes. It's a luxurious place and I wouldn't recommend taking kids unless you have money to pay for damages!
Read about what I got up to in Waterford
Howth
Irelands Eye is one of the most natural treasures of the east coast.
Lying just 1.5km offshore, it's a wildlife sanctuary and home to thousands of seabirds during the breeding season (May to July). The ferry drops you in the northwest corner, beside the 19th century Martello tower.
My first stop was the Howth Market where I popped into for a cup of coffee at Bodega. The market is open on weekends and public holidays from 10 am to 6 pm. You will find food stalls serving delicious pastries, fries, fresh fruit and vegetables, homemade jam, bread and more.
We walked to Howth Castle which is the private residence of the St Lawrence family descendants who have been living there since 1180. The castle isn't open to the public. There are details on the website on how to arrange for a visit (or even rent the larger rooms for events) and special cooking classes are held every weekend.
Watch where you walk to avoid gull eggs and chicks in the ground.
We also went to the National Transport Museum which was located behind the castle. You will find a collection of old skill buses, cars, and trucks.
Make your way along the island's north shore to its highest point then continue to a viewpoint above rocky East Stack, home to a large gannet colony. Now, head South-West towards the ruins of St. Nessan's Church, once part of an 8th Century monastery. Complete the circuit by heading back past the beaches of the west coast.
Getting There: Ferry service operates from Howths west pier (islandferries.net) or (irelandeyeferries.com) Length: 2.5km / 3 hours (including ferry)
Weekend trips from Dublin
Cork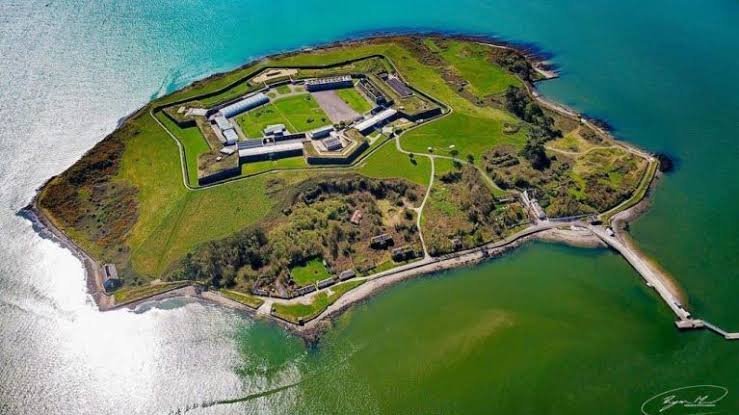 County Cork is home to many historic gems!
From the port where the titanic last stopped before the fatal crash. If you want to learn how to make butter in 45 minutes or if you want to kiss the famous Blarney Stone?
Ring of Kerry
The Ring of Kerry is a scenic drive around the Iveragh Peninsula in southwest Ireland's County Kerry.
It's 179km-long, the circular route takes in rugged and verdant coastal landscapes and rural seaside villages. The route takes around 3.5 hours to drive around without stopping.
However, it's always better to take your time to experience like I did the Ring of Kerry drive in two days.
Donegal
Ireland's northernmost county is another hidden gem!
The county is made up of castles, rugged coastline, and mountains such as the quartzite Mount Errigal. Glenveagh National Park (the second largest national park in Ireland), once a private estate, encompasses forests, lakes, and bogland in the Derryveagh Mountains.
It took 4 hours to get to Donegal from Dublin and I had to drive through Northern Ireland (UK). I recommend stopping along the way and not driving directly as I did!
Newgrange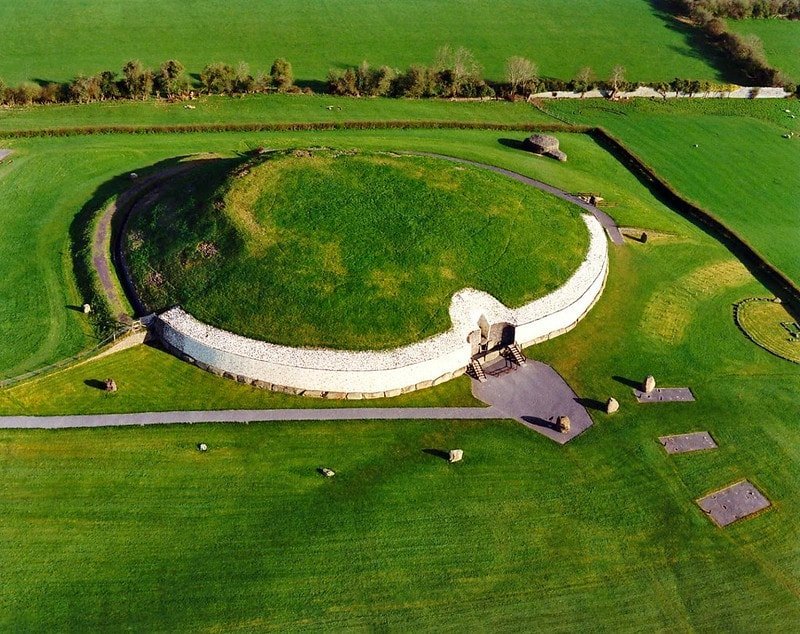 Newgrange in County Meath is an amazing passage tomb that dates back to the Neolithic period.
We're talking 3,200 BC. That's older than Stonehenge, which dates back to around 3,000 BC. The Giza Pyramids were built in 2,600 BC. It's not just old, but impressive – a big circular dome 76m in diameter complete with stone-walled burial chamber. Though sealed for actual millennia, since construction, it has featured in various Irish folklore and mythology.
County Meath is home to many prehistoric monuments and I highly recommend spending some time here!
---
Planning a trip to Ireland?
---
There are many things to do in Dublin. The capital city is a living museum of its history portrayed in pretty vibrant colors. Beyond its impressive collection of museums and galleries, it is a place of multiculturalism and transit history.
Best Travel Insurance for Ireland
Use travel insurance while visiting Ireland so you are covered for theft and medical expenses. There are a lot of places of interest in Ireland, and it's best to have peace of mind while swimming, hiking and trying some of the best food in the world.
Find out why I recommend World Nomads, check out my World Nomads Insurance review.
Disclaimer: This article contains affiliate links. This means that if you make a booking after clicking on a link, I may receive a small commission at no extra cost to you!