Are you wondering what are the best things to do in Aruba? Despite being just 20 miles long, the small island of Aruba is a perfect getaway for all types of travelers.
It's known for its scenic sunsets, clear waters, and laid-back vibe, Aruba is ideal for creating new memories.
Aruba used to be a popular destination for honeymooners and retirees. Today Aruba is popular with solo travelers and Aruba is safe to travel for families.
It's not the most exciting island in this part of the world, but it is a great place to go to relax and experience tropical vibes.
Where is Aruba
Aruba is one of the Southern Caribbean islands of the Lesser Antilles.
The island is located miles off Venezuela's coast and on clear days you can see Venezuela from the island's southeast side.
How to get to Aruba
Book a flight to Queen Beatrix International Airport in Oranjestad (IATA Code: AUA), where it's easy to reach the island's main tourist and hotel districts.
From the airport, you can take a taxi, rent a car from one of the major car rentals or make use of the excellent public bus service – a viable low-cost option if you are staying in downtown Oranjestad or in one of the major hotel districts.
5 BEST Places to Stay in Aruba
---
Overall Best Hotel in Aruba (All-Inclusive)
Featuring a 40-acre private island and beaches, this Oranjestad resort offers both adults-only and family lodging.
A full-service spa, casino, and choice of fine restaurants are available. Free WiFi is included. A large fitness center and a jogging trail offered to guests at Renaissance Aruba. Three beautiful pools, scuba diving, and kayaking are also offered. This is the only hotel where you can find flamingoes!
[maxbutton id="1″ url="https://www.booking.com/hotel/aw/renaissance-aruba-resort-and-casino.en-gb.html?aid=1558524&no_rooms=1&group_adults=1″ ]
Things to do in Aruba
Go hiking in Arikok National Park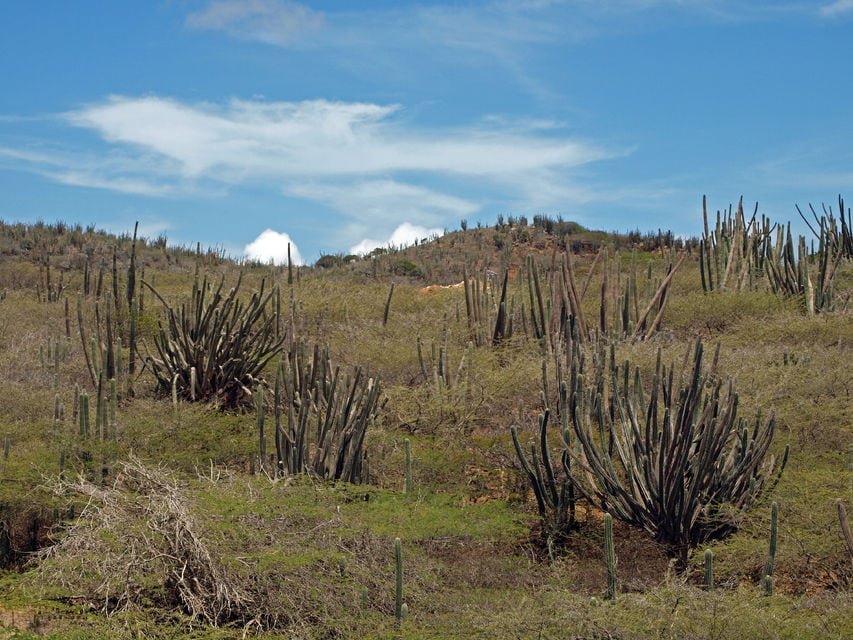 Arikok National Park covers a fifth of the island and with 29 miles of trails winding their way through the rocky desert, there's something suitable for all hiking levels.
The most challenging hike takes about 5 hours through jagged terrain, home to unique wildlife and the famous cacti that live in the desert.
You can also visit a historical Aruban adobe house and explore caves to check out indigenous Indian paintings, as well as indulge in a spot of exotic birds watching.
Learn about Aruba's past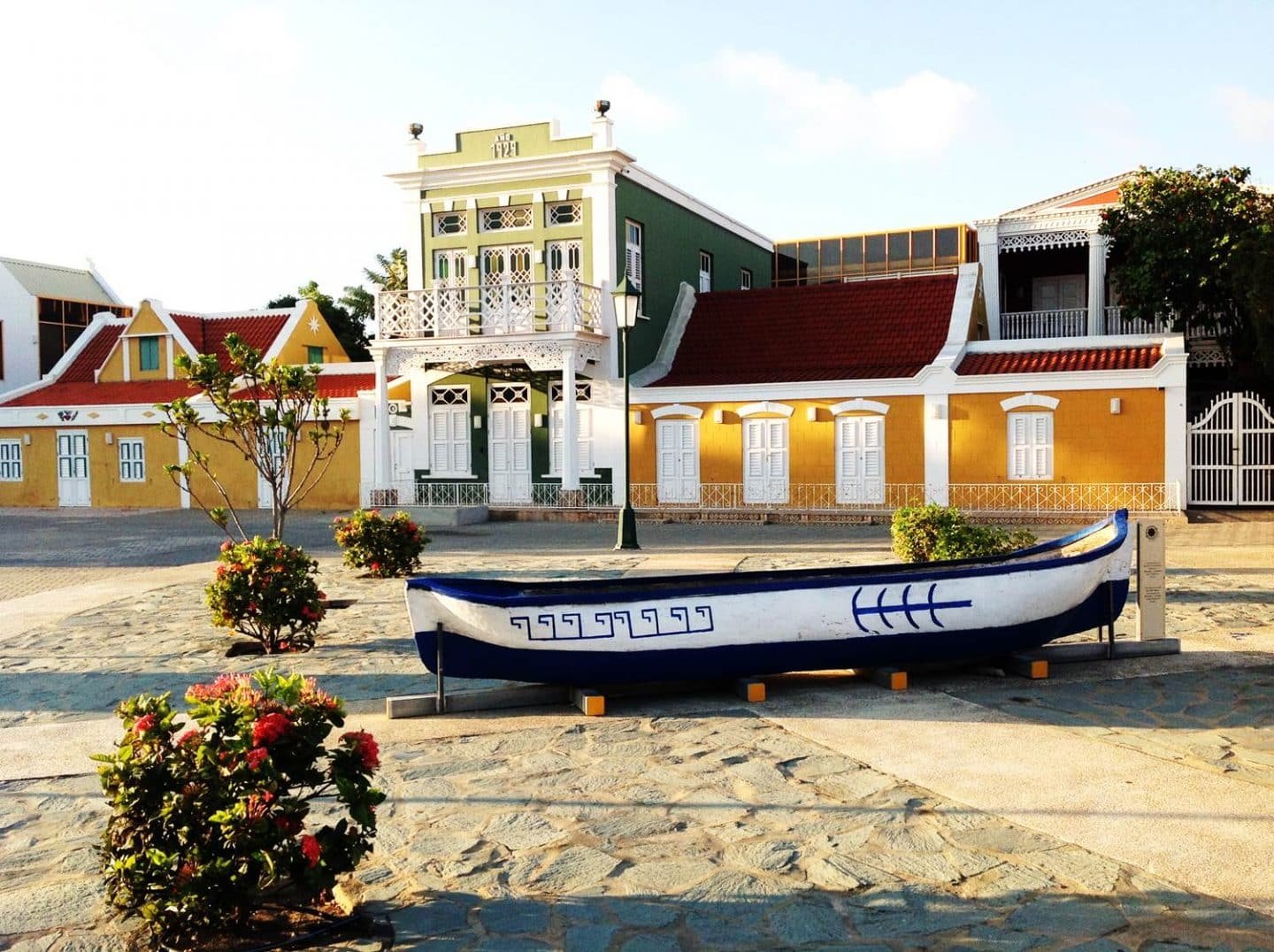 Head to the National Archaeological Museum in Oranjestad.
The Museum has a collection of over 10,000 Amerindian artifacts spanning the Pre-Ceramic, Ceramic, and Historic Cultural Periods, and comprises a variety of media such as pottery, shell, stone, bone, and glass.
The collections include a large number of artifacts that express Amerindian and spiritual life as well as a large communication network that connected Aruba to Europe, Mexico, and central South America.
The archaeological staff research the collections, lead excavations and preserve key heritage sites including the amazing cave paintings located in Arikok National Park.
Rent-a-bike and cycle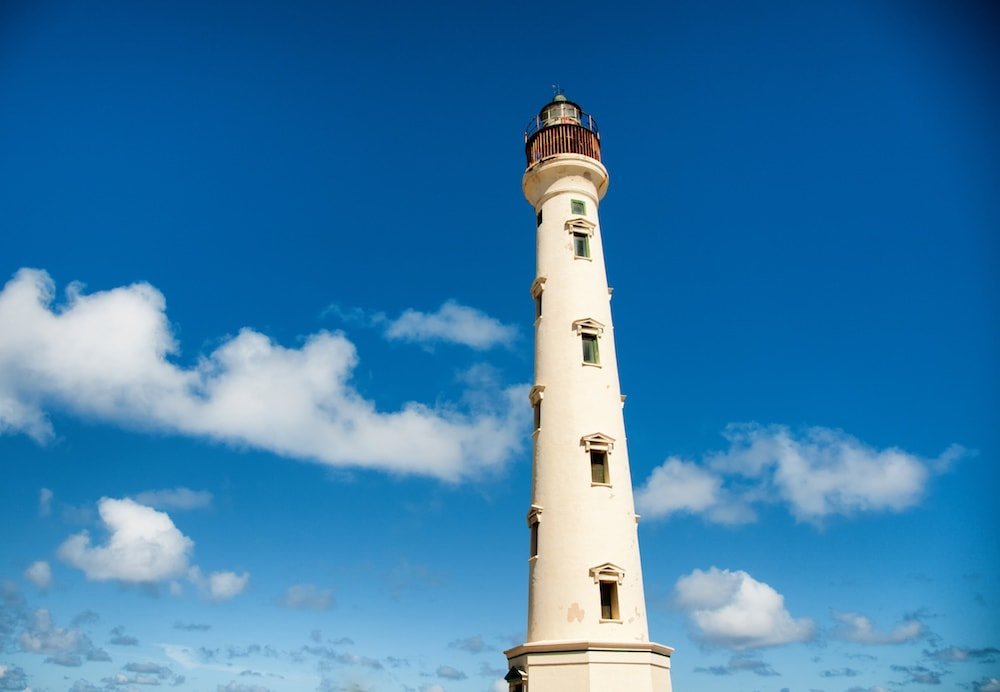 Discover the island on two wheels which one of the many e-bike tours.
They cover landmarks like the emblematic California Lighthouse, the Alto Vista Chapel, beautiful beaches like Arashi, Boca Catalina, Palm Beach, Malmok, Eagle Beach, the Natural Bridge, the Natural Pool and the Arikok National Park.
Climb up a volcano formation
Climb the 587 steps to the top of Hooiberg, a volcanic formation located 165 meters above sea level, and is located at the approximate center of Aruba.
At the top of the mountain, you will find two small buildings and some radio antennas. One of the buildings belongs to a radio station and the other to the local telephone company SETAR.
Test out a new water sport or activity, like parasailing or stand up paddle boarding, in these calm, clear waters.
Embark on an ATV tour
Take a thrilling ride around Aruba's north coast on an ATV.
Enjoy the scenery on horseback
Visit Rancho La Ponderosa and explore the quality trails.
Ponderosa Ranch is an equestrian center that specializes in the care and boarding of privately-owned horses, Training of show horses, Lessons for the novice and experienced rider, Horse shows, trail rides.
Go swimming at the islands best swimming spot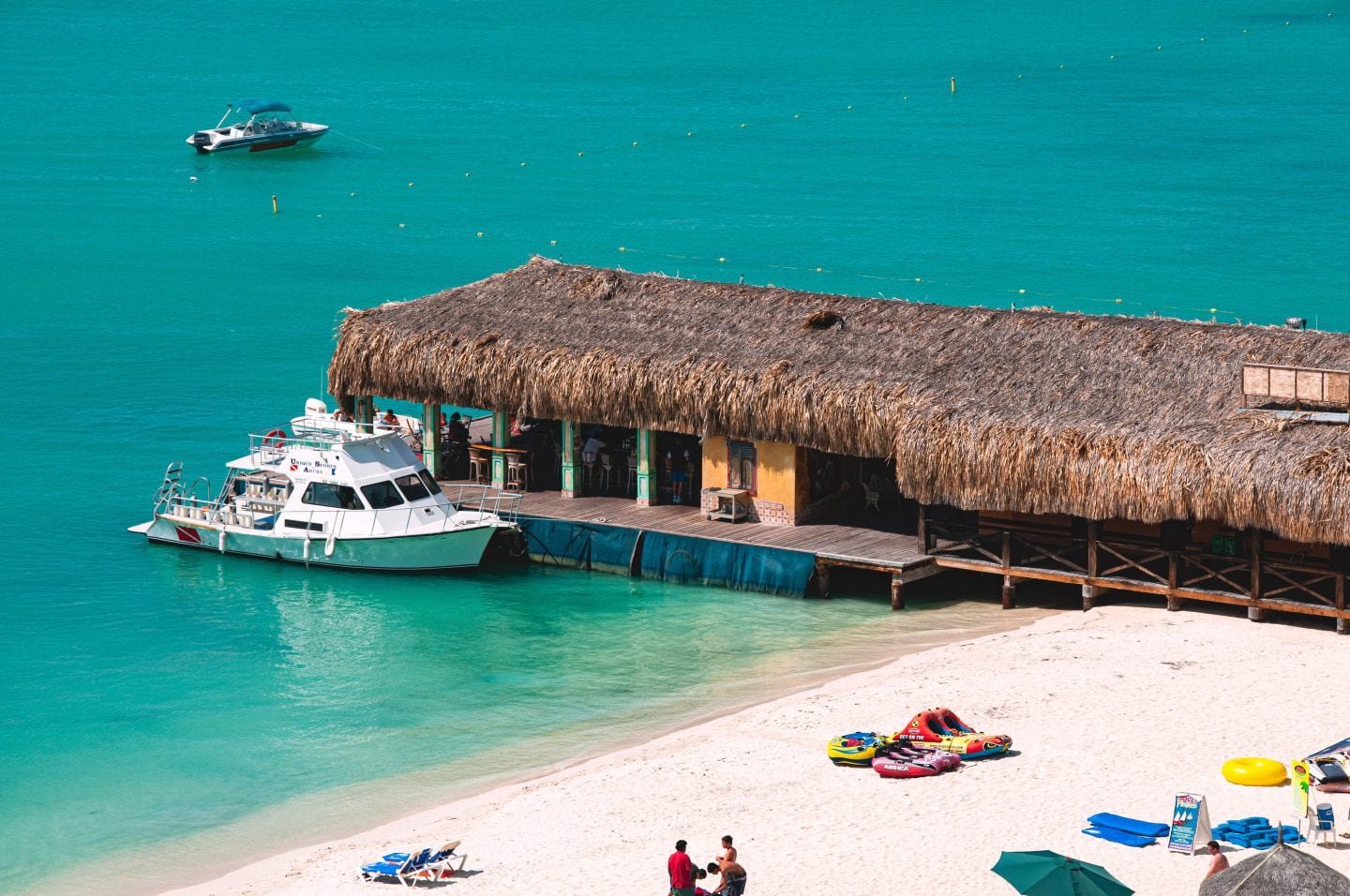 Boca Catalina is a small, secluded bay in the Malmok Beach area.
The white sandy beach is accessible by steps from a spacious parking area alongside the road.
Explore the S.S. Antilla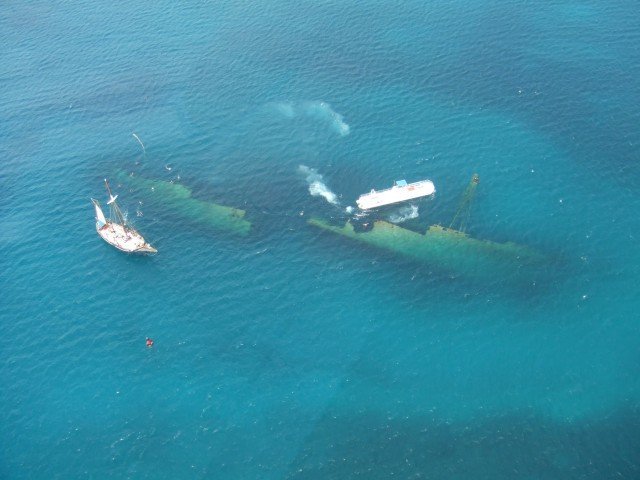 Dive beneath the waves and explore the German freighter that sunk during World War II (also known as the S.S Antilla).
The Antilla is the largest shipwreck dive in the Caribbean, covered by tube sponges, coral formations, tropical fish, shrimp, lobsters, and orange anemones.
The entire wreckage is 400 feet long and much of the ship is still intact today. The porthole, deck fitting, and interior sections can be explored.
Swim with Flamingos in Aruba
Have you seen the famous flamingos on Instagram and now you're considering heading to Aruba to experience it for yourself? The place to go to see the flamingos is the Renaissance Resort in Oranjestad (a privately owned Island) in Aruba.
The island of Aruba is 21 miles (33 km) long, 6 miles (9 km) wide and has an area of about 75 square miles (193 square km). Aruba is mainly flat with a few hills and is renowned for its white sandy beaches. Here's how to visit Aruba's famous flamingo beach!
Things to know about Flamingo Beach in Aruba
Flamingo Beach is located in Aruba, an independent country within the Kingdom of the Netherlands.
Aruba has a population of approximately 104,000 inhabitants.
The official languages are Dutch and Papiamento, but English and Spanish are also very widely spoken.
If you're not a citizen of the USA or EU, you need a Schengen Visa to visit. Learn more.
The Flamingo Beach is located in Oranjestad, Aruba's capital named after the Dutch Royal House of Orange.
The Flamingo beach is an adults-only beach and children are not allowed on the premises.
Towels, hammocks, recliners, and umbrellas are available for free for guests.
Day passes for non-hotel guests are available HERE and include complimentary drinks and a meal.
The island has two restaurants: Papagayo Bar & Grill and the Mangrove Beach Bar.
The beach is open every day from 7 am to 7 pm.
September-November is the low season in Aruba, so accommodations and activities are more affordable.
Where is Flamingo Beach and how do I get there?
Just 4KM's from the airport, you'll find Renaissance Aruba Resort & Casino, home to a private island named Renaissance Island also known as Flamingo Beach.
The beach is only reachable by private boats or ferries, that are operated by the Renaissance Hotel and leave every 15 minutes.
The beach is accessible to Renaissance Aruba resort guests for free and non-guests have to purchase a day pass for $125 (USD). The property has a limited number of tickets for non-guests, so it's recommended that you purchase a ticket a day in advance HERE.
Example: if you want to visit on the 19th of December, you can only purchase a day pass on the 18th of December after 7 AM. Tickets sell out fast and the resort doesn't allow you to purchase for more than 1 day in advance.
Is Bird Photography ethical
These exotic birds populate Renaissance Island but never migrate as other birds do.
This has led to people believing that the flamingos have had their wings clipped, which was never confirmed by Renaissance Resort & Casino.
However, the Resort claims that they came to the island on their own over 15 years ago and live there in mangroves – their natural environment.
How to take pictures with flamingos
Beachgoers are allowed to take pictures with the flamingos on Renaissance Island.
All you have to do is walk up to them and pose for a picture if they walk away or ignore you don't try and force them by pulling them. I wouldn't recommend getting too close as they are wild birds and anything can happen.
However, I'd recommend buying food for the flamingos from the vending machines. The machine takes only US quarters, so be prepared.
Visit the Aruba Aloe Factory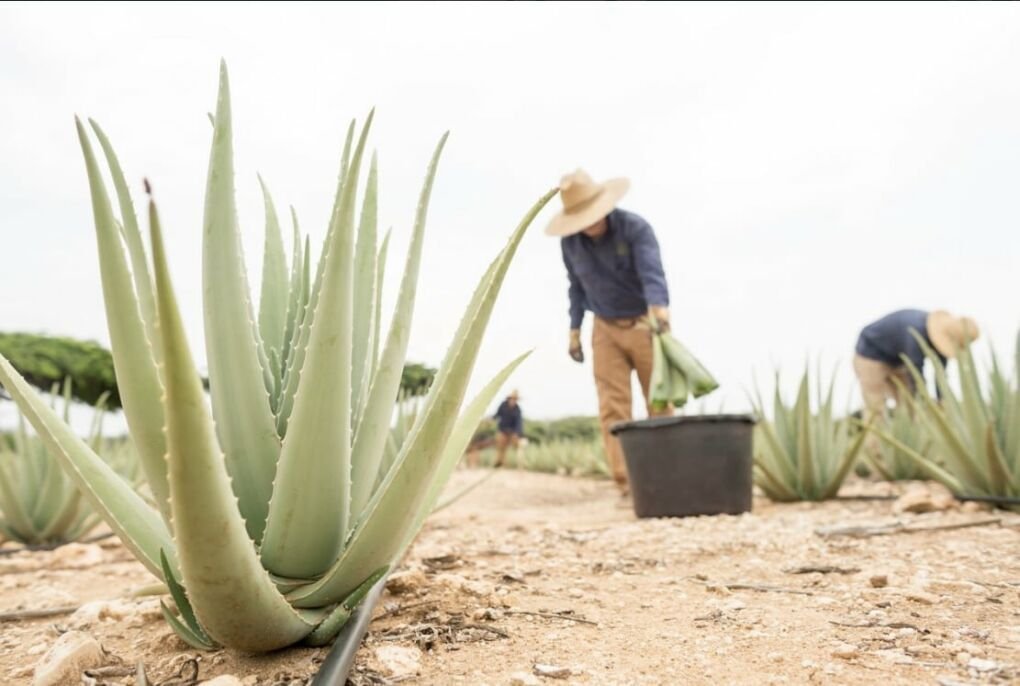 Aruba Aloe was founded in 1890 and its the world's oldest Aloe company.
They grow, harvest and process their own Aloe on site then it's used to make its hair and skincare products. Museum and factory tours are available daily.
Is Aruba safe to visit
Aruba is considered as one of the safest and most tourist-friendly of the ABC Islands, but that doesn't mean that you can walk around the island without a care, because low crime doesn't mean that there is no crime.
Is Aruba safe for solo female travelers?
Aruba is relatively safe for all typed of travelers, as a solo female traveler in Aruba, it's important to take precautions like you would in any other country.
Stay in a reputable hotel or accommodation with video surveillance and most importantly a door with a lock.
If you go out to enjoy the nightlife, don't get too drunk as you might end up making some bad judgment calls that may lead you to trouble.
Be careful who you trust, don't share your itinerary or hotel name and number with random people.
Female Personal Safety Gadgets for Aruba
Don't you wish we lived in a world where the possibility of being assaulted, violated or even murdered wasn't one of the things to take into consideration when traveling or even just living in your own country?
Personal safety gadgets for solo female travelers in Aruba
Phone Lanyard: A phone sling where I can attach it to my belt/waist/bag so that I don't drop/lose it (I'd die if anything happens to my phone!) Buy the black one. The elastic is stronger!
Not your typical money belt:

I chose this one and agree with the reviews that the material feels stronger. It's also moisture-wicking and comfortable to wear! I know some similar products already have zippers but this one feels like it holds better but has no zippers. and acts like Spanx!

The double-ended S-biner lock:

With thousands of claims filed annually for lost items, you need a lock that can turn most handbags into thief-proof!

Pacsafe Bra Pouch: Ideal to keep your money, IDs and credit cards safe from pickpockets and thieves. The turn-and-snap connector clasp design is different from comparable products, easy to use and prevents the pouch from unsnapping accidentally.
Pacsafe Cash Belt: I

t's metal-free-ish so you can wear it through security without setting off alarms! It holds cash AND your pants up. I love mine!
Hotel room security gadgets for females in Aruba
Portable Door Jammer: Use for a door barricade in an Airbnb or hotel to be able to lock yourself in a room.
Aruba Travel Insurance
Use travel insurance while visiting Aruba so you are covered for theft and medical expenses. There are a lot of adventurous activities to do in Aruba, and it's best to have peace of mind while drinking vodka, hiking, and swimming in the amazing beaches.
Find out why I recommend World Nomads, check out my World Nomads Insurance review.
Disclaimer: This article contains affiliate links. This means that if you make a booking after clicking on a link, I may receive a small commission at no extra cost to you!