Seattle is the largest city in Washington State and lies to the west of Bellevue and the North of Tacoma and Olympia. With so many things to do in Seattle, in North of Seattle, you find popular neighborhoods of Lynnwood, Everett, Marysville, Mount Vernon, and Bellingham on your way to the Canadian border.
Downtown Seattle district is where most visitors stay and explore. This was obviously not going to be easy so I needed a game plan, After much research and consideration, I would advise you to buy a CityPass, you'll save 45% off of 5 different attractions, skip most of the ticket lines, and get nine days to use the pass from the first day you use it!
Best Time To Visit Seattle
The best weather in Seattle is from late June to early September. July and August are the busiest months when hotels are full and restaurants are crowded.
Fun things to do in Seattle
1. Find Pine Street
The shopping district in Seattle where you will find Westlake Shopping Center on 400 Pine Str and the Pacific Place on 600 Pine Str. Shoes, Cosmetics, Jewellery, Kitchenware and more is all available here.
2. Explore Pike Place Market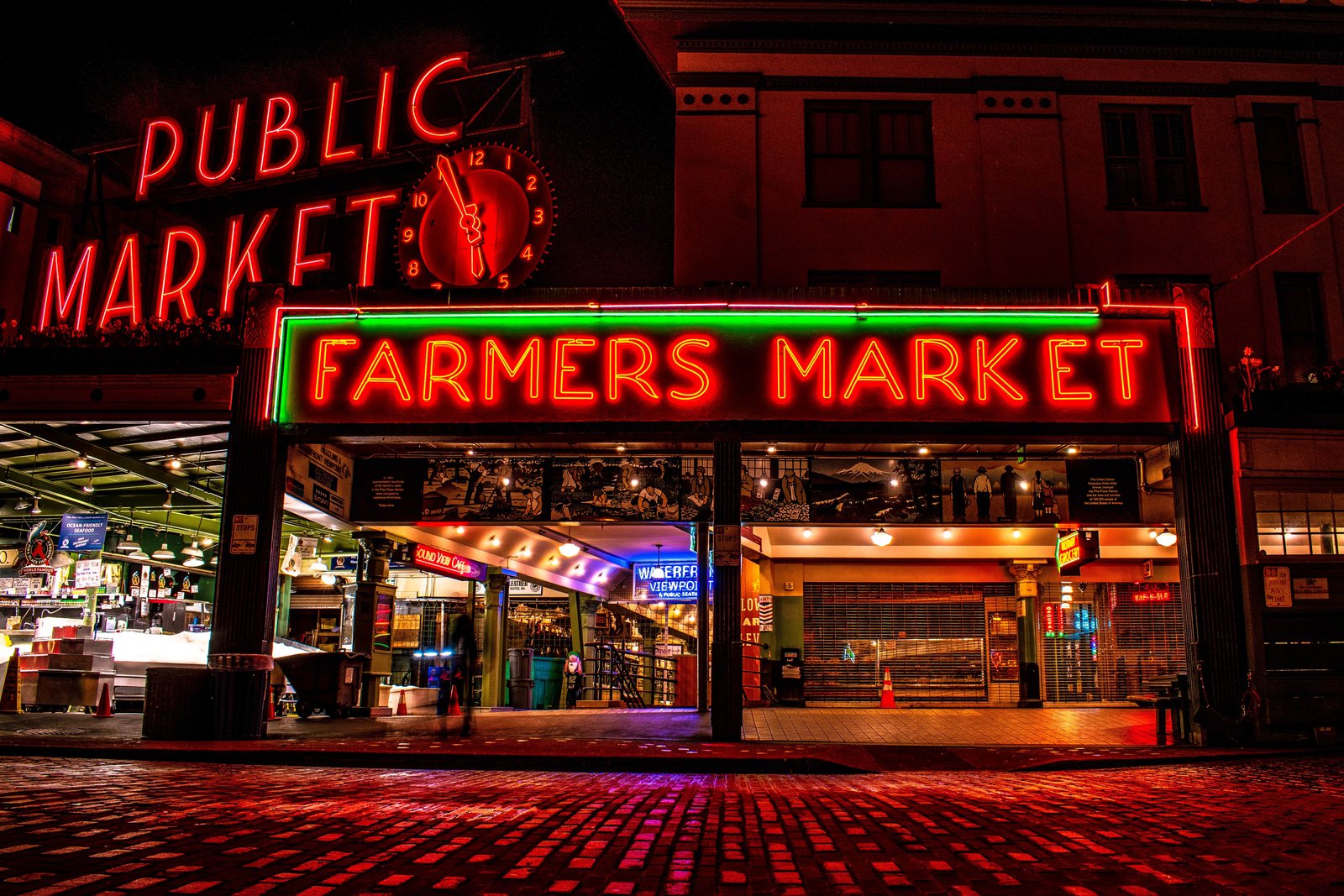 Open in 1907, Pike Place Market is one of the top attractions in Seattle. I shared 50 amazing things to know about Seattle's granddaddy of farmers' markets. Today, it's a major global tourist attraction (33rd most visited in the world) with over 200 businesses operating year-round, 190 craftspeople and 120 farmer booths – plus street performers and musicians.
3. Get coffee from the first Starbucks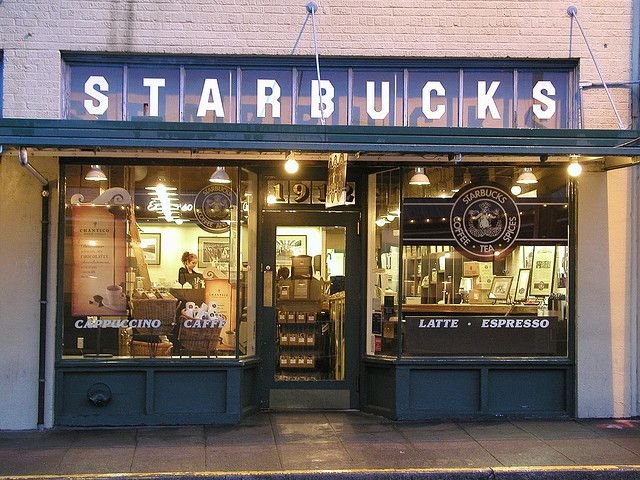 Located in Pike Place between Stewart and Virginia Streets. This is where it all started for the coffee giant, Starbucks. Their first store was opened in 1975, and today you can still see their original branding that's if you can brave the long queues to say you ordered a latte.
4. Explore the Seattle Aquarium
As one of the top tourist attractions in Seattle, this incredible underwater nature reserve opened its doors in 1977 and the sharks, clownfish, turtles, and penguins are among its most-loved residents. The Seattle Aquarium is the ninth largest aquarium in the U.S by attendance and among the top five paid visitor attractions in the Puget Sound region.
This was the first time I visit an aquarium and honestly, there's something immeasurably enchanting about watching these creatures – some so unrecognizable from anything around us.
The Aquarium's species collection is featured within six major exhibits: Window on Washington, Life on the Edge, Pacific Coral Reef, Underwater Dome, Birds & Shores, and Marine Mammals.
While there, I learned about the existence of Spotted lagoon jellyfish – instead of having one mouth, like the moon jellyfish, these fish have eight.
I identified so many types of fish that I never even knew about. I loved every minute of that day, and the visit made me love the ocean more than I already did.
We watched lady feed seals in front of us while explaining what she was doing. It was fascinating to watch and very informative, making for an educational trip.
5. Go on a harbor tour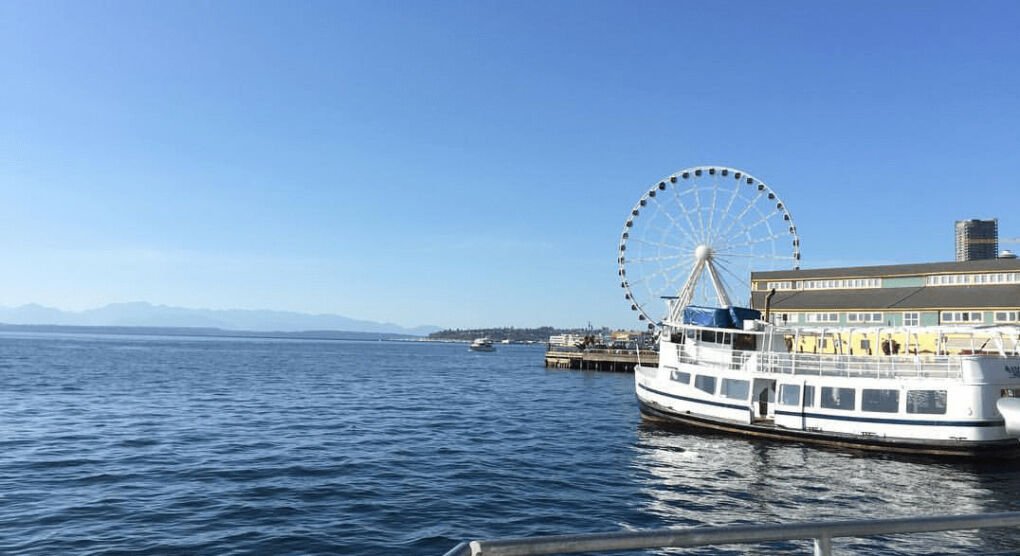 Experience the best views of Seattle on a 1-hour long narrated cruise where you'll learn about Seattle history, be dazzled by the ever-evolving Emerald City skyline, explore the workings of our shipping port, get a close-up view of Seattle's historic waterfront, all wrapped up in the natural beauty of Elliott Bay and the surrounding Olympic and Cascade Mountain ranges.
6. Visit Woodland's Park Zoo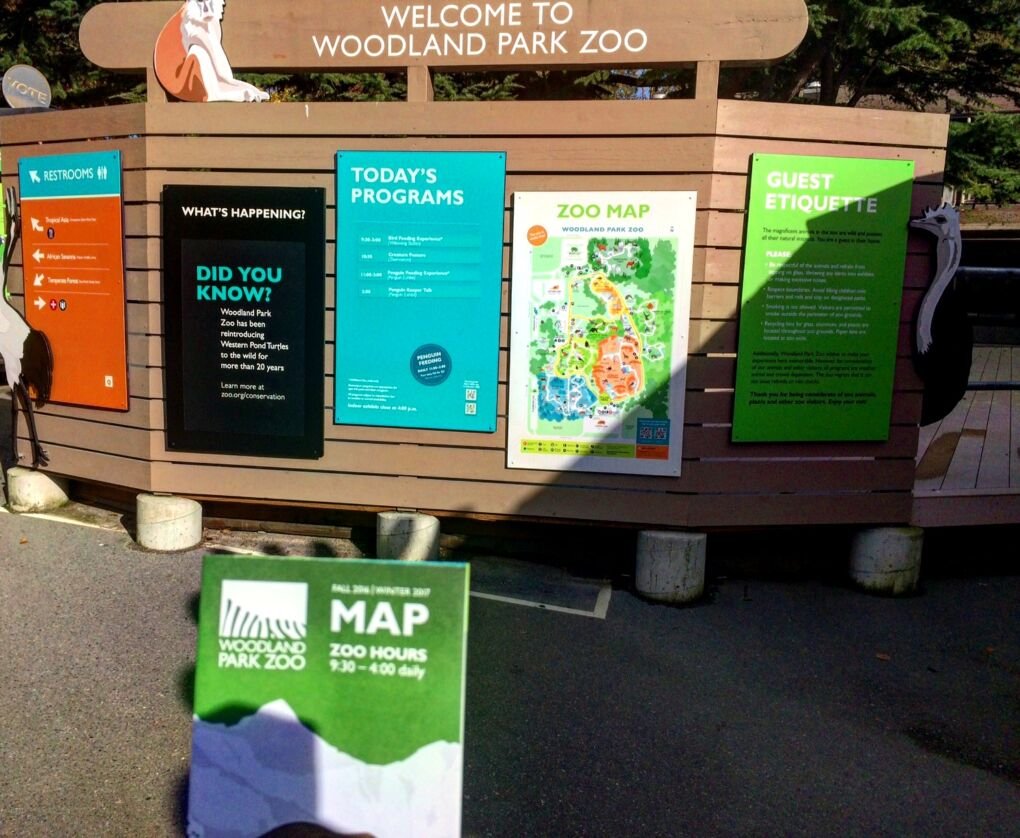 Woodland's Park Zoo is a zoological garden that is home to more than 1000 species from Tropical Rain Forest, Tropical Asia, Northern Trail, Temperate Forest, Australia, and Africa. Quite frankly this was very awkward for me, I was in and out in 40 minutes. Being South African I always find that everything with "Africa" on it is exaggerated, the weird huts and stories are too much for me especially because most if it is just crap, but I'd prefer to go on a game drive and see animals in their natural habitat rather than cages.
7. See the Market Theater Gum Wall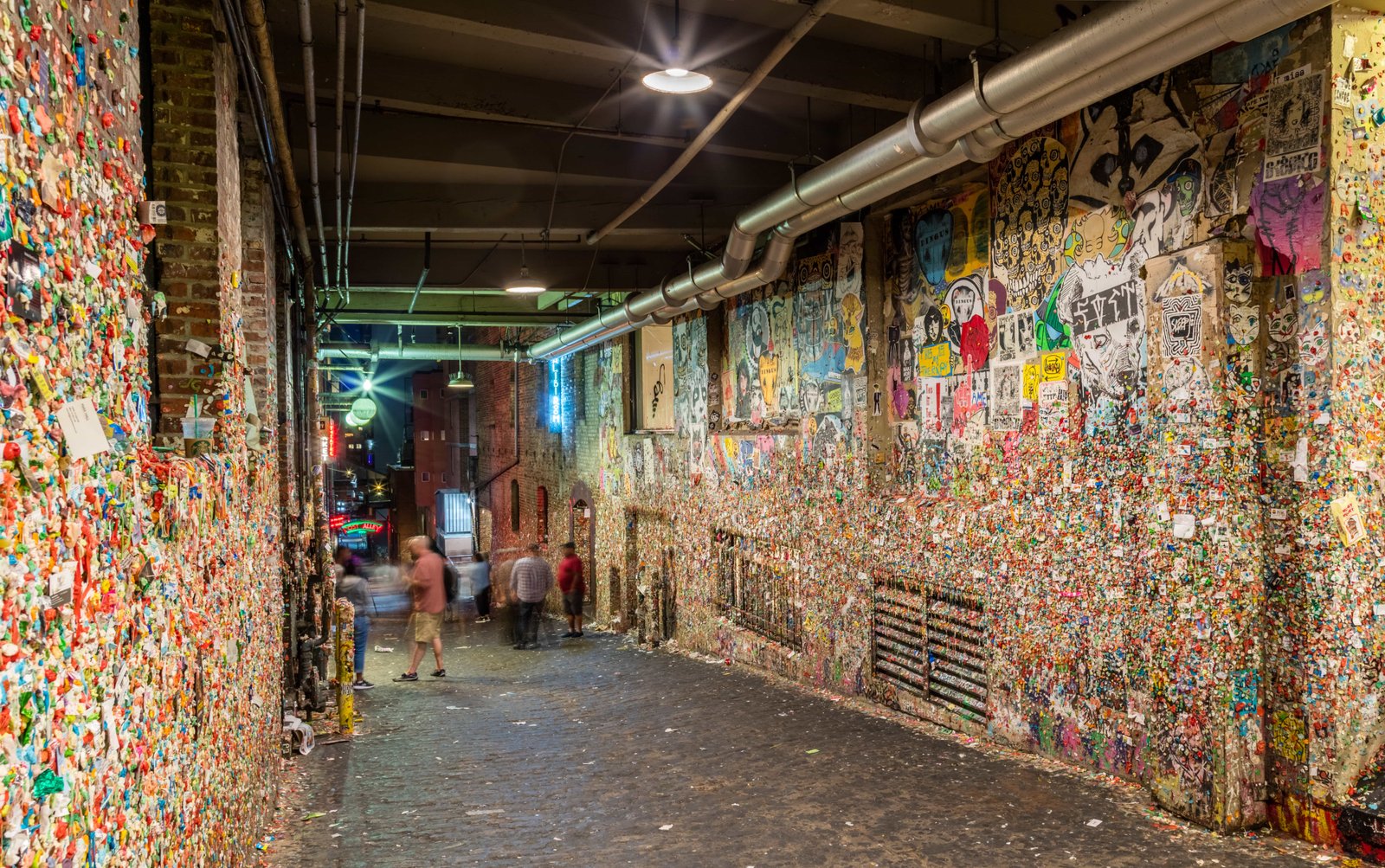 The Gum Wall is a 15 feet brick wall covered in used chewing gum since 1993. In November 2015 the Pike Place Market Preservation & Development Authority decided to clean the wall, it took 130 hours to complete, with over 2,350 pounds (1,070 kg) of gum removed and disposed of. Within 24 hours of completion, people started placing gum on the wall again.
8. See the Museum of Flight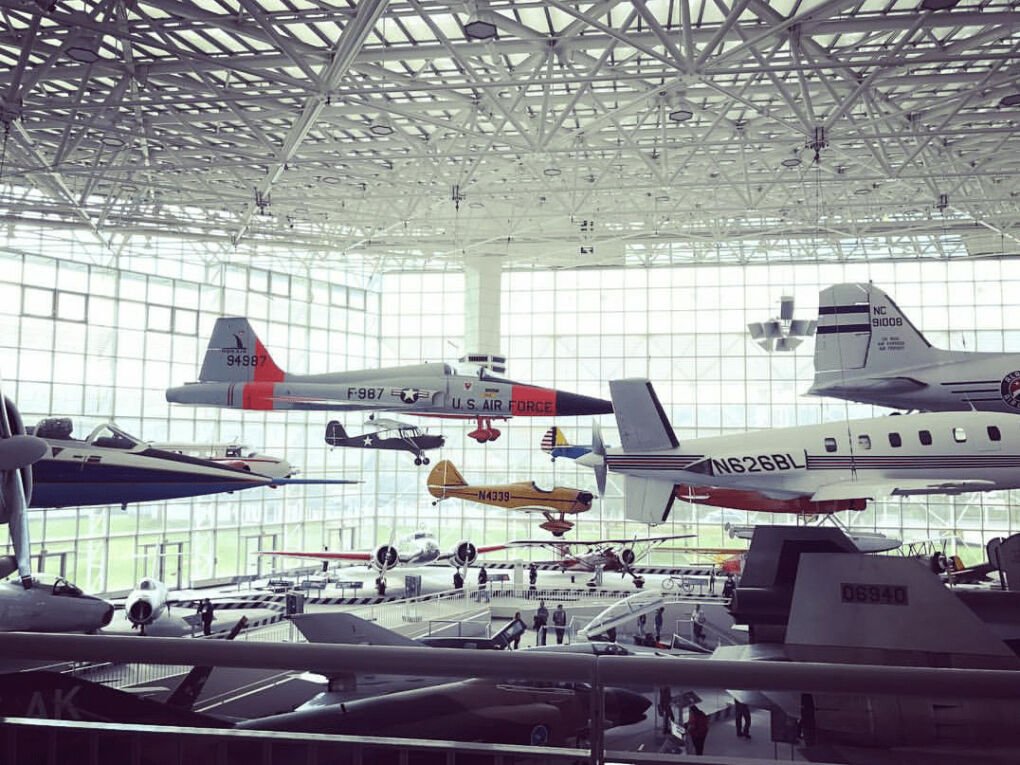 The Museum of Flight is the largest independent, non-profit air and space museum in the world! With over 175 aircraft and spacecraft, tens of thousands of artifacts, millions of rare photographs, dozen of exhibits and experiences and a world-class library, the Museum and its people bring mankind's incredible history of flight to life.
9. Find the Fremont Troll
The Fremont Troll is a statue of a troll under the bridge located on N. 36th Street at Troll Avenue N, under the north end of the George Washington Memorial Bridge. The statue was built-in 1990 to rehabilitate the area under the bridge, which was becoming a dumping ground and haven for drug dealers.
10. Admire Chihuly Garden & Glass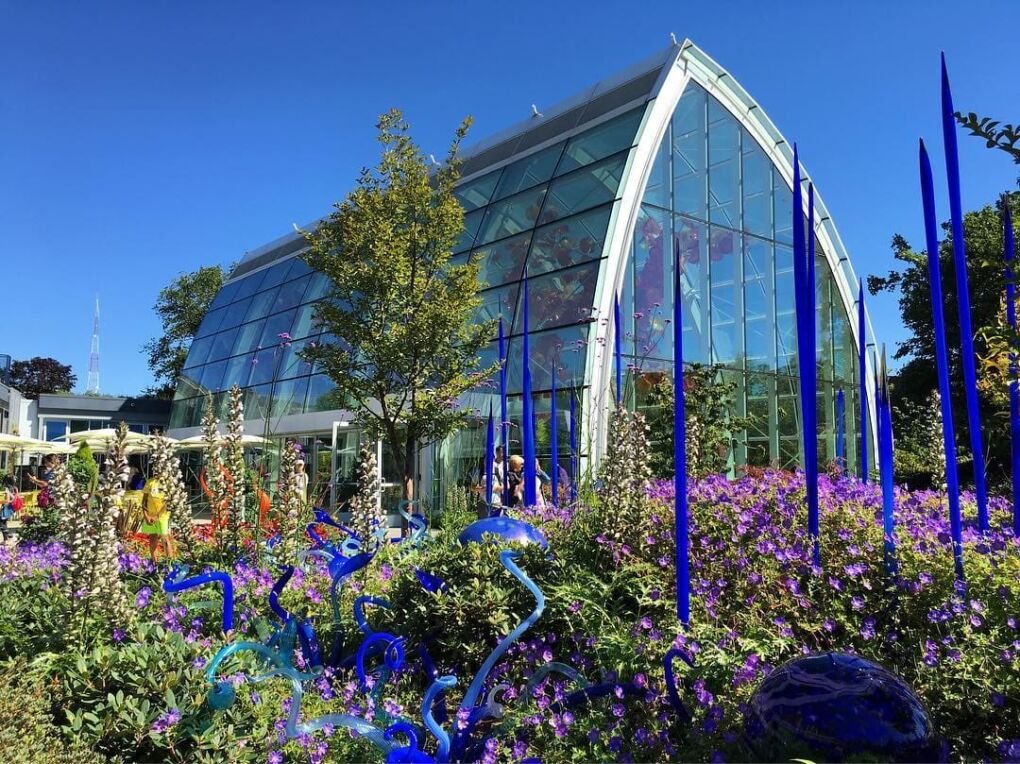 Chihuly Garden and Glass is a museum in the Seattle Center showcasing the studio glass of Dale Chihuly, an American glass sculptor. Located in the city center (next to the Space Needle).
The long-term exhibition opened in 2012, it features a Glasshouse, an Exhibition Hall containing eight galleries and three drawing walls, and a lush garden that serves as the backdrop for glass sculptures made up of impossible shapes and unbelievably brilliant colors.
Chihuly Garden and Glass is open daily, with hours varying by season. Usually, the museum is open from 8:30 am to 8:30 pm Monday through Thursday and stays open until 9:30 pm Friday to Sunday.
11. Explore Olympic Sculpture Park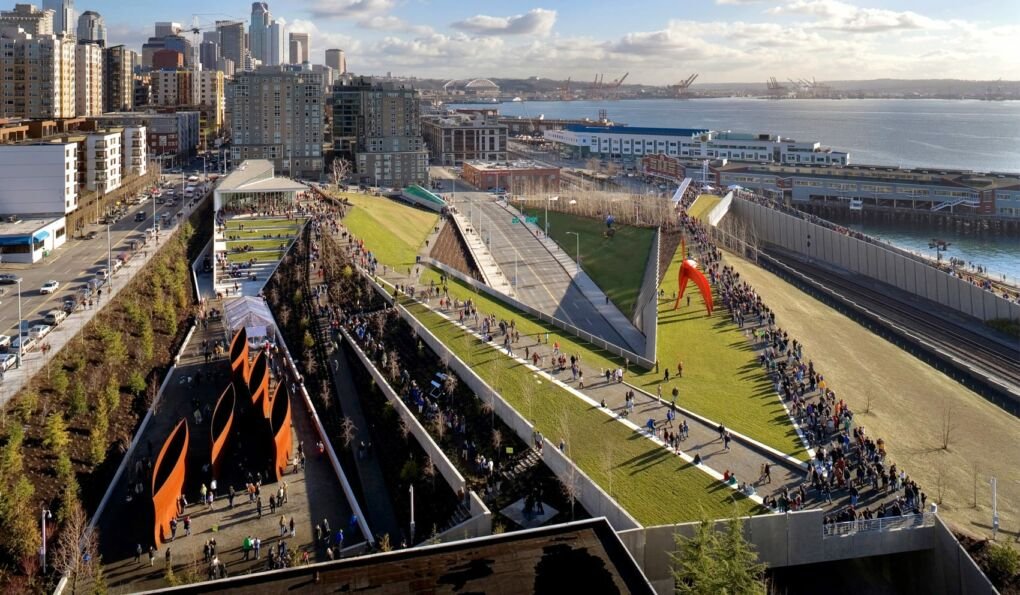 This is a free and open park with an outdoor sculpture museum and beach.
12. Watch a game at CenturyLink Field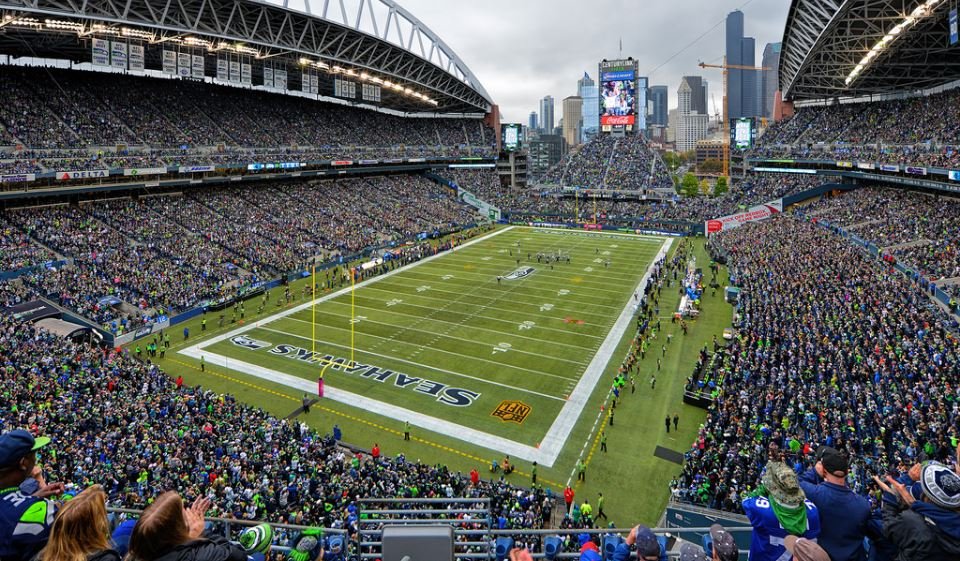 We watched the Seattle Sounders and it was truly an amazing experience. Would love to come back for the Seattle Seahawks!
13. Learn about the culture at the Asian Art Museum
Full of information about Asian art and culture. Admission is free on the first Thursday and the first Saturday of every month.
14. Visit the Microsoft Campus
Seattle is the home of Microsoft and other tech companies. At Microsoft most buildings at the HQ are only accessible to employees except building 92, where you will find a museum, which showcases the history of Microsoft closely intertwined with the history of computing, as well as the latest in terms of devices from Microsoft (phones, laptops and tablets etc) These are all free to interact with. Across from the museum is the Microsoft Store. Here one can buy mostly merchandise with the Microsoft logo (t-shirts, umbrellas, organizers, geek gizmos, backpacks etc).
15. Visit the Seattle Central Library
Designed by world-renowned Dutch architect Rem Koolhaas, the award-winning glass and steel structure of the new Central Library makes the building seem a little off-kilter and translucent – allowing passersby on the street to look in.
16. Experience the Museum of Pop Culture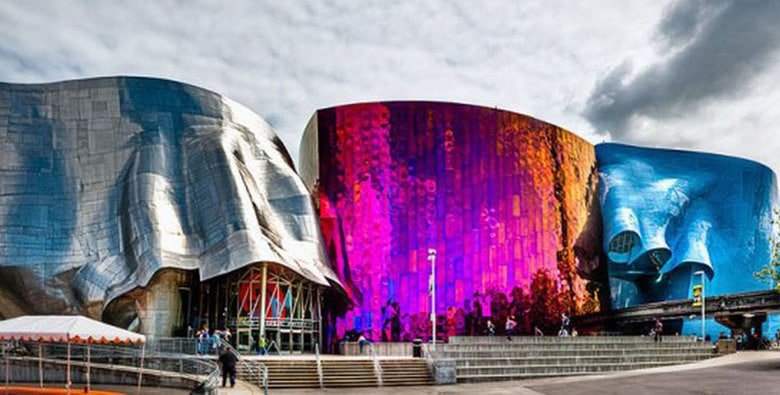 Founded by Paul Allen in 2000 and opened as the Experience Music Project, the EMP Museum is a nonprofit museum, dedicated to contemporary popular culture.
17. Go a Chocolate Factory Tour
Learn about Seattle brands that make organic, fair-trade chocolate.
18. Explore Pacific Science Center
The Pacific Science Center is an independent, non-profit science museum based in Seattle. It was designed by Minoru Yamasaki for the 1962 World's Fair. After the World's Fair closed, the museum was re-opened as Pacific Science Center. The fountains located at the entrance of the center appeared in the movie It Happened at the World's Fair with Elvis Presley.
The Space Center was actually designed along with the Space Needle, the Pacific Science Center is a museum with the goal of bringing science to life. The center offers exhibits, IMAX Movies, and an 80-foot diameter Laser Dome – the largest and longest operating domed laser theater in the world.
How to get a pass for the Pacific Science Center
Admission: There are different prices based on the exhibits you want to see. You can buy tickets online or at the entrance when you arrive.
Trading Hours:
Mon-Fri – 10 a.m. – 5 p.m.
Sat/Sun/Holidays – 10 a.m. – 6 p.m.
Parking: Street parking and public garages, 15 different bus routes available, and don't forget the Monorail ($2.50) from Westlake.
Recap of my visit:
It was the first sunny day in two weeks and I knew I couldn't waste this opportunity so I headed downtown and I went to the Pacific Science Center. Located at 200 Second Avenue North, the center aims to ignite curiosity in every child and fuels a passion for discovery, experimentation, and critical thinking in all of us.
There are environmentally focused, interactive exhibits like the Dinosaurs, the Tropical Butterfly House, Insect Village, and Puget Sound Tide Pool.
And of course, don't forget the Science Playground to get all of the wiggles out. For little ones, a must-see is the Preschool Allstars Planetarium show for kids ages 2-5 years. (As an adult I enjoyed this show).
My last stop was The Tropical Butterfly House. Since it rains a lot here, Seattle skies don't provide the light necessary for tropical species to thrive. This 4,000 sq. ft exhibit provides a glimpse into a part of the world very unlike Seattle — a warm, sunny place where colorful butterflies are active 365 days a year. Supplemental heat, light, and humidity are provided to sustain a tropical ecosystem among the cool, gray days of the Pacific Northwest.
The Laser Dome
At 80 feet in diameter, experience the largest and longest operating domed laser theater in the world. See brilliant laser imagery performed live with spectra of color and effects by the world's foremost laser artists and all mixed during the show is a fusion of 15,000 watts of digital sound.
Pacific Science Center's Laser Dome now operates with a Totally. New. Laser. System. This new system uses nine Rainbow FX laser projectors, filling the dome with vibrant color and light. This is the most full-color lasers permanently installed in any Laser Dome in America.
IMAX Theater
There are two theatres: The Boeing IMAX Theater is the Ultimate IMAX Experience on Seattle's biggest screen. With six stories high (60 feet) and 80 feet wide, with 12,000 watts of surround sound. The 373-seat theater features plush, comfortable seating, a full-service concession stand, and an enthusiastic staff trained to make your IMAX experience great. The PACCAR IMAX Theater boasts a screen measuring 35 feet in height and 60 feet from side to side. In operation since 1979 and completely renovated in 2011, the theater seats 218 for 3D movies, 295 for 2D and 321 for lectures and other such events.
By the time I got through those exhibits, I needed a break, for multiple reasons. It also takes you several hours to absorb it all.
19. The Space Needle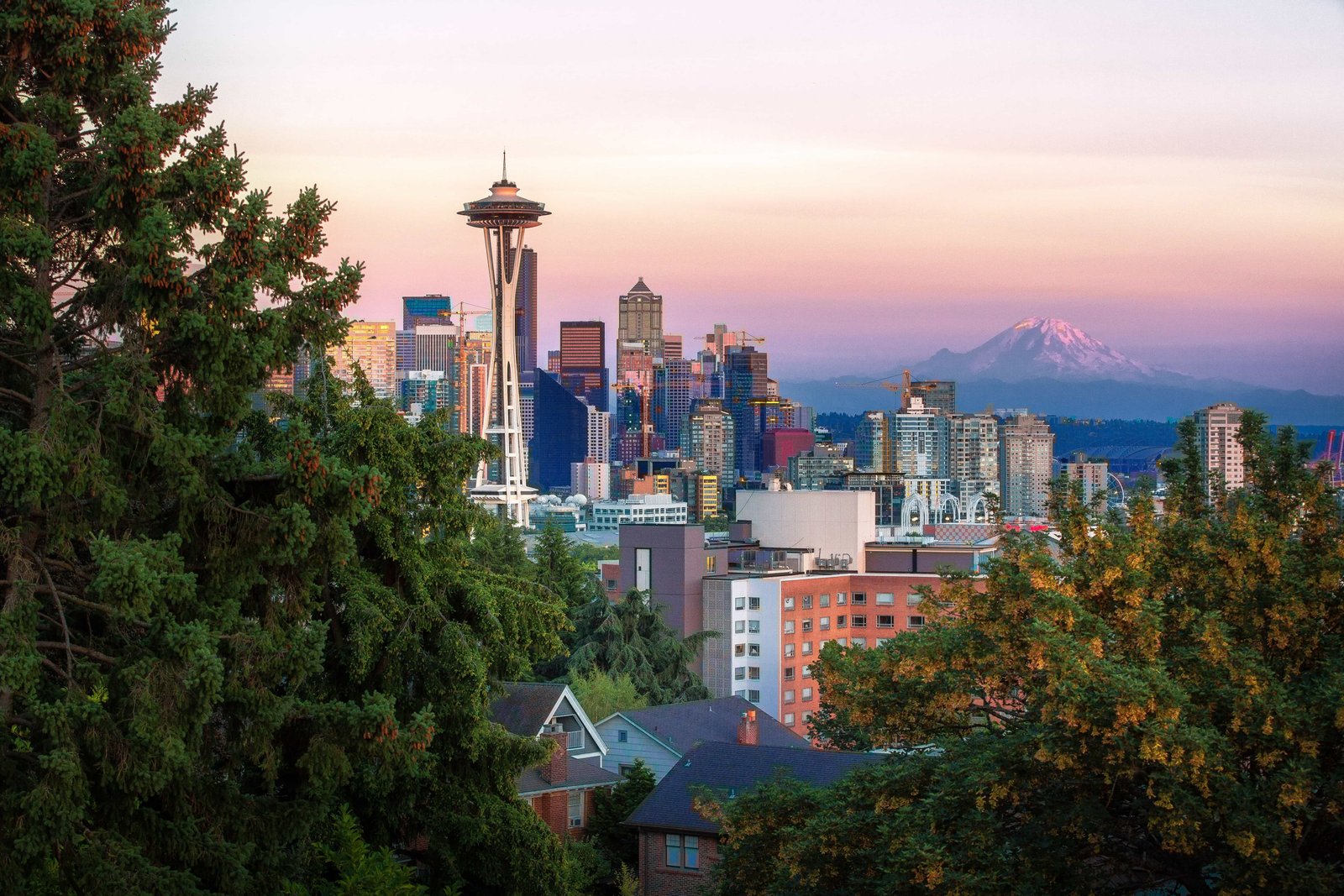 This observation tower was built-in 1961 and today it's Washington's most recognizable building seen on Grey's Anatomy and the 1995 movie "Dumb & Dumber". It has an observation deck at 520 ft (160 m) and the rotating SkyCity restaurant at 500 ft (150 m). (Note: Restaurant is quite pricey).
20. Watch the sunset from the Smith Tower
The Smith Tower is a skyscraper in Pioneer Square in Seattle. At just under 500ft the tower was the tallest building in Seattle for 48 years.
21. Bell Harbor International Conference Center Rooftop
For the best views of downtown Seattle at the rooftop of Bell Habour Center.
22. Ride the Seattle Great Wheel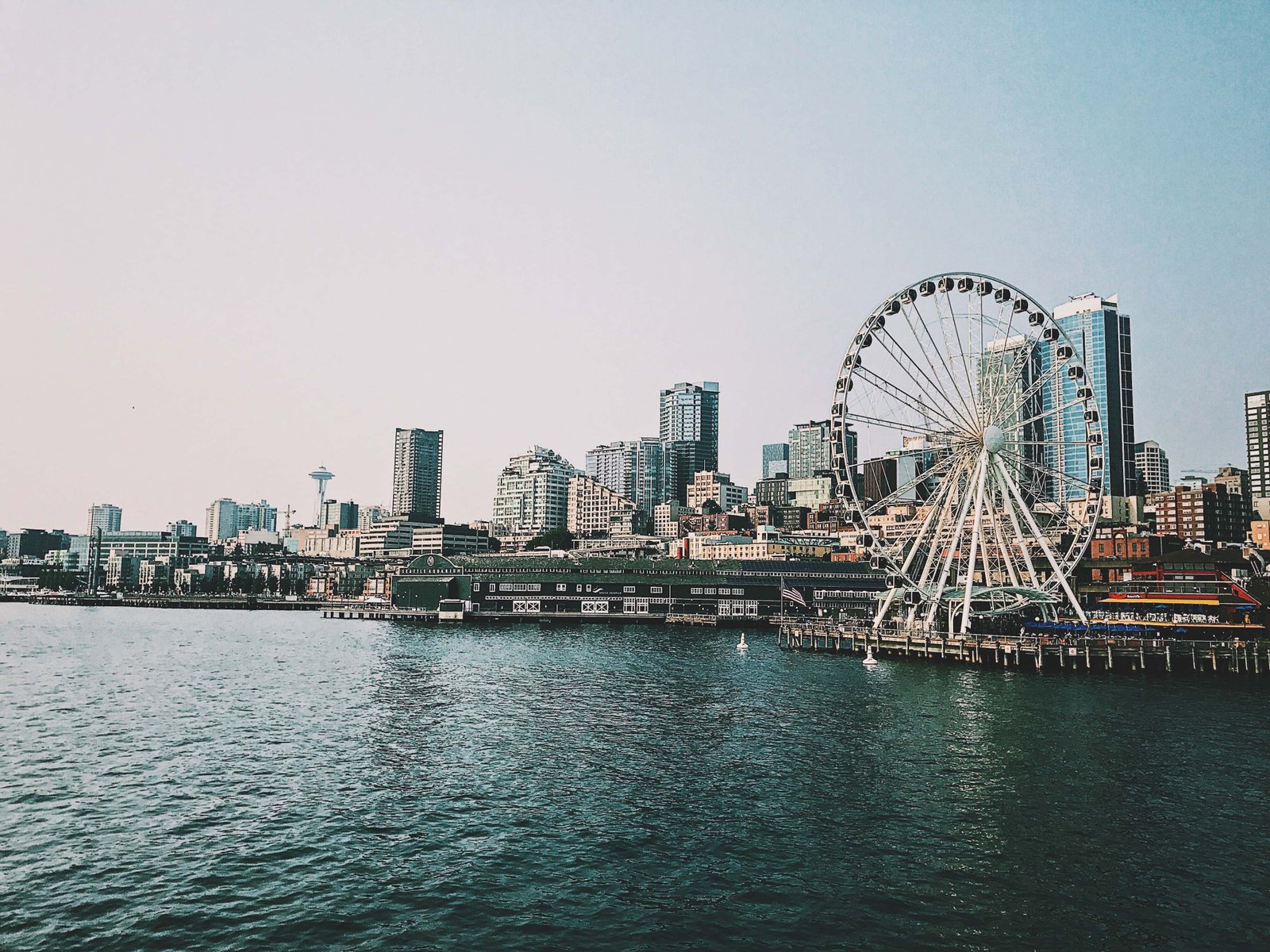 The Seattle Great Wheel is 175 feet tall making it one of the tallest Ferris wheel on the West Coast of the United States. Located at Pier 57 on Elliott Bay, the wheel spins about 4 times in a slow pace (Perfect place to watch the sunset.) There's a photo opportunity available with the green screen of the wheel available for purchase. You can also purchase tickets online or when you arrive at the Ferris wheel.
Unique things to do in Seattle
Another amazing thing to add to your bucketlist is renting a boat in Seattle!
Best day trips from Seattle
If you can spend more time outside of Seattle, I would recommend that you do it! You really only need a good one to two days to really get to enjoy Seattle and you can spend the rest of your trip trying one, two, or as many of these day trips from Seattle you can possibly enjoy! Each of these trips is around 3 hours commute or less, so you can plan your day trip from Seattle accordingly.
Port Townsend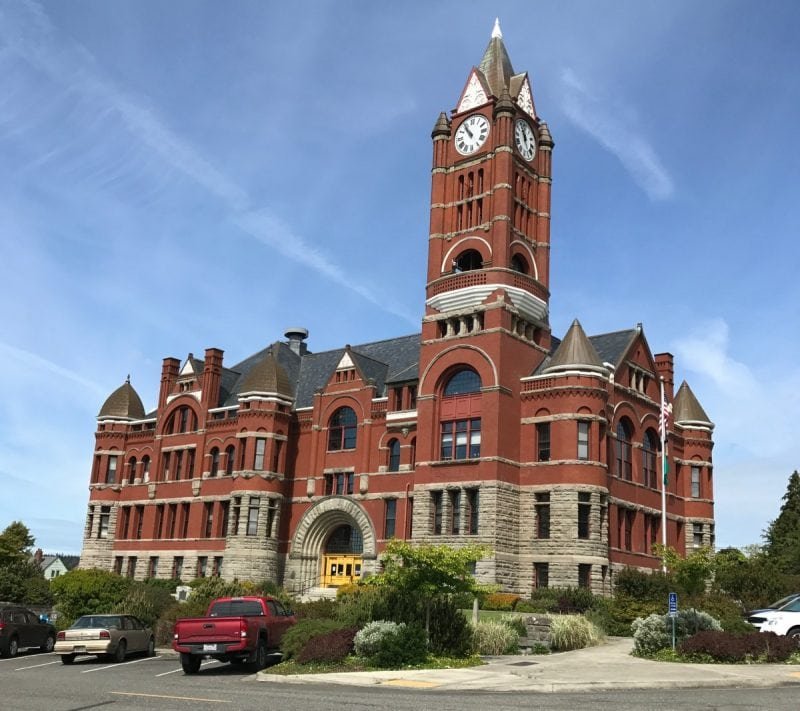 Located approximately two hours from Seattle, by car or ferry. This historic Victorian seaport at the northeastern tip of the Olympic Peninsula is a unique gem! Known for its waterfront setting, this was once a disreputable frontier boomtown with lavish Victorian buildings to match, the town's economy spiraled downwards after it was decided not to build the railway out to the peninsula. The amazing little town has a population of 10,000 and amazing things to do!
Whale Watching in San Juan Islands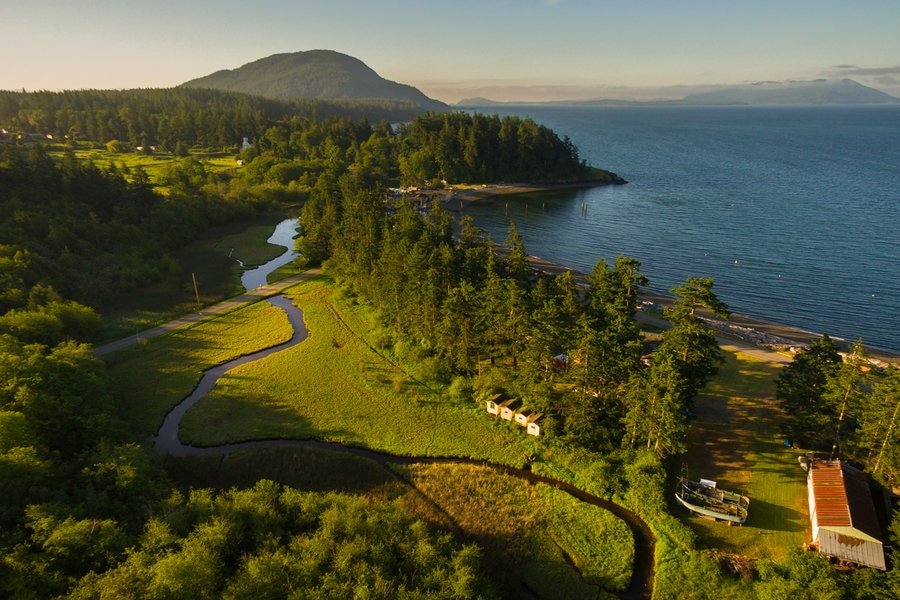 Be prepared for an overload of cuteness as you cruise by other aquatic friends, such as seals, porpoises or minke whales along the way! Like emerald-green gems scattered in a huge pond, the 100-million-year-old San Juan Islands are simply spectacular! To truly experience the region, you must explore it by water! Go on a ferry or grab a pair of paddles and navigate the calm, surrounding waters by kayak. Soak in more local goodness with a frosty pint and a bite at San Juan Island Brewing Co.
Climb Mt. Rainer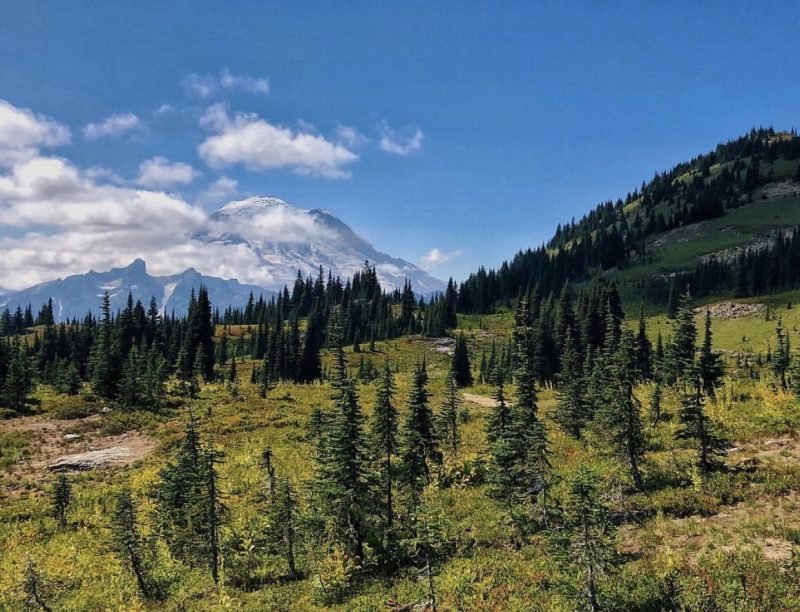 Why view mighty Mt. Rainier from a distance when you can head straight to the peak itself? Be prepared to let out a gasp when you catch sight of the mountain's blue-tinged glaciers. Visit Paradise or Sunrise, hike a little or a lot and soak in stunning 360-degree vistas of the surrounding Cascade Range, rushing waterfalls, wildflower-filled meadows, and dense old-growth forests.
See the Snoqualmie Falls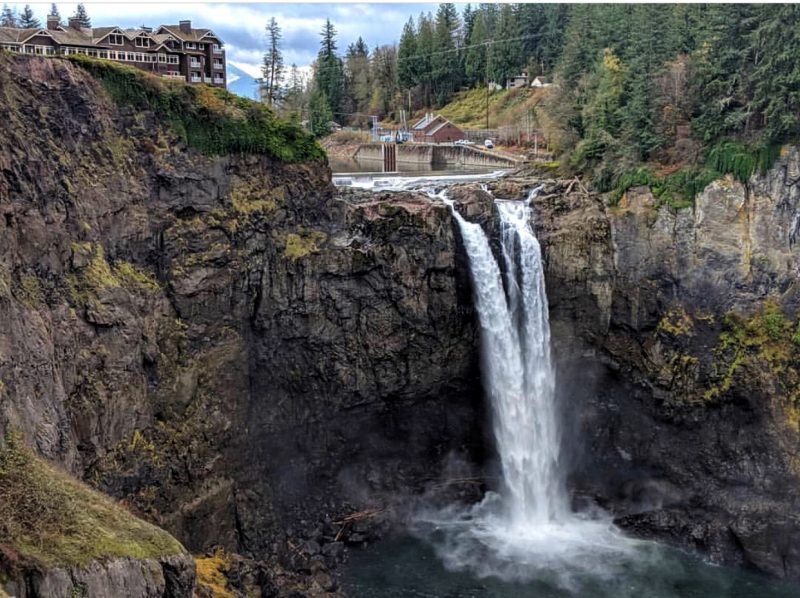 Located 25 miles east of the Emerald City, the breathtaking and the majestic, Snoqualmie Falls is one of the state's most famous landmarks. Listen to the roar as the powerful waters of the Falls plunge 268 feet into the river canyon below. Follow the less than a mile long trail to the base of the falls to snap a selfie as the mist whirls around you.
Wine Tasting in Woodinville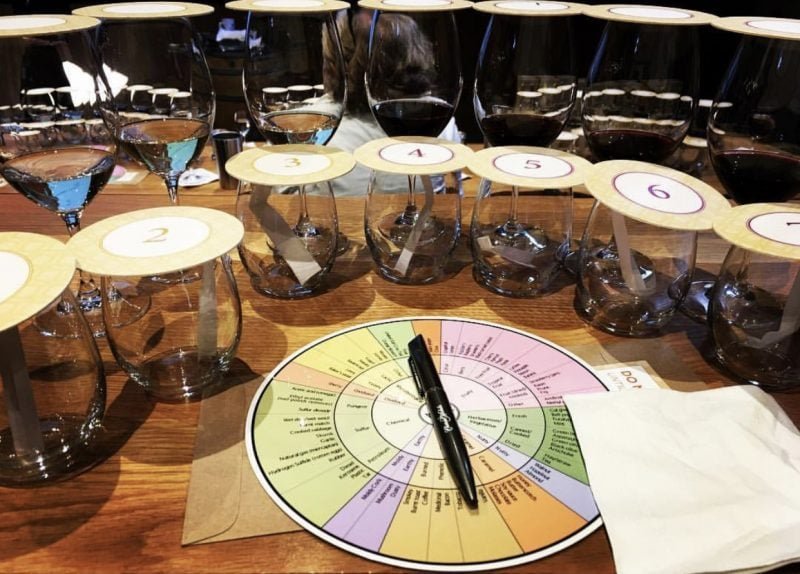 30 minutes east of Seattle's bustling urban scene, Woodinville offers a far more relaxed vibe. Duck into one of the more than 100 different wineries and tasting rooms to sample the fruits of Eastern Washington's vineyards. The quaint town also boasts countless breweries, distilleries, produce stands and flower farms. We won't blame you if you take home a carload of artisanal goodies!
Leavenworth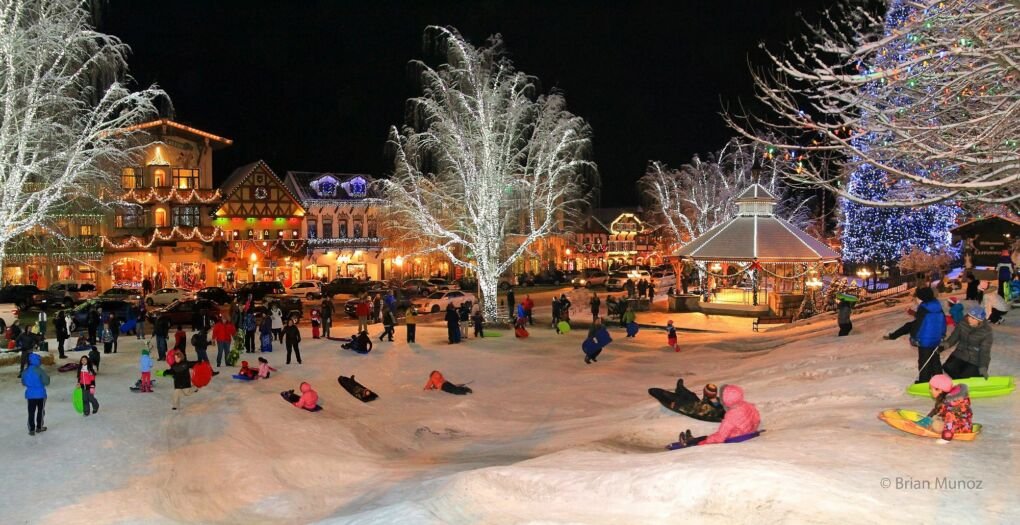 Whether you're visiting in Summer for Oktoberfest or Winter for the annual Christmas Lights Festival. Leavenworth's stunning scenery, quiet trails surrounded by pine-scented forests and crystal-clear rivers make this postcard-perfect Bavarian-style town to visit!
Bainbridge Island
One of the easiest escapes from downtown Seattle is charming Bainbridge Island. A mere 40-minute jaunt across the Sound on one of the iconic Washington State Ferries, no car is required. Once onshore, take a short bus ride will bring you to the Zen-like Bloedel Reserve. Indulge in a little "forest therapy" as you meander through 12 gardens, featuring everything from colorful formal arrangements to a Japanese garden with a 150-year-old maple. On the way back to the ferry, stop at the gas station turned Seaside Station Commuter Market. Comb through the curated collection of crafts for the perfect candle or handcrafted card to bring home.
Get close to an active volcano at Mt. St. Helens National Monument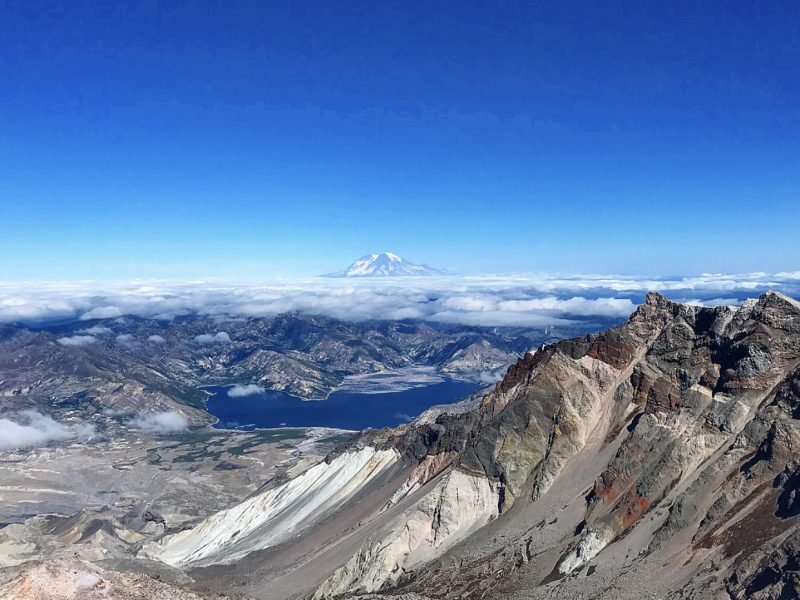 Ever wonder what it's like up close to an active volcano? You'll get your chance to find out in person at the Mt. St. Helens National Volcanic Monument. Soak in views of the steaming caldera from the Johnston Center Observatory. Traverse the barren landscape along Eruption Trail and discover the mountain's destructive history. On the Hummocks Trail, explore the blast-zone of the infamous 1980 eruption, lava dome, pumice plain and largest landslide recorded in human history.
Olympic National Park
Trade in the glass and steel of the city for the rugged, remote reaches of Washington's Olympic National Park. Wander beneath gigantic old-growth trees covered with moss in the Hoh Rainforest. Visit the impressive Hurricane Ridge, where there's a good chance of meeting the local deer, elk, marmots and mountain goats. Before you leave, head west to the picturesque Lake Crescent and dip your toes in the deep blue (albeit quite chilly!) water.
Is Seattle a safe city
As one of the most populated cities in Washington state, Seattle is a safe city. In fact, Seattle has ranked as one of the safest cities for walkers in America. As usual, I would recommend that you take precautions like you would when visiting any metropolis.
After living in Seattle for a year, I noticed there is a large homeless population, especially near the tourist attractions on 3rd and Pike, and in Pioneer Square. Apart from being asked for money, I haven't ever felt hassled or targeted.
There is a lot of drug use around the mission on 2nd and Washington, but I haven't seen any gang activity. I might be careful around City Hall Park since it's a block from the Mission and the homeless gather there.
Areas to avoid at night time include University District, Pike Place, Renton, the King County Courthouse, Belltown and Pioneer Square.
Best places to stay in Seattle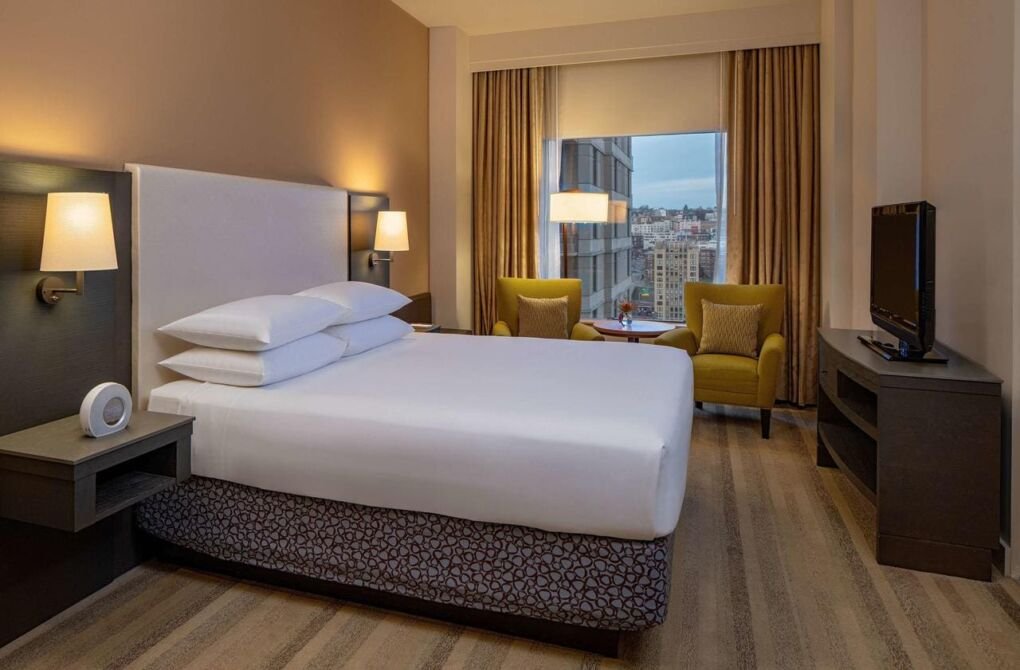 Styled in a soothing color scheme, each modern room provides an iPod docking station, a flat-screen cable TV and a seating area. LEED Certified fixtures and amenities are featured in all rooms at Hyatt at Olive 8.
[maxbutton id="1″ url="https://www.booking.com/hotel/us/hyatt-at-olive-8.en.html?aid=1558524&no_rooms=1&group_adults=1″ ]
Crowne Plaza Seattle is located in the downtown area close to destinations such as the historic Pike Place Market and the Washington Convention & Trade Center. The hotel features a 24-hour fitness center with cardiovascular equipment and a free well-equipped business center. After a busy day, guests can enjoy original Pacific Northwest cuisine in the hotel's Regatta Bar & Grill.
[maxbutton id="1″ url="https://www.booking.com/hotel/us/crowne-plaza-seattle-downtown-area.en.html?aid=1558524&no_rooms=1&group_adults=1 " ]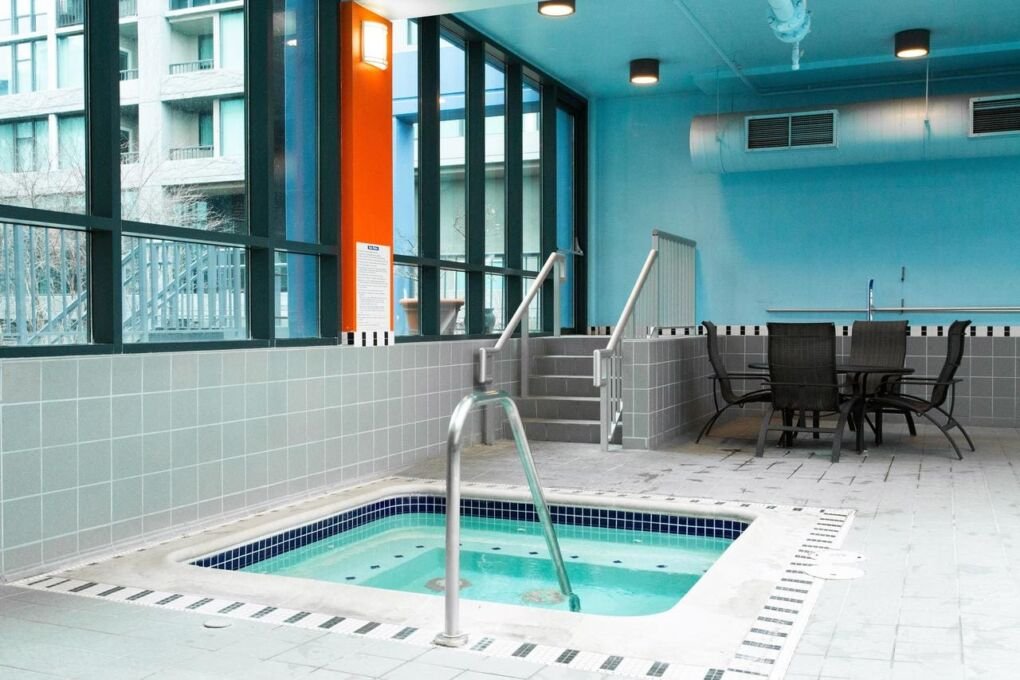 Located 5 minutes' walk from Pike Place Market, this Central Seattle apartment features a fully equipped kitchen and free WiFi. It offers an indoor pool and hot tub and a 24-hour fitness center.
For convenience, this 2 bedroom apartment features a coffee machine, DVD player, BBQ facilities, ironing facilities, and a washer and tumble dryer. Guests can enjoy a game of billiards in the on-site games room.
[maxbutton id="1″ url="https://www.booking.com/hotel/us/harbor-steps-water-views-by-alfred-s-vacation-rentals.en.html?aid=1558524&no_rooms=1&group_adults=1 " ]
Get Insurance before traveling to Seattle
Use travel insurance while visiting Seattle so you are covered for theft and medical expenses. There are a lot of adventurous activities to do in Seattle, and it's best to have peace of mind while swimming, hiking, and trying some of the best food in the world.
Find out why I recommend World Nomads, check out my World Nomads Insurance review.
Disclaimer: CityPass gave me a complimentary pass and some of the links in this post are affiliate links. If you book a tour or buy travel insurance, I'll earn a small commission at no extra cost to you.