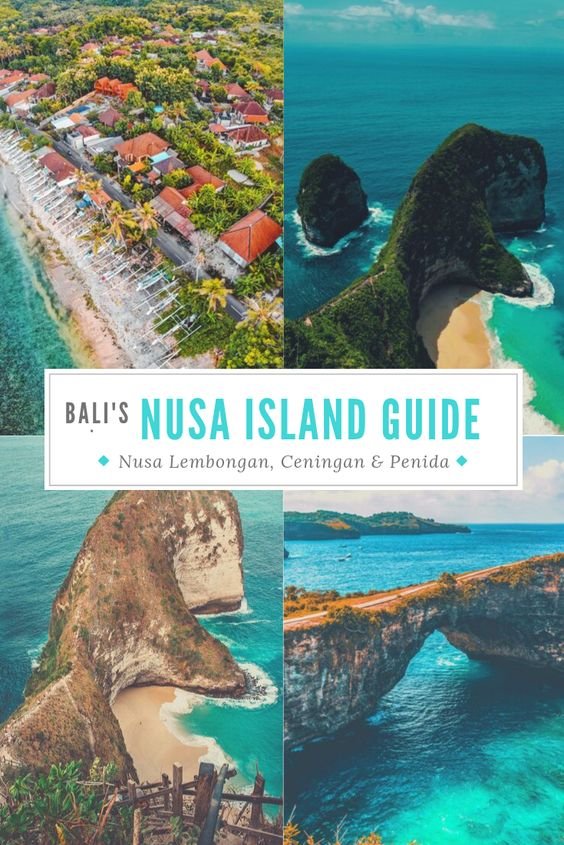 Nusa Islands are a trio of tropical Islands found near mainland Bali.
Most people aren't aware but Indonesia is home to over 17 000 islands including the Gili Islands, Lombok, Java, and Bali.
Nusa Islands are part of the Bali province, but they each have a different vibe than the digital nomad hub of Canggu or the party town of Seminyak.
It's actually incorrect to say Nusa Islands because the word Nusa means Island.
Visiting the islands can be a great day trip from Bali (mainland) or if you want to spend more than one day, there are various accommodation options on all islands.
The three Nusa islands are Lembongan, Ceningan, and Penida. Nusa Lembongan is the closest to Bali, followed by the smallest – Nusa Ceningan, and then the biggest and most popular – Nusa Penida.
---
Nusa Lembongan
Nusa Lembongan is an 8 km2 island that is surrounded by the clearest turquoise water imaginable. With a population of about 5000, this island has a perfect balance of gorgeous beaches for relaxing and fun activities for active travelers. This is a popular destination for snorkeling and surfing with fewer crowds.
How to get to Lembongan Island
The best way to get from Bali to Nusa Lembongan is by fast boat, which will take about 35 minutes from the port of Sanur (in mainland Bali).
I highly recommend buying your tickets in advance and online. Depending on the company, the speedboat from Sanur to Lembongan boat price is around IDR 300,000 to 500,000. This price should include both transport from your hotel and the ferry ticket.
Getting around Nusa Lembongan
There are two types of vehicles on the roads of Nusa Lembongan: scooters and trucks with seats in the tray.
When renting a scooter it's important to remember that most travel insurance companies won't cover you if you don't have a scooter license.
The trucks in Nusa Lembongan reminded me of safari vans and they are the main tourist transport in Nusa Lembongan.
Things to do on Lembongan Island
Jungut Batu Beach
If you take a fast boat from Sanur to Nusa Lembongan, you will most likely be dropped off at Jungut Batu Beach. Jungut Batu is one of two main villages on the island and is where most activities will begin, including snorkeling, boat trips, and surfing days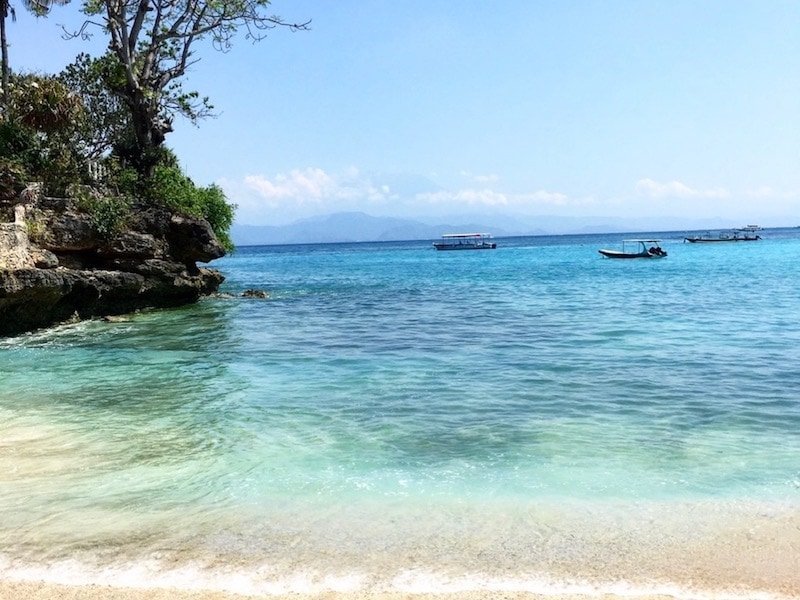 Mushroom Beach
Located on the north side of the island, Mushroom Beach on Nusa Lembongan is the most protected beach and most suitable for families, with swimming and snorkeling activities available.
Devil's Tears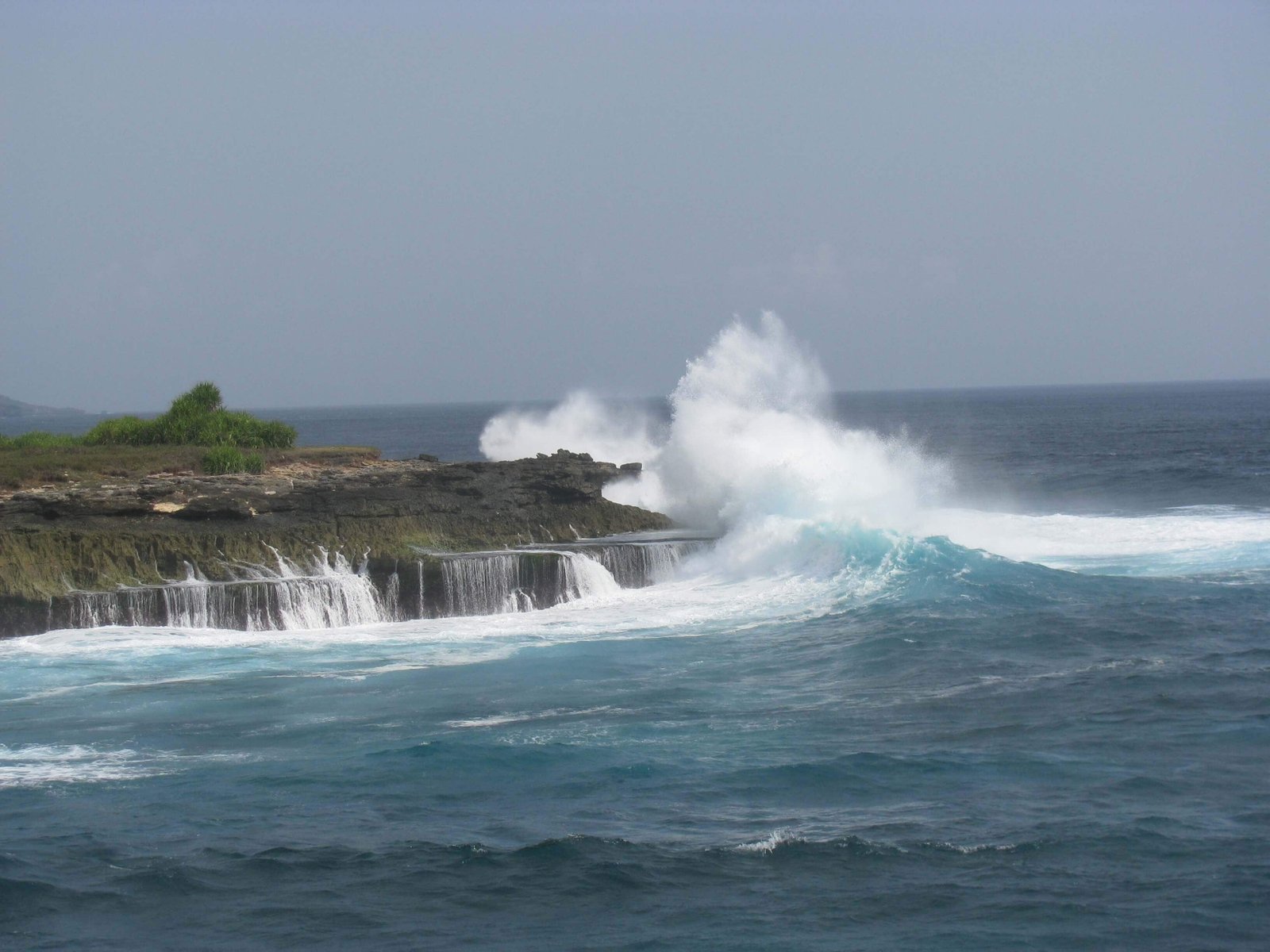 Devil's Tears is a popular tourist and sunset spot on Nusa Lembongan. It's located on the southeast of Nusa Lembongan.
The name comes from the mesmerizing display of force as these enormous waves are continuously sent smashing against the rocky cove creating sudden massive ocean spray explosions, resulting in a large widespread mist aka "Devil's Tears", falling back into the sea.
There is also an area where you can jump from a cliff, I wouldn't recommend this but if you choose to do it, take precautions as the cliffs are dangerous.
Mangrove Forest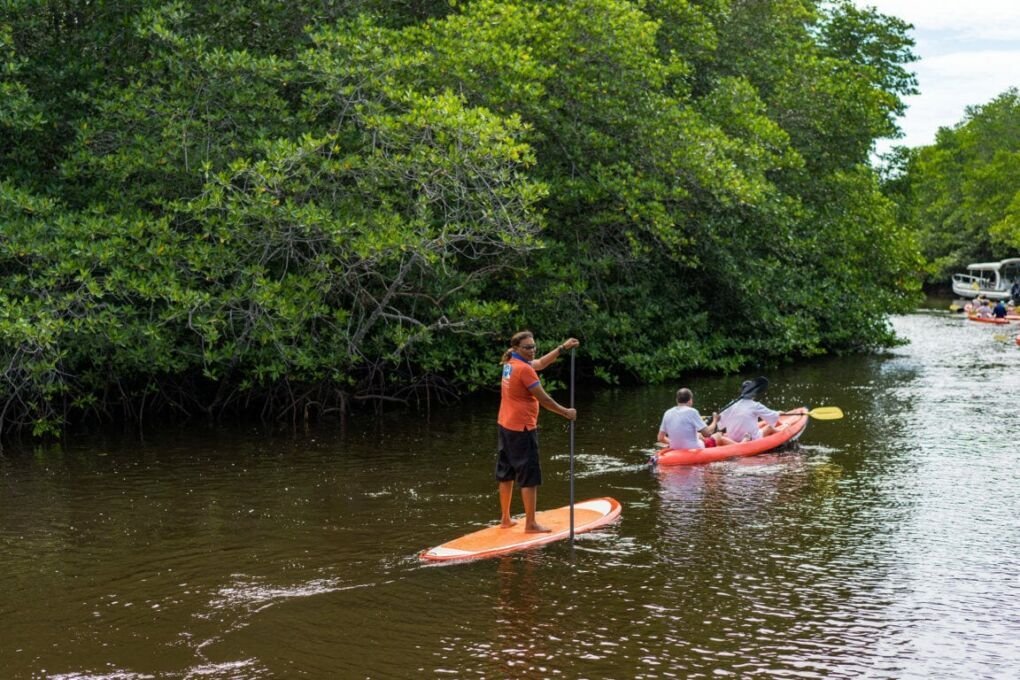 The south coast of Sanur is naturally protected by a green belt of mangrove forest. A portion of this well-maintained forest is open to visitors. While taking a walk, visitors can experience, what does the mangrove for good with regard to the local ecosystem. You can go for a walk on the boardwalk, go kayaking, or rent a boat to explore the area.
Where to stay in Nusa Lembongan
The 5 star Tamarind Resort is a scenic Nusa Lembongan hotel perched on the heights of this secluded island, with a majestic view of Mount Agung.
The resort has 12 spacious guest rooms with a private balcony overlooking the picture-perfect ocean vistas and 3 exclusive three Bedroom Villas with private rooftop opening out over the sprawling blue water.
Centered on a 300-year-old Tamarind tree, the modern design of the hotel seamlessly blends in with the surrounding natural environment of Jungut Batu Beach.
[maxbutton id="1″ url="https://www.booking.com/hotel/id/the-tamarind-resort-nusa-lembongan.en.html?aid=1558524&no_rooms=1&group_adults=1″ ]
This 4-star property with a garden is located in Lembongan, 400 m from Mushroom Bay. The Sandy Beach Club is 700 m away.
Dinatah Lembongan Villas offers every amenity you will end and also has an outdoor pool and an on-site restaurant.
[maxbutton id="1″ url="https://www.booking.com/hotel/id/dinatah-lembongan-villas-lembongan.en.html?aid=1558524&no_rooms=1&group_adults=1″ ]
Set in Nusa Lembongan, a few steps from Crystal Bay, Sunday Huts Lembongan offers accommodation with a restaurant, free private parking, a bar, and a garden. Featuring room service, this property also provides guests with an outdoor pool. The air-conditioned rooms provide a pool view and come with a desk and free WiFi.
The units at the guest house come with a seating area. With a private bathroom equipped with a shower and free toiletries, rooms at Sunday Huts Lembongan also have a garden view. All guest rooms feature a wardrobe.
[maxbutton id="1″ url="https://www.booking.com/hotel/id/sunday-huts-lembongan.en.html?aid=1558524&no_rooms=1&group_adults=1″ ]
---
Nusa Ceningan
Ceningan is the smallest of the Nusa Islands. With picture-perfect beaches that are made up of a fine white soft sand. This island isn't as popular as the others because it doesn't have as many tourist attractions or infrastructure. I recommend visiting Ceningan if you want to go surfing without crowds.
How to get to Nusa Ceningan
The only way to get to Ceningan is from Nusa Lembongan. Lembongan is where all the boats from Bali arrive, so you would need to find a transfer from Lembongan to Nusa Ceningan. You can take a local boat or rent a scorer and cross the bridge by scooter to visit Nuss Ceningan.
Things to do in Nusa Ceningan
Cross The Bridge of Love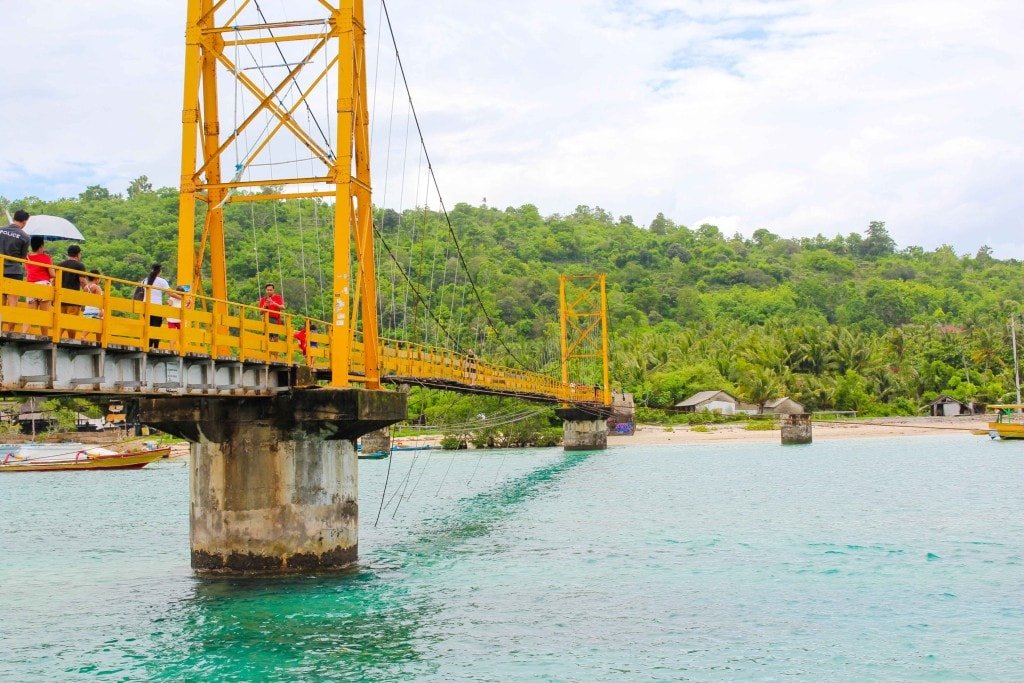 The newly rebuilt 'Yellow Bridge' (Jembatan Kuning) is one of the two ways to get from Nusa Lembongan to Nusa Ceningan. The bridge is a significant landmark with a sad history. In 2016, 20 people were injured while 9 lost their lives when the bridge collapsed.
After it was rebuilt it was renamed 'The Bridge of Love'. Today it has become an iconic feature especially at night it's adorned with colorful lights and is fast becoming a spectacle for tourists.
Jump off the cliff at Blue Lagoon
This rocky cove with bright turquoise water is a popular place for scenic views & sunset watching.
---
Nusa Penida
The Instagram famous Nusa Penida is the largest of the 3 islands. With over 60,000 inhabitants, the island is located only 45 minutes by speed boat from the mainland of Bali.
How to go to Nusa Penida from Bali
If you are traveling from Bali mainland to Nusa Penida, the most common way to travel is by fast boat from Sanur to Nusa Penida.
Most organized tours for people coming from Canggu, Seminyak, or other areas in South Bali include free pick up from your accommodation. From Canggu to Sanur it took an hour (on a Sunday). There's always traffic in Bali so allow yourself enough time to travel to Sanur.
The port of Sanur is in the south-east of Bali is approximately 1 hour from Canggu, 45 minutes from Seminyak or 35 minutes from Kuta. This port is where most people get their ferry to Nusa Penida. I highly recommend booking your speedboat tickets from Sanur to Nusa Penida online for the guaranteed availability and lowest price.
There are different ferry companies but the first speedboat from Sanur to Nusa departs at 7:40 am and the last ferry from Nusa Penida to Sanur departs at 4 pm.
How to get around Nusa Penida
Nusa Penida is not a small island, and one of the first decisions you need to make is how to explore Nusa Penida. There are two main ways to explore the amazing island, either by motorbike or hiring a car with a driver.
After visiting Nusa Penida, I would not recommend renting a bike. It's scorching hot, the roads are awful (bumpy with potholes and gravel in most areas), you will be going uphill in most cases and everything is far from each other – you can spend up to one hour traveling from one beach to another.
Unless you are confident on a scooter, I wouldn't recommend one. It's also important to remember that travel insurance companies won't payout if you drive a scooter without a motorbike license.
How to organize a Nusa Penida Private Driver
I recommend that you arrange a Nusa Penida transfer before arriving on the island. When you get off the boat, there will be a lot of drivers waiting and you can hop in the car and begin the day activities. Alternatively, you can just hire one when you get off the boat but it will be more expensive. Nusa Penida car rental can cost between Rp 500,000 to 800,000.
What to see in Nusa Penida
Penida is the largest of the three Nusa's with amazing things to see. There are many amazing places to stay in Nusa Penida, I would recommend spending at least 2 days to see the entire island but a day trip to Nusa Penida is also doable and you should add these top Nusa Penida attractions to your must-see list:
Angels Billabong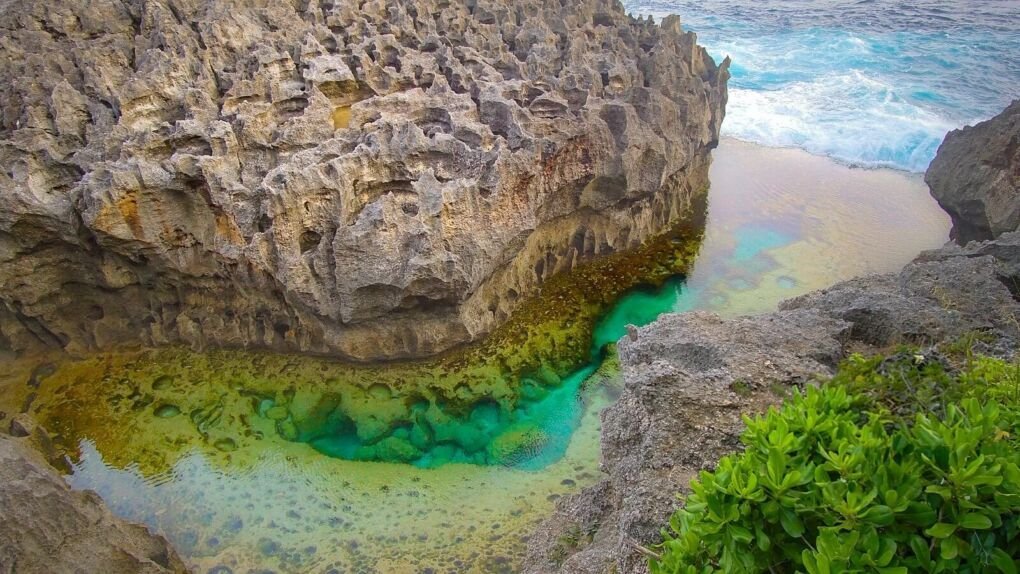 Angel's Billabong is a natural infinity pool framed by rock cliffs and hangs out over the ocean overlooking Manta Point Beach.
There are a number of viewpoints of Angels Billabong, however, most of the visitors are going down in the infinity pool itself.
No entrance fee required to visit Angel's Billabong and beach, but there is a small amount of IDR 5000 for parking.
Broken Beach (Pasih Uug)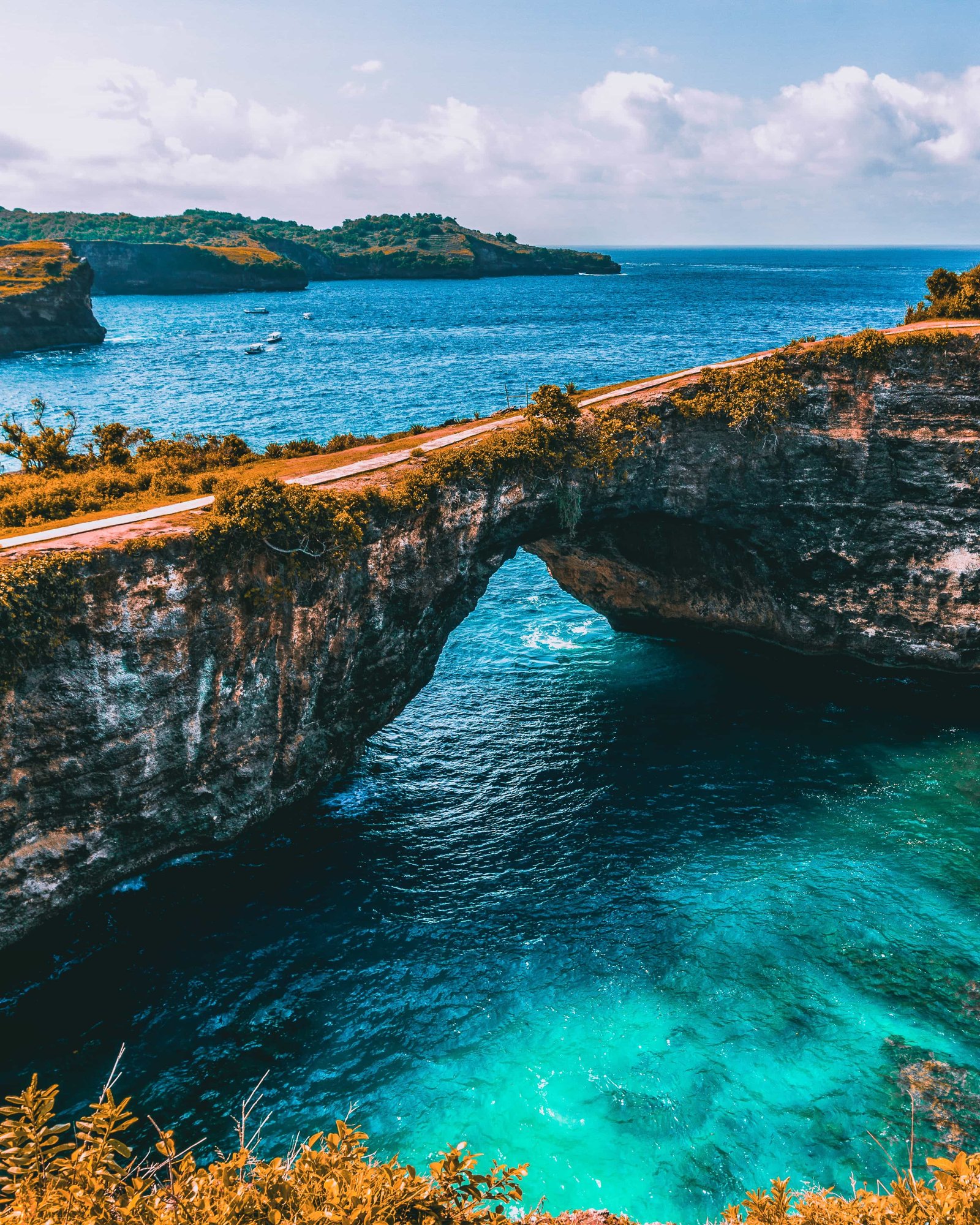 This was one of my favorite beaches in Nusa Penida. It's also one of the top picturesque and most visited destinations on Nusa Penida Island. The locals call it Pantai Pasih Uug which means damaged beach in the Indonesian language.
Broken Beach has a big natural pool, about a hundred meters in diameter, created by sea abrasion and collapsed limestone hill in million years ago. This hole has 98 meters in diameter and offering a unique and scenic view.
Tip: When driving to Angels Billabong, there is a small gate about 500m from the parking lot. Enter at that gate and it will lead you right to Broken Beach instead of having to walk for 30 minutes from the parking lot.
---
Goa Giri Putri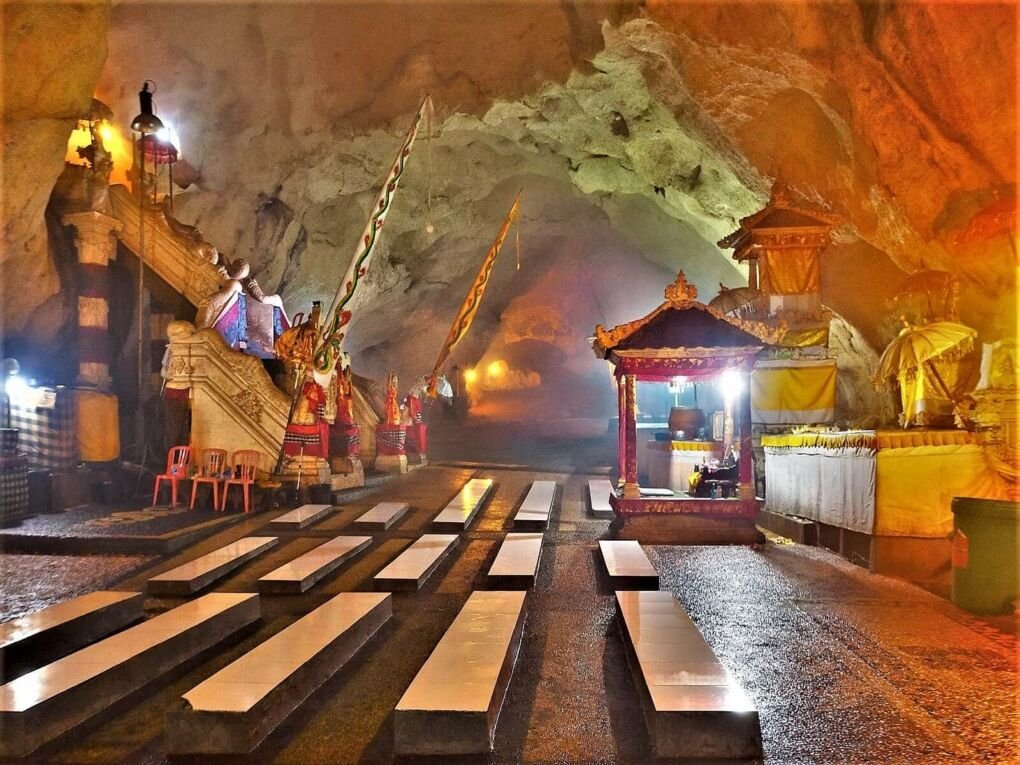 Located In North Penida, the Goa Giri Putri is an underground temple. The religious site is visited by many Balinese people. The entrance is quite impressive, to access you have to go through a small opening between the rocks.
---
Kelingking Beach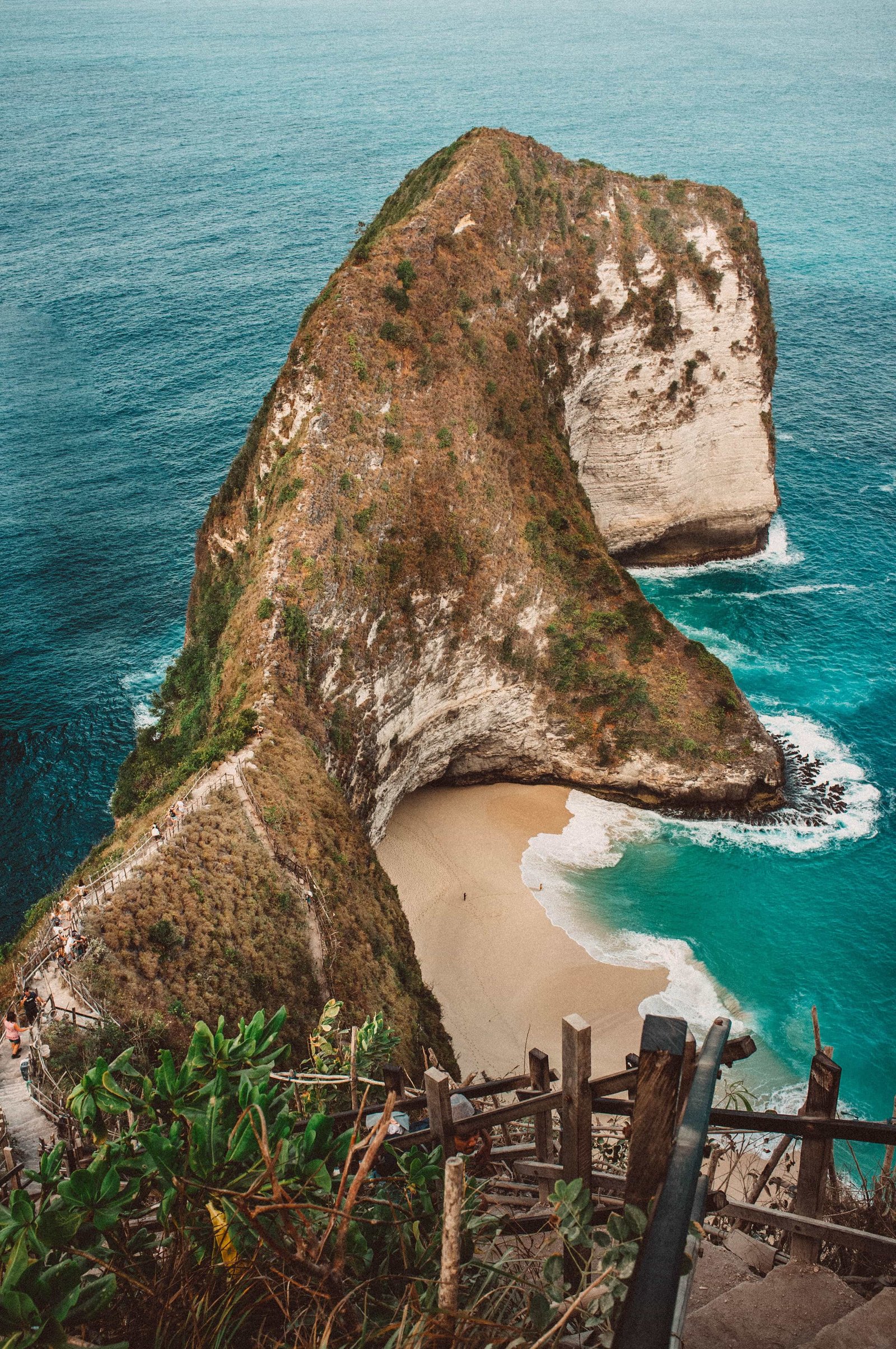 Kelingking means pinkie finger in Balinese. The local named it Kelingking as the tip end of the cliff taper narrowly like the pinkie finger.
Take amazing shots from the top of the cliff. The most popular backdrop in the shot is the T-Rex head part of Kelingking.
You can also go to the private beach but keep in mind that climb down to the beach is very steep and dangerous. If you are not physically fit, I really don't recommend it.
Most people don't do this because it's really dangerous. Those who are brave enough get to enjoy a private beach with tourists overlooking the cliff.
---
More pictues from Kelingking Beach:
---
Crystal Bay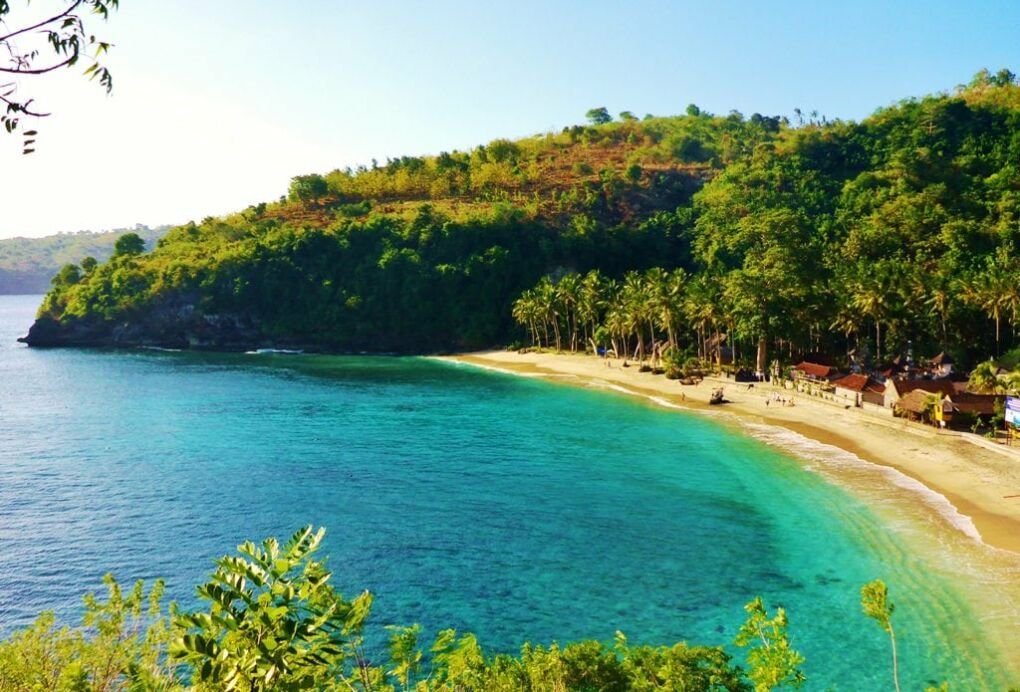 Crystal Bay Beach is located on the western side of Nusa Penida. It's the perfect place to go and relax on the beach, swimming, snorkeling, and diving.
The bay lives up to its name, with crystal clear water and an abundance of marine life. Crystal Bay Beach is also famous for its Mola Mola (sunfish), and it's also one of the best places for snorkeling on Nusa Penida.
Entry to Crystal Bay Beach is free, but you will have to pay for parking for IDR 5000 per car or IDR 2000 for a scooter.
Manta Bay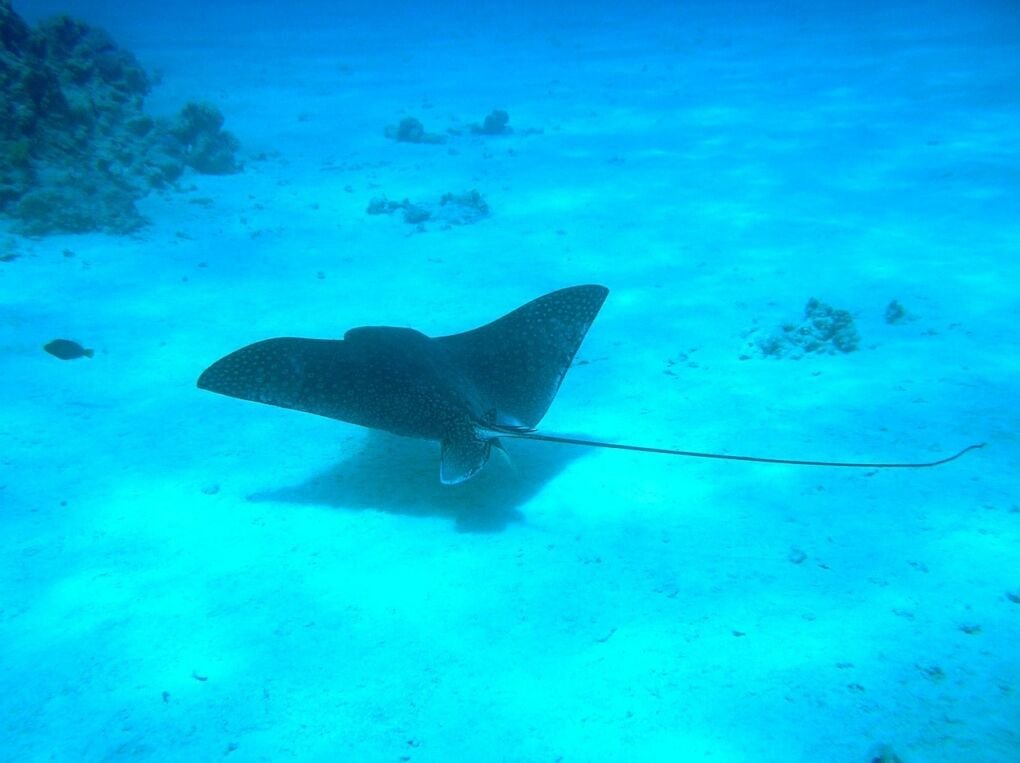 Nusa Penida has one of the largest numbers of manta spottings in the world. If you've never swum with Manta Rays before, then this is the perfect place to do it. If you don't want to swim with the gentle giants, you can also see them from cliffs in various parts of the island.
Where to stay in Nusa Penida
The Mesare Resort has a garden and a terrace. Located 3 km from Peguyangan Waterfall. The rooms are fitted with a balcony and a seating area. The private bathroom is equipped with free toiletries.
An American breakfast is available every morning at the accommodation. The Mesare Resort has an on-site restaurant that also provides room service.
[maxbutton id="1″ url="https://www.booking.com/hotel/id/the-mesare-resort.en.html?aid=1558524&no_rooms=1&group_adults=1″ ]
Just 5-minutes from Atuh Beach is an amazing treehouse with a unique viewpoint. On a small cliff are three treehouses almost 360 degrees surrounded by the ocean and an unbeatable view.
Perfect for 1 or 2 guests. There are three treehouses in the area and they book out quite far in advance. I wouldn't recommend staying here if you're traveling with children.
[maxbutton id="1″ url="https://www.booking.com/hotel/id/rumah-pohon-tree-house.en.html?aid=1558524&no_rooms=1&group_adults=1″ ]
Featuring free WiFi, a Balinese garden, and a terrace, Hostel Nusa Penida offers accommodation in the central village of Nusa Penida, 13 km from Peguyangan Waterfall. There are options for private rooms and dormitory rooms.
[maxbutton id="1″ url="https://www.booking.com/hotel/id/hostel-nusa-penida.en.html?aid=1558524&no_rooms=1&group_adults=1″ ]
Choosing the best Nusa Islands
If you're planning a trip to the Nusa Islands (Nusa Ceningan, Lembongan, or Penida), here a few things to take into consideration:
Nusa Lembongan is the second largest but the most developed – in terms of luxurious hotels and proper roads.
Nusa Penida has the most sights to see, including the mesmerizingly beautiful Broken Beach.
There is a bridge (only for scooters) connecting Nusa Lembongan and Nusa Ceningan. You can easily kill two birds with one stone on the same trip.
Nusa Lembongan for those who are looking for more of a leisurely visit.
The best way to explore Nusa Penida in one day is by exploring with Goranga – with a local expert, this all-inclusive private tour included return hotel transfer, fast boat tickets, Nusa Penida driver, and taxes.
However, while you're in the Nusa Islands we almost deem it necessary to visit all three on the same trip if you have enough time.
Get Insurance before traveling to Bali
Use travel insurance while visiting Bali so you are covered for theft and medical expenses. There are a lot of adventurous activities to do in Bali, and it's best to have peace of mind while swimming, hiking, and trying some of the best food in the world.
Find out why I recommend World Nomads, check out my World Nomads Insurance review.
Disclaimer: Goranga gifted me a complimentary private tour of Nusa Penida and some of the links in this post are affiliate links. If you book a tour or buy travel insurance, I'll earn a small commission at no extra cost to you.