I was fortunate to call Ireland home for 2 years! I spent the first in Dublin and then moved to Wexford. There are many things to do in Wexford, in fact, the county is one of the most beautiful counties I have ever been to in Ireland.
It's was easy to fall in love with the amazing people and 50 shades of green on your first visit.
Most people come to Ireland and only visit Dublin when the heart of Ireland is actually the countryside! There are so many places to explore like Northern Ireland, the Wild Atlantic Way, and the Ancient East.
It takes its name from the principal town, Wexford, named 'Waesfjord' by the Vikings – meaning 'inlet (fjord) of the mud-flats' in the Old Norse language.
Known for their Purple and Gold sporting colors, Wexford is home to one of Ireland's two Botanical gardens, Wexford is also where the idea of the Guinness World Records book was conceived.
If you are wondering what to do in Wexford, sit tight as I have many suggestions!
Things to know about Wexford Ireland
Where is Wexford
Wexford is located in the south-east of the Republic of Ireland.
How to get to Wexford
Wexford is reachable by car, bus or train.
There are two bus companies that go to Wexford: Wexford Bus (Route 740) and Bus Eireann (Bus #2).
Wexford Bus is generally cheaper, more frequent but some buses are old and don't have wifi and charging outlets. I also loved the Live Bus Tracker feature on their site.
Bus Eireann is great because they have newer buses, fast Wifi, and charging outlets but the buses are ALWAYS late and the last bus leaves Dublin at around midnight and there are no buses from Dublin to Wexford till 6 AM.
The bus from Wexford to Dublin takes about 2 hours (depending on the traffic) and it departs from Wexford (Redmond Square) – outside the Wexford train station and it stops in 8 places before reaching Dublin City center then proceeding to Dublin Airport.
So, in total there are 16 stops between Wexford and Dublin.
Local Tip: During weekends (especially Saturday) a lot of people travel by bus from Wexford to Dublin, to avoid disappoints book your tickets online and choose a timeslot so the bus company can reserve a seat for you.
Irish Rails is the only train company that operates trains to Wexford (O Hanrahan) in Ireland.
All trains depart from Dublin, the journey takes about 2 hours and 40 mins and the scenic route will take you through amazing places like Greystones and
What county is Wexford in
Since circa 800 A.D, Ireland has had 4 provinces: Leinster, Ulster, Munster, and Connaught. These 4 provinces are divided into 32 counties.
The town Wexford is located in county Wexford (In Irish its Contae Loch Garman)! County Wexford is the largest county in Leinster. It is 2,353 km² in size, which means that it is about the same size as Lake Edward in Africa.
Wexford is Ireland's sunniest city
According to Irish weather statistics, the "sunny south-east" receives an average of 4.38 hours of sunshine per day.
Best towns in Wexford
Bunclody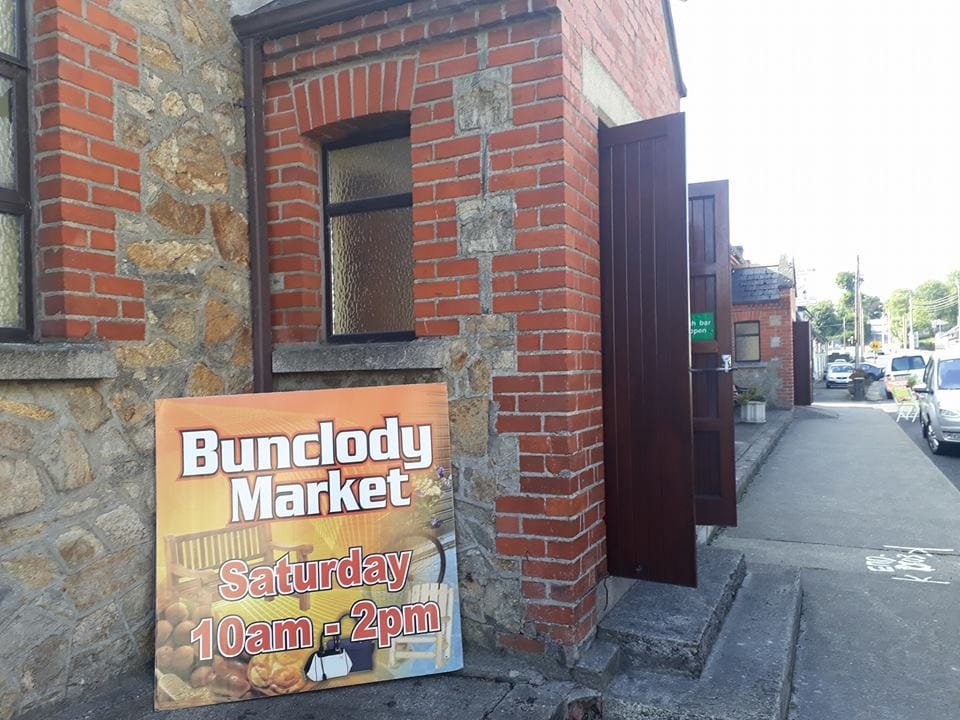 Bunclody, formerly known as Newtownbarry, is a small town where the Slaney and Clody Rivers meet in the valley of the Blackstairs Mountains and flow gracefully under an old granite bridge.
The name Bun Clóidí literally means 'the end of the Clóideach', where the little river flows into the Slaney.
The town is home to about 2000 people and Bunclody is 5KM from Wexford town and hard to reach with public transport.
The town is mostly in County Wexford; a small area at the north end of town is in County Carlow. Bunclody has received a number of high scores in the Tidy Towns competition.
Gorey
Gorey in Wexford (Guaire in Irish) was previously known as Newborough when incorporated by Royal Charter in 1619 and was developed by the Ram family.
The word Gorey means "hill" and the town is home to about 10 000 people and its the major town between Dublin and Wexford Town.
The architecture reflects the town's historic significance, with notable buildings including the Market House of the 18th century – used as headquarters by the 1798 rebels and loyalist forces to torture prisoners.
Did you know: U2 played Gorey back in 1980, as part of the lineup at the Gorey Arts Festival?
There are many fun things to do in Gorey and they also have many monthly and seasonal events like the Christmas Lights in December, St Patrick Parades and Halloween parties – after all Ireland is the birthplace of Halloween.
They have many fun activities in Gorey for kids like kid zone where they can hop around all afternoon, or learn about animals at Kia Ora Mini Farm. There also gyms and a cinema in Gorey.
Gorey is close to the seaside and its an hour from Dublin, Rosslare and Kilkenny. It's an affordable place to live and it's great and safe especially for families!
Local Tip: If you don't have a car and you need a taxi, my Taxi app is the worst because cars are never available in the area. My go-to taxi company was Paudge's Cabs (087 2745580).
This little town was my favorite place to hang out during my free time. They have amazing art galleries, a shopping center, a library where I used to go for free Irish lessons.
The bar at Amber Springs Hotel is a great place to go in the evenings! The best coffee shop in Gorey Wexford is definitely The Hungry Bear. Try their Beetroom Hummus Pesto for a foodgasm!
Enniscorthy
Enniscorthy is the second-largest town in Wexford, Ireland.
The town is twinned with Gimont in France and known for its many festivals, friendly atmosphere and the best place where youngsters go for nightlife.
There's not much to do in Enniscorthy but you should visit Enniscorthy Castle.
It was built in the 13th century and has been 'home' to Norman knights, English armies, Irish rebels and prisoners, and local merchant families.
Wexford Town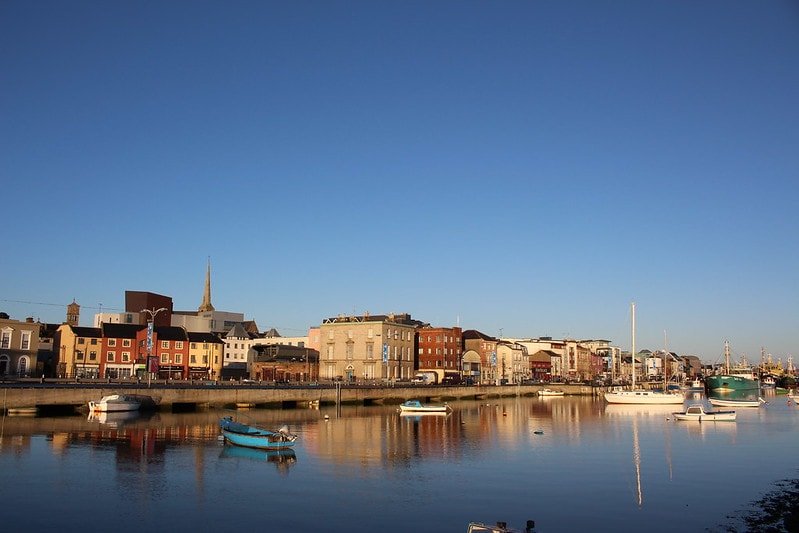 Wexford town is located at the mouth of the River Slaney.
Its bordered by beautiful Victorian houses interesting pubs, cafes, art and crafts shops and design boutiques.
Things to do in Wexford Town
The Best Wexford Town things to do!
Say a prayer at St Iberius' Church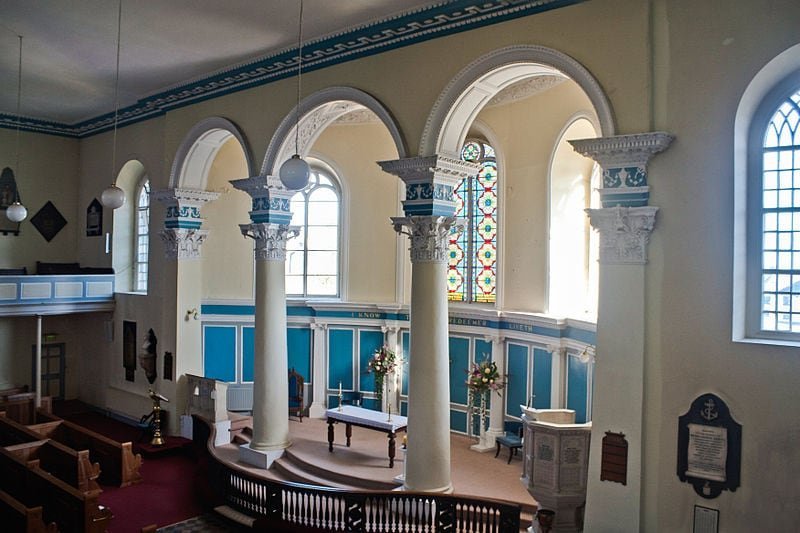 Built-in 1660, The Anglican house of worship features a late-Georgian style interior and 19th century Venetian Renaissance exterior and is one of the places to see when in Wexford.
See Selskar Abbey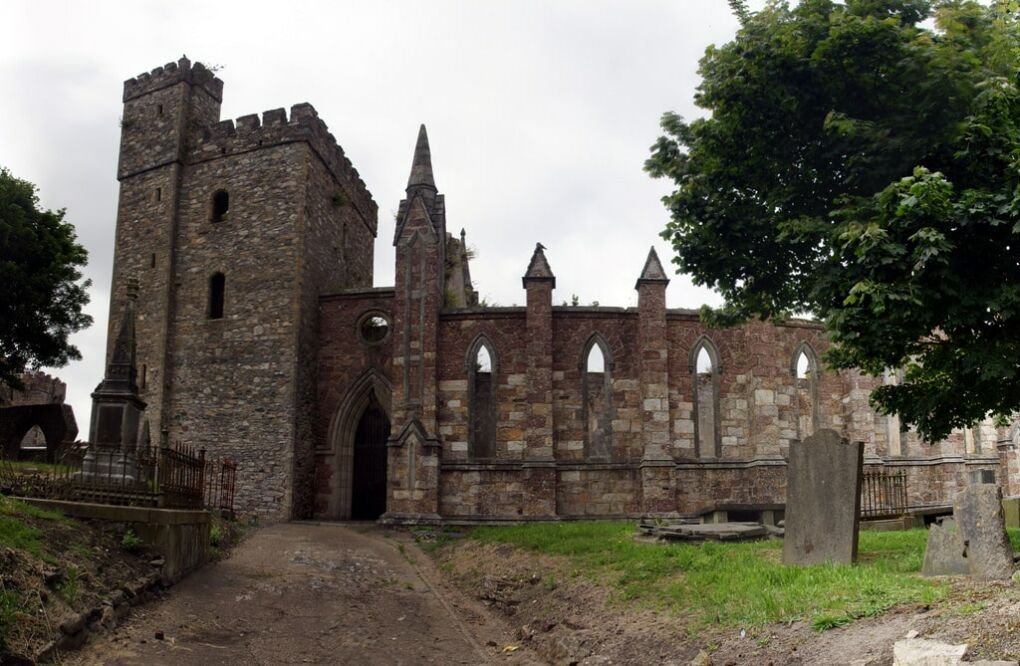 It is rumored that the abbey's location was a Celtic monastery in the early Middle Ages.
Henry II passed Lent at this abbey in 1172, as penance for the murder of Archbishop of Canterbury Thomas Becket.
Today, the ruins of the Gothic church are in good condition, and its surrounded by a graveyard, as the monastery was suppressed more than 450 years ago.
Shop at Bullring Market
The market gets its name from having been used as a venue for bull baiting in medieval times.
The bloody sport of bull-baiting was introduced in Wexford Town during the 1600s but it was banned by the Cruelty to Animals Act of 1835.
Bullring Market sells farm-fresh produce, antiques, and local crafts and its only open Fridays and Saturdays.
Best Restaurants in Wexford Town
Mi Asian Street Food: The only place I could find Sushi in Wexford.
The Red Elephant in Wexford: Asian street food in a fancy sit down restaurant!
Ramen Wexford: Affordable Asian Street food in a kid-friendly environment.
Charred: Amazing and affordable juicy burgers! Also, try their steak on a stone!
Crust: Fancy but amazing Pizza place!
Button and Spoon Wexford: Best place for a high tea, or just coffee in Wexford! Best cakes I had in Ireland.
Things to do in Wexford (county)
If you're wondering what to do in Wexford Ireland, you've come to the right place. Here's my list of the best things to do in County Wexford.
Stroll around Ferns and see Ferns Castle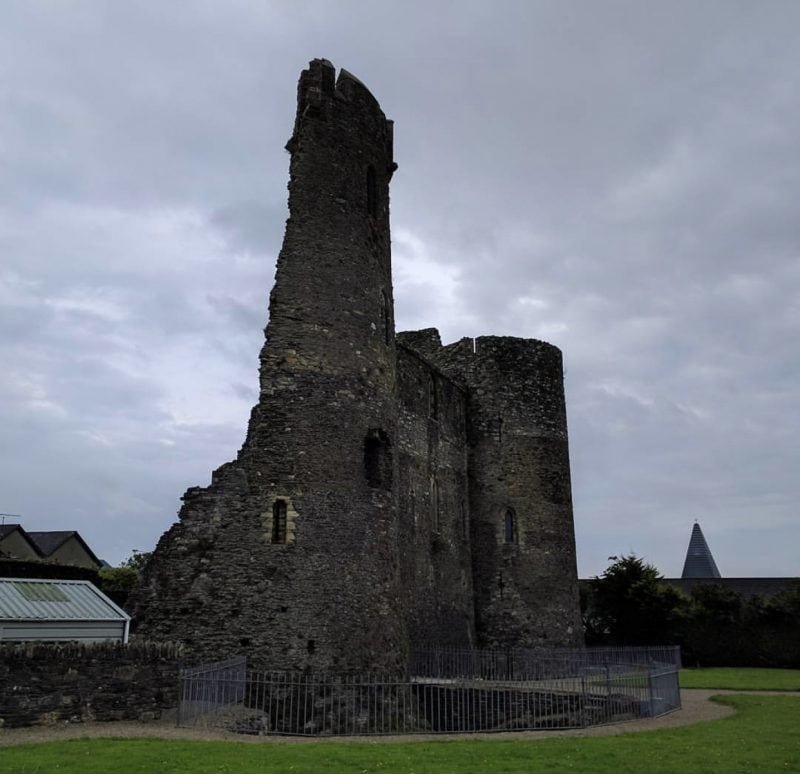 Ferns in County Wexford is one of Ireland's old capital cities. It's a historic town and there's not much to do today but you should definitely see the remains of Ferns Castle.
It was built in the 13th century, the castle had three stories and there are still 13th-century windows remaining in the eastern wall.
On the first floor of the eastern tower is a vaulted circular chapel, there are eight heads staring down at you from high in the roof of the chapel.
A narrow winding staircase brings you to the very top of the tower where splendid views of the surrounding countryside can be taken in. Another feature of the castle is a fabulous gargoyle extending out from the south side of the south-western tower.
Climb the stairs at the Hook Lighthouse
Hook Lighthouse one of the oldest lighthouses in the world that is still in use!
The present structure has graced these shores for more than 800 years and is regularly voted one of the top attractions in Wexford. Besides the tower itself, there's a visitor center, a café, and a gift shop, and guided tours are available year-round.
Visitors can climb the 115 steps to the balcony for beautiful views. On a clear day, you can see as far as Wales (the country) as well as wales (the mammals) seals and dolphins.
When the weather breaks, be prepared for mist, eerie fog, and sea-spray that reaches the top of the lighthouse.
Learn about the Legend of Loftus Hall
Loftus Hall is a 22-bedroom mansion set on 60 acres of land in County Wexford and reputedly the scariest haunted house in Ireland.
It was abandoned over three decades ago and overlooks a lonely stretch of the South East coast. It used to be known as Redmond Hall – the home of the Redmond family since 1350.
Locals claim it's haunted by the devil and by the ghost of a young woman and the Halloween tours are not for the fainthearted.
Visitors can take an interactive guided tour through the ground floor of the abandoned haunted mansion. There you will learn of 'The Legend of Loftus Hall', its tall tales and gruesome history.
See the Tacumshane Windmill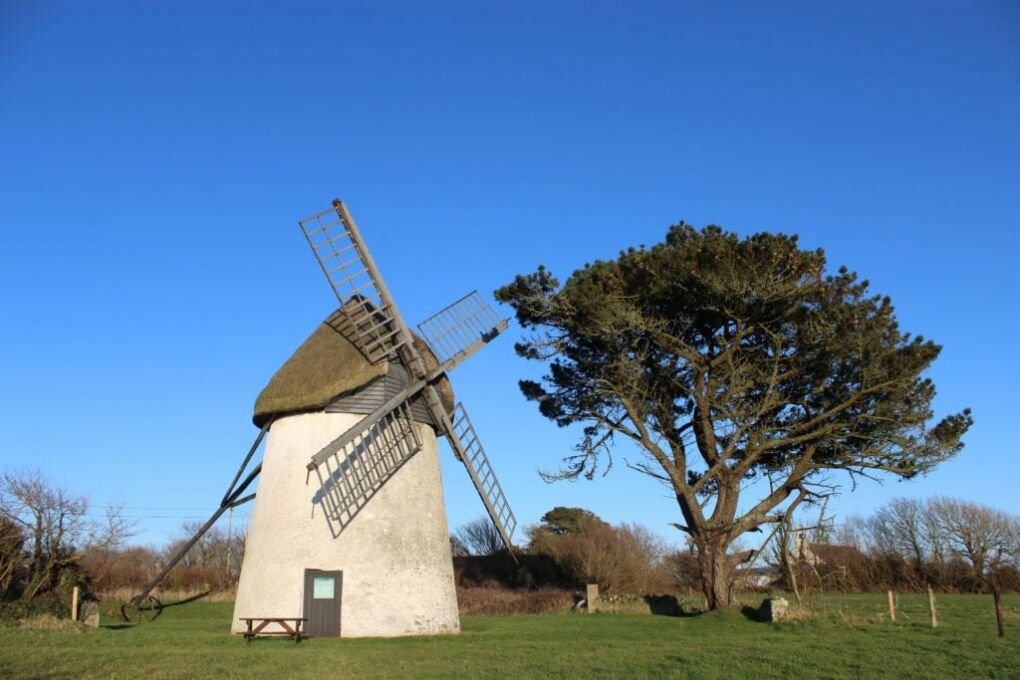 Tacumshane Windmill is the only remaining windmill in Ireland from 1846 with a revolving straw-thatched cap to catch the wind for its sails.
The millwright Nicolas Moran, who was trained as an apprentice millwright in Rotterdam, built this windmill in 1846.
The year 1846 inside the eastern gate is engraved on the lintel. It's a one-of-a-kind windmill and unique things to see in Wexford.
Visit Wexford Wildfowl Reserve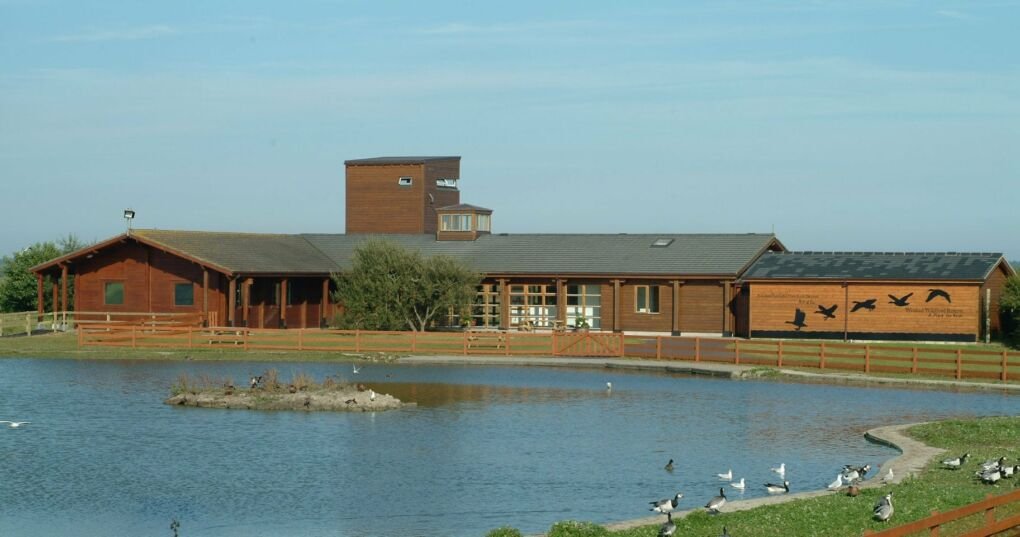 Home to local & migratory birds, this 200-hectare reserve offers a visitor center with a tower hide.
The area is renowned for the wide diversity and density of its birdlife. Up to 10,000 Greenland White-fronted Geese occur in winter, a third of the world population.
Stroll through the Wexford Lavender Farm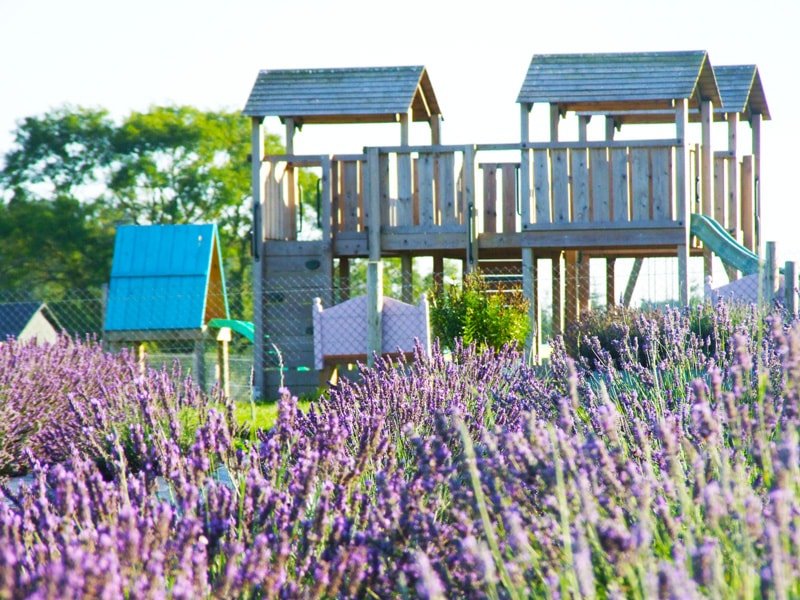 Wexford Lavender Farm is home to four acres of Lavender.
There are many types of lavenders from Hidcote, Musnstrea and even Edelweiss White.
The property also has a beautiful café located in converted stables, a gift shop, children's' play area, quad barrel train ride, visitor information center with distillery equipment, woodland walks, plants for sale.
Indulge in seafood at Kilmore Quay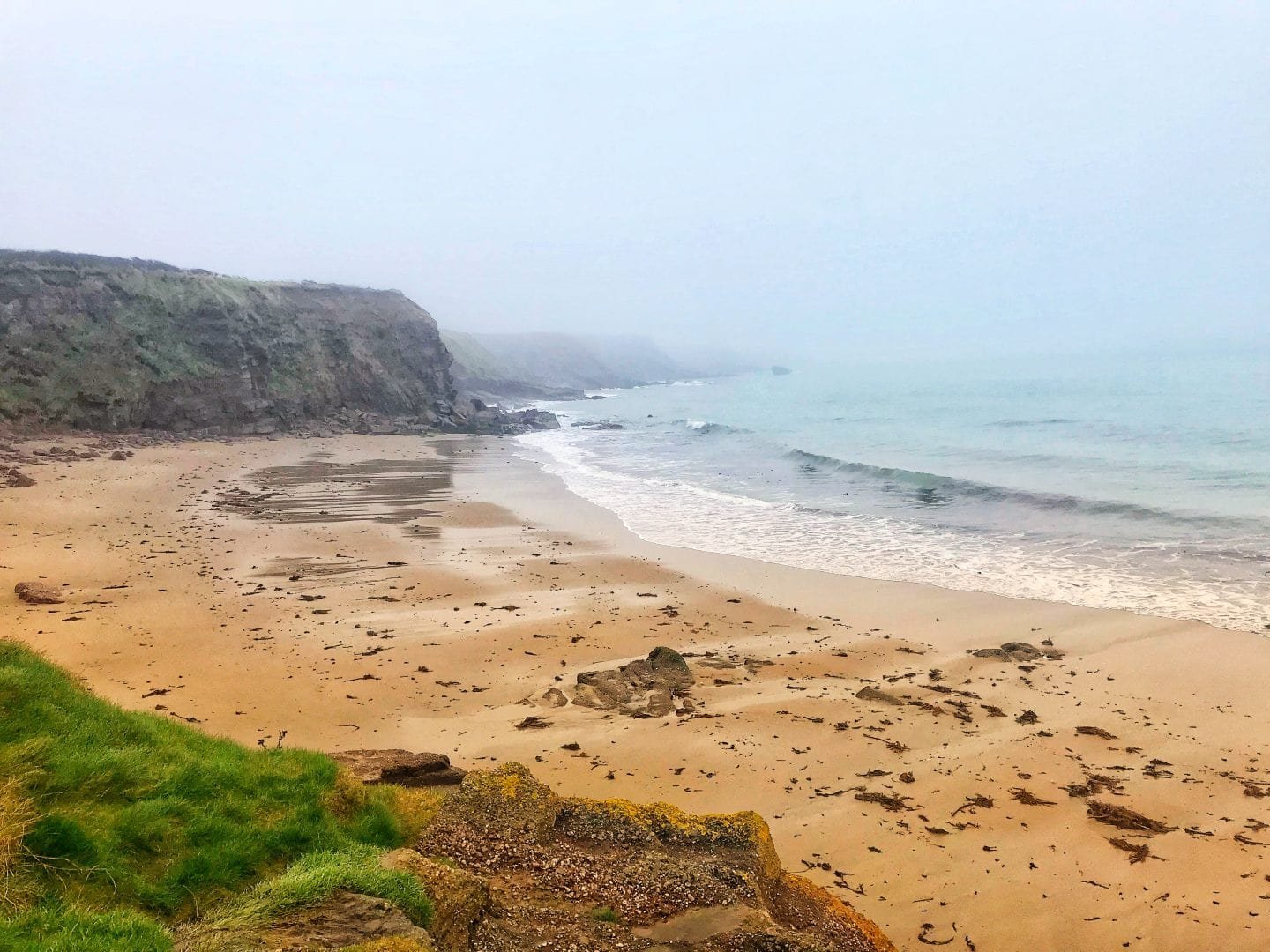 30-minutes' southerly drive from Wexford town brings you to Kilmore Quay, a remote and picturesque fishing village.
An old lightship moored at the quay houses a maritime museum. From here, you can take a boat to the rocky uninhabited Saltee Islands (Little Saltee and Great Saltee). The islands are very popular with day-trippers and birders, although they are privately owned.
Permission for day visits to Great Saltee isn't needed, however, visitors can't dock at Little Saltee due to the hazardous landing conditions.
These unspoiled outcrops are Ireland's largest bird reserve, the nesting place of some 30 species, including cormorants, puffins, razorbills, and fulmars.
All things John F Kennedy Park & Arboretum
Dedicated to President John F Kennedy, it consists of 622 acres, 200 forest plots and close to 5,000 different species of trees and shrubs.
If you've got green fingers, you will love this!
Visit the ancestral home of the Kennedy family
The birthplace of President John F. Kennedy's great-grandfather Patrick Kennedy.
The Dunbrody Famine Ship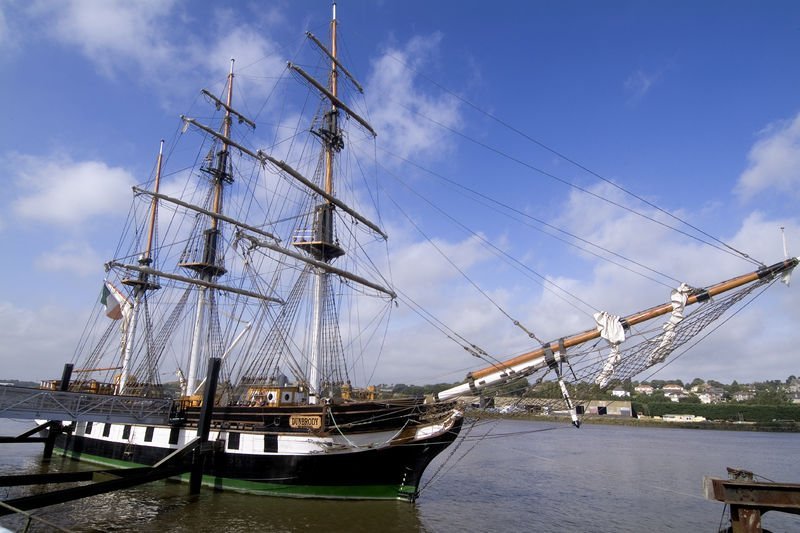 The ship is a replica of an 1840's emigrant vessel that transported thousands of Irish survivors (including US President John F Kennedy's great-grandfather) on a month-long trip to New York City.
At the center, there are guided tours, themed exhibitions, and performers in costume all designed to instill an appreciation of the hardship suffered by those forced to emigrate during the mid-1880s.
Hike up Vinegar Hill

The location of the Battle of Vinegar Hill, which was fought on 21st June, during the Irish Rebellion of 1798.
Over 10,000 crown forces launched an attack on Vinegar Hill, which was then occupied by over 20,000 rebels and camp followers.
This was the largest rebel camp and headquarters of the Wexford United Irishmen and their supporters.
The Irish National Heritage Park
Irish National Heritage Park encompassing 35 acres of woodland, wetland, uplands, and estuaries.
This open-air museum has to-scale replicas of places and buildings illustrative of some 9,000 years of Irish history (dolmens, a ring fort, early Christian monasteries).
Sightseers can take a tour with a guide in period costume or stroll around in their own time. Children's activities include panning for gold, 'wattling' a house and creating rock art.
A history lesson at the National 1798 Rebellion Centre
The events of 1798 shaped the course of Irish history.
Revolutions took place in America and France, with Ireland swept up in the rebellious tide. Re-live the Battle of Vinegar Hill in 4D. Learn how weapons from this period worked. Experience first hand the gruesome horror of battle.
And discover the fate of the 20,000 rebels who faced the might of the well-trained and armed Crown Forces. Not to be missed on your list of things to do in Wexford.
Update: the Rebellion Center in Wexford closed.
Romantic things to do in Wexford
Dine at La Côte Seafood Restaurant
It's expensive but the seafood is good so spoil your significant other!
Watch a show at the world-famous Opera House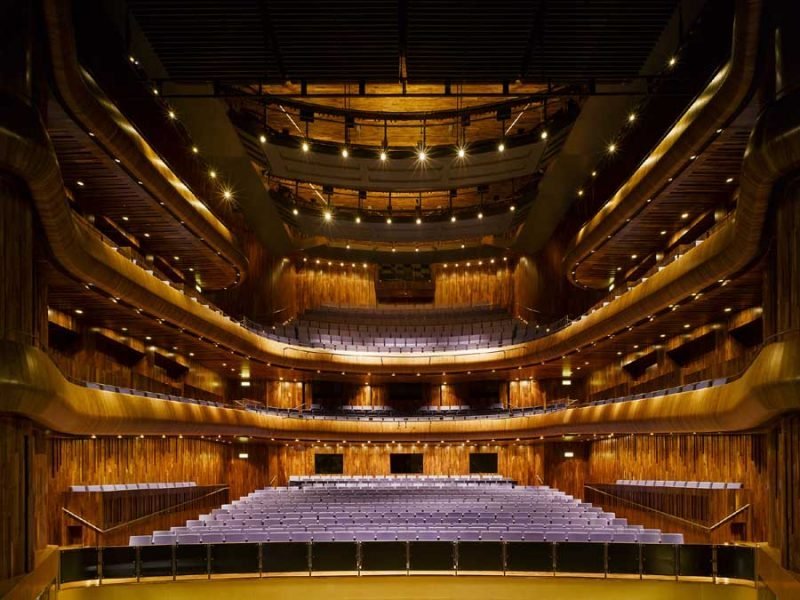 The 18th-century opera house is home to the Wexford Opera Festival which is hosted annually from late October to November.
This three-week festival includes opera, theater, classical concerts that take place at various times of the day and late into the night.
My favorite experience was listening to the marvelous Recomposed by Max Richter: Vivaldi – The Four Seasons in November 2018.
Watch a movie at Omniplex
There are many romantic things to do in Wexford for couples!
You can watch a movie at Omniplex, I liked this cinema more because its cozy and not in the city center so it's nice to escape the crowds sometimes.
Stroll through the magnificent gardens at Johnstown Castle and Gardens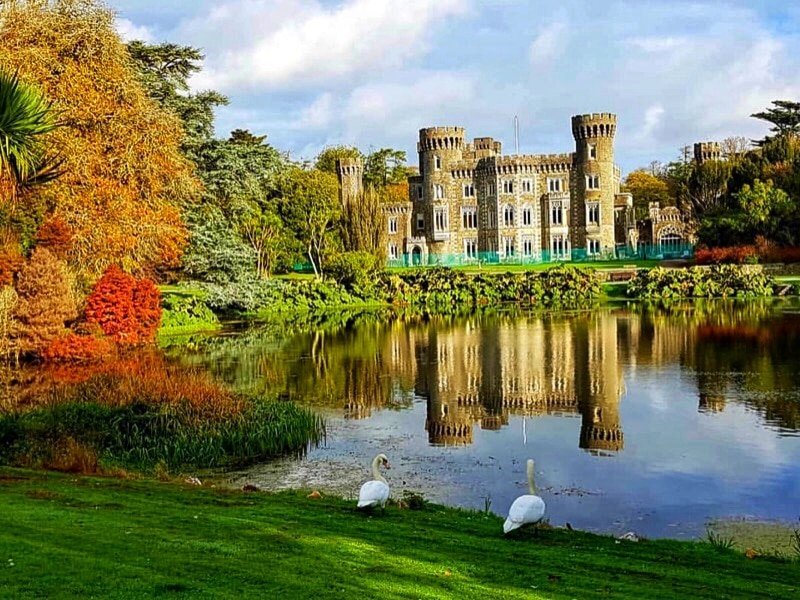 This neo-Gothic structure incorporating the remains of a Norman fortress is not open to the public.
The park, however, with artistically situated ponds and more than 200 different flowers and shrubs is extremely beautiful.
The gardens were designed by Daniel Robertson who is famed for the spectacular gardens at Powerscourt House in Co. Wicklow.
Things to do in Wexford with kids
Visit the Father Murphy Center In Boolavouge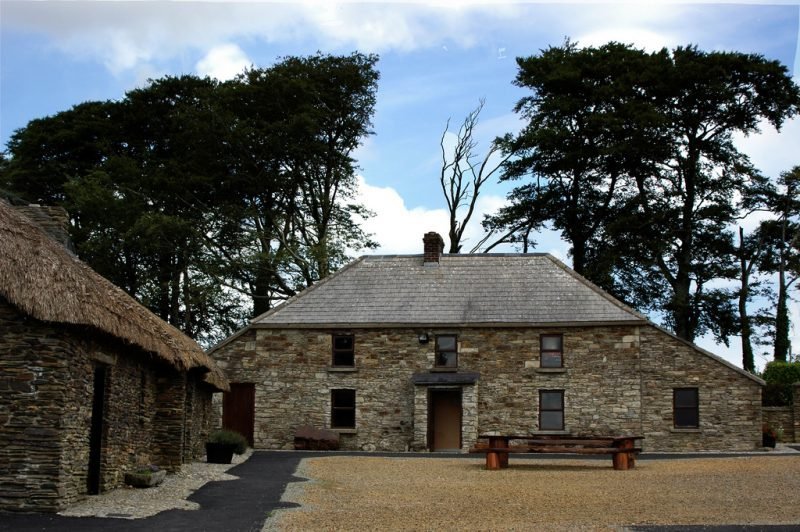 Father John Murphy was an Irish Roman Catholic priest and one of the leaders of the Irish Rebellion of 1798 in Wexford.
The center covers rural and country life with a series of farming implements and other antique artifacts from times past.
Pick apples at Ballycross Apple Farm
Note: I went during Halloween season
Located just outside the village of Bridgetown in south county Wexford, about 20 minutes from Wexford town.
They offer tractor-rides, pumpkin picking, a petting farm, a playground, a cafe, and more!
The farm is quaint, with ample parking and a variety of fun, festive activities. while it was a bit muddy (sorry, shoes), it provided the perfect backdrop for pumpkin-themed photos!
Tip: Wear the right shoes. While you're traipsing around our pumpkin patch in search of the perfect jack-o-lantern, I recommend wearing rain boots or an old pair of sneakers.
Have a picnic at Wells House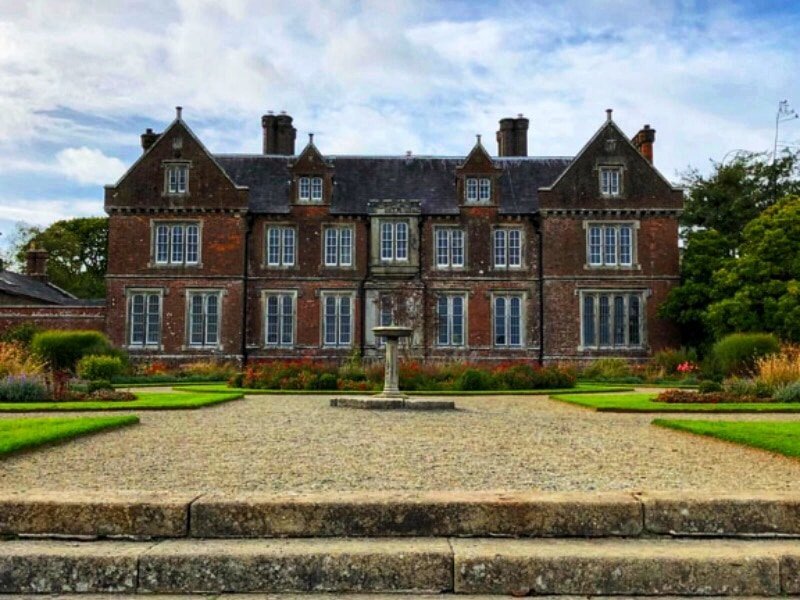 A Victorian Tudor gothic country house museum with a large garden, an animal farm, a cafe, and a children's playground.
Archery and falconry are also practiced on the premises. One of the perfect things to do in Wexford with kids!
Kia Ora Mini Farm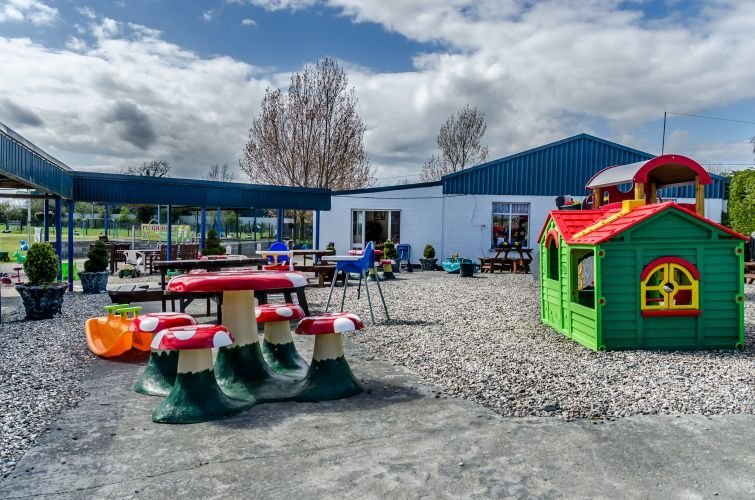 Fun place to visit if you have children. Kids will have up-close contact with farm and exotic animals, plus a playground with go-karts and mini diggers.
Best Day Trips from Wexford
Kilkenny
Home to one of the finest examples of a 12th century Norman castle in the world.
The quaint Kilkenny City was the capital of Ireland in the middle century!
Today its narrow streets are full of colorful shops and buildings and make Kilkenny City the perfect destination for a day trip from Dublin.
Often described as "An Oasis of Peace and Tranquility", The gardens and center are set on a 2.5-acre site with 16 interconnecting gardens.
The center has a wide range of planted containers, pots, seasonal bedding, shrubs, plants, and gardening accessories.
Waterford
The city was founded by Vikings in 914 A.D. – making it Ireland's oldest town! It's also home to the famed glass manufacturer Waterford Crystal which opened in 1783.
They made the famous Times Square Centennial Ball weighing nearly six tons and twelve feet in diameter.
Although the company doesn't produce their products in Waterford anymore, they offer daily tours and crystal making classes. It's a luxurious place and I wouldn't recommend taking kids unless you have money to pay for damages!
Dublin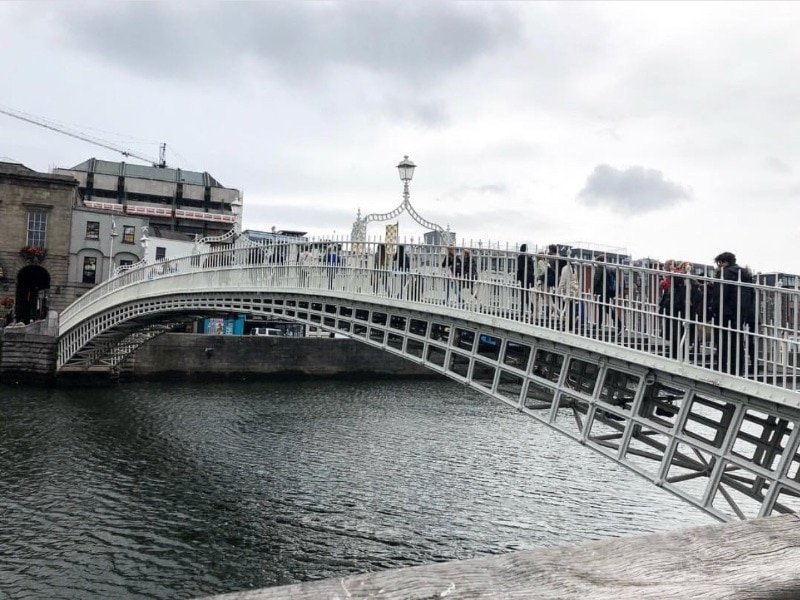 The capital and most expensive city in Ireland.
Known for its party culture, Guinness and drunk hens and stags (EVERY WEEKEND! Its impossible to walk through the streets of Dublin and not see a group of loud bachelor and bachelorette parties.)
There are many things to do in Dublin, you'll love it!
Travel Insurance for Ireland
Use travel insurance while visiting Ireland so you are covered for theft and medical expenses. There are a lot of adventurous activities to do in IE, and it's best to have peace of mind while driving, hiking and trying some of the best food in the world.
Find out why I recommend World Nomads, check out my World Nomads Insurance review.
Disclaimer: This article contains affiliate links. This means that if you make a booking after clicking on a link, I may receive a small commission at no extra cost to you!