If you are looking for the top resorts in Maldives, who better to ask than travel bloggers and writers who spend every waking hour travelling the world seeking out the most beautiful destinations. Add in personal experiences, hotel reviews and stunning photographs and you have a perfectly curated list of the top resorts in Maldives! And remember, even though you might not want to leave your beautiful resort, there are so many fun things to do in the Maldives.
Whether you are in search of the perfect Maldives honeymoon or you are simply on the look out for the top Maldives luxury resorts, we hope this list will help you plan your dream trip! Wondering how much money you will need? Check out my post explaining how expensive the Maldives is.
Top Resorts in Maldives – Passport To Luxury!
1. Shangri-La Villingili
Suggested by Family Bites Travel
You can't make a list of the top resorts in Maldives without mentioning the Shangri-La! We recently spent 3 luxurious nights Shangri-La's Villingili resort. It located in the southernmost atoll and very close to the Gan International airport. We got transferred from the arrival hall to the gorgeous arrival villa in under 20 minutes, including an 8-minute boat ride! In that time, I was given no less than 3 cold towels and 2 drinks. For me, it was excessive, but it a perfect example of the level of luxury you can expect, from start to finish, at this resort!
The food is a gastronomic experience. The breakfast is the only buffet you will see and it is an epic scale. The three restaurants are headed by international chefs and there is a dedicated sommelier.
Like most Maldivian resorts you will never be bored with so many can do activities to choose from. I partook in a dolphin cruise, a snorkel trip and saw turtles and had a massage at the Chi Spa whilst my kids had great fun at the kids club. The resort also has its own water sports centre, dive centre and golf course.
There are no rooms at the resort, only villas. The space between the villas ensure privacy and no noisy neighbours. The villas are massive with an individual infinity pool at your disposal. The resort is very conscious of its social and environmental impacts. The resort employs many Maldivians. There is also a very respectable sustainability protocol. They bottle their own water, limit plastic and single-use items and have wonderful coral reef adoption programs.
Shangri-La's Villingili resort is highly recommended for anyone wanting to experience unrivalled luxury in the Maldives.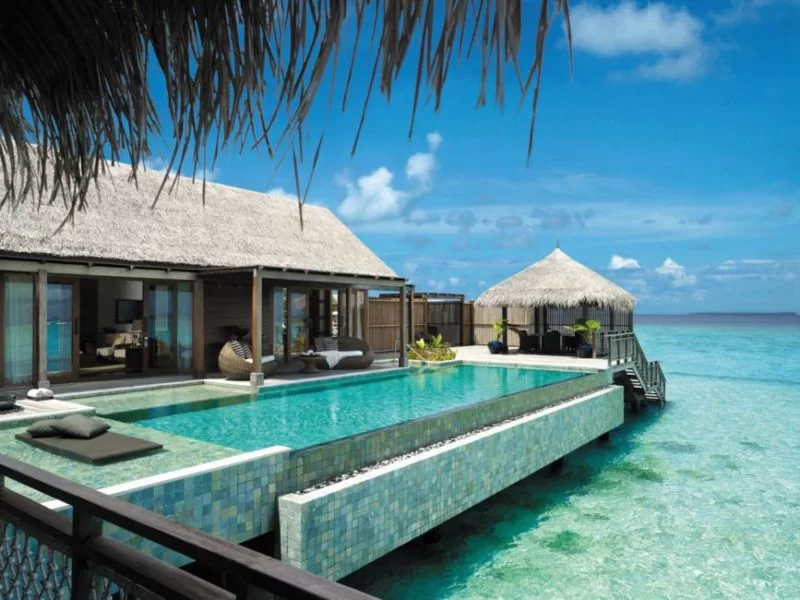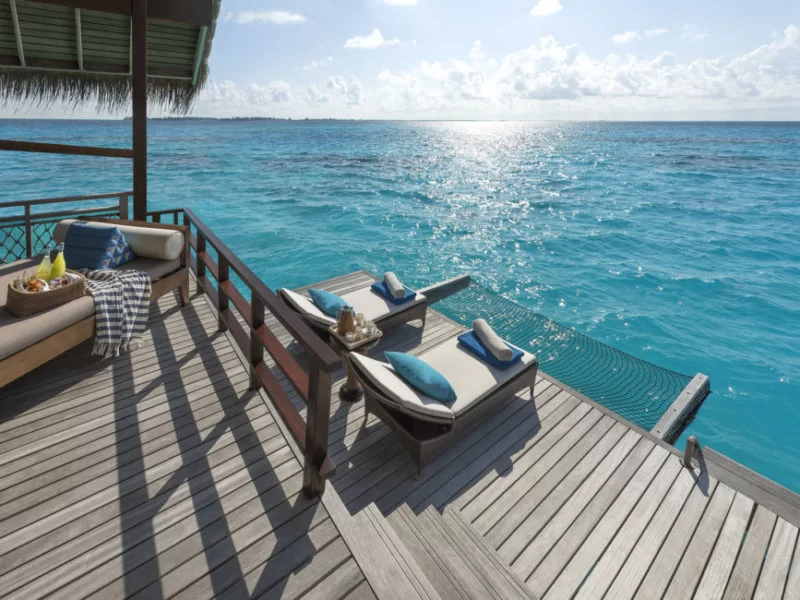 2. Six Senses Laamu
Suggested by Roamaroo
From the moment we stepped our feet onto the barefoot island that is home to Six Senses Laamu, we were transported into a fairytale world. Decorated with dozens of 5-star overwater bungalows, (some even with pools!), Six Senses Laamu is the pinnacle of Maldivian luxury.
Our two-story overwater bungalow was outfitted with an outdoor multi-head rain shower, glass-bottomed bathtub, canopy bed, an overwater hammock, and a staircase that led directly into the ocean. The luxurious amenities continue with free access to watersports such as paddleboarding, windsurfing, and sailing as well as yoga lessons overlooking the Indian Ocean.
If you want to be pampered from head to toe, Six Senses Laamu is ultimate Maldives hotel. From its multitude of gourmet restaurants to its heavenly spa, its private coral reef to its perfect white sand beaches, every morsel of Six Senses Laamu is absolutely decadent. In addition to the stellar service, every guest is assigned a GEM (Guest Experience Maker), a personal butler that guests can ring at any moment to help arrange activities, dinners, and spa treatments.
3. Summer Island, Maldives
Suggested by Getting Stamped
The Maldives is home to some of the most luxurious hotels in the world and it's surrounded by shades of blue you never knew existed. My husband and I spent 5 weeks island hopping in the Maldives, it felt like we were on a luxury Maldives honeymoon! Our favourite resort in the Maldives was Summer Island Maldives, we loved it so much we called it home for 11 night. There is something magical about staying in an overwater bungalow and being able to jump right out into the ocean from your balcony.
We'd stay up late watching the fishing swimming through the glass floor. Not only was our room perfect but everything at the resort the beaches, hammock in the middle of the ocean, infinity pool, restaurants, drinks, spa, and much more. We know we'll return to the Maldives and the first place we'll be checking into will be Summer Island Maldives.


4. Cinnamon Dhonveli
Suggested by Backpacker Banter
When everyone thinks of the Maldives they think relaxing honeymoon destinations and tranquil lagoons. But did you also know that the Maldives is actually one of the best surf destinations on the planet too? With warm waters, epic reef breaks and heaps of islands it's peppered with amazing surf spots.
I you want to go all out and combine the island luxury that this country is famous for but still enjoy some ocean based fun then Cinnamon Dhonveli is the place to head. As well as boasting two swimming pools, numerous beach bars and overwater bungalows it also has it's own private surf break!
Yup – not only can you kick back in paradise but you'll have a reeling left hander a short paddle out from the surfer bar! And with a max of 30 surfers allowed on the island at one time it'll never be crowded – I scored it all to myself heaps…which is even more satisfying when you see 60+ people scrabbling for waves on the other side of the channel having paid thousands for a surf charter!
And if you're really into your ocean activities the in-house dive centre will also take you to some amazing dive sites as well, where sharks, turtles and even manta rays will cruise alongside you! It really is the perfect place for anyone who wants some serious salt water therapy and island time.
5. Adaaran Club Rannalhi
Suggested by Between England and Iowa
Adaaran Club Rannalhi offers guests a taste of the Maldivian luxury but with a more budget friendly price tag. The resort is a 45 minute speed boat ride from Male Airport and guests are greeted with a cold towel and a glass of iced tea. There are 2 different types of Water Villas: older ones which have a glass floor panel in the bedroom or the newer villas which have glass bathrooms that look out over the ocean.
All have private ladders from the deck into the sea! For those on a budget, there are several beach bungalows too! It's a fairly small resort but that makes it all the more peaceful!
The all-inclusive package in very reasonable. Water Villa guests can have breakfast delivered to their villa or there is the one restaurant in the resort which is self service buffet style, along with 2 bars. Select drinks (including beer, wine and spirits) are complimentary. For an extra fee guests can enjoy a private candle lit dinners on the beach which have a waiter service. Adaaran Club Rannalhi also has an onsite spa as well as a range of water sports to keep guests entertained!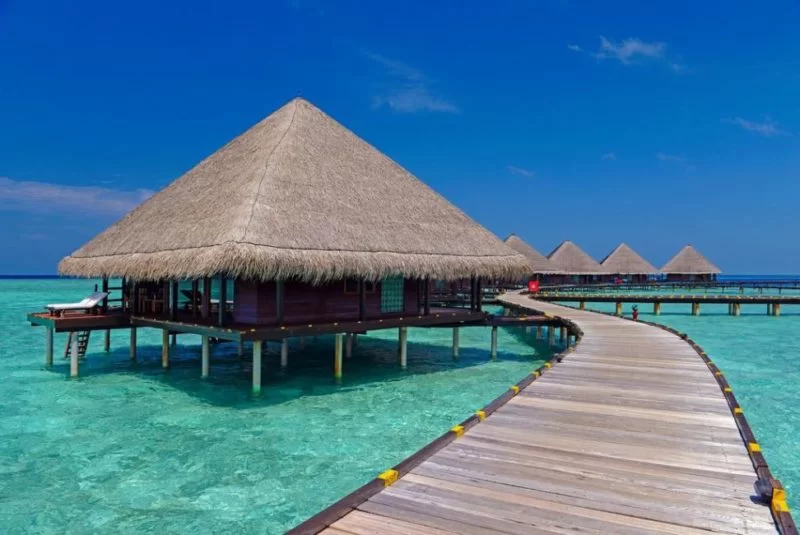 6. Sun Island Resort
Suggested by Fjords and Beaches
Sun Island Resort is one of the largest resorts in the Maldives, with plenty of activities to get up to on the island. Even as one of the larger resorts, it only takes about 20 minutes to walk around the whole island. They, naturally, have the beautiful over-water villas that the Maldives are so well-known for, but they also boast some killer beach bungalows scattered all around the island! From one of these bungalows you can wake up in the morning and step right out into the sand.
My absolute favourite thing about Sun Island Resort was their spa and dive center. I know those two are quite the opposite of each other, but what better way to finish a day of diving than a 90-minute outdoor massage in your own private garden gazebo? I got Scuba Diver Certified in the Maldives, and absolutely loved the experience of stepping out into their house reef without having to go on a boat. Sun Island Resort also has some amazing restaurants, so I promise you that you won't get bored on the island!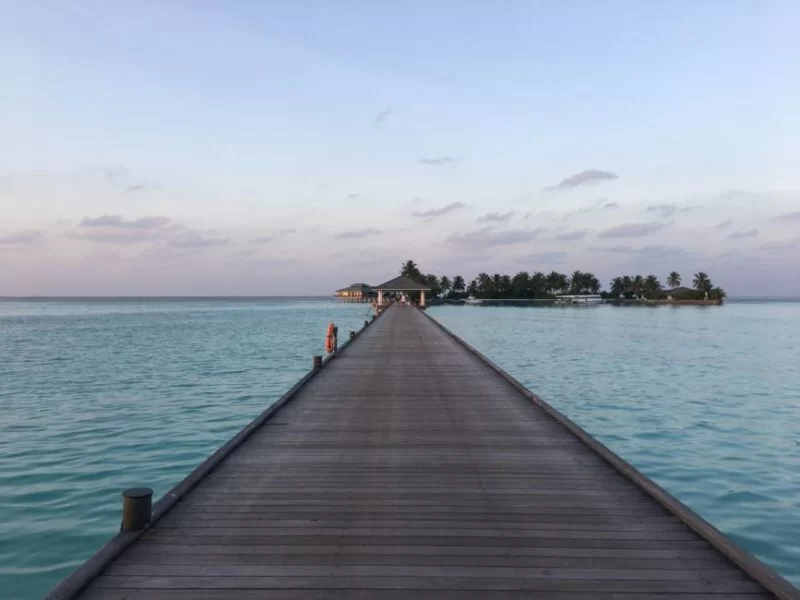 7. JA Manafaru
Suggested by A Luxury Travel Blog
JA Manafaru is located on the northernmost atoll in the Maldives so most easily accessed by seaplane. The resort is extremely family friendly and about as close to pictured postcard perfection as you're likely to find. Re-branded in 2014, accommodation includes overwater bungalows as well as beach accommodation with its own private pools. We stayed in the latter and were well and truly pampered.
We had lots of memorable experiences – snorkelling over the coral reef, learning to cook Maldivian dishes, fishing, feeding turtles, enjoying a traditional Maldivian evening, visiting a local island, and even hitting golf balls (made of fish food) into the sea!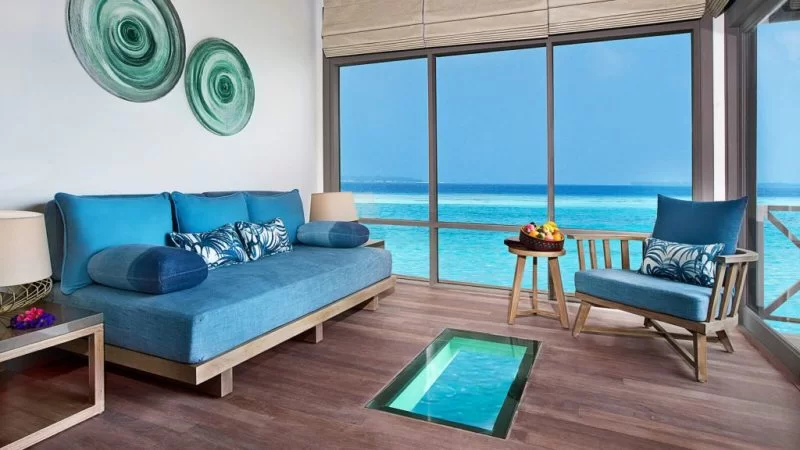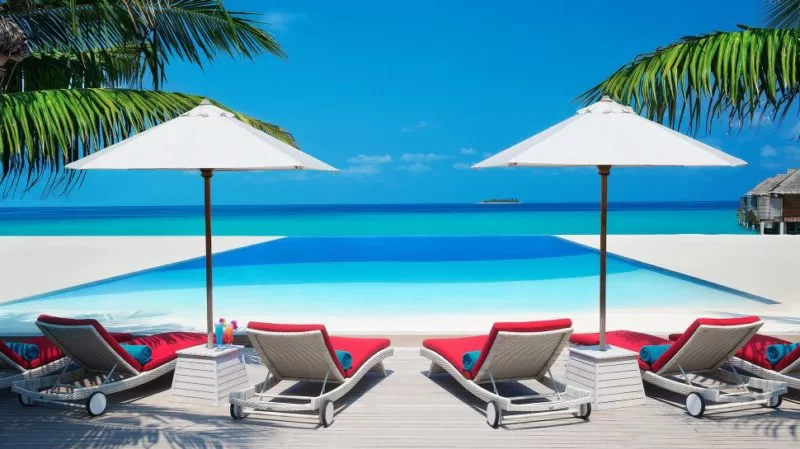 8. Kandima Resort
Suggested by Pack The Pjs
One of the newest luxury resorts in Maldives, Kandima is not only a new kid on the block but also one to watch! In the Dhaalu Atoll, about a 45-minute domestic flight from Male, lies a brand-new luxury resort called Kandima. First opened in Summer 2017, Kandima is a jewel of white sands and palm trees in a setting of aqua blue sea and burnt umber sunsets. The resort has all of the elements you might expect in a tropical setting. Luxury accommodation with infinity pool, jacuzzi, and air conditioning in beach villas, sky studios or water bungalows. Fine dining restaurants – 'Sea Dragon' for Chinese, 'Azure' for Italian, 'Flavour' for buffet breakfast and lunch and even 'Smoked', a steak house at the new Beach Club.
The water-sports centre provides dolphin spotting, snorkelling/scuba, sunset fishing and any water activity you can think of. The sunset fishing meant you could get a cooking lesson the next day to eat your catch for lunch. Activities include relaxing and spending precious time with tour loved ones. Snorkelling, diving, cycling, playing pool, yoga, using the spa and even a little shopping can fill your days.
There is an excellent coffee shop to relax in and even a kid's club to keep the little ones (and bigger teens) occupied with pirate ship and computer games. Kandima is the epitome of a modern Maldivian resort with something for everyone and activities galore. You can relax or be active all of the time. It is whatever you want it to be.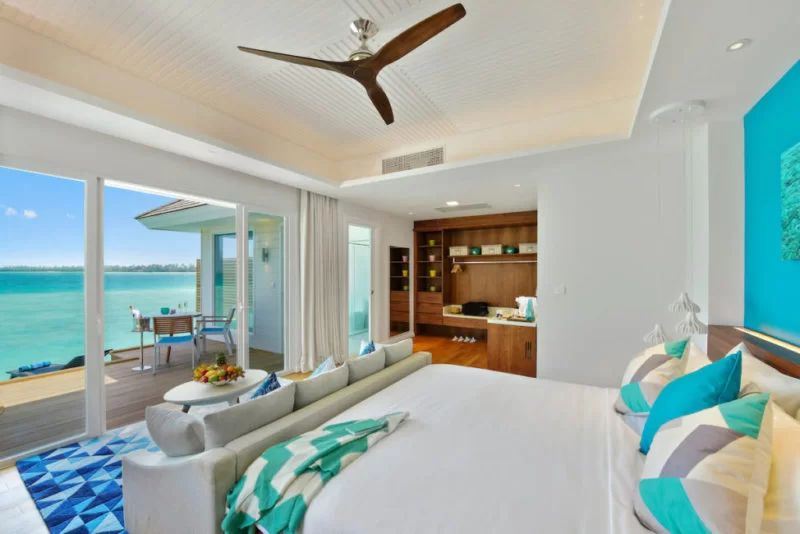 9. Club Med Kani
Suggested by Award Diaries
Arriving in

Maldives

, right from the airport was like stepping into paradise. I was ferried to my resort at Club Med Kani, where I spent a blissful weekend. The first sight of the resort on landing was a line of sun beds, bar, pool and white sand by the beach. By the time I reached my room, I was wowed by the size of my bathroom (the first thing I tend to check out). But the bigger surprise was my gorgeous room which came with a porch and its own private beach. Yes, a beach with clear turquoise waters, corals and marine life.
Yet, this wasn't the best part of Club Med Kani.
On a tour of the property, I discovered the Overwater Villas at the resort that took the cake for offering supreme luxury. Does it get better than waking up in the middle of the sea?
Yet, my favourite and the most interesting aspect of Club Med Kani was the one-time all-inclusive payment which is covers all key services. Which meant that I didn't have to pay every time to buy me a drink or avail any service at the resort! I could enjoy the sea, the sun beds, the drinks and water sports at no-added costs. By the end of my stay, Club Med Kani surely had me spoilt for luxury!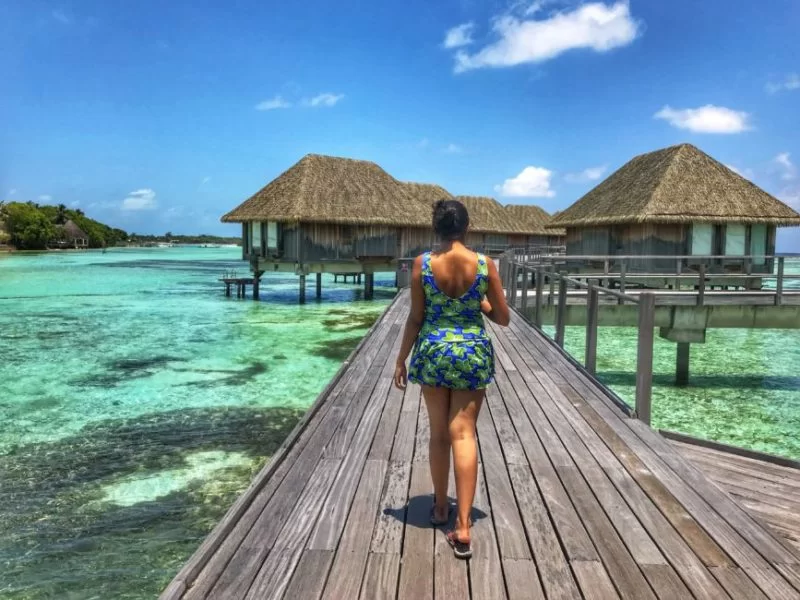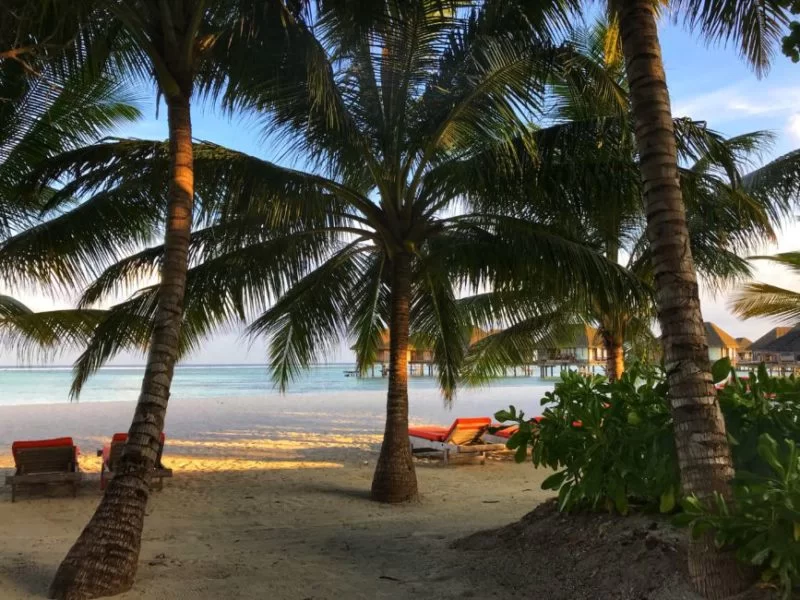 10. Atmosphere Kanifushi
During our trip to Maldives we stayed at the Atmosphere Kanifushi 5* Hotel. Lying in the Lhaviyani Atoll, to get there you have to fly by seaplane from Male airport during 30 minutes, one of the best experiences in Maldives, since you can see from the air the incredible atolls and coral reefs.
The island of Kanifushi is approximately 2 kilometers long and 90 meters wide and is filled with palm trees and dream villas. The hotel's 132 villas, decorated in a traditional Maldivian design with contemporary touches, are perfect for a week in the Maldives. I recommend you to book in a Sunset Pool Villa, so you can enjoy the sunset from your own private pool.
The resort includes the Platinum Plus program, so you can enjoy a fine collection of premium wines and spirits, buffet and fine dining and all kind of activities. Don't miss the snorkeling! Tasting local gastronomy in its restaurant and having a signature cocktail while relaxing in its infinity pool overlooking the beach and turquoise water are a must. If you walk along the beach, from the lagoon you can see small reef sharks and sting rays. No doubt, Atmosphere Kanifushi is paradise!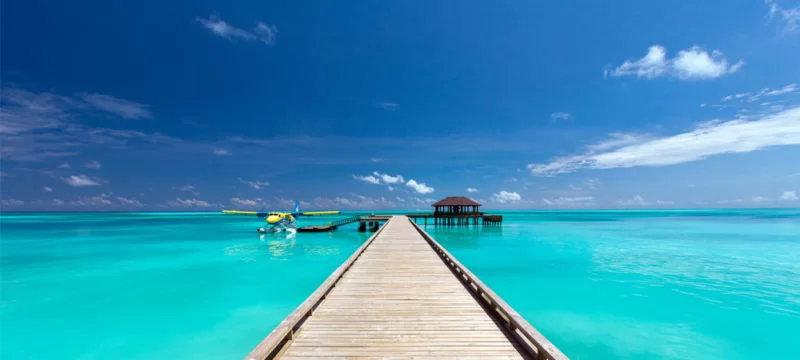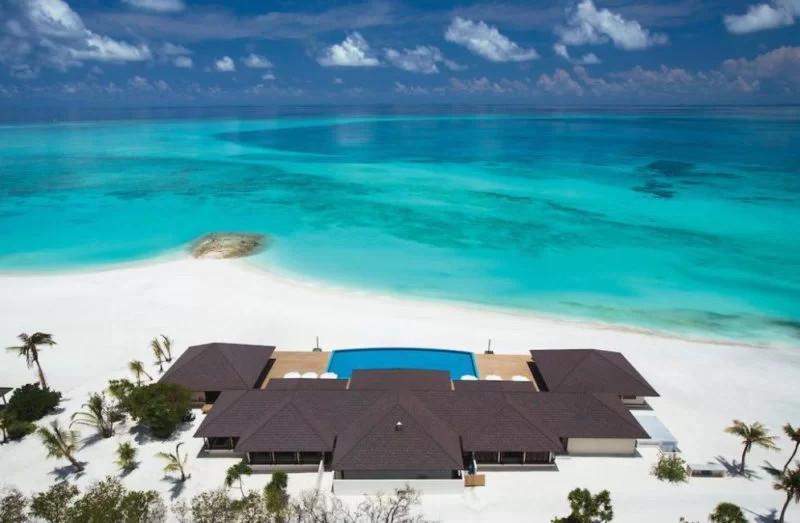 11. Kandolhu Island
Suggested by A Pair Of Passports
With only 30 villas, Kandolhu is an intimate island perfect for lovers and honeymooners. The island is perfectly formed with a luscious, green 'forest' and empty white beaches. There are five types of villas (pool villas and water bungalows included), four different a la carte restaurants, a enough activities that you never feel as if you're "stuck" on an island you can walk the circumference of in ten minutes.
Every aspect about the villas is well thought out, from the GoPro and iPad in each room to keep you connected, to the delicious treats left in your room each night. The island managers, Marc and Laura, will greet you on arrival and check in on you frequently during your stay (usually while you're out and about so to never interrupt the relaxation) and the staff will know you by name within hours, greeting you as you enter the restaurant or bar, or even as they pass you on one of the paths leading around the island.
With excellent diving opportunities, picture perfect blue water, and pristine beaches, Kandolhu is truly the epitome of a paradise island.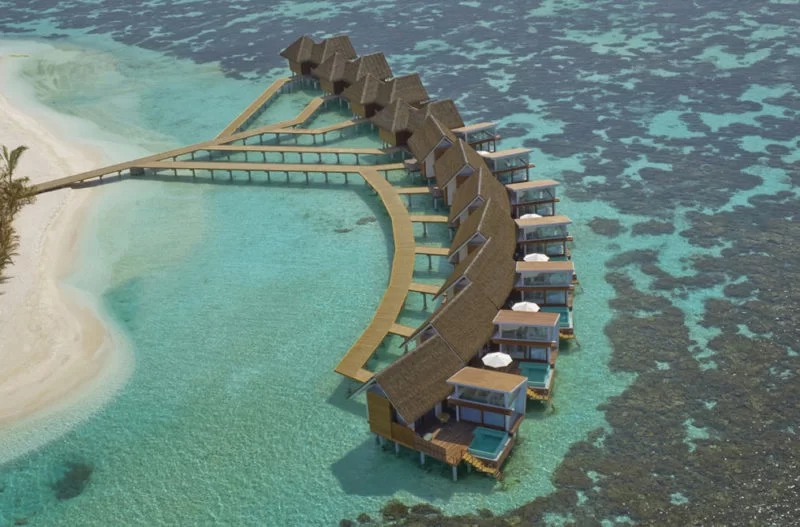 Which of these top resorts in the Maldives is your favourite? Where would be YOUR dream destination?
Note: This post contains affiliate links. That means of you make a booking through one of my links, I make a small commission which helps towards the upkeep of this blog! Thank you for reading. 🙂