Phu Quoc Island, located at the southern tip of Vietnam, has some absolutely stunning beaches and is one of the top places to visit in Vietnam. On some of the best beaches in Phu Quoc, the water is so calm, warm and crystal clear that it is more like a lagoon style swimming pool. Combine that with some great little beach cafes and bars complete with funky bean bags, colourful lanterns and bonfires after dark and you will be in absolute paradise.
If you want to escape other travellers, there are plenty of quiet beaches too, in fact, some beaches are completely deserted and you can have a whole stretch of beach to yourself. Whatever style of beach you're into you are sure to find it in Phu Quoc, a must stop on any Vietnam Itinerary.
Pro Tip: If you're planning to travel around Vietnam for a few weeks, I can't emphasize enough how important it is to have decent travel insurance – as you never know what could go wrong and accidents happen ALL the time in Vietnam…especially if you're on a bike. Just read my Koh Tao horror story to see what could happen. I always use World Nomads, as they're known as the best insurer for backpackers and long-term travellers.
TheBest Beaches in Phu Quoc
Long beach – 20km of heaven
One of the most famous beaches in Phu Quoc, and also the most popular with tourists, is Long Beach. Funnily enough Long Beach, is well…a very long beach. The beach stretches for around 20 kilometres and in my view is one of the most beautiful beaches on Phu Quoc Island. The ocean along Long Beach is crystal clear, calm and warm and ticks all the boxes for the perfect beach in my eyes.
During the day you will find tourists lazing about on deck chairs and sun loungers as resort staff bring out cold drinks and local vendors pass by selling freshly cut fruit. If your body is aching from all that lying around you can walk a few feet to one of the many beach massage ladies for a cheap massage right there on the beach.
Just before sunset the beach bars start filling up as tourists grab a bean bag and a cocktail just in time to watch a spectacular sunset. You then have the difficult decision as to which beach café you will dine at.
The great thing about Long Beach is that whilst it certainly is the most popular spot on the island, it is not overcrowded or crazy full of tourists like some other gorgeous south east Asian island destinations are.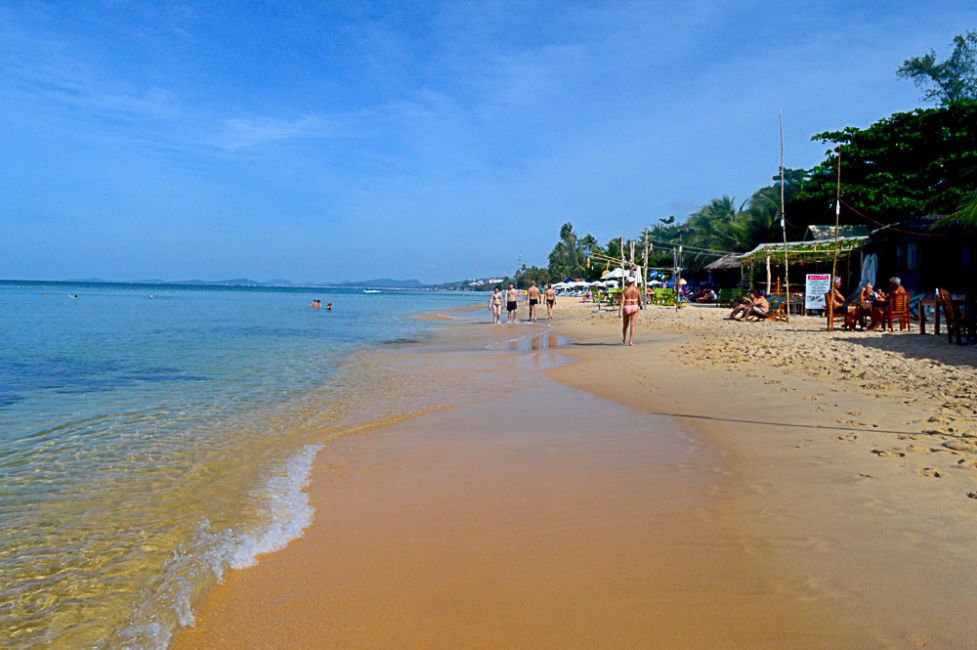 Where to Stay near Long Beach
As the most popular beach in Phu Quoc, Long Beach has a lot of great(and cheap) accommodation options. Check out Tropicana Resort if you are looking for a killer swimming pool and with bargain prices of less than $45 for 2 people sharing.
If you're looking for a little more privacy with direct beach access Kim Hoa Resort has some great garden and beach bungalows and is even cheaper than Tropicana – with prices starting from just $30 per night.
Ong Lang Beach
If Long Beach seems to tick all the boxes for you, but you are looking for something a little less developed, then head over to Ong Lang Beach.
The beach itself is almost identical to Long Beach – calm, warm and crystal-clear water. Absolutely heaven. Also, being only a few kilometres north of Long Beach you can still enjoy the same spectacular sunsets along the beach.
The difference lies in the lack of development along Ong Lang Beach. Whilst there are a handful of resorts along the beach, most of the resorts and guest houses are tucked away inland.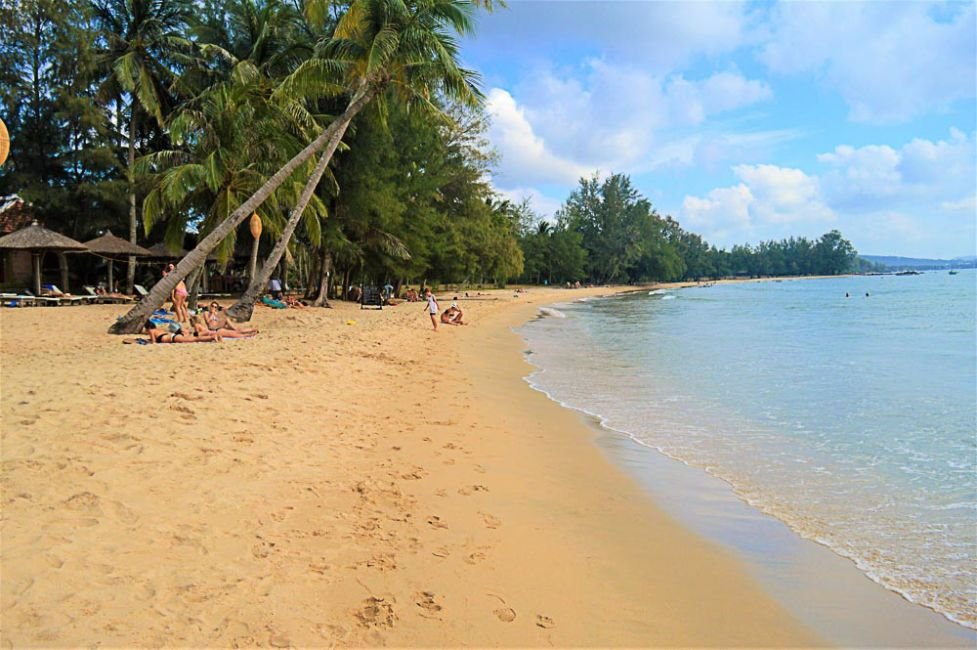 Where to Stay near Ong Lang Beach
If you want to stay along the beach then check out Coco Palm Resort. This highly rates resort with garden and sea view rooms and cottages is right on Ong Lang Beach and the perfect spot for sunsets. The staff here are really awesome too!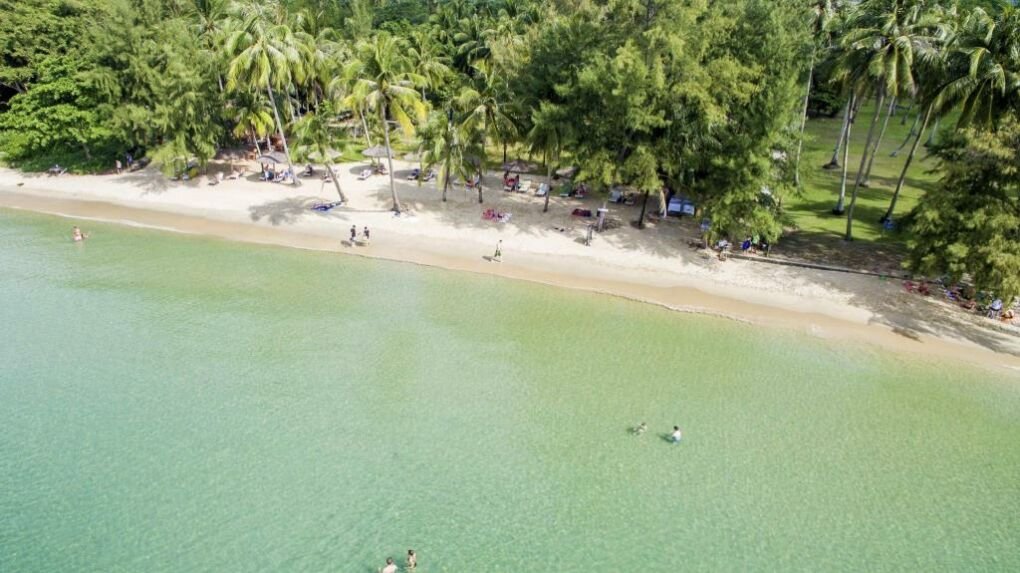 Bai Sao Beach
Many consider Bai Sao to be the most beautiful beach in all of Phu Quoc Island. With its perfectly white sandy beaches, emerald green water, gentle waves and coconut trees lining the beach it is what post cards are made of.
Despite being away from the main tourist areas and with minimum accommodation options, during the day there are still plenty of visitors to Bai Sai Beach each day. Many day tours stop at Bai Sao Beach, alternatively if you want to make your own way there you will need to take a taxi or ride a scooter.
Along Bai Sao there are few places to eat and sun loungers you can hire – but be warned it is expensive here!
Where to Stay near Bai Sao Beach
There are only two options for accommodation on Bai Sao; Nha Hang Resort or My Lan Guesthouse.
Ganh Dau
Located in the remote north west of Phu Quoc is Ganh Dau Beach, yet another gorgeous beach with white powdery sand and palm trees. The water here is calm and shallow and you can even catch glimpses of Cambodian Islands which are only a few kilometres from shore.
Apart from a few resorts and the old dusty fishing village there is no development here or shops. The fishing village is definitely worth a look, I assume this is what Phu Quoc was like before all the development.
Where to Stay near Ganh Dau
Peppercorn Beach Resort has gorgeous bungalows right on the beach or next door you can stay at the cheaper Gold Coast Resort.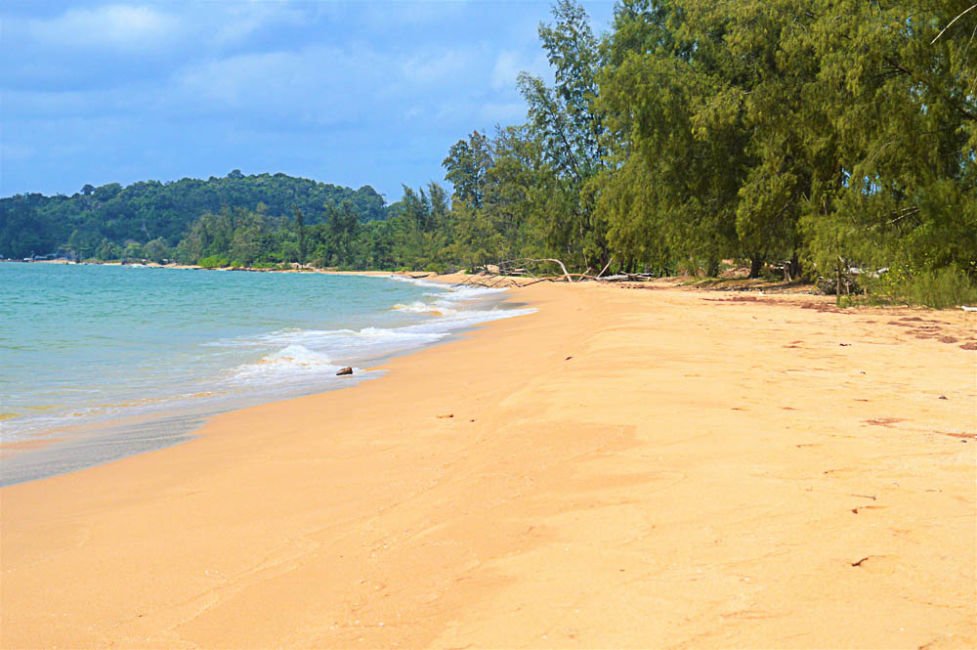 Other Phu Quoc Beaches
Dai Beach – A gorgeous beach with fine white sand and turquoise water, however this beach is now full of 5 star development with a giant casino, golf course and theme park and has lost that laid back feel.
Vung Bau Beach – If you want a beach all to yourself then you must come to Vung Bau Beach. There is no development here whatsoever so ensure you bring plenty of water and any other supplies you may need. Unfortunately, this beach won't remain isolated for long with development already underway.
Khem Beach – Located close to Bai Sao, Khem Beach was previously controlled by the military, but is now occupied by the huge Marriott Emerald Bay Resort.
Rach Tram & Rach Vem Beaches – Located in the north of Phu Quoc these beaches, despite being scenic with the backdrop of thick tropical jungle, are seldom visited by tourists possibly due to their remoteness and the fact that they are working fishing beaches.
Thom Beach – Another remote beach located in the north east of the island, this beach is quiet and undeveloped apart from a few food shacks.
Cua Can Beach – This beach is located along a long sand bar – one side of the sand bar is a fairly rough ocean and the other is the river.
Vong Beach – Located close to where the ferry docks from the mainland, this beach is more of a port rather than a swimming beach.
Check out the Thrifty Family Travels guide if you're looking for more great advice about beaches and where to stay in Phu Quoc.
READ MORE: 50 Unique Things To Do in Vietnam
Author Bio
Melissa is the creator and writer for the Thrifty Family Travels website; which details her family's travels both locally and across the globe. Together they travel the world, experience new cultures, indulge in local delicacies, and explore every corner of our beautiful earth, navigating their way around the world. Thrifty Family Travels hope to inspire other families to travel and to show them all the fantastic places the world has to explore. be sure to follow their adventure on Facebook or Instagram.