While Aruba is getting more and more popular for its famous beaches, flamingos on Flamingo Island, and adventurous activities, there are also many great restaurants! With unique vibes, international cuisine and a lot of seafood dining options you will definitely be stoked by the amount of amazing places to eat in Aruba there are. Here's my pick on the top romantic restaurants in Aruba, mainly the one's I had the pleasure of eating at while on holidays there! Foodies, get ready for some good food…
Romantic Restaurants in Aruba
The West Deck Restaurant
Located right on the beach at the Governors Bay, The West Deck Restaurant is a cool beach bar offering great grill dining options. Get a table on the wooden deck while enjoying the breathtaking ocean views. Look at the planes landing while eating lunch or dinner with casual and chilled vibes. It's also a great spot to simply grab a drink or two!
Barefoot Restaurant
Barefoot Restaurant suggests the idea you can always experience elegant dining even if you're simply wearing flip flops! With an amazing view in the background you can make the most of the tropical vibes while eating great food and enjoying tasty wines! Their setup is quite unique which makes it one of of the top restaurants in Aruba and one of the most popular with both tourists and locals. You can either eat directly on the beach or under a large palapa on a wooden deck. The Snickers Cheesecake is so good here I've listed it in my top things to do in Aruba post!
Papiamento
Papiamento propose a magical combination of museum and tropical paradise…which make it one of the most unique places to eat in Aruba! Picture a huge garden where you can find a long pool right in the middle. The trees and twinkling lights create a unique fairytale atmosphere. Imagine enjoying an elegant meal surrounded by these magical vibes. It will be an experience that you won't be able to forget.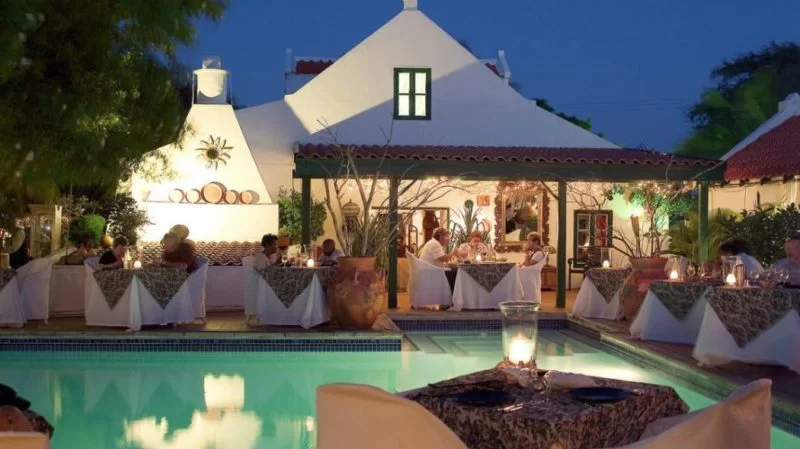 Papillon Restaurant
Papillon Restaurant offers a French menu with a Caribbean twist! This restaurant will definitely take your tastebuds to another level. Papillon was my favorite restaurant in Aruba. From appetizers to desserts, the options were so tempting and surely not disappointing. With their beautiful outside terrace, iron bars and modern atmosphere, you will want to eat here again at some point!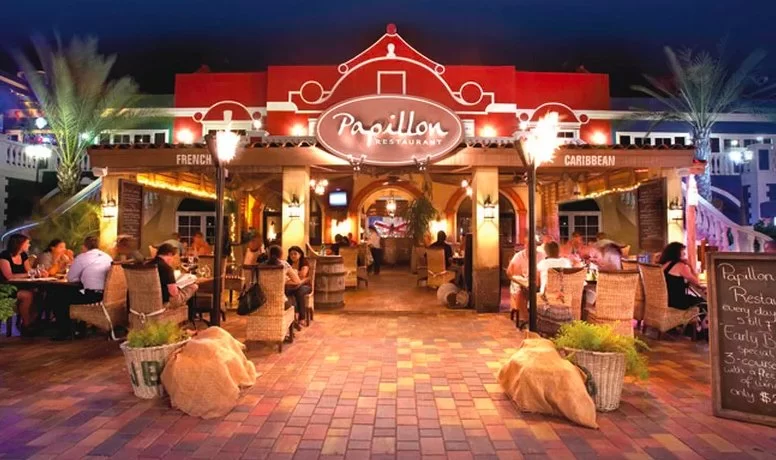 Sea Salt Grill
Sea Salt Grill is the perfect option for a lunch on the beach! This is where you want to head for fish and seafood options. Known for its amazing service and friendly staff, you can easily go for a traditional fish n'chips while enjoying the sea breeze.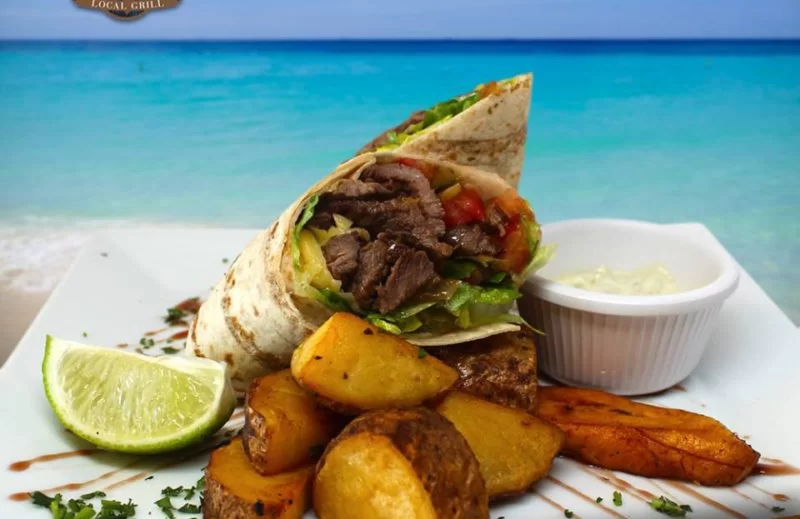 The Old Fisherman
Located right in the middle of Oranjestad, The Old Fisherman is a family restaurant and is known mostly by locals. Always quite busy, their team is super friendly and they have great seafood options as well as affordable options if you are trying to keep an eye on your budget!
Charlie's Bar & Restaurant
If you're seeking something unique, special and totally different, I'd suggest Charlie's Bar & Restaurant where you can enjoy great meals and an alternative atmosphere. Perfect to grab drinks during the day or at night, I'd recommend it for an easygoing meal! Their colourful vibes and collectibles will surely entertain you while eating seafood or other great meals such as burgers or soups!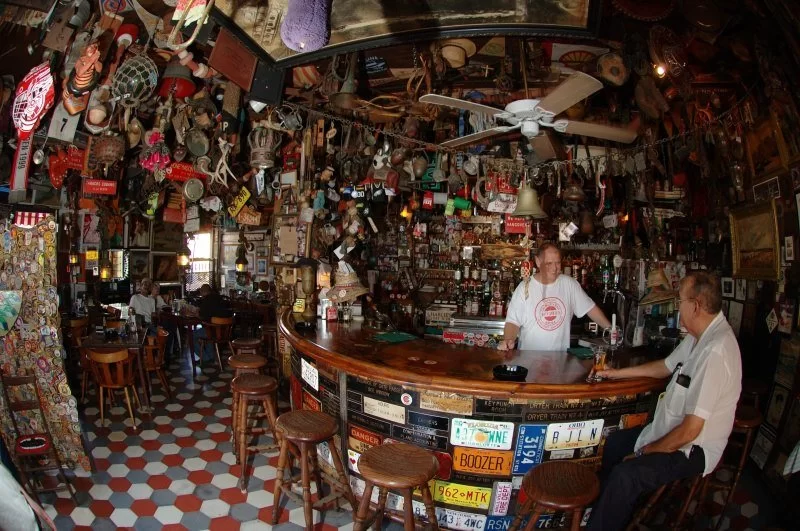 Moomba Beach Bar & Restaurant
Moomba Beach Bar & Restaurant is perfect for any meals of the day. They offer a wide variety of drinks, breakfasts, lunches and dinners. Sit beneath two giant palapas and enjoy the ocean views while savouring the laid back atmosphere! They also provide live music to make sure you can make the most of that sunset! Daily happy hours are between 6pm and 7pm, right in time for an epic sunset!
Salt and Pepper
Salt and Pepper restaurant has some serious fun vibes! If you're looking for great food or simply for a place to sit while enjoying a drink you will be pleased at Salt and Pepper! Offering breakfast, lunch and dinner, you can also come for their daily happy hour between 4pm and 6pm. It's the perfect spot to enjoy traditional Spanish tapas or international dishes.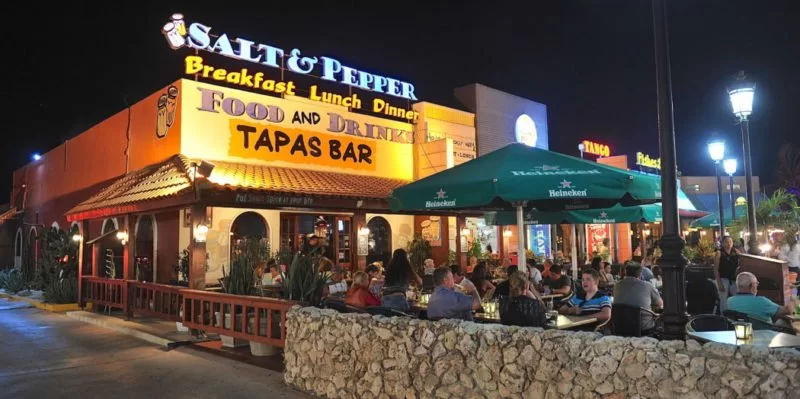 Kamini's Kitchen
Located in San Nicholas, Kamini's Kitchen is probably the most famous restaurant for Caribbean dishes in Aruba! Known as a very friendly and local restaurant, it seems to be a brilliant spot for lunch while you explore new areas in Aruba. If you're looking for some local restaurants in Aruba, this is the best place to start.
The Kitchen Table by White
If you are after a unique dining experience, you should definitely try The Kitchen Table by White. Picture yourself as one of the lucky 16 people who will be enjoying an absolute gastronomic experience while enjoying 7-8 different courses. Of course you need to reserve a seat quite prior to your trip to make sure you can make this happen!

Fred Restaurant
Fred Restaurant is located in Oranjestad and offers you an excellent meal if you are feeling relaxed and in a good mood! You will enjoy a 5 course menu while enjoying amazing wines! This will surely be a fine dining experience that you will remember! After dinner you are always welcome to sit on the roof terrace and enjoy a drink!
Which one of these great restaurants seems to be the most tempting? Would you like to recommend any other restaurants in Aruba?
Like this post? PIN IT!