Research has taught us that the art of giving actually makes the giver happier too, so we've put together a list of eco friendly Christmas gifts to buy for the travel lover in your life.
If you're planning your other half with some travel gifts, you might want to keep it eco-friendly. Using recycled materials or reusable items are definitely easy ways to give back to our majestic planet and these eco friendly gifts for travel lovers are a great place to start. Need a gift for that special lady in your life? This list of fun travel gifts might help.
In this era, where most people try to stay conscious and care a lot more about the environment, there are small steps you can do to make our world a better place and be responsible travellers. Here is a quick list of 10 cool eco-friendly gifts for travellers. Be it gifts for him, or amazing gifts for her, impress your eco-conscious friends with a meaningful gift that is both sustainable and useful!
Best Eco Friendly Gifts For Travel Lovers
Tinggly Experience Box
Instead of giving a physical gift, why not give a friend of loved one the gift on an experience instead? That way there's less waste and your loved one will have an experience of a lifetime, which they can choose themselves based on their interests from 100's of fun Tinggly experiences around the world.
Not only does your friend or family member get an amazing gift, but buying a Tinggly Experience box means the company will do their part to create a better world for all of us. Experiences remove 15kg of plastics, and they off a 200% CO2 offset which is pretty incredible It's the gift that keeps on giving!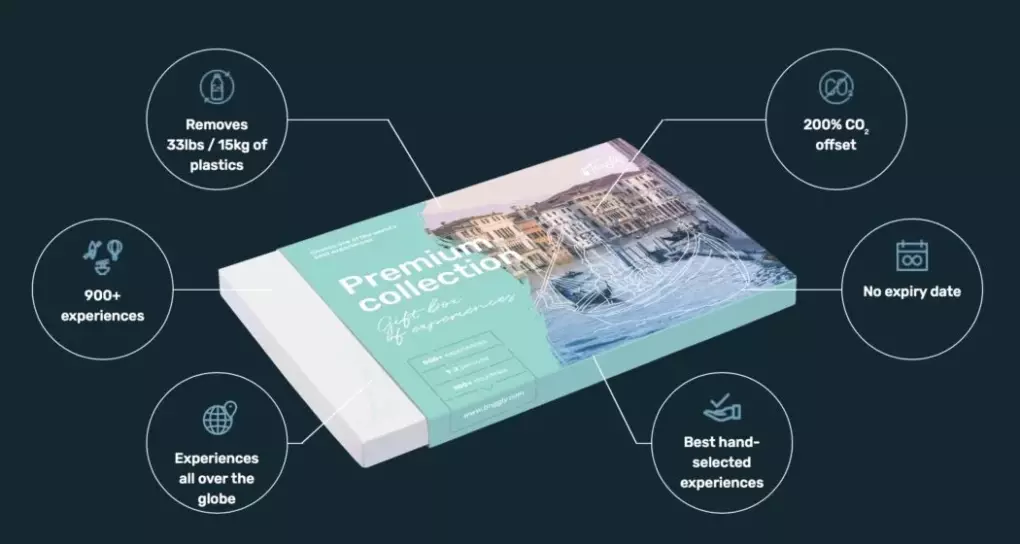 Eco Packing Cubes
Using packing cubes is becoming more popular nowadays. It's quite simple, they're useful, they keep everything tidy and as they compact everything in a very organized way so you can pack more items. Instead of using plastic bags to sort out your stuff it's more eco-friendly to use eco packing cubes. There is a couple of companies offering this range of products at the moment such as Florious and Eagle Creek that are using recycled materials to produce their original packing cubes.
Eco Luggage
Whether you prefer to use a backpack or a suitcase, both can be eco-friendly and/or ethically made. Finding the right luggage can be a hard task. There are so many options out there. You first have to decide if you'd rather travel with a lot of stuff or if you can keep it simple and travel with a carry-on only. There are many companies offering sustainable luggage such as Osprey Pack, Eagle Creek, ChicoBag rePete Packs or Samsonite.
Eco Toiletries
When it comes to toiletries, there's a lot of things you should keep in mind. Is your packaging eco-friendly? Are your products biodegradable and harmless for the environment? If you're spending a lot of time underwater, you might not have thought of this but there are ways to make sure you're going to protect the environment and the underwater world.
Have you ever thought about the sunblock you're using? Perhaps you didn't realize but as soon as you jump into the water you might harm the ocean and the marine life. Reef Safe offers harmless products for those who like to play in the water. It doesn't stop the sunblock from working though. You can also find eco-friendly shampoo as well as conditioner. Kiss My Face Whenever offers a good range of hair products. You could also check out LUSH which offers a wide range of toiletries products.
Reusable water bottle
If you start counting the number of plastic bottles you use within a week it can get scary, quickly! The same also applies to coffee lovers. Nowadays, there's no excuse to be using a disposable water bottle or coffee mug. A reusable water bottle is a must-have item for every traveller out there! You can check out companies like Clean Bottle, Design for Living or BKR bottle to find original products with an eco twist. This is one of the best eco friendly gifts out there, once that everyone should have even in your day to day life.
LifeStraw
The LifeStraw bottle is basically a portable water filter that is ideal if the traveller in your life is traveling and loves being off the beaten path. You can take water from pretty much anywhere and filter it on the go, which makes it very useful and practical. A good thing about this item is that they also deliver clean water to schools in need every time you make a purchase…so it really is an eco friendly gift that keeps on giving.
Hope Shades
Everybody that goes on holidays has to have a pair of sunglasses in their luggage! Of course these holidays have to be warm enough but imagine if these sunnies were eco-friendly too! Hope Shades is an interesting business that creates sunglasses with recycled materials and defends lots of causes. You can support causes such as breast cancer, education or the environment by choosing a unique pair of sunnies. One of the most fun and fashionable of all eco friendly gifts on the list.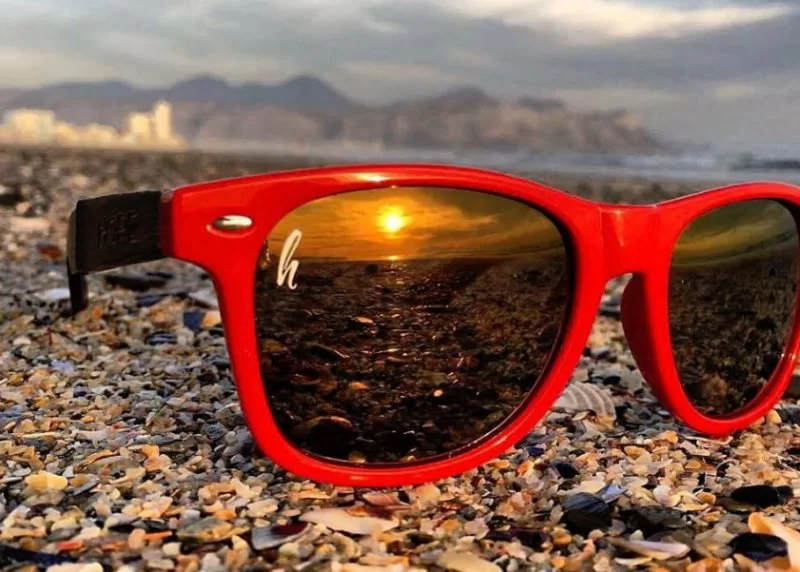 Eco Travel Clothing and Shoes
What if you could buy travel clothes that are fashionable, eco-friendly and versatile? There are so many clothing companies that are sustainable that it makes it hard to pick only one! The woman in your life will surely be happy to wear some unique designs with an eco-friendly materials. You should check out these companies as they offer original travel clothes: Encircled, Synergy, Aventura and Tentree.
Reusable Bags
Having a reusable bag in your luggage is always a great idea. Whether you use it for your dirty laundry, to do a bit of shopping or simply to go to the beach, there are many reasons why you should use one. You should check out their original designs offered by Envirosax.
Eco Passport Holder
For those who like to have a passport holder to keep their passport safe, clean and tidy, there are many cool eco options! You can find many of them directly on Etsy or on Amazon.
Menstrual Cup
Now that the menstrual cup has become more popular and is definitely considered more hygienic, it's a great way to help out the environment. The Diva Cup is probably the most popular one and features a reusable silicone cup that is truly useful especially if you're quite an active person. The woman in your life could be saving lots of money and headaches while trying to find pads and tampons abroad!