Planning a spring break trip to Ireland and need a cheap place to stay? In case you're a last-minute lucy and have not adequately planned your trip yet, here's my take on the best hostels in Dublin to stay for a guaranteed cracking good time! For help planning the rest of your journey, check out these things to do in Ireland.
Top tip: To maximize your time staying in these awesome cheap hostels in Dublin, Ireland, get the Dublin Pass ticket. It allows you entry to over 30 of Dublin's must-see attractions.
Cheap Hostels in Dublin
If you're looking for the best Ireland hostels, Dublin is the place to go. The capital city is brimming with fun and cheap places for the best parties, socialization, or for simply relaxing after a long day on the sightseeing scene.
Generator Hostel, Ireland, Dublin – Everyone's favorite!
You'll undoubtedly see this on many lists of the best hostels in Dublin or have heard about this hostel from some friends on the road. This is because it's by far the best hostel in Dublin.
Generator Hostels is actually a fantastic chain of hostels, of which there are twelve all over Europe – and their Dublin branch doesn't disappoint. It's not just one of the top places to stay in Dublin. It's probably one of the top hostels in Ireland and Europe.
Whiskey lovers will be especially pleased as the hostel is next to the Jameson Distillery. It's also a short walk to the famous Temple Bar, which you've probably seen all over your social media feeds. This bar isn't only good for pictures and has an impressive collection of over 450 kinds of rare whiskies, making it the ideal spot for St Patrick's Day celebrations.
Modern, clean, and funky rooms make your stay all the more enjoyable. But what makes the hostel top-notch is its well-designed open social spaces which add to the fun atmosphere. There's a bar, a cinema, a cafe/restaurant, and rumor has it some rooms have their own hot tub?! WHAT?!
READ NEXT: 15 Amazing Hotels in Ireland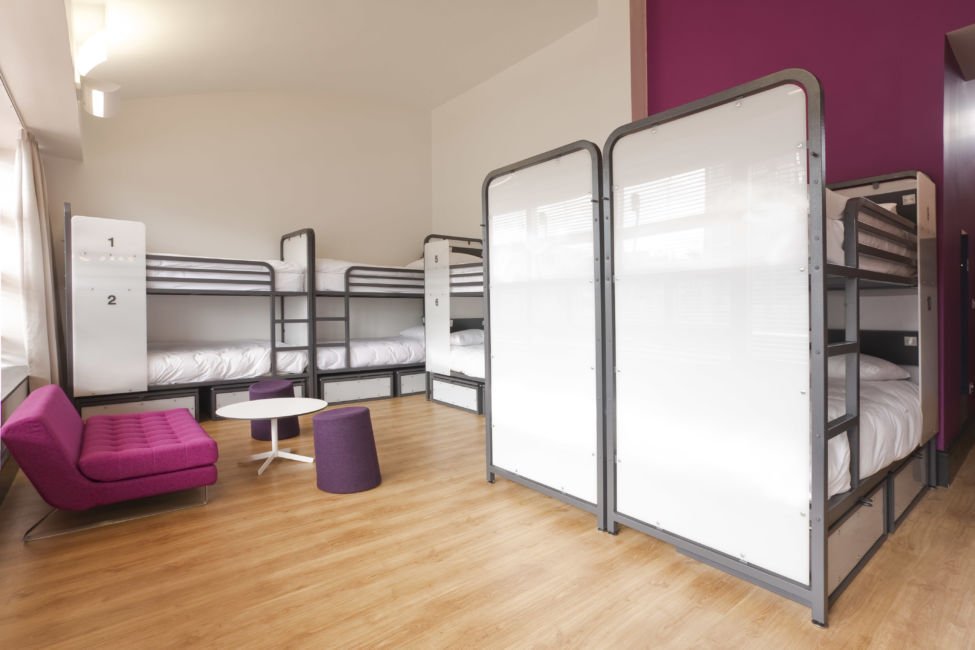 Four Courts Hostel – Cheap!
Overlooking the banks of Dublin's river Liffey, the Four Courts Hostel is another great option. It's in the same area as Generator but at a fraction of their high prices. This makes it one of the best value-for-money hostels in Dublin.
This is a great hostel to stay in if you want to make friends. Their communal spaces include a movie room, kitchen, dining area, and reading room. You can also find table tennis, a pool table, board games, and free guitars to keep you and your new friends entertained.
Four Courts Hostel also offers a host of free and helpful services to their guests. These include international calls for guests, a guided walking tour, city maps, and free breakfast too! They also priced packed lunches, arranged meals, and the occasional BBQ– perfect for that inevitable St Patrick's day hangover!
Its location is great too as it's very central. The Four Courts Hostel makes it easy to visit the Guinness Storehouse, the Jameson Distillery, Temple Bar, and Brazen Head– one of the oldest pubs in Dublin.
Jacobs Inn Hostel – Central Location
Jacobs Inn is another of the top hostels in Ireland Dublin to stay for St Patrick's Day. The space is colorful and modern, thanks to the unique murals, signs, and neon lights everywhere. It's also right in the city center and close to public transportation hubs, making it easy for you to go anywhere you want.
As with many hostels, there are big single-bed dorms that can sleep up to 12 people. But, this dorm does it a bit differently, with guests sleeping in pods with calming lights inside. However, if you prefer privacy and an en-suite bathroom, consider their private rooms instead. All rooms (dorms and private) come with fresh linen, free wifi, fitted USBs, and bedside lights.
In the communal areas, you can help yourself to all of the free tea and coffee you like. Score! They have a common and games room, which makes it the perfect place for mingling. There's also a big kitchen area to make your own food if that's the way you prefer to travel. The staff is kind and super helpful.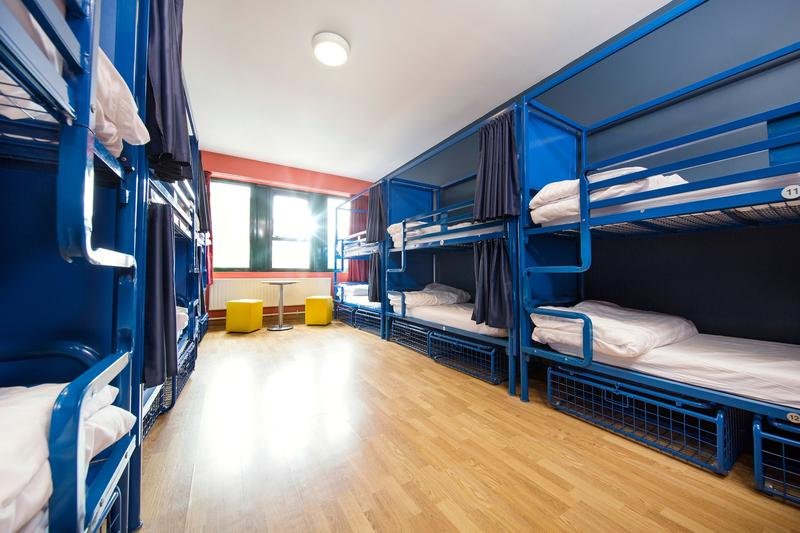 Ashfield Hostel – For a Longer Stay
If you want to do nothing but party and be RIGHT in the center of all the action but still have a quiet spot to sleep in, Ashfield Hostel is the place to be. It's right in the center of Dublin's buzzing nightlife spots.
It's super close to many of Dublin's top attractions. Some of these include Trinity College, Temple Bar, O'Connell Street, and many museums. So while you'll find it easy to make some drinking buddies at Temple Bar nearby, you'll still have a quiet spot away from the commotion to sleep off the hangover.
While the location is great for this much-needed rest, the rooms are equally as instrumental. Dorms range in size from four to 18-bed spaces, but if you'd need some more space, you can book a private room with en-suite instead.
Pregame by playing a game of foosball or board games with your fellow travelers, or fill up on food in the modern, fully equipped kitchen before going out.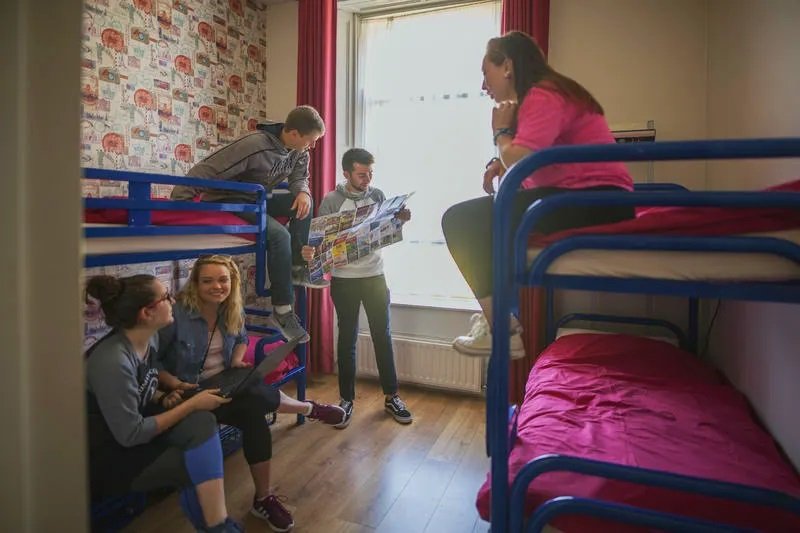 The Times Hostel – Next to Trinity College
If you're looking to be far enough away from the action to hopefully get a decent night's sleep but close enough so that you're never far from a proper pub (not too hard in Dublin), then The Time's Hostel is the place to go.
Rooms are modern and colorful whether you're staying in a ten-person shared dorm room or a private en-suite double room. But, the shared areas are where the most fun is with a big common room and self-service kitchen. There is always something to nibble on as the fridge is packed with complementary foods, and there is a never-ending flow of free warm drinks.
The hostel got its name after Ireland's most famous newspaper. The Irish Times head office is just down the street. But that's not the only major attraction here. You'll never be bored as the hostel has many free events, theme nights, and free activities. It is also right next to Trinity College. So, it's perfect for those looking to check out the Book of Kells or visit friends who are students at the college.
Garden Lane Backpackers – Winning Neighborhood Stay
One of the coolest places to live in Dublin, according to Timeout, is Dublin 8. The area outranks places like Shanghai, Amsterdam, and Sydney and is full of amazing treasures. And, luckily for you, you don't have to pay for an arm and a leg to stay in this prestigious neighborhood.
There are many great backpackers hostels in Dublin, Ireland, but few can compete with Garden Lane Backpackers. Rooms are simple and clean with lockers to store away your valuable securely. You can choose between mixed or female-only dorms or private rooms for a more comfortable stay.
While Grafton Street's bars and pubs are just a stone's throw away, why not stay in for a jam session in the music room or movie night in the living room? There's also a fantastic rooftop ideal for sunset sessions overlooking the city.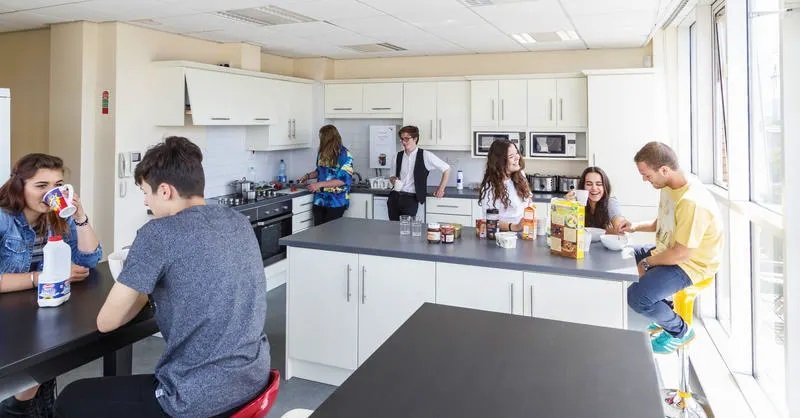 Abigails Hostel – Everyone's Go-to
If you're looking for hostels in Dublin city center with a diverse group of people at an excellent location, Abigails Hostel earns the top spot. This hostel is steps away from all major attractions and public transport.
Its doors welcome everyone from families to solo backpackers seeking a cheap stay. Rooms are spacious, clean, and have en-suite bathrooms.
Common spaces are equally welcoming with fully-equipped kitchens, foosball table, TV, and plenty of free maps and city guides. Abigails hostel even offers a gratis-guided walking tour of Dublin as a welcome.
Abbey Court Hostel – Riverside Views
With all of the great bars and historic buildings housed in the capital, it can be easy to miss the bits of nature sprinkled about too. Dublin's Abbey Court is ideal if you're looking for a change of pace and want to stay at a Liffey River view hostel.
The joyful theme on the facade of Abbey Court Hostel carries throughout the whole residence, with plants and murals everywhere. The en-suite dormitories are a great place to relax after a hot shower. But, if you're looking for company, head to the games, dining, or TV room for a chat.
There is no curfew which means you can enjoy nearby bars or scenic areas for as long as you'd like.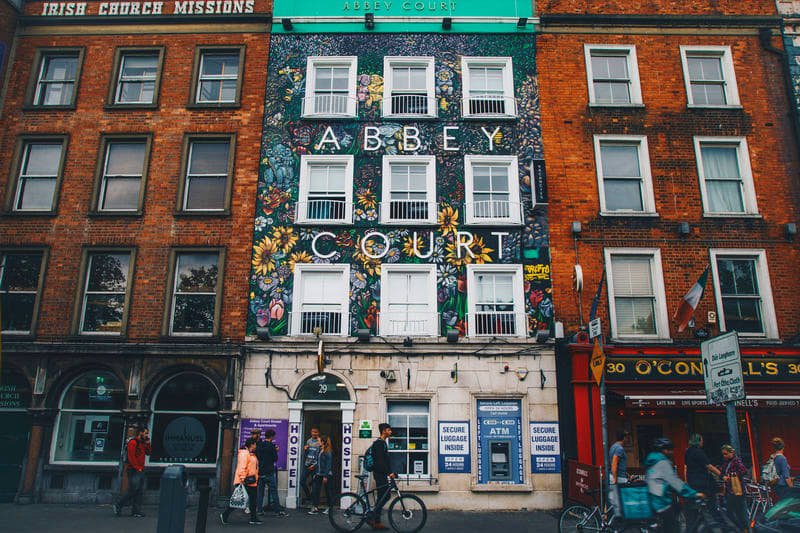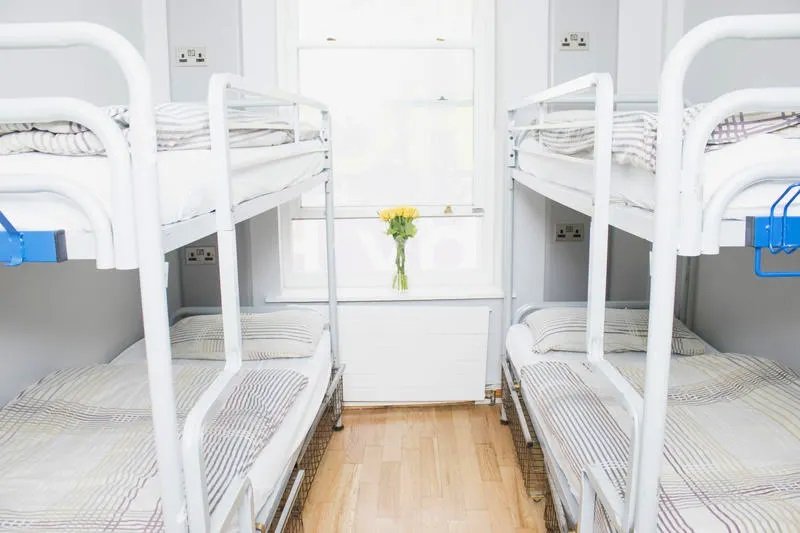 Final Thoughts on Dublin Hostels
If you ever find yourself in the Emerald Isle. There are two things you need to keep in mind: what to pack for Ireland's unpredictable weather and where to find cheap hostels in Dublin's city center.
Fortunately, you'll find all the information you need in this cheap Dublin hostel guide. So, are you ready to stay at these amazing hostels in Ireland to have the craic?