The infamous Ubud Monkey Forest in Bali is one of the most popular tourist activities and attracts thousands of visitors annually.
The Monkey Forest Ubud area was built around the middle of the 14th century. When the kingdoms in Bali were ruled by the Dynasty of Pejeng or can also be said about the beginning of Gelgel Dynasty.
The 13-hectare forest is home to over 700 Balinese long-tailed macaques and three sacred temples which all have a purpose in the community whose predominately Hindu
The post goes into detail about things to know before visiting Bali and what to expect at the Sacred Monkey Forest Sanctuary including dress code, safety tips, and where to stay near the forest.
What is the Ubud Monkey Forest
The local name of the Ubud Monkey Forest is Mandala Suci Wenara Wana which translates to Sacred Monkey Forest Sanctuary. It is a sanctuary and natural habitat of the Balinese long-tailed Monkey, scientific name Macaca fascicularis.
The Ubud Monkey Forest is located inside the village of Padangtegal in Ubud. The sanctuary is owned by the village and its an important spiritual, economic and educational, and conservation center for the village.
Facts about Long-tailed Macaques in Bali
The long-tailed macaque is also known as the crab-eating macaque and they are native to Southeast Asia.
Long-tailed macaques have an average lifespan of 15-30 years, with longer lifespans documented in captivity.

Long-tailed macaques are born with dark (almost black looking) fur. The older they get, the lighter the fur becomes.

Males have a mustache under their nose, whereas females have a beard on their chin.

Both sexes have cheek whiskers, as well as cheek pouches for storing food

Their long tail not only gives them their name but also helps to aid in balance when jumping long distances.

The Long-Tailed Macaques at Ubud Monkey Forest are omnivores – meaning they eat food from both plant and animal origin.

They are good swimmers and usually enter the water for refuge when threatened.
How to get to Ubud Monkey Forest
The Monkey Forest is located in Ubud, Bali. About 36 km's from Ngurah Rai Airport (DPS), Indonesia. The forest is reachable by car or motorbike.
How to get to Ubud from the airport
The drive from the airport to Ubud takes roughly 1 hour 30 mins to 2 hours depending on traffic.
A taxi (car) from the airport to Ubud would cost between IDR 300,000 – 350,000 (USD22 -26 ), depending on the time of day and taxi operator company. While a scooter (taxi) would cost around IDR 50,000 – 80,000 (USD 4 -6).
The best way to travel from Bali Airport to Ubud is by car. I recommend that you download Grab or GoJek for cheaper taxi rides.
Tips for visiting Ubud Monkey Forest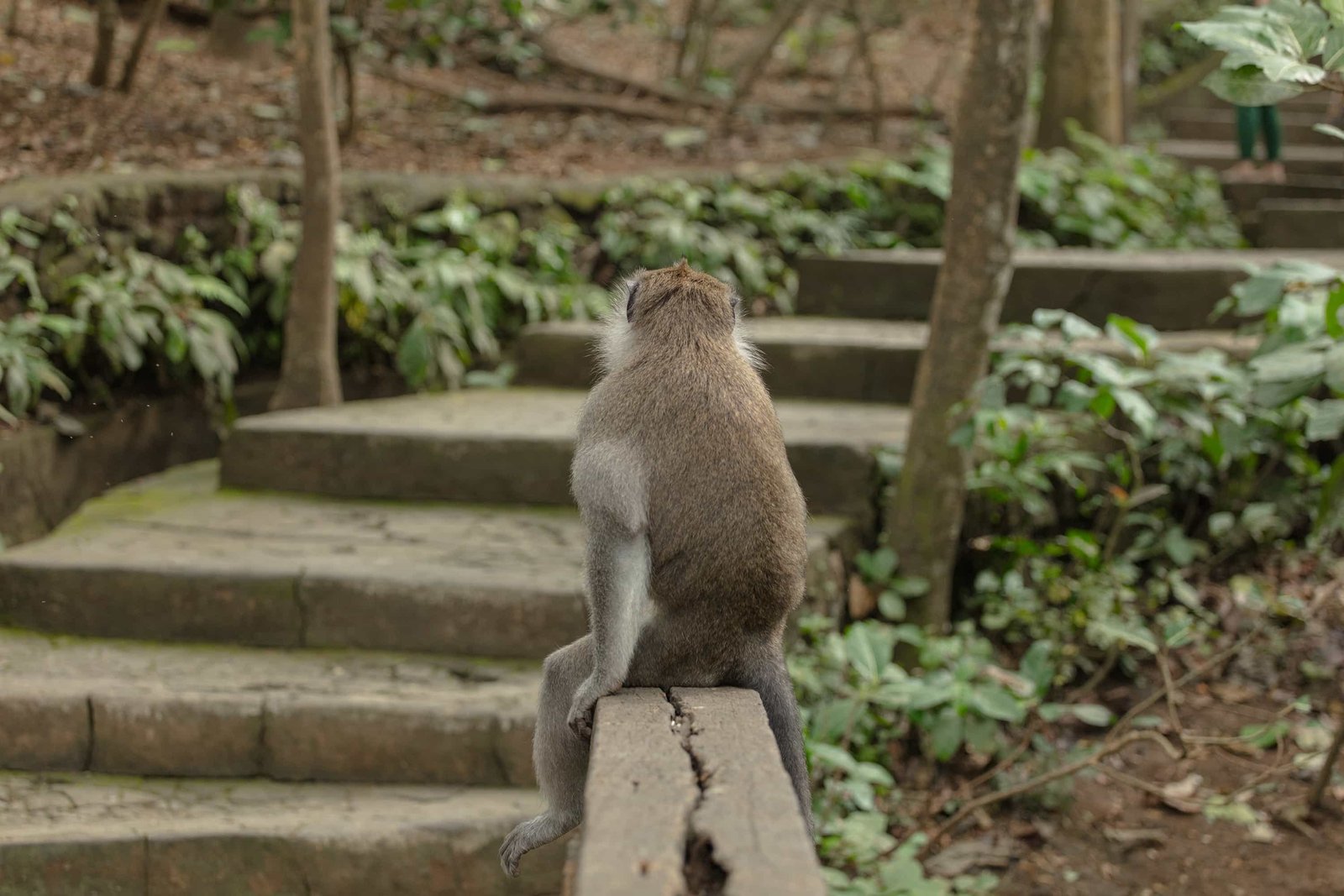 What time does Ubud Monkey Forest Open
The Monkey Forest is open daily from 8:30 AM till 6 PM.
To avoid crowds and uncomfortable Bali heat, I recommend visiting between 8:30 and 10 AM. Spending around 1-2 hours would be enough to see everything at the Ubud Monkey Forest in Bali.
How much does it cost to enter Monkey Forest Ubud
The entry fee is currently IDR 80 000 USD 6) for adults and IDR 60 000 (USD 4.50) for children (ages 3 -12). Before you visit the Sacred Monkey Forest Sanctuary, check their website for updated pricing. Tickets are only available for sale until 5:30 pm, as that is the last entrance.
Are there temples inside the Monkey Forest in Ubud
There are three temples in the area of Sacred Monkey Forest Sanctuary.
On the southwest side of the sanctuary, you will find the main temple – Pura Dalem Agung (Dalem Agung Temple). This is where the God (Hyang Widhi) in personification as Shiva, "The Recycler" or "The Transformer" is worshiped.
On the northwest of the sanctuary, you will find Pura Beji (Beji Temple). In this temple, people worship to God (Hyang Widhi) in personification as the goddess Gangga. This temple is a place of purification before conducting the ceremony (piodalan). Pura Beji is often used for "melukat" as spiritual and physical cleansing.
On the northeast, you will find the 3rd temple – Pura Prajapati (Prajapati Temple). In this temple, Hindus worship to the God (Hyang Widhi) in personification as Prajapati. The cemetery is used temporarily while waiting for the day of the mass cremation which is held every 5 years.
What to wear at the Monkey Forest
There is no official dress code for the Monkey Forest, but if you want to visit one of the three temples inside Monkey Forest, you need to wear a sarong and scarf. There's also an option to rent these items at the entrance.
I highly recommend wearing comfortable walking shoes, don't wear sunglasses or jewelry. Put away your valuables such as cameras and smartphones. Shiny items can attract monkeys and they can try and take away the items from you.
Safety Tips for Ubud Monkey Forest
There are safety aspects to keep in mind when visiting the Sacred Monkey Forest Sanctuary. It's important to remember that you are in a forest and the monkeys are wild animals, so anything can happen and it's important for you to follow the rules.
Get Travel Insurance for Indonesia – it's always better to be safe than sorry!

Avoid eye contact with the animals at the Monkey Forest.

Don't feed or pet the monkeys. The monkeys are fed by the staff,

Don't run, scream or try to scare the monkeys. This can frighten the monkeys and cause them to bite or scratch you.

If you bring children, please make sure they are supervised at all times.

No smoking is allowed. It's strictly forbidden to smoke in the Sacred Monkey Forest Sanctuary area.
What to do if you get bitten by a monkey at Monkey Forest in Ubud
If you get bitten by a monkey, you need to go to the clinic inside the Monkey Forest or any hospital or clinic nearby. The medical professionals will assist you accordingly.
To avoid any issues, I highly recommend that you get a rabies vaccination before visiting Bali. Rabies is a vaccine-preventable viral disease which occurs in more than 150 countries and territories, including Bali.
Dogs are the main source of human rabies deaths, contributing up to 99% of all rabies transmissions to humans. Monkeys also have rabies.
Rabies is an infectious viral disease almost always fatal after clinical symptoms begin. If you get bitten by a monkey in Bali and you don't visit a doctor ASAP this could lead to many health issues.
Where to stay near Ubud Monkey Forest
Located in Ubud, 800 m from the Monkey Forest, Sapodilla Ubud features a large outdoor pool surrounded by lush greenery. The bright and airy rooms at Sapodilla Ubud are furnished with a four-poster bed, mosquito nets and a wardrobe.
Guests can enjoy a cup of tea in the balcony overlooking the garden. The room also has an en suite bathroom with a bath and a shower. For extra convenience, guests will find a minibar, a hairdryer, and free toiletries.
[maxbutton id="1″ url="https://www.booking.com/hotel/id/sapodilla-ubud.en.html?aid=1558524&no_rooms=1&group_adults=2″ ]
Situated in Ubud, 1.2 km from Monkey Forest, Purana Suite Ubud features accommodation with a restaurant, free private parking, free bikes, and an outdoor swimming pool.
Each room at the hotel near Ubud Monkey Forest has pool views, and guests can enjoy access to a bar and to a garden. The accommodation provides a 24-hour front desk, room service, and currency exchange for guests.
[maxbutton id="1″ url="https://www.booking.com/hotel/id/purana-suite-ubud-ubud.en.html?aid=1558524&no_rooms=1&group_adults=2″ ]
Adiwana Monkey Forest has a restaurant, outdoor swimming pool, a bar, and a garden in Ubud. Boasting a concierge service, this property also provides guests with a sun terrace.
Popular points of interest near Adiwana Monkey Forest include Ubud Market, Ubud Palace, and Saraswati Temple. The nearest airport is Ngurah Rai International Airport, 38 km from the resort.
[maxbutton id="1″ url="https://www.booking.com/hotel/id/adiwana-monkey-forest.en.html?aid=1558524&no_rooms=1&group_adults=2″ ]
---
Bali Trip Planning Guides
20 fun things to do in Bali
---
Travel Insurance for visiting Ubud
Use travel insurance while visiting Indonesia so you are covered for theft and medical expenses. There are a lot of adventurous activities to do in Bali, and it's best to have peace of mind while diving, hiking, and trying some of the best food in the world.
Find out why I recommend World Nomads, check out my World Nomads Insurance review.
Disclaimer: This article contains affiliate links. This means that if you make a booking after clicking on a link, I may receive a small commission at no extra cost to you!