Bosnia and Herzegovina isn't exactly at the top of many bucket lists. Heck, most people I know could barely point it out on a map and my Irish friends are only familiar with the name thanks to it popping up in the Eurovision Song Contest every year! That said, and as surprised as you may be, there are so many unique things to do in Bosnia and Herzegovina.
While planning my current overland adventure from Cork to Cape Town, visiting Bosnia was again not my top priority. As with everything in life, however, it is sometimes the unexpected places and the unexpected people that leave the biggest impression upon us. Having spent an incredible 8 days touring this wonderful hidden gem of a country, a nation with a troubled past, a difficult present and what will hopefully be a bright future, I now urge you all to visit Bosnia as soon as possible and to fill your belly with Ćevapi and your heart with new friends.
I know anyone who lives to here will have hundreds of reasons to visit Bosnia and Herzegovina, and you'll see from the map below that I only got to see a small part of a very large country. Regardless, here are my top 45 unique things to do in Bosnia and Herzegovina! Have some more? Leave a comment!
Things To Do In Bosnia Herzegovina: Food & Drink
45. Award winning olive oil
While you might not associate Bosnia and Herzegovina with the production of olive oil, there are in fact many award-winning olive growers in the region. Some of these local producers have been so successful in their home country that they now travel to neighbouring countries such as Croatia to attend fairs and competitions and still manage to take away the top prizes. Spending an afternoon with a local farmer is such a unique experience as you can a peek into a traditional home, see where they grow the olives and how they make the oil and of course get to taste as much of it as you like!
We went to one close to Neum, where it is said the olive trees flourish thanks to the warm Mediterranean climate and the way the surrounding mountains protect the trees from and cold winds or extreme weather. Best to taste it with some home cooked bread or, even better, dipped in some locally produced cheese. YUM!
44. Seafood in Neum
As the only coastal town in Bosnia and Herzegovina, it's no surprise that Neum is the place to go in summer. The beaches and coastline rival any famous beaches in Croatia, there's a plethora of excellent seafood restaurants lining the waterfront and it's also much cheaper than its Croatian counterparts at either side of the border.There are lots of large sea shell farms near Neum, so these delicacies are always fresh and of high quality in local restaurants.
43. Bosnian Coffee
Coffee isn't just another drink in Bosnia and Herzegovina, it's more of a ritual and an age old tradition. Served in an intricate hand-engraved copper coffee pot and served alongside a small bowl full of sugar cubes and a small traditional coffee cup, it can be an overwhelming experience when you order your first coffee in Bosnia! My friend Ian ordered one and didn't have a clue how to drink it – so best to ask your waiter or a local sitting nearby for a little help. it should also be noticed that getting a coffee in Bosnia is about way more than simply enjoying a hot beverage, it's more an invitation to for conversation and a great way to build friendships.
42. Delicious Cevapi
While every country in the Balkans region claims to have the best Ćevapi (a grilled dish of minced meat) and there are even comedy skits that illustrate this fierce competition between countries, some of the best Ćevapi we ate was definitely in Bosnia! In fact we loved the Ćevapi so much in this one restaurant in Mostar that we ate there two days in a row. My favourite way to eat it is in a pita and covered in delicious Ajvar. They sort of look like finger sausages – but don't let that put you off!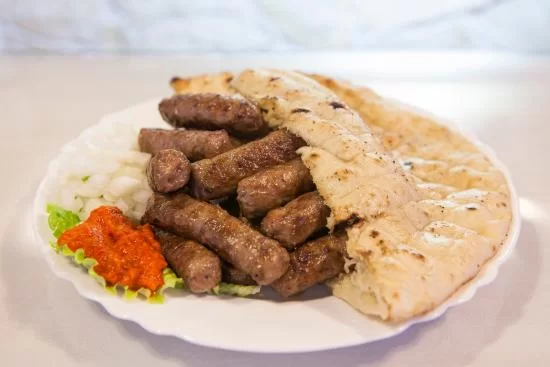 41. Picking wild herbs
Did you know Bosnia Herzegovina is home to a huge variety of herbs (Thyme, Mint, Oregano, Sage etc) that grow in the wild? One of our guides, who also works in a natural oils shop, was able to fill us in on all the medicinal benefits of many of Bosnia's wild herbs. another guide, who took us hiking in Trebinje, picked some wild sage which he said would be perfect for making tea back at our hostel – and is also known to help with fevers and calming the nerves! We were told that locals pick up to 96 different types of wild herbs, all of which are used for various medicinal purposes. The presence of these wild herbs all over the countryside help fill the air with the sweetest smells – making hiking trips all the more enjoyable!
40. Wine tasting in Trebinje
Again, not something I would have associated with a visit to Bosnia Herzegovina but it turns out much of the country, in the South in particular, is home to some award-winning wineries and many smaller, family owned wineries. We visited Andjelic Winery in Trebinje and were blown away by the quality of the wines we tasted there…leaving with our pockets a little lighter and our bags a little heavier, No wine is ever enough, it seems, and ours ran out the very next day! We also visited Tvrdos Monastery where they have producing wine for hundred son years. The barrels in the cellars here are massive and the wine-tasting area is beautifully decorated and well worth a visit. The man working there shared some great stories with us and was another great example of how friendly and engaging the locals are to visitors.
Our awesome guide Marko actually took us here – and he knows more about the area than anyone else. Be sure to get in touch if you need a guide in Trebinje! His website – www.trebinjetravelguide.com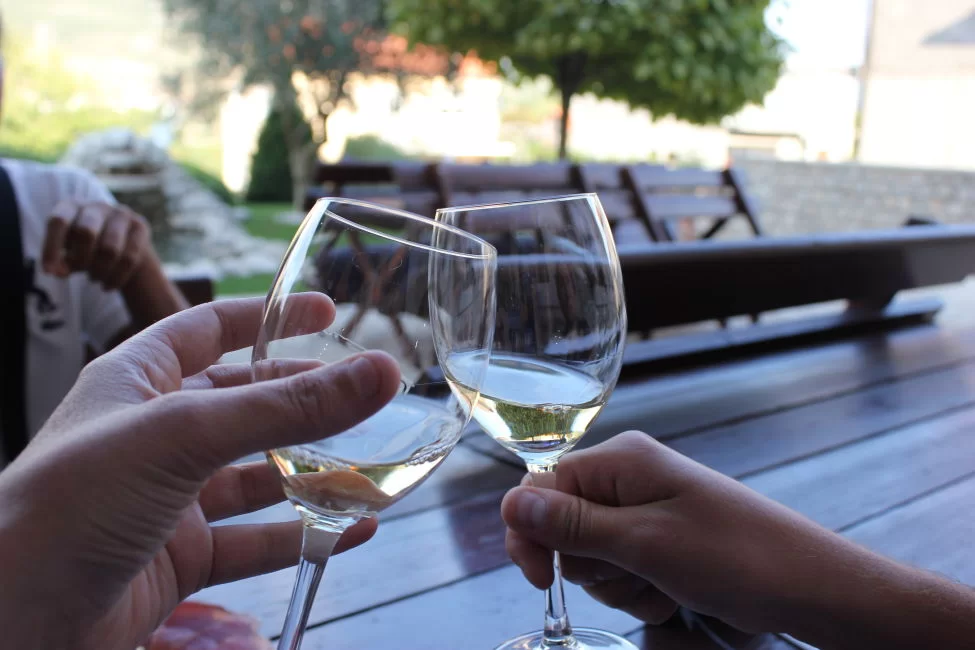 39. Freshly harvested grapes
While visiting Tvrdos Monastery and Cellers in late September, we were gifted a few large bunches of freshly harvested grapes to taste as we were leaving. The truck had just backed into the monastery area of us and we couldn't believe our good luck – nothing beats eating grapes straight from the vine. It was also fun to then taste the wines made form these grapes – from farm to mouth! Did I mention how delicious they were?!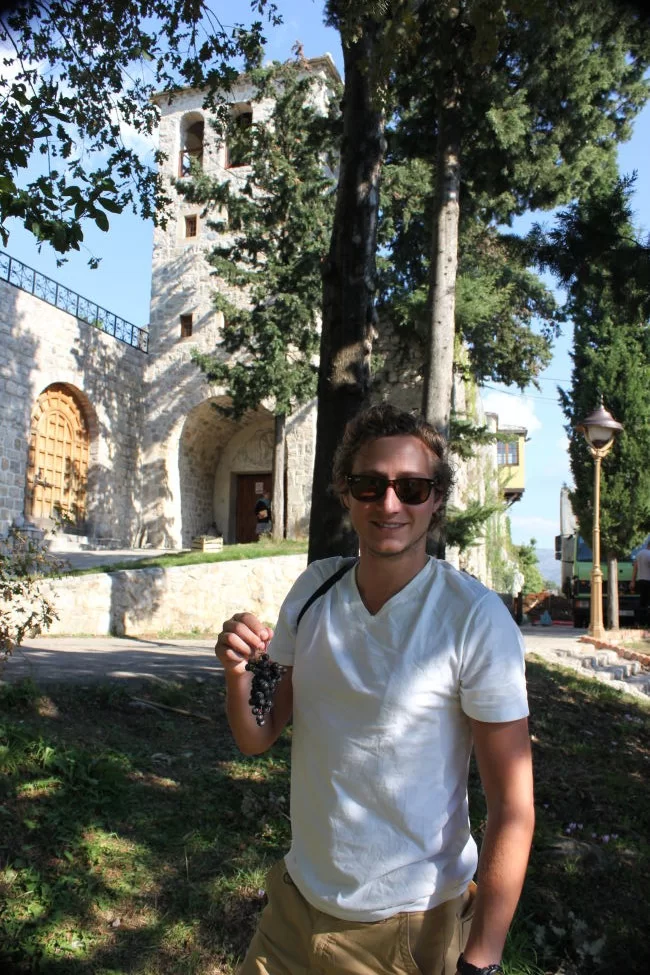 38. Eat cheap in Mostar
For me one of the best things about travelling in Bosnia and Herzegovina was how cheap everything was. i realise this is going to be relative and will depend on what country you're coming from but for someone used to paying over 10 euro for a basic meal in Ireland, it was incredible to find cheap street eats and even good restaurants serving meals for just a few euro. The food is mouth-watering in most places we visited, but for me Mostar tops the list when it comes to good restaurants on the cheap. In in the busy old town, which was with tour buses of people shipped in from Dubrovnik each morning, you could still find some hidden gems.
37. Enjoy Börek for breakfast
My first taste of Börek was actually in a food tour in Zagreb, but it didn't even compare to the delicious Börek I ate while travelling through Bosnia. Börek is essentially a delicious filled pastry made of a thin flaky dough and often filled with cheese or spinach, and sometimes meat. I honestly couldn't think of anything better to eat for breakfast (or lunch, or dinner or snack) that this flaky, crumbly delicious treat. Want to make your own? Here's a great guide to making burek from Chasing the Donkey.
36. Sarajevsko beers at sunset
I can't count the many of delicious Sarajevsko beers I enjoyed while travelling around Bosnia Herzegovina. Made at the large Sarajevo Brewery, this is a great local beer best enjoyed at sunset! While there are a few others locals beers to be tasted, this was definitely my favourite.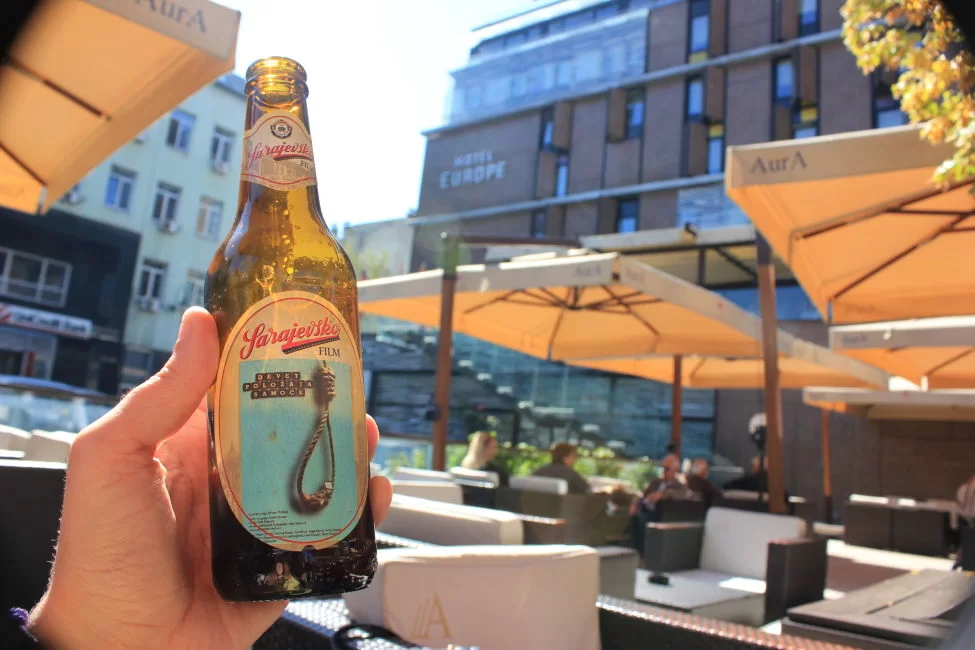 35. Sarajevo Brewery
While on the subject of beer and beer tasting, another great reason to visit Bosnia and Herzegovina is to check out the brilliant Sarajevo Brewery which dates back to 1864 and occupies a dominant spot in the Sarajevo Skyline. Not only can you do a tour and beer tasting session but the bar is hopping (excuse the pun) at weekends and you can also get some great traditional food dishes here.
34. Best breakfasts
I've eaten some of the best breakfasts of my Cork to Cape Town trip while in Bosnia Herzegovina. It wasn't always traditional food, like Bosnian Coffee or Burek, but often pancakes covered in chocolate and deliciously cheesy omelettes that impressed the most. and, with a price tag of just a few euro, you really can't go wrong filling up for a busy day of adventuring!
33. Delicious local cheese
Oh the cheese! In fairness, I love cheese everywhere I go and Bosnia was no different. For the first time in my life I got a taste of cheese soaked in olive oil and I'm now a total convert. While wine tasting in Trebinje, we also tasted some very young cows cheese, just a few days old.
32. The world's best steak
As mad as this might sound, when a friend of mine (who has literally travelled ALL over the world) found out I was going to Sarajevo he told e I simply had to order the steak as it was the best steak he and his friends had ever tasted. I could hardly not listen to such good advice and couldn't believe the quality of the cut of meat I was served. I'm telling you guys, these guys SERIOUSLY know what they're doing when it comes to cooking meat. Vegetarian? Stay at home! 😉
31. Bar hopping in Sarajevo
If you're looking to get a little tasted of Bosnia's various local beers and of course make some new friends while you're at it, go bar hopping not he streets around Hotel Europe in Sarajevo. We especially loved the Tesla bar which was absolutely hopping on the Friday night we were there and we also came across a Mexican Restaurant that serves great burritos and then transforms into a night club later in the night!
30. 50 cent shots of rakia
While in Mostar we were introduced to some very small, and sometimes hidden, student bars that serve some of the cheapest alcohol in the country. I'm not saying it will taste good, but you can't really beat a 50 cent shot of Rakia, now can you?! If you want to keep it classy, try some of the delicious flavoured rakia to be found in bars around all the main cities – the hangover won't be as bad, I promise.
Things To Do In Bosnia Herzegovina: The sites
29. Mostar old town
Stari Most (or Old Bridge in English) is a UNESCO World Heritage Site and one of the most famous attractions in the entire country. This beautiful bridge located in Mostar's old town dated back 427 years until it was destroyed on 9 November 1993. The bridge you see today was officially opened in 2004 so isn't exactly very old! It's not hard to see why it is the main attraction, as it takes pride of place in the centre of Mostar and looks just as beautiful whether you visit day or night. Exploring the old town is also a must, as you wander through all the cobblestone streets, down narrow alleyways and past busy bazars full of locals selling their wares. A must visit site for any visitor to Bosnia Herzegovina!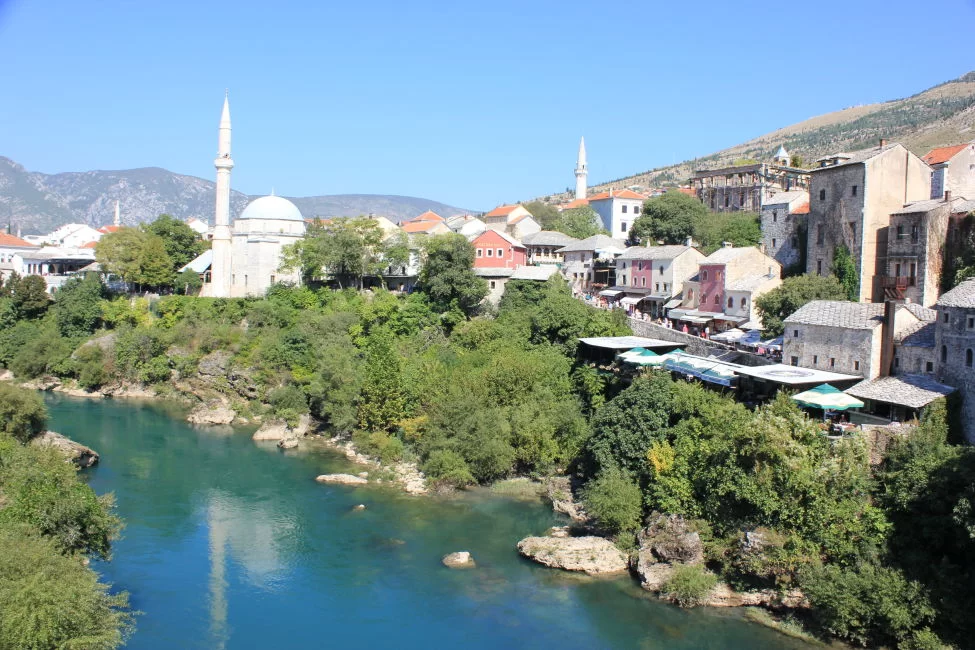 28. Stunning stone churches
No visit to Bosnia and Herzegovina would be complete without a visit to a stone church…or ten. you won't be able to drive more than a few kilometres without spotting one of these, although as many are tiny they can be hard to spot. often hidden away in the middle of a big field, or lying on the side of a mountain, what makes these small churches so special is that they are entirely made of stone, including the roof. It's fun to try and spot as many of these churches as you tour through the country and of course stopping to photograph them is a must!
27. Vjetrenica cave
Vjetrenica cave in Herzegovina is a UNESCO-nominated site and the biggest and most important cave in Bosnia Herzegovina. The cave is over 6km long and has an average year-round temperature of 11'c. While this might not seem that cold, those first few steps you take into the dark and windy cave will send shivers down your spine. It's not called the "blow hole" cave for no reason! Exploring this incredible gave is a must do when touring Herzegovina, even if it's just to lay your eyes on the main inhabitants of the cave; human fish otherwise known as salamanders! No flash photography is allowed in the cave but I highly recommend bringing a decent DSLR camera and a tripod to get some shots of the striking stalagmites and stalactites and interesting cave formations. Our awesome guide Marko actually took us here – and he knows more about this area than anyone else. Be sure to get in touch if you need a guide in Trebinje! His website – www.trebinjetravelguide.com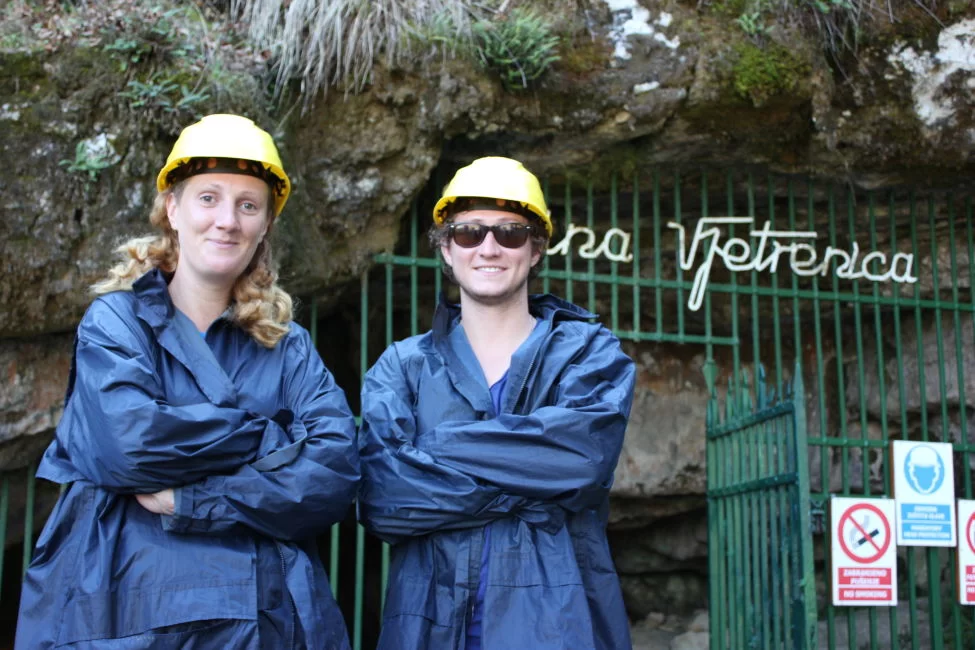 26. Crazy driving routes
One of the best things to do in Bosnia and Herzegovina, and a great reason to visit in itself, is all the crazy driving routes. I'm not going to lie…we got lost so many times I thought I was going to have to through my phone out the window (never trust Maps.me) and resort to walking the rest of the way. Our GPS once told us to drive up a hill and then to turn left down a tiny path with grass growing in the middle of it that ended in a local mans field! not quite the destination we were looking for. The positive side is that we saw so much more of the country this way and drove past some spectacular mountain ranges, past artificial reservoirs and through more towns and villages than I could keep track of. As they say, it's about the journey not the destination! If you plan to drive around the country, check out this post about coolest things to see on a road trip in Bosnia and Herzegovina. Additionally, here's an epic road trip video through Bosnia!
25. Hercegovačka Gračanica
While Presvete Bogorodice Church church in the Hercegovačka Gračanica complex in Trebinje is far from the oldest church in the country, it is one of the most beautiful. I actually had lots of fun flying my drone over this incredible building and got some stunning aerial shots of the church which you can see below. Built in the year 2,000, and based on a design from 1321 of the Gračanica monastery in Kosovo, it was built to re-house the bones of local poet-hero Jovan Dučić. There's also a cute little cafe up here with incredible panoramic views.
24. Explore Sarajevo old town
While there is so much to see and do in Sarajevo in terms of historic walking tours, learning about the Siege of Sarajevo and the awful scars left on the city buildings, the city's old town has its own unique feel and is positively charming to stroll around. Similar to Mostar old town in many ways, expect to encounter locals selling hand made souvenirs, old bullets, hips flasks or fur hats adorned with badges or broaches and lots of hand-engraved copper coffee pots. There are also lots of great local eateries serves delicious Cevapi! Two Scots Abroad actually have a great, and more detailed, post about things to do in Sarajevo if you're looking for more information. Here's also a great post about visiting the Gazi Husrev-bey Mosque.

23. Mysterious Medjugorje
Did you know the first time I EVER heard of Bosnia and Herzegovina was from my 96 year old grandmother?! It turns out that both my Gran and my Mum went to Bosnia ever before I could point it out on a map. They actually travelled with a group to participate in a pilgrimage to Medjugorje, a famous religious site where it is said that the Virgin Mary has appeared to many people and has been giving messages to the world for many years.
22. The Yellow Fortress at sunset
If you're looking to get the best sunset photos of Sarajevo, then you're going to need to hiccup, up, up. The higher you go, the better the view and nothing is higher that the striking Yellow Fortress that sits in a hill overlooking the city. You won't be alone up here, regardless of what time of year you visit, so find a spot of grass and enjoy one of the best views in Bosnia with a bunch of new friends and sunset worshippers!
Things To Do In Bosnia Herzegovina: Adventure
21. Canyoning in Rakitnica
Looking for a holiday full of adventure? Fancy jumping off cliffs into beautiful pools of emerald green water in addition to rafting down the river, caving and everything else water-related that tickles your fancy? If this sounds like your dream trip, then canyoning in Rakitnica canyon is where you need to go! Look up trips on the Visit Konjic site for more details. My friend Annika actually wrote an amazing post about her canyoning adventure in Bosnia Herzegovina which you should check out!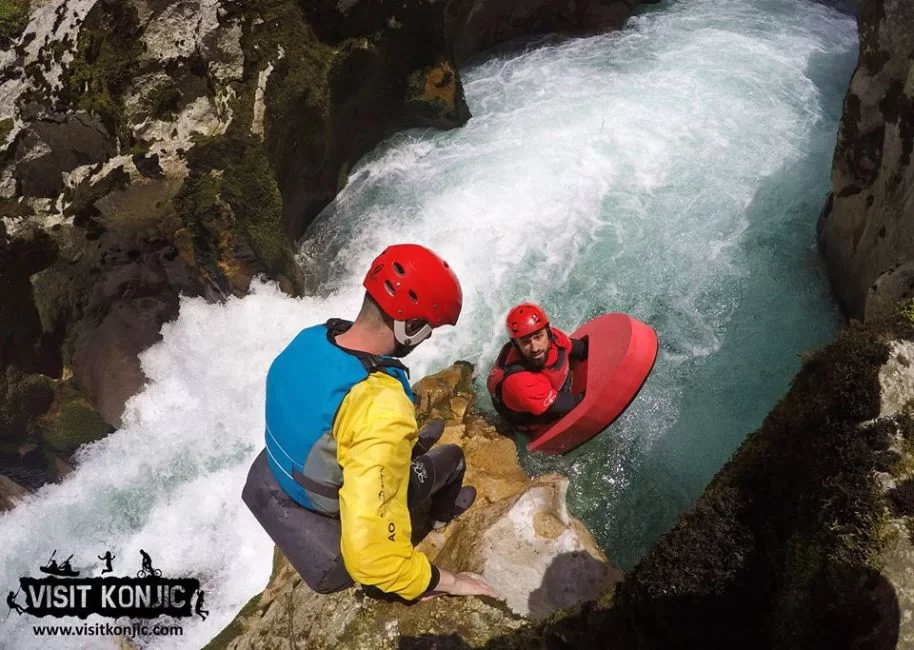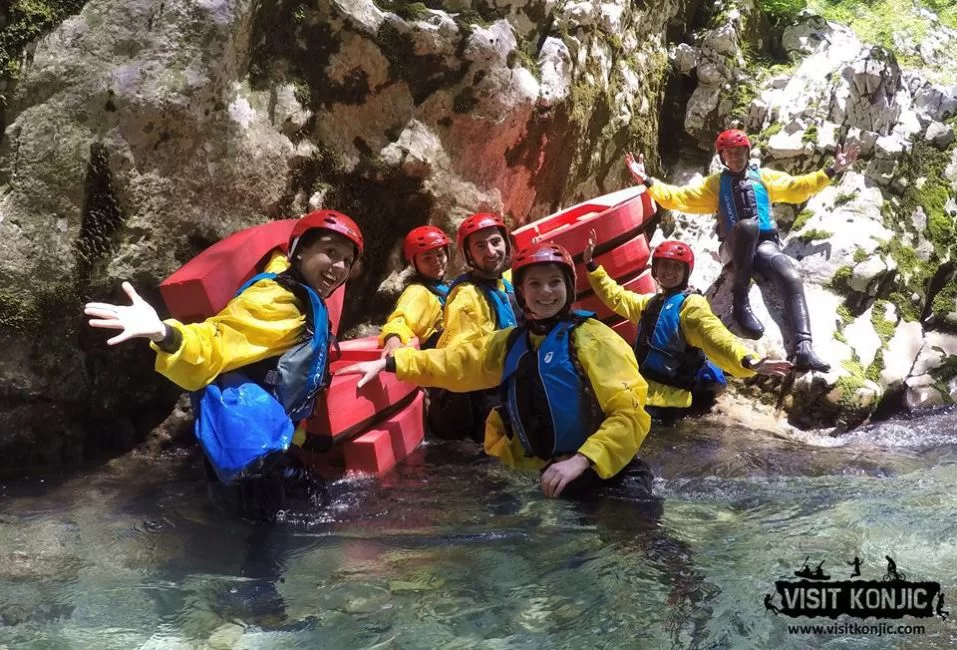 20. Hike up Fort Strac
When we found out we would be hiking up a hill just outside of Trebinje, we weren't actually that excited if I'm going to be honest. That was until we met our awesome guide who is part of the local mountaineering club was pretty much a fountain of knowledge on the local area. as we hiked higher, the view was spectacular and when we finally reached the top we discovered we had somehow hiked right up on to the roof of an old Austro-Hungarian Fort! It was probably the coolest thing we did on our entire trip. We posed for photos on top of the old bunkers, looking out into the distance where we could see the road winding into Montenegro in one direction and the road winding down the mountains towards Croatia in the other direction. If you plan to visit Trebinje, hiking up to Fort Strac is a MUST. Our awesome guide was Slavenko Vukasovic – be sure to contact him through his site if you want tips on hiking this area…or any other fun activity for that matter.
19. Kayaking in Trebinje
If you want to kayak down one of the most beautiful rivers in Herzegovina, with water so blue it's hard to believe it;s real, I highly recommend renting a kayak in Trebinje. You actually have a few options, you can do so independently or you can hire a guide (see contact details above) who can help you out, show you the best spots and can even organise tours tailored to your needs – such as a weeklong kayaking and camping extravaganza!
18. Biking the Via Dinarica trail
If you have not heard about the brand new Via Dinarica Trail in Bosnia and Herzegovina, you guys are missing out! This is an incredible new hiking and biking trail set up by the Tourism Board that takes visitors through some of the most beautiful natural sites in the area. Lonely Planet actually did an excellent write up about this recently which you can read here. We actually spent two days biking part of the trail with some local guides and were blown away by the scenery we passed. A great place to start is in Ivanica near the border with Croatia, you can then bike all the way to Ravno depending on how fit you are! Just be sure to stay on the trail, you will notice lots of signs warning visitors about the presence of mines in areas that have not been cleared. Better safe than sorry!
17. Bridge jumping in Mostar
If you actually want to jump from the old bridge in Mostar, than you had better have balls of steel. It's something I always thought I would do, and even told my Mum I planned on doing…until I got to Mostar that is! Once I saw how high the bridge was, once I felt how cold the water was, and once I learned how dangerous the jump is I chickened out pretty fast! I only met one guy on my travels that actually did the jump (Jayden, I salute you!) so I honestly believe you should leave it to the professionals! It's still fun to watch the crazy locals collecting money each day then essentially risking their lives as they plunge into the freezing cold water below – best to take away photo than a nasty hospital bill!
If you're lucky enough to visit in late September, be sure to check out the annual Red Bull Bridge Diving Competition – to looks absolutely insane and Mostar is just one bg party for the weekend!
16. Swim in Kravice Waterfall
While we sadly did not have time to go hear, I have read about these beautiful waterfalls in so many other blogs and travel magazines. They are so popular, in fact, that you can even do a day trip from Dubrovnik in Croatia just to see them. I think that's a bit mad, so would recommend spending a night or two here instead. In Summer, the waterfall gets quite busy but it's still a fun experience to go swimming there with all the other happy tourists…plus the places is drop dead gorgeous!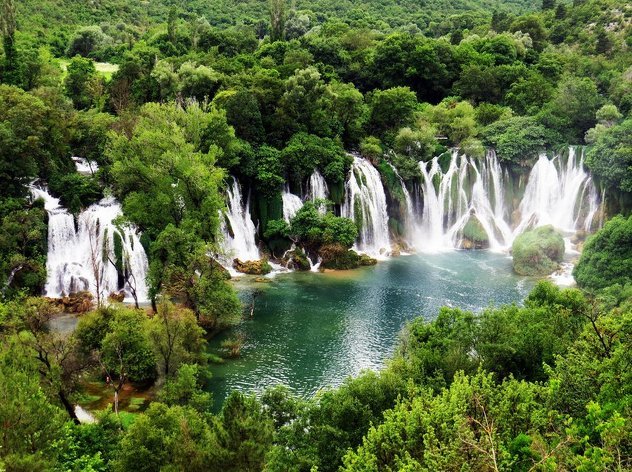 15. Hike or Bike Hum Mountain
Hum mountain is situated just outside Mostar and is most famous for the unmissable 33 meter high cross (erected to remember Bosnia croats killed during the war) that is perched on top the highest point. Whether you decide to hike or bike up this incredible mountain, be prepared for a difficult journey. Even normal cars can't get up here as the road is so bad so the only company you will have is 4×4's or other hikers and bikers. Be sure to bring lots of water and enjoy one of the most spectacular panoramic views in Bosnia.
14. Exploring ancient villages
One of the highlights of my trip was a few days spent cycling around the countryside in Herzegovina, close to the coast. We had a local guide show us all the best spots and discovered crazy steep hills, winding roads, local churches and museums that we never would have discovered if we just drove from A to B. The Via Blue Dinarica Trail is about 30km in total and takes you through some spectacular scenery including a protected settlement called Hutovski Grad and on to Hrasno Village. You can stop by local sites such as St Anna Church, the Museum of Antiquities and the Olive Oil tasting place at the top of this article!
13. Skiing in Sarajevo
You probably don't associate Bosnia and Herzegovina with Apres Ski sessions and beautiful ski resorts, but what you might not know is that Sarajevo actually hosted the winter olympics in 1984. We actually passed the abandoned olympic village while on a tour and i've seen lots of other crazy photo essays of the abandoned winter olympic venue. You can actually hike up to the abandoned bobsleigh and luge track, which has strangely become an unusual attraction in Sarajevo. Besides all this, there are still ski resorts operating here each Winter and it could be one of the cheapest places in Europe to go skiing!
12. Cruising around Neum
As the only coastal resort in the entire country, no visit to Neum would be complete without taking a cruise or boat trip down the coast.You will see many of the same islands that one sees on a boat trip from Dubrovnik, but for a fraction of the price. The water here is so enticing that you will most likely have a hard time staying in the boat – opting to dive into the inviting waters instead. During the summer you can either join a cruise of the coast or opt to rent your own boat if that suits you better. More information here.
Things To Do In
Bosnia Herzegovina: History
11. The legend of Frog Mountain
We learned all about the legend of Frog Mountain (a local name given to a mountain outside of Neum) from some local guides we toured with. There are actually two stories, and we were told there are many more myths and legends about the ares which will happily be told to anyone who will listen! The basis behind these myths and legends is that Frog Mountain is a dangerous place. There are no paths and many people that go up never come back down. The first story is one that is told to kids in the area, and the story goes that there's a snake on the mountain that turns into a dragon every seven years to chase people away. The second story, a real one, is that of two brothers how climbed the mountain regularly as kids. They then moved to the United States for many years and upon returning to Bosnia Herzegovina when they were old man they again decided to climb Frog Mountain but they could not find their way down and sadly passed away on the mountain.
10. Ancient monasteries
While much of the history that you learn about when visiting Bosnia and Herzegovina is recent history relating to the Bosnian war, there is SO much more to learn about this country's ancient past. A good place to start is by touring a few of the country's ancient monasteries, with churches dating back hundreds of years. You will find them outside towns and villages, carved into cliff faces, or hiding away half way up mountain ranges. Some also have ancient wine cellars where you can do some wine tasting while others have churches so old yet so beautiful it's hard to believe they've been standing for so long.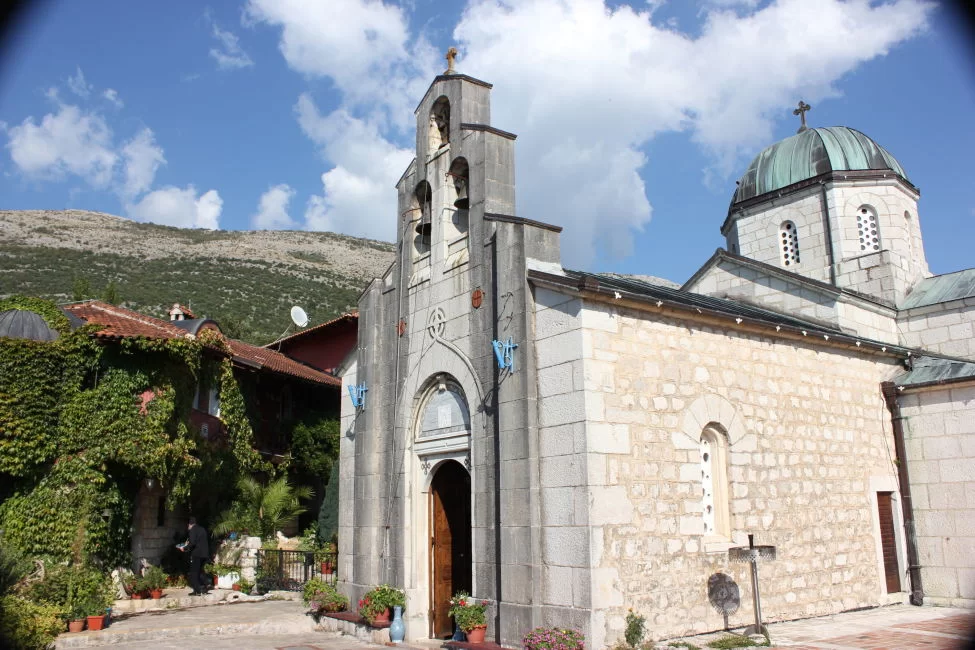 9. Mostar's abandoned buildings
While I'm sure locals don't think of their abandoned buildings as tourist attractions, in a strange way that is what they have now become. Not exactly for mainstream tourists or tour buses, but certainly for the intrepid traveller or backpacker that doesn't mind climbing over a wall or through a building covered in shattered glass to learn more about the cities troubled past. Visiting the old sniper towner, inside an abandoned bank, was one of the highlights of my trip to Mostar. Not because it was "cool" or because the views were incredible, but because we were brought their by a local who shared her own personal story with us while there and taught me more in 30 minutes than I would have learned reading 50 blog posts. My friend Allison, from Eternal Arrival, has written an excellent blog post about her experiences in Mostar. She sums up the feeling many have when the losses suffered in the war here really start to hit home, writing how she "shattered inside" upon seeing an old man with his head buried in his hands in one of Mostar's many graveyards.
8. Stay in a war hostel
Of all the unique and wacky hostels I have ever stayed in during my decade long travels around the world, no hostel even comes close to my 2 night stay at the Sarajevo War Hostel. From the moment you arrive you can see the time and effort that has been put into this hostel, to make it as authentic and memorable as possible. We were met at the door by a man in full camouflage and were told there were no lights, one of the toilets didn't work and not to be shocked by the "war time shower". We had to sleep on thin mattresses on the ground with no pillows and nothing but an itchy war blanket to stay warm. The walls were covered in newspaper cuttings from the way and graffiti saying things like "Fuck the war" or "Welcome to hell". I would nearly go back to Bosnia just to stay in this hostel again!!
7. City Scars tour of Sarajevo
You can't visit Sarajevo without noticing the presence of bullet holes. It's a horrible fact, but it's a fact nonetheless. Joining a "City Scars" tour of the city will help you understand how all those bullet holes got there, which buildings in which areas were affected the most and show you around sniper alley (otherwise known as Suicide Alley) a street which was one of the deadliest during the Siege of Sarajevo. This tour is one of the most interesting tours you will ever go on, and is unlike any other walking tour you may have signed up to in other cities around the world.
6. Tour the Tunnel of life
The Tunnel of Life, as it is now known, is a tunnel that ran straight through the city of Sarajevo, underneath the city's main airport and runways, connecting east and west. This tunnel was the only lifeline between the fully surrounded city during the Siege of Sarajevo. The tunnel allowed food, water and humanitarian supplies (that had been flown in by the United Nations) to be brought secretly into the city without the knowledge of Serb forces surrounding the city. Workers spent 24 hours a day digging the tunnel, which took 3 months to complete and opened on June 30th 1993. Workers were paid 1 packet of cigarettes a day, an item that was in high demand during the war. Our guide was actually a policeman during the Siege of Sarajevo, and he said he can't count the number of times he passed through the tunnel but that every time he did so he knew he was risking his life.
While Ian and I decide to do a guided tour of the Tunnel (it was less than 20 euro per person) you can also travel there by public transport and see the tunnel independently, like the Roaming Renegades did.
5. Sarajevo Genocide museum
If you really want to understand present day Bosnia, then you need to understand the country's past. A visit to the Genocide and War Crimes museum in Sarajevo is a chilling experience but will teach you so much about a war you may know little about. There are photos and videos from the Siege of Sarajevo, photos of victims of the war including young children (of which there were 15,000 in total), and maps which show you where concentration camps were set up and what this part of the world looked like before and after the breakup of Yugoslavia and after the Bosnian War. Read stories from survivors, and find out how many war criminals have been found and prosecuted in The Hague. A difficult two hours were spent here, but I left knowing so much more and with a slightly better understanding of the horrific crimes committed in the not-so-distant past.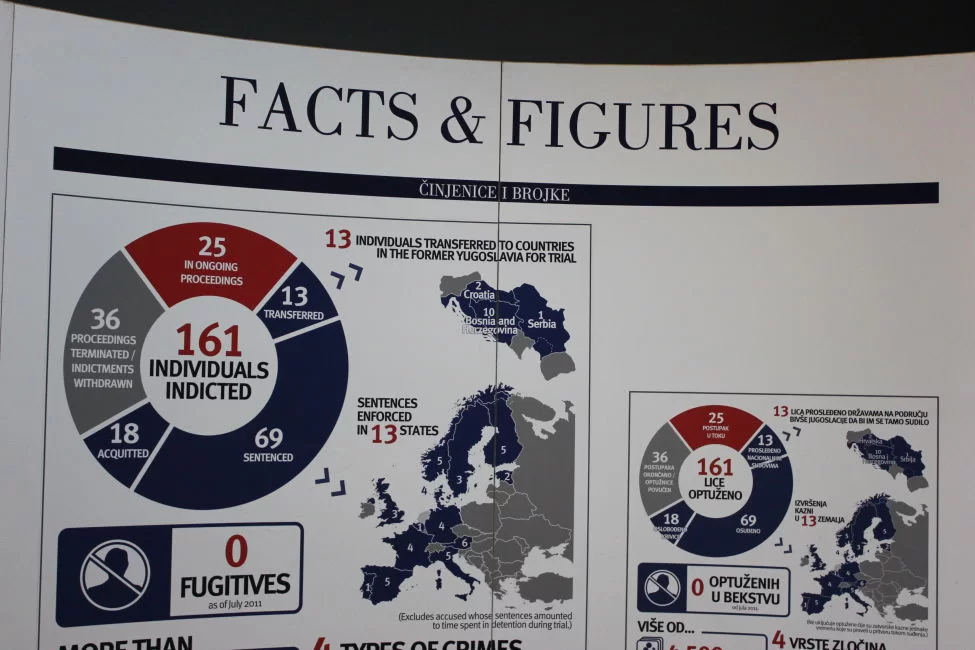 4. A 3,000 year old fort
On the road between Neum and Hrasno, there is a 3,000 year old fort at the side of the road. It's not protected, it has not been renovated or deemed a tourist site. It's just sitting there, a little wild, this magnificent fort that is over 3,000 years old. You can walk right inside and check out the old walls, the bakery, the central tower and even the mini prison where men would have been locked up for petty crimes.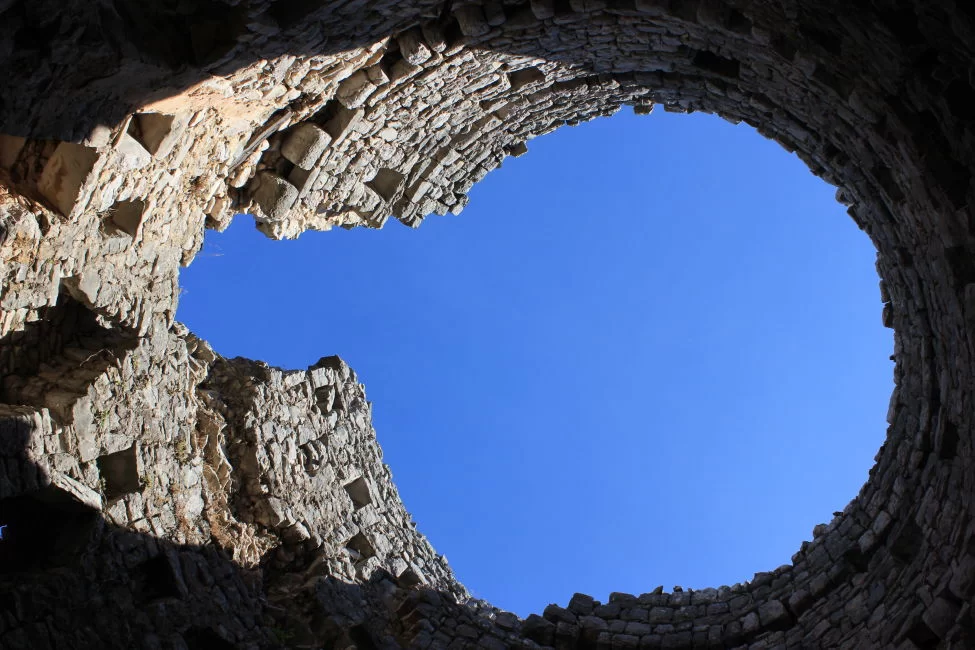 Things To Do In
Bosnia and Herzegovina: The people
3. Welcoming hostels
Be it an apartment booked through Booking.com, Airbnb or a simply bed in a dormitory, I was blown away by how friendly and welcoming everyone was. Our apartment in Neum was absolutely brilliant value and came with ocean views. When the owner found out Ian could not find rolling papers for his cigarettes in the local shop, he went out his way to buy them the next day and left them outside our door. Our apartment in Trebinje was also incredible value with panoramic city views and the owners were unbelievably welcoming. Our hostel in Mostar welcomed us with a nice cold drink and a slice of cake and the hostel owner in Sarajevo gave us a free bunker tour as he didn't want us to miss out before we departed!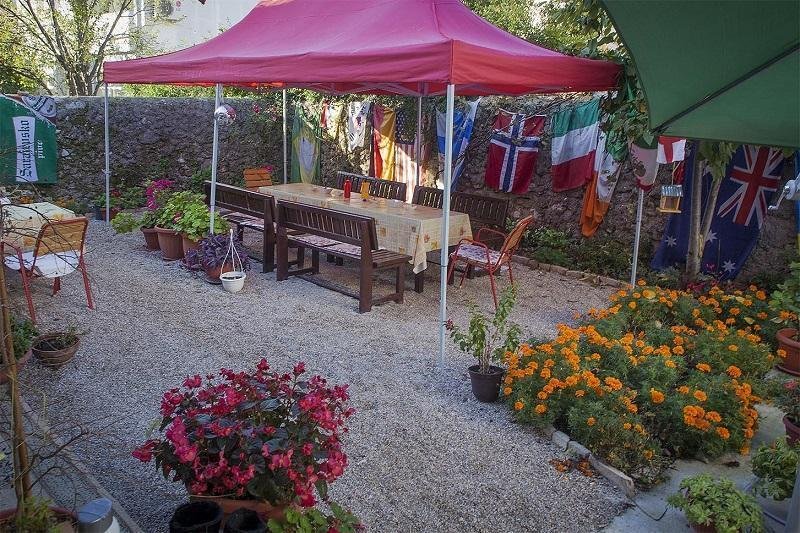 2.Friendly guides
One of the things I loved the most about my visit to Bosnia and Herzegovina was the friendliness of the guides we met. I understand that guides in most countries are super friendly (it's sort of part of their job!) but the guides we encountered really took this to the next level. They went out of their way to help us and ensure we had a good holiday even after the tour was over. One even drove back to get my drone for me as he wanted to do everything in his means to help me promote beautiful Bosnia. Our guides became so much more, they honestly became our friend sin just a few short hours. Even the project coordinators that helped organise my trip were so friendly from our very first conversation – I guess everyone is this country comes with a smile.
1. New friends
It's not easy to make friends everywhere you go, and some cities are certainly friendlier than others. In my experience, there were smiling faces and friends to be made everywhere we went in Bosnia Herzegovina. Even the other travellers we made friends with agreed, and we ended up spending much of our time in Mostar with newly made friends who studied locally. One girl went out of her way to take us to an abandoned sniper tower and gave us a running commentary of the conflict in Bosnia and how it still affects people today. There is no better way of connecting and forging friendships than talking about something with such meaning and so personal.
I think if (or should I say WHEN) I ever return to Bosnia and Herzegovina it won't be for the food, the sites, the adventure. It will be to rekindle friendships with all the amazing people I met there. This post is for you guys.
This post was written following a press trip to Dubrovnik, the Elaphiti Islands and Bosnia and Herzegovina. The project "Sustainable tourist development – From Herzegovina trails to Dubrovnik Elafiti islands" is financed by the European Union under the IPA CBC Programme Croatia – Bosnia and Herzegovina 2007 – 2013.
Where to next?
Here are some articles to inspire you to explore more of the Balkans!