Let's get real. When most people you ask think of Mexico, it is highly likely that the only place in the entire country they have heard of is Cancun. And Mexico City if they are slightly more well-travelled. Cancun is by far the biggest resort town in Mexico, and while the beach really is spectacular and there are more all-inclusive hotels than you can shake a stick at, there really are far more beautiful and untouched sections of coastline to be discovered, if only you are willing to explore a little further and leave your comfort zone.
Tulum is becoming more and more known as the perfect escape on the Yucatan Peninsula, with particular appeal to the yoga-practicing , trance-loving vegan types you might find in Bali or certain parts of Koh Phangan in Thailand. I in no way mean this in a negative way, I merely aim to highlight the contrast between the crowds to expect here versus in Cancun or Playa Del Carmen.
In Cancun, think groups of Americans in their 20's or 30's travelling in packs with matching Squad Goals caps, couples on their Honeymoon or on a pre-honeymoon escape to plan their wedding or families either on the trip of a lifetime or returning to a resort of the 6th time in 2 years…yes, we met off of these types!
In Playa Del Carmen you can expect to mix with nothing but a beach full of models, hardcore party-goers interested in taking whatever drugs come their way and the kind of backpacker that I'm no longer interested in mixing with – the one that sleeps till noon, naps from 7pm until 9pm, and blasts dance music from every room at every opportune moment. No thanks. Although you can also find some cool theme parks!
With all that in mind, I felt right at home with the type of people who visit Tulum. It was like a dream. From the moment we arrived, I knew I would love it. The vibe was just right, the perfect balance of small, locally owned boutiques selling eco-friendly clothes and lighting incense to draw you in off the street, delicious Creperies and Smoothie bars lining the streets and a handful of party places, beach bars and clubs for the night owls amount us. While you're there, remember to take some Tulum tours to make some epic memories!
Sometimes a place just feels right, and Tulum is one of those places for me. Before I let words escape me, here are 9 reasons why I believe you should visit Tulum – and some fun things to do in Tulum while you are there! Here's why I think Tulum is one of the most beautiful places to visit in Mexico…
9 Great Reasons To Visit Tulum
Best beach in Mexico
A fellow travel blogger I met on a press trip to india, who now lives in beautiful Belize, told me that Tulum had what she felt was the best beach in Mexico. I would go one further and say the beach here is one of the best in the world. The sand is incredibly pristine and the beach itself stretches on for miles. The water is mesmerizing, with every shade of blue enticing you in. Viewed from the air you begin to understand just how special this place is, but even at sea-level it is sure to take your breath away.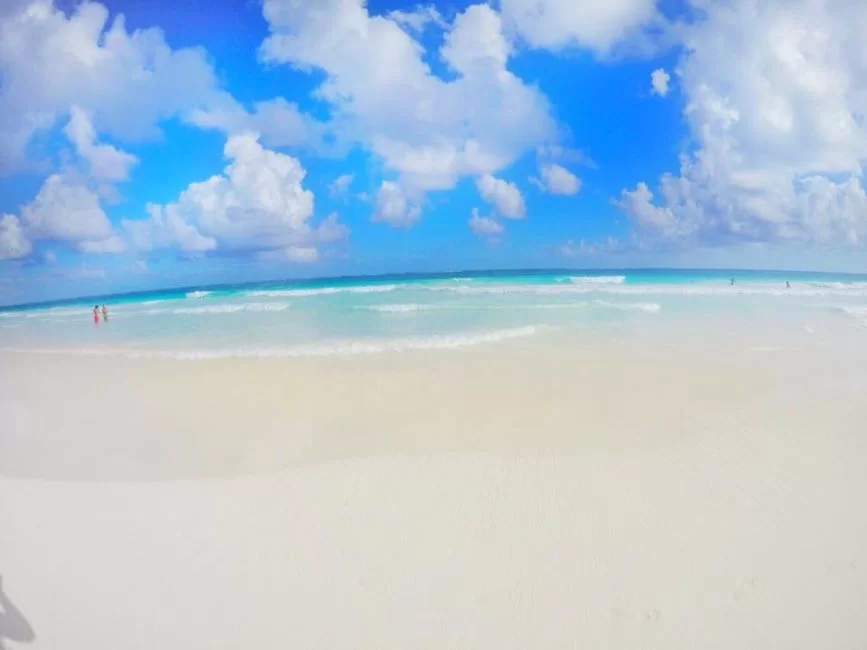 Boutique Eco Hotels
After staying in quite a few backpackers hostels that were definitely nowhere near on par with flash packers I've stayed at in other parts of the world, checking in to a adults-only boutique hotel felt all the more sweeter. While Maria Del Mar is not advertised as an eco hotel, you will see signs of recycling and resting everywhere you look. The manager told me that a lot of the furniture was made from wood that was salvaged from Isla Hotbox, a small island about 3 hours North of Cancun. The wood was treated and then turned into unique deck chairs and small tables and stand which can be seen around the resort. There is a real rustic feel to this resort, and with just 18 double rooms on offer, makes you feel like you are worlds away from every other tourist. I loved many of the hidden touches, such as the double sunbeams to be found in little nooks on the rocks, the hammocks hanging by the swimming pool, the beach bag hanging by the door and best of all a portable speaker which you can take to the beach with you and connect with your phone via Bluetooth. As a travel blogger I never seem to have enough sockets to charge all y electronics so was in heaven to find there were two additional USB charging sockets beside my bed – a digital nomads dream! On a budget? Why not check into one of Mexico's best hostels instead.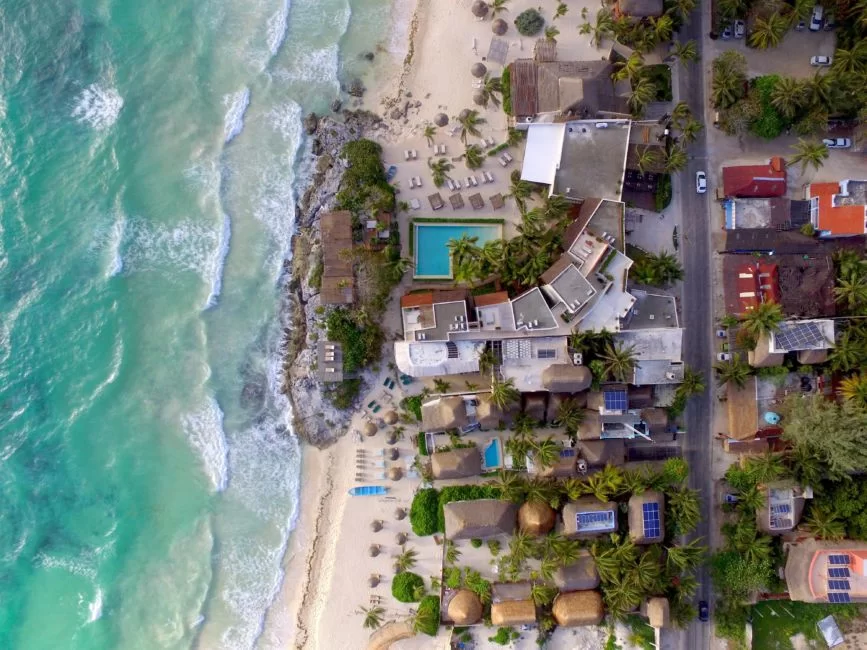 Boutique hotels like Maria Del Mar really distinguish Tulum from Cancun. They attract a different, more chilled out clientele and the overall atmosphere is a lot quieter and more peaceful. You won't have to share the pool with a group of kids playing volleyball or some middle-aged ladies trying water aerobics for the first time – it will simply be you, a good book and a delicious pina colada!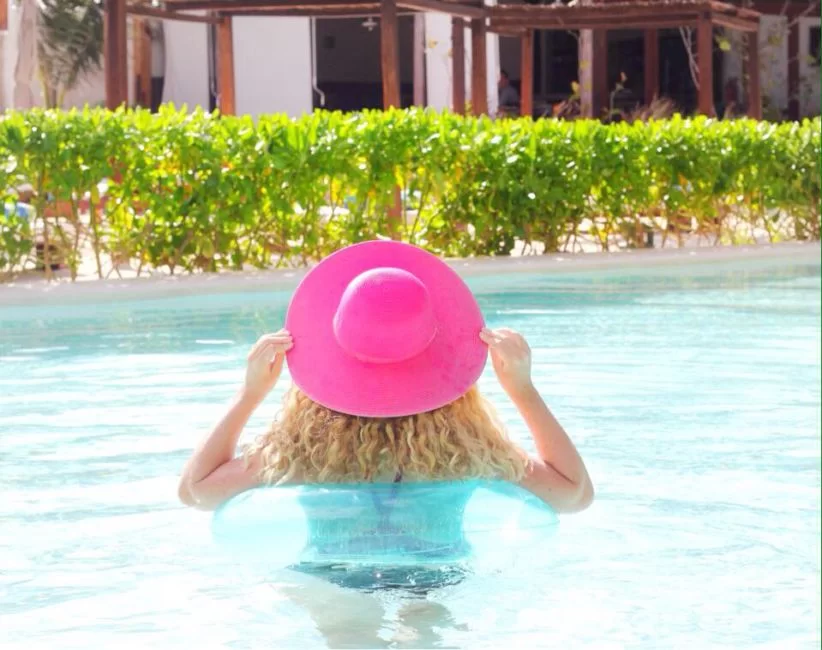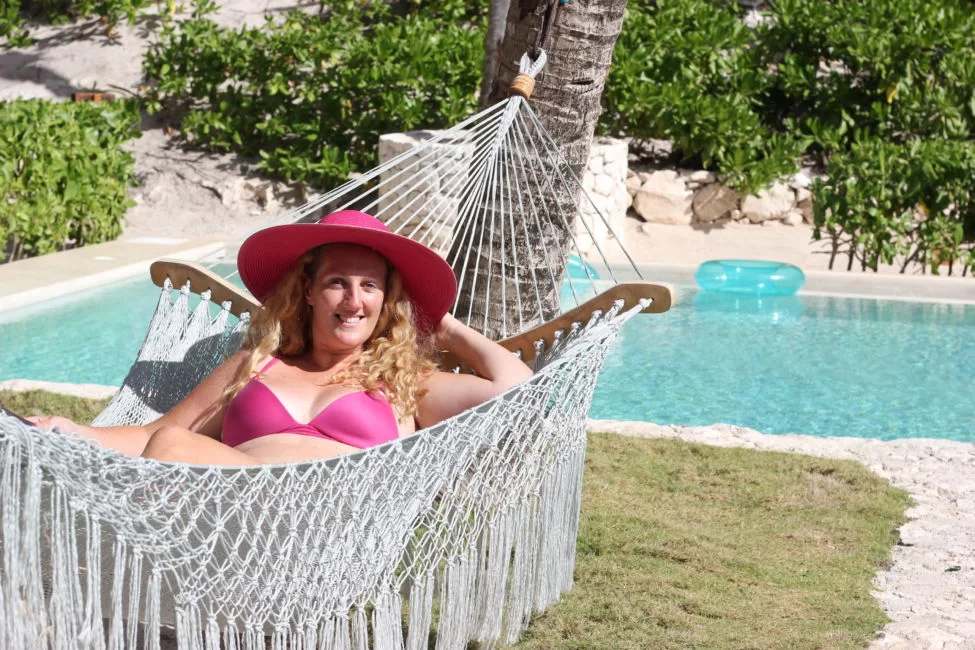 Proximity to Bacalar Lagoon
Bacalar Lagoon is the most beautiful place i have visited in Mexico so far and if I had not travelled as far south as Tulum i never would have made it to Bacalar. A 3 hour bus journey, or much less if you rent a car or do a private tour, the lagoon of seven colours is sure to leave you speechless. There really are new shades of blue everywhere you look, and as it is very much undeveloped you will often feel like the only tourist on the lake. You can take a boat tour to all the best spots, including three cenotes inside the lake, or rent a kayak ad explore by yourself. If you really want to escape mass tourism, visit a place few others have ever been to, and be blown away by a lake that looks like it should be in the Maldives, then a day trip to Bacalar from Tulum is a must.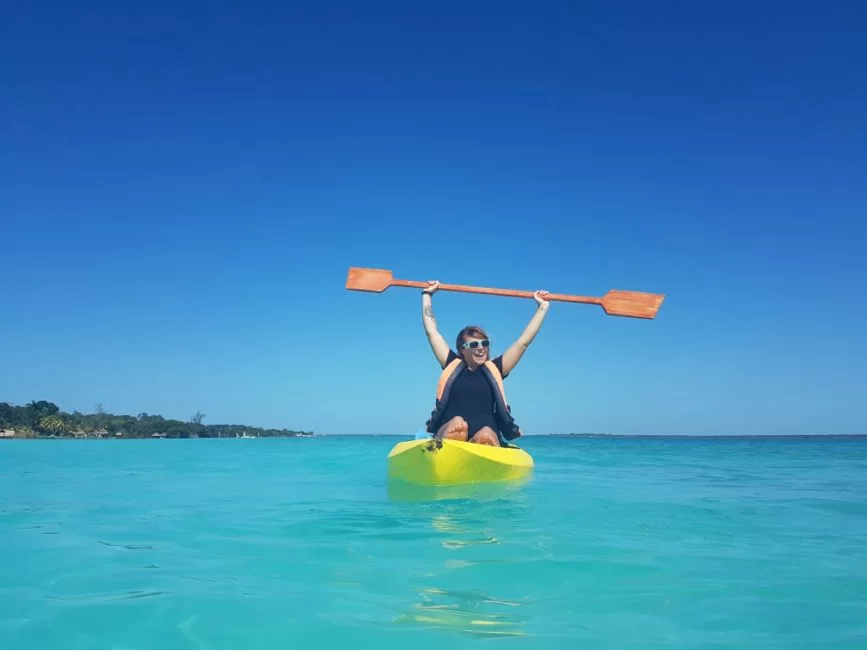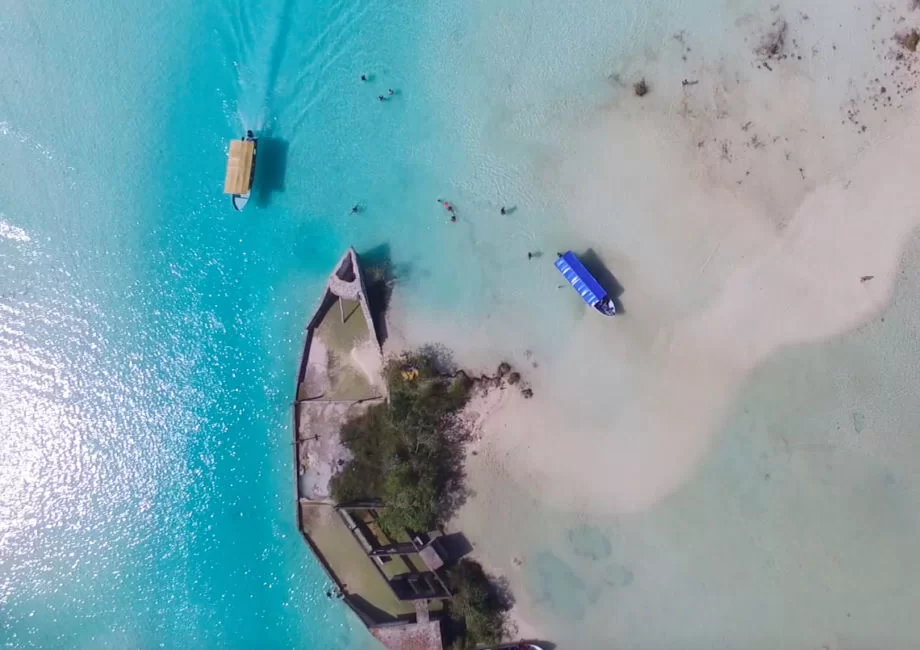 Chilled-out Beach Bars
One thing I really loved about my few days in Tulum was the string of super chilled bars lining the beach. We stopped off for a beer or two at some bars on the public beach and then found this super burger joint on a small stretch of private beach with no one around. They had multi-coloured chairs and tables strategically placed around the beach, served up some mean cocktails and you could tip your toes in the crystal clear water from the comfort of your seat! Along the hotel strip there are also some great bars and in the town of Tulum my favourite spot by far with the Mojito Bar – it was always so packed everyone overflowed out onto the street creating a really cool atmosphere.
Perfect For Cycling
Tulum was the first, and last, place that I travelled in Mexico where you could easily and safely cycle around town or to the beach. I think there were more bikes than cars and me and the girls I was travelling with really loved the designated cycle paths. While it can get super hot in the middle of the day, early morning or early evening cycles were great fun and the perfect way to explore the beaches, town and ruins.
Private beaches
While technically every beach in Mexico is "public", the access to said beaches can be a little tricky, especially in places like Cancun. In Tulum, however, we found lots of small pathways between the various hotels and resorts where you can access small, secluded and seemingly private sections of beaches. I can't remember the last time I saw sand so white or water so blue. Most of these small beaches were deserted and were the perfect spots for swimming or snorkelling. Paradise found!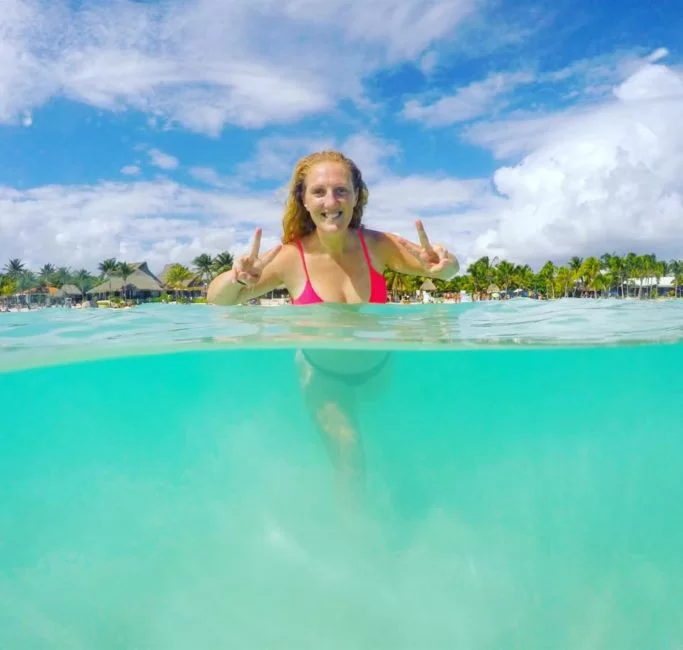 Incredible sunset spots
Between all the private beaches on the main hotel strip, the rocky coastline and cliffs create perfect spots for watching the sunset. Pretty much every hotel on the strip has its own private sunset terrace, or you can just go to the roof of your hotel or hostel! The Mayan Ruins are also, obviously, a magical place to watch the suns et behind the Caribbean waters.
Swimming with turtles
This was by far the most memorable activity we did in Tulum. Just a short 20 minute ride from Tulum is a strip of beach called Akumal. You can get their my local collectivo bus for less than $2 or else take a taxi if there are a few of you. You can rent snorkel gear on the beach and pay $5 for a locker to keep all your stuff safe. While they recommend going with a guide, we went in by ourselves and it was fine. There are turtles EVERYWHERE you look. I think we saw 8 different turtles but there are 30 in total to be spotted. We also saw lots of fish and a few sting rays!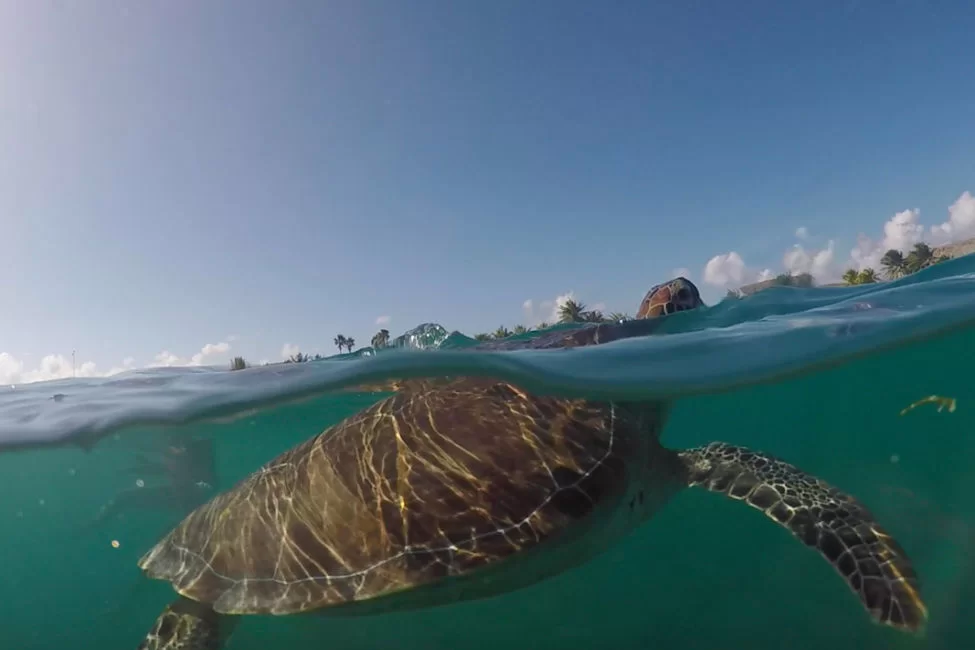 Ancient Mayan Ruins
No trip to Tulum would be complete without a visit to the ruins but as every other visitor up and down the coast feels the same way, you will either need to wake up very early and visit when they first open or else accept you will be sharing this beautiful UNESCO world heritage site with hundreds of other happy snappers. The most famous site is the Temple of the God of Wind which sits on the edge of a cliff top overlooking the ocean…and what a beautiful site it is!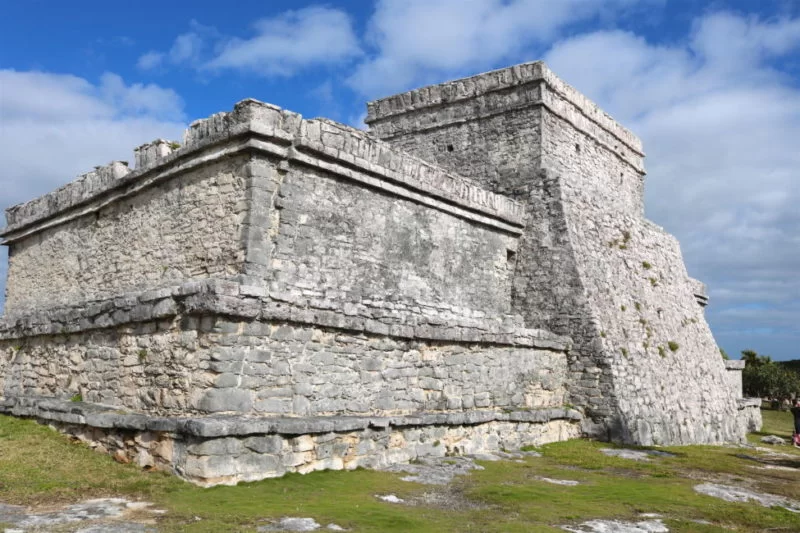 Share the love and share this post! Pin below! 🙂