So what are the most important things to know before visiting Bali in Indonesia for the first time?
I was researching things to bring to Bali and what not to take to Bali for my six-month stay. I realized there isn't a great resource available with the answers to all the questions I had about living vs. visiting Bali.
What is the cost of things in Bali? Is Bali safe for solo female travelers or same-sex couples? Is the island really photogenic? Are there blonde girls with flowy floral dresses everywhere?
Back in 2007, Elizabeth's Gilbert's Eat, Pray, Love put Bali on the map as a solo girl's "finding yourself" destination.
Today, Bali is known for the beautiful beaches, Instagram-worthy cafes, the floating breakfast trays, and of course a large amount of vegetarian and vegan restaurants. But, what is it really like in Bali?
Where is Bali
Indonesia is a large archipelago with several thousand islands making up the island nation. One of the 17.5K islands in Indonesia is Bali, which is located to the north of Australia, the south of Malaysia, the southeast of Singapore, and the southwest of Indonesia.
Bali is a province of Indonesia and is approximately 153km wide and 112km high with a total land area of approximately 5,780 square km (2,231 square miles).
The main airport for Bali is Ngurah Rai International Airport (DPS). Denpasar is Bali's largest and capital city and is located in the south of Bali.
Best time for visiting Bali
The season usually determines the crowds and vacation cost in Bali. Although there is more rainfall from November to March- I would recommend travel to Bali in November or January if you want to save money and not deal with crowds.
| Best Month to visit Bali | Season | Crowds | Vacation in Bali Cost |
| --- | --- | --- | --- |
| Visiting Bali in January | Extra rainy and a little hotter. | Low | Low |
| Traveling to Bali in February | Decreasing average rainfall & high (up to 80%) humidity | Low | Low |
| Visiting Bali in March | Rain is often followed by sunny clear skies | Low | Low |
| Visiting Bali in April | Occasional rain showers and sunny days | Moderate | Moderate |
| Visiting Bali in May | The "wet season" is over and with it comes the heat. | High | Moderate |
| Visiting Bali in June | Summer in Bali: It's dry season, no rain and slightly less humid | High | High |
| Visiting Bali in July | Summer in Bali: It's dry season, no rain and slightly less humid | High | High |
| Visiting Bali in August | Summer in Bali: It's dry season, no rain and slightly less humid | High | High |
| Visiting Bali in September | Occasional rain showers and sunny days | Moderate | High |
| Visiting Bali in October | Little rain, low humidity, and lots of sun | Moderate | Moderate |
| Traveling to Bali in November | Start of rain season in Bali | Moderate | Moderate |
| Visiting Bali in December | Wet season but still hot & humid | Low | Low |
Things I wish I knew before visiting Bali
If you are traveling for the first time, here's a list of general things you should know before visiting Bali:
International Adaptor for Bali
22p Volts, 50Hz. 2 pronged euro plug. Same one as South Africa and the U.K.
When traveling abroad I highly recommend getting a universal travel adaptor as most rental properties don't offer adaptors, it's best to be prepared with an adaptor that works in over 100 countries.
Can you drink the water in Bali?
No, stick to bottled water or canned drinks. Alternatively, Buy a water bottle to avoid spending up to Rp10 000 on a bottle every time you're thirsty.
What do they eat in Bali?
Like many Asian countries. Rice is the staple dish for almost every meal (even breakfast) and you'll find many rice paddy terraces decorating the land. But in worship, it's also symbolic of prosperity.
How much alcohol can you take into Bali?
One of the most important things to know before visiting Bali is that alcohol is ridiculously expensive.
If you're staying for a while, I recommended bringing your own bottles from your country's duty-free. I was honestly surprised to find a bottle of Absolute Vodka that was half the price of my monthly rent.
When visiting Bali, you are allowed to bring a maximum of 200 cigarettes, 50 cigars, or 100 grams of tobacco, and a reasonable amount of perfume per adult.
One liter of alcoholic beverage may be brought in per person whose over the age of 18.
Be prepared to take off your shoes
When entering someone's home or shops like beauty salons, they will usually ask you to take off your shoes.
Speaking of beauty salons. Nail salons charge a base fare for trimming your nails and then an extra fee for adding color. I found this really odd as I'm used to choosing a color and they do everything instead of having to pay for extras.
Being a Black Expat in Bali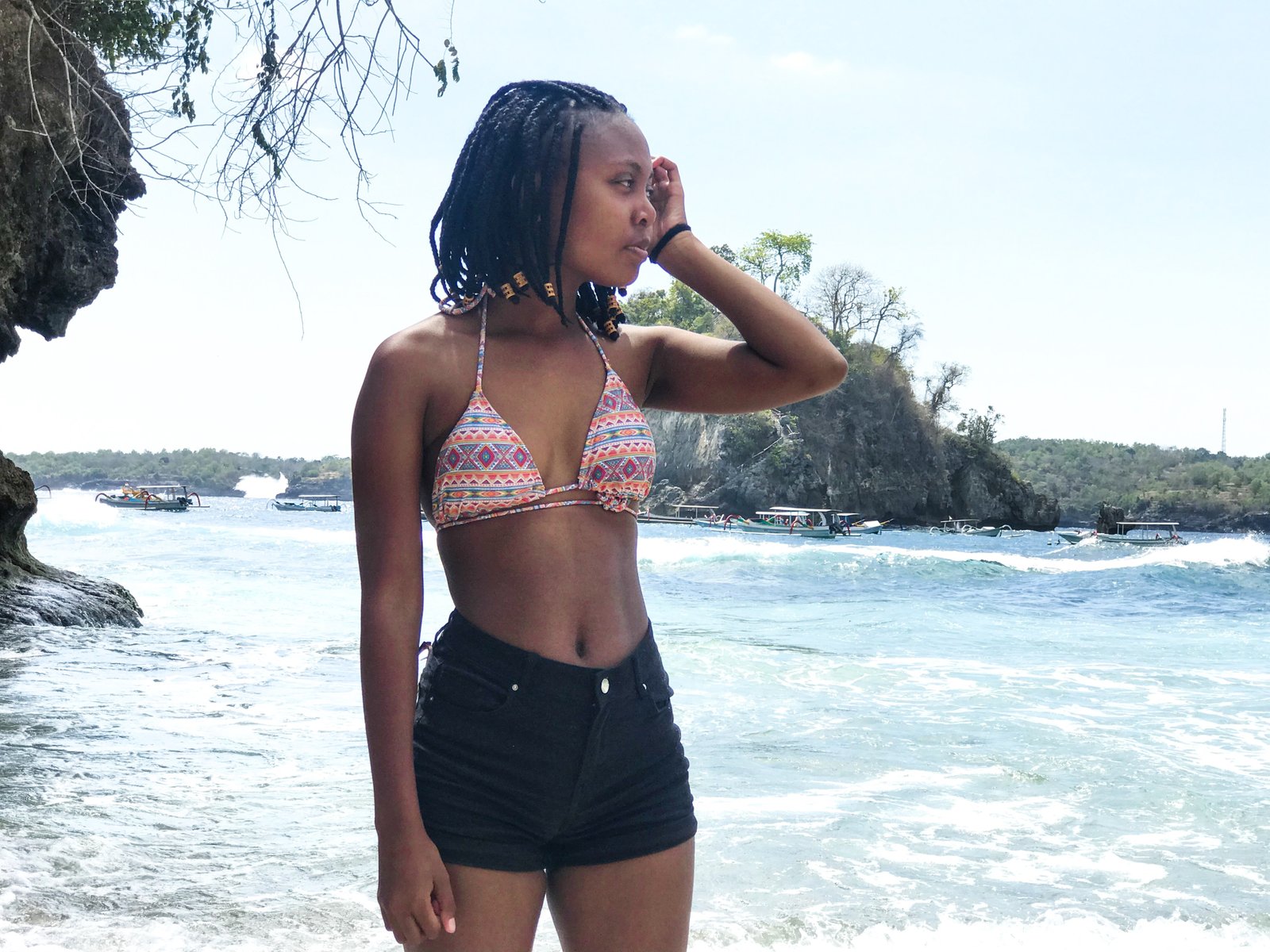 As a Black person or as Americans call it "Person of Color" in Bali, I didn't have any bad experiences. I had a few people touch my braids (but they were mostly Europeans).
Indonesians would ask where I'm from and when I said South Africa, they always had positive things to say. I was genuinely surprised at how much most Indonesians knew about my country.
Like most Asian countries, Indonesians are accepting of others, curious, and also dark-skinned. I also found that locals (men and women) take extreme measures to refrain from getting darker (think scarfs, sweaters in 32-degree weather, and socks with flip-flops).
One of the most important things to know before visiting Bali as a black person, I found it really hard to find skincare (body wash, body lotion, and even sunscreen) without bleaching properties! Most Asian countries are obsessed with being light skin and unless you want to lose your melanin, bring products from home! International brands like Nivea, Vaseline, and even LUX had weird products like Extra White, UV White, Sparkling White Foam. If you run out of products while in Bali, buy baby products to be safe!
---
Do you need a visa when visiting Bali
One of the most important things to know before visiting Bali or any country is the visa regulations!
If the question 'Do I need a visa to visit Bali' or 'How to move to Bali' has ever crossed your mind, you have come to the right place. Firstly, you need to know that staying in Bali requires an Indonesian visa, not a Bali visa.
Over the past few years, there has been an influx of foreigners looking to save money by renting apartments by the month (or year) and living in Indonesia. There are different ways to get a visa to stay in Bali:
Short-stay Indonesia Visa:
There are two options of short-stay visas in Indonesia:
Free short-term visa (valid for 30 days and non-extendable)
Visa on Arrival (costs $35 USD, valid for 30 days and extendable for 30 days)
Countries who qualify for Visa on Arrival (VoA):
| | |
| --- | --- |
| Africa: | South Africa, Algeria, Egypt, Libya and Tunisia |
| Asia: | Bahrain, China, India. Japan, Kuwait, Laos, Oman. Maldives, Qatar, Saudi Arabia, South Korea, Taiwan and UAE |
| Europe: | Austria, Belgium, Bulgaria, Cyprus, Czech Republic, Denmark, Estonia, Finland, France, Germany, Greece, Hungary, Iceland, Ireland, Italy, Latvia, Liechtenstein, Lithuania, Luxembourg, Malta, Monaco, Netherlands, Norway, Poland, Portugal, Romania, Russia, Slovakia, Slovenia, Spain, Sweden, Switzerland and UK |
| North America: | Canada, Mexico, and the USA |
| South America: | Argentina, Brazil, Cambodia, Panama and Suriname |
| Australia: | Australia and New Zealand |
Indonesia Long Term Visa
Do you want to stay in Indonesia for more than 30 days? A long-stay visa for Indonesia grants you an initial stay of 60 days, followed by 4 possible extensions, each for an additional 30 days, bringing your total stay to a maximum of 180 days.
B-211 Visa
A B211 is a single entry that enables you to stay in Indonesia for 60 days with the option of extending your stay 4 times.
Purpose of B-211 Visa
Tourism Visa (B-211 A)
Business
Social
Cost of a B-211 Visa
It costs approximately US$60 in 2019 depending on where you apply, it allows you an initial stay of 60 days, then is extendable every 30 days for about US$25, up to a maximum stay of six months without having to leave Indonesia.
Things needed for a B-211 Visa
Visa application form
Your passport with a minimum of 3 empty pages
2 ID photos (white background)
A sponsor letter
Proof of funds (Bank Statement) showing at least $700 USD.
When applying for a Tourist Visa, you need to keep in mind that you are not allowed to work in Indonesia nor receive any income from Indonesia while holding a tourist visa.
When applying for a Social Visa, you need a sponsor letter from an Indonesian citizen living in Indonesia or a visa agency. The letter mentions the purpose of visit, length of stay with dates and responsibilities along with a copy of their ID card.
When applying for a Business Visa, you need to remember that a Business Visa and Work Permit are not the same thing. A business Visa enables you to visit Indonesia for business conferences or meetings therefore working or earning any revenue in Indonesia is not allowed.
Cons of Indonesia's B-211 Visa
The B-211 Visa is a Single Entry, meaning that if you need to leave Indonesia for any reason (not just Bali, as travel within the country, is permitted), you will need to start the process all over again before returning on the same type of Visa.
How to get an Indonesian Multiple-Entry Visit Visa
A multiple-entry business visa is suitable for people who need to make several visits to Indonesia. It is valid for one year, and the maximum stay per visit is 60 days. Hence, after every 60 days, you must leave Indonesia.
Where to apply for an Indonesia Visa
You can only apply for a long-term Indonesian visa – outside of Indonesia. Preferably in your home country or any Indonesian embassy around the world.
---
Best way to travel in Bali
The best way to travel in Bali is by car or motorbike. I wouldn't recommend driving a motorbike without experience.
How to rent a scooter in Bali
You don't need a driver's license to rent a bike in Bali, they just ask for your passport and most bike rental places don't give you lessons. Be cautious and don't assume the people on the roads know how to drive. Keep in mind that most travel insurance companies won't cover a bike accident if you're driving without a motorcycle license.
Public transport in Bali
The quickest and most affordable way to get around is by scooter.
Download the GoJek or Grab APP to order scooters or car taxis to get around in Bali. When using scooters, don't get on unless the driver gives you a helmet. Always have the exact amount in cash as most drivers "claim" to not have changed. These apps are also great for ordering meals, alcohol, and even groceries like Postmates in America.
If you don't want to drive or use scooter taxis, you can also cycle in Indonesia!
Is Uber legal in Bali
No, there is no Uber in Bali but GoJek and Grab operate the same way. Unfortunately, they are not allowed at the airport and actually only allowed in certain parts of the island.
From the airport, you can walk out to the main gate and order a GoJek or use normal taxis (which are ridiculously expensive). Alternatively, ask your hotel to send someone to pick you up.
If you think traffic in your country is bad, wait until you experience Bali traffic on a hot afternoon. Traffic jams are real. If you're riding a bike, wear sunscreen or long sleeves to protect your arms from sun damage.
---
Indonesian laws tourists should know
Drugs = death penalty. Be careful!
Be aware of Nyepi (Balinese New Year) – a public holiday in Indonesia. A day of silence (no noise or entertainment), fasting, and meditation for the Balinese. The day following Nyepi is also celebrated as New Year's Day. The date is different every year but it's usually in March.
No plastic bags are available. In December 2018, the government banned single-use plastic bags to be given out by businesses. This is due to the amount of trash that has covered the island. So, if you're shopping it's a good idea to bring a bag with you or purchase one for about Rp 5000.
Stay up to date with the current events in Bali. At the moment (September 2019), there are discussions about introducing new legislation that will ban sex before married and criminalize same-sex relations by default. Under the proposed laws, unmarried couples who live together as a husband and wife could be jailed for six months or face a maximum fine of 10 million rupiahs ($1,046), which is three months' salary for many Indonesians. This also means that if this law is finalized, unmarried couples (tourists) won't be able to stay in the same hotel.
Tax isn't regulated. You can have a meal for Rp30,000 and be surprised by the bill that includes a 10% to 20% tax. I found many places in Bali to charge different tax amounts. Remember that the fancier the place the more you'll likely pay for tax.
Gambling is illegal in Indonesia.
Under Indonesian law, visitors must always carry identification.
---
Cost of things in Bali
Bali isn't expensive, but the truth is that it isn't as cheap as one would expect, either.
As a popular destination for people traveling to Bali from the US, Europe, and Australia, these countries have stronger currencies and might consider Bali as an affordable destination, but as a South African, I believe it's relatively average and I've been to more affordable countries like Georgia and Turkey.
One thing I have learned and think it's probably one of the most important things to know before visiting Bali is that most places don't look anything like the pictures advertised.
Accommodation cost in Bali
I paid $290 for 30 nights for this homestay in Canggu.
What's a homestay: A part of someone's home converted into a hotel. A homestay is similar in concept to that of a bed and breakfast. You have a private bedroom & bathroom and a shared pool and kitchen facilities.
Homestays and Hostels are not the same. Homestays also offer different amenities, my homestay had daily room service and a laundry service.
I loved staying in a homestay because it's a great way to meet other travelers but at the end of the day, you have your private room to rest.
If you're staying in Bali for a month or longer, I wouldn't advise booking anything long-term before arriving! Book for 3 – 7 days then makes a decision about if you want to stay at the property or not.
The properties in Bali are mostly villas (homestays) or private houses. There are no flats or high-rise buildings. Keep in mind that properties might look good online but not that great in reality.
Hence I don't recommend booking a place for more than a week so you can make good long-term decisions!
Most landlords will also be willing to give you a discount if you pay cash!
Where to book accommodation for Bali
Cost of food in Bali
You can splurge or live on a budget in Bali. I never cooked while I was in Bali.
The time spent cooking and the cost of ingredients is more than just spending $2 on a meal. If you eat at western "fancy" cafes and restaurants it's actually more expensive than buying food from a warung (Indonesian family-owned shops).
The same dish of Nasi Goreng (fried rice) would cost Rp 20K at a warung and about Rp50 – 60K in an expensive restaurant. I also never understood places where a cup of coffee was Rp30K. That's basically the cost of a meal that's more filling.
Laundry costs in Bali
If you're staying in Bali for a while you'll definitely need to get your laundry done. Opt to get your laundry done in the small street shops where they charge about $1 USD per kg and not at your hotel. It's cheaper in the long term.
Taxi Cost in Bali
If you are taking a car taxi around town, it shouldn't cost more than 50k. Scooter taxi rides start from Rp10K. When you order from GoJek or Grab, the app tells you the price of the taxi before you accept the ride.
Scooter rental costs in Bali
Depending on where you rent from, prices vary from Rp 50K to 80k per day. Some places offer a monthly rental fee, always shop around and negotiate.
Sim card cost in Bali
Telkomsel and XL are great prepaid services in Bali. Finding sim cards in Bali is as simple as walking into Mini Mart, or any convenience store.
A tourist SIM card with 20G of data cost me Rp 100K (about $7 USD). It lasted for over 2 months because I mostly connected to the high-speed and complimentary WiFi that's available in almost all cafes and buildings.
Tipping in Bali
Tipping in Bali is not mandatory and most restaurants add a service fee to your bill. There's no standard fee, but it can be between 5 – 20% depending on the area.
Alcohol cost in Bali
Bintang is the national beer and is sold everywhere. A bottle can cost anywhere between RP 30,000 – R45,000 depending on where you buy it. Indonesia is a Muslim country and liquor is highly taxed in Indonesia and it's obvious in the prices.
ATMs in Bali
One of the most important things to know before visiting Bali is that Indonesia has four state-owned banks, BNI, BRI, BTN, and Bank Mandiri.
I've read on a lot of online groups that it's advisable to only withdraw from an ATM inside a bank as it's more unlikely your card will be cloned. I withdrew from ATMs several times and didn't have any issues, but to be safe I'd recommend only withdrawing inside banks.
I also use the Transferwise Borderless Card which allows me to freeze my card on my mobile app. So I usually defrost the card and use it then I freeze it again to avoid someone else attempting to use my card.
The ATMs dispense either IDR 50,000 or 100,000 bills and you can get a maximun of IDR 2.5 million per transaction. I withdrew 5 million and that was enough for me to survive for a month.
How to stay on a budget in Bali
Is Bali expensive? Is it possible to travel to Bali on $10 a day? What is the real cost of a Bali trip?
When I arrived in Bali, I created a spreadsheet that I've been updating every day to see what the cost of my Bali trip was – from accommodation to bottled water, to simple snacks. With these tips below I was able to spend between US$10 – 20 a day – excluding accommodations costs.
Eat local
Walk everywhere or get a scooter taxi if you're not comfortable with driving
Bring a water bottle
Pay with cash to avoid a 3% card fee that's added to every transaction.
Things to be careful of in Bali
One thing I noticed was how conservative Indonesia was and this is one of the most important things to know before visiting Bali!
Bali's currency is the Indonesian Rupiah. You can easily miscount the zeros and pay the wrong amount. Hence, when it comes to understanding Rupiah. Remember the color instead of trying to counting the zeros.
Banknotes:
Rp: 1000 is yellowish-grey
Rp: 2000 is grey
Rp: 5000 is light brown
Rp 10 000 is purple
Rp 20 000 is green
Rp 50 000 is blue
Rp 100 000 is red
Don't go too crazy with happy hour cocktails: Alcohol in Bali is crazy expensive, the cost of one cocktail can be the equivalent of one or two meals from an Indonesian warung (family-owned restaurant). The first time I had a cocktail, it cost 120 000 rupiahs (about $9 USD), and a day later I was happy when I found a cocktail for 30 000 rupiahs (about $2 USD).
Little did I know that most places often have happy hour between 4 PM and 7 PM. During happy hour, they "sometimes" use arak- traditionally brewed liquor that contains up to 50% alcohol to make cocktails instead of common spirits.
You won't know which places are using legit alcohol but if cocktails are too cheap, be wary because "arak" is lethal and can actually kill you.
Avoid monkeys, they might seem cute but they are wild animals and can sometimes be aggressive. If you get bitten, please go to a local clinic because there is a possibility you can get rabies.
Be aware of stray dogs. There are many on these Bali streets.
Don't step on the Canang Sari. When you walk around the streets, you will see these everywhere, they are daily offerings made by Balinese Hindus to thank the Sang Hyang Widhi Wasa in praise and prayer.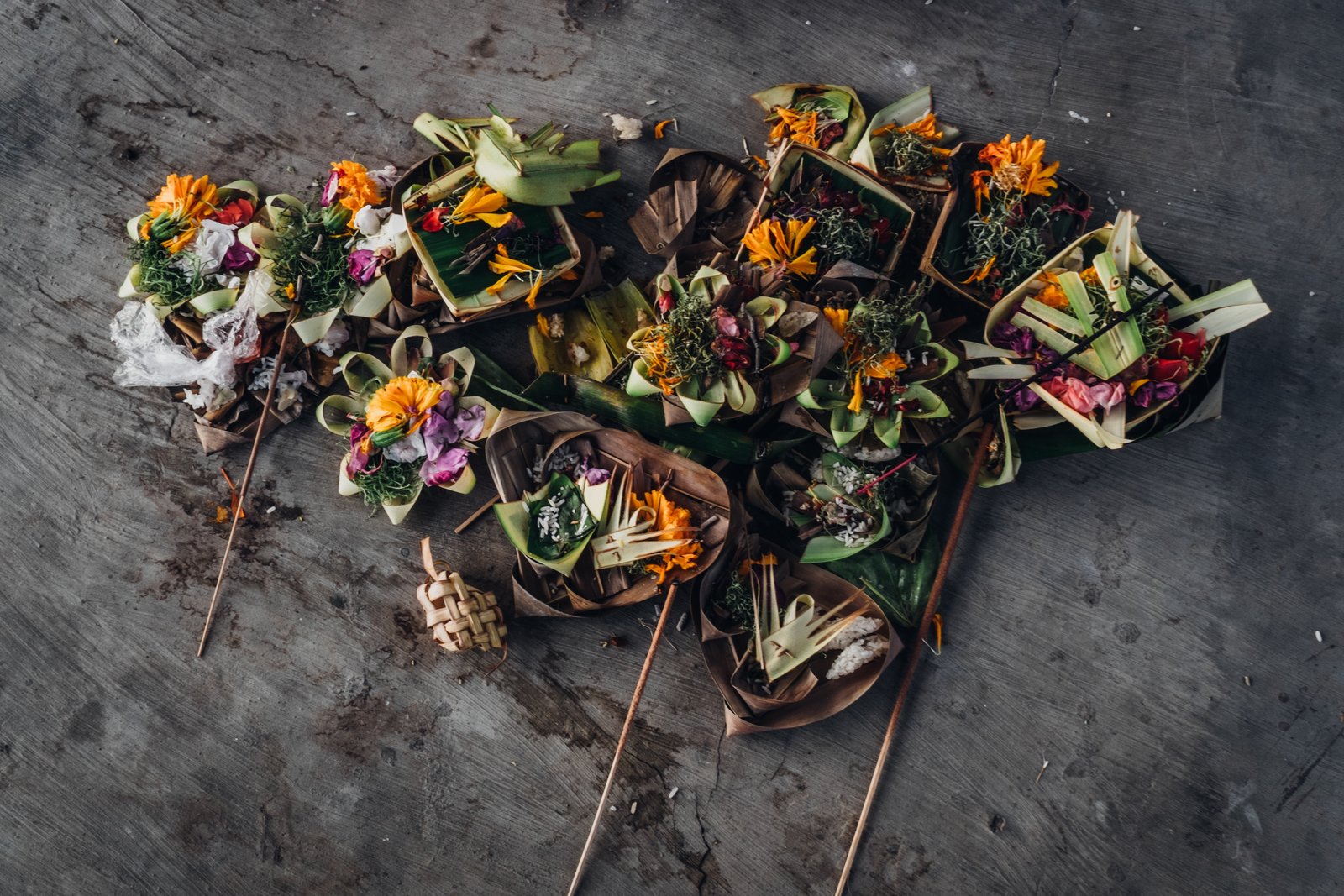 Canang Sari is normally filled with colorful flowers. The colors of the flowers are white, red, yellow, blue, or green. These colors are not randomly chosen, but they have different meanings and are placed in specific directions.
White-colored flowers that point to the east as a symbol of Iswara. Iswara is regarded as one of the primary forms of God. He is also known as Shiva or Mahadeva.
Pink-colored flowers that point to the south as a symbol of Brahma. Brahma is often referred to as the progenitor or great grandsire of all human beings. Brahmā is traditionally depicted with four heads, four faces, and four arms. Unlike most other Hindu gods, Brahmā holds no weapons. He holds a scepter, a book, a string of prayer beads, and the Vedas.
Yellow-colored flowers that face the west as a symbol of Mahadeva. Mahadeva means "Great god". The main iconographical attributes of Mahadeva or Shiva are the third eye on his forehead, the snake Vasuki around his neck, the crescent moon adorning, the holy river Ganga flowing from his matted hair, the Trishula as his weapon, and the Damaru as his instrument.
Blue or green colored flowers that point to the north as a symbol of Vishnu. Visnu is conceived as "the Preserver" within the Trimurti, the Hindu Trinity of divinity. He is depicted as a blue being, holding a Padma (lotus flower) in the lower left hand, the Kaumodaki gada (mace) in the lower right hand, the Panchajanya shankha (conch) in the upper left hand, and the discus weapon Sudarshana Chakra in the upper right hand.
In both Hindu and Muslim cultures, the use of the left hand is frowned upon. Don't eat, point, give, or receive something with your left hand.
---
What to wear in Bali Indonesia
Unlike the rest of Indonesia, which is mostly Muslim, Bali is largely Hindu. While it's important to dress conservatively in other parts of the country, on beachy Bali visitors can be more relaxed.
Swimwear on the beach, shorts, and minis in touristy areas, and plenty of tanned skin in bars is normal.
However, if you're heading into villages and temples, respect the local culture and cover up shoulders, décolletage, and bare legs. Pack plenty of light, breathable layers, and sturdy sandals for walking on uneven roads.
---
Must buy in Bali
If you're staying in Bali for a while you might consider cooking or even shopping for new clothes.
If you want to shop where the locals go, head to the morning or evening markets all around the island.
Some locals don't own fridges and they go to the market every morning to buy necessities for the day. Markets are also the best place to find authentic Balinese souvenirs and clothes. Bargaining is allowed!
You will also find boutique stores all over the island, most are really expensive. I'd avoid these shops unless you're balling.
Shops close at 11 PM. If you like ordering food late, keep in mind that shops on the island close at 11 PM and most open at 9 AM.
Medication to Bali
What vaccinations do I need for Bali?
Vaccinations for Bali are not compulsory but they are recommended.
If you get sick in Bali– For Bali belly (food poisoning) buy activated charcoal tablets – Norit is the most popular brand – to help get rid of toxins from food poisoning.
If you are feeling nauseous, you can try getting Tolak Angin, a trusted herbal medicine. These are available at most pharmacies.
What medication to take to Bali
I wouldn't recommend bringing any medication to Indonesia unless you have a chronic illness and need specific medication. Always double-check with the Indonesian embassy in your home country. Ask your doctor to write a prescription, have the note translated into Balinese, and declare the medication at customs to avoid problems.
Being possession of or using drugs in Indonesia is illegal. You can face the death penalty.
Medication that is prohibited in Bali
PCC consists of Paracetamol, Caffeine, and Carisoprodol. This is an illegal medication in Indonesia.
Sleeping pills and medications for ADHD (Attention Deficit Hyperactivity Disorder) are illegal in Indonesia.
Rheumastop is a medication for uric acid and joint pain. This is an illegal medication in Indonesia.
Carnophen is a brand of medication that could make the consumer has good euphoria and enjoy in high intention
All kind of the medications that consist of psychotropic substance is banned in Indonesia.
Doctors in Bali
I got sick and needed antibiotics during my stay in Bali. I went to one of the many 24/7 clinics in Canggu. The staff was professional and everyone spoke English. They checked my blood pressure and ran some tests.
The cost of my doctor's consultation in Bali (September 2019) was IDR 250,0000 (about US$18) and my medication cost IDR 2,500,000 (about US$177). I filled a claim and received the money from my Travel insurance – World Nomads within one week.
Another way to save money if you're sick in Bali is to download – this app allows you to video call a doctor and get a prescription then order medicine on the app and have it delivered to your location
Safest place to stay in Bali
One of the most important things to know before visiting Bali is where to stay.
If you want to a quiet place to stay – Ubud
Best area for world-class diving – Amed
If you want to chill at the beach and drink all day – Kuta
Best area to stay in Bali for nightlife – Seminyak
Where to mingle with surfers and digital nomads – Canggu
Best Places to stay in Canggu
Canggu is the main area where all the major shops, bars, and restaurants are located. For good walking distances.
Anginsepoi Resort features villas with outdoor showers and traditional Balinese décor with a contemporary flavor. The resort offers free Wi-Fi and massage services at a charge. A restaurant offers views of the Indian Ocean.
[maxbutton id="1″ url="https://www.booking.com/hotel/id/angin-sepoi.en.html?aid=1558524&no_rooms=1&group_adults=1″ ]
Set in Canggu and with Echo Beach reachable within 1.9 km, Body Factory Bali offers a garden, non-smoking rooms, free WiFi, and a fitness center. All guest rooms come with air conditioning, a flat-screen TV with cable channels, a fridge, a kettle, a shower, a hairdryer, and a desk. At the hotel, the rooms come with a wardrobe and a private bathroom.
[maxbutton id="1″ url="https://www.booking.com/hotel/id/body-factory-bali.en.html?aid=1558524&no_rooms=1&group_adults=1″ ]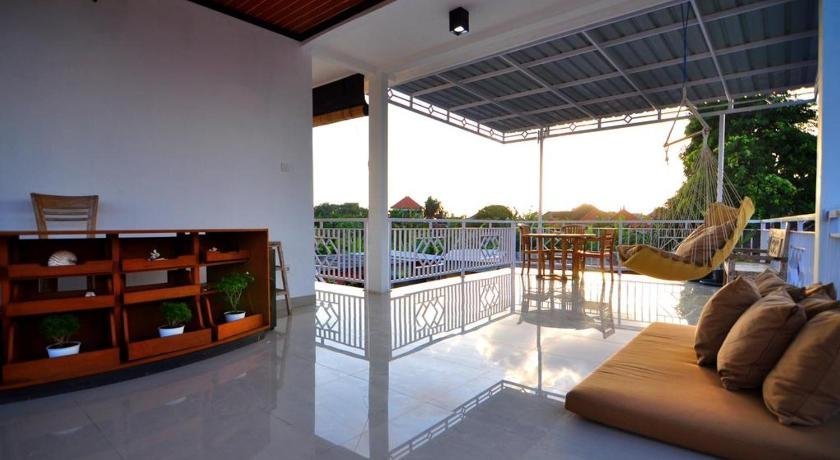 Located in Canggu, 2.8 km from Echo Beach, Olala Homestay Canggu features private accommodation with free WiFi and a terrace. Both a bicycle rental service and a car rental service are available at the homestay.
[maxbutton id="1″ url="https://www.booking.com/hotel/id/olala-homestay.en.html?aid=1558524&no_rooms=1&group_adults=1″ ]
---
Best Places to Stay in Seminyak
Seminyak is Bali's most sophisticated and upscale beach resort area, where the top draws are its beautiful beaches and chilled-out vibes. Compared to the likes of Ubud, there's not a huge number of things to see and do here, but there are some fun, family-friendly attractions to enjoy.
Featuring modern living with plenty of natural light and greenery, Studios at Alila Seminyak offers an outdoor pool and city views. Guests can enjoy a walk in the elevated park or lounge by the outdoor pool. There is an on-site restaurant, a bar, and a spa center. This hotel provides free WiFi and free private parking.
Every room at Studios at Alila Seminyak has air conditioning and a flat-screen TV. You can enjoy a seating area in certain rooms. Amenities provided include an electric kettle, bathrobes, slippers, and free toiletries.
[maxbutton id="1″ url="https://www.booking.com/hotel/id/the-studios-at-alila-seminyak.en.html?aid=1558524&no_rooms=1&group_adults=1″ ]
$$ Moderate: Tevana
With an outdoor pool and spa center, Tevana is situated in the vibrant district of Petitenget in Seminyak. Free WiFi is provided and free private parking is available on site.
The rooms are furnished and decorated with ethnic elements that add a traditional feel to your stay. Every room at this hotel is air-conditioned and is equipped with a flat-screen TV with cable channels. Certain rooms include a seating area for your convenience.
You can enjoy a cup of tea from your terrace or balcony after a long day. Rooms are fitted with a private bathroom with a bath and bidet, with a hairdryer provided.
[maxbutton id="1″ url="https://www.booking.com/hotel/id/tevana.en.html?aid=1558524&no_rooms=1&group_adults=1″ ]
Located just a 5-minute walk from Seminyak Beach and the famed Potato Head Beach Club, Dash Hotel Seminyak presents an accommodation where guests can enjoy their stay. This hotel also offers free WiFi access, an outdoor swimming pool, and free on-site private parking for guests who drive.
Each room at this hotel is air-conditioned and features colorful and contemporary designs. The rooms are also fitted with modern conveniences like flat-screen cable TV, minibar, hairdryer, ironing facilities, and an electric kettle. There is also an en suite bathroom featuring a shower or bath facility, slippers, hairdryer, and free toiletries. Some rooms come with a living area and a kitchenette. Fresh towels and bed linens are provided.
[maxbutton id="1″ url="https://www.booking.com/hotel/id/dash-seminyak.en.html?aid=1558524&no_rooms=1&group_adults=1″ ]
---
Best Places to stay in Amed
Amed is arguably the most beautiful place in Bali. The island's eastern shoreline is an underwater playground, with Amed Beach attracting the larger crowd of divers, compared to Tulamben, another dive site located 25 km to the north. Amed Beach in Bali was once best known for its traditional salt farming.
Set amidst lush tropical gardens, The Griya Villas and Spa is a 2-minute drive from Lipah Bay Beach in Amed. It offers villas with a private swimming pool overlooking the sea, a fitness center, and a spa. Free Wi-Fi and parking are available.
Spacious air-conditioned villas feature modern Balinese architecture and furnishings. They come with a large living area with a sofa, flat-screen TV with a DVD player and a dining area. The fully equipped kitchen offers cooking facilities, a microwave, a kettle, and a refrigerator. The villas open out to the pool deck.
[maxbutton id="1″ url="https://www.booking.com/hotel/id/the-griya-villas-and-spa.en.html?aid=1558524&no_rooms=1&group_adults=1″ ]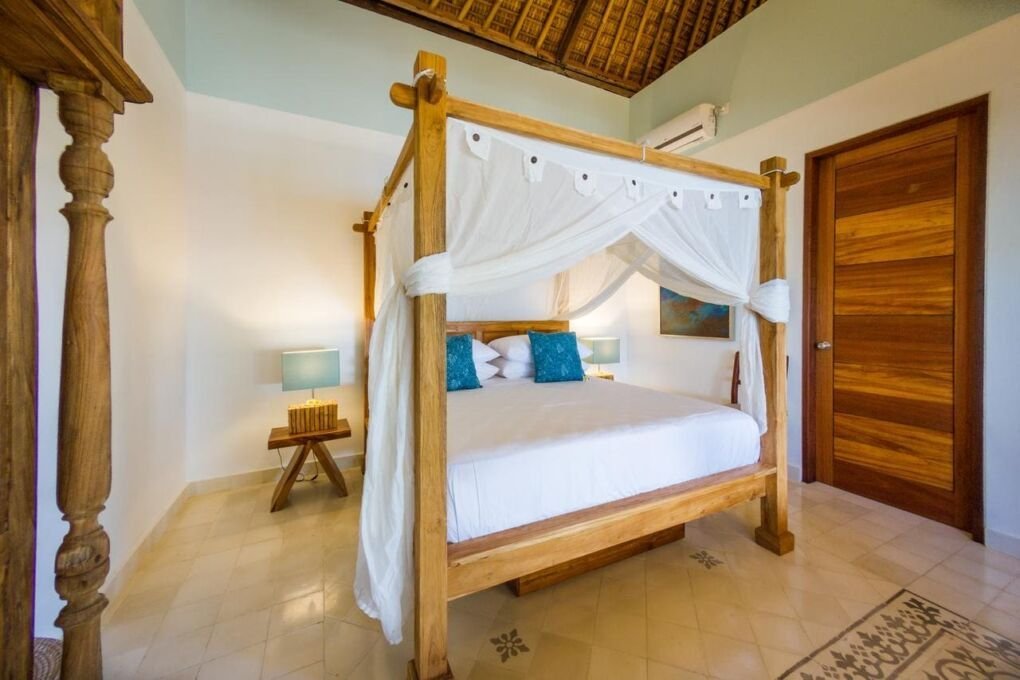 This villa features a secluded beach and tropical gardens with private swimming pools overlooking the sea. Guests can enjoy swimming and snorkeling from the beach below the property. Free WiFi is available throughout the area.
All bedrooms in the villas have air-conditioning, ceiling fans, and ocean views. Each villa is fitted with a flat-screen TV with a DVD player. The fully equipped kitchen offers cooking facilities, kitchenware, and a refrigerator. The spacious open-air terrace is appointed with a seating area, a dining area, and a relaxing hammock overlooking the private swimming pool, gardens, and ocean. Guests can enjoy relaxing on the terrace or a soothing massage at the beach.
[maxbutton id="1″ url="https://www.booking.com/hotel/id/aquamarine-beach-villas.en.html?aid=1558524&no_rooms=1&group_adults=1″ ]
With water sports facilities on site, Sunshine Bungalows is situated in front of Bunutan Beach where guests can snorkel or dive. It features an outdoor pool, a bar, and free Wi-Fi throughout the property.
Bright and cozy, each air-conditioned room features floor-to-ceiling windows and wood furniture. Views of the Bali Sea can be enjoyed from the private terrace, while bath and shower facilities are available in the en suite bathroom.
[maxbutton id="1″ url="https://www.booking.com/hotel/id/sunshine-bungalows.en.html?aid=1558524&no_rooms=1&group_adults=1″ ]
---
Best Places to Stay in Ubud
The main destination in Bali's central highlands, Ubud is a small town that offers an alternative to the tropical beach scene. More cultured and closer to the island's classical artists' villages, the area also features verdant river valleys and rice terraced landscapes. A collection of five-star retreats make the most of this, some offering magnificent spas and wellness programs to suit.
Offering garden views, Bliss Ubud Abangan in Ubud offers accommodation, a restaurant, an outdoor swimming pool, a shared lounge, a garden, and a terrace. Free WiFi is provided throughout the property.
Fitted with a patio, the units offer air conditioning and feature a flat-screen TV and a private bathroom with a shower and a hairdryer. A fridge and kettle are also offered. Continental and à la carte breakfast options are available every morning at the holiday park.
[maxbutton id="1″ url="https://www.booking.com/hotel/id/bliss-ubud-abangan.en.html?aid=1558524&no_rooms=1&group_adults=1″ ]
Set, Barong Resort and Spa is a boutique accommodation with an outdoor pool and free WiFi.
The rooms at Barong Resort and Spa feature traditional Balinese décor. A cable TV, CD player, and outdoor seating area are included.
Villas come with private pools. Barong Resort and Spa also organizes daily morning trekking activities to Ubud Valley and the nearby rice fields. An evening tour to Petulu Village is also available.
[maxbutton id="1″ url="https://www.booking.com/hotel/id/barong-resort-and-spa.en.html?aid=1558524&no_rooms=1&group_adults=1″ ]
Situated in Ubud, 2.1 miles from Ubud Monkey Forest and 2.4 miles from The Blanco Renaissance Museum, ThanTha Ubud Villa features accommodation with free WiFi, air conditioning, and access to a garden with an outdoor swimming pool.
All units come with a seating area, a flat-screen TV, and a private bathroom with free toiletries, a bidet, and a shower. A fridge and kettle are also available.
[maxbutton id="1″ url="https://www.booking.com/hotel/id/thantha-ubud-villa.en.html?aid=1558524&no_rooms=1&group_adults=1″ ]
---
Best place to stay near Kuta Beach
Bali's most famous beach; Kuta was once a fishing village that turned into a surfing mecca. Today, in addition to the great surf, it is also one of the island's major nightlife areas and offers something for all visitors. A favorite for budget travelers, there are countless restaurants, bars, a big mall, the largest waterpark in Southeast Asia, and a wide variety of hotels to suit any budget. Being close to the airport, only 10 minutes drive north, adds to the convenience.
Located along Kuta Beach, Hard Rock Hotel Bali features decor inspired by rock and roll culture. It has the largest free-form outdoor pool in Bali complete with a sand island, rock climbing walls, a spa, restaurants, and free parking. Free WiFi is available in all areas.
Adorned with music memorabilia, a Bose Bluetooth speaker, and an IPTV entertainment system with free movies on demand, the rooms at this hotel are a paradise for music lovers. The spacious rooms are equipped with air conditioning, a TV, and a private bathroom with a hairdryer. A minibar and coffee/tea making facilities are also provided.
[maxbutton id="1″ url="https://www.booking.com/hotel/id/hard-rock-bali.en.html?aid=1558524&no_rooms=1&group_adults=1″ ]
Where to go for a floating breakfast in Bali
You have probably seen the beautiful platters filled with exotic fruits and flowers in amazing pool locations around the world. This floating breakfast trend was actually started at Ayana Resorts. Today it's available at most hotels.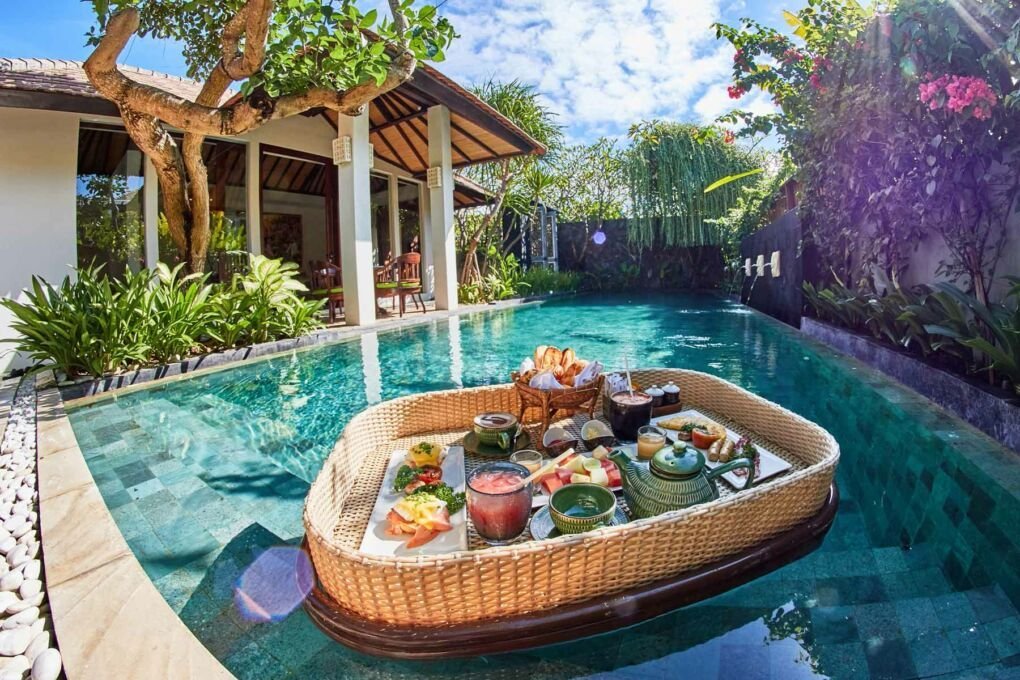 The hotels that serve floating breakfast usually have a regular or tropical breakfast or brunch menu. The basket is served with a bottle of Prosecco, fresh fruit juice, a selection of pastries (croissants, Danish pastry, and muffins), and coffee and tea of your choice. There is also a selection of eggs and meat and Indonesian Fried Rice (Nasi Goreng) or Noodles (Mie Goreng).
Depending on where you go, It costs between Rp200 000 to 300 000 per person.
Cabina Floating Breakfast
Cabina offers a floating breakfast and brunch experience daily, between 8 AM and 3 PM.
You can choose between the regular, Tropical, or Premium menus:
Regular: IDR 195,000 per Person / IDR 380,000 per Couple
Tropical: IDR 280,000 per Person / IDR 550,000 IDR per Couple
You need to pre-book HERE
Is Bali safe to visit?
Indonesia is a volcanic country and prone to volcano eruptions, earthquakes, and tsunamis. It's important to register with your embassy when you arrive, so you can receive alerts and also be accounted for should an emergency arise.
With over 5.7 million tourists who visit annually, there are obviously tourist scams like taxis overcharging and pickpocketers. Keep your belongings close to you or even better get a money belt.
Female Personal Safety Gadgets for Bali
Don't you wish we lived in a world where the possibility of being assaulted, violated, or even murdered wasn't one of the things to take into consideration when traveling or even just living in your own country?
One of the most important things to know before visiting Bali is that although it's generally safe, there is crime in Bali!
Also remember that, If alcohol is too cheap then be cautious, people have actually died from drinking counterfeit alcohol. Australia even has a travel advisory, warning people about the risk of contaminated alcohol.
When driving a scooter, it's important to be careful as they could grab your phone or bag and speed off. Villa break-ins are also common. When you go out, make sure you leave your valuables in a safe. When sleeping, lock your doors (honestly, I thought everyone does this), I've read so many posts in the Bali Facebook groups where people "complain" of Villa break-ins while they are asleep.
Personal safety gadgets for solo female travelers in Bali
Phone Lanyard: A phone sling where I can attach it to my belt/waist/bag so that I don't drop/lose it (I'd die if anything happens to my phone!) Buy the black one. The elastic is stronger!
Not your typical money belt:

I chose this one and agree with the reviews that the material feels stronger. It's also moisture-wicking and comfortable to wear! I know some similar products already have zippers but this one feels like it holds better but has no zippers. and acts like Spanx!

The double-ended S-biner lock:

With thousands of claims filed annually for lost items, you need a lock that can turn most handbags into thief-proof!

Pacsafe Bra Pouch: Ideal to keep your money, IDs, and credit cards safe from pickpockets and thieves. The turn-and-snap connector clasp design is different from comparable products, easy to use, and prevents the pouch from unsnapping accidentally.
Pacsafe Cash Belt: I

t's metal-free-ish so you can wear it through security without setting off alarms! It holds cash AND your pants up. I love mine!

Portable Door Jammer: Use a door barricade in an Airbnb or hotel to be able to lock yourself in a room.
---
Amazing Bali Travel Tips
---
Get Insurance before traveling to Bali
Use travel insurance while visiting Bali so you are covered for theft and medical expenses. There are a lot of adventurous activities to do in Bali, and it's best to have peace of mind while swimming, hiking, and trying some of the best food in the world.
Find out why I recommend World Nomads, check out my World Nomads Insurance review.
Disclaimer: This article contains affiliate links. This means that if you make a booking after clicking on a link, I may receive a small commission at no extra cost to you!