Visiting Georgia and wondering what are the most important things to know before exploring this amazing region in the Caucasus?
When you say Georgia most people think of the state in America. But, did you know there is a country with the same name and due to its affordability, great activities and amazing mountains, it is fast becoming a popular tourist destination!
Georgia is a conservative and religious country. Georgians are mostly Christian Orthodox, Georgian Apostolic Autocephalous Orthodox Church to be more precise.
It was also one of the first countries in the world to assume Christianity, back to the 4th century.
Georgia, a land of rock and stone, medieval fortresses and monasteries, green hills, majestic mountains, deep caves, and rocky beaches.
A country where culture and history lovers will have the feeling they've been transported to the past while walking through the villages and towns.
If you love stunning landscapes, delicious food, and affordable wine, Georgia is the country you should visit!
Why you should consider visiting Georgia
Georgia has one of the world's richest and oldest histories. Archeological excavations provide clear evidence that Georgian tribes formed their statehood as early as the second millennium BC.
The remains of the flourishing Georgian states of Colchis and Iberia can be seen while traveling in the ancient cities of Vani, Kutaisi, and Mtskheta
Things to know before visiting Georgia
Here's a list of the most important things to know before visiting Georgia for the first time!
Where is the country Georgia
The Republic of Georgia is located in the Caucasus region which is an area situated between Asia and Europe.
Georgia shares its borders with four nations. Georgia is bordered on Russia in the north. Georgia is surrounded by Turkey in the south and Armenia and Azerbaijan on the southeastern frontier of Georgia. The western edge of Georgia sits on the Black Sea coast.
How to get to Georgia
Depending on which country you are traveling from, you can reach Georgia by plane, train, or car.
The most common way is by plane. Georgia has two international airports: Shota Rustaveli Tbilisi International Airport (IATA: TBS) which is located 17 km (11 mi) southeast of the capital city of the country and Alexander Kartveli Batumi International Airport (IATA: BUS) that is located 2 km south of Batumi, a city on the Black Sea coast.
If you choose to drive, there are many borders around Georgia and you can drive or get a bus from Armenia, Azerbaijan, Turkey, and Russia.
How to travel from Georgia to Russia
The flight time from Moscow to Tbilisi is 2 hours and 30 minutes. In June 2019, (literally, a day after I traveled from Moscow to Tbilisi), Putin announced that he has banned Russian airlines from flying to Georgia.
At the moment, the easiest way to travel to and from Russia to Georgia is to fly through Turkey.
One of the most important things to know before visiting Georgia is that if you travel from Russia to Georgia, you might be interrogated at the airport as I was.
I shared some tips for surviving an Airport police interrogation HERE.
How to travel from Georgia to Turkey
You can drive from Istanbul to Georgia or vice versa. I shared my amazing experience and stops along the way!
The bus from Tbilisi to Istanbul costs around US$30 and the journey time is 22 hours. The most popular bus company for travel from Tbilisi to Istanbul is Golden Turizm, with onboard WiFi, refreshments, and air conditioning.
Buses can ONLY be found at Ortcachala Station, not Didube or Avlabari. Alternatively, if you want to travel from Georgia to Turkey, you can take the train Kars to Ankara (Doghu Expresi) and then take the high-speed train from Ankara to Istanbul.
How to travel from Georgia to Azerbaijan
There is a train N38 that travels from Tbilisi, Georgia to Baku in Azerbaijan every day. The journey time is 13h 15min. Ticket price depends on the carriage class: coupe will cost you US$26 – US$30.
Best time to visit Georgia
One of the most important things to know before visiting Georgia is when to actually visit!
| Best Month to visit Georgia | Season | Crowds | Vacation in Georgia Cost |
| --- | --- | --- | --- |
| Visiting Georgia in January | Snow is not uncommon. It's cold AF | High - Ski Season | High |
| Traveling to Georgia in February | Often dipping below 0 degrees | Moderate | Moderate |
| Visiting Georgia in March | Not too hot, nor too cold. | Low | Low |
| Visiting Georgia in April | Warm weather with frequent rainfall | Low | Low |
| Visiting Georgia in May | Warmer days, humidity kicks in | Moderate | Moderate |
| Visiting Georgia in June | Summer in Georgia | High | High |
| Visiting Georgia in July | Avg temperatures are 20 to 30 degree celsius. | High | High |
| Visiting Georgia in August | Warm days and cooler evenings | High | High |
| Visiting Georgia in September | Beginning of Autumn and Wet Season (fall season) | High | High |
| Visiting Georgia in October | Frequent rainfalls and multi-colored trees. | Moderate | Moderate |
| Traveling to Georgia in November | Rain and frost-covered grounds. | Moderate | Moderate |
| Visiting Georgia in December | Beginning of Winter. Avg temperature is 2 to 6 degree celsius | High - Start of Ski Season | Moderate |
W
hat language do they speak in Georgia
Kartvelian (Georgian) is the official and primary language of Georgia. It is spoken as a first language by over 80% of the population.
Georgia has a unique language and script. With different dialects, the Georgian alphabet is one of the 14 existing alphabets in the world and there's no script similar to it. There are presently 33 letters in Georgian.
It was also added to the UNESCO Intangible Cultural Heritage of Humanity List in 2016, and the history of the Georgian language can conventionally be divided into:
Early Old Georgian: 5th–8th centuries

Classical Old Georgian: 9th–11th centuries

Middle Georgian: 11th/12th–17th/18th centuries

Modern Georgian: 17th/18th century – present
Other common languages in Georgia include English, Russian, Azerbaijani, Assyrian, Svan, and Urum.
What is the capital city of Georgia
The capital city of Georgia is Tbilisi, the name derives from Old Georgian t′bilisi (თბილისი). Tbilisi is the largest city in Georgia and located in the southeast part of the country on the Kura River.
It was the capital of an independent Georgian state from 1122 to 1236 and was held by Mongols, Persians, and Turks before coming under Russian control in 1801. Tbilisi is pronounced as Tif (like Tifanny)-lee-See.
Money in Georgia
Georgia's currency is called Georgian Lari (GEL). Coins are issued in denominations of 1, 2, 5, 10, 20, and 50 tetri, as well as 1 and 2 lari.
Georgia has five banknotes (in denominations of ₾5, ₾10, ₾20, ₾50, and ₾100). The Georgian money sign looks like the EUR symbol facing downwards
What is the population of Georgia
The population of Georgia (country) in 2019 is 3.9 million.
What's the current time in Georgia Country
The timezone in Georgia is GMT+4. Georgia Standard Time – is abbreviated as GST. Georgia utilizes standard time year-round and does not observe daylight savings.
Adaptor for Georgia
The power sockets and plugs in Georgia are type C and F, while the standard voltage is 220v and frequency is 50Hz. Type C is usually called the Euro plug and the socket also works with plugs F & E. So, they are similar to or the same as in most of continental Europe.
Interesting facts about Georgia
Georgia is the birthplace of wine
One of the most important things to know before visiting Georgia is that this amazing country is also the birthplace of wine!
Georgia is the place where wine was first made 8 000 years ago! Over 500 endemic vine breeds still grow in Georgia and the Georgian way of Qvevri (clay vessel buried underground) wine-making is listed on the UNESCO Intangible Heritage list.
When traveling in Georgia, you'll taste Qvevri wines as well as excellent wines made according to European wine-making methods
When visiting Georgia, you should consider indulging in Georgian grapes straight from the wineries, plan a day or weekend trip to Signagi and Khaketi regions.
Why are Georgia (country) and Georgia state (USA) both named Georgia?
If you are wondering why Georgia (country) and Georgia (the US state) are both named Georgia.
The name Georgia (country) comes from the Russian word Gruzia, which was in turn derived from the Persian and Turkish versions of the name George, Gorj, and Gurju.
The American Georgia, on the other hand, was named after King George II of England, who granted the state its charter in 1732.
In their native tongue, Georgians refer to themselves as the Kartveli and to their country as Sakartvelo. But the Kartveli has for many centuries been associated with George, the Roman soldier and Christian martyr.
Georgians adopted Christianity under Roman rule in the 330s. The Arabs, Ottomans, and Persians—who ruled over the country at various times until the Russians took control in 1801—chose to name Sakartvelo after its beloved patron saint, whose image dotted the art and architecture of the region.
To answer the question "why Georgia (country) and Georgia (the US state) are both named Georgia" – The two are not related in any way and the country is older than the state.
Is Georgia in Europe or Asia
Georgia, a country at the intersection of Europe and Asia, is a former Soviet republic that's home to Caucasus Mountain villages and the Black Sea beaches.
Technically Georgia is not in Europe but it's located on the continent of Asia. Countries in the Caucasus region are known as countries in Central Asia.
Is Georgia in the EU
Georgia does not have any official status as a candidate for future enlargement of the European Union, but in 2011 Georgian President, Mikheil Saakashvili expressed a desire for his country to become a member state of the EU.
Georgia Military Road
The Georgia military Road is a major route through the Caucasus from Georgia to Russia.
It has served as an important link between Europe and Asia since ancient times, though it was only after Russia's annexation of east Georgia in the 19th century and the subsequent improvement of the track for troop movements that it became known as the "Military Highway".
Today this ancient passage across the Caucasus towards Vladikavkaz in Russia serves as the best route via which you can enjoy the dramatic scenery, crystal-clear air, and indescribable grandeur of the mighty Caucasus Mountains.
What's Georgia known for
Visa Free
Georgia allows visa-free travel for many nationalities. It's also the only country where South Africans can stay visa-free for 365 days.
If you're not sure whether you need a visa or not for Georgia. Check the Georgian e-visa government website for more information
Georgia was one of the first Christian countries
Christianity was first preached in Georgia back in the 1st century AD by the Apostles of Christ.
The country became Christian in 337 AD and was the third officially Christian country in the world.
The religious center – Mtskheta is listed on the UNESCO World Heritage list. According to the legend, one of the most important Christian relics – part of the Robe of Christ is buried there.
Mtskheta is home to three of most important churches in Georgia: Jvari Monastery, Svetitskhoveli Monastery, and Samtavro Monastery
Saint Nino also lived in Mtskheta. She's the woman who preached Christianity in Georgia and the reason why this religion was adopted as the state religion in the year 337. She's one of the famous women of Georgia and "Nino" is a popular female name in Georgia.
When visiting the churches, please dress appropriately! Women have to wear a long skirt or dress and use a scarf to cover your head. Men aren't allowed to wear shorts or hats. I witnessed people being chased out for not wearing the appropriate attire.
Food to try in Georgia
Georgia is home to some of the best foods in the world.
Khachapuri is a famous Georgian dish of cheese-filled bread. The bread is leavened and allowed to rise and is shaped in various ways, usually with cheese in the middle and a crust that is ripped off and used to dip in the cheese.
I also enjoyed Lobio, a traditional Georgian dish of various kinds of prepared beans (cooked or stewed), containing coriander, walnuts, garlic, and onion. There are many varieties of Lobio, both hot and cold.
Khinkali is a dumpling with a filling consisting of only minced meat with herbs (originally). Though, you can find many alternative fillings to meat, like cheese, potato, or mushroom. It's freaking good! Juicy, tasty, yummy all the way!
Also try Georgian Chacha – a grape pomace brandy, made from the grape residue after making wine. It very strong and often served after meals.
I found Georgian food to be filling, rich in flavors, and generally the best food I've had after Turkish food.
Mother Georgia
Sitting atop Sololaki Hill in Tbilisi is a 20m tall statue, the Mother of Georgia.
Constructed in 1958 under the Soviet regime, she holds a sword for defense in one hand and a bowl of wine for guests in the other.
Birthplace of Joe
The former leader of the Soviet Union, Joseph Stalin was actually not Russian. In fact, he changed his name and birthday too!
The Georgian-born ruler was actually sent to school to study to become a priest but ended up being responsible for over 20 million deaths.
Some older Georgians revere him as a strong leader, who defeated Hitler and are proud that tiny Georgia produced someone who had such an impact on world history.
Home of the highest mountains
If you thought the highest mountain range in Europe was The Alps, that's wrong!
The Caucasus Mountains marking the border between Georgia and Russia are home to the highest mountains in Europe. While the highest peak is in Russia, Georgia lays claim to the second-highest, Shkara, which at 5,193m (17,040 ft) beats Mont Blanc by nearly 400m (1,312 ft).
These dramatic mountains, with their terrifying hairpin roads and hidden villages cut off in winter, are the stuff of legend.
In Greek mythology, they were one of the pillars holding up the world. And it was here that Zeus tied up Prometheus, to have his liver eaten by eagles.
If you like climbing, hiking, or skiing, Georgia is the country for you!
Best Mountains in Georgia Country
Georgia is popular with ski lovers as it's the gateway to the Russian Caucasus that is home to the highest mountain in Europe, Mt Elbrus (200 km's from Batumi)
Gudauri Ski Resort
Gudauri is home to perpetually snow-capped summits is an ideal place for skiing!
Just a few hours drive from the capital and you are in the heli-ski resort of Gudauri (2200m) – a popular holiday destination for locals and foreigners alike.
Located on the southern slope of Caucasus, these beautifully groomed ski tracks seem to have no end. The runs are of various lengths and difficulty and meet the requirements of both amateurs and professionals.
The snow cover is thick and the ski season lasts from December to April. The total length of ski runs is 57 km with 6 lifts at the elevation of 2000-3250m. Each one offers
Bakuriani Ski Resort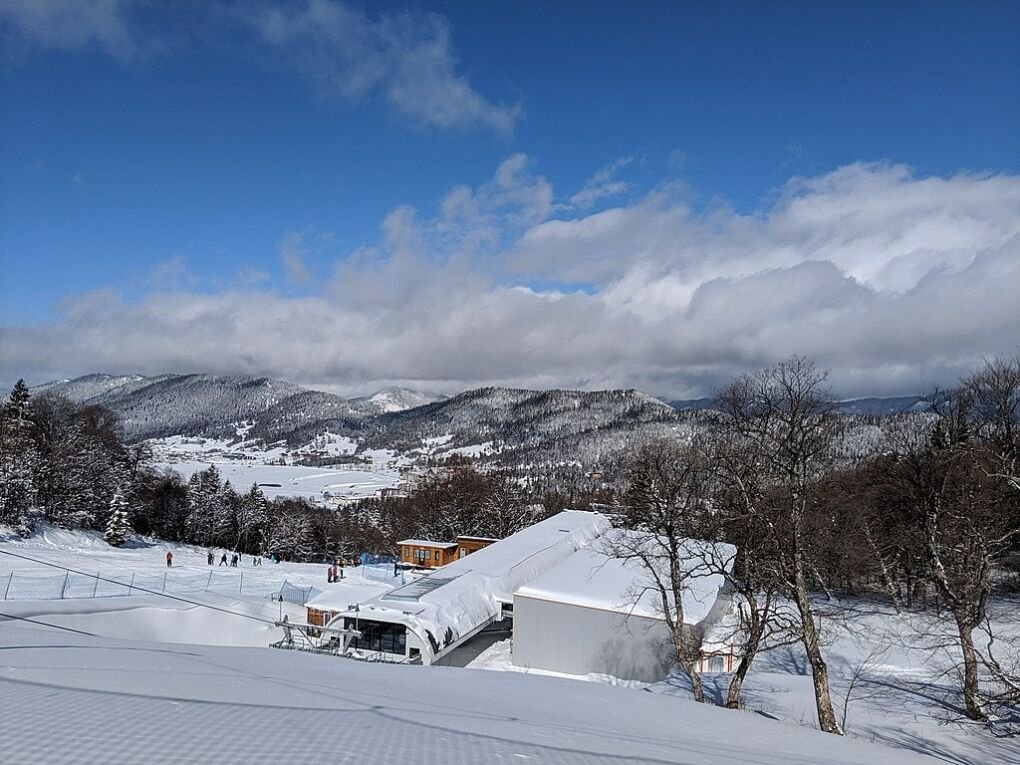 Bakuriani is situated in the Lesser Caucasus at the elevation of 1800m above the sea level close to the spa town of Borjomi. It's surrounded by beautiful landscapes, coniferous forests, and alpine meadows.
Although the mountains here aren't so high as those in Gudauri, the landscape is different, with its combination of mountains and forests creating an ideal climate for both winter and summer holidays. The Ski Season lasts from January to March.
Bakuriani offers ski runs of varying choices. Not only skiing but also driving a snowmobile, horseback riding, and sledding will make your stay enjoyable as well as a wide range of hotels equipped with all kinds of leisure facilities
Svaneti Ski Resort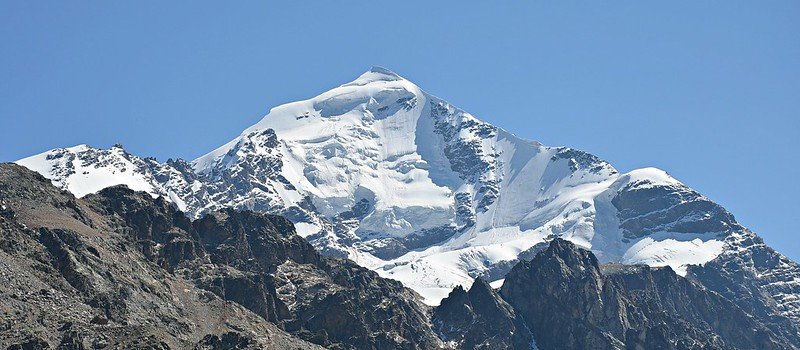 Svaneti is an important ski area, which surprises the visitors during all four seasons with beautiful nature, medieval towers, open hospitality, and snow-capped peaks.
4 peaks from the 10 highest ones of the Great Caucasus are here. soon the building of the infrastructure of Mt. Tetnuldi which includes 18 ski tracks (total length 25 km) will come to an end.
Among them, there will be the longest (9.5 km) and the biggest vertical drop of (1.7 km) ski slopes in the Caucasus.
Winter Resort "Hatsvali", which is located 8 km from Mestia, has hosted the visitors since 2011. There are 3 ski slopes on Hatsvali. The cable car brings you to 2350m, from where we enjoy the snow-covered Tetnuldi and impressive views of the local surroundings.
Mt. Kazbegi
Kazbegi, now known as Stepantsminda is located just 10KM from the Russian border, in a small town on the north-eastern side of Georgia.
This region is a paradise for budget travelers as it's more affordable than the Alps and other comparable mountains regions, while also being higher in altitude. Mount Kazbegi, measuring in at 5,033 meters above sea level, is rich with tales of Georgian folklore and spectacular views over the surrounding landscape.
Kazbegi is located 150KM from Tbilisi, via the Georgian Military Highway – which is the main road to Russia and Armenia.
The region is reachable by marshrutka (minibus) or car. Marshrutka buses depart Tbilisi's Didube Station every two hours and tickets cost 10 GEL (€3). You can hire a private driver (taxi) to take you. This will cost you a minimum of 30 GEL per person (€10).
You will find private taxis outside Avlabari Metro station and you must negotiate the price before getting in the taxi. Alternatively, make use of the BOLT Taxi app and pay using your card like Uber.
When in Georgia, you should visit his hometown – Gori where you'll find his old home, train, and museum!
---
AMAZING Caucasus Region Guides
---
Travel Insurance for Georgia
Use travel insurance while visiting Georgia so you are covered for theft and medical expenses. There are a lot of adventurous activities to do in Georgia, and it's best to have peace of mind while driving, hiking and trying some of the best food in the world.
Find out why I recommend World Nomads, check out my World Nomads Insurance review.
Disclaimer: This article contains affiliate links. This means that if you make a booking after clicking on a link, I may receive a small commission at no extra cost to you!