Brazil is a vibrant and eclectic nation located in the northeast region of South America. The country is a magnificent travel destination to behold, known for its large population, scenic beaches, football, samba, and everything in between.
If you'd like to find out the best time to travel to Brazil, we've done all the research, so you don't have to. Stick around for helpful travel tips and how to best prepare for the perfect Brazilian adventure.
Best Times To Go To Brazil
When planning your trip to Brazil, take note of the country's seasons. The nation is located in the Southern Hemisphere, so the summer runs from December to March. Conversely, the winter months in Brazil kick in from June to September.
The best months to visit Brazil depend on which region of Brazil you're traveling to. If you're looking for the best time of the year to travel to Brazil, consider which season you prefer, what activities you'd like to do, and which city you want to visit.
Summer Months in Brazil | Fun on the Beach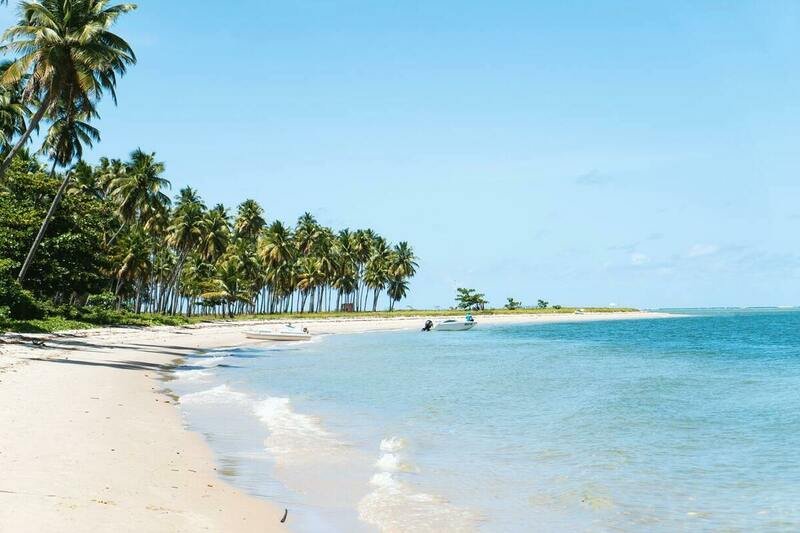 The best time to visit Rio de Janeiro is in the warmer months, from December to March. The scenic landscape and relaxed beach culture are perfect for a sun-filled vacation. Grab some sunscreen and head to Copacabana Beach or check out Rio's rich musical heritage at Pedra do Sal, known as "Little Africa."
You can also head to Mangueira's Palacio de Samba for an epic and colorful carnival experience. There's also the Real Gabinete Português de Leitura which provides a thrilling experience for bookworms and cultural enthusiasts.
There's plenty to do in Rio de Janeiro in the summer months. The weather is also hot and humid, which makes water bottles and sunscreen non-negotiable. Make sure to book your flights and accommodation well in advance. To avoid disappointment, travel arrangements should be made, at least, in June.
Things To Do in Summer:
Christ the Redeemer Statue Tours
Sugar Loaf Mountain & Cable Car
Favella Tours
Autumn (Fall) Months in Brazil | Explore the Hidden Gems
In late March or early April, the weather in Brazil begins to transition. The greenery also turns brown and dull, and the weather is no longer hot and humid. Rainfall in the autumn months begins to increase so it's best to avoid the coastal areas.
The autumn months are a great time to attend music festivals and cultural events. Head to Jardim Botânico, the perfect paradise for sunset picnics among scenic orchids, delicate lily ponds, and majestic palm trees.
You can also check out Feira Livre da Glória which boasts fresh Brazilian produce and locally sourced tropical fruits. Challenge your tastebuds to some local delicacies such as Acai na Tigela and smoothies or baked cassava. If you're a foodie or want to feast after an exciting night out, this is the perfect place to satiate your appetite.
Things To Do in Autumn:
Bird Watching
Iguazu Falls
Hiking Mount Roraima
Winter Months in Brazil | Head Into the Amazon
The winter months in Brazil last from June until August. This time of year is laid-back and relaxed, and the vibrance begins to wane. Nevertheless, there are tons of activities during the winter months, especially for travelers avoiding crowds or expensive accommodation and flights.
The Amazon is perfect for a Brazilian winter affair. Although the weather in the Amazon is relatively stable all year round, the winter is excellent for a chilly holiday. You can also consider the white sands and sapphire lagoons of Mangueira's Palacio de Samba. This World Heritage site is perfect in winter if you seek more temperate and cool weather.
Things To Do in Winter:
Amazon Rainforest Tours
Wildlife Spotting
Parintins Folklore Festival
Spring Months in Brazil | Island Hopping
During the spring months, the weather in Brazil is transitioning from the cold winter season to the hot and humid season. This is the ideal time to visit Brazil as the climate is temperate and warm.
Islands like Ilhabela, a stone's throw away from São Paulo, are a perfect destination during the springtime. You can enjoy beach lounging or if you're feeling adventurous, you can try sailing and snorkeling. For adventure seekers, there's also the option of hiking in Chapada Diamantina, a trendy and vibrant spot in São Paulo.
Things To Do in Spring:
Coffee Plantation Tours
Island Excursions
Beach Parties
Tips for Best Time To Visit Brazil | Season by Season
Summer
If you plan on traveling to Brazil in the summer months, it's best to plan well in advance. Also, the most popular spots during the summer are beach locations (i.e. Copacabana Beach, Praia da Trindade, or Salvador da Bahia).
Autumn
The beach spots aren't as busy as the weather is cooling down in autumn. It's best to find some exciting activities like Jardim Botânico or Feira Livre da Glória for an exquisite autumn experience.
Winter
If you're heading to Brazil in winter, remember that this time of year is laid-back and relaxed. Most people are indoors, and there aren't as many tourists. Please take advantage of the winter season, as accommodation and flight costs are at their lowest.
You can check out the world's largest tropical rainforest, the Amazon, or go sightseeing at the Lençóis Maranhenses National Park.
Spring
During the spring season, the weather is transitioning from cool breezes to a more temperate and warm climate. Tourist numbers also start picking up this season, and there's more buzz in the metropolises.
You can check out Ilhabela, Ilha Grande, Fernando de Noronha, or Ilha do Mel, which are small tropical islands along the coastline. These must-see destinations are fantastic for a warm tropical experience away from the bustle of the cities.
Final Thoughts on the Best Time To Go to Brazil
The best time to visit Brazil depends on which season you prefer, the activities you'd like to do and which city you want to see. Brazil offers fantastic destinations in the metropolis in the summer months, like hang gliding over Rio de Janeiro.
The autumn and winter months boast intriguing activities in the most unlikely places, while the spring promises some unexpected hidden gems. Whatever time of the year, Brazil offers something for everyone.