Taipei, the capital of Taiwan, is a vibrant and bustling city that is definitely worth a few days visit! With its mix of Chinese and Japanese culture, there's something so special about it. Then you add a few American influences and you get unique vibes and food and shopping that will make you NEVER want to leave. Figuring out where to stay in Taipei can be a challenge, but this guide will answer all your questions!
Whether you're planning on eating your way around the night markets, going on a temple adventure, taking a look at the natural wonders or finding the most unusual things to do in this majestic city, you will have plenty of options to make the most of your trip. You might even consider a day trip to visit the spectacular Shifen Old Street and Waterfall.
When it comes to finding the right accommodation in Taipei, it can be quite tricky. There are many great areas in Taipei to choose from, and it can be difficult to know which ones are the best.
Here's our guide on where to stay in Taipei including budget, mid-range and luxury options as well as some insight into the overall best area to stay depending on whether you're in town for food, shopping or nightlife! Want your own place? Check out these great Airbnbs in Taipei!
Where To Stay in Taipei
Budget Accommodation in Taipei
Yes, you really can find budget options in Taipei! There are many hostels out there (dorms or capsules) which means you won't have to break the bank to visit Taiwan's capital. Here are my favourites.
P.S. DO NOT NOT NOT book into Taipei Work Inn. It's a capsule hostel with no windows and the smallest tiniest sleeping space you'll ever come across. Worst nights sleep ever!
Pillow Hostel
Pillow Hostel is another modern option that provides full privacy even though you're actually staying in a dorm. The good thing about this one is that they also provide double beds in dorms. With your private curtain, you won't even realize you're sharing all this space with other people. Every room has their own TV, bathroom and free toiletries. It's the perfect location if you're interested in street food and culture. They also provide tea and coffee during the day!
COST: From €9 per night
Next Taipei Hostel
Next Taipei Hostel has one of the best score reviews for the hostel section in Taipei. The hostel is super modern and offers double beds and single beds in their dorms. Every room has its own coffee machine. The location is perfect for those who are into street food, shopping and night markets! Previous guests are quite impressed with how amazing this hostel is! Breakfast is included here which is a bonus!
COST: €12 per night
Be forewarned: Some hostels in Taipei have Asian style beds, this could mean a very thin mattress with a blanket or sometimes no mattress at all!
Taipei Oxygen Hostel
Taipei Oxygen Hostel is a modern hostel located only 5 kilometres away from the airport. There are clean dorms and they offer you a bit of privacy as every bed has a personal curtain. The dorms are divided into female and male and you have the option to add breakfast to your booking. Located next to a subway station, you should be able to access the best attractions and shopping malls around Taipei easily! It's one of the more affordable hostels with an excellent score review.
COST: From €18 per night.
Boutique Hotels in Taipei
There are many mid-range options in Taipei. You should know that it's also possible to get double rooms and family rooms in many hostels. Let's concentrate on affordable hotels in this section.
Pavilion Boutique Hotel
Located in the Sanchong District, Pavilion Boutique Hotel is affordable and is one of the best picks in Taipei if you don't want to stay in a hostel but don't want to break the bank!! There is a restaurant on-site and they provide free breakfast (which is apparently very good). Every room has its own TV as well as kettle and toiletries. Only 6 kilometres away from the airport, it's a great choice if you're into night markets, street food and shopping.
COST: From €50 per night for 2 people sharing.
Waterfront Hotel
Waterfront Hotel is also located in the Sanchong District and is only 3 kilometres away from the airport. The modern and unique rooms seem to be super comfortable and there's also a shared kitchen available at the property. Located directly on the waterfront, you can enjoy the views of the river from the sun terrace. Some of the rooms also include a balcony!
COST: €55 per night per room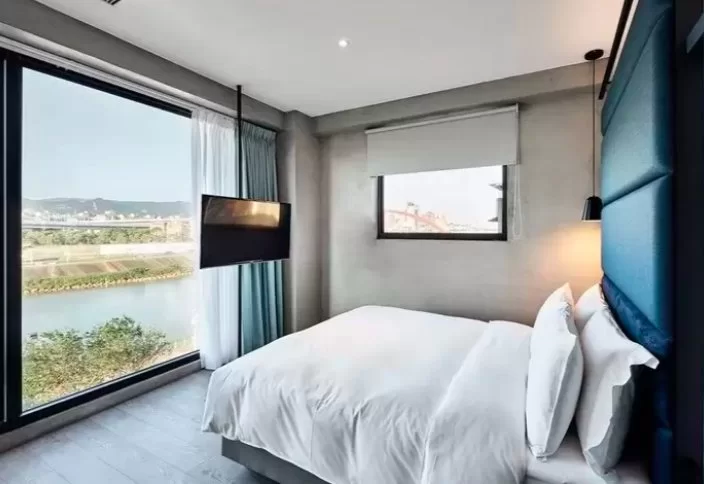 Chill Roof Hotel
Chill Roof Hotel has a cosy and modern look and is located in Zhongshan District which is only 3 kilometres away from the airport. You could also rent a car directly at the property which could make your trip in Taipei more fun! Every guest seems to love the decor and how cute the rooms are designed.
Luxury Hotels in Taipei
Of course, for those of us who have a bit more money to spend, you can go all-in at one of these luxury options!
The Okura Prestige
The Okura Prestige is located in Zhongshan District and offers amazing panoramic views. The property has a heated rooftop pool where you can enjoy the views of Taipei and the rooms are pretty impressive! Relax in a bathtub, go to the gym or eat amazing meals at the restaurants on-site. Known for their amazing customer service, you will surely feel like a queen/king during your stay. Check prices here.
San Want Residences
San Want Residences is another luxurious hotel worth staying at. In fact, I would travel to Taipei JUST to stay in this palace of a hotel! Located in Zhongshan District, it's another smart location to consider. The property features a gym, all-day complimentary coffee, tea and snacks in the lounge. Even the bathroom is full of luxury experiences as it comes with a sunken bath and a rain shower. You can also eat on-site at their dining lounge which serves western and local meals.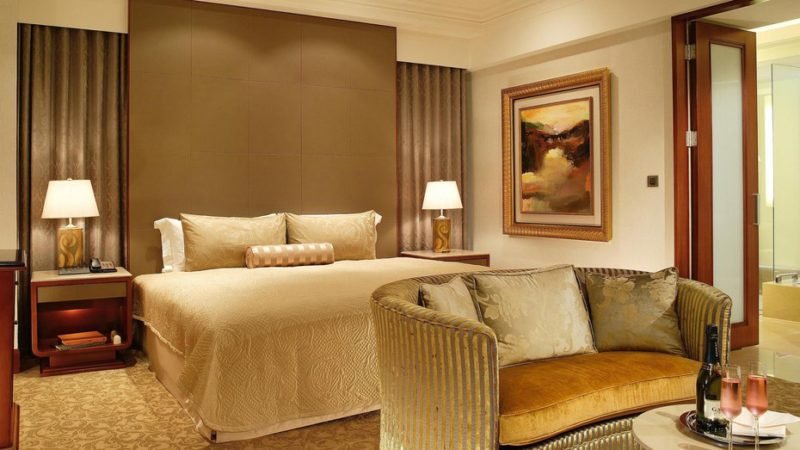 Best Place to Stay in Taipei For One Night
The type of accommodation you choose depends on your budget so I can't give you the name of just one hotel to stay in! however, if you're wondering where the best place to stay in Taipei for one night is, I would have to say next to the Shilin Night market. While I recommend spending at least one week in Taipei, I know that's not realistic for most travellers. If you only do ONE thing while here, it has to be eating your way around the Shilin Night Market and thus staying in the area is your best bet.
Best Place To Stay in Taipei for Nightlife
If you're more interested in bars and clubs that shops and restaurants (although it's possible to see them all!), I recommend staying in the Xinyi District is best. There's a vibrant nightlife here and a few good hostels or hotels in the area to choose from. This is where you'll find the best clubs in town and lots of cool and hip student hangouts. You'll also be nearby the Raohe Night Market which is one of the best places for food in the city.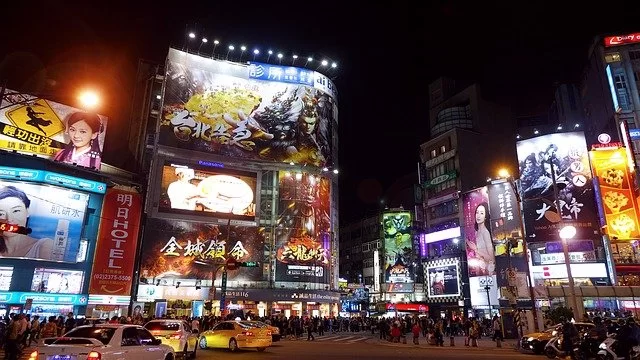 Where To Stay in Taipei for Shopping
If you are travelling to Taipei with the intention to empty your bank account and fill a second suitcase, the I recommend you stay in the Xi Men Ding district which is clothes shopping heaven. Other good shopping areas include the large malls such as the newish one in Xinyi, the nearby nightlife district.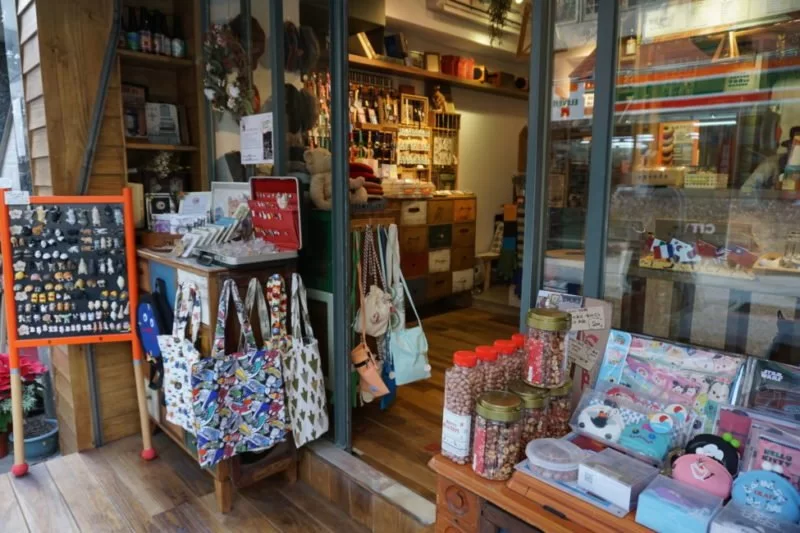 Want to explore the rest of Taiwan? Why not check out the beautiful Nantou Province in Central Taiwan or head south to foodie Taichung!