When most people think safari they think Africa but did you know there are many destinations for an Asian Safari Experience.
The continent of Asia is home to some unique Wildlife like the pandas in China, Komodo dragons in Indonesia and Dolphins in the Maldives.
These countries have tropical and subtropical, moist and dry broad-leaf forests suited to sustain some of the most exotic animals in the world.
There are many places to go for an Asian Safari experience and in this guide, I've asked some travel experts to share their personal favorite experiences.
Tips for Safari in Asia Excursions
Here are some insights and information you ought to know before going on an Asian Safari Experience:
Asian Elephants
The Asian elephant is the largest of the continent's terrestrial mammals, but smaller than the African counterpart. Its populations are spread in the Eastern Himalayas and Greater Mekong regions in countries like Bhutan, Cambodia, India, Laos, Sri Lanka, Nepal, Myanmar, Thailand, and Vietnam.
Humidity
Asia is a massive continent, stretching from polar regions to the equator, so naturally, there is a vast difference in the climate. Summers in Southeast Asia are typically long, hot, and humid. So make sure you pack a hat, sunscreen and you stay hydrated during your Asian Safari experience.
Vaccinations are essential
It's highly recommended that you get vaccinations for diseases such as malaria, rabies, measles, mumps, rubella, polio, tetanus, diphtheria, and whooping cough.
Water in Asia
There are a few places in Asia where you can drink water straight from the tap. It's highly recommended that you only drink and brush your teeth with bottled, purified water. Also, avoid ice and icy drinks unless you know the ice has come from a safe source.
Driving in Asia
In most Asian countries, motorcycles are used to get around. It's usually easy for foreigners to rent a scooter, in most cases, you will only need your passport and money to rent.
However, it's important to know that if you are involved in an accident, Travel Insurance won't pay out unless you have a valid motorbike license.
Best places to go for an Asian Safari Experience
Best place for Asian Safari Experience by boat: Indonesia
For a classic Asian Safari experience: Sri Lanka
Best place for Asian Safari Experience with dramatic scenery: UAE
Overall Best Asian Safari Experience: India
---
Thailand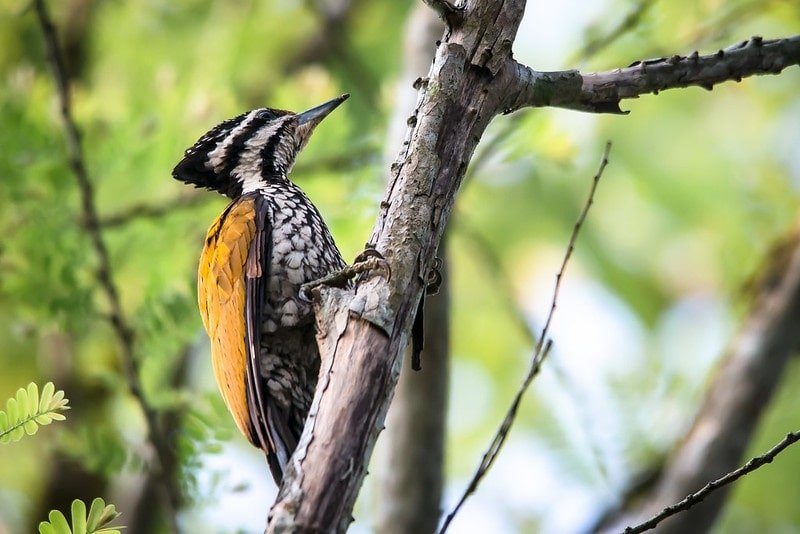 Thailand's largest national park, Kaeng Krachan National Park is located on the border with Burma. The park's 2,915sqm forest area consists of pristine rainforests, granite mountain ranges, waterfalls, caves, and a reservoir lake, offering plenty of trekking and bird-watching opportunities.
It's also known as the Thai Jungle as most of the park is covered by steep forest with hanging ferns, orchids and it is the home of over 200 species of birds and 57 mammals. The park is closed in the rainy season from August to October for safety reasons and forest recovery.
Khao Yai National Park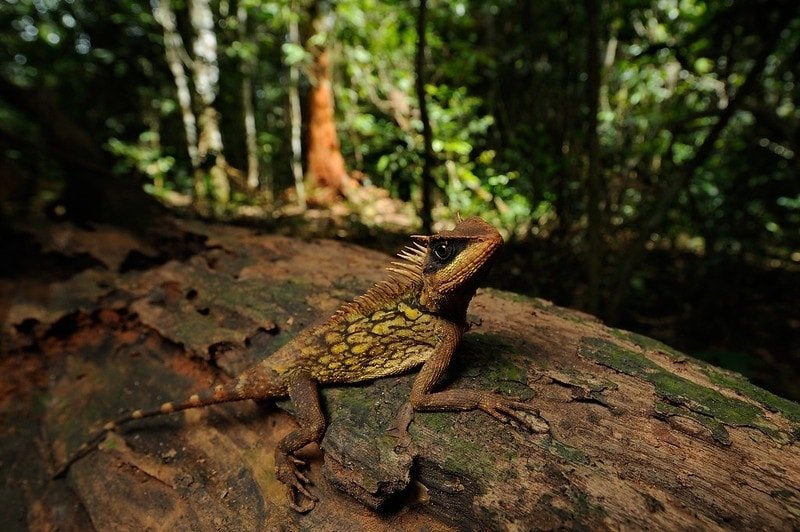 The country's first national park was established in 1962 and today its the third-largest national park that was declared by UNESCO as a World Heritage Site in 1992. It's the best place to go bird watching in Thailand as its home to around 300 resident and migratory birds and has one of the country's largest populations of hornbills. Despite being inhabited by quite a number of mammals, there has not been any sign of tiger activity in the park.
You can enjoy other outdoor activities such as walking, rafting, and more besides watching the wildlife and enjoying the picturesque scenes.
The best time to visit the national park is around March and April.
The rainy season is May to October with high humidity. Average temperatures are 27 degrees during the day and 13 degrees during the night, the perfect season for the waterfalls.
The cold season is November to February with a clear and sunny sky. Average temperatures are 22 degrees during the day and down to 9-10 degrees during the night.
The hot season is March to April, humid with average daily temperatures 20-30 degrees during the day and 17 degrees during the night.
There are few bungalows in two different spots inside the national park. These costs 800 Baht (2 people), 2,400 Baht (8 people) and 9,000 Baht (20 people). Bungalows can only be booked through DNP website in advance.
---
India
Recommended by Sapna of My Simple Sojourn
Jim Corbett is the first tiger reserve of India!
It was named after the famous hunter and naturalist, Jim Corbett. The park was established to protect the unendangered Royal Bengal Tiger and there are 488 species of animals and flora and fauna in the Jim Corbett National Park.
It has sub-Himalayan regions characteristics with hills, ravines, and valleys. The Jim Corbett national park is divided into 4 areas zones called Bijrani, Dhikala, Jhirna, and Durgadevi zones. Safaris are conducted in these areas every morning and afternoon. You have to do advance online bookings for a Safari because the slots get filled very fast. You can choose between jeep or elephant safaris.
The main attraction of the park is the Royal Bengal tiger, you can also see spotted deer, barking deer, bears, sambar deer, jackals, boar, and several species of birds. Jim Corbett Park remains open from sunrise to sunset. The park remains closed in months of monsoon.
There are several resorts and hotels around the tiger reserve area. My favorite place is the Dhikala rest house in the Dhikala zone inside Jim Corbett Park. It is a basic place but since it is inside the park so it is an amazing experience. The booking for the rest house can be done online only.
Jim Corbett National Park one of the best places to experience wildlife and nature in India.
Kanha National Park
Recommended by Maria od Europe Up Close
Kanha National Park in Madhya Pradesh is located in the heart of India. The Kanha Tiger Reserve is not only one of the oldest, but also the largest National Park in Central India. The park is teeming with wildlife!
Wild dogs, Jackals, Indian Buffalos, Axis deer, Gaur, and Barasingha are very common. But most people are coming to Kanha to spot the big cats: Tigers and Leopards. During my visit, I saw an abundance of wild animals, but unfortunately, I didn't get to see any kitties.
I stayed with Kanha Earth Lodge, a Pugdundee Safari Property and I highly recommend it. The property is stunning and the service was impeccable. The staff consists mostly of locals, who are trained and educated by Pugdundee and they were all amazing. Everyone there was extremely helpful and friendly, always smiling and spoiling me.
What I loved most about this 4 Star Safari Lodge in Kanha was that they also have such an eco-friendly and sustainable mindset. There is no single-use plastic, each guest receives a reusable water bottle and bungalows are built around the existing landscape (no trees are cut to accommodate more buildings). This gives the safari lodge a very natural feel – so much so that they often have wildlife pass through the property as part of their natural habitat.
Periyar National Park
Recommended by Ellie & Ravi from Soul Travel Blog
Located deep in the Western Ghats (hills) of Kerala, Periyar National Park & Tiger reserve is one of Kerala's best-known wildlife spaces.
Probably best to be clear about one thing though, your chances of seeing a tiger here are low at best. Instead, Periyar is unique for being one of the last national parks that you can walk into and is known for its scenic boat safaris on the lake.
The boat trips are a great way to take in the views of Periyar (and perhaps spot some elephants, as we did), but walking into Periyar was our favorite way to explore a small part of the National Park.
One of CGH Earth's Naturalists from Spice Village Resort introduced us to a local guide, who took us for an early morning walk into Periyar National Park. Yes – we walked into the tiger reserve. Only a small area of the park is available to explore on foot (and perhaps luckily for us, not the part where the larger and more dangerous animals are commonly found), and the walks are well managed.
We saw lots of birds, were pointed out different plant species and had the opportunity to experience the early morning peace and beauty of the forest. We came across a herd of hungry (and apparently grumpy!) byson (wild buffalo) who had started brawling with each other. We hastily retreated backward, marveling at the noise and energy.
The nature walks are one of Periyar's community tourism initiatives – one of the best things about them (aside from experiencing a much quieter version of Periyar than you're likely to see anywhere else) is that they support tribal communities that live around Periyar national park. Guides are usually from these tribal villages, and the walks provide employment and direct financial benefits from tourism to the park.
---
Indonesia
Gunung Leuser National Park
Recommended by Carly and Agung from We are Sumatra
Sumatra is home to some of the most iconic – and rapidly disappearing – species in the world!
There are only an estimated 7,500 of these endangered Sumatran orangutans also known as "people of the forest" left, and most of them live in the Gunung Leuser National Park.
This lush 7,927 km2 jungle is the only place in the world you can find Sumatran tigers, rhinos, orangutans, and elephants in the same area – along with an enormous variety of incredible endemic species.
Sprawling from North Sumatra into the Aceh province, there are many entry points for exploring this incredible ecosystem.
The most famous is Bukit Lawang, a former orangutan sanctuary that draws thousands of tourists to meet its semi-wild orangutans.
But there are many more off-the-beaten-track places to have an authentic jungle experience minus the crowds of tourists.
Small villages with welcoming locals and incredibly knowledgeable guides can be found around the borders of the park – from Tangkahan and Batu Katak in North Sumatra to Ketambe and Kedah in Aceh.
Wherever you go, the Gunung Leuser National Park is sure to provide a life-changing experience with its pristine rivers, secluded waterfalls, and mindblowing fauna and flora.
Komodo National Park
A trip to Bali would be incomplete without visiting Komodo Island especially because the government is planning on closing the National Park in January 2020 for one year.
Where is Komodo Island
Komodo National Park is a UNESCO World Heritage Site and is also recognized as one of Nature's New 7 Wonders like Table Mountain in South Africa.
The national park is located between Sumbawa and Flores Islands in Indonesia.
The National Parks include many islands, but the biggest are Komodo Island, Rinca Island, and Padar Island.
How to get to Komodo Island from Bali
There are 2 ways to get to Komodo Island from Bali.
Depending on your budget, you can either travel to Komodo Island by plane or boat.
You can take a flight from Bali to Labuan Bajo via Wings Air, Sriwijaya Air or NAM Air. It takes 45 minutes but it's also the most expensive way to get to Komodo Island. Depending on the airline and season, the cost varies from US$80 – $120 for a return flight.
Alternatively, you can take a ferry from Bali to Komodo Island. It takes 36 hours, although it's cheaper, it can be quite dangerous due to the tides and conditions of the boats.
How to get to Komodo Island from the Airport in Labuan Bajo
All visitors arrive in Labuan Bajo, which is the starting point for most boat tours to Komodo Island.
From the airport, visitors can only get to Komodo Island by boat.
The boat journey from Labuan Bajo to Komodo Island takes about 3 to 4 hours.
Important things to know about Komodo Island
Komodo dragons are the Earth's largest living lizard known for their ability to swim long-distance and virgin births.

East Nusa Tenggara in Indonesia has the last population of Komodo dragons, which lived across Indonesia and Australia millions of years ago.

It is estimated there are about 5,700 Komodo dragons on Komodo Island in Indonesia.

The lizards have a venomous bite and can grow up to three meters long and weigh more than 150kg.

Park rangers don't feed the dragons; they let them hunt animals such as goats and birds, just like in the wild.

Women who are menstruating should tell the ranger as the dragons are very sensitive to the smell of blood.
Can you visit Komodo Island
In July 2019, authorities in East Nusa Tenggara province said that the island would be closed for one year from January 2020 to stop tourists interfering with the natural behavior of the largest species of lizard on earth.
In September 2019, Indonesian officials announced that they will cancel the Komodo island closure, saying tourists are no threat to dragons.
At the moment, there's still uncertainty about the future but I went to visit the Island in October 2019 and it was still open for tourists.
Best time to visit Komodo Island
Komodo Island's dry season is from April till December and rainy season the remaining months, namely January to March.
Although Komodo dragons can be seen year-round, the dry season is the best time to visit Komodo.
The animals usually mate between June and July when females have reached the age of eight and males are seven. In September, females can lay up to 15-30 eggs after taking over nests made by brush turkeys and deepening the holes by two meters. Around 70-80 nests can be found on Rinca Island.
Komodo dragons are seen less during its mating months of July to August and nesting months of September to November.
Is Komodo Island Dangerous
Yes, If I said no I would be lying!
It's a magnificent island but you need to be careful and avoid being bitten by a Komodo dragon as they have poisonous saliva that contains deadly bacteria. They usually bite their prey and then follow it until the bacteria takes effect.
Always listen to your guides. Don't wander off alone and most important don't try to touch or feed the dragons.
Do Komodo Dragons eat people
Yes, Komodo Dragons can eat people but they rarely do. In the past 4 decades, there were only 4 documented incidents in 1974, 2000, 2007, and 2009.
The 2009 attack involved a man who fell from an apple tree and was mauled by two dragons while lying dazed on the ground.
It was actually not till 2009 that scientists discovered Komodos have a very weak but venomous bite and kill their prey by infecting it and letting it bleed to death.
In 2013, two people were taken to hospital after being attacked by a giant Komodo dragon that wandered into the office of a wildlife park in eastern Indonesia.
Cost of visiting Komodo Island
My costs of visiting Komodo Island in Indonesia:
The most expensive thing is the boat rental.
Cost of Flights to Komodo Island: $110.00
Cost of the private boat from Labuan Bajo to Komodo Island: $200.00
Cost of hotel in Komodo Island: $90 for two nights
Cost of Komodo Island entrance: Ticket for Komodo National Park (working days): IDR 150,000 (11 USD) per person and on Sundays and National Holidays: IDR 255,000 (18 USD) per person.
Komodo Island Tourism Tax: IDR 100,000 (6.60 USD) per person
Komodo Island Hiking fee: IDR 5,000 (0,30 USD) per person
Komodo Island Wildlife Observation fee: IDR 10,000 (0.70 USD) per person
Total cost of a tour in Komodo Island (all entrance fees, taxes, and boat): about $500.00
Where to Stay in Komodo Island
Finding a comfortable place to stay during your Asian Safari adventure is a must!
Sitting on a private beach, the Bintang Flores Hotel features a beachfront pool and a dive center. Boasting tropical garden landscapes, it also offers free Wi-Fi access in all areas of the hotel.
The hotel is just 1.2 miles from Flores Harbour. It is a 10-minute drive from Komodo Airport and Labuan Bajo ferry terminal, offering easy access to popular dive spots. Mirror Cave is a 15-minute drive away.
A satellite TV, tea/coffee maker, and a mini-fridge are standard in all air-conditioned rooms. Opening out to tropical views, they also come with a private bathroom and safe.
Bintang Flores' staff can assist with airport transfer and laundry services. Added conveniences include a business center and a minimart. Snorkeling and diving activities can be arranged.
[maxbutton id="1″ url="https://www.booking.com/hotel/za/the-michelangelo.en.html?aid=1558524&no_rooms=1&group_adults=1″ ]
Komodo Resort is located on Sebayur Island, an hour's boat ride from the Komodo Dragon Tour on Rinca Island. Surrounded by the sea, the resort boasts a private beach area and on-site diving and snorkeling opportunities.
Komodo Resort is a 1.5-hour boat ride to Tilong Harbour and a further 10-minute drive to Komodo Airport. The resort provides a free two-way airport transfer. Pink Komodo Beach, which overlooks a stunning Indonesian reef, is a 1.5-hour boat ride away.
Rooms each have a private terrace with sea views. A minibar, wardrobe, and desk are provided. En suite bathrooms include shower facilities.
The resort provides a free scheduled two-way shuttle to Labuan Bajo City. Laundry services are available for convenience.
The Komodo Sunset Restaurant offers outdoor dining opportunities, serving a selection of Indonesian and Italian dishes.
[maxbutton id="1″ url="https://www.booking.com/hotel/id/komodo-resort.en-gb.html?aid=1558524&no_rooms=1&group_adults=1″ ]
Located along Labuan Bajo Beach, The Jayakarta Suites Komodo Flores offers luxurious accommodation surrounded by tropical greenery. It features a dive club offering programs for divers of all levels. Free return airport transfer is available.
The Jayakarta Suites Komodo Flores is a 15-minute drive from Komodo Airport, which is an hour's flight from Ngurah Rai International Airport. A boat cruise to Komodo Island takes 1 hour and 30 minutes.
Guests at Jayakarta Suites Flores can take a dip in the outdoor pool, or visit the spa for a relaxing aromatherapy massage. The hotel also has a concierge desk and a jogging track. Wi-Fi is free in public areas.
Rooms come with a flat-screen satellite TV, minibar, and tea/coffee making facilities. Private bathrooms have separate bathtubs and shower facilities. Some rooms feature beautiful views of the ocean.
[maxbutton id="1″ url="https://www.booking.com/hotel/id/the-jayakarta-suite-komodo-flores.en.html?aid=1558524&no_rooms=1&group_adults=1″ ]
---
Sri Lanka
Did you know that Sri Lanka actually has several National Parks that offer safaris? If you didn't, well now you do!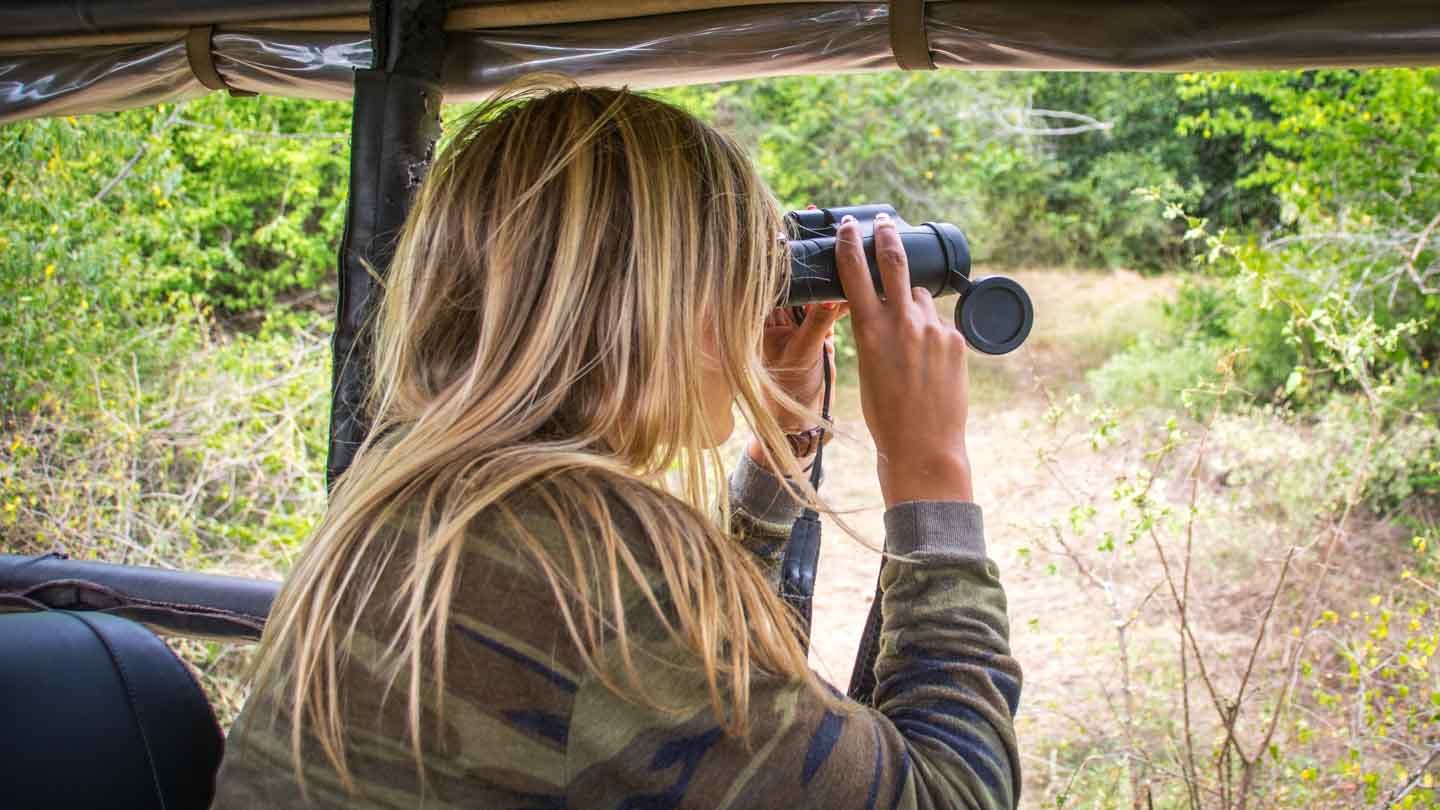 Recommended by Hannah & Adam Lukaszewicz of Getting Stamped
Located in the southeast region of Sri Lanka, Yala National Park is one of the best places to go for an Asian Safari experience.
This park is home to the highest leopard population density in the world and is the most visited National Park in Sri Lanka. This is the perfect destination for a unique safari, full of wildlife and beautiful backdrops. And if your trip allows for some extra days to explore Sri Lanka, there are plenty of breathtaking beaches to check out.
In order to get to Yala, most people, including ourselves, hire a driver to take them there. Because it takes a long time to drive anywhere in this country, we suggest staying in a nearby hotel to Yala and then going into the park early in the morning.
Depending on your budget and how much time you have, there are several safari companies you can tour the park with. We experienced our Sri Lanka safari with Leopard Trails and spent the night at their 5-star glamping safari camp.
We slept overnight in luxury tents, were served all meals and drinks and went on 2 game drives a day. We loved this option because we were able to get a full experience and not worry about as many logistics once we were with our tour guide.
Minneriya National Park
Recommended by Joana of The World in my pocket
Minneriya National Park is one of the best places in Sri Lanka to go for an elephant safari, to observe these wonderful gentle giants in the wild.
You should definitely include Minneriya National Park to your 10 day Sri Lanka itinerary if you want to see elephants in their natural habitat.
Minneriya National Park is easily accessible from Habarana, where plenty of safari companies are offering a half a day adventure through the park for around 7000 Sri Lankan rupees (about £32) per person. In Habarana you can also visit typical Sri Lankan villages where you can see how locals go on with their daily lives and also enjoy their homemade lunches. A good place to stay in Habarana is Sorowwa Resort and Spa.
The best time to visit Minneriya National Park is during the dry season, between July and September when hundreds of wild elephants gather around the large water reservoir. During this time you can see even 300 elephants altogether in the same place. The best time of the day for a safari is either in the morning, between 5:30 AM – 8:30 AM, or in the afternoon, between 3:00 PM – 6:00 PM. This is when the elephants are most active.
Please do not engage with elephants in any other way, if getting the chance. The only way that you should see elephants is in the wild, though a safari.
Kumana National Park
Recommended by Roxy & Luke of The Coastal Campaign
To this day, one of the best experiences we have had while traveling has been our DIY safari tour outside of Kumana National Park in Sri Lanka.
On the east coast of Sri Lanka, approximately an hour south of the popular surf town of Arugam Bay lies the beautiful Kumana National Park. This park is teeming with wildlife and a must-do for anyone visiting Sri Lanka.
While there are many tours departing from Arugam Bay, you can also rent a tuk-tuk or scooter (like we did) and do a self-guided or DIY safari tour. This is an amazing way to get off the beaten path and experience the wildlife, nature, and beautiful landscapes without competing with tons of jeeps and tour vehicles. As you drive yourself, you get both a sense of adrenaline while having the freedom to explore.
Unfortunately, you cannot enter Kumana National Park on a scooter, but the 10km leading up the entrance gates may as well be part of the park. As you get near the park entrance you drive past marshland where it isn't uncommon to see elephants, crocodiles, water buffalo and so much more. We recommend going at dawn or dusk as with most safaris, the animals are more active and visible at these times.
It is worth mentioning, that as you are not with a guide, it is important to be smart, give the wild animals plenty of space and leave no trace. If you are after a unique safari experience without the crowds, then do not hesitate to do a self-guided safari outside of Kumana National Park.
Wilpattu National Park
Recommended by Explore with Lora
Sri Lanka is a dream country when it comes to Asian Safari experiences!
Most people end up visiting Udawalawe or Yala National park, while few go to Wilpattu National Park. Yet Wilpattu is world-renowned for its thriving leopard population!
Wilpattu is one of the oldest national parks in Sri Lanka and the largest at an impressive size of 1,317 square kilometers. Another unique feature of Wilpattu National Park is the 'willus', which means natural lakes. These natural, sand-rimed water basins fill with rainwater that attracts the nearby wildlife.
Inside the park, you can see most of the wildlife that Sri Lanka has to offer. Some of the wildlife you can find inside the park include monkeys, deer, mongoose, storks, crocodiles, birds, hares, tortoises, elephants, and eagles. But the biggest highlights of the park are the wild leopards and sloth bears.
I loved visiting Wilpattu National Park not only for the diversity of wildlife but because almost no one else was there. Some of the parks in Sri Lanka can be crowded with several jeeps surrounding a single animal. In Wilpattu, you often have the animal viewings all to yourself.
If you have the time, this park is well worth a visit on your Sri Lanka itinerary.
---
Nepal
Nepal is the 48th largest country by population and 93rd largest country by area.
Chitwan National Park
Recommended by Michelle of Full Time Explorer
Chitwan National Park in Nepal is an incredible place to go on a jeep or walking safari.
The area was declared a national park in 1973 making it the first one in Nepal. In 1984, it was also declared a UNESCO World Heritage Site. It's currently home to 503 Greater One-Horned Rhinos which are considered vulnerable.
The main reason people visit the park is to spot one of the 125 Bengal Tigers that reside there. The Bengal Tiger is endangered with only 2,500 left in the world as of 2011. There are also 72 Gharial Crocodiles along with a breeding center in Chitwan. This long-nosed crocodile is critically endangered, and it's actually one of the easiest animals to spot while on safari in the park.
Entering Chitwan National Park will require an $18 entry permit (per day) and two guides. It's best to visit in the winter months of December, January, and February. This is the dry season in Nepal, so animals are more likely to come to the river in the mornings for a drink. It's also nice and cool this time of year. In the summer, the park can reach upwards of 100 degrees. There are tons of places to stay nearby the park, but I recommend Chitwan Paradise for its comfort and moderate price.
---
United Arab Emirates
The United Arab Emirates consists of seven independent city-states: Abu Dhabi, Dubai, Sharjah, Umm al-Qaiwain, Fujairah, Ajman, and Ra's al-Khaimah.
The UAE might be small but its an important player in regional and international affairs.
Four-fifths of the UAE is desert but has contrasting landscapes — from Liwa's towering red dunes to Al Ain's lush palm-filled oasis, from the precipitous Hajar Mountains to the more green stretches of its coastal plains.
Dune Safari in Dubai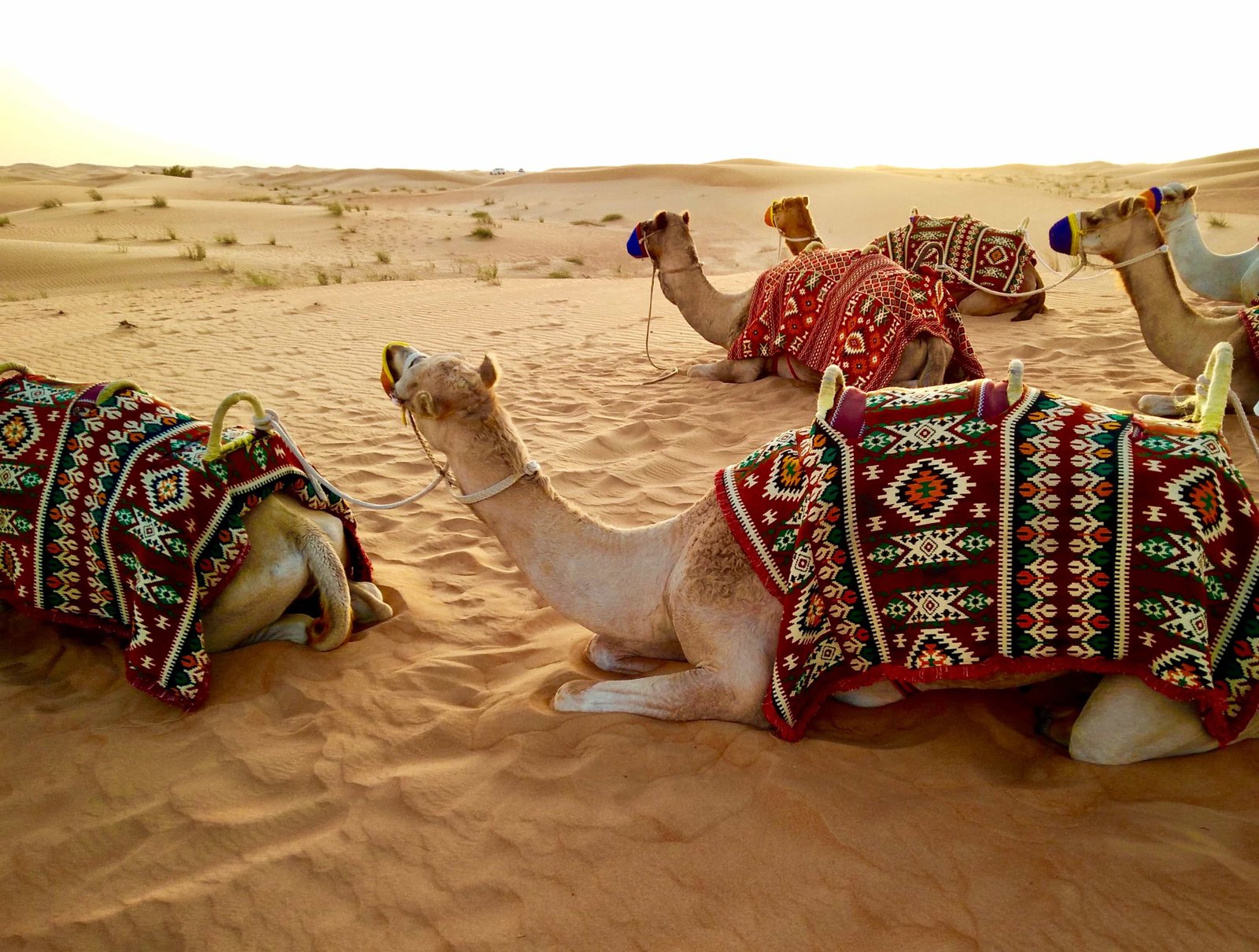 Recommended by Nafisa Habib from My Own Way To Travel
It's simply not possible to leave Dubai without exploring a roller coaster ride in a desert dune safari!
Desert safari tour is one of the top attractions among tourists in Dubai, UAE. Dune bashing in a desert is a must-do, along with other fun and adventurous activities. During my solo trip to Dubai, I went for a group safari tour in a Land Cruiser. It was one of the best safari experiences in Al Awir Desert Safari Camp Site.
You can enjoy a half-day tour in the evening or morning time and also possible to stay in the camp. It is best to watch sunrise or sunset views from the desert camp. Camel ride, sandboarding, and Quad bike ride are also enjoyable to do during the Dubai safari tour.
The BBQ dinner arrangements are also there for all at night. Besides the fantastic Arabian hospitality, you'll also love to see many live performances. One of the top favorites among all is the Belly Dance apart from Fire and Tanoura Dance in the safari camp. You may also get a henna tattoo in the safari camp. Furthermore, snacks and drinks, shisha are all complimentary for everyone in the Dubai desert safari tour.
Sir Bani Yas Island in Abu Dhabi
Recommended by Ruslan of Globetrotting Memories
Sir Bani Yas was originally home to Arabia's largest wildlife reserve. Spanning over 87 km2(34 sq mi), the reserve was established in 1977 by Sheikh Zayed Bin Sultan Al Nahyan. In 1971 Sheikh Zayed became the first president of the United Arab Emirates and chose this island as a retreat.
Sheikh Zayed passed a law prohibiting hunting on the island and started developing it as a wildlife preserve in his "Greening of the Desert" program. The "Greening of the Desert" was designed to help make the deserts more suitable for human settlement and provide a haven for many of Arabia's endangered wildlife species.
More than half the island is made up of the Arabian Wildlife Park. Framed by the Arabian Sea, an 8km radius around the island has been declared a no-fishing zone, providing sanctuary to the local marine life, too.
It is now the region's largest wildlife reserve. Thanks to decades of conservation work and ecological investment, Sir Bani Yas is home to thousands of large free-roaming animals, including the world's largest herd of endangered antelope, the Arabian Oryx, northern cheetah, golden jackal, gazelles, giraffes, hyenas, cheetahs, deer and gazelles, mammals, mountain sheep, and 200+ bird and bat species, over 500 peacocks, and more.
How to get to Sir Bani Yas Island
Sir Bani Yas Island is located 250 km southwest of Abu Dhabi and 370 km southwest of Dubai. The Island can be reached by car, and then a 25-minute boat ride. The ferry is free of charge courtesy of the Anantara Resort from the Jebel Dhanna on the mainland.
Activities on Sir Bani Yas Island
You can never get bored on Sir Bani Yas Island, as the resorts offer many activities. These activities include Nature & Wildlife Drive or Walk; Culture & History Tour; Horseback Riding; Mountain Biking; Kayaking; Land Sailing; Archery; & Falconry.
Take the Nature & Safari trip on an open Landcruiser 4×4 at sunset. Nature & Safari trip takes an hour and a half and lets you see the wildlife that lives on the island. Nature & Safaritrip costs 350aed/person ($95USD) There are 3 Anantara Resorts on the island:
Located in Sir Bani Yas Island, this property features an Arabian wildlife park, an outdoor pool, and a spa. It provides an array of activities including horse riding, kayaking, hiking, and snorkeling. Complimentary Wi-Fi is available.
Furnished with African style décor, air-conditioned villas come with a minibar and a terrace. Private bathrooms include a bath, shower, and complimentary toiletries.
Five dining outlets are available in the surrounding area of Anantara Sir Bani Yas Island Al Sahel Villas. There is also a gym and a private beach area that is available at a nearby resort.
[maxbutton id="1″ url="https://www.booking.com/hotel/ae/anantara-sir-bani-yas-island-al-sahel-villas.en-gb.html?aid=1558524&no_rooms=1&group_adults=1″ ]
Located on the beachfront of Sir Bani Yas Island, this property offers a serene atmosphere with views of the sea or mangroves. This private beachfront property has a fitness center and complimentary Wi-Fi in all areas. The Anantara Spa is available at an additional cost.
The air-conditioned villas are decorated in soft tones and fitted with wooden furniture. It features a seating area with a flat-screen TV and a terrace that overlooks the sea or mangroves. Some villas include a private pool. A shower and bath are included in the bathroom.
Anantara Sir Bani Yas Island Al Yamm Villa Resort features Olio that serves an Italian-inspired cuisine throughout the day. There are additional dining choices available for guests at sister resorts nearby.
[maxbutton id="1″ url="https://www.booking.com/hotel/ae/anantara-sir-bani-yas-island-al-yamm-villas.html?aid=1558524&no_rooms=1&group_adults=1″ ]
The restaurant Al Shams offers candle-lit dinners and international cuisine prepared on an open grill. An additional 4 outlets welcome guests on the island with international cuisine. The resort also has a lounge bar with panoramic sea views and a pool bar with sun loungers and umbrellas.
Desert Island Resort guests can play a game of tennis or visit the Anantara Spa, which has a sauna and hot tub. The resort has a children's club and a shop that sells local fabrics, clothing, and international reading material.
You can take any of the activities from any of the resorts. Anantara Resorts operates the tour 4-5 times a day. I would suggest going at sunset as the animals roam around out from the shade, as the temperature drops.
[maxbutton id="1″ url="https://www.booking.com/hotel/ae/desert-island-resort-spa.en-gb.html?aid=1558524&no_rooms=1&group_adults=1″ ]
Animal Experiences Around the World
---
Travel Insurance for Asia
Use travel insurance while visiting Asia so you are covered for theft and medical expenses. There are a lot of adventurous activities to do in Asia, and it's best to have peace of mind while diving, hiking and trying some of the best food in the world.
Find out why I recommend World Nomads, check out my World Nomads Insurance review.
Disclaimer: This article contains affiliate links. This means that if you make a booking after clicking on a link, I may receive a small commission at no extra cost to you!