Planning a trip and not sure where is the best places to visit in Spain?
There are many reasons to visit Spain! The country is known for its Cosmopolitan Cities. From Barcelona and Madrid to Seville and Valencia. Spain also has over 5,000 miles of coastline and thousands of beaches.
Southern Spain is known for its stunning scenery while the best places to visit in North Spain include La Rioja, San Sebastián, and Picos de Europa National Park.
Spain is the second-largest country in the EU with 50 provinces and a population of 49 million.
The country produces over 40% of the world's olive oil and they are also the world's third-largest wine producer, after Italy and France.
In 2019, Italy, France and Spain, together account for 51% of world wine production.
The country is known for its Cosmopolitan Cities. From Barcelona and Madrid to Seville and Valencia. Spain also has over 5,000 miles of coastline and thousands of beaches.
Whether you decide to visit the city or country or Mainland Spain or the Balearic Islands. There are many amazing places to vacation in Spain.
The Best Place to visit in Spain
I asked some of my favorite travel bloggers and compiled this list of the best places to visit in Spain:
1. Alicante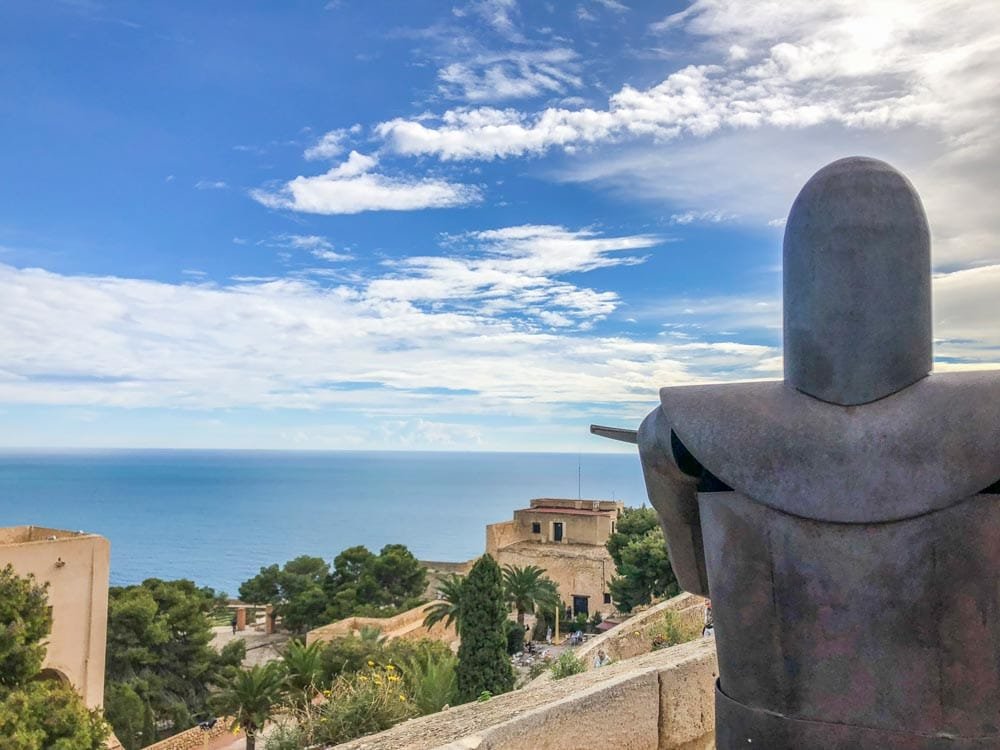 Recommended by Arzo Travels
Another beautiful, but often overlooked and underrated place, is Alicante. Located at Costa Blanca it is near cities like Valencia and right off the beach.
But there is more to Alicante than the beach – first of all, with its mild climate, it is a great place to visit at any time of year and especially during shoulder season it is not a busy place and great for some more relaxed time.
Start your morning at Santa Barbara Castle and do a quick hike up to enjoy fantastic views from there and learn about Alicante´s history.
Then stroll the old town before visiting one of the most beautiful promenades of the country – the Esplanade of Spain.
The Esplanade is made up of 6,600,000 tricolor marble tiles and is really unique. Many restaurants and cafes line the promenade – so, whenever you get tired just sit down and soak in the beauty of the city.
If you want to experience a fun evening, spend it in the town center and end your day there!
2. Barcelona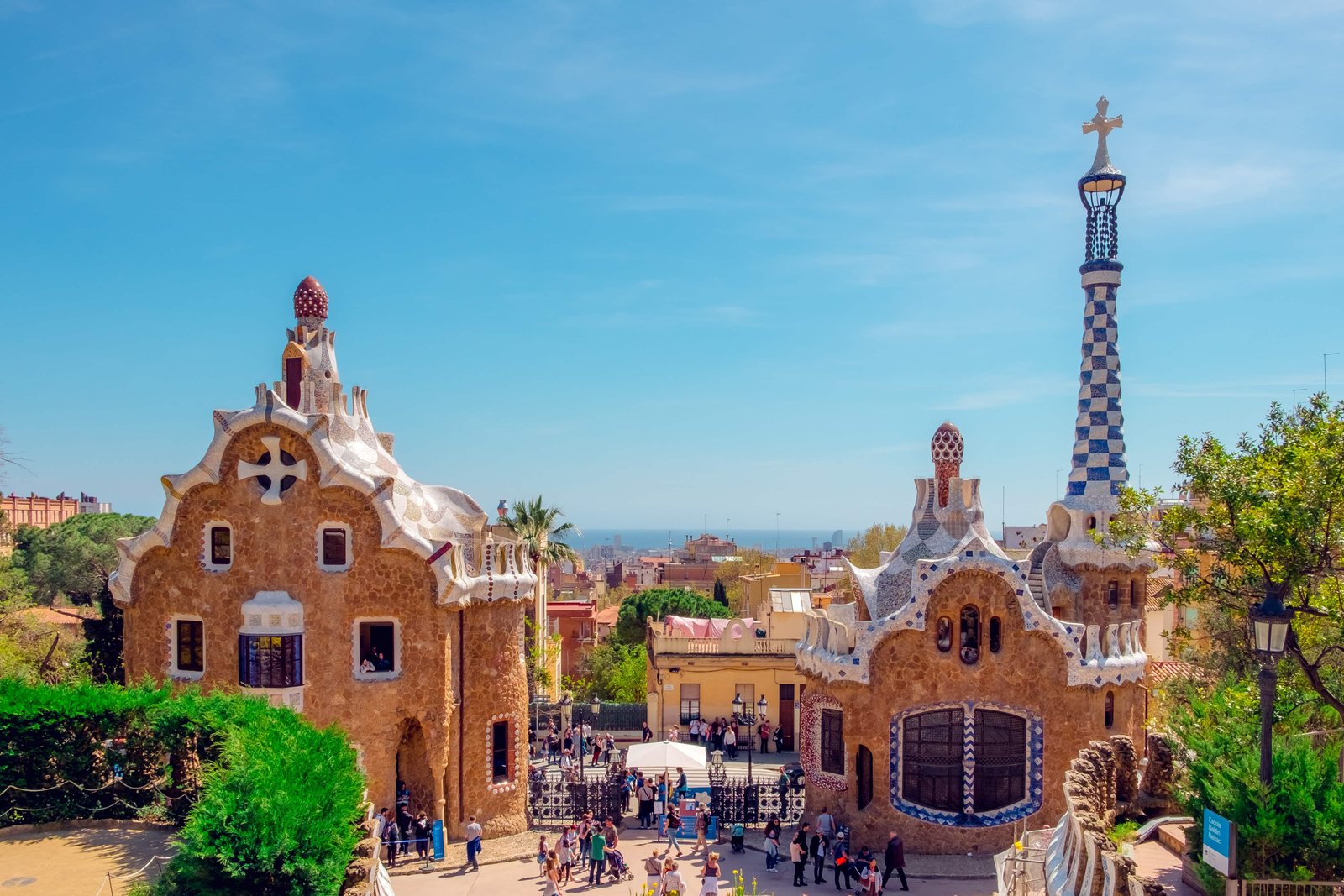 With many things to do in Barcelona, it's no surprise this one of the most popular cities and best places to visit in Spain!
Barcelona is known for its stunning parks, nightlife, Sagrada Família, and other Gaudí wonders. This amazing city is worth a visit!
3. Caminito del Rey
Recommended by Brianna of Curious Travel Bug
Caminito del Rey is one of the most unique hikes you can do in Europe. This hike used to claim the title as one of the world's most dangerous hikes. The path was originally created for workers to access the dam. It had no railings and fell into disrepair, attracting adrenaline junkies who dared to walk this high pathway.
In 2015, the Caminito del Rey was renovated and reopened for the public as a tourist destination. It's very safe to walk now, at worst you will suffer from vertigo. Before getting to the starting part of the boardwalks, there is a beautiful wooded hike that takes you next to the river. On the Caminito del Rey you will go through two canyons that have wooden walkways clinging to the side of the rock face. In addition to these spectacular walkways, the walk also gives great views of the landscape of the area. In some places, you can see fossils in the cliffside. They've also left up the remains of the old walkway so you can see how truly death-defying that walk would have been.
Located in southern Spain, a visit to the Caminito del Rey is easy to do as a day trip from Malaga, Ronda, or Antequera. You are required to purchase a ticket to enter and spaces fill up quickly so it is best to plan this in advance.
4. Cordoba
Recommended by Maya & Sari of Chasing Lenscapes
One of our favorite cities and places to visit in Spain must be Cordoba!
If you take the fast train, it will take you only 2 hours to get to Cordoba from Madrid, and once you're there, you can start exploring the beautiful old town and UNESCO sites of Cordoba.
The most famous tourist attraction must be the Mezquita, the old mosque with its impressive red and white columns and the decorated doors will keep you occupied for at least a couple of hours. If you're looking for some instagrammable alleys, you'd better head next to the beautiful cobbled streets of the Old Jewish Quarter.
Other than the white-washed houses and leafy windows you can find there many tourist attractions to visit such as the old Jewish synagogue, the Chapel of San Bartolomé, and more.
If you are a Game of Thrones fan? You'd better check out the Roman Bridge, one of GOT filming locations, and the adjacent Calahorra Tower where you'll catch stunning views of
Cordoba. Our favorite pastime was looking for photogenic patios. These colorful and groomed courtyards represent a tradition that started during the Roman era and to this day, the locals are very proud of their beautiful patios.
If you're a foodie, don't forget to try some of the local delicacies and traditional Andalusian cuisine at the local restaurants and tapas bars. For more recommendations, attractions, and tips, you can check our Cordoba Guide.
5. Estepona
Recommended by Alexander of Gourmand Trotter
Estepona is one of the hidden gems of Costa del Sol, and it's Lovely Town that is filled with charming Alleys and old streets that are lined up with colorful pots. Each street has its own color on the flower pots that are hanging on the walls.
So, when strolling around the old town in Estepona, you can see streets with yellow flowerpots, blue flowerpots, green flowerpots, dotted flowerpots, and so on. It's very cute and there are lots of historic buildings which make it a very picturesque town.
Furthermore, the old town is filled with cozy tapas bars and cafes where you can people watch and just enjoy the relaxed atmosphere and Spanish lifestyle.
Estepona also has a nice beach that stretches for several kilometers, making it an ideal place in Spain to go for a relaxing vacation without the crowds.
It's also easy to get here, and Malaga Airport is connected with several destinations around Europe, and from there it's just a bus ride away to Estepona.
6. Formentera, Balearic Islands
Recommended by Martina of The Global Curious
Quite often, people spending a few days party-rocking in Ibiza make their way down to Formentera on a day trip. And that's all good but here's the problem…why spending just one day in what may be Paradise on Earth?
This little Balearic Island south of Ibiza spans a short 20 km from East to West and a slew of beaches, sunset spots, cliffs, great eats, and all anyone would need to unwind for good.
Away from the resort-spree that has taken many other islands, in Formentera life is easy and peaceful. To praise its white sand beaches and crystal clear waters may sound cliché but trust me, this is the real deal.
I'd recommend spending 3 nights for the chill of a lifetime -if possible during shoulder season for great weather and smaller crowds!
Rent a scooter, pick a sunset spot for each day -Faro de Cap de Barbaria and Sa Sequi are my personal favorites. Explore the many bays and beaches -Ses Illetes is the most famous, but I love Es Pujols. You can also snorkel and scuba dive if you are in for an adventurous time.
Plus, if practicing nudism has been on your travel-experiences bucket list, Formentera is the ideal place to go all in as it's accepted and welcomed in pretty much all the beaches!
Getting to Formentera is quite easy, but first, you need to make it to Ibiza! Then simply, catch the boat and get there in 30 minutes.
7. Girona
Recommended by Kristen of Our Passion For Travel
Deep in Catalonia, you'll find the pretty little town of Girona. An hour north of Barcelona by high-speed train, Girona is a popular day trip for those with an extended stay in Catalonia's capital.
In recent years, the popularity of Girona has grown significantly. The renowned culinary scene can be put down to the Roca Brothers and their inventive approach to cuisine. Often voted in the top 10 restaurants in the world, El Celler de Can Roca is a much sought after reservation for foodies. For those who can't nail this, you can still sample some of the Roca Brothers' work at Rocambolesc. This ice creamery is full of creativity. Try toppings of marshmallows roasted in front of you, mint flakes, or honeycomb. Game of Thrones fans can even try a Jaime Lannister Gold Hand
Why? Girona rose to recent popularity as a Game of Thrones destination. Girona played home to a number of GOT locations. In the show located many thousands of kilometers apart, here King's Landing, Braavos, and the Citadel are all within a 5-minute walk! Game of Thrones tourism has taken off, and exploring the city's filming locations is one of the most popular things to do.
Aside from Game of Thrones and eating until your heart's content, Girona is also home to some stunning architecture. You'll even find one of Gustavo Eiffel's works here – the unmistakable red bridge across the Onyar river.
Whether you spend a day or a week, Girona has plenty to offer the adventurous traveler!
8. Granada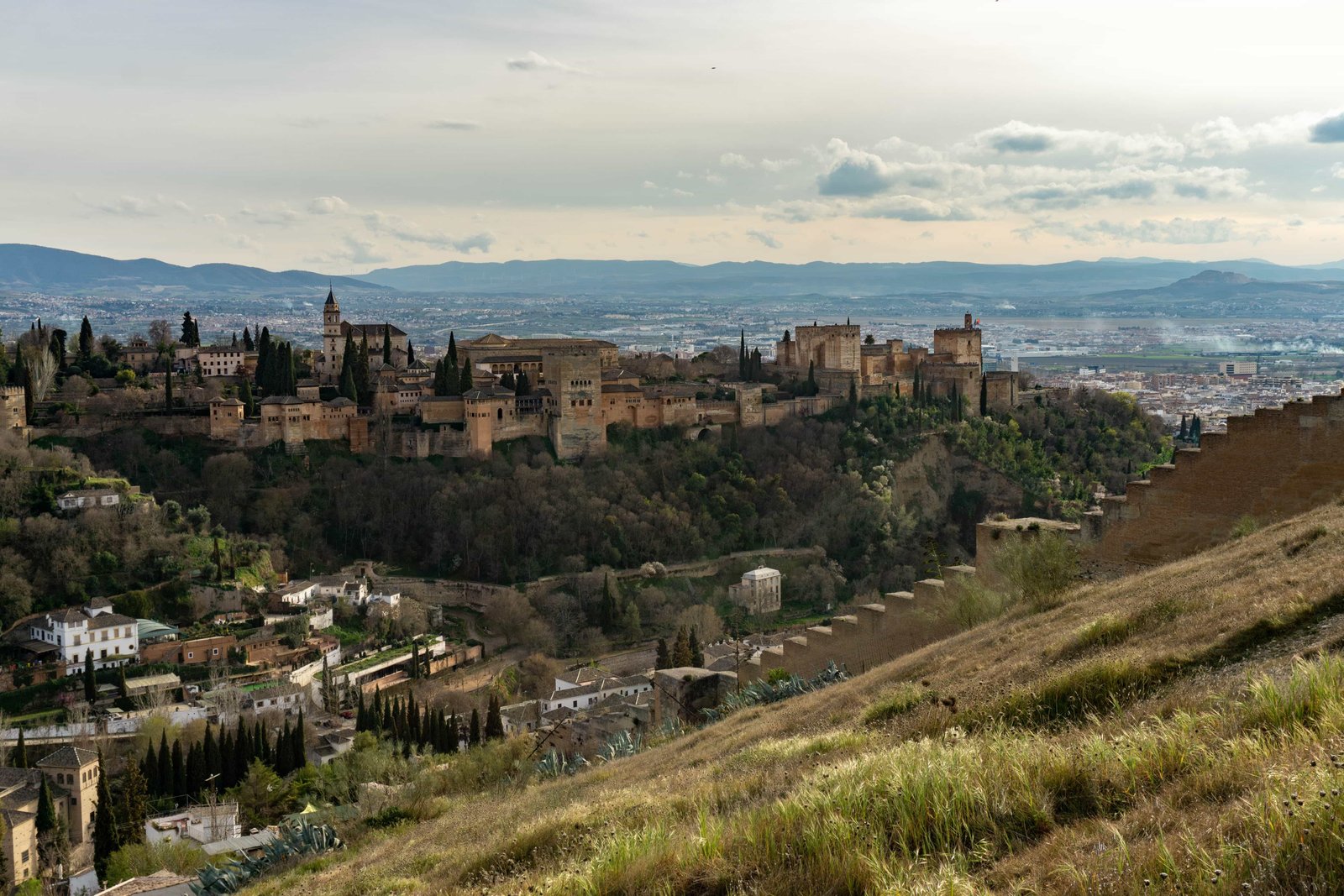 Recommended by Maggie of The World Was Here First
Granada is undoubtedly one of the best and most interesting places to visit in Spain!
Located in the southern Andalucía region, Granada is unique among other cities in Southern Spain. Known for its Moorish history (it was the last city to fall to Ferdinand and Isabella during the Reconquista in 1492), killer tapas culture, and the incredible Alhambra palace complex.
There are many fun and interesting things to do in Granada, however, many tourists tend to only set their sites on visiting the Alhambra. While this is obviously an incredible place to visit, there is so much more to this Andalucían city than just that.
Make sure to take the time to stroll through the winding streets of the UNESCO-listed Albaicín neighborhood or do a walking tour to learn about the cave-dwellings in the Sacromonte neighborhood. Of course, no visit to Granada is complete without going on a tapas crawl – the city is one of the last in Spain that will give you a free tapa with the order of a drink!
While many choose to visit Granada as a day trip from cities like Málaga or Seville (and it is certainly doable), you will be about the get the most out of the city if you spend a couple of nights. Regardless of how much time you have, however, no trip to Spain is complete without visiting Granada!
9. Ibiza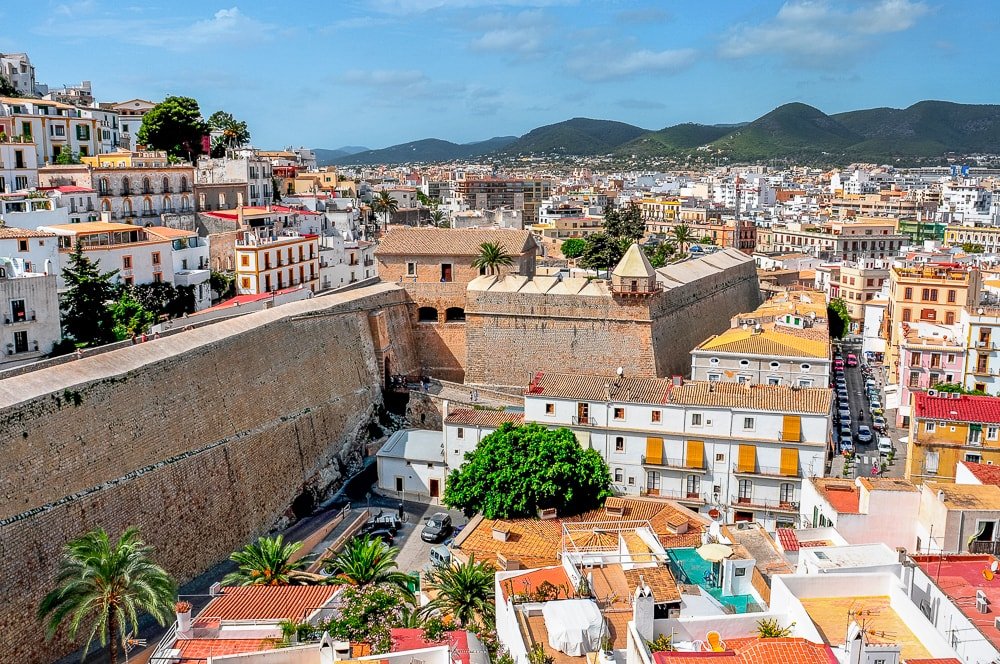 Recommended by Ioana of The World Is My Playground
Ibiza needs no introduction, as the island has become synonymous with epic parties, famous DJs, and beautiful beaches. However, most people don't know that the island is so much more than that.
Recognized as a Heritage Site for its biodiversity and culture, the island's rich history is apparent everywhere you go, starting with the three UNESCO sites: the Upper Town and the archaeological sites at Puig des Molins and Sa Caleta.
One of the most impressive parts of the island is the fortified Upper Town (Dalt Vila), a pedestrian-only hilltop village that boasts charming cobblestone streets, local shops, restaurants, cafes, and bars. At the top of Dalt Vila stands the Ibiza Castle, a beautiful fortress that'll give you breathtaking views over the island.
If you're looking for amazing beaches, Ibiza has plenty of choices. Cala Comte is known as one of the best beaches on the island, but it gets busy, so get there early or come during golden hour to catch the sunset. Other beaches you should visit are Cala Carbo, Talamanca, Cala Xarraca, and San Miguel.
Time permitting, head to Cap Blanc Aquarium. Set in a natural cave that was used by fishermen back in the day, this is no ordinary aquarium.
10. Logroño, La Rioja
Recommended by JB of Will Fly For Food
Many people who visit Spain have heard of San Sebastian. It's considered one of the greatest food cities in the world, known for its constellation of Michelin-starred restaurants and bars offering tasty morsels called pintxos. Similar to tapas, they're snacks typically skewered with a toothpick to a piece of bread.
Being such a gastronomic destination, many travelers assume that the best pintxos are in San Sebastian but ask around and you may be surprised to learn otherwise. According to some locals, the best pintxos aren't in San Sebastian, but two hours south in a city called Logroño.
Logroño is the capital of La Rioja Province. The city is known for a cluster of about fifty taperias, many of which are known for serving just one type of pintxo. There are many different types but one of the most recommended is the mushroom and shrimp pintxo.
Large cremini mushrooms – about the size of a skateboard wheel – are grilled with garlic and butter before being stuffed with shrimp. They're held in place by a toothpick and stacked two or three caps high on a piece of bread that soaks up all the butter and garlic. They're absolutely delicious and one of the best pintxos you can have in Logroño. According to one local, the city has really mastered it.
If you're staying long enough in San Sebastian, then you may want to rent a car and do a pintxos crawl in Logroño. It's a beautiful drive that could very well lead you to the best pintxos you've ever tasted.
11. Madrid
Madrid is the capital city of Spain and the third-largest city in the European Union behind only London and Berlin.
The city is home to the Royal Spanish family, the headquarters for the Spanish government, public administration, and parliament.
Madrid boasts the breathtaking mountains of the Sierra de Guadarrama, revealing many remote villages to be explored by tourists.
Outside the capital, tourist attractions include El Escorial, the King's former home, the Alcala de Henares river, the UNESCO World Heritage Site, and Aranjuez, the King's spring residence!
12. Malaga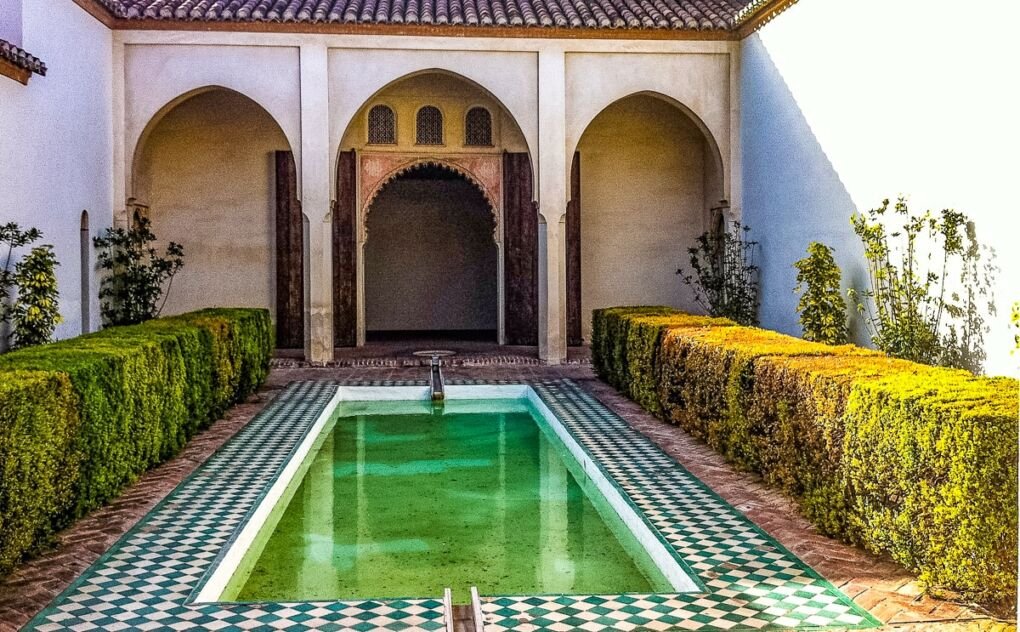 Recommended by Dhara from It's Not About the Miles
Malaga is an amazing, often underrated destination on the Costa del Sol. Located in the province of Andalusia in southern Spain, Malaga offers great sightseeing attractions, a beautiful waterfront, wonderful dining options, plus a perfect base from which to explore the rest of southeastern Spain. In fact, it is a top destination for expats living in Spain.
There are so many fun things to do in Malaga that you will be spoiled for choice. Tour the Alcazaba, the old Moorish fortress. Climb to the top of the Gibralfaro, the hilltop castle, for panoramic views over the city and water. Wander the historic center, and visit the Picasso Museum in the city of his birth. Shop at Calle Larios, a beautiful pedestrian shopping street. Walk the waterfront promenade. Go on a tapas crawl.
Malaga makes a great base if you want to attempt the thrilling Caminito del Rey hike. Or tour some of the pretty white villages nearby: Nerja and Frigiliana on the coast, or Ronda on the El Tajo gorge, make for great day trips.
Malaga is well connected to airports in other European cities and elsewhere in the world, so it's the perfect city of arrival if you plan to tour southern Spain.
13. Mallorca
Recommended by Brainy Backpackers
The beautiful island of Mallorca is among the best places to visit in Spain with rolling, green mountains, steep cliffs meeting hidden beaches washed up by the deep blue Mediterranean Sea.
The popular holiday island is so much more than only beaches. Mallorca is home to more than 200 underground caves, though only a handful is open to the public. Among them, Cuevas del Drach and Cuevas de Arta are definitely worth a visit.
You should go for a road trip in Mallorca to explore and get easy access to the many incredible small towns and the mesmerizing nature scene the island has to offer.
Tramuntana mountain range was declared a UNESCO World Heritage Site in 2011 in the category Cultural Landscape. Spotted through the mountain you find the most charming little villages with cobbled streets, old houses with incredible mountain and sea views.
To mention a few must-visit villages you should find your way to Soller, Pollensa, Deia, Fornalutx, and Valdemossa. A popular site is the monastery of Lluc, which is said to be the most sacred site in Mallorca visited by large numbers of pilgrims each year.
The best sunrise spot is without a doubt Cap de Formentor.
14. Ronda
Recommended by Anna from My Travel Scrapbook
One of the best places to visit in Spain is the gorgeous town of Ronda!
Ronda is a town in the Andalucian hills with heaps of character. Many tourists flock to Ronda to see the Puente Nuevo. This spectacular bridge stands proudly in the deep Tajo Gorge. Many tourists prefer to stay in the town and see the New Bridge of Ronda from above, yet adventurous travelers may wish to appreciate this Spanish monument from below.
Head down the dusty path into the Tajo gorge. There are many wonderful views of the New bridge in Ronda, perfect for getting that Instagram shot! Alternatively, if you fancy an adrenaline rush, see if you can find the secret Via Ferrata of Ronda. From there you will have incredible views of the Ronda bridge. Once you reach the bottom of the gorge you will be rewarded with turquoise pools, little waterfalls, and no crowds!
It is easy to arrive in Ronda from Seville, Marbella or Malaga by bus. If you are driving the route very picturesque albeit windy through the mountains. Whilst you can see everything in Ronda in a day, consider staying the night in Ronda. Most of the tourists will have left for the day and you can wander around with the locals.
Ronda is an epic place to visit in Spain and should be on your Andalucian road trip!
15. San Sebastian
Recommended by Chalkie and The Chippy
San Sebastian is a small town in the Basque Country in Spain. Not only is this one of the best places to visit in Spain but the culture and language of the Basque area of Spain and southern France are very strong.
San Sebastian is mostly known for its beaches and surf and is a popular summer escape from the colder areas of Europe. There are plenty of things to do and experience while in San Sebastian, and it is worth visiting for at least 2 days.
The Old Town is full of people, shops, and bars and is perfectly located near the beach. Around every corner is a Tapas Bar serving the local dish of Pintxos (small sandwiches), and other local delicacies, including mostly seafood.
It isn't a trip to San Sebastian without experiencing the beach and surf life. La Concha Beach is perfect for relaxing and swimming and Zurriola Beach is popular for surfing.
Another popular activity is climbing Mount Urgull above the Old Town. There are amazing views up here of the Bay and a 12m statue of Jesus to admire up close.
Santa Clara Island is a small rocky island inside the bay, and you can take a boat for a day trip here. In the evening, there are many bars and clubs that open very late, and, although drinks can be expensive, ordering a Tinto de Veranos (red wine with lemonade), is as cheap as 2 euros!
16. Seville
Recommended by Chris of Explore Now or Never
Sevilla is home to flamenco, Mudejar architecture and Game of Thrones sites, but that's really just the beginning.
There are so many unique things to do in Seville! You can almost feel the joie de vivre as you lose yourself in the cobblestone streets here and sip Sangria from tiny cafes with an ambiance to spare.
You'll want to catch a proper flamenco show, but if you're fortunate, as we were, you may stumble upon a free and impromptu performance in a square late in the evening.
Whatever you do, don't miss the incredible Royal Alcazar Palace, still used as a residence by the King and Queen of Spain today. The Princess Bath (photo below) is unlike anything you've seen before. Reserve a few hours to wander the gardens here, too. Just be sure to reserve tickets ahead to avoid long lines while you wait in the hot Spanish sun!
Just a stone's throw away is the Seville Cathedral, burial place of Christopher Columbus, and the fantastic Giralda Tower. Climb it for a bird's eye view of the city. In fact, this cathedral may be the largest in the world…with more than 80 chapels and a nave that reaches 42 meters high!
The best thing of all to do in Seville, however, isn't related to sightseeing. Take time to simply bask in the ambiance of this special city.
17. Sierra Nevada
Recommended by Rhuls of the Road
Sierra Nevada is the perfect day trip from Granada, Spain. A quick and easy 30-minute drive takes you from a wonderful tourist town to a heavenly hiking haven.
Sierra Nevada is a great place to visit if you are looking to escape the busy city life and experience the quiet and beautiful landscapes Spain has to offer. It is a great place to get outdoors, experience nature, and enjoy some fresh air and gorgeous scenery that you might not know Spain had.
If you make it to Sierra Nevada, there is a beautiful hike in the area called Los Cahorros that we highly recommend. Los Cahorros starts as a quiet hike alongside a river just outside of town. After about 20 minutes, the hike quickly takes you to cliffside waterfalls and a few rope bridges that will take you across canyons high above the ground.
The finish line of the hike is a real treat too. You will end in the wonderful small Spanish town of Monachil. Before you leave, grab dinner and a bottle of wine to enjoy the sunset over the gorgeous Spanish countryside.
18. Tarragona
Recommended by Una of Wandernity
Tarragona is located conveniently close to Barcelona, so it makes a good day trip from there! The city has a nice historical center with several impressive buildings still standing from the Roman times.
If you are going to Tarragona by car, the first thing that you must see is actually outside of the city. The Ferreres Aqueduct is an impressive bridge built by Romans to supply Tarragona with water. Today it still stands 27-meter high and it's possible to explore it from the bottom as well as cross its top side as a bridge.
In Tarragona, one of the most famous places is the Roman Wall Of Tarragona. Around 1 kilometer of the ancient wall is well-preserved until now. As it was built on higher ground for protection, currently it offers beautiful views of the surrounding city and the Mediterranean sea.
Another well-reconstructed marvel of Roman architecture is Tarragona Amphitheatre. It had been damaged, as its stoned had been used to build the nearby basilica. Now it's possible to explore it for a fee, or just enjoy the overall panorama from one of the viewing points at the top sides of the amphitheater.
19. Tenerife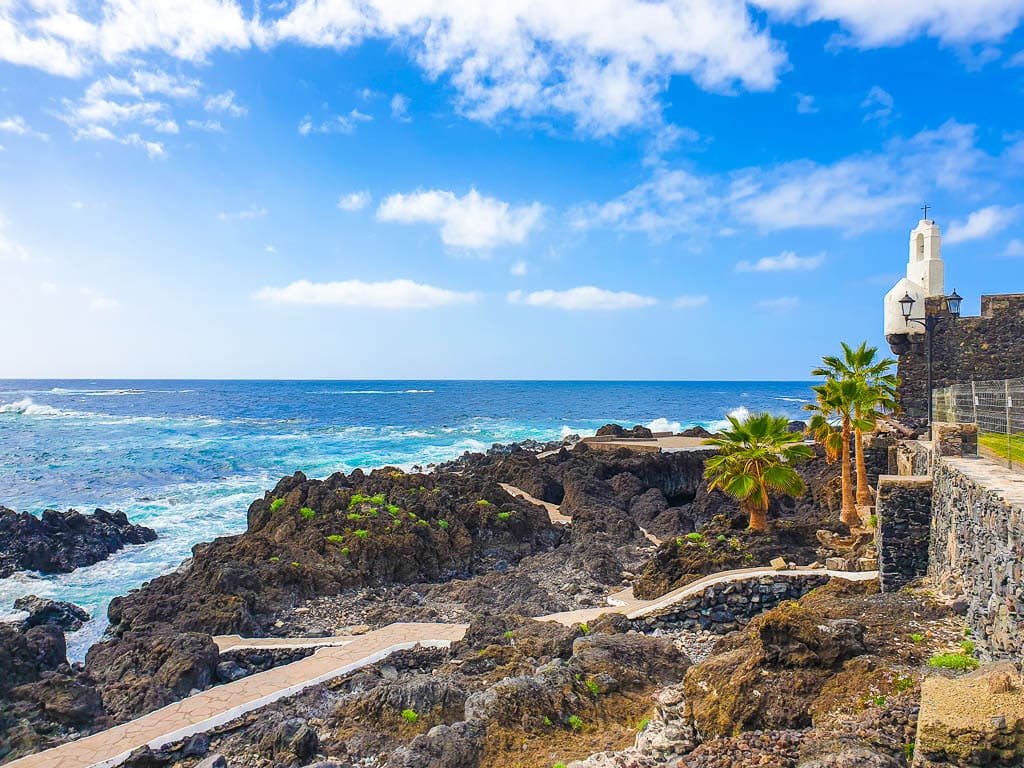 Recommended by Amber from Food And Drink Destinations
Closer to West Africa than to Spain, the island of Tenerife is the largest of the Canary Islands.
It is also one of the best places to visit in Spain for sunbathers, hikers, and food lovers. With loads of sunshine and average year-long temperatures in the 20s Celcius (70s Fahrenheit), Tenerife is the perfect winter escape.
The crystal blue waters circling the island, especially in the Costa Adeje, area offer plenty of water sport activities including snorkeling and dolphin watching. For travelers looking to explore the island itself, strap on your hiking boots and explore the many active and dormant volcanoes.
The most famous of these volcanoes is Mount Teide National Park. An active volcano, visitors take a cable car 3,555 meters to the observation area. From here, visitors can explore a number of hiking paths. Just remember, temperatures are much cooler on the volcano compared to sea level.
For food lovers, Tenerife is a hidden gem within Spain. With influences from Spain, Africa, and the numerous visitors to the island over the years, the food in Tenerife is unique. Lush fruits, incredible seafood, and unique spices can be sampled in Tenerife's cuisine.
Make sure to sample "mojo" the traditional sauce found on Tenerife. Mojo is made with pepper, olive oil, vinegar, garlic, salt, and a little hard bread to thicken it up. The most popular sauces include mojo verde (green mojo) and mojo picon (red mojo with chili). Mojo is served alongside potatoes and grilled meat and fish dishes.
20. Tremp
Recommended by Clare of I Live 4 Travel
Tremp is the largest district in Catalonia is one of the best places to visit in North Spain!
Located at the start of the Spanish Alps it is a beautiful area to visit and is popular with cyclists, hikers, rock climbers, and kayakers. If you like to be outdoors then it's definitely a place you should visit as you will never be bored.
There are many beautiful hikes and waterfalls to visit in this area. Located just outside the town of Tremp, is the lake "Pantano de Sant Antoni" named after the town that now lies under the lake after it was built. Here you can kayak, windsurf and swim in the lake or enjoy the beach.
It's the perfect place to relax on a hot sunny day. It is also good to drive through the little villages and stop and explore the old towns and churches you see on the way, there are many of these that line the river.
Castell de Mur located just south of Tremp is another popular place to visit where you can see the ruins of the castle that was built in the 12th century located on top of the hill above the town.
21. Toledo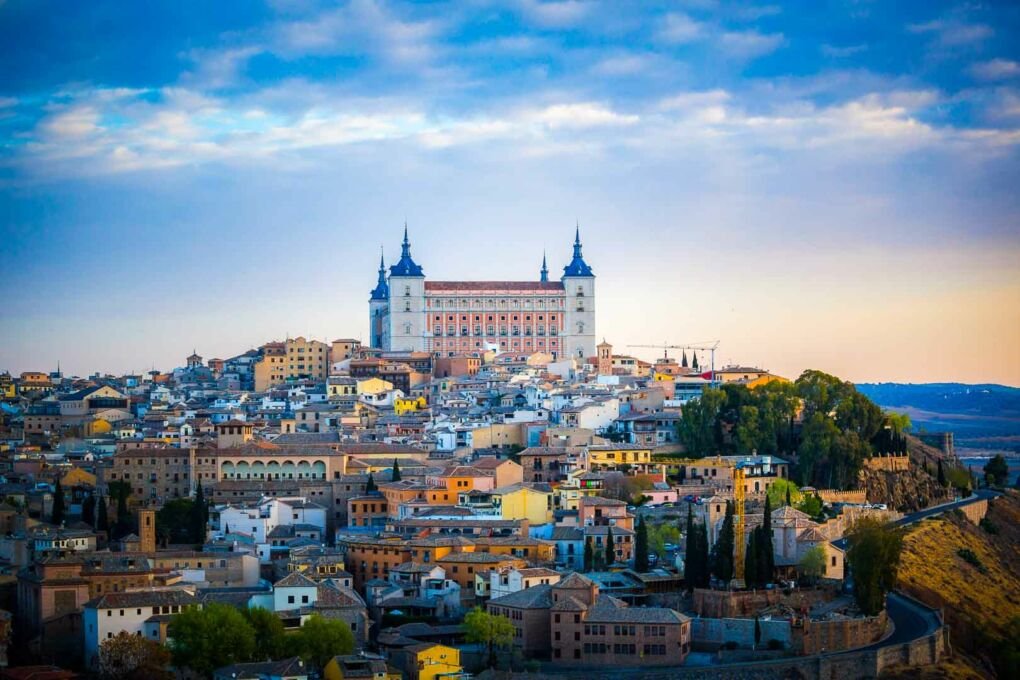 Recommended by Nesrine of kevmrc.com
If you like visiting monuments and time travel, you should definitely visit Toledo. Located 1 hour southwest of Madrid, Toledo is the perfect day trip to escape the capital.
Toledo is a very unique city because of the mix of cultures: you can find Jews, Christian, and Muslim influences all over the city. That is why the city is also called the City of the Three Cultures. Now listed in the UNESCO World Heritage, the city is quite worth the trip.
Here are my top 3 places in Toledo you shouldn't miss:
Puente San Martín: this bridge is a wonderful way to start your Toledo trip!

Catedral de Toledo: it is a huge gothic cathedral where you can also find more than 20 chapels and a museum inside.
Monasterio de San Juan de Los Reyes: initially meant to be the resting place of the Catholic Monarchs, the monastery is very unique because of its cloister.
22. Valencia
Recommended by Laura of Travelers Universe
Few cities in the world are as fascinating as Valencia. The past combines with the present in such a beautiful way here, from the historical center, dating to 138 BC, to the most modern and avant-garde buildings of the City of Arts and Sciences.
Due to its location, Valencia has always been the most important Mediterranean port in Spain and has that special magical feeling of a city next to the sea.
Besides the beautiful fine sand, the beaches of La Malvarrosa and Levante offer great options to dine and enjoy a wonderful day at the beach. This is also the birthplace of paella, Spain's national dish, and it's no wonder that restaurants here serve the best paella in Valencia.
If the beach is not your thing, fear not. Paella can also be enjoyed in the old town and even south in the L'Albufera Nature Reserve, where this rice dish can be had among lush green rice fields.
Travel Insurance for Spain
Use travel insurance while visiting Spain so you are covered for theft and medical expenses. There are a lot of adventurous activities to do in Spain, and it's best to have peace of mind while driving, hiking and trying some of the best food in the world.
Find out why I recommend World Nomads, check out my World Nomads Insurance review.
Disclaimer: This article contains affiliate links. This means that if you make a booking after clicking on a link, I may receive a small commission at no extra cost to you!