South Africa is home to 58 million registered people from 9 tribes and they speak 11 languages. You are bound to meet people with unique and popular South African names!
Statistics South Africa recently announced that Gauteng continues to record the largest share of South Africa's population, with approximately 15, 2 million people (25, 8%) living in this province.
The second-largest population with approximately 11, 3 million people, has been recorded in Kwa-Zulu Natal. Northern Cape maintained its status as the province with the lowest population in the country with a population estimated at 1, 26 million people.
According to Stats SA, approximately 51, 2% (approximately 30 million) of the population is female. According to the report about 28, 8% of the population is aged younger than 15 years and approximately 9, 0% (5, 3 million) is 60 years or older.
Of those younger than 15 years of age, the majority reside in Gauteng (21, 5%) and Kwa-Zulu Natal (21, 1%). Of the elderly (those aged 60 years and older), the highest percentage 23, 9% (1, 27 million) reside in Gauteng. The proportion of elderly persons aged 60 and older is increasing over time.
The report further shows that for the period 2016–2021, Gauteng and Western Cape are estimated to experience the largest inflow of migrants of approximately, 1 643 590 and 493 621 respectively.
Life expectancy at birth for 2019 is estimated at 61, 5 years for males and 67, 7 years for females. The infant mortality rate for 2019 is estimated at 22,1deaths per 1 000 live births.
Here are some of the most beautiful and popular South African names and meanings:
Common South African names
One thing I have noticed about South Africans is that most people have different names with the same meaning in our different 11 languages.
Lerato
Lerato is probably one of the most popular South African names for girls and guys. Everyone knows someone named Lerato!
The name Lerato is popular with Sesotho, Setswana, and Sepedi speaking people. It means "Love" and is pronounced "Lee-raah-tow".
Other names popular deviations of the name Lerato include Luthando, Noluthando or Thando in Xhosa and Zulu. "Thandeka" is Zulu for lovable. Avethandwa is truly loved in Xhosa.
These names are unisex and all mean Lerato.
Mbali
South Africa's version of Lily and Daisy!
The name Mbali is a popular Zulu female name. It means a beautiful flower and it's usually short for "Mbalenhle" or "Nombali".
Other deviations of the name are Palesa (Setswana).
Katlego
Katlego is a popular unisex Setswana name that means successful!
Most people with the name Katlego have the nickname "Kay", "Kat" or "Katli".
Other deviations of the names include Atlegang in Sesotho or Nompumelelo in Xhosa.
Common South African surnames
The most common South African surnames come from Nguni clans, which consist of the Zulu, Xhosa, and Ndebele clans.
Here are some common South African last names:
Dlamini: A popular surname in Southern Africa. Dlamini is also the surname of the reigning royal family of eSwatini.
Van der Merwe: It was brought to South Africa in 1661 by Dutch. It's a common Afrikaans surname meaning "from the Merwede".
Nkosi: Means master, chief or king.
Naidoo: A popular Indian surname in South Africa. 3,481st most common surname in the world and it is an alternative spelling of Naidu.
Ndlovu: Means elephant.
Khumalo:
Pretorius: Pretorius is a surname of Germanic origins. It comes from the word Latin "praetor" and it's very common in South Africa. One of our 3 capital cities is also called "Pretoria".
van Niekerk: means " from the new church".
Swanepoel: The name of a village in the Dutch province of Gelderland. In English, it directly translates to "Swan's Pool".
Popular South African Names in our 11 languages
Modern Xhosa baby names
Xhosa is the second-largest cultural group among the Zulu-speaking population in South Africa.
Xhosa girls are known for their beauty, and Xhosa guys are known as the tribe to avoid when it comes to dating.
Loyiso: A Xhosa name for boys meaning victory.
Anathi: Unisex name that means "they are with us".
Sibabalwe: The one who is blessed.
Linathi: The name is derived from "Linathi igama le Nkosi", meaning the name of the Lord is with us.
Nandipha: Nandipha or simply Nandi means "Gift Of God". The most popular Nandi is the mother of King Shaka Zulu.
Liyabona: A popular girl name derived from "Liyabona igama le Nkosi", meaning the name of the eye of God.
Thembeka: This name means the one who is trustworthy.
Gugulethu: A unisex name that means the one you are proud of.
Anele: Means 'sufficient' or the last child.
Unique Zulu baby names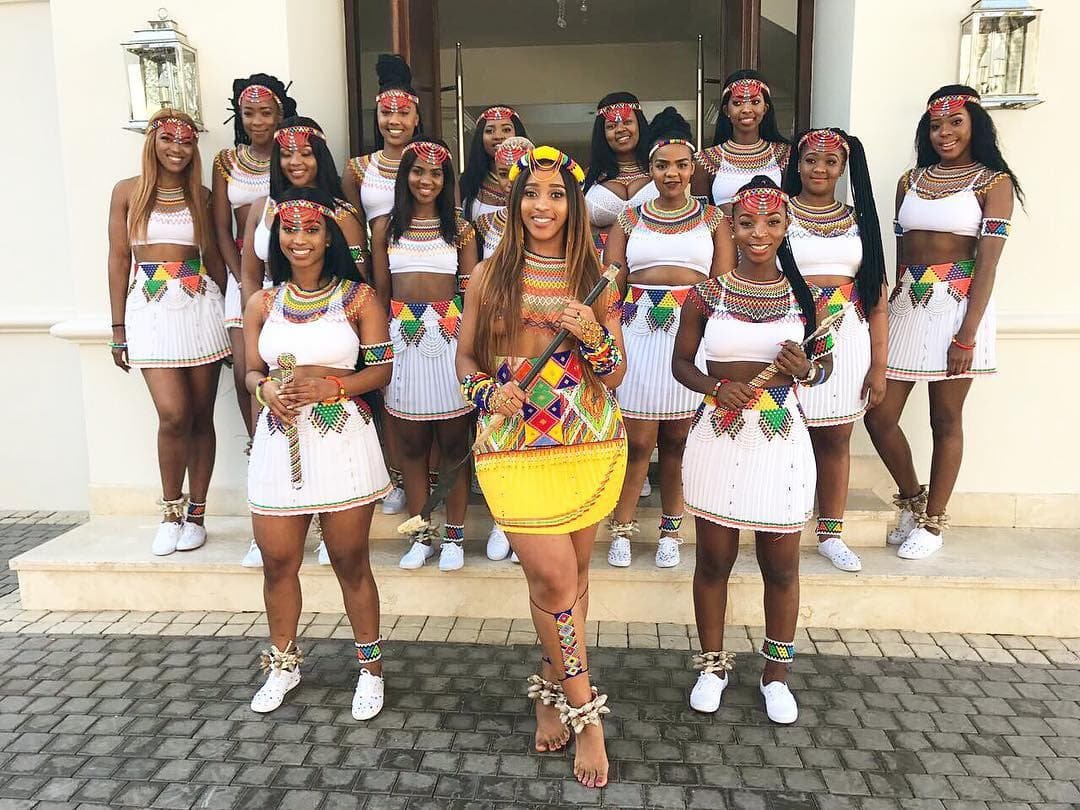 Kwa-Zulu Natal Province is home to the Zulu tribe.
Zulu is the most spoken native language in South Africa, and Zulu people have strong ancestral beliefs.
They are known for their beautiful girls, breathtaking traditional attire, and monogamous relationships.
Amahle: A popular female name that means "the beautiful ones, the prettiest, the finest".
Busisiwe: A girl name that means "blessed".
Minenhle: Unisex name that means "Beautiful Day".
Siyabonga: A popular male Zulu name that means "We are grateful".
Unathi: She/he is with us.
Lindiwe: A popular female Zulu name that means "waited for". Lindelani is a popular male version of the name that means "Wait".
Zama: a popular female name. (prefix) meaning she is from [insert clan or surname]. example Zamantungwa or Zamazizi.
Themba: A boy name that means "trust, hope, or faith". The female version is Thembeka.
Ntombi: A female name that means "girl".
Sbusiso: A popular male name that means "blessings". Sibusisiwe is the female version that means "We're blessed".
Simphiwe: Unisex name meaning "We have her/him as a gift".
Zola: a unisex name that means "quiet or tranquil".
Setswana godly baby names
Setswana is a popular South African language spoken by people from the North West province.
Tswana people are known for their calm nature, beauty and having some of the most popular South African names.
Mpho: Mpho is a unisex name of Sestwana origin meaning "gift".
Bakang: A female name that means "Give Praise".
Boitumelo: Boitumelo is a popular girl name that means Joyful.
Bokamoso: One of 2018's top 10 popular unisex names in South Africa. Bokamoso means "the future" and people with this name are often nicknamed "BK" or "Kamo".
Onkarabile: A popular boy name that means "God answered".
Tebello: means 'expectations'.
Afrikaans baba names
Marieke: an Afrikaans female name. It's a diminutive of Maria.
Johan: A popular male name of Hebrew origin. It means 'God is gracious'. Other deviations include Janco, John, Johannes, Juhan, Hans and Jovan.
Jaivyn: a unisex name that means 'light spirit'.
Christiaan: The Afrikaans variant of Christian.
Imka: a popular female name. It's the Afrikaans form of Ime and it means 'water'.
Dawie: Afrikaans version of the Hebrew name David and means 'beloved'.
Andre': This international form of Andrew has been familiar in Africa for decades. It means 'man'.
Popular South African names: Sepedi and Sesotho
Most Sepedi and Sesotho names are similar and have the same meaning.
Sepedi is a popular language in the Northernmost province of South Africa – Limpopo. Sesotho is popular in the Free State province, close to the country that is home to many Basotho – the Kingdom of Lesotho.
Lethabo: A popular unisex name that means Happiness. Another male version of the name is Thabo.
Thapelo: This popular Sepedi and Sesotho male name that means prayer.
Masechaba: Oldskool name that means mother of the name.
Kganya: Unisex name that means light.
Bokang: A unisex name that means 'rejoice or praise'.
Nthabiseng: A popular female name that 'make me happy'
Basetsana: Basetsana is a Sotho name that means "girls" and the plural is "Mosetsana" – girl. The name became popular after Basetsana Makgalemele now Kumalo, became Miss South Africa" after Apartheid ended in 1994. Jacqui Mofokeng was the first Black Miss South Africa in 1993.
Amogelang: A popular unisex name that means "acceptance" or " to recieve"
Rethabile: 'we are happy'.
Letsatsi: It means "sun or day" like Lesedi which means "Light"
Beautiful Xitsonga names
Nyiko: A popular male name meaning 'gift'.
Tintswalo: A female name that means 'mercy'
Khensani: A female name that means 'grateful'.
Akani: meaning 'to build'.
Mulweri: A popular male name meaning 'defender'.
Nkateko: A female name that means "Blessing".
Vukosi: A popular boy name meaning 'royalty'.
Nyeleti: A female name that means 'star'.
Beautiful Ndebele names
The Ndebele people also are known as "Matabele" are the Bantu-speaking people of South Africa and southwestern Zimbabwe.
Most people have asked me "Is Ndebele and Zulu the same?" No, but the languages both fall in the Nguni group of Bantu languages.
khuluma means talk
In South Africa, there are two Ndebele groups: Northern Ndebele is essentially a dialect of Zulu, and the older Southern Ndebele language falls within a different subgroup. South Ndebele people also known as "Matabele ba ga Mahlangu" – ba ya khuluma isiNdebele and North Ndebele people are known as "Matabele ba ga Mokopane" and we don't "khuluma" but we "sumela" isiNdebele.
Although we are both considered as Matabele, the traditions, language, and attire are different!
More South Africa Guides
Travel Insurance for South Africa
Use travel insurance while visiting South Africa so you are covered for theft and medical expenses. There are a lot of adventurous activities to do in SA, and it's best to have peace of mind while diving, hiking and trying some of the best food in the world.
Find out why I recommend World Nomads, check out my World Nomads Insurance review.