Do you foresee a trip to Cape Town anytime soon? Once you have planned the perfect time to go, all you need to do is work out where to stay. With many natural wonders such as the Table Mountains, Cape of Good Hope, Boulder Beach, etc, Cape Town is an amazing city with wonderful people and culture. There are also lots of hostels in Cape Town to suit the needs of the budget traveller. Here's our picks of the 7 best backpacker hostels in Cape Town to make for an unforgettable trip.
First off, let's talk about WHY you should stay in a hostel in Cape Town! While many backpackers hostels and youth hostels around the world can be a bit stinky, places you would NEVER associate with luxury, Cape Town takes hostels to the next level. Ina good way.
Hostels in Cape Town are more like boutique hotels, complete with funky bars, chill out areas, swimming pools, BBQ areas and they even organize amazing excursions for guests. The following Cape Town hostels are my favourites for various reasons, but it all comes back to the vibe, the staff and how they will all make you want to stay in the Mother City for ever!
Rather have your own pad for your stay in Cape Town? We've also found the best Cape Town Airbnbs for every budget.
7 Best Hostels in Cape Town
7. The B.I.G Backpackers in Green Point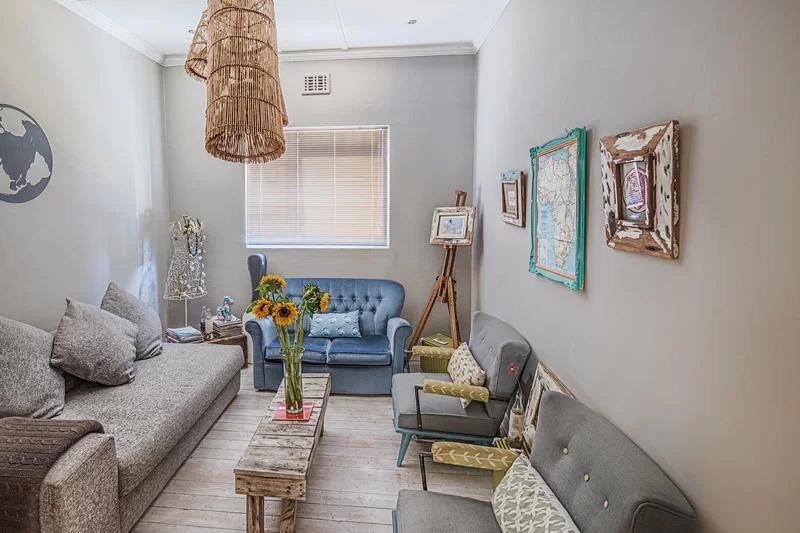 A popular and highly rated hostel in Cape Town is The B.I.G: Backpackers in Green Point which is centrally located at about 5 minutes walk from the famous Victoria & Albert (V&A) Waterfront and Sea Point Promenade. With modern architecture (renovated) the hostel offers private as well as shared dormitories type of accommodation.
The B.I.G also offers a plethora of added benefits such as free Wi-Fi, breakfast, swimming pool, travel desk, airport transfers, game room, Braai (barbeque) facilities, parking for guests, etc. With so many added benefits, it is no surprise that it's such a big hit with travellers.
6. 91 Loop Boutique Hostel
A quintessential modern hostel 91 Loop Boutique Hostel sits quite comfortably in the central area of Cape Town. With V&A Waterfront area located about 2 kilometres from the hostel, it is quite often a popular choice among travellers. The hostel has a very upbeat and trendy vibe with its minimalist outlook while being naturally bright and vibrant.
Gender-segregated dorms and mixed dorms available with en suite bathrooms, lockers and free Wi-Fi. Private rooms along with capsule rooms (sleeping compartments) can also be opted for at 91 Loop Boutique Hostel. While breakfast served here is absolutely free, the cafe, restaurant and bar remains open to accommodate requests from guests.
READ MORE: Best Backpackers Hostels in South Africa.
5. The Backpack Hostel Cape Town
With views of the majestic Table Mountain and located about 10 minutes walk from the famous Iziko South African Museum, The Backpack Hostel Cape Town is a great choice. A modern hostel in all sense is spread over 4 adjoining houses which makes it quite big and spacious. Accommodation options here include mixed dorms that can accommodate 3 to 8 people (bunk beds), female only dorms that can sleep 4, private rooms as well as a studio apartment. A few dorms and rooms have private bathrooms while the others have to share facilities. Private rooms and the studio apartment are also equipped with kitchenette. Activities in the hostel revolve around the outdoor pool and the casual cafe where the residents gather every evening for an interactive session. The hostel does provide guarded parking along with laundry facility and a travel desk.
4. Once in Cape Town
Located close to the iconic Table Mountains and Two Oceans Aquarium, Once in Cape Town Hostel sits comfortably on a safe and clean Kloof street. There are various living options available here to choose from – mixed dorms and female only dorms feature bunk beds with personal lockers, shared facilities and Wi-Fi; private rooms are equipped with en suite bathroom as well as a television.
One unique feature of Once in Cape Town is that they have family rooms (private) as well that can sleep up to 6 people. With free breakfast that is served in the restaurant and Wi-Fi, the hostel also offers communal kitchen to be used, game room, a concierge service and safe parking.
3. A Sunflower Stop Backpackers
Neatly located on the M61 road, A Sunflower Stop Backpackers is a modern hostel that is about 1.5 km from Green Point Lighthouse and a 12-minute walk from Cape Town Stadium. A hostel that does not offer much choice in terms of accommodation with only mixed and female only dorms available which can accommodate up to 8 guests at a time apart from private rooms which are numbered.
Dorms and rooms have ceiling fans (no air-conditioning), Wi-Fi and lockers with amazing decor all around. Most of the facilities in the hostel are shared among residents such as the communal kitchen, guest lounge with TV and DVD player, outdoor pool, bar and barbecues along with secured parking.
2. Green Elephant Backpackers
With amazing views and impeccable hospitality, Green Elephant Backpackers is located in the serene neighbourhood of Observatory district. The hostel is spread over 3 adjoining buildings which means that there is ample space available. The main house has mixed dorms that can accommodate up to 6 guests while the female only dorm has max occupancy of 4 people with shared facilities and Wi-Fi.
The private rooms are housed in the adjoining buildings with en suite bathrooms. The bright and vibrant communal kitchen and lounge area is the place to chill along with the bar that includes a pool table. The garden area around the outdoor pool is ideal for an evening sit downs and BBQs.
1. Ashanti Lodge Gardens, Cape Town
Ashanti Lodge and Gardens in Cape Town totally blew me away. More of a flashpackers than a regular hostel, this is the kind of place where you will find it very difficult to find any flaws. The entire hostel is spotless and all the bathrooms are kept super clean and tidy, somewhat of an anomaly in cheap hostels! There were plenty of plug sockets in the rooms and everyone has their own light above their bed.
The rooms were spacious and my dorm even had a sink so we could brush our teeth without having to walk down the corridor to the bathrooms. Facilities wise, there was a big swimming pool with deck chair all nestled at the bottom of Table Mountain which meant amazing views while you lay sunbathing, a large chill out area both inside and outside and a bar with a pool table.
Heading to Europe? Here are some of the top backpacker hostels in Lisbon.