Plunge into crystal blue hot springs, slide down waterfalls, swim alongside sea turtles, dolphins and sharks, watch lava splurge out of an active volcano, dance the night away on the beach. Costa Rica is every backpackers dream!
The tiny oasis in Central America boasts endless adventures and natural beauty, and it can be done on a budget.
My Costa Rica travel guide will provide you tips on how and where to travel in Costa Rica, as well as some tricks I picked up along the way.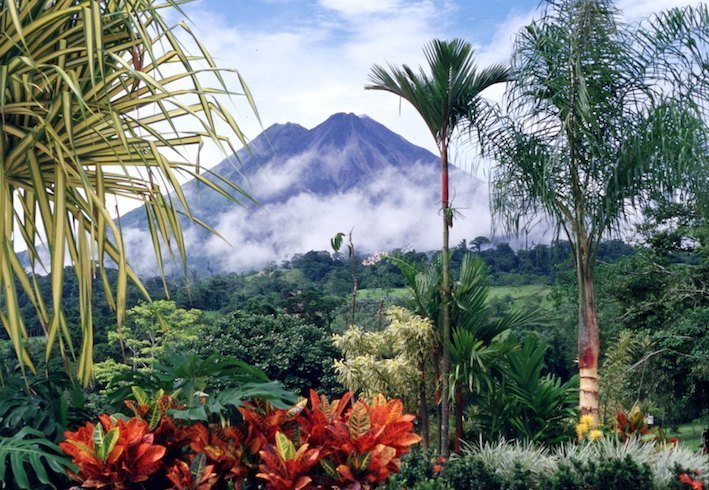 Why you should travel to Costa Rica
Costa Rica is a tiny tropical paradise filled with beautiful empty beaches, lush cloud forests, and magnificent wildlife. Think birdwatching is exclusively for old and boring travellers? Then you haven't seen the brilliant toucans and scarlet macaws of Costa Rica.
Travel in Costa Rica is made easy through its relatively small size and many public busses. You can watch the sunrise on the Caribbean sea (to the east) and watch it set on the Pacific Ocean (to the West). However, you'll probably get stuck being mesmerized by the lush green forests in the centre.
Costa Rica is making landmark strides in ecotourism, renewable energy, and conservation law. Afterall, it is one of the most biodiverse regions in the world. No wonder so many hippies are drawn here to experience Pura Vida.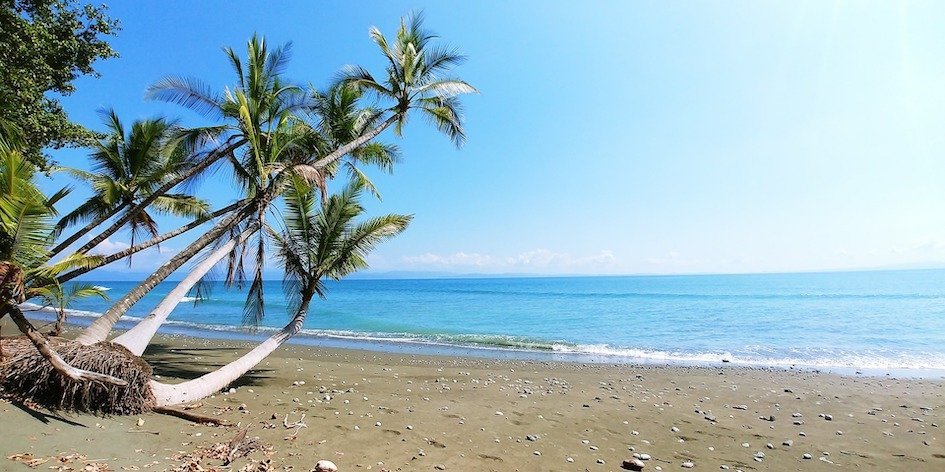 Is Costa Rica a Backpacking destination?
My first backpacking trip was an unplanned 2 month adventure in Costa Rica. Ever since, I've become obsessed with chasing waterfalls, deserted beaches and juicy tropical fruit. Although you can get similar features in Thailand or Bali, it's the Pura Vida spirit that makes this a truly special destination for backpackers.
A safe haven amidst the chaos in Central America
Pura Vida (The Good Life), is the national slogan of Costa Rica. This cliché marketing phrase might cause an eye roll when you first hear it, but within a week you'll be using it alongside businessmen in San José and the hippie expats in Puerto Viejo.
It means hello, okay, how are you and goodbye. Whenever your broken Spanish is misunderstood, just say pura vida and you're sure to entice a smile.
Backpacking Costa Rica is the best way to discover the soul of the country. You'll discover a laidback and peaceful nation, with no army to protect them. Yes, that's right, Costa Rica has no military! The crime is comparatively low throughout the country, but some areas are not safe. Like any capital, San José boasts a higher crime rate, as well as the port cities Puntarenas and Limón.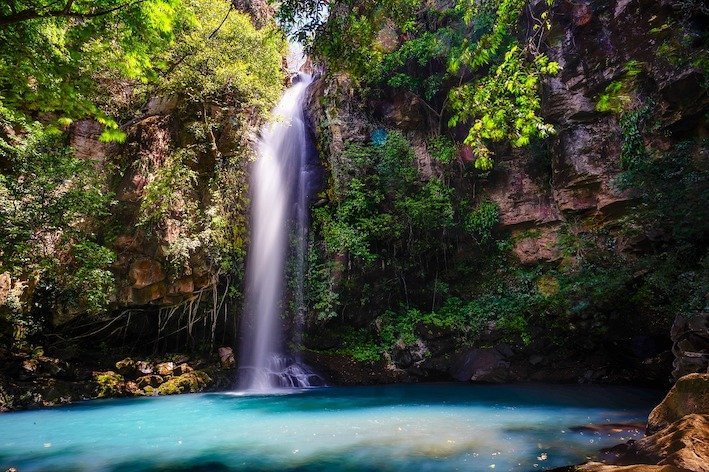 Costa Rica travel is cheaper than you think
As the safest and wealthiest country in Central America, Costa Rica is more expensive than its neighbours. But with the price comes exceptionally clean streets, great infrastructure, many farm-to-table restaurants, organic produce and drinkable tap water. Ask any local why they look so young, and they'll claim it's the Costa Rican water!
Despite the first world facilities, it is possible to travel to Costa Rica on a budget. There are many hostels with kitchens, cheap local eateries and public transport that won't break the bank.
Since the country is so safe, hitchhiking in certain areas is a viable form of transport used by both locals and foreigners. If you're willing to sleep in a tent, many hostels will allow you to camp in the garden at a discounted price.
If you're really travelling cheap, I suggest using Workaway, WWOOF or volunteering at hostels. There are many ecotourism centres, off-grid farms and hostels looking for a helping hand. And exchange for a half-day of work, you'll get room and board for free.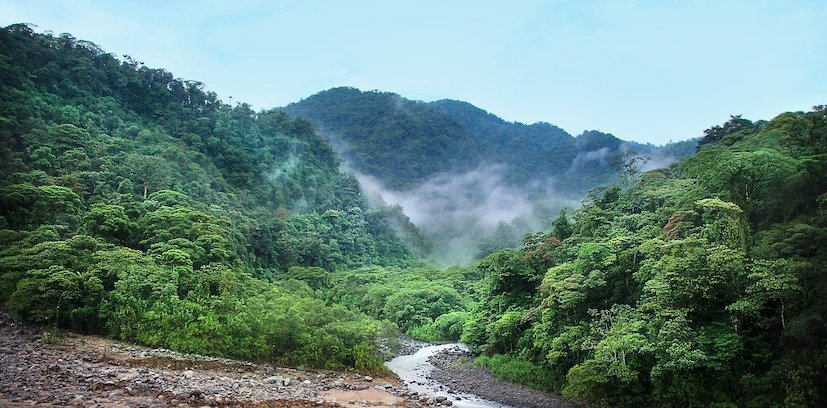 The best Costa Rica backpacking route
Planning a trip to Costa Rica is a difficult process because of the awkward shape of the country. The beautiful mountains and rivers block many direct routes to your destination, resulting in lengthy detours.
How to travel in Costa Rica is still highly debatable- bus, car, plane? Costa Rica was my first backpacking destination, and even though transport was difficult at times, I always ended up in a beautiful place. Sometimes you don't end up where you wanted to be, but you end up where you need to be.
The best way to travel in Costa Rica is a combination of busses, private shuttles and boats.
I suggest spending a minimum of 2 weeks in the country, but a month is best. The longer you stay the more economical your day-to-day travel becomes. One month will ensure you see most of what the country has to offer, so you can check off all the highlights in one trip.
San José will be your base from which most of the buses depart, so don't waste time staying there longer.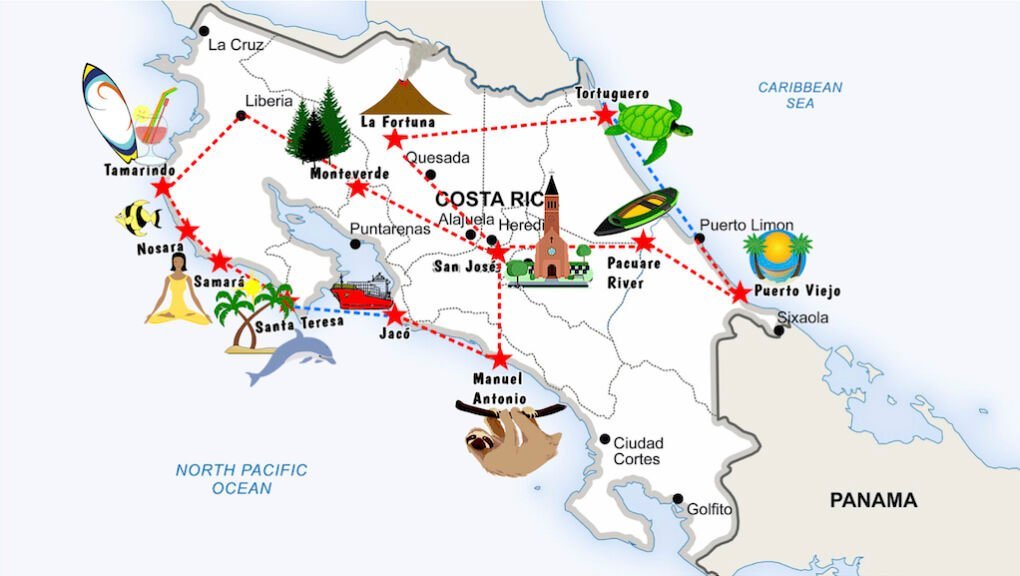 1 month Costa Rica backpacking itinerary
This itinerary includes many of the highlights Costa Rica is famous for. However, there are many places I did not include mainly because it is difficult to get to with public transport. If you prefer a more relaxed pace, exclude some of the hard to reach areas like Tortuguero and Santa Teresa. No matter where you go in Costa Rica, you will be met with beautiful scenery, fresh food, and kind-hearted Ticos.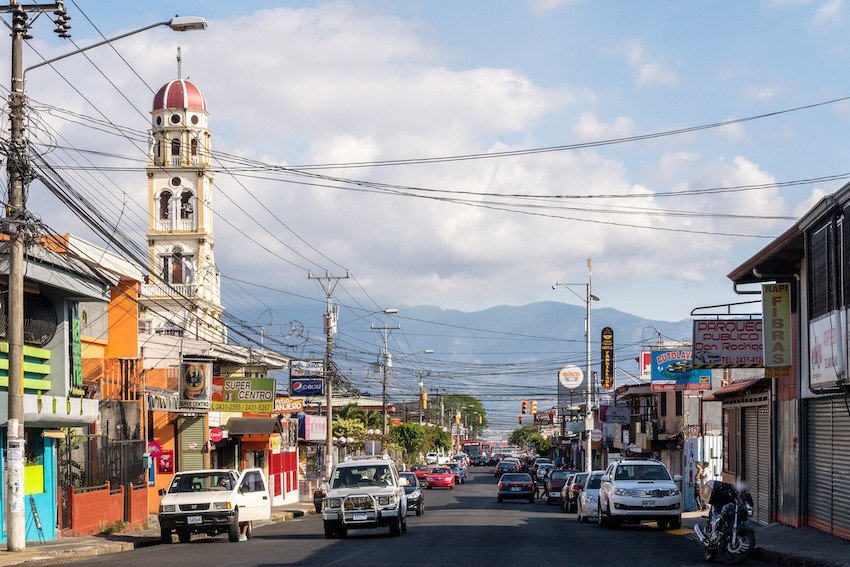 Day 1: San José
Arrive in San José and make your way to your hostel. There are plenty of restaurants in the city. Try your first casado, a plate made up of rice, beans, salad and sweet plantains. This will be your staple meal for the next 4 weeks.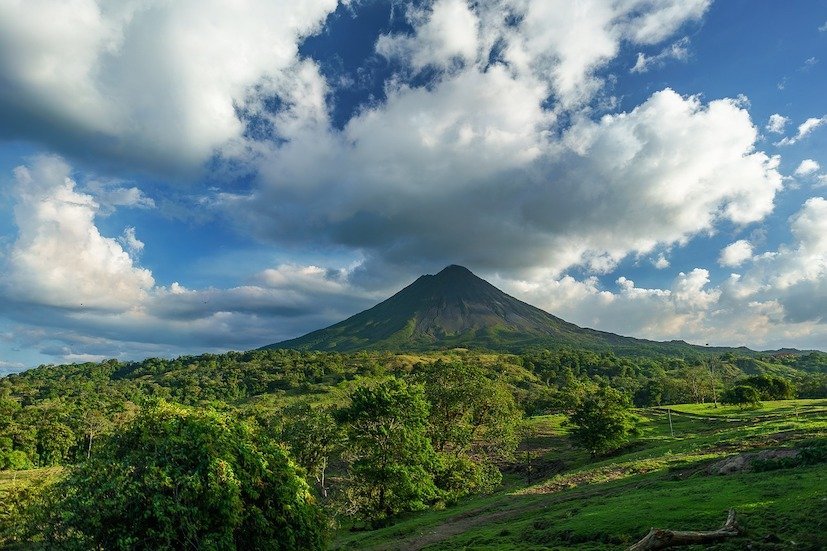 Day 2 & 3: La Fortuna
Here you have the opportunity to hike to active Arenal Volcano. Although the site of creeping lava is the biggest attraction in the area, don't miss the opportunity to cool off in La Fortuna waterfall or heat up in Badi Hot Springs.
Day 4: La Fortuna to Tortuguero
Warning: Tortuguero is DIFFICULT to get to, but well worth the effort. The easy option is to take a shuttle. The cheap option is to take a local bus to Cariari and get a boat to Tortuguero Village.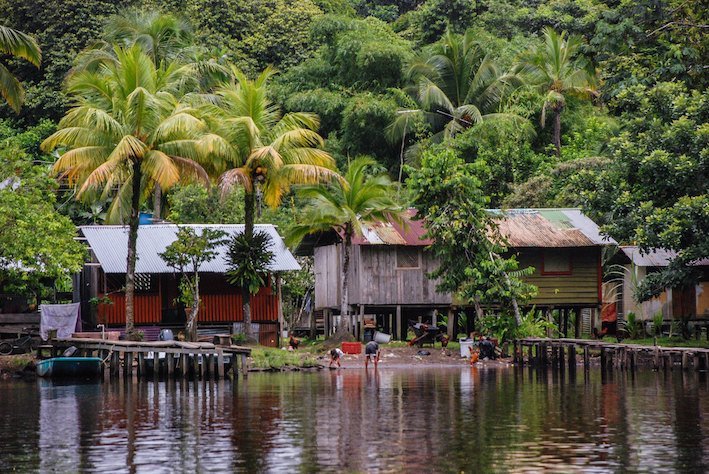 Day 5: Tortuguero National Park
Tortuguero will make you feel as though you just landed in uncharted jungles in Central America. Due to the remoteness of the area, it is difficult to get to and the prices are high. However, it is worth spending the extra cost to catch a glimpse of endangered green sea turtles.
In season, you can watch turtles nesting in the area. Spend the day canoeing through the many freshwater lagoons and creeks or search for white-faced monkeys, jaguars, snakes and other reptiles.
Day 6: Tortuguero to Puerto Viejo
Catch a boat from Tortuguero to Límon then bus to Puerto Viejo. You can also buy a package that includes private transport, but this costs more. Alternatively, head back to the mainland and take a bus. This adds a couple of hours to your travel but will be much cheaper.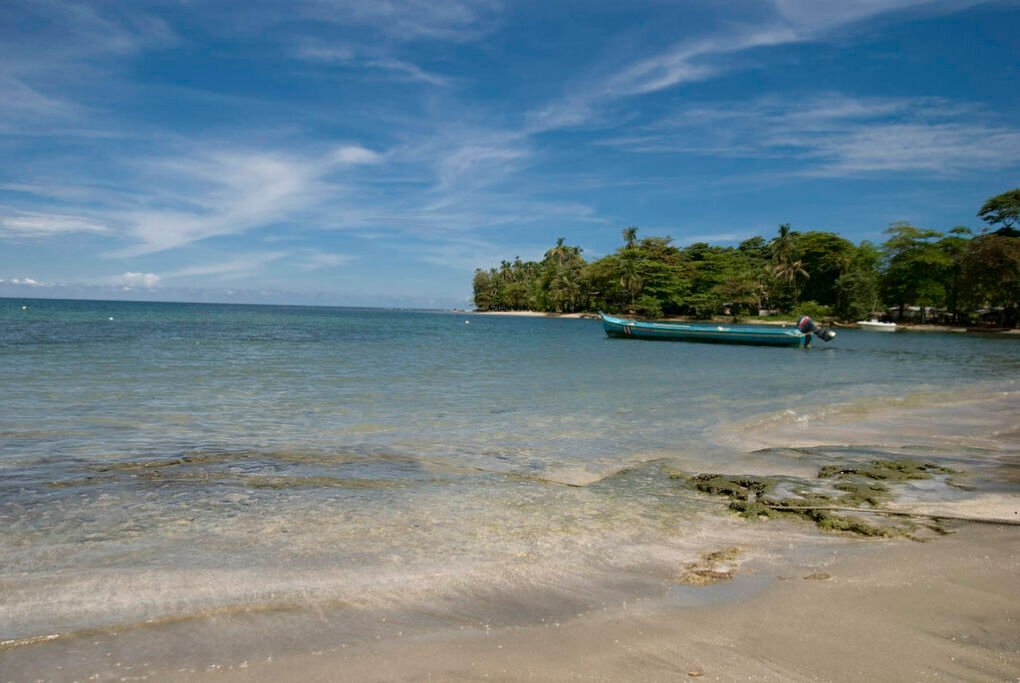 Day 8 & 9: Puerto Viejo
Welcome to party paradise! Puerto Viejo is infamous for gringos smoking yierba and day drinking. However, if partying doesn't appeal to you, the area also offers ample snorkeling, diving and surfing spots. Surf hostels will allow you to pitch a tent or sleep in a hammock.
Day 10: Puerto Viejo to Pacuare River
Pacuare is known for one thing: the 18-mile white-water rafting expedition. If you're not an adrenaline junkie feel free to skip this stop. But unless you're aquaphobic, I highly recommend this activity. The class II to IV rapids will test your stamina while paddling through incredible scenery including waterfalls, cliffs, fauna and flora. You're bound to be left breathless!
Many tour companies include free hotel pick-ups and drop-offs from Puerto Viejo. You can request in advance to be dropped off in San José.
Day 11: San José to Quepos (Manuel Antonio)
Direct bus from San José to Quepos. A local bus runs between Quepos and Manuel Antonio every 30 minutes.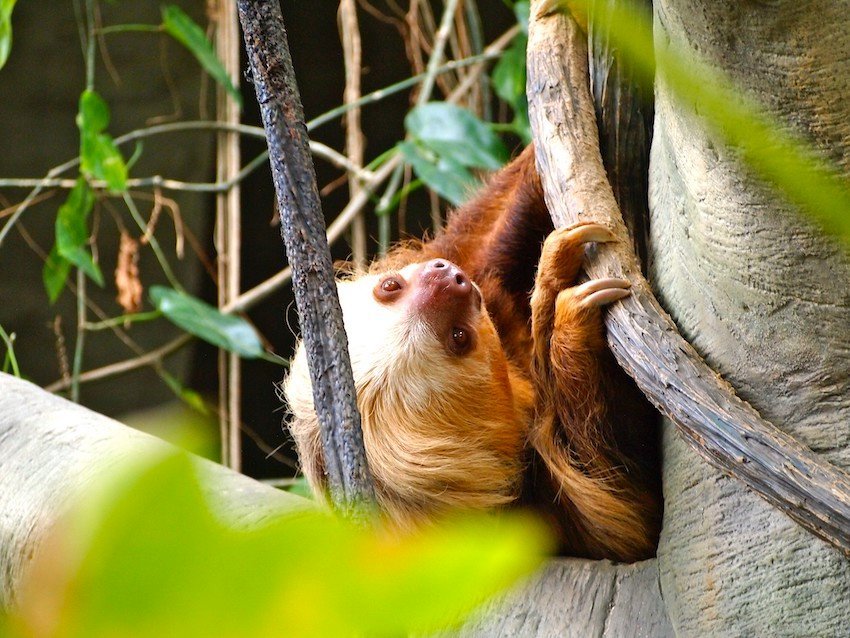 Day 12 & 13: Manuel Antonio
Spend the next two days discovering hidden beaches and beautiful wildlife of the rainforest. Manuel Antonio National Park is teeming with sloths, monkeys, iguanas, birds and other forest creatures. There is an abundance of well marked forest trails and beach spots. Remember to start early to beat the humidity and crowds!
Day 15: Manuel Antonio to Jacó to Santa Teresa
Take a local bus from Manuel Antonio to Quepos, then a bus to Jacó. Jacó is a party town and the closest beach to San José. Unfortunately, it's crowded, dirtier and more dangerous than other areas. I recommend leaving as soon as you can, unless you really crave nightlife. There are numerous ferries that run to Montezuma that take about 2 hours, then take a shuttle to Playa Santa Teresa.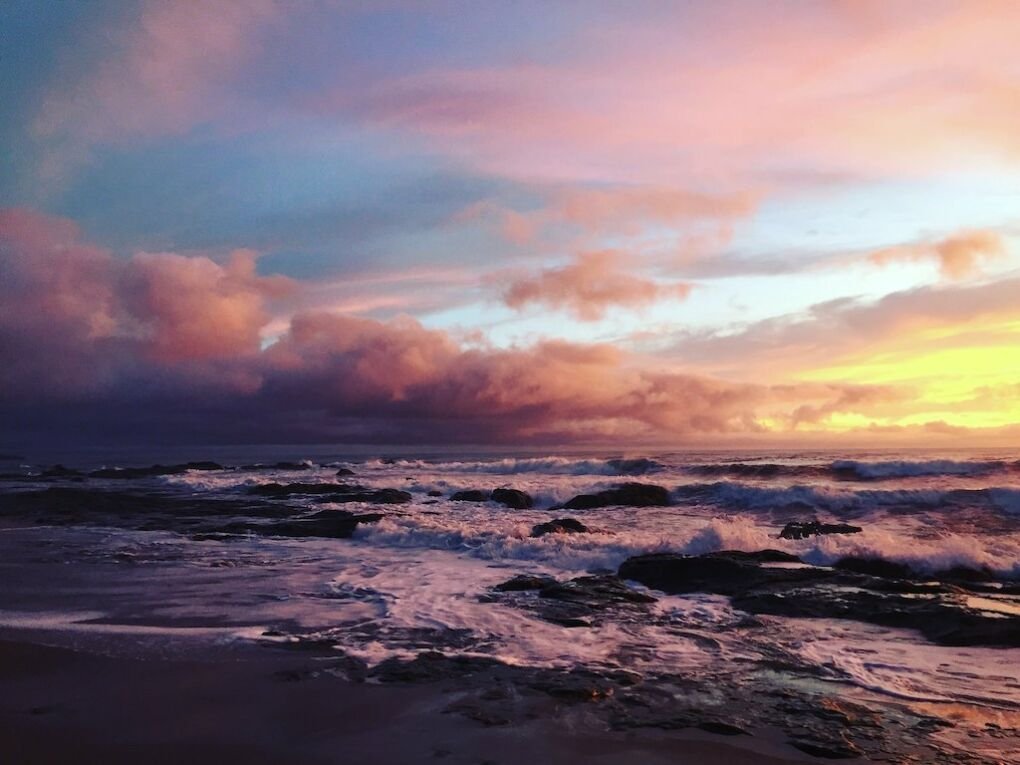 Day 16 – 19: Santa Teresa
Santa Teresa is a beautiful and quiet area of Costa Rica that not many tourists get to see. Spend a few days indulging in yoga, surfing, soul food and empty beaches. Don't forget to see Montezuma Waterfalls.
Day 20: Santa Teresa to Samará
There is terrible infrastructure in this area of Costa Rica and no buses that make the journey. In the dry season it's possible to get a jeep shuttle to go directly to Samara. The only other option is to take the bus to Nicoya, then to Samara (about a 12 hour journey). But if you can make it, Samara is well worth the trouble.
Day 21 – 23: Samará
Samará is more popular with backpackers than Nosara since it is cheaper and less Westernized. There are plenty of hippie hostels within close proximity of the beach. Rent a bicycle and explore remote beaches around the area. This is an ideal place for snorkeling – luckily many hostels rent out masks for cheap or free.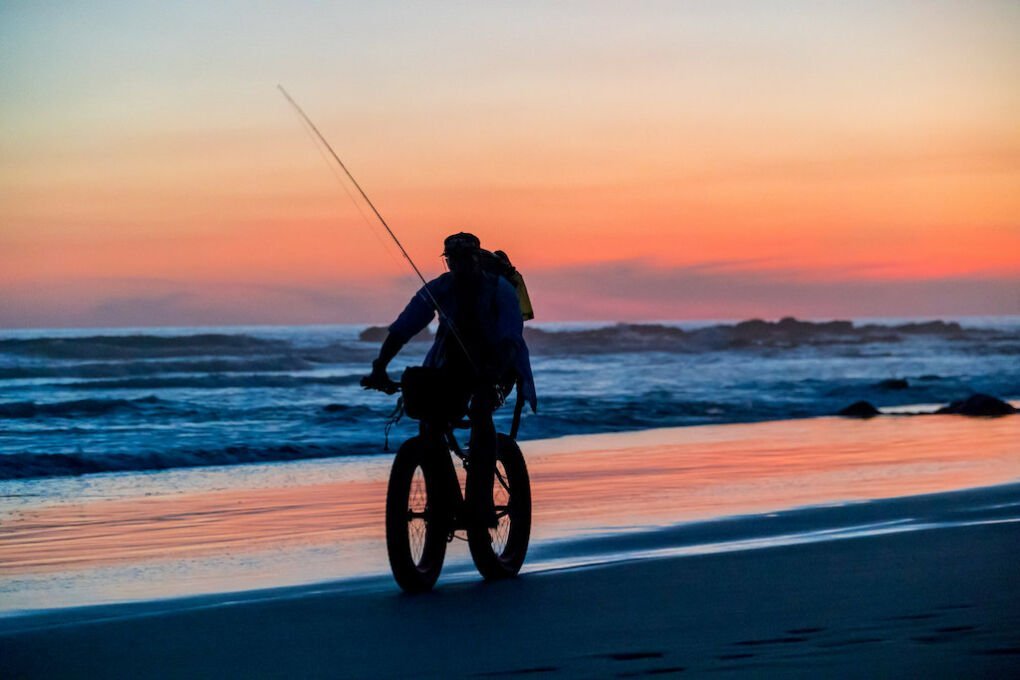 Day 24: Nosara Ostional Wildlife Refuge
One day in Nosara is enough to see the wildlife refuge. The village is packed with retired American tourists, golf carts and resorts. There is a lot of money flowing around on elite hotels and yoga retreats. For backpackers, it's not the ideal location but worth spending a day.
Eat at one of the many health cafés and take a yoga class. Here, you'll forget you're in a Spanish speaking country since most of the menus and signs are in English.
Day 25: Nosara to Playa Tamarindo
There are no direct busses on this route, but you can take a bus via Santa Cruz and Nicoya. There will be shuttles available too but these are quite expensive.
During my trip to Costa Rica I wanted to save time and ended up hitchhiking. I was picked up by a wonderful Canadian couple who stopped at various beaches and dropped me off at my hostel.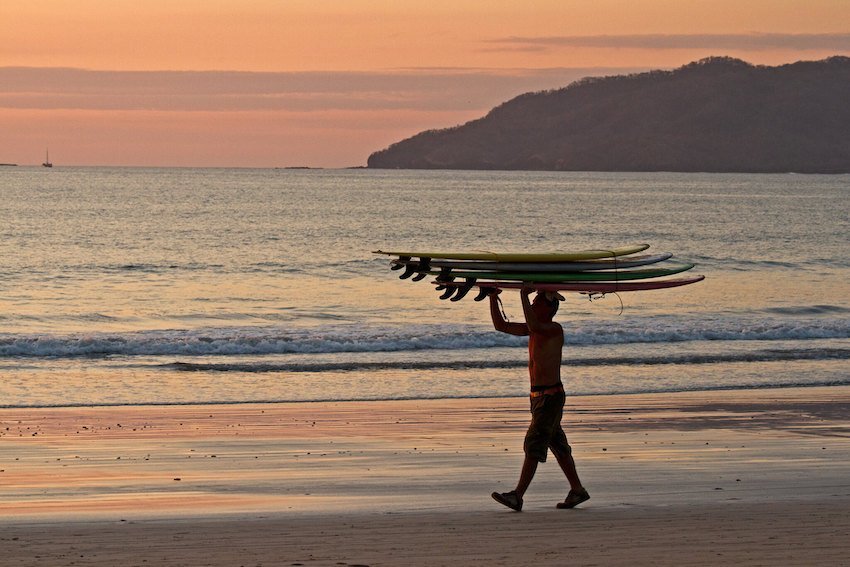 Day 26 & 27: Playa Tamarindo
Otherwise known as, 'Tamagringo', is a touristy beach town that provides all the conveniences of cheap hostels and transport, with pristine beaches and surf spots. The party town has a lot more to offer than nightlife and surfing though. The crystal clear waters are a great place for snorkeling and many hostels let you camp on the beach!
Day 28: Playa Tamarindo to Monteverde
Like other areas in Costa Rica, the public buses here are seldom direct and quick. The fastest option is a shuttle but you can get a bus to Liberia and then from Liberia to Monteverde.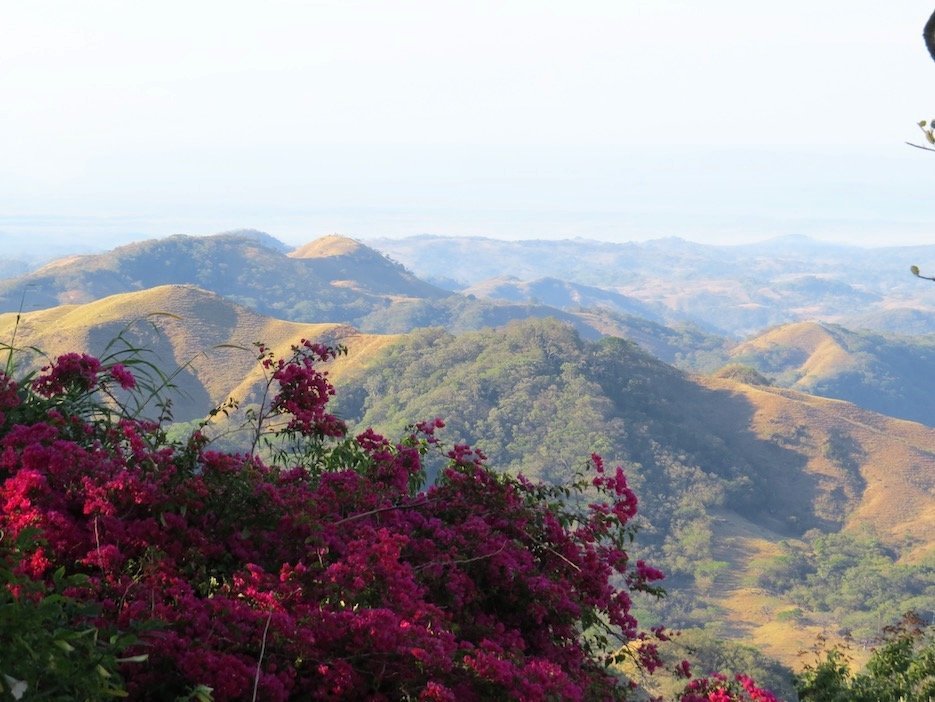 Day 29: Monteverde Cloud Forest
Monteverde hosts a range of adrenaline activities to end off your Costa Rican Adventure. One of my favourite activities during my travels in Costa Rica was ziplining over Monteverde Cloud Forest.
If you're afraid of heights, there are various hiking trails to explore. Keep in mind there is still an element of height since they include a few hanging bridges that need to be crossed.
Day 30: Monteverde to San José
On the last day of your trip, catch a direct bus from Monteverde to San José. This is most likely where you'll be flying from.
Costa Rica Travel Tips
After backpacking Costa Rica for 2 months, I learnt how to do it cheaply. Learning from other travellers and personal experience, these are my tips for traveling to Costa Rica.
Cook whenever possible. Many hostels have kitchens that are free to use. Dining out can really add to your budget so make use of the kitchens. Costa Rica also has delicious and cheap fruit. I suggest always making your own breakfast then buying dinner at local restaurants.
Eat like a local. Costa Rican food is very affordable, as long as you eat local cuisine. Western food is always pricey and never as delicious. My go-to options are asados, patacones and pico de gallo just to name a few. It's also relatively easy to find vegan and vegetarian options throughout Costa Rica.
Don't waste your money on tours. Most activities can be arranged yourself. Hostels sell packages that are convenient but expensive. Instead, take local busses or rickshaws to the destinations to avoid paying extra costs.
Negotiate prices and check your change! I've been ripped off a few times, and was too shy (and confused) to ask for more change. When you travel Costa Rica using local busses, ask local passengers how much it costs and try to give the exact amount.
There are plenty of Costa Rica travel blogs and guides you can read. Leave them at home! Pack light and travel easy. Trust me, every hostel has a Lonely Planet in the common room if you need information.
If you decide to backpack Costa Rica, don't worry about seeing everything. Instead, enjoy where you are and embrace the pura vida spirit!
Last thoughts on Costa Rica
Backpacking through Costa Rica is an adventure that will leave you awestruck at the beauty of nature. The experience might even change your perception of humans' relationship with the environment. Backpacking in Costa Rica sparked a wonderlust that kept me travelling for 7 months! Whether you're in search of good waves, serene mountains or beach parties, Costa Rica is the perfect destination!