There are many factors to determine the best cities to live in Europe. My job was the main reason I decided to move to Ireland, while the cost of living made Bali one of the best places to live in Asia for me.
As an expat there are a lot of things to take into consideration when choosing the best place to move to Europe.
You should think of how the transfer will change your daily life and influence your family; whether the health care will meet your needs; and what it means for your emotional well-being and bank account (for starters).
My job was the main reason I decided to move to Ireland, while the cost of living made Bali one of the best places to live in Asia for me.
With the help of my travel blogger friends, I've compiled this list of the best cities to Live in Europe.
Best cities to live in Europe for Expats
Alicante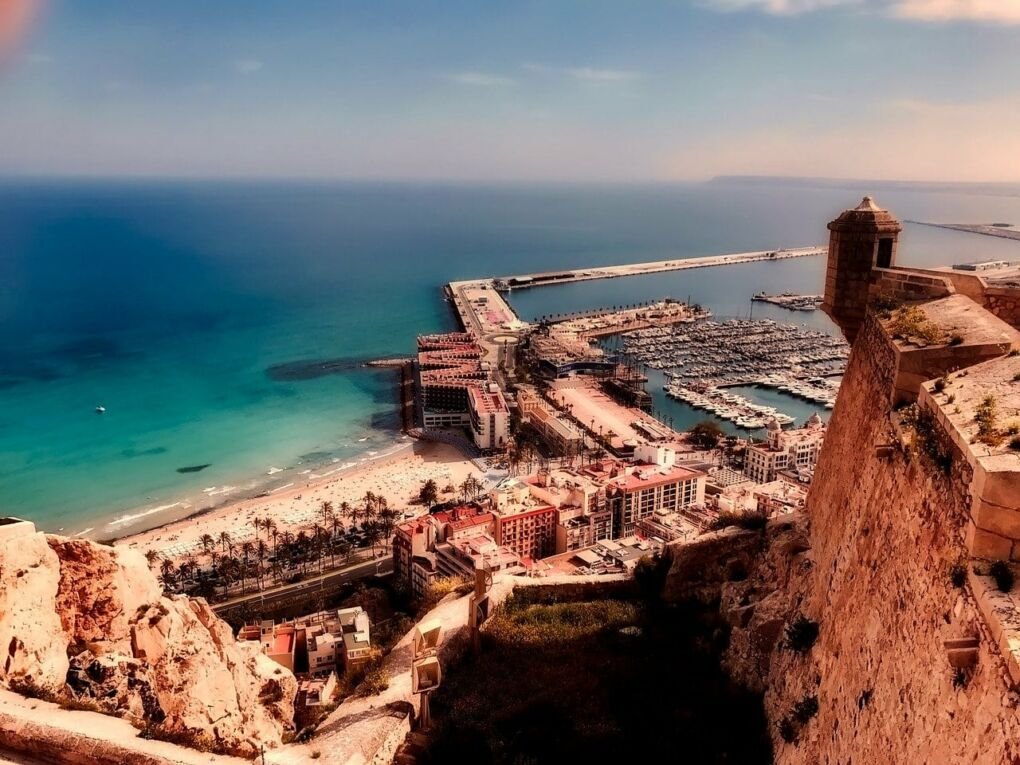 Deb from The Visa Project
What makes Alicante one of the best cities to live in Europe is not one single thing, rather a combination of a lot of factors.
Alicante has the best of everything Spain has to offer: a relaxed lifestyle, great weather, food, access to great beaches, and that too at a much cheaper price than the popular urban destinations such as Madrid or Barcelona. And despite being famous for mass tourism, the city of Alicante itself is undeniably Spanish, with a local feel in most parts of the city.
Being on the Mediterranean coast, with that typical laid-back vibe, it attracts expats and nomads who choose to live here for the long term. If you're looking for the best beaches in Alicante, head to the coastline for some requisite options. 
It has a lot of city beaches, so the beach lifestyle is up for grabs. There are beautiful beaches and quiet coves to explore all year round. And at night, there are many places to go out and have fun. You can start with Esplanada, a palm-tree marble promenade connecting the town and the port that comes alive every night.
Definitely visit the amazing Alicante Castle, Castillo de Santa Bárbara, which also comes with an elevator! The tram network makes it pretty easy to get around.
Thanks to the tourists, a lot of locals speak English and a big chunk of the people are foreigners. So you can start out with a little struggle in case you are learning Spanish.
As the gateway to Costa Blanca, Alicante boasts the fifth busiest airport in Spain, which means it can be a great base for an expat looking to combine living by the beach in Spain with short breaks and trips to other parts of Europe. And it is also well connected by train with the rest of Spain.
So if you are planning to retire or become a digital nomad in Spain, there are many ways to get a Spanish national visa.
Malta
Recommended by Sarah of Dukes Avenue
Malta is a misnomer in this category – it is not a city or town, but an archipelago nation in The Mediterranean Sea, on Europe's southern extremities and bounded on all sides by the sea. That being said, with a population of about 500,000 people and a total size smaller than most European cities, Malta offers a mix of both cosmopolitan urban life as well as quiet rurality.
Malta has an enviable wish-list of attractive qualities – first of all, a large expatriate community and English as an official language that makes communication easy. A large mixed community of European and non-Europeans contributes to the food scene and ensures that most arrivals will find compatriots when settling in.
If moving for work, Malta has enjoyed substantial economic growth in the past 7 years, adding more than 10,000 jobs per year, approximately half of which are filled by foreign workers. To boot, fiscal incentives for high earners and moderate tax rates for lower earners ensure that most workers enjoy a relatively high take-home salary compared to other European destinations, with rental prices being less than half of an equivalent London rent.
The climate helps, with more than 300 days of sun annually and with most major towns being coastal, swimming is relatively easy and opportune from late April all the way up to October.
With the main island, Malta, being less than 30 kilometers long and less than 15 kilometers wide is it possible to drive across the island in less than one hour.
It offers a mix of island life entertainment, as well as historical attractions – the island's capital, Valletta, is a terrific example with its baroque architecture and many museums. There are prehistoric temples (most notably the Hypogeum and Hagar Qim Temple) dotted across the islands dating back to before the pyramids of Egypt, Roman and Punic remains, and a number of fortresses that underline Malta's naval past.
Seville
Recommended by Linn Haglund of Brainy Backpackers
Seville is the perfect city to live in Europe for expats, if you want to integrate into the Spanish culture, learn Spanish, and enjoy great weather combined with historic buildings. Andalusia is a melting pot for different cultures as the Moors, Romans, and Christians among others have ruled the southern region of the country.
Once you've completed the must-do Seville Itinerary, is when you really get to dive deep into this wonderful city. Explore quirky restaurants and bars off the normal tourist route, hang out with the locals, and learn to dance Sevillanas. Get yourself a flamenco dress, because you'll be attending a lot of local fiestas in Seville. One of the most famous is Semana Santa (Holy Week) where the streets are packed up with processions consisting of men dressed like Ku Klux Klan, called Nazarenos, and others carrying massive saints on their bare shoulders.
Another important Fiesta is Feria de Abril, one of the biggest city fairs in Andalusia. You will enjoy this so much more when you live in Seville and get some local friends. Most of the Casetas (party houses) are private and you can only enter with a ticket. And only those who know the owner of the Caseta can buy those tickets. Believe me when I say it's an unforgettable cultural experience to tag along in the private Casetas.
Seville is a special city. Yes, it's beautiful to go there as a tourist and see all the touristy things, but when you live there and learn the paste of life, it draws you in and you start to understand why the locals are so proud of being from Seville. It is a city of several capes, and the longer you spend there, the more capes you start to unfold, and the more you understand the deep roots of Andalusia's capital city.
Tbilisi, Georgia
Recommended by Baia of Red Fedora Diary
Georgia's capital, Tbilisi is one of the best cities to live in Europe for many reasons. Firstly, citizens of 90 countries, can live here visa-free for a year. Secondly, Tbilisi is the city of contrasts where modern and old co-exist with each other. And lastly, the city and the whole country is a budget-friendly destination that won't break your bank account.
If you are thinking of moving to Tbilisi as a digital nomad or an expat, Tbilisi has a large community of foreigners living here with plenty of Facebook groups to get connected with like-minded people. Moreover, there are several co-working spaces in Tbilisi that suit international standards if you need to have a quiet space to work from.
Tbilisi offers a plethora of activities for any kind of traveler or expat in Europe. Museum and history lovers will enjoy a good amount of galleries and museums to learn more about the country and its artists. Architecture enthusiasts can admire ancient, modern, and 19th-century Art-Nouveau buildings spread across the city along with Soviet brutalist structures.
Compared to other European cities, the cost of living in Tbilisi is relatively affordable! You can easily find a flat in a residential building close to the city center for $300. Food is moderately priced with plenty of supermarkets to shop at. However, you can easily decrease the price if you buy groceries at bazaars. The dining scene also varies from cheap to high-class restaurants if you'd like to eat out and try all the different flavors and meals of Georgian cuisine.
Additionally, Tbilisi has a mild climate with not that cold and almost no snow winters, and quite hot summers. Fall and spring see warm weather with an average temperature between 18-25C. And during winter the temperature rarely drops below 0C.
Best city to study abroad in Europe
Barcelona
Recommended by Mal from Raw Mal Roams
One of the best places to live in Europe is the stunning capital of Cataluna – Barcelona. I had the privilege to live in the city as a student, and I always look back at that time with a big sentiment!
Barcelona is situated on the eastern coast of Spain and has a pleasant Mediterranean climate with hot and sunny summers and mild sunny winter. The coldest months are January and February with average temperatures of 15 degrees Celsius which means you can still enjoy lunch in an outdoor cafe.
The Catalan capital is famous for its unique architecture by Barcelona-born artist – Antoni Gaudi. His most prominent piece of art – the grand Sagrada Familia is still under construction and attracts thousands of visitors from all over the world every year.
Barcelona has a never-ending list of things to do which will ensure that you will never be bored again living here! From great shopping in fancy places such as Les Cortes Ingles, boutique dining in the Gothic Quarter to supporting the local football team FC Barcelona which is one of the best football teams in the entire world! Not to mention countless art galleries, cultural events, and music festivals.
One of my favorite events celebrated in the city is Sant Jordi Day, which is a Catalan equivalent to Valentine's Day but instead of flowers, couples buy each other books! On that day, the main street in Barcelona – Las Ramblas is filled with book vendors and people searching for that special book for their loved ones.
The city also has access to a great sandy beach called Barceloneta where you can chill on sunny weekend afternoons. The area is also popular with excellent seafood restaurants and chic nightclubs. Barcelona really has it all because apart from the beach in the winter, a short drive away north you can find some decent ski slopes!
Paris
One of the world's most visited places and best cities to study in Europe. Paris is known for its landmarks like the Louvre, National Museum of the Renaissance, Notre Dame, Arc de Triomphe, and Champs Elysees. Whether it's art, history, or finance you want to learn about, Paris has world-class educational institutions! One thing to keep in mind is taxes in France for Americans, while they can be tricky to work out, there are plenty of ways around it. Although living in Paris can be expensive, it's still a once-in-a-lifetime experience!
Amsterdam, Netherlands
Recommended by Bruna from Maps 'N Bags
With charming canals, gingerbread houses, and alternative venues, Amsterdam is hands down one of the best cities to live in Europe.
Not only that, but the Dutch capital is one of the most open-minded cities in the world, if not the most.
You can visit a historical church right in the heart of the Red Light District, walk down the street and find a royal palace, walk a little further and find a cluster–all living in near-perfect harmony.
Besides, the city has the highest number of national heritage buildings, thriving cultural attractions, and gorgeous parks that enchant both tourists and locals. For example, the Vondelpark is a lovely place to have a picnic and is near one of the best places to stay in Amsterdam if you're visiting the city as a tourist.
And while in town, you should absolutely visit the Anne Frank House, go on a boat tour through the city center, and sip Dutch beer in one of the centenary beer cafés with quirky decoration–it's a journey back in time, literally.
If all of that wasn't enough, Amsterdam is also close to many stunning cities in the Netherlands, offering many day-trips possibilities.
Needless to say that it is an expat-friendly city, right? The local language is Dutch, but 99% of the people speak English very well.
Like everything else, Amsterdam also has its downsides, and so many good things come at a price. Amsterdam is not a cheap city. Apartment rentals, eating out, transportation, and groceries are on the pricey side. Still, after you get acquainted with the city, you will find more affordable options that best suit your taste.
As for transportation, you will want to buy a bike right away and travel around the city in Dutch style–it's cheaper and healthy.
Valentia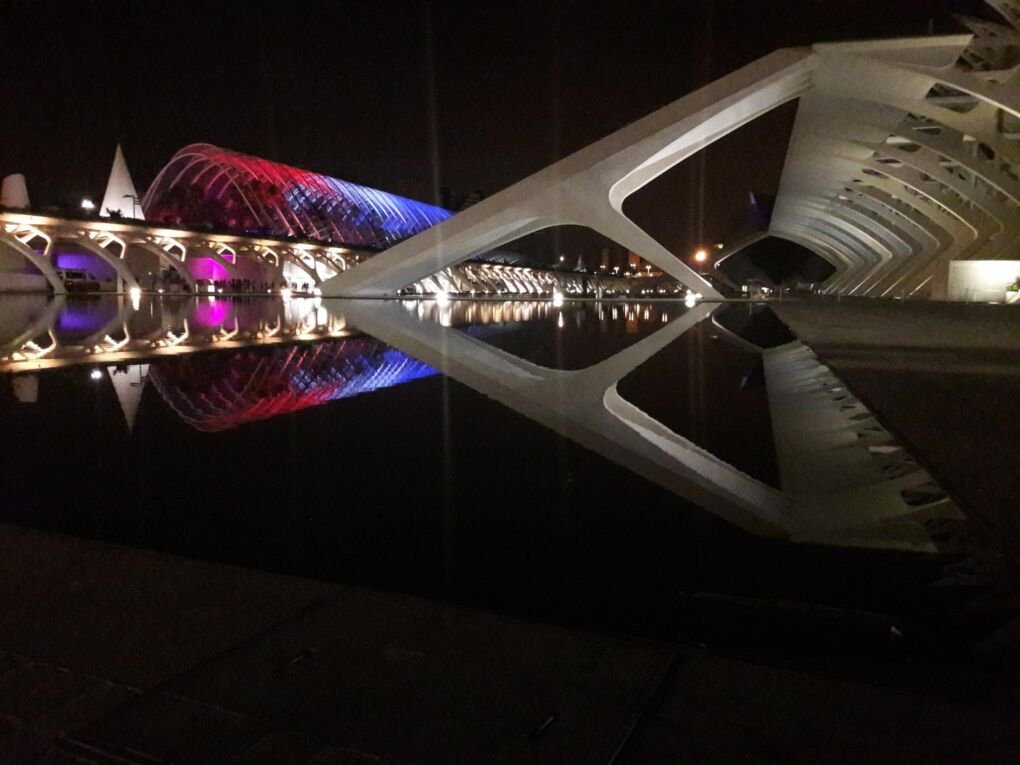 Recommended by Stuart Fahy of (www.justtravellingthrough.com)
With great temperatures year-round, nearby beaches, and tasty local food, Valencia is the perfect place to live in Europe. Situated on the Mediterranean coast the city has everything you'd expect from the third-largest in Spain. In the center are many beautiful old buildings and small squares, while the central market in its art nouveau style is one of the highlights. Good food is another feature of Valencia. As you might expect from the city where paella was first created. Every March the city is taken over by the spectacular Las Fallas festival. An event not to be missed.
The El Carmen neighborhood has many old buildings and incredible street art among its historic narrow streets. Russafa is the more modern, hip area of Valencia. Home to many coffee shops, bars, specialist restaurants, and independent boutiques. Away from the center, Benimaclet has the feel of its own city plus more in the way of local restaurants and beautiful old streets.
The Turia Riverbed Park runs around the outskirts of the city, following the path of the old river before it reaches the City of Arts and Sciences museum and Oceanografic Aquarium. For the best beaches in Valencia follow the coast away from the main city beach. Either Patacona (north) or El Saler (south) are much nicer areas and away from the main crowd. Chiringuito ElOcho at the top end of Patacona Beach is a great spot to relax with cocktails and friends.
Getting around Valencia is easy thanks to the network of trams, buses, or metro services. Alternatively, you can rent a Valenbisi bike and travel at your own pace as you explore the City.
Valencia is ideally located for trips to other major cities too. In less than two hours you can be walking around the streets of Madrid, while it takes just an hour more to reach Barcelona.
The airport has inexpensive flights to many Spanish and European destinations, including the Balearic Islands less than an hour away.
Cheapest Places to live in Europe
Krakow, Poland
Recommended by Diana of Travels in Poland
With Europe's largest center square surrounded by hundreds of restaurants and cafes, Krakow Poland is an amazing and budget-friendly city to live in. The beautiful city is rich in history and provides for unparalleled cultural experiences as well as an amazing selection of traditional Polish foods as well as international foods all within a few minutes' walk of the main square.
The city sits on the Wisla River providing for boating opportunities and relaxing walks on the walkways built along the river. Right on the river also sits Wawel Royal Castle, one of the most historically significant architectural sites in Poland, and the world's first UNESCO Heritage site. Other wonderful sites to visit include Sukiennice which is an old cloth hall located in the center square. There you can purchase traditional Baltic amber, for which Poland is well known for.
Wieliczka Salt Mine is close by and truly one of the most astounding underground salt mines in Europe. While tours are required, it's absolutely worth a visit when you live nearby. Auschwitz is also close by, and a sobering experience into Poland's history.
Krakow has an international flair to it, with numerous students and workers spread throughout the city. While most languages are found here, English is most certainly more easily spoken and accepted if you don't know the Polish language. The food in the city is amazing and for truly authentic experiences get to know "bar mleczny" otherwise known as milk bars, extremely cheap places to eat that serve traditional Polish foods. Or pop into one of the hundreds of cafes, many lining the streets and the main square. Places such as Karma Coffee provide some of the best coffee in the city!
Krakow is still a relatively affordable place to live in Europe, as the country deals with zloty even though they are a part of the European Union. Between the food, the people, the things to see and do, and the cultural experience, Krakow is a truly unique experience.
Baku, Azerbaijan
Recommended by The Diary of a Nomad
One of the most underrated cities to live in Europe is Baku, the stunning capital of Azerbaijan. This city is filled with tons of history and culture, as it has a unique mixture of Eastern and Western architecture. One of the best places to visit in Baku is Icherisheher, the Old City. Wandering around there, you can soak in all the historical monuments, such as the Maiden Tower, the Palace of the Shirvanshahs, and the 11th-century Muhammad Mosque. You will also see the magnificent Flame Towers rising behind the buildings of the Old City, and this contrast between the modern skyscrapers and ancient monuments is truly fascinating.
Baku is also an incredibly safe city to live in. The crime rate is very low and the locals there are very friendly. Walking around this city, I definitely felt safer than I did in most places in Western Europe or the States. Even though most of Azerbaijan's population is Muslim, Baku is also very tolerant and liberal; you'll often see girls walking around in miniskirts in the modern areas of town! Alcohol is also not prohibited, and there's great nightlife in the popular Fountain Square and Nizami Street.
One of the best things to do in Baku is to take a relaxing stroll on the Baku Boulevard, a long and serene seafront promenade with a stunning view. This stroll is great both during the day and night, as you'll get to see the city light up beautifully in the evening. I also recommend visiting the gorgeous Highland Park, where you'll get an incredibly breathtaking view of the whole city and the Caspian Sea. You can also see the Flame Towers from quite up-close there. The best part about visiting this park is that it's very peaceful and big, so you'll find lots of areas where there are barely any people around. It's truly a magical experience!
Ljubljana, Slovenia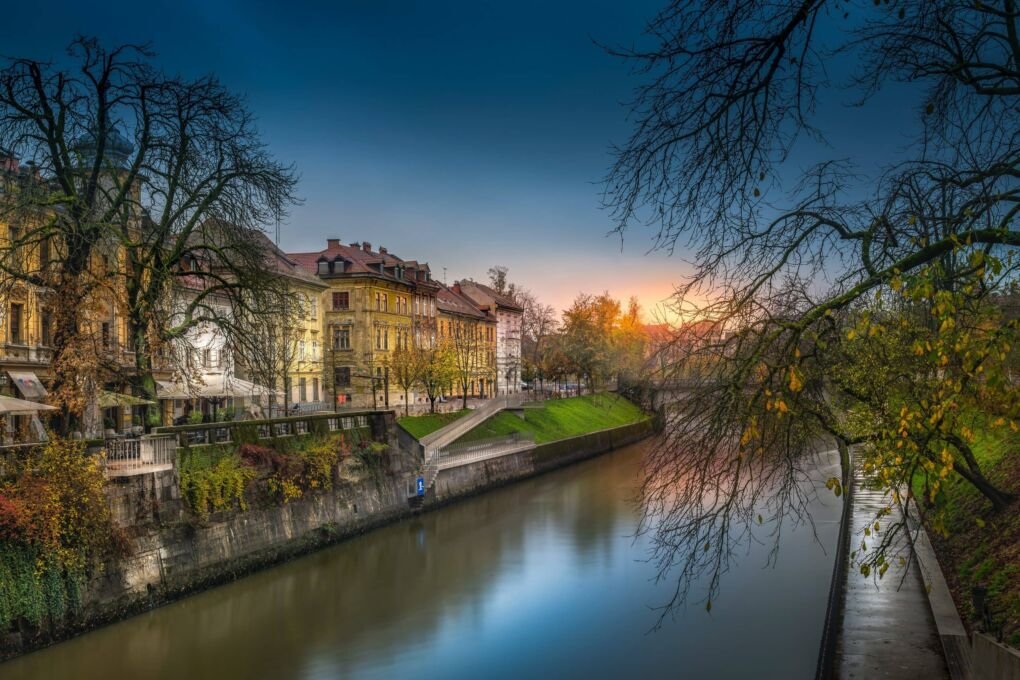 Recommended by Jordan Gill of Live Your Dash Adventures
While big cities like Rome and Paris are exciting to visit, if you are looking for an extended stay in Europe, I recommend seeking out smaller towns that offer big-city benefits. One of the best cities to live in Europe is Slovenia's capital city, Ljubljana.
It might take some practice to nail its spelling, but this riverside town of only 280,000 people is an attractive location for expats to settle for many reasons. In addition to its affordability, walkability, and safety, Ljubljana also boasts a deep commitment to green initiatives and environmental sustainability. It has become a hot spot for tech companies, start-ups, and digital nomads from around the world.
The higher education system in Slovenia is impressive and it is not uncommon for Slovenes to speak up to three or four languages including English. The city itself offers an exciting array of things to do – from exploring via river taxi and visiting weekly markets, to attending museums, festivals, and the famous Ljubljana Castle. The weather is relatively mild year-round but spans all four seasons and enjoys warm summers as well as occasional snow in the winter.
Slovenia is a very small country (just over 20,000 square kilometers –the size of the U.S. state of Massachusetts), it is easy to drive from one end to the other in under three hours. The central location of Ljubljana is ideal for visiting the beaches of neighboring Croatia, enjoying the culinary hot spots of Eastern Italy, and exploring the 34 national and nature parks within Slovenia.
The nearby lakes, rivers, mountains, and caves make for an outdoor enthusiast's playground, and because Slovenia's tourism is still quiet compared to other countries in Europe, you won't have to fight the crowds.
Prague, Czech Republic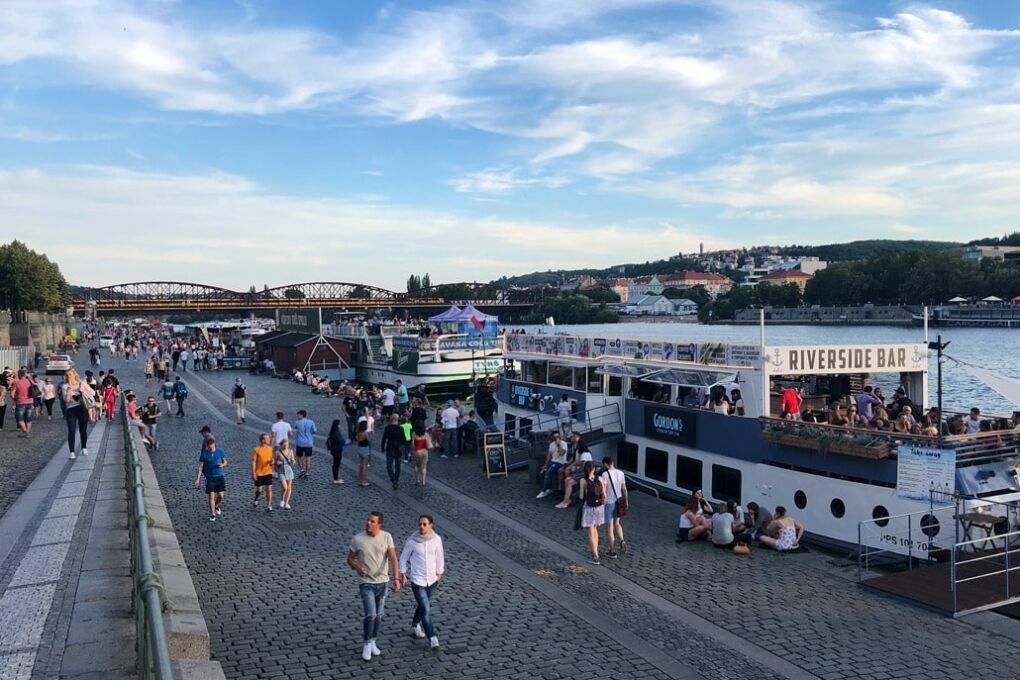 Recommended by Veronika of Travel Geekery
Prague combines the best you might need to live an active life. In contrast with other European capitals, Prague is relatively affordable and you can live there comfortably. If you get a job in Prague, the ratio of what you can afford per your salary is quite favorable.
Prague never sleeps. There are events going on constantly. Whether you prefer a good concert or would rather go to a festival, you can do so in Prague easily and not just on the weekends.
Prague in summer is my favorite time of year. Even though the narrow streets of the Old Town are completely packed with tourists, we locals still have many places to go to enjoy the warm summer days. Prague's riverfront called Náplavka is booming with energy and to sit on one of its many bar boats in the evening is just one of the most pleasant things to do. Similarly, seeking shadow under large chestnut trees on Prague's island called Střelecký ostrov, with a view of the Prague Castle and the Charles Bridge, cannot be beaten.
All seasons are great in Prague. The winter can get a little long and grey, but if you do it like locals and break it up with trips to nearby mountains for some fun winter activities, you'll be fine. Especially after the holiday atmosphere aided by lovely Christmas markets passes, the town becomes quiet and tourist numbers go significantly down.
Moreover, Prague is well connected to other cities in Europe and is thus an ideal base for a traveler. Frequent low-cost flights leave from Prague, but also from the nearby Berlin or Vienna (4 hrs away). The rail network is dense too and for destinations that are not covered by railway, there's always plenty of bus options.
Best cities to live in Europe for young professionals
Brussels
Recommended by Next Stop Belgium
While most people only visit Brussels in a day, the capital of Belgium has so much more to offer those who decide to stay for a longer time.
Being not only Belgium's capital but also Europe's, the city offers an intercultural vibe and lively expat scene. And while housing, food, and transport might not be Europe's cheapest, they're also not overly expensive, making Brussels affordable for most people.
Next to stunning architecture, many cool (and weird!) museums, and glorious food, there's also a surprising amount of nature to be found in Brussels. All of this adds up to make it a city where you can spend months or even years without getting bored.
Brussels is very easy to get around in, what with the metro lines, subway, buses, and the free city bike system Villo!
As charming as the historical center is – with the stunning gothic city hall at La Grande Place, the main square, amongst other things – this is not the place to stay if you're looking into living in Brussels. Great neighborhoods inside Brussels Centre are Louisa and Roosevelt, but the more obvious choice would be to live in one of the surrounding municipalities. The most popular amongst expats is Elsene – a village inside of the city with lots of parks and funky bars. However, it's also about the most expensive area of Brussels.
When you're living in a city like Brussels, you'll want to visit a couple of tourist sights as well. There's no way you can La Grand Place, Manneke Pis – a statue of a peeing boy and national icon – and the Atomium. But try to also add in a couple of Brussels quirky museums (how about the sewer museum for instance?) and admire the bluebells in Hallersbos in April. Oh, and don't forget to try some of Belgium's most tasty food: frites, waffles, chocolate but also Flemish stew, Eel in the green and vol-au-vent.
Copenhagen, Denmark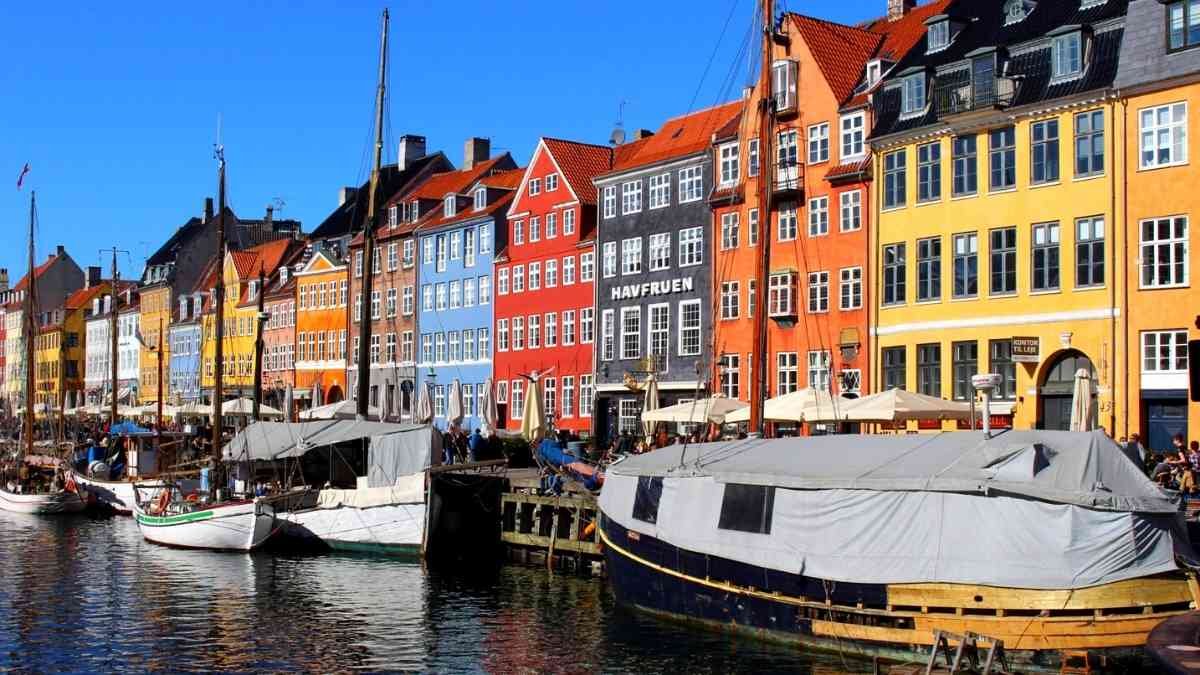 Recommended by Derek and Mike of Robe Trotting
Copenhagen, Denmark is one of the best places to live in Europe. Living in Copenhagen is easier than most cities in Europe because almost every Dane is conversational in English. If you still want to learn the local language, Danish, government-funded lessons are available for foreigners in Denmark. Even if you don't become fluent, you're likely to make a group of friends who are also new to the country.
Copenhagen is an easy city to navigate with a fantastic public transportation system. Most of the signage and announcements are in both Danish and English. If you prefer to bike, Copenhagen is the most bike-friendly city in Europe. There are more bikes than cars in the city center and almost every street has a dedicated bike lane.
Work culture in Denmark is another reason to live in Copenhagen. The flat management style and positive work-life balance make it a great city for professional life. A Danish workplace is focused on supporting the individual worker so Copenhagen is a great place to live and work.
The city of Copenhagen is also a beautiful place to live in Europe. There are rings of scenic canals, a vast harbor with developed waterfront sites, and plenty of fun things to do in the city. It's a perfectly-sized city that isn't overwhelming and easily walkable. Copenhagen is also home to many parks, biking, and hiking trails, and green spaces. It's incredibly safe and the people of Copenhagen are friendly.
There's a large expat community in Copenhagen and there are frequently expat events and language exchange programs. Making friends isn't automatic, but there are many venues to meet new people in Copenhagen.
Anyone considering a move to Copenhagen will find a brilliant place to live with a high standard of living!
Frankfurt, Germany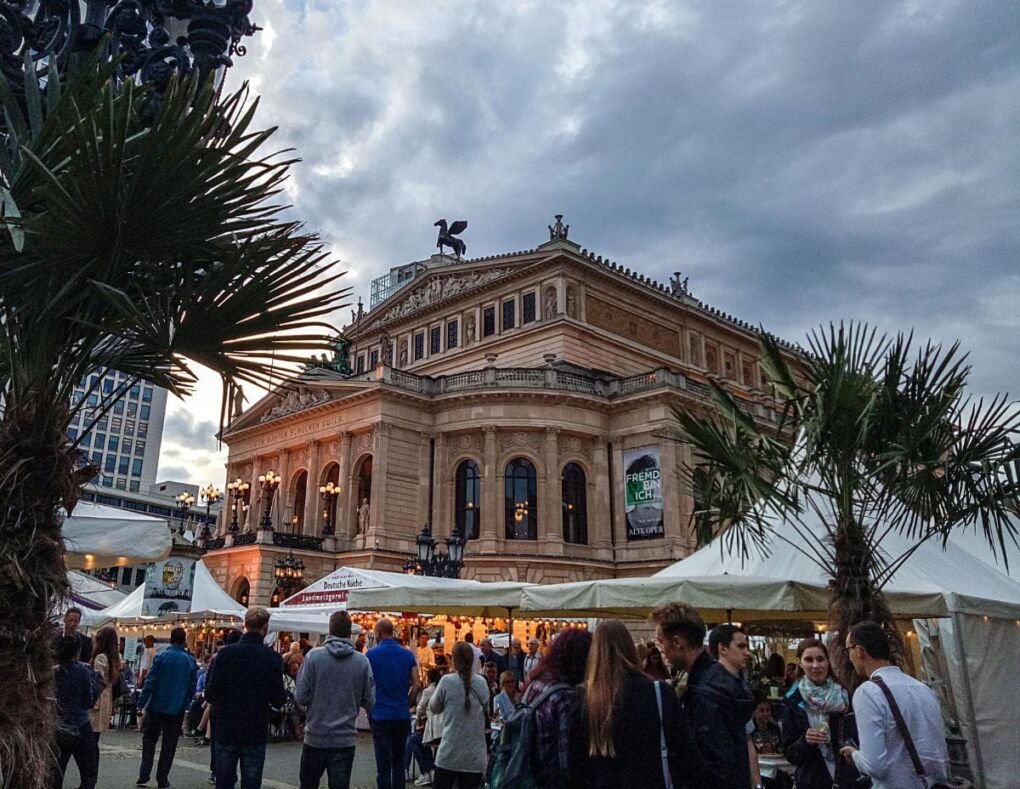 Recommended by NISHA & VASU from Le Monde, the Poetic Travels
If you ask, which is the best place to live in Europe, Frankfurt takes one of the top 10 positions. First and foremost, with one of Europe's largest international airports, it is very well connected with most parts of the outer world. Most people come here in transition but I feel Frankfurt is a place to stay.
The city is clean, friendly, modern and the people are warm. One bigger reason to live in Frankfurt is, the city has made a commitment to become the greenest and most sustainable city on the planet by reducing their carbon emissions by 50% by the year 2030. This means it'll be considered to be built around environmental protection and strive to reduce the human footprint in a considerable way.
Besides, there are many things to do in Frankfurt to never let you out of action. As in any other city, the exploration starts from the old town or Altstadt. And the first thing to see here is 'The Römer'. It has been part of the city hall for over 600 years and is still standing. This half-timber house is Frankfurt's most iconic structure!
Inside Römer there are several rooms for various functions and banquets and many couples love to get their marriage certified in one of them. Some of the rooms are ornately decorated and are a must for anyone in Frankfurt. There are other buildings in the vicinity within a few minutes' walk such as Dom Romer, St Paul church, Goethehaus to keep you busy.
Another must-do attraction of Frankfurt is the old opera house situated at Opera Square or Opernplatz. It was almost completely destroyed during world war 2 and was reconstructed. During the Apfelwein festival, there are live bands playing music in German and English while people enjoy many varieties of Apfelwein or Apple cider.
Dublin, Ireland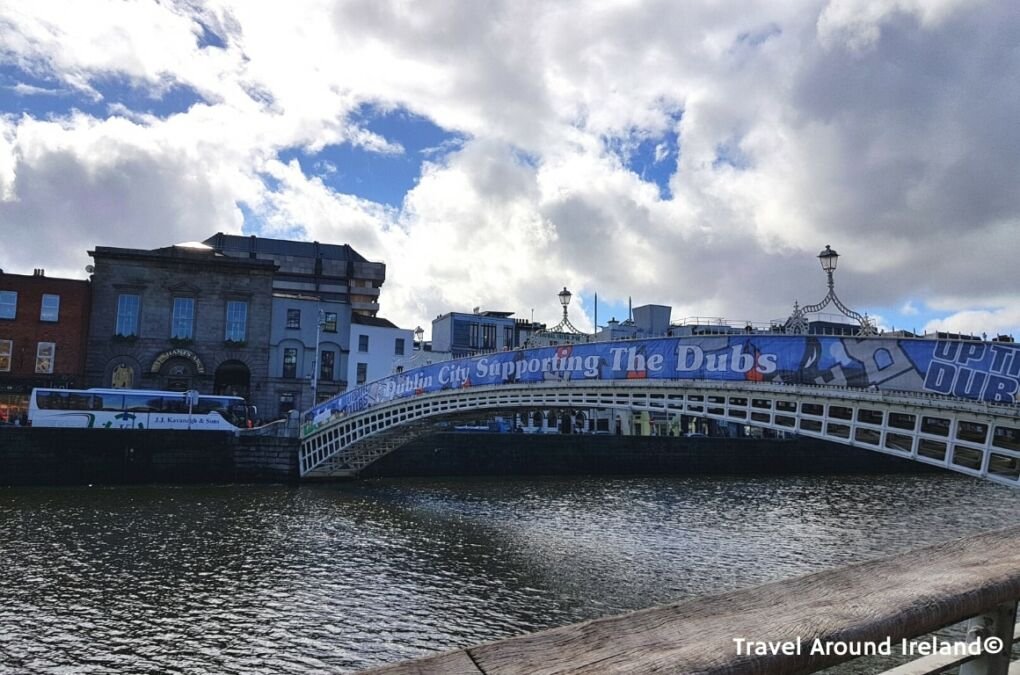 Recommended by Cath of Travel Around Ireland
One of the best cities to live in Europe is Dublin. While the Irish capital is not the cheapest, it is a city with something different around every corner, a multi-national population, and plenty of up-and-coming areas to choose from.
Dublin has a multitude of industries both in the city center and the surrounding suburbs to work within. Many international companies can be found in the city including Amazon, Dell, Pfizer, Microsoft, and the European headquarters of Google, Facebook, Paypal and eBay can be found in the city.
For socializing, Dublin has it all. From restaurants serving every dish from around the world, plenty of pubs to enjoy some Irish craic (that's laughs), and clubs to dance the night away. If you want retail therapy, both the city center and suburbs have all the shops you could want, either on famous Grafton Street and Henry Street or in the shopping centers such as the modern Dundrum Shopping Centre.
For nature lovers, head to the Phoenix Park to stroll through the People's Garden or around the Fifteen Acres, keeping an eye out for the resident deer. The Dublin Mountains are a great place to get back to nature while enjoying views across the city to Dublin Bay. Beaches to dip your toes into the cold Irish Sea including Sandymount, Portmarnock, or Killiney Beach.
And of course, Dublin has a rich history that spans from the times of the Vikings in the 900's AD all the way through to the Irish Revolution and Civil War in the 1910s and 1920s. Places like Dublinia, the GPO, and Kilmainham Gaol give a small peek into the city's history. Take a walking tour of Dublin and just see what you can find. There is a walking tour that is one of the best free things in Dublin to do.
Families will find parks, playgrounds, and lots of child-friendly places to entertain kids such as Sea Life Bray, Dublin Zoo, Explorium, and Imaginosity. Dublin truly is a great place to live whether a solo person, couple, or family.
Manchester, UK
Recommended by Pauline Vergnet
Situated in North West England, Manchester is one of the trendiest cities in Europe. It's very cosmopolitan and loads of people are moving there every day to enjoy the perks of British life, away from the crowds and expenses of the capital city.
Manchester was mainly built during the industrial revolution. This background is still very much present nowadays but the city has been completely revitalized in the last 2 decades, making it one of the best places to live in the UK.
If you love music, you are in for a treat. Manchester gave to the world awesome rock bands such as The Smiths and Joy Division. As you stroll around town in the evening, you will hear live music coming from all pubs!
Manchester is also pretty affordable compared to other UK cities. The University of Manchester is the 3rd best uni in the UK (after Oxford and Cambridge) which is why you will find a large student population as well.
But the best thing about Manchester is the Mancunians themselves! People are so friendly in Northern England. They will welcome you with open arms and make you feel at home straight from the beginning.
Manchester is also very well connected. The airport is the biggest in the country, outside of London and there are high-speed trains that will bring you to London Euston in less than 2 hours.
If you love the outdoors, you will also be spoilt for choice! Manchester is located on the edge of 2 of the most beautiful national parks in England: Lake District and Peak District. Perfect to go hiking on the weekend!
Finally, there is also loads to do in Manchester city center. As you walk around, you will discover the Royal Exchange, St Peter Square, the Gay Village, John Rylands Library, and many other beautiful landmarks!
Best cities to live in Europe for Families
Athens, Greece
Recommended by Chrysoula of Athens and Beyond
Athens is often overlooked as one of the best cities to live in Europe but in actual fact, it offers so many benefits and highlights as well as having a much lower cost of living than places like Paris and Rome, that it's well worth considering.
Not only does Athens have a wealth of history from centuries spent as an Ancient Greek hotspot of wisdom, philosophy, and culture, but it also boasts great year-round weather, fun nightlife, decent cafes, restaurants, and an eclectic mix of things to do. Plus, the beach is less than an hour away by public transport so even when you need a time-out from the city, the sun, sea, and sand are not far away!
While Athens doesn't quite have a tropical climate like Thailand or Costa Rica, it does offer mild winters, glorious spring and autumn months, and hot summers for those who love the sunshine. Average temperatures generally range from around 10°C in the winter to 29°C in the height of summer (with some days peaking well into the 30°s), so even if you don't want to live in Athens year-round you can choose the months that have the climate that suits you best.
As with all European cities, there is a range of different regions within Athens that you could choose to live in, from the more touristy areas of Plaka, Syntagma, and Monastiraki to chic spaces like Kolonaki and Kifisia or nightlife spots like Psiri and Gazi. Basically, whatever style you're looking for, it can be found in and around Athens. You could even choose to live in one of the coastal suburbs, spending more time out at the beach and popping into the city as and when you need to.
So, if you're looking for somewhere with culture, great cuisine, lively nightlife, and incredible architecture, Athens may well fit the bill
Edinburgh, UK
Recommended by Fiona of Travelling Thirties
Without a doubt, Edinburgh is one of the best European cities to live in. Although Scotland's Capital is a small city, it definitely packs a punch and is filled with so much to do. Like most European cities, Edinburgh is perfect to explore on foot, luckily, there are so many rentals in the Old and New Town.
Edinburgh is a fantastic base if you love to travel around the United Kingdom or Europe. The airport is a major hub for international and domestic flights and is also serviced by many buses and trains to access other cities within the United Kingdom.
For a small city, there are so many things to do in Edinburgh like visiting Edinburgh Castle – You cannot visit Edinburgh and not see the Castle. Edinburgh Castle is full of Edinburgh military history and houses the Scottish Crown Jewels. Edinburgh Castle also provides fantastic views of Edinburgh. I love visiting the forecast of Edinburgh Castle (it's free!) at night time and looking over Edinburgh once the hustle and bustle have died away for the day. It provides such a calming feeling and a beautiful way to end the day.
Another must is to walk down the Royal Mile. The Royal Mile runs from Edinburgh Castle to Holyrood Palace – the Queen's official residence in Scotland. The Royal Mile is a perfect mix of old-world charm as well as tourist shops and restaurants and cafes.
At the end of the Royal Mile is Arthur's Seat, an ancient volcano. It is roughly a two-hour hike and provides amazing views. Make you stop to look at the ruins of St. Anthony's Chapel and St Margaret's Loch.
Living in Edinburgh you will never be bored! From the fringe festival in August to the Christmas markets in December and Hogmanay celebrations on New Years' Eve.
The hardest part about living in Edinburgh is moving away from Edinburgh. The day I moved back to Australia was one of the hardest, the tears flowing the whole flight home. Any time I get to visit Edinburgh, the butterflies fly around my tummy in excitement and I feel like I have come home.
Kyiv, Ukraine
Recommended by Inessa and Natalie of Through a Travel Lens
Located right in the center of Europe, Kyiv is a city still overlooked by many. Some of those who heard about the capital of Ukraine also wondered whether this is a safe place to live in, due to the two revolutions the city went through recently, as well as the war still happening in the eastern part of Ukraine.
Those who do decide to come and stay find Kyiv to be one of the calmest, as well as the cheapest European capitals. Renting an apartment close to downtown will cost around 400 USD per month. Expenses on public transportation will not exceed 15 USD per month. A cup of good coffee costs 2 USD, lunch at a cafe amounts to 4-5 USD, and dinner in a good restaurant with a couple of courses and a glass of wine will be worth around 12-14 USD.
In addition to being extremely budget-friendly, Kyiv offers lots of things to do for all tastes. There is a big historic area with some of the oldest churches in Europe, a unique UNESCO-protected underground necropolis, and a bustling nightlife scene with great cafes and bars.
A typical list of things to do in the capital would include visiting the hip Podol area, which is a perfect mix of old Kyiv and modern vibes. Then, there is the legendary Khreshatyk, the main artery of the city.
On weekends, the street with all of its eight lanes turns into the pedestrian zone. Finally, there is the Park of Glory with stunning panoramas of the Dnipro River and the epic Motherland Monument, not to mention lots of great day trips that are so diverse they will keep any resident busy throughout most of the weekends.
Vienna, Austria
Recommended by Anca and Sinan, from Dream, Book, and Travel
According to the "Global Liveability Report" of The Economist's Intelligence Unit, Vienna is the world's best city to live in for several years in a row. The categories usually assessed are stability, healthcare, culture, environment, education, and infrastructure, all beautifully and reliably supported in Austria's capital.
The former capital of the Austro-Hungarian empire, Vienna not only boasts a lot of history and tradition, from the New Year Concert and the famous Sacher Torte to the nowadays Vienna Fashion Week or the Viennale Film Festival, but it has also positioned itself as a hub for young entrepreneurs, students, and expats.
Interestingly, Vienna is also one of the world's safest and greenest cities, and the living costs are relatively reduced here compared to other European cities such as Paris or London. It is difficult to decide where to stay in Vienna, as neighborhoods tend to mix old charm with posh new developments, and are in constant competition to attract locals and visitors alike.
Besides exploring the city's imperial heritage during a visit to the Schonbrunn Palace, one should reserve enough time to delve into Vienna's rich coffeehouse tradition at Cafe Central or learn more about the Viennese wine-making industry on the city's outskirts in Grinzing. This was Beethoven's favorite place, which brings us to the fact that one should make sure to look for a classical music concert to attend while in the city. Depending on the season, there are plenty of things to do in Vienna, like enjoying the world-famous Christmas markets, their less known cousins the Easter markets, tasting the new wine, taking a carriage ride, going for a swim in the Danube, or attending a Viennese ball. We always advise you to pick your favorite season and come experience it in Austria's capital.
Best cities to live in Europe for Outdoor Enthusiasts
Many travelers find themselves divided between nature and cities. In many cases, you can only have one or the other. But look a little harder, and you'll find beautiful parks, tranquil lakes, and even vast mountain ranges within easy reach of many European cities. Find out our favorite cities for nature lovers.
Cadiz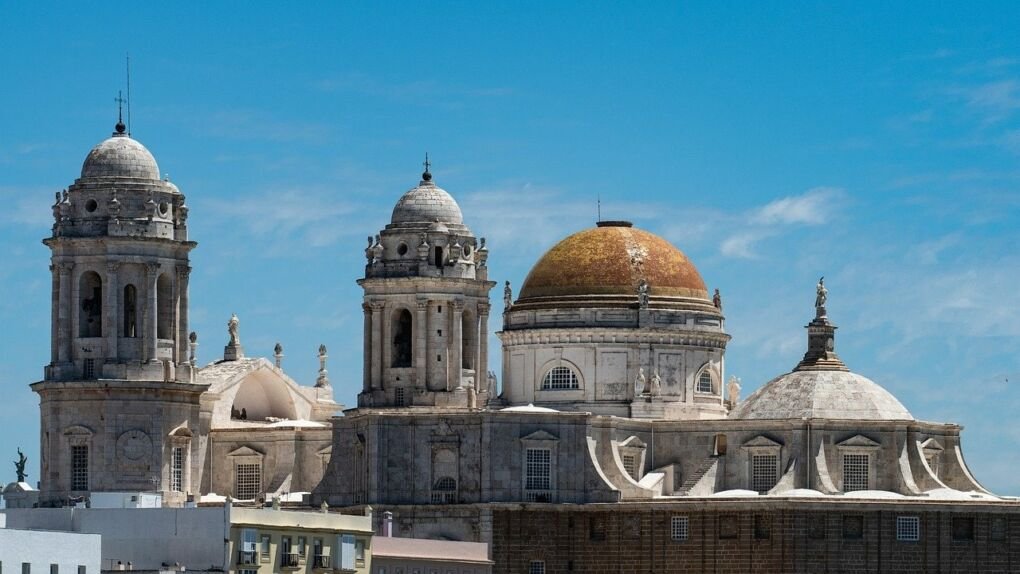 Recommended by Paulina on the Road
Cadiz Province is located in Southern Spain in the region of Andalucía. The province generally enjoys a warm, Mediterranean climate but it differs from place to place. The city of Cadiz is generally hot with mild winters. Cadiz is one of the oldest continuously inhabited cities in Europe and you can still experience much of the well-preserved history. People have been living here for more than 3,000 years because it is one of the best cities to live in Europe.
If you take a short walk through the old town, you can find the traces of the Phoenicians, Carthaginians, Romans, and North African Muslims, who once ruled these lands. Living here lets you discover the history of Spain, flowing with character and atmosphere, covered with Andalusian sun and flowing with flamenco, sherry, and wine.
Cadiz was included in the list of 52 Places to go in 2019 in The New York Times. It is indeed the best place to live because it fascinates you with its mix of atmospheres, from sophisticated and cultured places like Jerez de la Frontera to wild landscapes like the beach in Bikinis or Alcornocales Park. It is a pretty small beach town so you can enjoy walking around wherever you want to head out. With its centuries-old narrow streets and bustling open squares surrounded by the beach, you can spend an aesthetic life here.
There are a lot of things to do in Cadiz, that comes at no price tag at all! You can walk-through Mercado Central which is a large authentic market full of small stalls. You can also take a tour to Cater De Cadiz, a Catholic church, and a few minutes' walk from Mercado Central or you can stroll through La Caleta Beach that is surrounded by modern restaurants and tapas bars. The city welcomes and fascinates all the visitors.
Malaga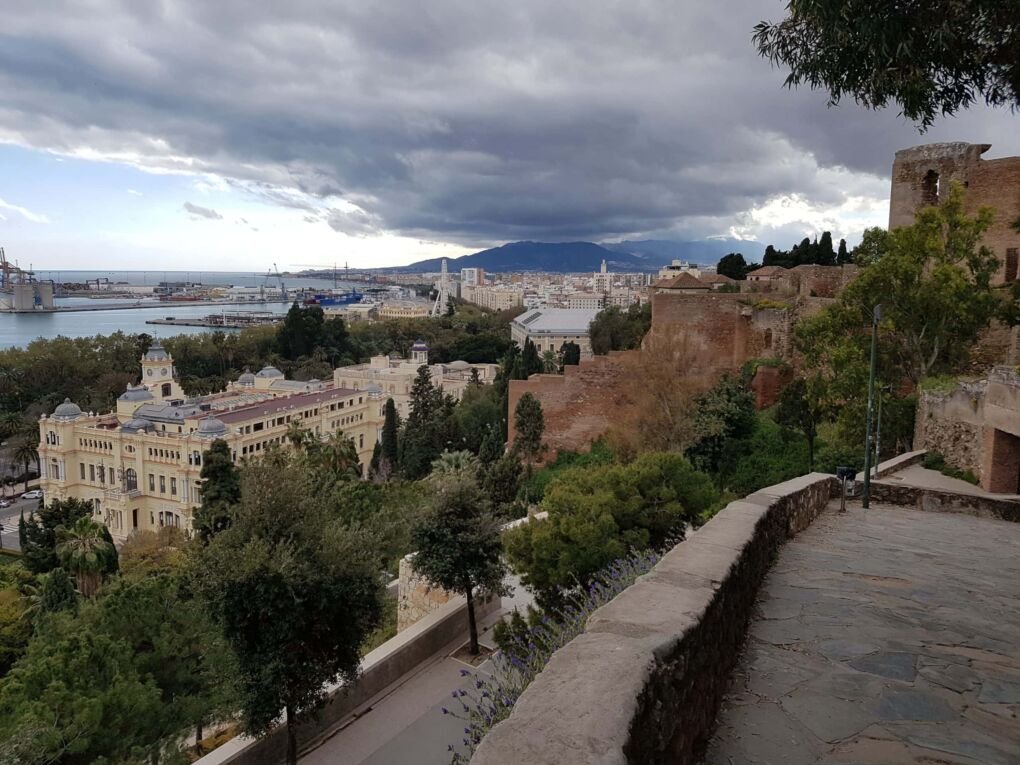 Recommended by Joana of The World in my Pocket
Malaga is one of the perfect European cities to live in because it offers pretty much everything one would wish for. Firstly, Malaga is not a very large city, which makes it very accessible for walking. If you choose to live in the suburbs, public transport is reliable and connects all corners of the city. The city center of Malaga is walkable, and most of the historical areas are pedestrian-only.
Malaga is not an expensive city to live in, with average rent for a one-bedroom apartment of around 500-600 euros. Eating out in Malaga is also very affordable, sometimes even cheaper than cooking at home. Due to its location by the sea, there is an abundance of seafood and fish both in the supermarkets and in the local restaurants.
The weather in Malaga is good pretty much all year, with an average of around 300 sunny days. It is very common to sunbathe on the beach, by the end of February. Malaga has two gorgeous beaches in the city center and a harbor that connects Europe to North Africa, with daily ferries going to Morocco. There are also cruise liners that stop in Malaga for the day.
When it comes to entertainment, there are plenty of things to do in Malaga. Besides the historical sites and the unique museums that the city has to offer, Malaga is a city that never sleeps. The parties go on until the early hours of the morning and the terraces boost with people enjoying a drink and a tapa until late at night.
The airport is located on the outskirts of the city, just a ten-minute ride with the underground train to the center of Malaga. This makes it perfect for people who want to fly in for a weekend in Malaga, to check the city before deciding to move here.
Nice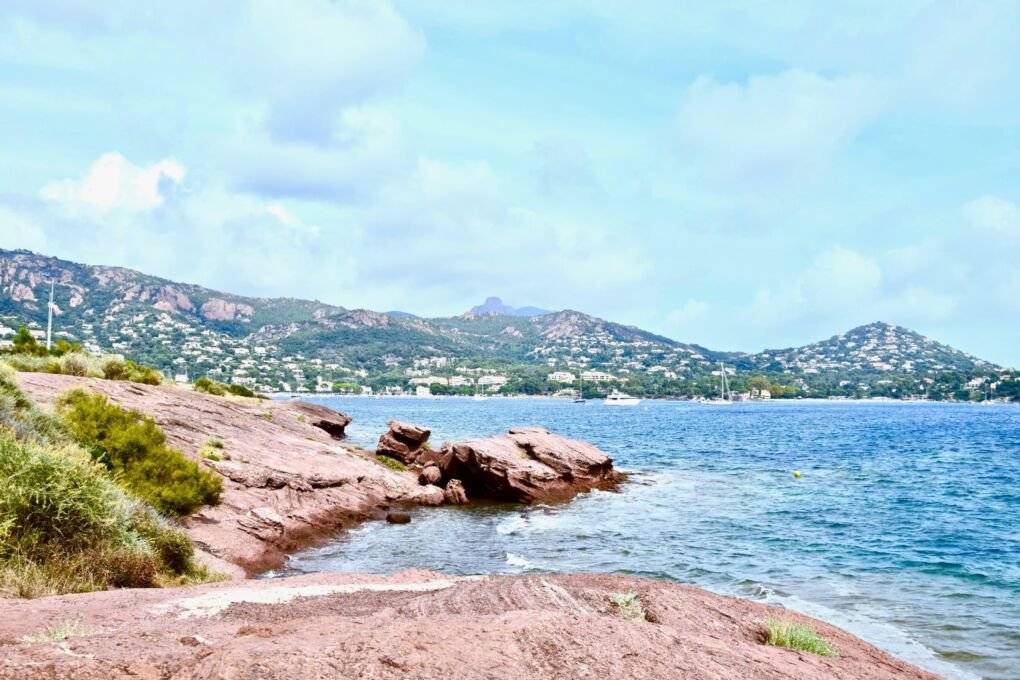 Recommended by Dayna from Happily Ever Travels
When most people think of the Cote d'Azur, they think of glitzy hotels, expensive cars, and celebrities on vacation. However, Nice, France is actually a great place to live in and can be very affordable! On average, the rent is about 800 euros per month for a 1 bedroom studio, which is about the same price as an apartment in the USA! Except for the apartment in Europe is just a few minutes from some of the bluest water Europe has to offer!
If you are hoping to spend your time in Europe traveling, it is perfectly located in the middle of Europe. From Nice, you are less than an hour from Italy by train and only a $20 flight to Spain, England, or Switzerland! Nice also has an international airport that can be reached by public transport for only a dollar and flights to the USA are usually only $100-$150 more than flying out of Paris!
There are also tons of beautiful places to visit within a short bus ride from Nice itself. For just a dollar on public transport, you can visit hilltop villages like Peille or Eze, the adorable town of Villefranche-Sur-Mer, or the most expensive real estate in all of France in Saint-Jean-Cap-Ferrat. Just a short train ride away you also have glamorous Monaco, the Instagram-views in Menton, or the first beach town over the border of Italy in San Remo.
Besides all of the amazing things to do in Nice, living there is the perfect opportunity to learn French! Nice, France is perfectly located, reasonably priced, and has one of the most beautiful coastlines in the world. Although living in France has plenty of pros and cons, you won't regret moving to this beautiful country!
Porto, Portugal
Recommended by Alexandrina of earthosea
Porto is one of the most charismatic and vibrant cities in Western Europe. It is full of life, good vibes, and incredible cuisine, which will make you want to stay for life.
The city is located at the estuary of the Douro river in Portugal and is home to more than 2 million people. Porto is considered to be a relatively safe city to live and the levels of crime are pretty low. Additionally, the health care in Porto is pretty high, which means that in case of any urgent health issues one can rely on the medical staff there.
Another reason that Porto is among the best cities to live in Europe is its climate. The city is known for its mild climate and the warm winters, which still allow avid surfers to go into the ocean. On top of that, the pollution in Porto and in the whole of Portugal is pretty low, which is something one should consider these days.
It is also good to mention that Porto is far from being an expensive city to live in. The one-bedroom apartments in the city center are 700 euros or lower. The basic utility bill is around 100 euros and the prices in the stores are pretty low. One can easily buy groceries for the whole week for 20 euros or less.
Having all this in mind, Porto is a very nice city to live in. The weather is always nice, the air is clear, the city is pretty safe and it is not even that expensive. In addition to all that, there are lots of landmarks to explore and things to do. Some of the most famous landmarks are the Cathedral of Porto, Bolsa Palace, Clérigos, and Carmelitas churches. In the city, there are lots of parks one can enjoy and some of the best are Jardim do Morro and Jardins do Palácio de Cristal. If you want to enjoy some of the most beautiful sunsets over the city then head to Jardim do Morro or head to the beaches of Porto – Ingleses or Gondarem. There you can also practice surfing or any other water sport and fill your soul with joy!
Thessaloniki, Greece
Recommended by Amber Charmei of Thessaloniki Local
Thessaloniki is one of those places that stay with you; it has a strong texture and character. A lot of people who visit Greece may not have heard much of it before, but it ends up being their favorite city. Maybe that's because it's not a city-oriented to tourism – although it's very hospitable and there are lots to do. This is a city for locals like it has been for 23 centuries.
Perhaps it's the pace of life here that people like so much, it's urban and cosmopolitan, but humane, tempered with a Mediterranean sense of time and priorities – long lunches and plenty of coffee breaks. Thessaloniki is just big enough to have a proper big-city downtown, but still small enough that you'll always run into half a dozen people you know.
The nightlife in Thessaloniki earns its reputation. There are many international concerts and music festivals throughout the year, and plenty of rebetiko. And for bar-hopping, its repurposed commercial neighborhoods and historic cobblestone streets are matchless.
Traditional culture and cosmopolitan lifestyle mingle easily. By day, the chaotic Kapani market is like shopping in the Ottoman era, with the air filled with the mingled scents of spices and meat. This is just steps from the elegant Aristotle plaza, open to the Thermaikos bay and perfectly framing the view of Mt. Olympus. Gypsies stroll with accordions, and in the winter guys sell cups of hot, thick salepi from samovars on the street, right by the elegant boutiques and bookstores. When you want a break from the 21st century, just pop into one of the Byzantine churches – they're everywhere, and 13 of them are UNESCO World Heritage sites.
Life here revolves around the sea. Thessaloniki has one of Europe's longest – and certainly one of its loveliest – waterfronts. It fills in the morning and again a sunset for the evening promenade – the classic prelude to some ouzo and meze with friends. The Bay of Thermaikos is beautiful on a calm day, but it's at its very best when it's churning with a winter tempest.
---
Travel Insurance for living in Europe
Use travel insurance while living in Europe so you are covered for theft and medical expenses. There are a lot of amazing countries to visit in Europe, and it's best to have peace of mind while driving, hiking, and trying some of the best food in the world!
Find out why I recommend World Nomads, check out my World Nomads Insurance Review.
Disclaimer: This article contains affiliate links. This means that if you make a booking after clicking on a link, I may receive a small commission at no extra cost to you!