Georgia, part of the Caucasus region, is a transcontinental country at the intersection of Europe and Asia. Over the decades, this hidden gem has grown in popularity for its diverse population, beautiful sceneries, rich cultural heritage, and long-standing hospitality traditions.
However, visiting the country and living in it are two different experiences. But with this insightful guide, you'll know the best places to live in Georgia hassle-free.
Next Read: Discover the most stunning places for coliving and coworking in Georgia.
Best Places to Live in Georgia for…
Expats: Tbilisi
English Speakers: Batumi
Digital Nomads: Gori
Solo Travelers: Sokhumi
Couples: Rustavi
Groups: Kutaisi
Top 10 Places to Live in Georgia
1. Tbilisi
  Best Place to Live for Expats
Cost of Living: $$$
Tbilisi is the capital and largest city in Georgia. This cosmopolitan city sits along the Kura River. Its business-friendly legislation, taxation, and customs make it one of the best cities for expats.
You can experience a variety of contemporary and modern lifestyles through its many coffee shops, shopping centers, parks, pharmacies, restaurants, bars, and magnificent historical landmarks.
Tip: Head over to the Narikala Fortress to learn about the battles fought and won by Tbilisi.
Who Would Like to Live There: Expats, History Buffs, English Speakers
Pros:
High employment rate
Good healthcare and medical services
Affordable living
Cons:
Pollution
High crime rate
Improper sewage facilities
2. Batumi
  Best Place to Live for English Speakers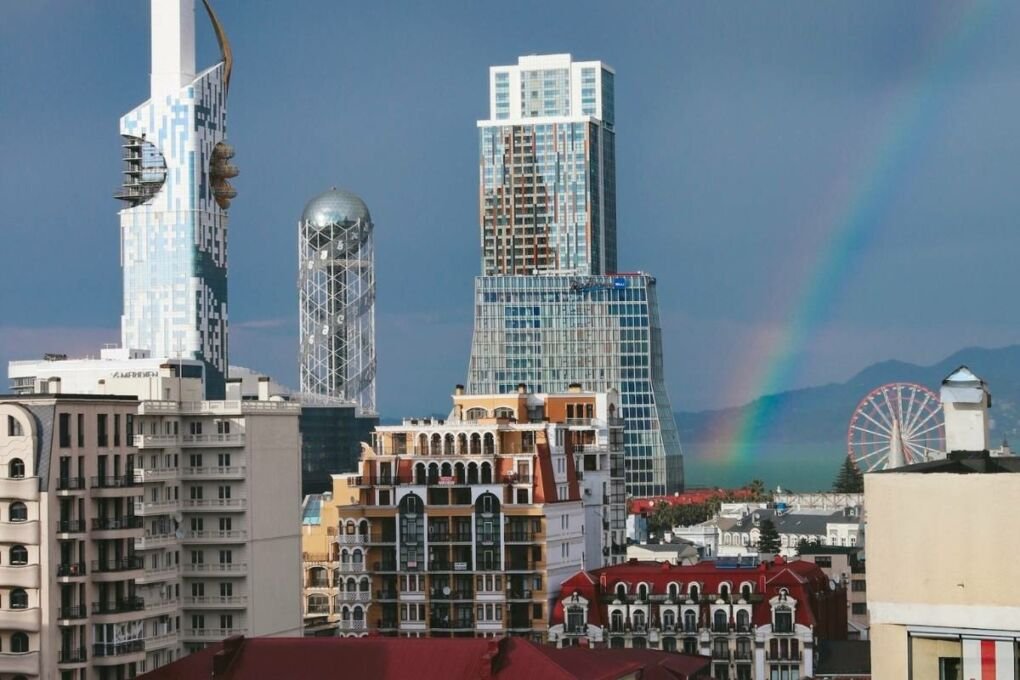 Cost of Living: $$
Surrounded by natural beauty, Batumi is a coastal city and the second-largest in Georgia. The metropolis is home to luscious green forests, gorgeous waterfront promenades, glitzy skyscrapers, and a picturesque beach.
Compared to Tbilisi, the city is far less crowded and offers a lower cost of living. Due to its ideal location for tourists and immigrants, the city also benefits from having a high English-speaking population.
Tip: Craving some panoramic views? Head over to the Alphabetic Tower to satisfy your adventure thirst!
Who Would Like to Live There: English Speakers, Tourists, Digital Nomads
Pros:
Stunning scenery
Affordable living
Multilingual city
Cons:
Fewer western-style amenities
Noisy city due to constant construction work
Hostile towards LGBTQ+
3. Kutaisi
  Best Place to Live for Groups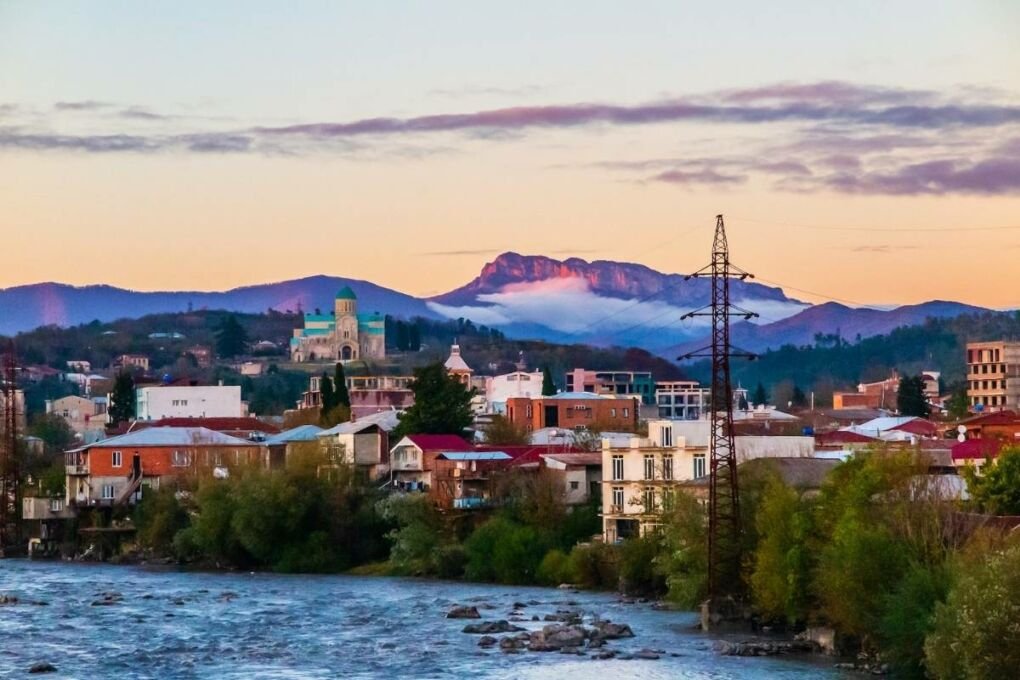 Cost of Living: $
Situated in the Imereti region, Kutaisi is a former capital and one of Georgia's oldest cities. It has one of the country's first educational institutions and is a central hub for culture and history.
Kutaisi is an authentic place where old monasteries, well-preserved dinosaur footprints, fabled caves, and ancient cathedrals coexist with innovative construction. Kutaisi's international airport offers convenient connections to many European nations.
Tip: For a medieval Georgian experience, check out the Bagrati Cathedral.
Who Would Like to Live There: Groups, Couples, Families.
Pros:
Friendly locals
Low cost of living
Average population
Cons:
Likely to experience culture shock
Mainly Georgian and Russian speakers
Lacking a variety of international cuisines
Next Read: Explore why Georgia is one of the safest places to visit in Eurasia.
4. Mtskheta
  Best Places to Live for Budget Travelers
Cost of Living: $
As a small city in Western Asia, Mtskheta is among the favorites of Georgia. The city boasts architectural and historical monuments, rugged mountains, charming vicinities, and affordable local cuisines.
The sacred city is also a UNESCO World Heritage Site owing to its orthodox history, as seen through its chapels, churches, cathedrals, and shrines.
Tip: Visit the Svetitskhoveli Cathedral to experience authentic Georgian culture.
Who Would Like to Live There: Budget Travelers, Digital Nomads, Groups
Pros:
Mild climate
Low cost of living
Beautiful architecture
Cons:
Known for high drug abuse
Lack of educational opportunities
Poorly built houses
5. Telavi
  Best Place to Live for Architecture Fans
Cost of Living: $$$
Although a small city, Telavi offers big city vibes. You'll never lose interest with its attractive valleys, historic monasteries, breathtaking mountains, exquisite architecture, and charming undercover market.
The city's beautiful architecture is one noteworthy attraction that permeates the entire area. Telavi depicts Georgia's historical and contemporary culture through houses and other large buildings.
Tip: Head over to the Batonis Tsikhe Fortress and get a clear view of the entire city
Who Would Like to Live There: Architecture Fans, Solo Travelers, Groups.
Pros:
A walkable city
Ample parking alongside roads
Breathtaking architecture
Cons:
High cost of petrol and oil
Many unpaved roads
Low wages
6. Gori
  Best Place to Live for Digital Nomads
Cost of Living: $
While Gori may not provide a vibrant lifestyle, it offers its tourists and residents a peaceful and serene escape. With a beautiful, green, hilly landscape, this city is among the favorites of digital nomads, solo travelers, and retirees.
The friendly city boasts ancient architecture, bustling local markets, a unique fortress and several churches and synagogues.
Tip: Hike up a rocky hill to reach Gori Fortress and appreciate the city's beauty.
Who Would Like to Live There: Digital Nomads, Solo Travelers, Retirees.
Pros:
Close to Tbilisi
Good internet service
Peaceful city
Cons:
No nightlife
Few English speakers
Can experience culture shock
7. Sokhumi
  Best Place to Live for Solo Travelers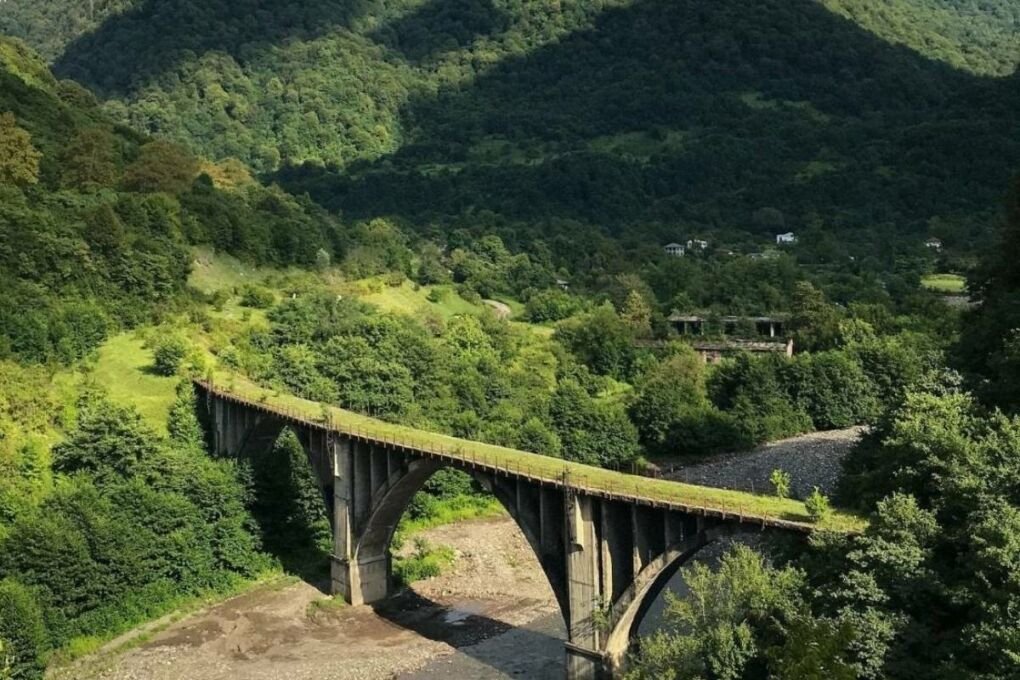 Cost of Living: $
Sokhumi lies on the Black Sea coast, where the ancient Greek settlement of Dioscurias formerly stood. It had a rough history with Greek settlers, the Soviets, and the Roman and Ottoman Empires occupying and renaming the city.
Since the last Battle of Sokhumi in 1993, significant infrastructural improvements and a rise in tourism have taken place. The city is a perfect destination for those looking for peaceful sanitariums, beaches, resorts, and rich history.
Tip: Explore Besleti Bridge to experience a sense of the 12th-century.
Who Would Like to Live There: Solo Travelers and History Enthusiasts
Pros:
Beautiful resorts
Average climate
Great sight-seeing landmarks
Cons:
Increased crime rate
High unemployment
Major drug problem
8. Rustavi
  Best Place to Live for Couples
Cost of Living: $$
Similar to Tbilisi, Rustavi is Georgia's industrial hub. However, in recent years, the city has had significant developments to its infrastructure. The city boasts theaters, parks, hills, fortresses, and museums.
It's great for those looking to start a family in the city. It has schools, great work opportunities, and adequate facilities to make a new home.
Tip: Shoot a hoop at Rustavi Park, the city's gorgeous recreational center.
Who Would Like to Live There: Couples, Families, Groups, Digital Nomads, Expats.
Pros:
Good educational facilities
Modern amenities
High employment rate
Cons:
Crime
Still under development
Pollution
9. Samtredia
  Best Place to Live for Football Lovers
Cost of Living: $$$
Samtredia is Georgia's transport hub. It's where roads and railways converge to reach other major cities in the country.
The city serves its residents and tourists with a mix of old and new architecture, magnificent museums, stunning parks, various restaurants, hotels, and shopping centers. What's more is that FC Samtredia, an association football club in Georgia, is proud to call this beautiful city home.
Tip: Visit the Erosi Manjgaladze Stadium to learn more about Georgia's star football players.
Who Would Like to Live There: Football Fans, Solo Travelers, and Digital Nomads.
Pros:
Big on soccer
Easy access to other cities
Great work opportunities
Cons:
Pollution
High crime rate
Busy roads
10. Poti
  Best Place to Live for Entrepreneurs
Cost of Living: $
Poti is a major port city in Georgia and has served as a European international trade center for decades. Its vibrant markets, great restaurants, magnificent buildings, and street art are everywhere you look.
The city's distinctive layout and stunning vintage architecture have earned it the moniker "Little Paris." One of the top attractions in Poti is its lighthouse, which offers a magnificent view of the city's features.
Tip: Walk to the seafront near the lighthouse and peek at a large family of dolphins ducking and diving.
Who Would Like to Live There: Entrepreneurs, Groups, Solo Travelers.
Pros:
Good internet speed
Variety of restaurants
Great landmarks
Cons:
Mosquitos
Poverty
High unemployment rate