Finland has become a place of great intrigue to many people for its exceptional quality of life and was recently ranked as the happiest country in the world for the fifth consecutive time by the World Happiness Report.
Many attribute this to the nature in and around Finland and the low levels of inequality and crime. That being said, it can be pretty expensive to live here, and it's known to have brutal, dark winters.
But don't worry just yet, as we've created a list of the best places to live here and some helpful tips. Read on and you'll see just what we mean.
Tip: Look here for more cities to live in Europe.
Best Places to Live in Finland for…
Expats: Helsinki
English Speakers: Jyväskylä & Helsinki
Digital Nomads: Rovaniemi
Solo Travellers: Lappeenranta
Couples: Oulu
Groups: Jyväskylä
Top 10 Places to Live in Finland
1. Helsinki
Best City to Live for Expats
Cost of Living: $$$
Helsinki is the capital of Finland, known for its cultural offerings and various architectural styles. Additionally, this city provides most of the comforts of a capital, such as fine dining, coffee shops, and markets. This serves the young and hipster vibe Helsinki has. The city's also known to have the largest number of foreigners. It's close to the Baltic Sea, which is why it's such a beautiful location.
Tip: If you're a shopping and design enthusiast, visit the Design District for some unique items from Marimekko, Artek, and Iittala.
Who Would Like to Live There: Expats & English Speakers
Pros:
Highest income in Finland (about €4K)
Many job opportunities
Escapes dark winters of the North
Cons:
Most expensive cost of living
Not lots of space to live
Can get busy due to tourists
2. Tampere
Best City to Live for Digital Nomads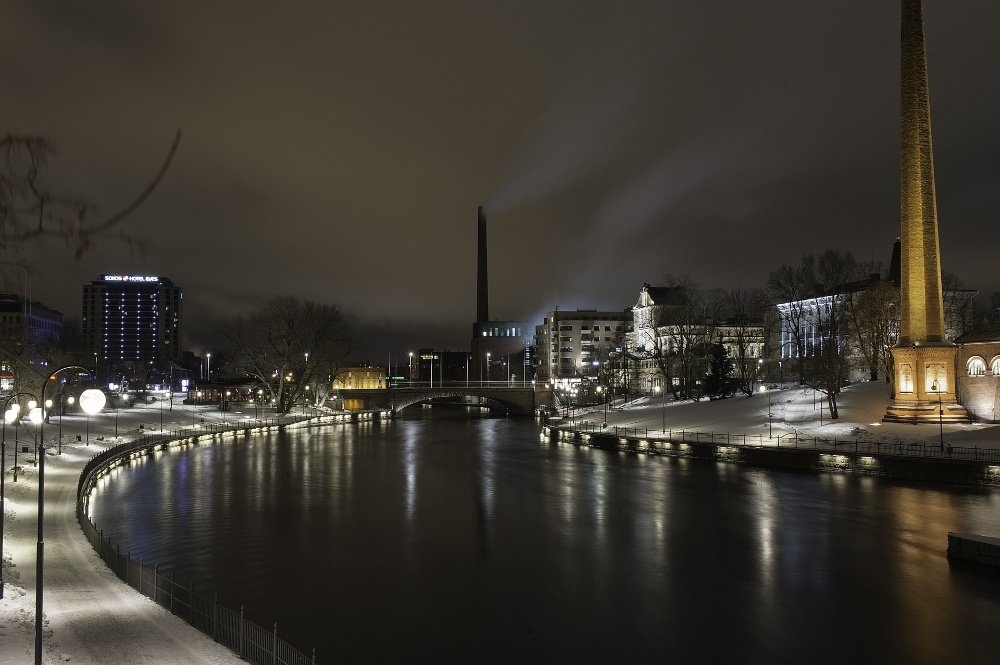 Cost of Living: $$$
This city is located in South Finland between Lakes Näsijärvi and Pyhäjärvi and is the second largest city in the country. It's not as inaccessible as other Northern cities as it's only a 90-minute train ride from Helsinki. Additionally, it boasts beautiful scenery such as a beach, lakes, and forests.
Tip: For digital nomads, check out Crazy Town, a coworking space.
Who Would Like to Live There: Digital Nomads & Jobseekers
Pros:
Best city to live in according to various Finnish surveys
Lots of job opportunities
Lots of restaurants and bars
Cons:
High property costs
Might be too small if used to metropolitan life
Also challenging to make friends here
3. Espoo
Best City to Live for Young People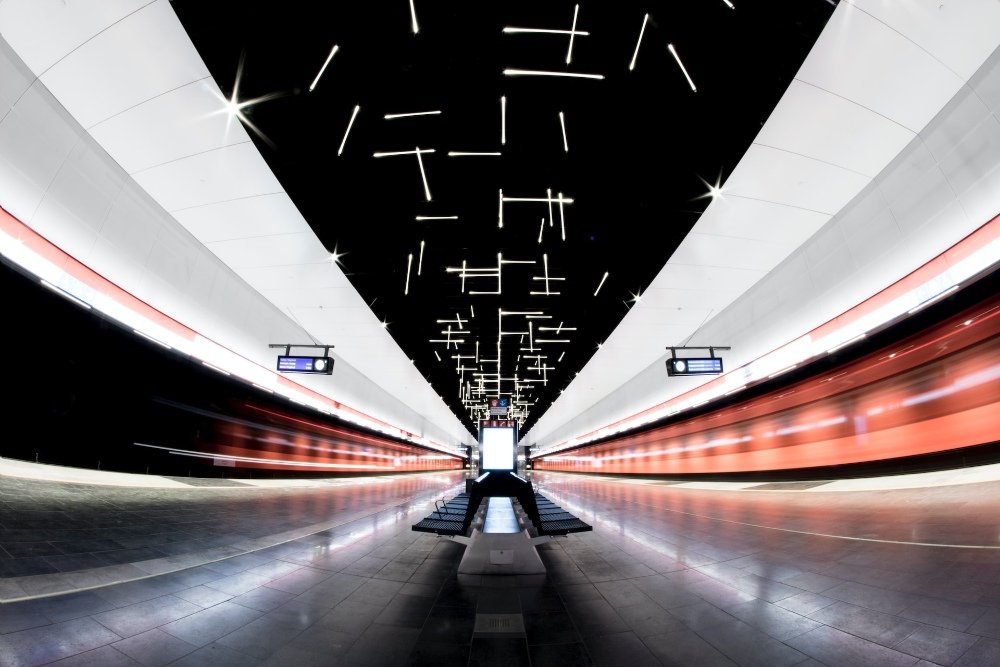 Cost of Living: $$
Espoo is only a 20-minute car ride from Helsinki and boasts more affordable accommodation options. It has a lively energy with many restaurants and clubs to keep you entertained. Additionally, it's home to the Espoo Museum of Modern Art and close to the Nuuksio National Park, should you need a breath of fresh air.
Tip: If you enjoy Helsinki's architecture, visit the Tapiola area and look out for the WeeGee Exhibition Centre.
Who Would Like to Live There: Young People & Digital Nomads
Pros:
Cheaper than Helsinki while maintaining the big city amenities??
Many international concerts, festivals, and cultural events are held here
Good environment for raising children and business activity
Cons:
Not many bars and restaurants
Slow social situation
Medical care is lacking
4. Turku
Best Place to Live for History Buffs
Cost of Living: $$
Being the oldest city in Finland and the old capital, Turku is full of history. This is clear in the architecture, including the Turku Cathedral, Brinkhall Manor, and the 19th-century City Hall. Turku's also home to the University of Turku – the biggest university in Finland. With this comes a large student population and a vibrant social scene. It's also known for its lovely summers and interesting traditions.
Tip: If you feel like a break from Finnish life, consider taking the ferry to Sweden, which takes 17 hours (Flying only takes 1 – 3 hours). Read this post to learn the best places to stay in Sweden.
Who Would Like to Live There: History Buffs and Young Families
Pros:
Less expensive than Helsinki
Thriving social scene and bar culture
Good universities and job options
Cons:
Quite culturally different compared to other Finnish cities
Locals can be sceptical of newcomers
Lots of ugly apartment blocks
5. Oulu
Best Place to Live for Couples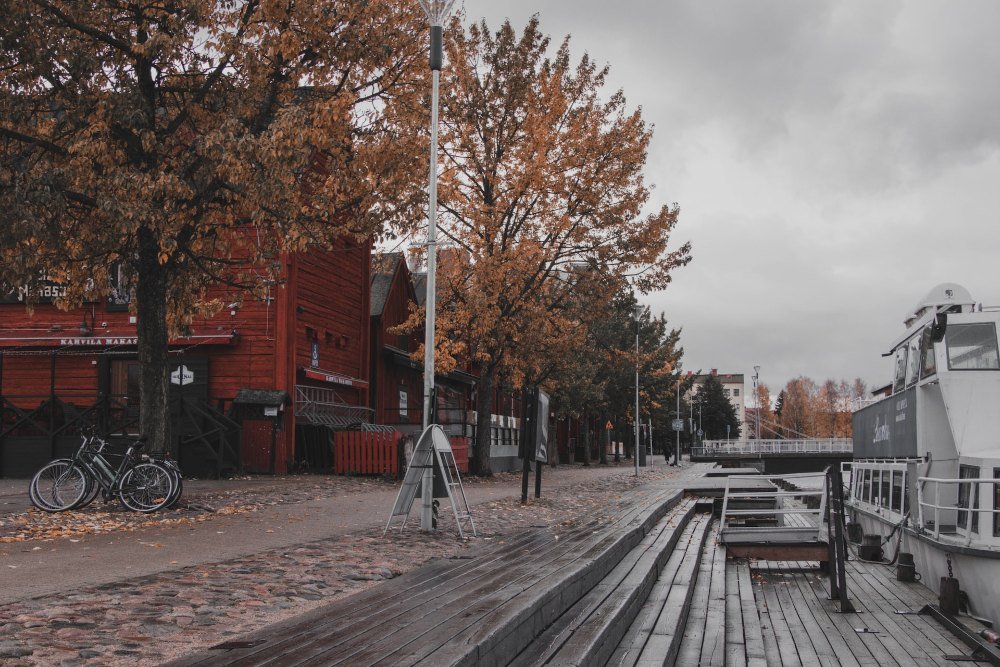 Cost of Living: $$
Oulu is located at the meeting point of the Oulujoki River and the Bay of Bothnia. Here you are guaranteed stunning views and neoclassical buildings, a reminder of the old city. It's the northmost city in Finland, with a population of around 200,000 and many global businesses. Additionally, the nearby beauty of the Lapland offers various activities, and the quirky vibe is perfect for couples.
Tip: Oulu is close to Lapland; visit here to see the Northern Lights.
Who Would Like to Live There: Couples and Families
Pros:
One of the most affordable places to live in Finland
Largest city in the North, so it's not overfilled
Very conducive business environment
Cons:
Located in Northwestern Finland, so it gets little sunlight in winter
Very wet and humid year round
Bad city for making friends outside of work
6. Jyväskylä
Best Place to Live for Groups/English Speakers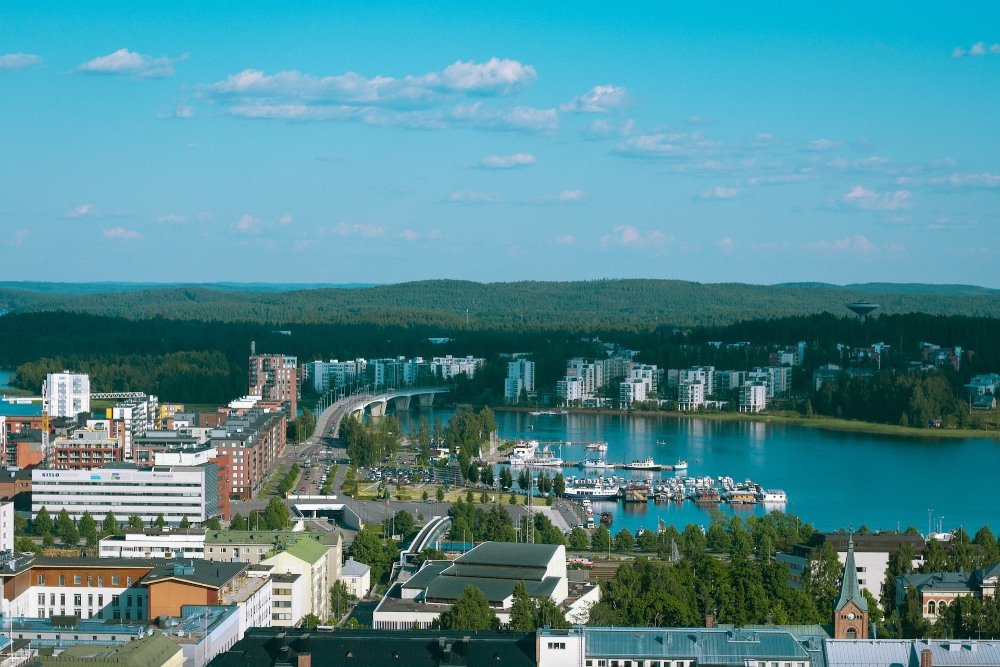 Cost of Living: $$
The city of Jyväskylä was the fastest growing city in Finland in the 20th century (and continues to grow). This is no surprise, as it's stunning here. Known for being the hometown of Alvar Aalto, a famous Finnish architect, which is apparent in the various buildings he designed here. It's lively here as a third of the population are students. In addition, there are many beaches, parks, and extensive bike paths.
Tip: If you love architecture, visit the Alvar Aalto Museum.
Who Would Like to Live There: Groups
Pros:
English is well known here
Close to nature so has good air quality and is not crowded
Popular area for outdoor sports
Cons:
Small social circles, so hard to make friends
Very long, cold, and dark winters
Can be quite remote from rest of Finland
7. Rovaniemi
Best Place to Live for Solo Travellers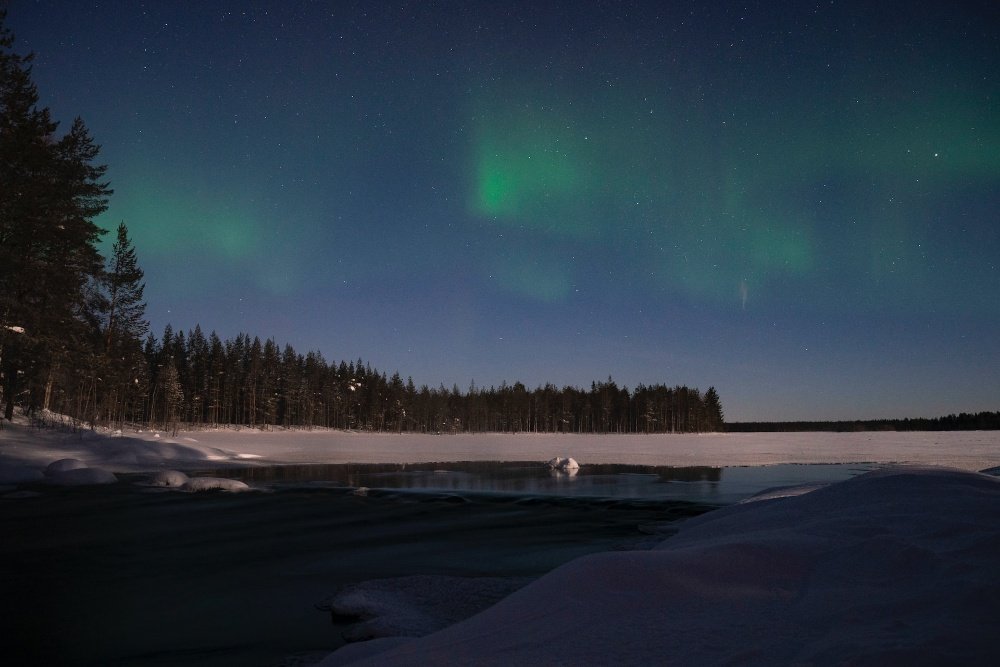 Cost of Living: $$
Rovaniemi is the home of Santa's Village and the capital of Lapland. It has the largest population hub near the Arctic Circle. Its quaint environment has several neighbourhoods to choose from and has affordable options. The downside is it is far from the rest of Finland. This can all be minimised when we consider the beauty it has to offer.
Tip: Make sure to have loads of thick winter clothing as temperatures average at -15°C
Who Would Like to Live There: Solo Travellers
Pros:
Ideal for winter sports lovers
Beautiful location
Vibrant culture
Cons:
Bad for people who hate the cold
Quite small
Very Christmassy year round
8. Savonlinna
Best Place to Live for Older Couples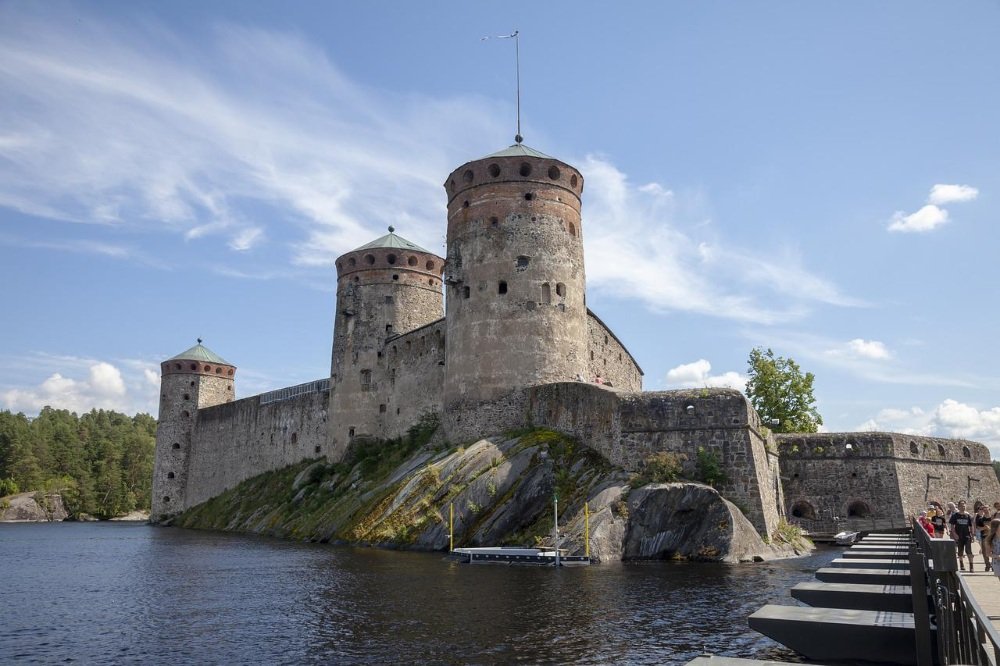 Cost of Living: $$
Savonlinna is a small town of around 30,000. It's surrounded by the natural beauty of the Saimaa lake region. It offers many outdoor activities, such as canoeing, swimming, and hiking. This area is perfect for those who love peaceful-town vibes. It's also known for its Savonlinna Opera Festival, held during the summer. Lastly, it's also close to the Kolovesi and Linnansaari National Parks.
Tip: Make sure to visit the incredible Olavinlinna Castle, which is well preserved with exhibitions about the battles that were fought here.
Who Would Like to Live There: Older Couples
Pros:
Lots of natural beauty
Pretty affordable prices compared to the rest of Finland
Great for explorers
Cons:
Could get quite monotonous and quiet
Quite harsh in winter
Not much to do if you're not sporty
9. Vantaa
Best Place to Live for Families
Cost of Living: $$$
Vantaa is situated centrally in Finland. In addition, it's a sprawling area with a lot of growth. As it's a bit further from the capital, housing is more affordable, which is advantageous to families. Additionally, it's a great location for shopping and business.
Tip: If you want to do something with kids, visit Heureka for interactive science exhibits.
Who Would Like to Live There: Families
Pros:
Close to the airport
Good place for families and quiet environment
Central location
Cons:
If not working in Vantaa, costs add up
Not many restaurants
Ugly architecture
10. Lappeenranta
Best Place to Live for Students
Cost of Living: $$
Lappeenranta is located in Eastern Finland and is a university city. As such, it's more affordable than the bigger cities. It's got a population of 73,000 and has fantastic services available. It's only 30kms from the Russian border with train routes to St. Petersburg. Additionally, it's located near Lake Saimaa.
Tip: Buy a Wallti bus card for €5 for affordable, accessible travel
Who Would Like to Live There: Students
Pros:
Known as green capital of Finland
One of the safest cities in Finland
Lovely summers and moderate winters
Cons:
Not very big social scene
Very young population
Harder to find employment here