When people speak about how incredible the European countries are, Switzerland is one of the first countries they think of, and rightly so. This charming country is home to a range of welcoming towns and cities. In this guide, we have compiled a list of the 10 best places to stay in Switzerland below. This way, you are sure to find a place that's perfect for you and your living needs.
Top Tip: Switzerland is home to some great banks for digital nomads.
Best Places to Live in Switzerland for…
Expats: Geneva
English Speakers: Zurich
Digital Nomads: Bern
Solo Travelers: Lugano
Couples: Lucerne
Groups: Winterthur
Top 10 Places to Live in Switzerland
1. Zurich
Best Place to Live for English Speakers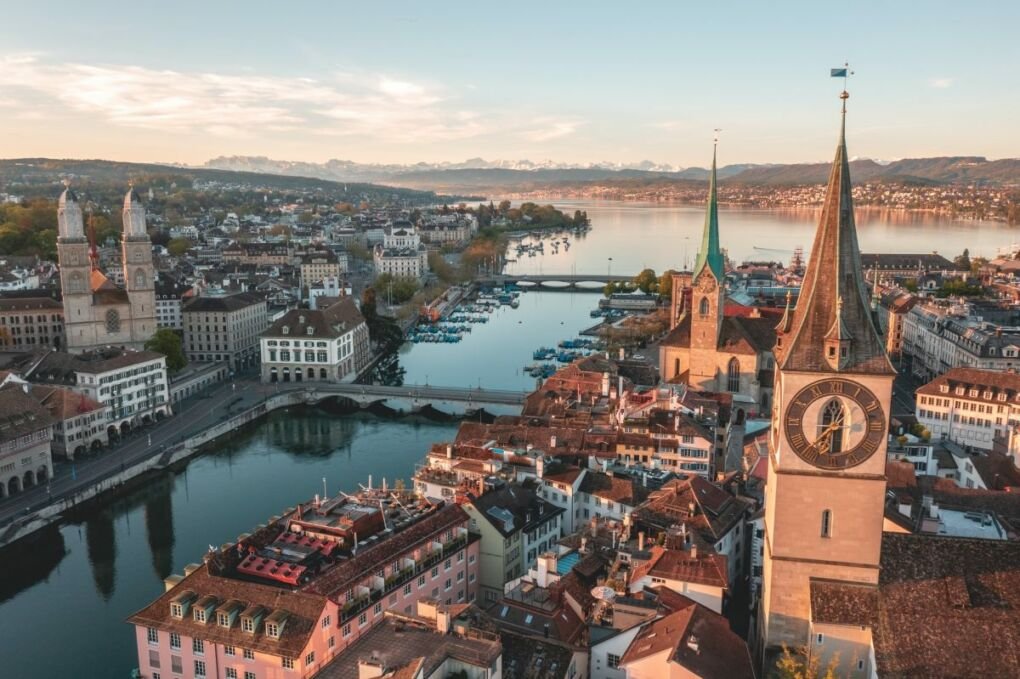 Cost of Living: $$$
Zurich is a beautiful city built at the north end of Lake Zurich and serves as one of the global centers for banking and finance. Zurich is one of the most expensive cities in the world due to its rich pre-medieval history, multicultural environment, and business opportunities. Alternatively, it's a great first stop on a summer road trip through Switzerland.
Tip: Visit the local zoo, which is inside a giant greenhouse.
Who would like to live there: English speakers
Pros:
International environment
Great salaries
English proficiency
Cons:
The cost of living in Zurich is expensive.
Competitive real estate market.
The city essentially shuts down on Sundays except for essential service providers.
2. Geneva
Best Place to Live for Expats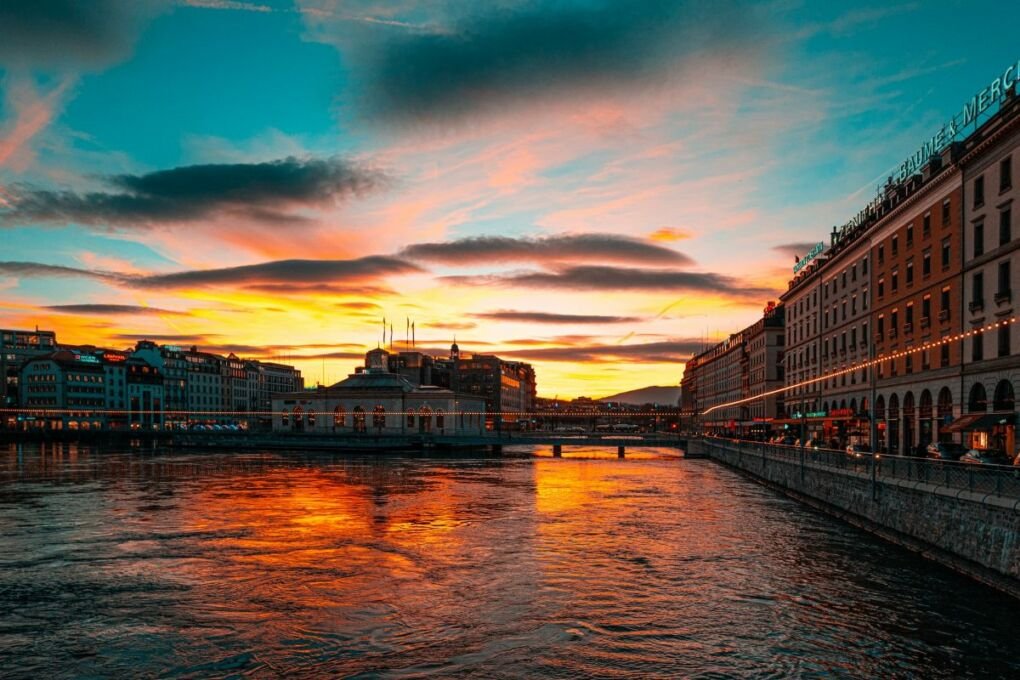 Cost of living: $$$
Geneva is the second-largest city in Switzerland and is famously known as the home of international organizations like the United Nations, the Red Cross, and the World Health Organization. This makes Zurich an incredible place for expats interested in working with these international organizations and doing meaningful work. However, the things that make working in Geneva desirable also make finding accommodation difficult.
Tip: Make sure to save money before visiting as the city is rather expensive.
Who would like to live there: Expats looking to further their careers.
Pros:
Geneva has a high quality of life, particularly for expats.
Switzerland has generous worker rights that even expats can qualify for.
Geneva has a strong expat community, so socializing won't be difficult.
Cons:
Property prices are very high due to competition.
Social clubs and events are often only available in the local language.
Switzerland essentially shuts down on Sundays.
3. Bern
Best Place to Live for Digital Nomads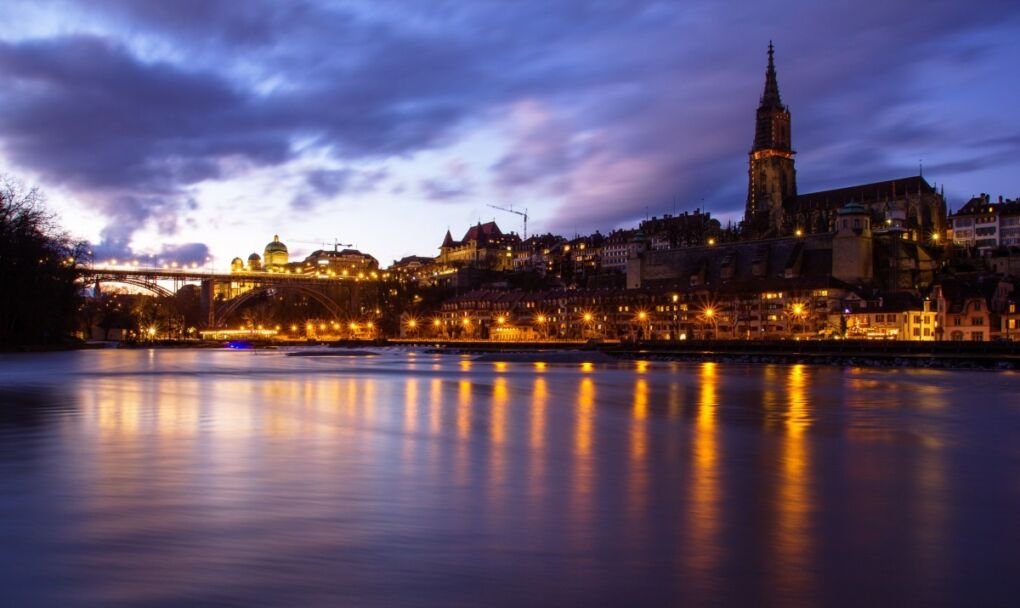 Cost of Living: $$$
Tip: The Efiinger -Kaffeebar and Co-working space is a great co-working space to work from and meet like-minded people.
Bern is the de-facto capital of Switzerland. Bern is centrally located between Zurich and Geneva, offering small-town coziness without sacrificing extensive city amenities. Bern also has some incredible museums and restaurants. Hence, it is an excellent destination for digital nomads who want a quiet little town to work from while experiencing everything Switzerland offers.
Who would like to live there: Digital Nomads
Pros:
Centrally located between Zurich and Geneva.
A small town with modern amenities.
Many activities, including 130 parks.
Cons:
The language barrier in Bern is quite a challenge.
Socializing with natives is somewhat tricky.
There has been a slight increase in xenophobic behaviour recently.
4. Winterthur
Best Place to Live for Groups
Cost of Living: $$$
Winterthur is a beautiful town in northern Switzerland near the German border. It is an incredible destination for art enthusiasts and would make an excellent destination for group trips of all ages. Winterthur is home to 17 museums, and the oldest orchestra in Switzerland, known as the Orchester Musikkollegium Winterthur, dates back to 1629.
Tip: Make sure not to miss out on a performance from the Orchester Musikkollegium Winterthur.
Who would like to live there?: Older couples who want a slower lifestyle.
Pros:
Excellent historical sites and museums to visit.
Winterthur has a long history of being an industrial town, so remnants of the past are still around to be enjoyed.
It is close to the German border, making trips convenient and easy.
Cons:
It isn't particularly well known for having job and career opportunities.
There aren't many events held here, so it may become boring.
Housing is in short supply as it doesn't have a lot of new
5. Lucerne
Best Place to Live for Couples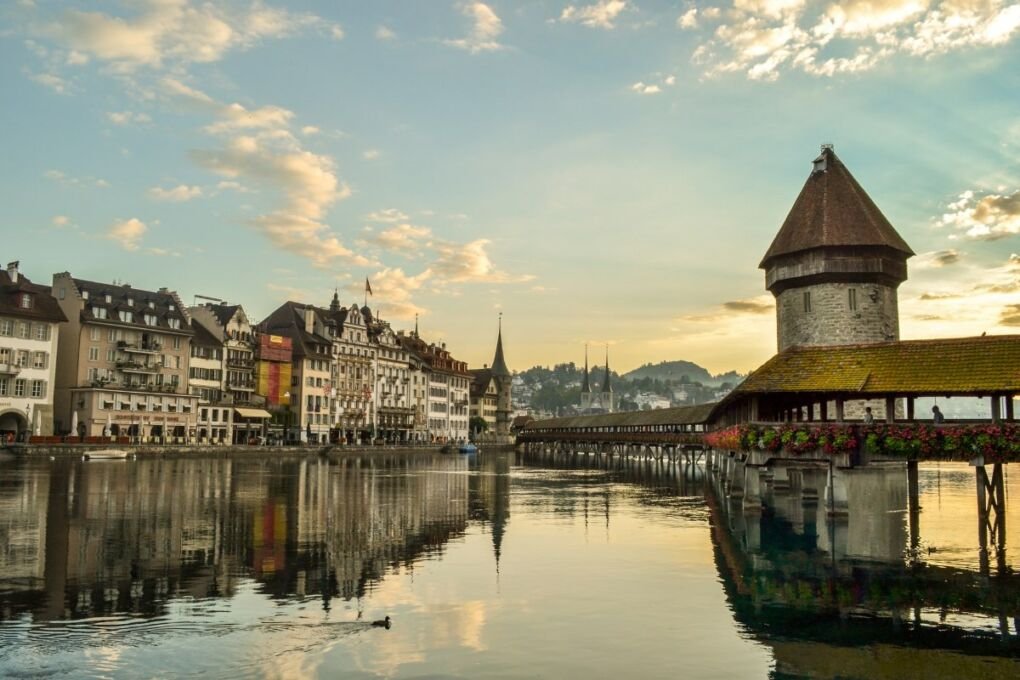 Cost of Living: $$$
Lucerne is a beautiful compact city nestled amid snow-capped mountains on the edge of Lake Lucerne. It also has gorgeous medieval architecture and historical sites to marvel at.
Tip: Make sure to hike up the mountain to see the full scale of the gem that is Lucerne.
Who Would Like to Live There: A couple looking for a quiet place to settle down or retire.
Pros:
Due to its central location, you can get to most major cities in Switzerland via a single train ride.
Noise pollution is frowned upon, so it's a very peaceful and tranquil town. There is even a nighttime peace rule from 10 pm to 7 am.
There is a strong Verein (a club) culture in Lucerne, and this can be an excellent opportunity to meet people and form bonds with others.
Cons:
Getting a permit to live there is difficult as it is not an EU member state.
There are a variety of taxes to be paid, like church tax, dog tax, and TV license fees.
Prone to heavy fog due to its positioning near the lake and mountains.
6. Lausanne
Best Place to Live for Retirees
Cost of Living: $$$
Lausanne is a French-speaking lakeside city located just over 60 kilometres northwest of Geneva. It is popular for its famous jazz festival and also happens to be the home of the International Olympic Committee headquarters.
Tip: Make sure to visit the Olympic museum so you can relive some incredible sporting moments.
Who would like to Live There: Digital Nomads and retirees
Pros:
Lausanne has a rich and storied history that you can experience by visiting the Cathedral of Notre Dame.
Excellent internet speeds make it an ideal destination for digital nomads who want to live in a quiet place.
The citizens and authorities are friendly.
Cons:
There aren't many places to "hang out" and have some entertainment.
The weather isn't that great. It's often wet and humid.
It's not a social city, so making friends and finding activities to do isn't easy.
7. Basel
Great Place for Remote Working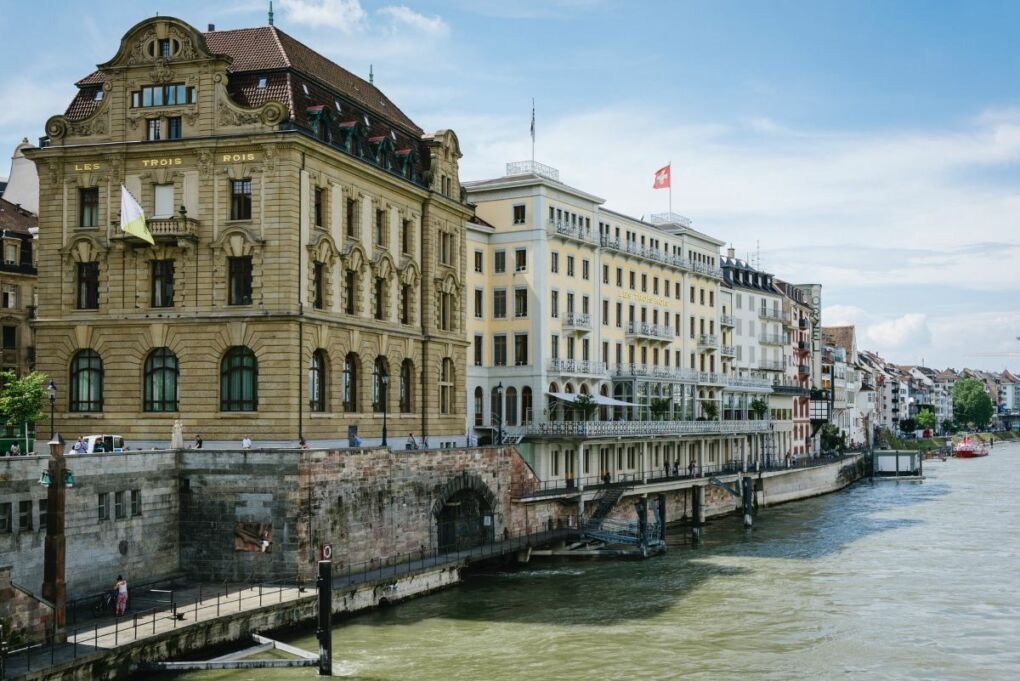 Cost of Living: $$$
Basel is a city on the Rhine River near the German and French borders with a vibrant cultural scene with a generous offering of art galleries, theaters, and museums. Basel is uncharacteristically lively for a Swiss city. There is plenty of entertainment and activity for the young and energetic, while there isn't a shortage of historical sites.
Tip: Make time to visit the Kunstmuseum, as this was the first collection of art that was made accessible to the public in 1661
Who would like to Live There: People who work remotely
Pros:
Basel is pedestrian-friendly.
Basel hosts the biggest festival in Switzerland, the Basler Fasnacht.
Basel has a great mix of historical sites and entertainment to entertain most people.
Cons:
Basel is difficult for non-natives to navigate because of the language barrier.
Basel is one of the few major cities in Switzerland that isn't near any mountains.
Parking in Basel is relatively expensive and inconvenient if you have a car.
8. Lugano
Best Place for Solo Travelers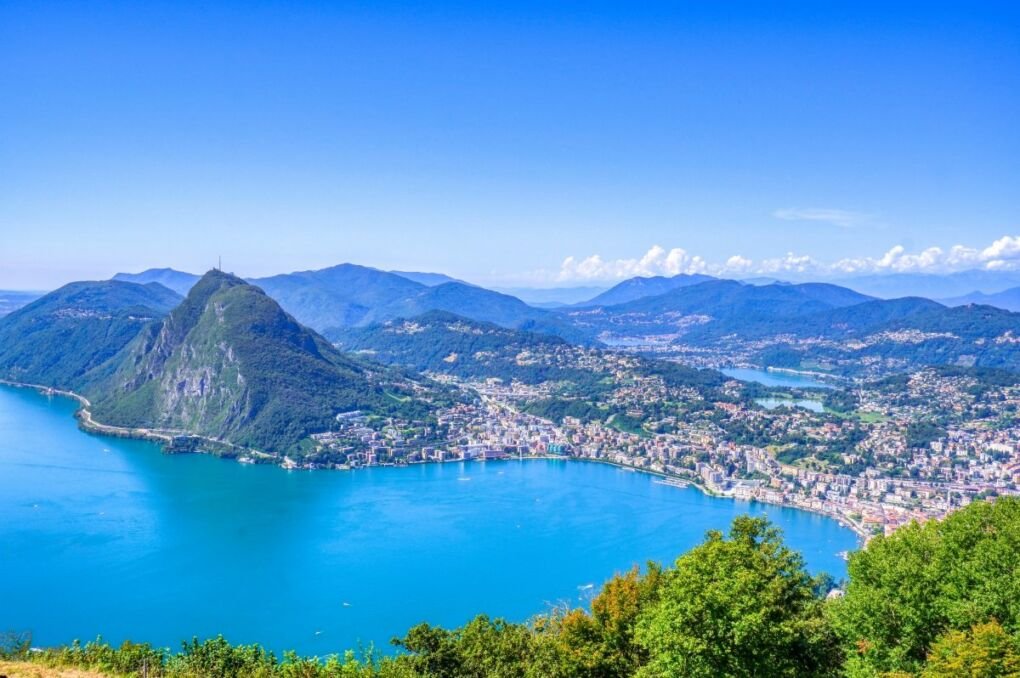 Cost of Living: $$$
Lugano is a city in the Italian-speaking region of southern Switzerland called the Ticino region. It is often referred to as the Monte Carlo of Switzerland because of its quasi-Mediterranean scenery.
Tip: Make time to visit the olive tree trail, where some trees are hundreds of years old.
Who would like to Live There: Solo travelers
Pros:
Due to its proximity to the Italian border, people can cross the border and go shopping in Italy, often saving money too.
There are excellent employment prospects because the city is a few hours from Zurich and Milan.
The weather is well balanced as it offers you the typical snowy winters you would expect in Switzerland and sunny summers that even an Italian wouldn't frown upon.
Cons:
Swiss Italians can be rude to tourists because many Germans have bought winter homes there.
Property is quite expensive, so it's advisable to live out of the city and surrounding areas.
It is not an ideal retirement spot and would serve better as a vacation destination in the summer.
9. Schaffhausen
Great Place for Couples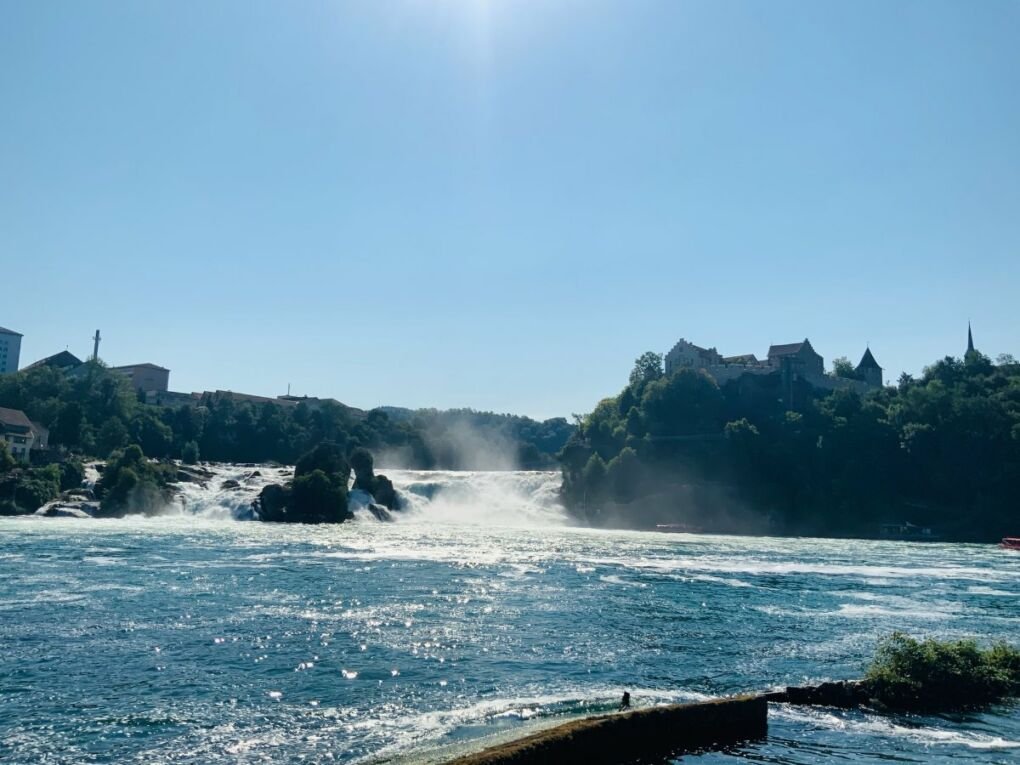 Cost of Living: $$$
Schaffhausen is a small town in the wine-growing region near the German border on the upper Rhine River. It's a quaint little town with old buildings of gothic and baroque origin.
Tip: Make time to visit Trasandigen Wine Trail and learn about the region's wine history.
Who Would Like to Live There: Couples
Pros:
It's a beautiful little town with little traffic or activity, perfect for those seeking a slower life.
There are great parks and areas for cycling, jogging, and even boating for the more adventurous.
The "Old Town " is considered one of the most beautiful towns in Switzerland because of how well-preserved it is.
Cons:
Schaffhausen isn't much of an economic hub, so job opportunities aren't plentiful.
As it's a small town, one could get bored quickly since you could explore all of it in 2 days.
There isn't a strong expat community there, so it may be challenging to make connections.
10. Chur
Best Place for Families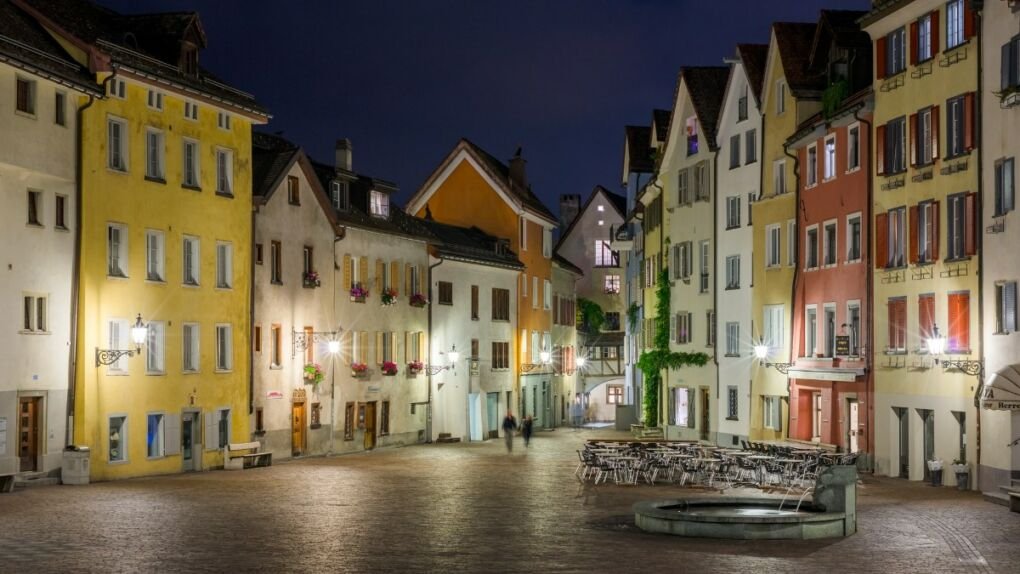 Cost of Living:  $$$
Chur holds the honor of being Switzerland's oldest town dating back over 5000 years. It is surrounded by mountains that make for a beautiful hiking trail.
Tip: Make sure to bring your best camera along when visiting the old town because of the incredible scenery.
Who would like to Live There: Couples and families
Pros:
The town has a rich history and modern pleasures that you would expect from a modern
There are weekend markets from late spring to Autumn/Fall to explore the town.
There are excellent job opportunities in tech.
Cons:
Due to the town's history and culture, certain societal norms may feel stifling.
Property is
The town has four languages used by the population, so choosing which to learn may be a