The UK offers so many fantastic places to call home. But, figuring out where to 'set up camp' can get overwhelming without some guidance.
Luckily we've done plenty of traveling in Europe. So, whether you're a digital nomad, a couple on a new quest, or just looking for a change of scenery, we've created a quick and helpful list of the best places to live in the UK.
The Top 6 Places to Live in The UK For…
Expats: Edinburgh
English Speakers: Manchester
Digital Nomads: Harrogate
Solo Travelers: London
Couples: Cumbria
Groups: Glasgow
Top 10 Places To Live in the UK
1. Edinburgh
The Best Place for Expats
Cost of living: $$
Edinburgh offers all the convenience and entertainment of living in the city without being too overwhelming. Edinburgh has a relatively young population and has plenty of opportunities for socializing and meeting locals and other expats.
Tip: Use your time off from work to travel around the picturesque Scottish Highlands and the rest of the UK. There are some super affordable flights off-season.
 Who Would Like to Live There: If you're in the 25 – 45 age group, this one's for you. Edinburgh is an excellent location for younger people.
Pros:
Great entertainment and social opportunities.
Strong employment rate.
Lots of history and culture.
Cons:
Be prepared to brave the cold.
High-priced education.
Waiting lists for healthcare.
2. Manchester
For English Speakers and Students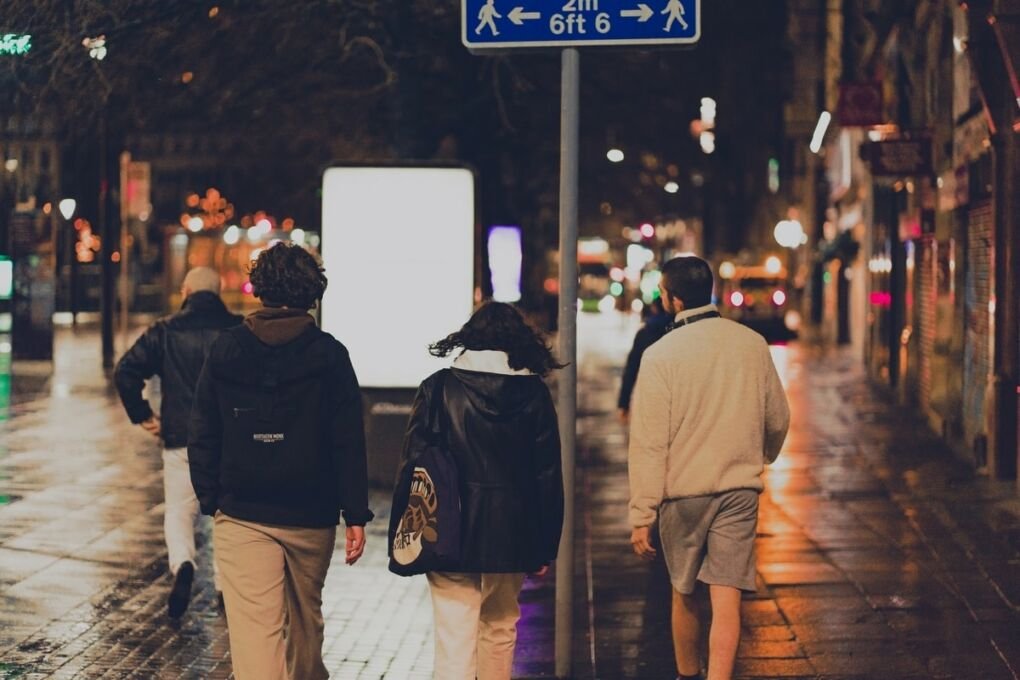 Cost of living: $$
 Manchester boasts one of the world's leading universities, and because of it, the city is a hot spot for English-speaking internationals and students. A lot of Manchester's culture centers around art, history, music, and football, so pretty much everyone can join in on the fun.
 Tip: Rent is considerably cheaper in Manchester's suburbs.
 Who Would Like to Live There: Students and young people looking to be around fellow English-speaking internationals.
 Pros:
Very diverse and progressive population.
Great nightlife and entertainment.
Lower rent compared to other major cities.
Cons:
Lots of students in the city.
Slightly lower salaries compared to other major cities.
Manchester is a notoriously rainy area.
3. Harrogate in Yorkshire
Voted the best for remote working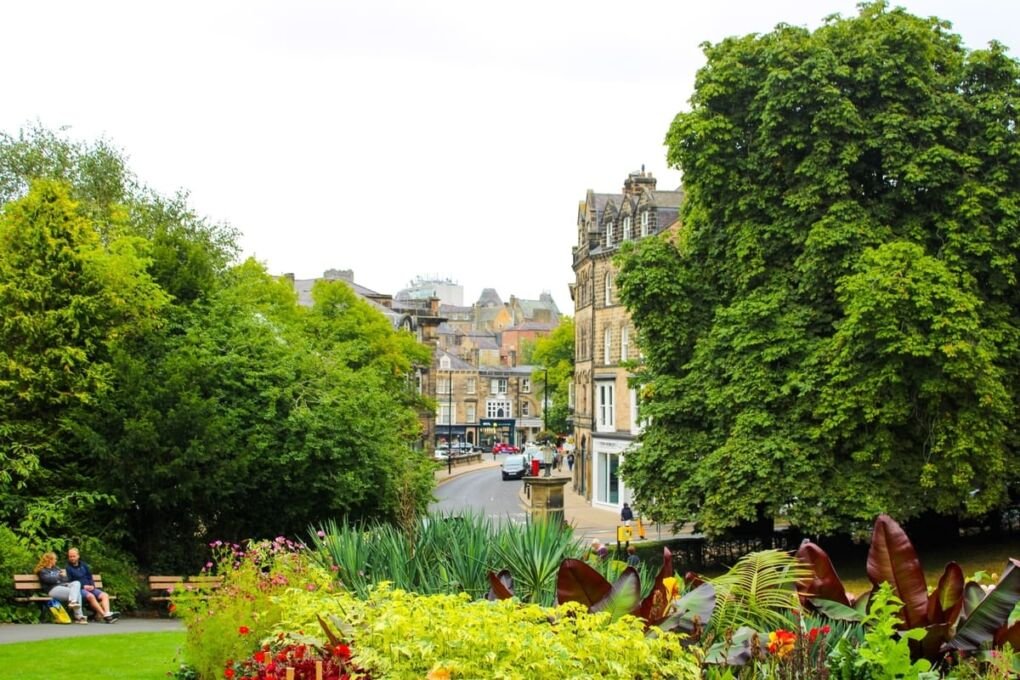 Cost of living: $$
 Harrogate in Yorkshire was voted the best place to work remotely in Britain. Its excellent internet speed and abundance of outdoor recreational areas mean Harrogate is perfect for working from home.
Tip: Consider living in Harrogate if your offices are in Leeds or London. It's easy to commute once in a while and cheaper to live in Harrogate.
Who would like to live here: Anyone, but especially remote workers.
Pros:
Super-fast internet.
Trains connecting to nearby cities.
Lots of outdoor space.
Cons:
Potentially high rent.
Limited access to variety compared to the city.
Heavy snow and wind in winter.
4. London
The Perfect City for Solo Travelers
Cost of Living: $$$
 London is a central point to Europe and the rest of the world. While living in London can get expensive, it's a fantastic option for a lock-up-and-go lifestyle. There are plenty of things to do in London for a delightful experience. Besides that, it has a constantly growing job market.
Tip: Consider looking for shared living options to save on rent and utilities.
 Who Would Like to Live There: Young professionals, people who live alone, and frequent flyers should consider living in London.
 Pros:
Abundant job opportunities
It's a great central point for frequent flyers.
Excellent public transport system.
Cons:
Very competitive job market.
High living costs.
Very populated, especially during festive times.
5. Cumbria
The Best Place to Settle Down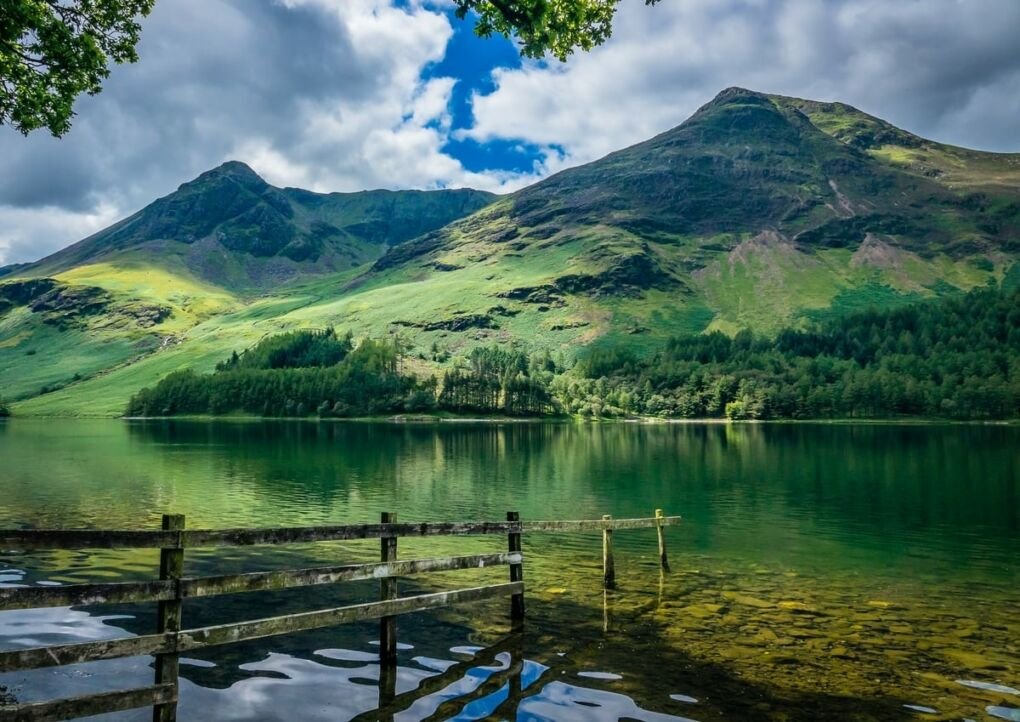 Cost of Living for a Couple: $$$
 The County of Cumbria is home to England's famous Lake District. A couple looking to move away from the city or retire somewhere beautiful should consider moving to Cumbria. The picturesque area is mostly rural, so while it offers less convenience, it is exceptionally peaceful.
Tip: Consider getting a car. Public transport is reliable, but a vehicle can be beneficial during intense weather.
 Who Would Like to Live There: Cumbria is great for older couples and families who need a lot of outdoor space.
Pros:
The Lake District is very peaceful.
Cumbria has low crime rates.
Cumbria has lots of historical and cultural attractions.
Cons:
Small opportunity for employment.
Less convenient than being in the city.
Poor network connection.
6. Kent
Perfect location for a growing family

Cost of living: $$$
This region just south of London offers both country and coastal living. Where you choose to settle will determine your living costs. But, no matter which part of Kent you choose, you'll be able to enjoy a superb quality of life.
Tip: To be close to London, look into areas like Sevenoaks and Otford in Kent.
Who would like to live here: Families and professionals wanting to be near London.
Pros:
Close commute to London.
Coastal and country living.
Excellent public and private schools.
Cons:
High rent and cost of living.
Not much nightlife in residential areas.
You might need a car to get around.
7. Glasgow
Affordable Housing for a Group
Cost of living: $$
 Living in Glasgow is even cheaper than living in Edinburgh and London. In fact, you can halve your rent if you decide to opt for a shared apartment. Glasgow is a hot spot for entertainment, music, and food.
Tip: You'll get more value for money just outside the city.
 Who Would Like to Live There: Young adults, groups, and families.
 Pros:
Affordable accommodation.
Popular expat destination.
Plenty of green space.
Cons:
There's cold, gray, and gloomy weather.
Public transport can be harder to reach.
Longer waiting time for healthcare. As in many major cities.
8. Belfast
A Great City for Friends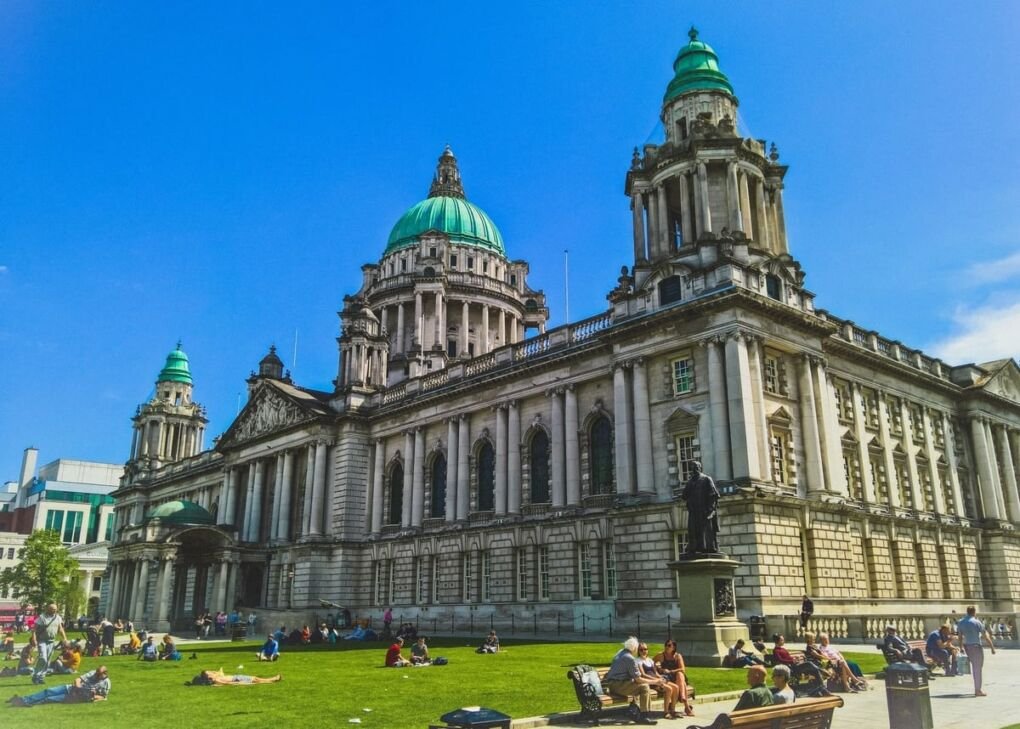 Cost of living: $$
Besides its great nightlife, Belfast is known to have lots of employment opportunities in digital and tech-related careers, and it's one of the most affordable places to live in the UK, even more so if you're willing to share the space. If you're a bit uncertain about traveling to Northern Ireland, these tips might help.
Tip: If you don't have a roommate already, join one of the UK's co-living communities to find one, or find a room for yourself.
Who would enjoy living there: Young people on their own or with a group of friends.
Pros:
Affordable shared living.
Great employment opportunities.
Beautiful scenery and close to the coast.
Cons:
Heavy traffic during rush hours.
Personal gardens are rare.
Living space in the city is limited.
9. Leeds
Excellent Expat community
Cost of living: $$
Leeds has many employment opportunities, and its entertainment scene has something for everyone. Life in Leeds can be fast-paced if you're in the city's heart, but there is an abundance of green spaces like parks and gardens to relax on the weekend.
Tip: Finding a job in Leeds can be difficult. Try to have one lined up before you move.
Who would like to live there: Anyone. Leeds is great for all ages and lifestyles.
Pros:
Multicultural community.
Affordable rent.
Plenty of entertainment.
Cons:
Rainy, grey weather.
Less expansive train route.
Finding a job in Leeds can be tricky.
10. Cambridge
Ideal for Internationals
Cost of living: $$$
Cambridge can be one of the most expensive places to live globally. But, it has a growing English-speaking expat community and some of the best schools in the UK. Cambridge has acres of green space and beautiful gardens.
Tip: The cost of living can be extremely high; consider living somewhere nearby as a new expat.
Who would like to live there: Students or young adults who are ready for the local economy.
Pros:
Acres of well-maintained green space.
Access to exceptional schools.
Large expat community
Cons:
Primarily a university town.
High property prices.
High general cost of living.
FAQs
1. Is it safe in the UK?
Yes. Crime rates are generally low, but crimes like pickpocketing, street robberies, and car theft do happen in the UK, especially in large cities.
2. How can you get around the UK?
The UK has an excellent public transport system. Although, it might be harder to use public transport in more rural areas.