If you are wondering when is the best time to visit South Africa for safari then you've come to the right place!
South Africa is a year-round destination and to be honest, the prices of things in South Africa stay consistent throughout the year but due to our fluctuating exchange rate, most travelers always have an advantage because they perceive South Africa to be cheap because of their stronger currencies.
Please note: This isn't the case for locals, the unemployment rate is over 30% and take that into consideration when trying to haggle at markets. This post is a guide to choosing the best time to visit South Africa, including when it's the cheapest and when to expect the best weather and a month by month comparison.
The best time to visit South Africa – the quick answer
The best time to visit South Africa depends on what "best" means to you. If your definition of the best time to visit South Africa is based on good weather, then you should visit between September- November. This is when it is warm but not exorbitantly hot with the least amount of rain.
If by best you mean months with the least tourists, then that's much easier to answer, come just about anytime between June and July. If you are only visiting for an African safari experience, you need to take into consideration that December – March is when South Africa gets the most rain.
Each month can be the best for certain individuals. Therefore, we also created a section in this post summarizing what each month has to offer. Because there's no point visiting in January if your dream is to whale watching or visiting in June if you want to go shark cage diving.
Best season to visit South Africa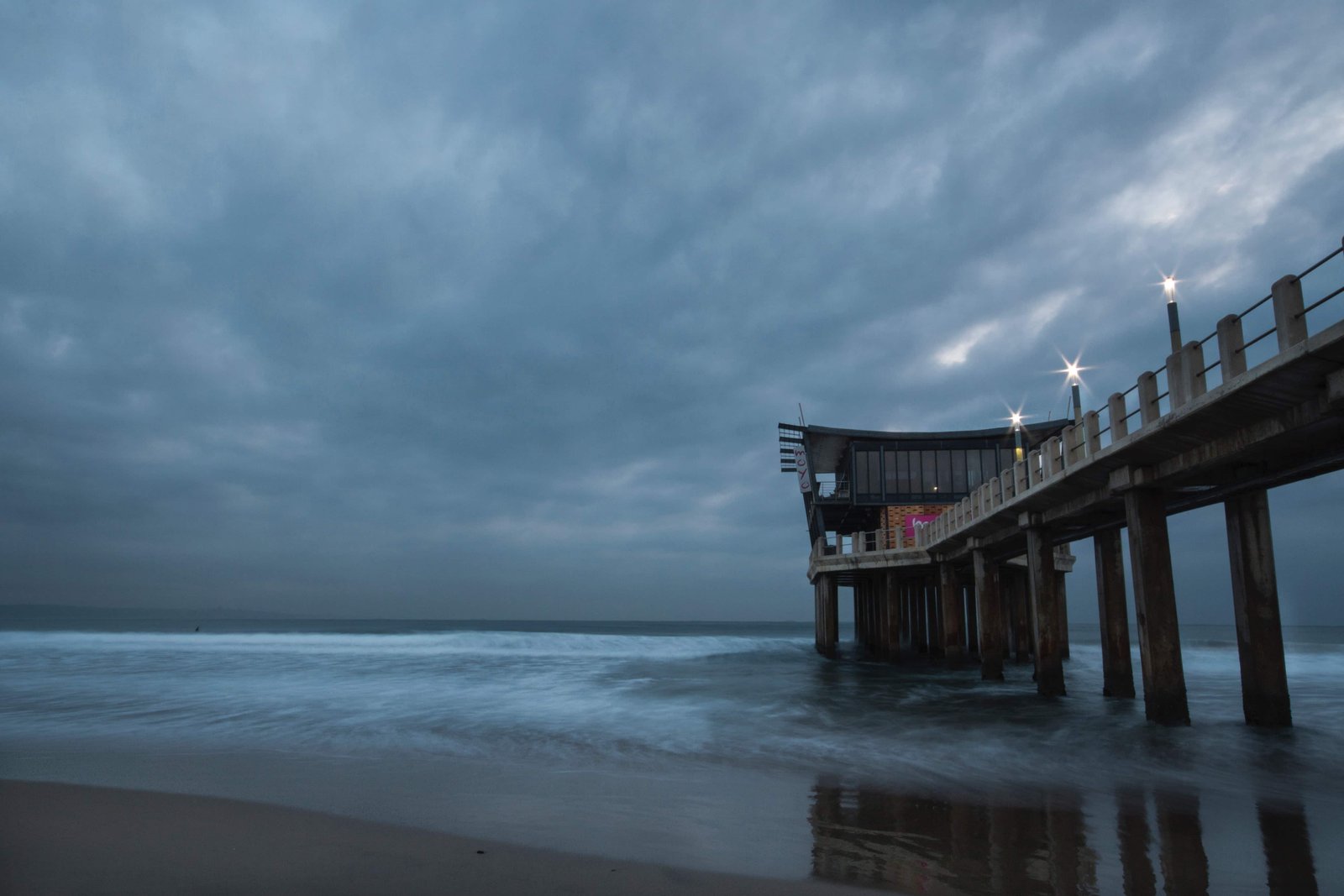 One of the most common questions people ask me about my home country is "Do you have seasons? What season is it in South Africa? Or when does summer start in South Africa? Yes, South Africa has seasons and because our country is located in the Southern Hemisphere, our seasons are the opposite of those in countries in the Northern Hemisphere.
When is summer in South Africa
South African summer lasts from December to February. For most of the country, the rains usually coincide with the summer months, except in the Western Cape (including Cape Town). The weather in the Western region of the country is different as to the rest of South Africa, in the Western Cape region, they get most of their rain in winter.
When is fall in South Africa
In South Africa, Fall is called "Autumn" and it stretches from March through May.
When are winter months in South Africa
Winter months in South Africa are from June to August. Winter days in South Africa are moderately cold with dry, sunny days and chilly nights. The mountain regions of Drakensberg – on the drive to the Kingdom of Lesotho often get snow due to high elevations, It doesn't snow in other parts of the country.
When is Spring in South Africa
Spring in South Africa is from the months of September and October. This is my personal favorite season and the best time to visit South Africa as the weather ranges from 16 degrees Celsius (60 degrees Fahrenheit) to 27 degrees Celsius (80 degrees Fahrenheit). It's not too hot and the rainy season hasn't started but you will notice an influx of tourists.
Best time to visit South Africa – Months
January in South Africa
South Africa has hot and dry summers with occasional rain showers. Most people are still recovering from December events but there are a few social events like the blue and white theme annual L'Ormarins Queen's Plate Racing Festival and The Sun Met (previously known as J&B Met). Both events take place at the Kenilworth Racecourse in Cape Town and they are popular with celebrities and
February in South Africa
School kids are back in the classroom so lines at family-friendly attractions are shorter. There are various Chinese New Year celebrations in February in South Africa. Alternatively, you can head to the Free State province to attend the Clarens Craft Beer Festival with an incredible selection of beers from across our amazing country, you will be able to kick back and relax in the foothills of the mighty Maluti's and enjoy the sweet sounds of some of South Africa's most rocking bands.
March in South Africa
March is a great time to visit South Africa as it won't be too hot or cold. One thing to keep in mind is that its school holidays in SA and attractions might have long lines but despite that this is a great time to explore South Africa in 7 days or more! The Cape Town International Jazz Festival is also held in March in South Africa. This annual music festival is recognized as the fourth largest jazz festival in the world and the largest jazz festival on the African continent. Tickets sell out over a year in advance so it's important to plan accordingly.
April in South Africa
April is one of the peak months for domestic travel. Many South Africans move from small towns and villages across the country to live, work and go to school in major cities like Cape Town, Johannesburg, Port Elizabeth, and Pretoria. During April (Easter), most people travel home to spend time with their families. South Africa is a predominantly Christian country and Easter is the day when Jesus Christ's resurrection (rising from the grave) is celebrated following his crucifixion on Good Friday. April also has 3 public holidays in South Africa: Good Friday, Family Day, and Freedom Day on the 27th of April. International Workers Day is also celebrated on the 1st of May.
During this period most people travel, prices soar for accommodation, activities, and flights, and coastal and national-park accommodation books up months in advance.
This is also a peak time for road accidents, it's important to be cautious on the roads and understand the laws for driving in South Africa and implications if you are caught speeding or driving under the influence of alcohol.
May in South Africa
May in South Africa is great for those who like warm days and cool nights. The country is yours to explore without the summer crowds. During the last week of April or the first week of May, the annual AfrikaBurn festival is held in South Africa. It's an official Burning Man regional event, held annually in the Tankwa Karoo National Park in South Africa since 2007. It is centered on the construction of temporary artworks in a semi-desert environment, some of which are burnt towards the end of the event.
June to August in South Africa
June is the start of winter in South Africa. This is my favorite time to explore SA, there are so many things to do especially in provinces like North West and Eastern Cape.
Art fanatics can attend The National Arts Festival in Eastern Cape Provine. The sleepy university town of Makhanda, (formerly known as Grahamstown, the city was renamed Makhanda after the Xhosa chief and warrior best known in history for leading the 'Battle of Grahamstown' in 1819) completely transforms for 11 days and explodes across 90 venues to become Africa's largest multi-arts festival, attracting more than 200 000 visitors, who are here for more than 2 000 performances on a program of more than 600 events.
The annual Oyster Festival is held in Knysna in Western Cape Province. The festival is spread across 10 days of winter, which includes two weekends. The program is as varied as the people coming to enjoy it. It includes walks through the indigenous forests of the Garden Route, swims in the famous Knysna Lagoon, live music, live comedy shows, restaurant deals, and amazing festivities for anyone of any age group!
Durban July is the most popular horse racing and social event held in July in South Africa. People from all over the world travel to place bets and mingle with celebrities.
September in South Africa
Pleasant spring weather awaits you if you choose to visit South Africa in September at this time.
October to November in South Africa
Ficksburg is known throughout the country as Cherry Town, and the two have become synonymous with each other. The Ficksburg Cherry Festival takes place during the third week in November in South Africa. This is the oldest crop festival in South Africa and one of the best things to do in Free State in November.
December in South Africa
December in South Africa is officially a relaxing time for most locals. This is the beginning of the summer school holidays, most people are off work and there are a lot of concerts, festivals, and events happening around the country. It's hot during the day, cool at night, and receives regular rainfall often with thunderstorms.
Cape Town and the Western Cape are hot by day, cooler at night, but dry as they don't get a lot of rain in this part of the country. This makes Cape Town one of the best places to visit in South Africa in December.
Best time to visit South Africa for Safari
You can visit South Africa at any time of the year for a safari. We have an abundance of private game reserves and government-owned national parks in South Africa.
Best time to visit Kruger National Park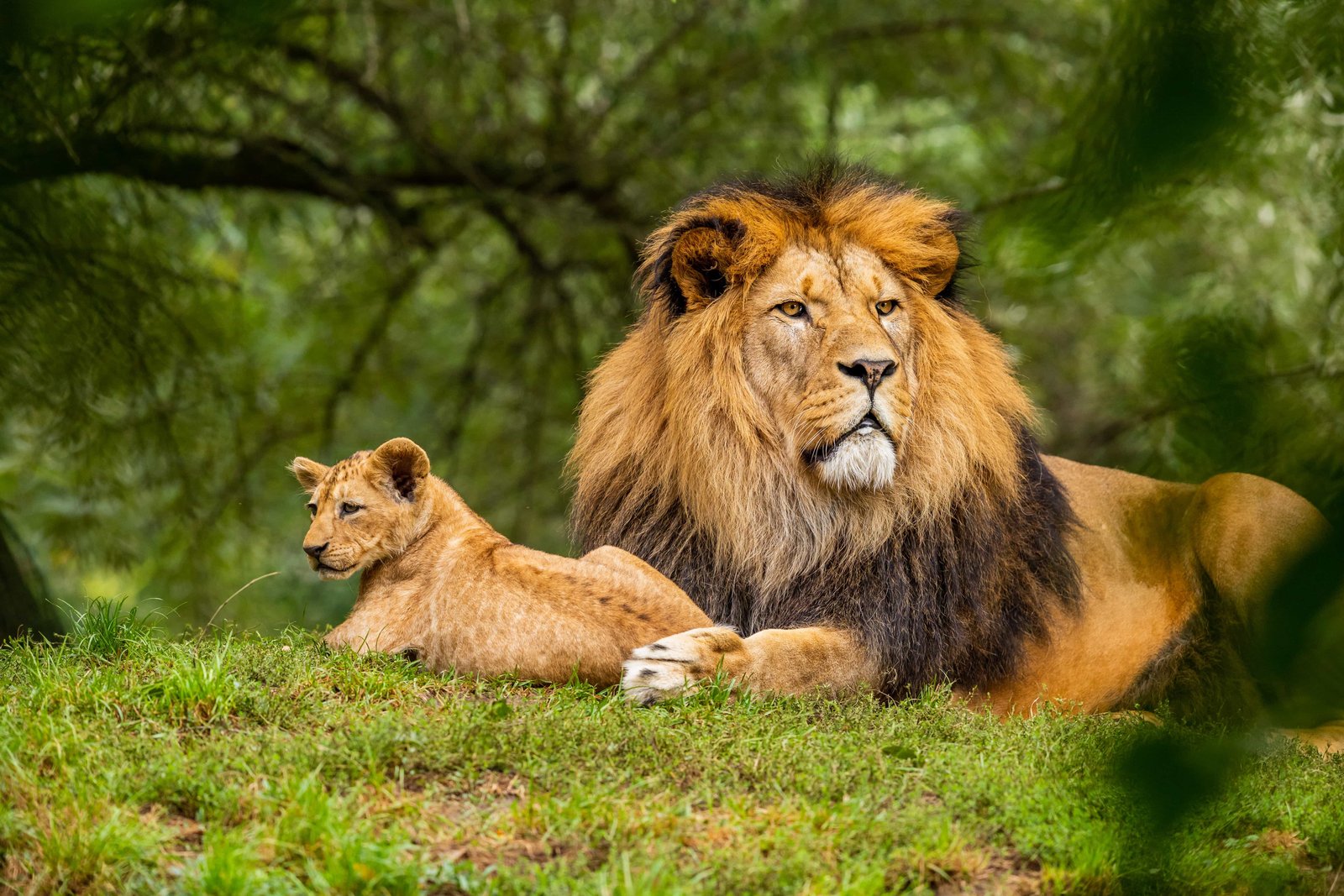 The best time to visit South Africa for Safari is in winter and spring (June – October). Although it's a bit cold in winter, there will be more animal activity as most of them will come out to look for food unlike in summer when they mostly come out at night due to the heat A lot of animals and birds have their babies when it is spring.
They need to be young when there is plenty of food available and the longer days mean they have more to find food for their young. The hotter days and daily spring rainfall mean plants like grass grow well. In Summer, game viewing (safari) can be relatively challenging as animals are dispersed away from water sources and thick vegetation tends to reduce visibility.
Best time to visit South Africa for whale watching
The best time to visit South Africa to watch whales is from June to November along the Cape south coast, although some will already be as far north as KwaZulu-Natal. Peak calving season is July and August, but whales can be seen through September and October.
Best places for Safari in South Africa
South Africa is home to many safari experiences for ANY budget, from horse riding, helicopters, and even hot air ballooning. Want to start your day with a safari, swim with sharks, and then explore Winelands.
This can be easily done in one day and province. Not only are the nine provinces unique, but there are also many national parks in South Africa and unique experiences you can only have in SA!
Kruger National Park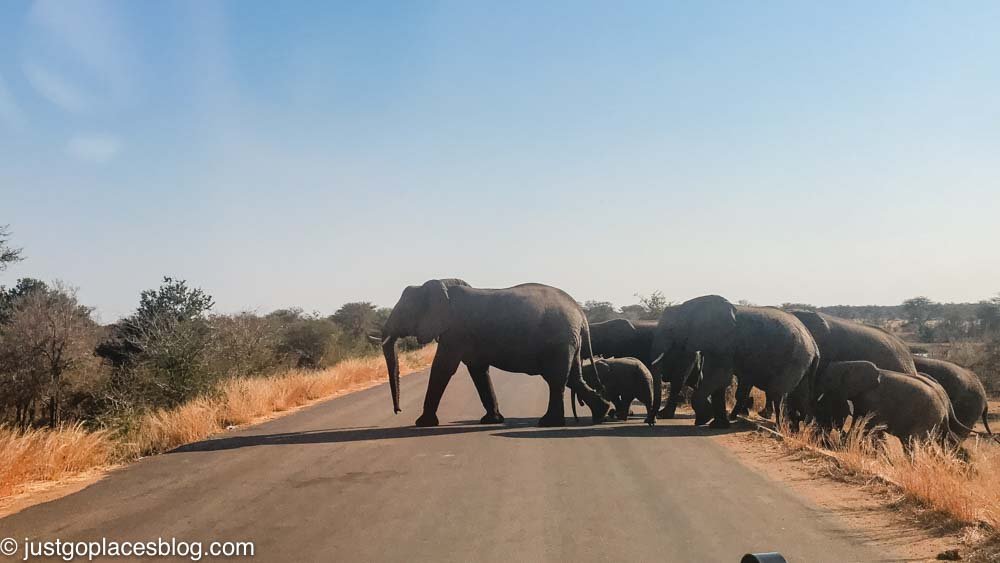 By Shobha of Just Go Places
A Kruger Safari is simply one of the best things to do in South Africa. Several years ago we had been to a safari park on the Garden Route near to Cape Town because our children were still fairly young. We returned when they were a bit older for an African Safari Experience at the world's largest national park – Kruger.
Our guide explained that there was a better chance of seeing nocturnal animals who had done their feeding and were looking for somewhere to rest during the day. At Kruger National Park we were amazed by the vastness of the space. We were lucky enough to see wild dogs, giraffes, elephants, zebra, leopards, monkeys, lions, and loads of assorted birds. Our favorite was the young elephants playing by the watering hole. They reminded me of my children. One little elephant pushed another little elephant into the water. That elephant came storming out of the water and the first elephant went running to his mother for cover.
We could've watched the assorted animals for days. They all had such personality even if they were just going about their business. We watched a leopard patiently stalking its prey which had burrowed into a hole. We were never big fans of zoos and now that we have seen wild animals in their natural habitat, we realized that nothing beats the experience of a safari!
---
Best Luxury Kruger National Park Hotels
There are many things to do in Mpumalanga It's not surprising why many locals and international guests choose to spend a lot of time in the province. If you're looking for the best luxury Kruger National Park Hotels, here are my top picks:
The Kruger Park Lodge Estate is situated in Hazyview on the banks of the Sabie River. The resort has a 9-hole golf course, 3 swimming pools, and offers air-conditioned guestrooms. Lodge rooms are situated in chalets surrounded by mahogany trees and gardens.
Rooms have thatched roofs and modern wood furnishings. They come equipped with a TV and have a balcony with panoramic views. Guests of Kruger Park can enjoy a game of tennis on one of the resort's 4 courts, or relax on a sun lounger poolside. The Estate has trampolines and offers activities for children. Nearby leisure activities include bird and hippo watching.
[maxbutton id="1″ url="https://www.booking.com/hotel/za/kruger-park-lodge.en.html?aid=1558524&no_rooms=1&group_adults=1″ ]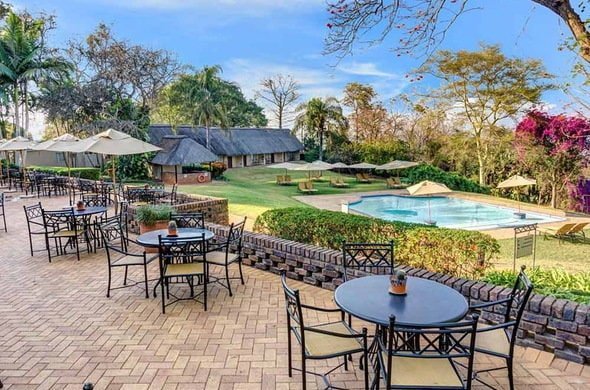 Protea Hotel Hazyview has an outdoor pool overlooking the surrounding mountains, just 20 minutes drive from the Kruger National Park. Set on a lush 10-acre garden estate, it features deluxe rooms. All rooms boast a country-style décor which includes plush armchairs and ornate furniture.
Most rooms have scenic garden views and are fitted with air conditioning, satellite TV, and a tea/coffee maker. With its all-wood interior and local artworks, Letaba Restaurant features a Swazi-themed décor.
It serves South African delicacies and international cuisine. Guests can enjoy cocktails at the chic Maroela Bar and Lounge. Protea Hotel The Hazyview is 7.5 miles from the Kruger National Park gate. It is less than 43.5 miles from Pilgrim's Rest.
[maxbutton id="1″ url="https://www.booking.com/hotel/za/protea-the-hazyview.en.html?aid=1558524&no_rooms=1&group_adults=1″ ]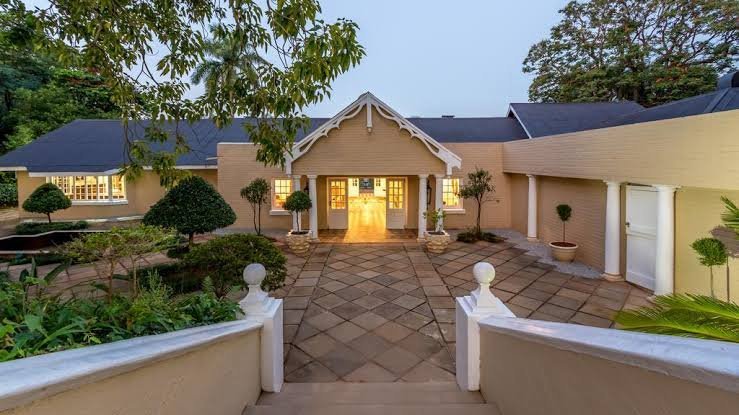 Offering an outdoor pool and sun terrace, Blue Mountain Luxury Lodge is set on 200 hectares of farmland in the Mpumalanga Region. The Numbi Gate of Kruger National Park is 37 km from the property. Free WiFi is provided and free private parking is available on site.
All units are air-conditioned and feature a seating area, verandah, and fireplace. Each unit offers an en suite bathroom with bathrobes. The room is equipped with a mini-fridge and towels and bed linen are provided. Guests can enjoy a meal at the on-site, fine dining restaurant offering French cuisine. An all-day champagne breakfast is available and room service is offered.
[maxbutton id="1″ url="https://www.booking.com/hotel/za/blue-mountain-luxury-lodge.en.html?aid=1558524&no_rooms=1&group_adults=1″ ]
---
Pilanesberg National Park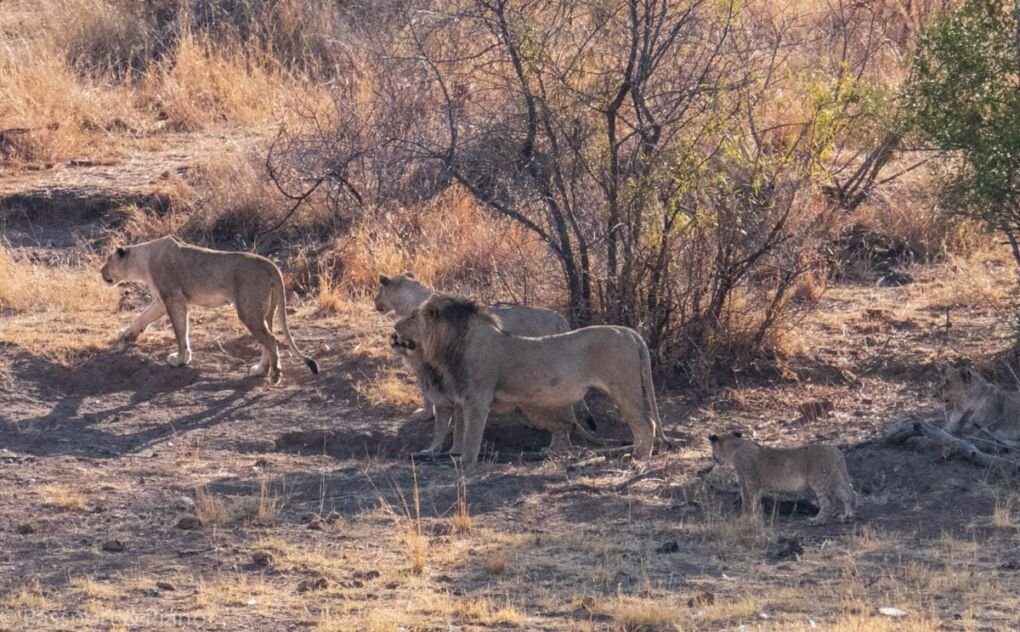 Recommended by Fiona of Passport and Piano
While many visitors to South Africa opt for a safari in Kruger, Pilanesberg Game reserve is a fantastic alternative! It's only a two-and-a-half-hour drive from Johannesburg, and although the park is smaller, you have a much better chance of spotting the big five and other game animals.
The gate prices are lower than Kruger, which makes it a more affordable destination. Pilanesberg self-drive safaris are popular, and you can easily hire a car from the airport. To get to Pilanesberg, head up the N4 to the North West Province where you'll find signposts to the reserve.
If you are traveling with children, Sun City is a popular resort to stay on the edge of Pilanesberg. It has several hotels to suit all budgets and a wealth of things to do, including an entertainment center, and a water park. There are also several luxury lodges to stay within the park. However, if you're looking for an African experience at an affordable price, I'd recommend the African Elegance Tented Lodge, which is about 15 minutes from the main Bakubung gate.
Pilanesberg was once a volcanic crater, and its unusual geological foundations mean that the scenery varies dramatically throughout the park. Not only are there vast sections of grasslands and arid land, but there are also unique rock formations and thick Acacia thickets.
It's one of the best reserves to spot the African wild dog and leopards. There are five photographic hides that overlook several of the park's dams and time spent at these will reward you with magnificent sightings of elephants, zebras, and other games. There are also over 300 bird species recorded in the game reserve so bird watchers won't be disappointed.
Addo Elephant National Park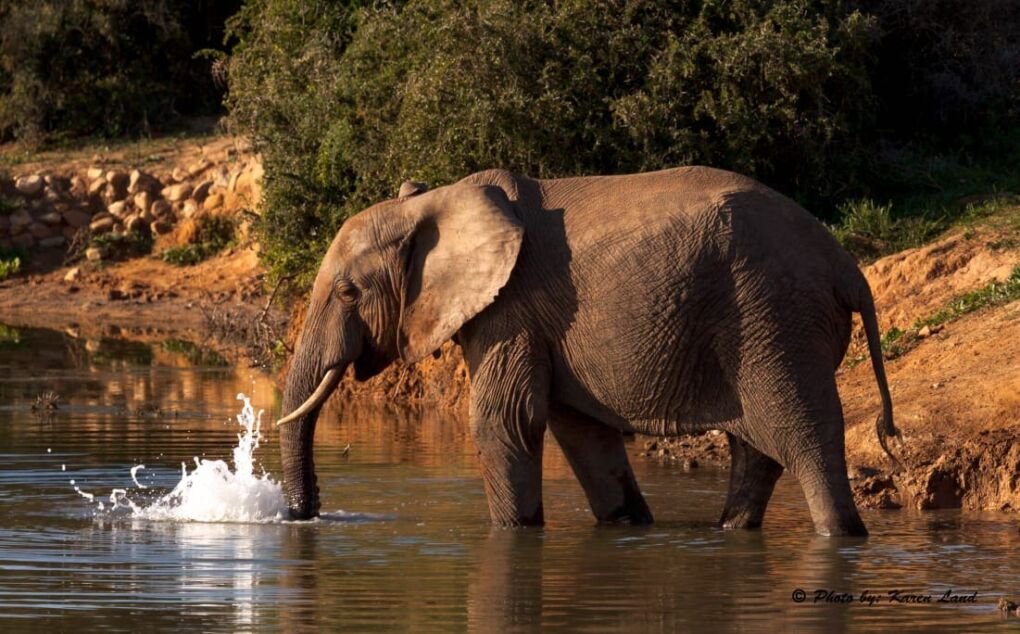 Recommended by Ollie and Candi at Ollie and the Captain
South Africa is a world-renowned safari destination, boasting countless experiences that bring you face-to-face with the notorious 'Big Five'. Located in the lush province of the Eastern Cape is Addo Safari Park, one of the most magnificent nature reserves in the country!
Once inside the boundary fence that secures and conserves the 1640 km2 grounds, you can expect to see the famous 'Big Five' including lion, rhino, leopard, buffalo, and, of course, elephant. In addition, the park is home to 13 species of antelope and 22 species of other carnivores such as cheetahs and hyenas.
While the park can easily be reached by one of the surrounding towns, such as Port Elizabeth or East London, there are also cozy accommodation options found within the park. Various cottages, such as Langebos Huts and Matyholweni Rest Camp, make your early morning game drives that make it easier to reach.
Addo is the only park in the world where you can find the Big 7: the African elephant, Cape buffalo, African lion, African leopard, African rhino as well as whales and Great White sharks.
Look out for herds of elephants strolling the gravel roads and cooling off in the Harpoor Dam, and keep your cameras charged to snap some pics of the Zuurberg Mountain. If you want to mix things up a little bit, you can also venture off to the rolling dunes of the Woody Cape section and have a go at sandboarding. Addo Elephant National Park is a magical place that gives travelers around the world an opportunity for an authentic and immersive experience in nature.
Klaserie Private Game Reserve
Recommended by Laura of The Travelling Stomach
Located in the heart of Kruger, Klaserie Private Game Reserve offers the ultimate African safari experience. With not as many lodges as neighboring Timbavati reserve, you're unlikely to see many other safari vehicles during your game drives, enjoying virtually private viewings!
The Big 5 roam freely through the reserve, and also across to Kruger National Park, so you can expect to see a wide variety of wildlife sightings, from wandering baby elephants trotting to keep up with their mother, prides of lions lazing in the sun and even an elusive leopard dragging its kill up a tree if you're lucky! Aside from the Big 5, Klaserie Private Game Reserve also is home to other intriguing wildlife you'll be unlikely to see in many other places in the world, such as the jackal or the wild dog.
If you are staying at one of the lodges, such as the wonderful Baobab Ridge, you will enjoy two game drives a day; one early morning just before the sun rises, with a stop for coffee and rusks as dawn breaks, and another as dusk draws in, with a stop for sundowner drinks in the bush. Both are typically the best times for game viewing, when the animals are most active, you may be lucky to come across a big cat enjoying a fresh kill!
The lodge itself is a fabulous place to enjoy between game drives, with a swimming pool overlooking the savanna and a traditional boma, where you will enjoy a freshly cooked dinner around the fire with your campmates.
Madikwe Game Reserve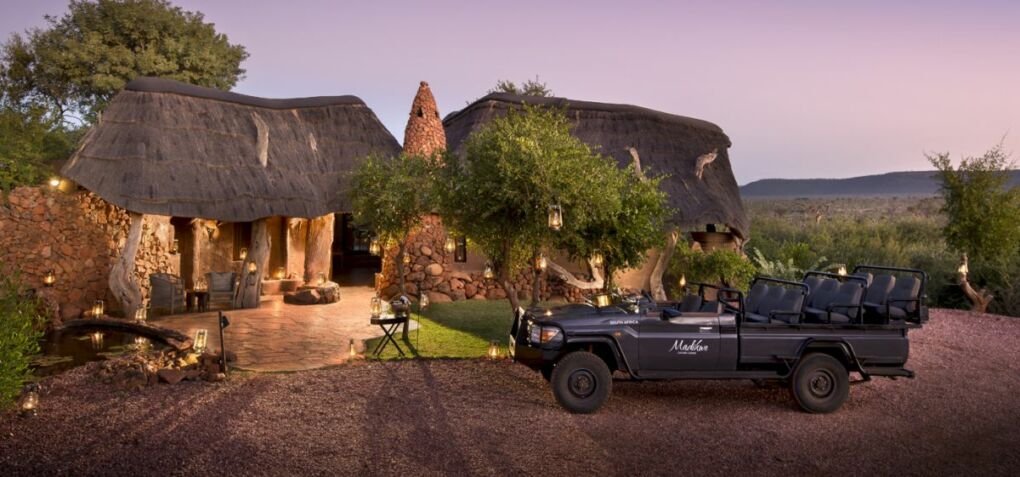 Madikwe is a 5-star Luxury Game Reserve. Located just north of the North West Province near the Botswana border lies the 765-square-kilometer Madikwe Game Reserve, one of South Africa's largest wildlife areas.
The resort was voted as one of Conde Nast Traveler's Top 20 African Resorts in 2019.
Not only does this park have more than 300 species of birds but you can see the Big 5 and endangered African wild dogs, hippos, and cheetahs. There are many national parks in South Africa and this of the best private ones!
Access is reserved to guests of its lodges and day visitors, who must book a package through one of the lodges that include a game drive and lunch because independent day visits are not allowed. There are over 20 lodges in the area but these are the best:
Perfect place to stay in North West for Couples! Royal Madikwe Luxury Safari Lodge features modern, African-inspired décor and the main clubhouse features a cozy lounge, restaurant, and kid's club. The elegant units offer air conditioning, a minibar, and a safe.
Some units have a seating area and a viewing deck with a hot tub. Each unit comes with an en suite bathroom and features views of the bush and mountain. The reserve boasts a variety of wildlife and panoramic views of the African savannah. A massage can be arranged upon request and children can enjoy a variety of activities in the games room.
[maxbutton id="1″ url="https://www.booking.com/hotel/za/royal-madikwe-luxury-safari-lodge.en.html?aid=1558524&no_rooms=1&group_adults=1″ ]
One of my top picks in the Madikwe Game Reserve! Situated in the malaria-free Madikwe Game Reserve, this luxurious campsite features air-conditioned tent suites with a private patio. The communal area comprises of an open-plan lounge, a dining area, and an outdoor pool.
Overlooking Madikwe's valley and the river, the tent suites at Thakadu River Camp come with mosquito nets, tea/coffee facilities, and a private bathroom. The family tent suites have an extra sleeper couch for children. Children older than 6 years are able to join the games drives on offer and a babysitting service is available for those younger than 6, with prior arrangement, at an additional charge.
[maxbutton id="1″ url="https://www.booking.com/hotel/za/thakadu-river-camp.en.html?aid=1558524&no_rooms=1&group_adults=1″ ]
Located just 10 minutes' drive from the Sterkfontein Caves, Maropeng Boutique Hotel offers air-conditioned rooms.
The hotel has a terrace with an outdoor pool and guests can enjoy the on-site restaurant.
The African themed rooms at Maropeng Boutique Hotel feature a patio, a flat-screen TV, and tea-and-coffee-making facilities. They invited me to stay at this property after it launched and
I shared a detailed review
. Overall, the staff will make your stay magical!
[maxbutton id="1″ url="https://www.booking.com/hotel/za/maropeng-boutique-magaliesburg.en.html?aid=1558524&no_rooms=1&group_adults=1″ ]
River Safari in St. Lucia
Lake St Lucia is situated a 3-hour drive north of Durban and about one hour north of Richards Bay in Zululand. It's home to over 2000 crocs and 800 hippos, and the warm waters of the Indian Ocean to the East, where whales pass on their way to their breeding grounds in Mozambique, dolphins play in the surf, and turtles nest on the beaches.
St Lucia is the gateway to the iSimangaliso Wetland Park, South Africa's first UNESCO World Heritage Site, and the perfect adventure holiday destination! As St Lucia is surrounded by the game park, it's a daily occurrence to see a business of mongoose cross the street, a troop of monkeys grooming each other and the elusive leopard ambling on the outskirts of town…
Although the town is safe, with private security companies that patrol the area and a local police station. You only need to watch out for hippos, whom after spending the day in Lake St Lucia, emerge at night to graze on the luscious lawns of the streets of St Lucia! While on a sunset boat cruise, I learned that hippos kill 2900 human beings every year. So if you see one, trip the person next to you and run for your life!
iSimangaliso Wetland Park
iSimangaliso Wetlands Park – located on the east coast of KwaZulu-Natal is South Africa's third-largest protected area.
iSimangaliso means "a miracle" in Zulu.
The park includes areas such as Kosi Bay, Cape Vidal, Lake St. Lucia, St. Lucia Game Reserve, Lake Sibhayi, and Sodwana Bay National Park, just to name a few. The iSimangaliso Wetland Park boasts the highest bird count in all of Africa, the southern-most breeding spots for turtles in Africa, Africa's tallest forested dunes, the largest remaining stands of sand forest, the biggest peat beds in the Southern Hemisphere, and vast wetlands. The Park features:
Biodiversity of 5 ecosystems

Superlative natural phenomena

Scenic beauty

Flora and Fauna

Ecological processes
Other outstanding features:
The largest black rhino population in the world

220km of pristine coastline and beaches

25,000-year-old coastal dunes which are the tallest forested dunes in Africa

The only major swamp forest left in the Southern Hemisphere

3 major lake systems (Lake St Lucia; Kosi Bay; Lake Sibaya)

4 RAMSAR wetlands

A 45,000-year-old peat wetland
Bhangazi Horse Safari
When Horse Riding for either novices or 'old hands' there are few places in the world you can ride in an area as unspoiled or beautiful as the iSimangaliso Wetland Park, KZN. All rides are accompanied by a lead and back up rider allowing us to split the group at times to be able to cater each ride to each individual's experience level.
From the water's edge of the Indian Ocean, through the game reserve to the shores of Lake St Lucia Estuary; you can experience game viewing with a difference.
Horse African Safari: Game rides begin at Iphiva, a 5-minute drive from the center of St Lucia. From here you will ride into the Game Reserve on the southern end of the iSimangaliso Wetland Park where you will ride alongside zebra, wildebeest, bushbuck, warthog, duiker, impala with occasional sightings of rhino, buffalo, and their elusive leopard.
Horse Beach Rides: During the whale season (June-Nov), you will often see humpbacks breaching out in the deeper water on their way to their breeding grounds in Mozambique. From November to February, they search for the tracks of turtles who dug their nests above the high tide mark in the warm sand the night before.
Children must be over 8 years old for a beach ride and 6 years old for game rides. Riders must be under 95 kg.
Rate per person (subject to change): 1 hour: R430 (US$ 30) and 2-hour ride: R860 (US$ 60). A combo of both beach and game rides are available. Book HERE!
---
Planning a trip to South Africa? Here are some helpful guides
---
Travel Insurance for South Africa
Use travel insurance while visiting South Africa so you are covered for theft and medical expenses. There are a lot of adventurous activities to do in SA, and it's best to have peace of mind while diving, hiking and trying some of the best food in the world.
Find out why I recommend World Nomads, check out my
World Nomads Insurance review.
Disclaimer: This article contains affiliate links. This means that if you make a booking after clicking on a link, I may receive a small commission at no extra cost to you!