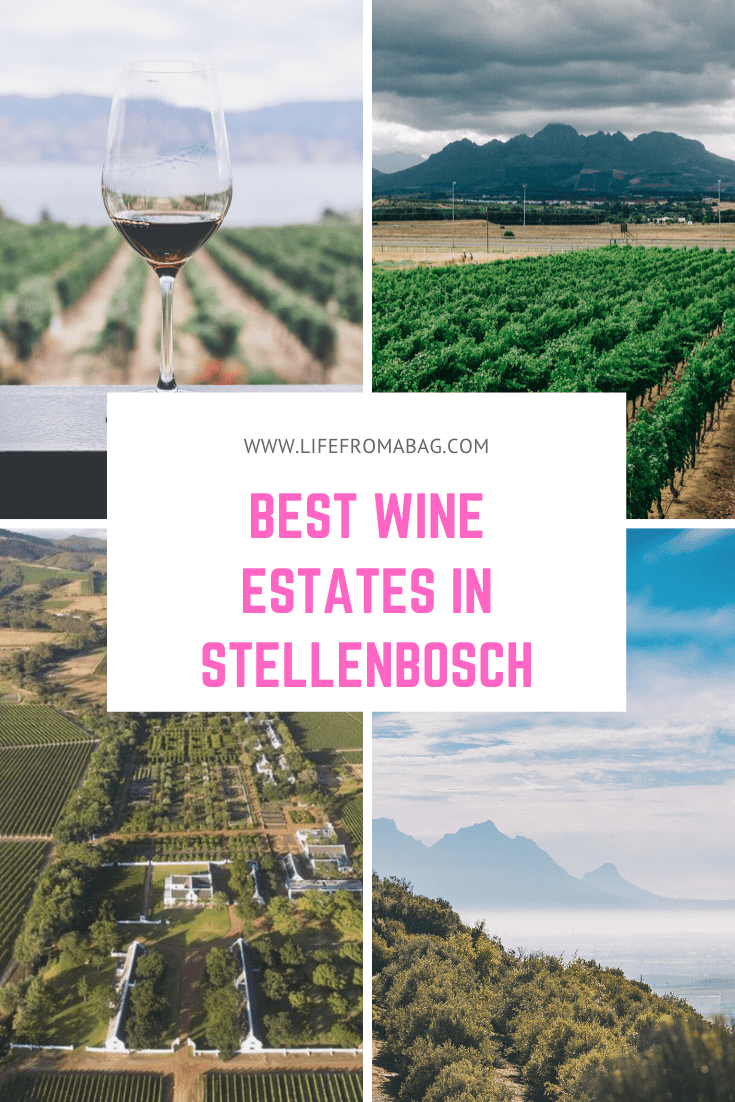 A trip to Cape Town would be incomplete without a visit to Stellenbosch. If you want to go wine tasting in world-famous Cape Winelands but don't know which are the best wineries in Stellenbosch, how do you choose where to spend your money, time and alcohol tolerance?
There are many things to do in Stellenbsoch this makes it the perfect destination for wine connoisseur, families, couples, and even people who don't know about wine but would like to taste different varieties.
The Stellenbosch Wine Routes include 5 sub-routes which each have their own characteristics in terms of prominent wine styles, climates, and geographical location.
This guide details the best wine estates in stellenbosch, how to get there, what to expect, and cost estimates.
Why visit Stellenbosch
Stellenbosch is more than just a wine tourism destination. The region has amazing natural beauty, the exceptional nature, and richness of its terroir which can be found anywhere else
Stellenbosch is the second oldest town in South Africa and the birthplace of Pinotage in 1925.
The annual Stellenbosch Wine Festival is the oldest food and wine festival in the Cape and the largest regional wine festival under one roof. It brings visitors to Stellenbosch during the quiet winter months, and is a celebration of the vine!
Map of best wineries in Stellenbosch
Best wineries in Stellenbosch for first-timers
These are some of the best wine farms Stellenbosch for traditional tastings and they include some of the best wines in South Africa.
Blaauwklippen Estate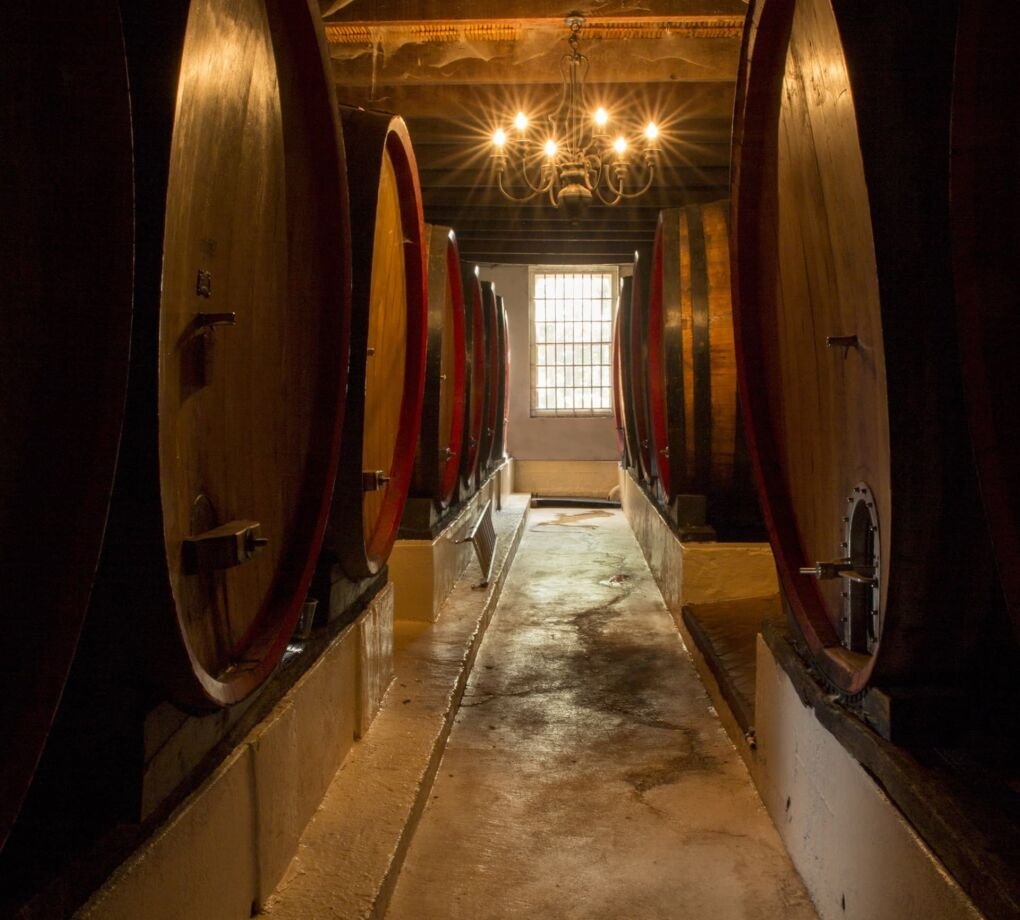 Blaauwklippen is one of South Africa's oldest wine farms, dating back to 1682 when it was founded by Gerrit Jansz Visser but its first vineyards were planted in 1688. The name Blaauwklippen derives from the Dutch word "blue rocks". Today they grow a fiery variety of mostly red grape varieties such as Malbec, Shiraz, and Zinfandel.
Wine tastings can be conducted in various languages and can accommodate up to 80 guests at a time. Informal wine tasting can be enjoyed inside our tasting center with playground facilities available outside to keep the kids entertained.
It's one of those places where you know what you're getting – great wine and this makes it one of the best wineries in Stellenbosch for first-time visitors. The winery offers standard tastings of 5 wines of your choice, chocolate and wine pairings, cellar tour
The cost of wine tasting at Blaauwkippen ranges from R80 to R150 (USD 3.50 – 10).
Rustenberg Estate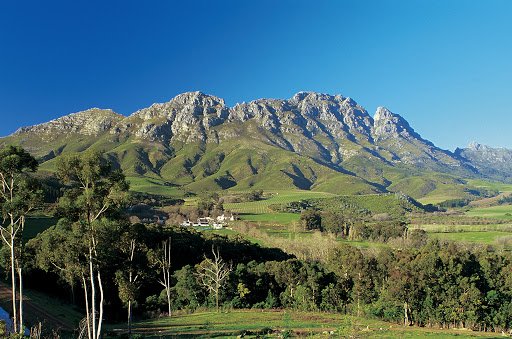 The Rustenberg Estate stands on an impressive 880 hectares against the iconic Simonsberg Mountain in Stellenbosch.
Of the 880 hectares that make up the estate, 110 hectares are under vineyard (planning to plant some more vineyards in the next year or so), 200 hectares make up the beautiful pastures and farmland for our cattle to graze on, a portion houses the historic farm and winery buildings and other facilities, and the rest for Rustenberg consists of protected land consisting of a myriad of wildlife (including porcupines, caracals, and cape leopard) and "fynbos" (the indigenous flora of the Cape region).
Rustenberg is of the oldest wineries in South Africa, it claims a history dating back to 1682 when a man named Roelof Pasman first recognized his talent for winemaking. A receipt for brandy sold to a midwife in 1692 is the first evidence of the wine being sold off the farm. In 1781 the farm produced some 3,000 cases of wine with production doubling by the end of the century. Today, the estate is known for its flagship Cabernet Sauvignon and Chardonnay wines.
Rust en Vrede Estate
Rust en Vrede Wine Estate was created in 1694 by Willem Adrian van der Stel, the then Governor of the Cape.
It was divided into two properties in the early 1700s with the original portion remaining as Rust en Vrede.
Nevertheless, it wasn't until 1977, when the Springbok rugby star Jannie Engelbrecht purchased it, that its winemaking traditions revived, creating the first vintage of the with the intention of producing only red wines, focusing on Shiraz, Cabernet and Merlot.
Tastings start at R60 (USD 4) and the winery is open daily.
Best wineries in Stellenbosch for unique experiences
Vergenoegd Wine Estate
Vergenoegd translates to satisfaction and that's exactly how you will feel after spending the day at this amazing winery in Stellenbosch.
Vergenoegd's offers picnic baskets are packed with a delicious selection of fresh, farm-made produce. Feast on tasty snacks while sitting on the farm's serene lawns and drinking in the picturesque views. They have cellar tours, classes where guests can learn the art of art blending, a daily duck parade, and history walks.
Wine tasting prices range from R85 (USD 5.70).
Kunjani Wine Farm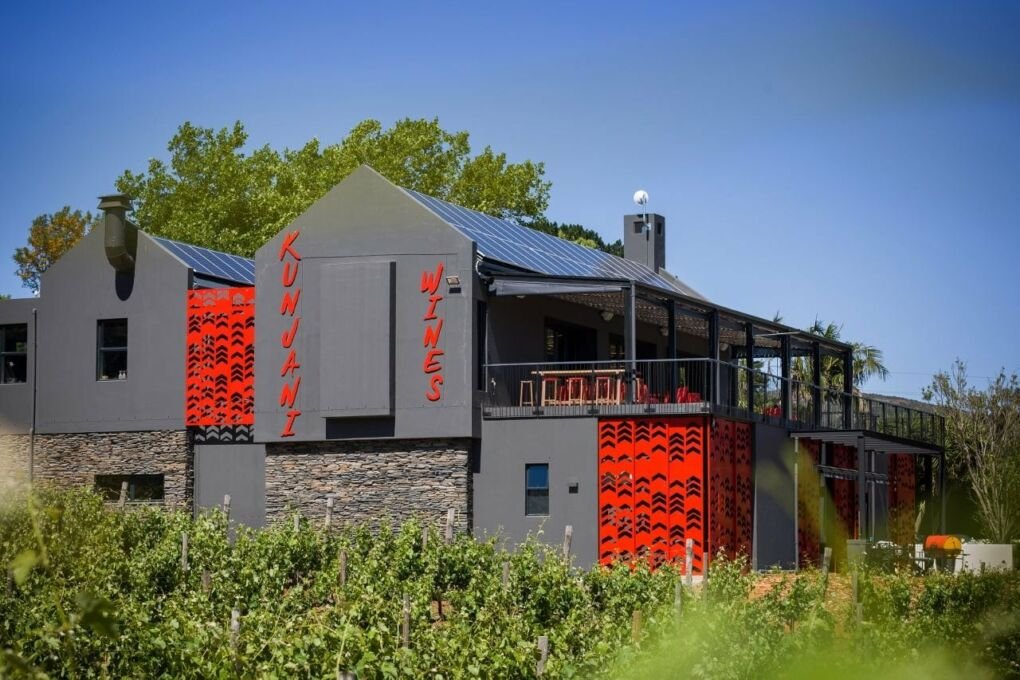 Kunjani Wine Farm is the latest addition to the Bottelary Hills sub-route of Stellenbosch.
They have great interior décor (contemporary, modern, and clean); restaurant; they offer accommodation situated in the vineyards.
Kunjani means 'Hi, how are you?' and that is exactly how friendships start.
Kunjani has 2 and 1⁄2 hectares of vineyards, all shiraz, though Carmen (the co-owner) also has access to neighboring vineyards of cabernet sauvignon and merlot. Riesling of the estate is imported from the Rheingau region in Germany.
Kunjani has been included in Architectural Digest's list of "Top 19 Best Vineyard Designs Around the World" by Architectural Digest.
Best wineries in Stellenbosch for foodies
Fleur du Cap at Die Bergkelder
Launched in 1968, shortly after the opening of the popular mountain cellar Die Bergkelder in StellenboschThe Fleur du Cap Country Estate is situated on the banks of the river Lourens near the town of Somerset West, about thirty kilometers southeast of Cape Town, in the valley separating Hottentots-Holland from the Helderberg Mountains.
The wines were designed by Dr. Anton Rupert, it was the first of its kind underground bottle maturing cellars in the southern hemisphere
As with the wine – region, the salt character is influenced by climate and elements.
Just as Fleur du Cap embodies regional excellence by selecting grapes from distinctive vineyards that best express varietal and terroir character in the wines, there are regions of excellence in salt production. Salt can have a significant impact on the matching of food and wine. The salts used in this tasting are from sampled salts from Pakistan, Hawaii, Himalaya, and South Africa.
The cost of the Salt and Wine tasting Fleur de Cap starts at R120 (USD 8).
Middelvlei Wine Estate
Middelvlei Wine Estate is one of the five biggest wine farms in Stellenboscb but it's the perfect place for a South African Braai experience and winemaking experience.
At Middellvier, guests can mix different wines to create their own blend and enjoy take it home or enjoy it with a South African bbq.
Given its 160-hectare size, the winery manages to feel intimate and enjoyable with a mix of grazing cows, outdoor braai, tapas menu, and wine, of course, you could visit Middelvlei just to taste the mostly red wine produced in this certified sustainable farm, but you would be missing out on the amazing foodie experiences offered at this best wine estates in Stellenbosch.
Morgenster Wine and Olive Estate
For a foodie experience under vine and olive trees, head to Morgenster Wine and Olive Estate.
Giulio Bertrand ( 1927 – 2018) paved the way for South Africa's olive oil culture releasing the estate's first olive oils into the market in 1996, made in the purest way with no additives. To this day our estate continues to produce pure, unadulterated extra virgin olive oil according to the vision and expertise of its founder.
Thes olive oils are paired with wines and served on the 74 ha of the 200 ha estate in Somerset West.
Full olive oil tasting with a selection of three wines starts at R80 (USD 5.30).
Best wineries in Stellenbosch for eco-conscious consumers
Spier Wine Farm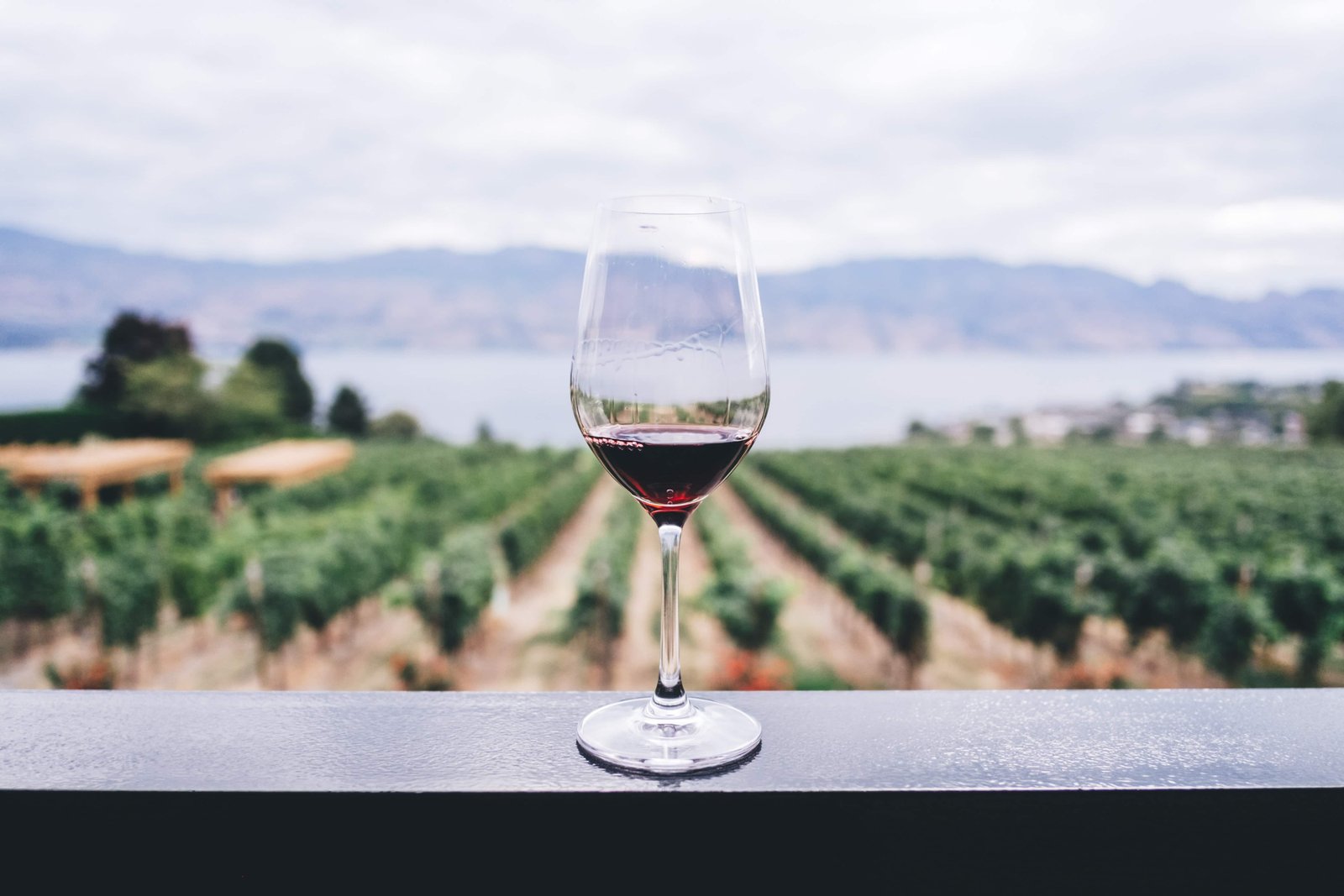 Spier Wine Farm is one of the best wine estates in Stellenbosch for green consumers. They go above and beyond to give back to the environment and the local community. It's 100% responsible and sustainable.
The Spier Werf Cellar processes up to 15 tons of organic grapes from Spier and also has a temperature-controlled barrel maturation room behind a glass wall so that passersby can watch our winemaking team in action.
What are organic wines?
Organic wines are produced with organically grown grapes. It is a way of farming that views the vineyard as a living ecological system, rejecting the use of herbicides, fungicides, pesticides, and fertilizers.

Organic wines are set apart by the level of sulfur dioxide (SO2) in the wine. This needs to be less than 100 ppm sulfites (conventional wine = 160 ppm)
Spier Wine Farm not only has an art gallery, a weekly crafts market, a restaurant, a hotel and spa, and wine tastings. There are so many things to do at this Stellenbosch wine estate.
Jordan Stelllenbosch
Jordan Stellenbosch aims to combine the vineyards' natural assets with innovative management, creating a profound expression of terroir. Jordan Wine Estate – the perfect Synergy between Soul and Soil.
Jordan Stellenbosch is open Monday – Sunday 09:30 – 16:30 for wine tastings and tours. The tours start from R55 (USD 3.70)
---
Tours of the Best Wineries in Stellenbosch
---
Planning a trip to Cape Town?
Travel Insurance for South Africa
Use travel insurance while visiting South Africa so you are covered for theft and medical expenses. There are a lot of adventurous activities to do in SA, and it's best to have peace of mind while diving, hiking and trying some of the best food in the world.
Find out why I recommend World Nomads, check out my World Nomads Insurance review.
Disclaimer: This article contains affiliate links. This means that if you make a booking after clicking on a link, I may receive a small commission at no extra cost to you!