Are you visiting the Emerald Isle in December? There are amazing Christmas Markets in Ireland to explore!
A great way to really get into the Christmas spirit without spending a lot of money is simply by walking down the many colorful streets while perusing the unique and fun finds at one of the best Christmas Markets in Ireland.
For mulled wine, ice skating and if you're lucky, a chance to meet Santa himself. Whether you choose to browse the most popular ones or visit those hidden in some quaint medieval villages. Here is a list of Irish Christmas Markets worth visiting:
Belfast Christmas Market
One of the best and most popular Christmas Markets in Ireland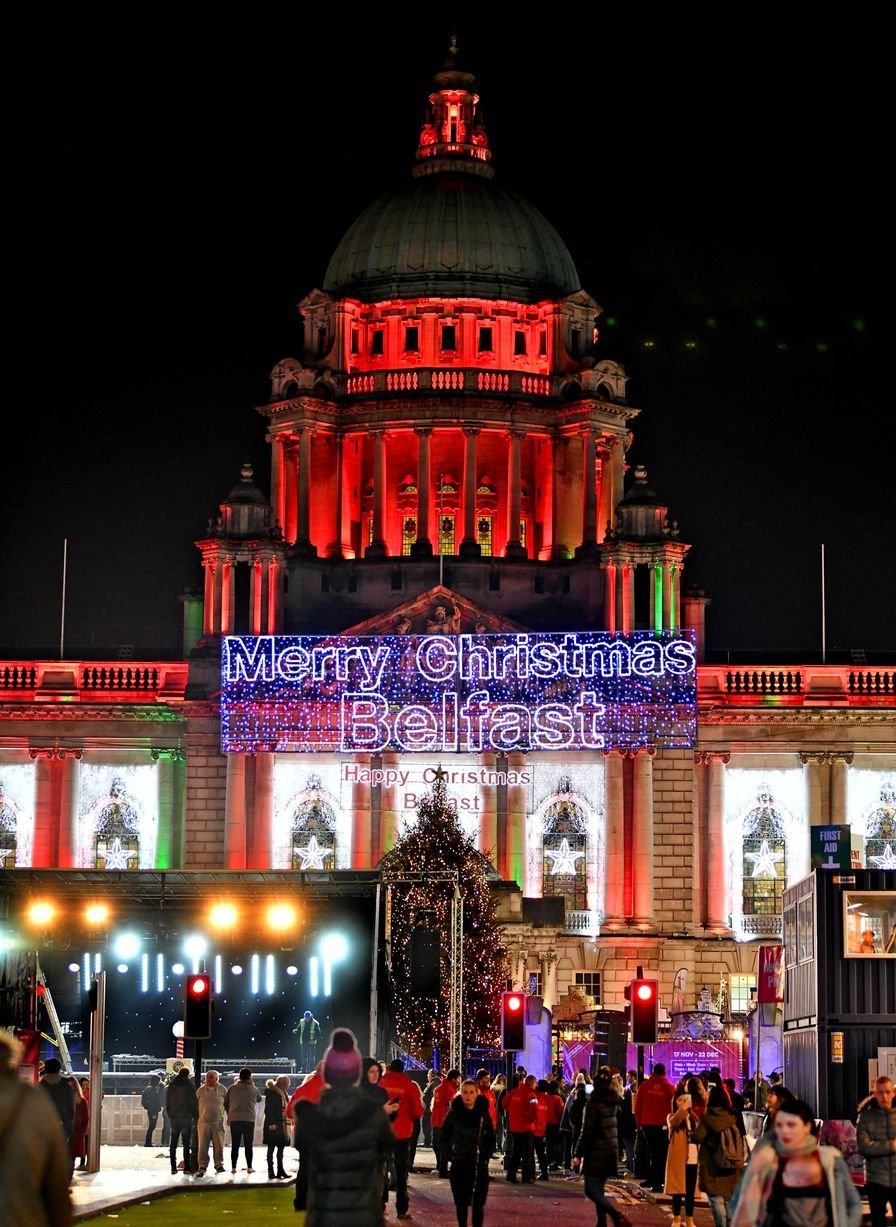 Set in the heart of one of Northern Ireland, The Belfast Christmas Market is among the list of magical and most atmospheric fairs of its kind in Europe.
Arrive with an empty stomach as there are over 40 nationalities represented at the market, there's unique food to be sampled and enjoyed that you most likely won't find in Belfast at any other time of the year!
Santa's post box will be at his grotto at Belfast Christmas Market for children to post letters to the North Pole, with a reply for those who add a return address. (until Sunday, December 16)
Christmas cheers run from 17 November to 22 December!
Winterval in Waterford
Ireland's oldest city is one of the best places to visit for annual Christmas festivities from Santa Experience, to Winterval On Ice, to the Winterval Express train and the horse-drawn sleigh.
With both free and ticketed events available, there is plenty to choose from for young and old alike. Find out more about the 12 Days of Christmas happenings at the winter wonderland HERE!
Christmas cheer from 17 November to 23 December.
Galway Christmas Market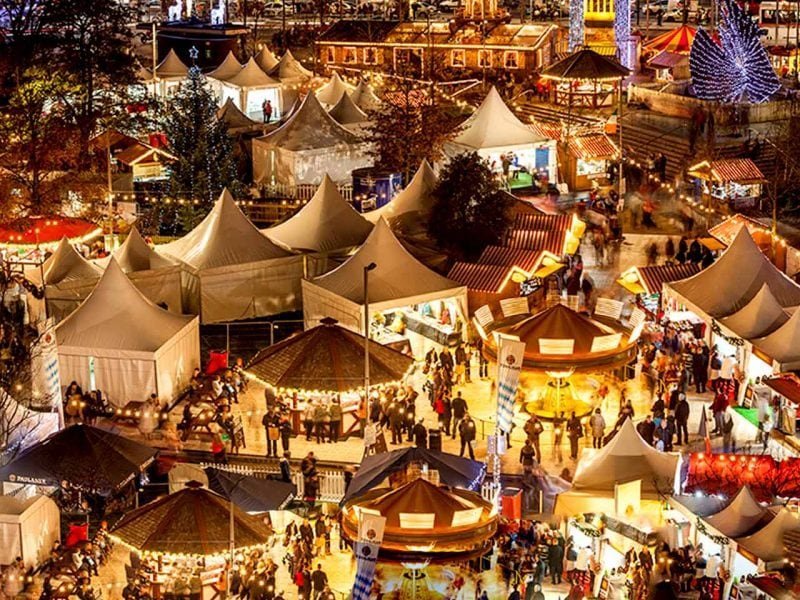 Since 2011 the area across Galway City from Eyre Square to Spanish Arch has been transformed into a traditional German-style Christmas market.
Packed to the brim 50+ stalls buckling under a fine selection of food and drink. With Amusement rides, live music performers, puppet shows, storytelling, school choirs, and carol singing.
This list of 10 amazing things to see in Galway shows how the city is a great place to visit during any season!
Christmas cheer runs from 16 November to 22 December.
Dun Laoghaire Christmas Market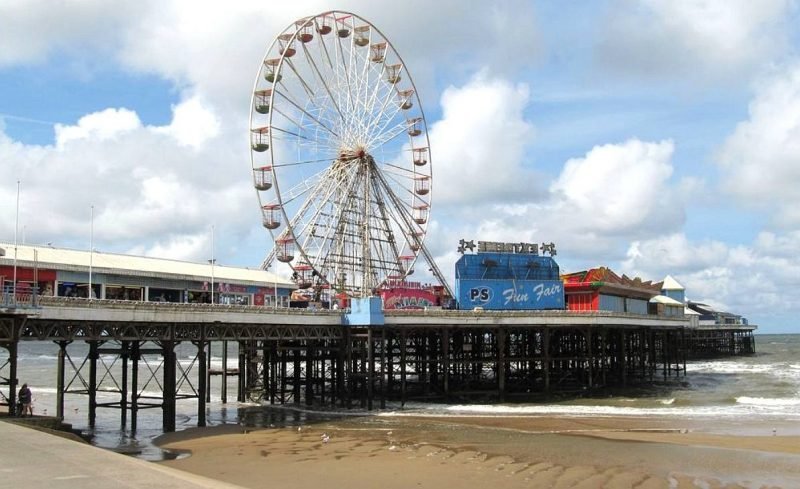 Dun Laoghaire is the place to visit this year!
It's where a 55 ft Ferris Wheel built-in 1943 in Cincinnati in the USA and reported to have featured in the original 'Grease' movie has made an epic journey from Nashville to County Dublin.
The iconic Ferris Wheel, built by the famed Ely Bridge Company, will provide spectacular views of the Dun Laoghaire Harbour this Christmas with a touch of nostalgia, a hint of romance, and a whole lot of 'Greased Lightning!'
Christmas Cheer runs weekdays from November 24th to December 23rd on the Metals and opposite DLR LexIcon (11 am to 7 pm).
Glow: Cork Christmas Market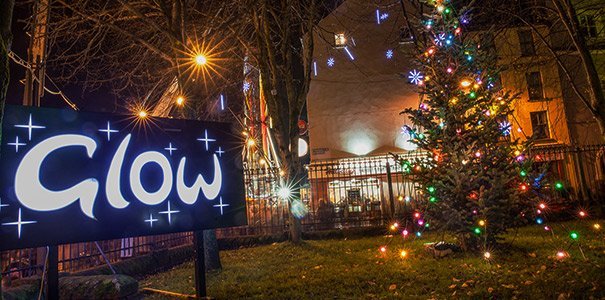 For festive fare, handcrafted gifts, and decorations, a funfair with a giant Ferris wheel and a whole host of very special tempting treats.
Visit Bishop Lucey Park and indulge in Cork City's market and entertainment on the Grand Parade this Christmas. If you need ideas on how to spend a weekend in Cork, Start HERE!
Christmas cheers run every Friday to Sunday from November 30th to December 22.
AMAZING Ireland Travel Guides
Get Insurance before traveling to Ireland
Use travel insurance while visiting Ireland so you are covered for theft and medical expenses. There are a lot of adventurous activities to do in Ireland, and it's best to have peace of mind while swimming, hiking and trying some of the best food in the world.
Find out why I recommend World Nomads, check out my World Nomads Insurance review.
Disclaimer: This article contains affiliate links. This means that if you make a booking after clicking on a link, I may receive a small commission at no extra cost to you!