The age of wireless internet has utterly changed the way business is done and has caused the common worker to evolve into a brand new subspecies — the remote worker. And mind you, "working from home" is no longer the species' way. It has given to living in the wild and relocating its work wherever the Wi-Fi signal takes it.
An incredible country to visit, you will easily find more than one thing to fall in love with. And, if you're a first-time visitor to Vietnam, the country is filled with stunning places to visit. Rest easy knowing you're in one of the best countries for world travelers around the world.
The world has had to accommodate as well. Places that offer amenities suitable for working away from home have never been more abundant, and coworking (and coliving) hubs continue to pop up. Cafes with amazing coffee have also become frequent gathering places of the working population, as they offer a less office-y and more relaxed vibe. All of that applies to Vietnam and its ancient city of Hoi An as well.
A Word on Hoi An, Vietnam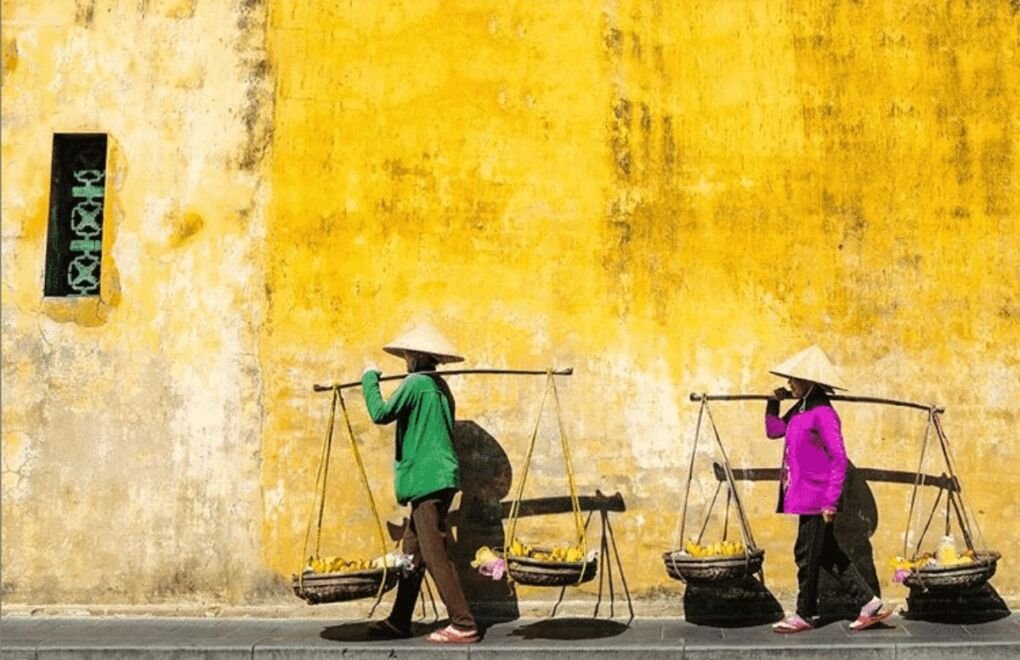 Image source: shannokeefe_
Hoi An is a beguiling little tourist town, a former trading port with well-preserved architecture traditionally bathed in hues of mustard yellow. It is situated along the coast of the East Vietnam Sea and enjoys the perfect weather for most of the year, with temperatures ranging from the pleasant 68 to the tropical 100 degrees Fahrenheit​【38°C】. It is no wonder that many people choose this spot on the map to work from.
If you are a first-time traveler to Hoi An, you will be enchanted by its mesmerizing sandy beaches and a selection of local delicacies that are bound to blow your mind. The town is rather touristy, so it has plenty to offer in terms of places to visit and restaurants to dine at. Most importantly, it has loads of cafes with exceptional, locally grown coffee from which you can get some work done.
Regardless of whether you are a digital nomad in search of the best desk for your laptop (apart from your trusted travel stand desk, that is) or a local professional looking for a place to spend your business hours more productively, look no further. Once again, we've got your back. Delve into our guide to the best places you can work from in Hoi An.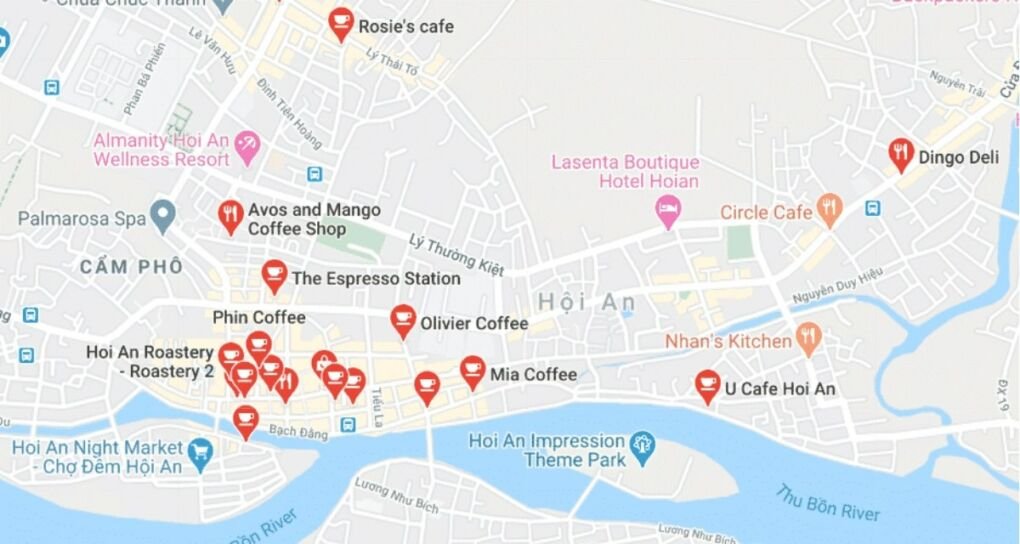 The spots that captured our attention the most in Hoi An are:
Hub Hoi An
Dingo Deli
The Espresso Station
Reaching Out Teahouse
Rosie's Cafe
Le Fê Cafétéria
Avos & Mango
ROAST Coffee & Bakery
Mia Coffee
Mun Coffee
Mango Rooms
Vietnam Sustainable Space
Gemstone Art Museum
The Chef
3A Cafe
Hoi An Roastery
Cocobana
Cocobox
Ca Phe Pho Co (The Cafe of the Ancient Town)
The Top Spot on Our List Goes Out to Hub Hoi An, the Only Dedicated Coworking Space in Hoi An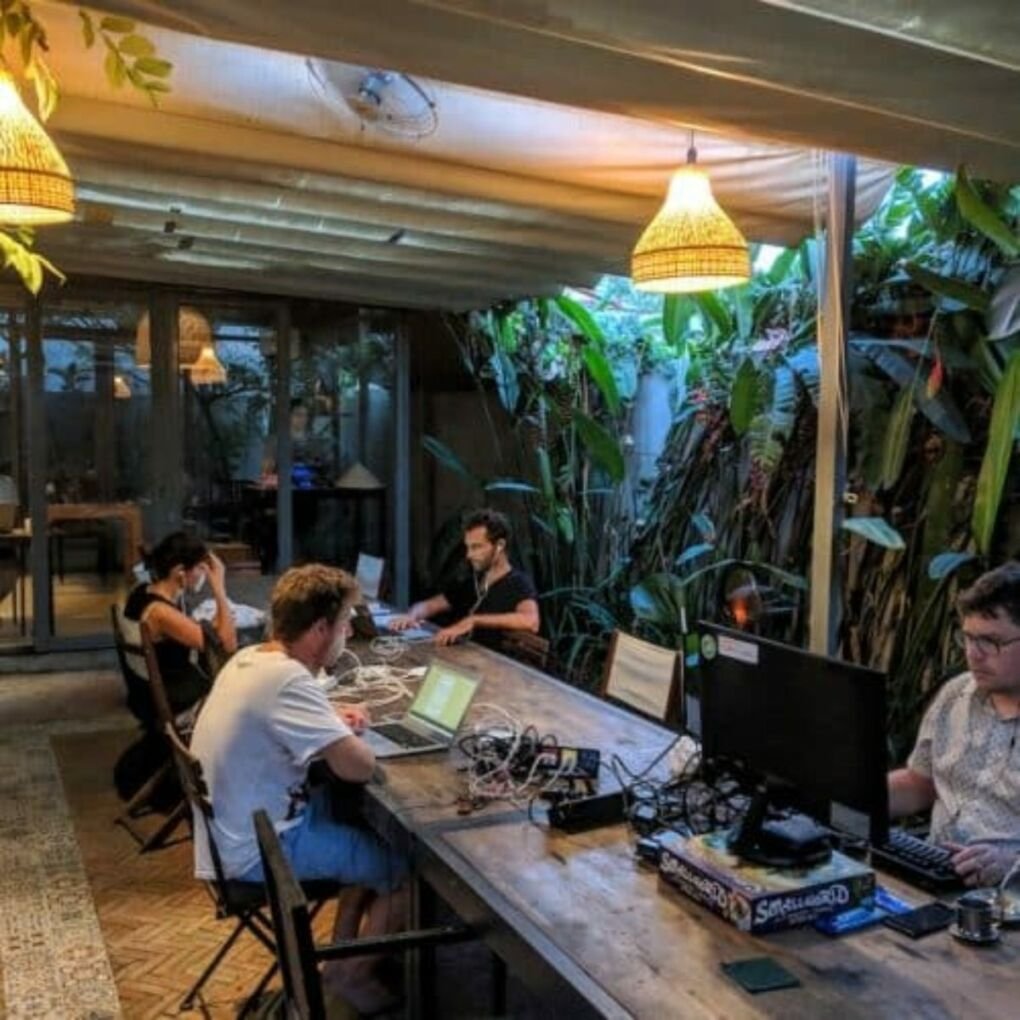 Source: Hub Hoi An
Hub Hoi An prides itself on being the first coworking space in Hoi An, and it is undoubtedly an incredibly popular one! Countless online reviews by loyal visitors of this place speak volumes about the hospitality and the utmost level of service they got while coworking from this place. Special emphasis is put on community building here — there are weekly workshops and events, such as Community Lunches, that promote networking among members.
The place is beautifully designed and furnished with gorgeous furniture. It is surrounded by lots of greenery — you get a 360-degree view of the lush garden from its glasshouse. There is also a shared desk on the lunch table in the outdoor area, as well as a quiet room and a meeting room if you need some privacy.
A lot of effort was also put into the in-house amenities. You can get snacks and beverages, both free of charge and for a fee, depending on what you feel like having. You also have plenty of equipment at your disposal, such as scanners, printers, keyboards, extension cords, and laptop stands.
This coworking and coliving spot finds itself in close proximity to An Bang Beach. It is located in the neighborhood of the UNESCO World Heritage Site of Hoi An, so it is effortless to find it even if you have just arrived there for the first time.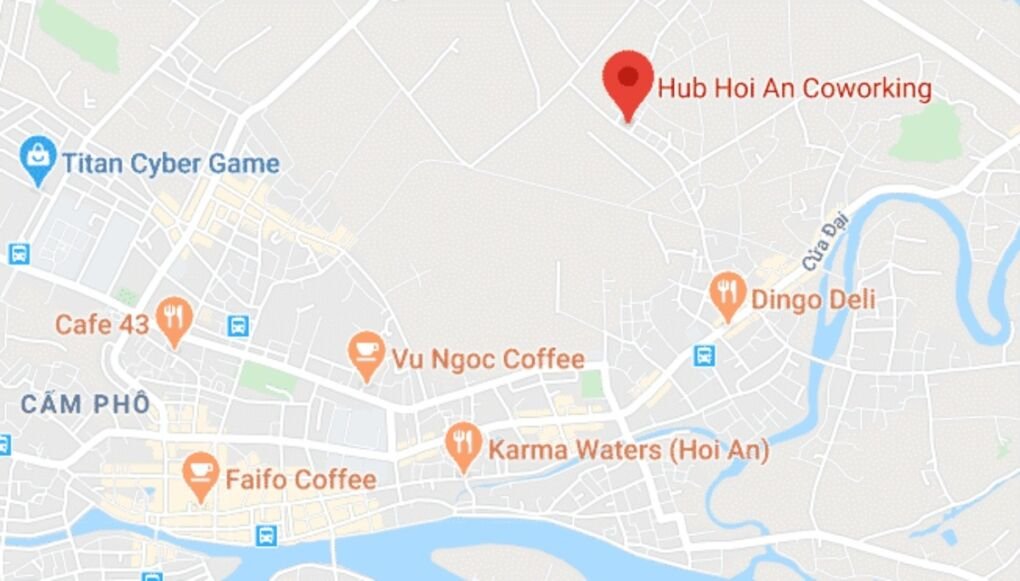 The only downside we could identify is the pricing. Most of the other places you can work from in Hoi An are cowork-friendly cafes, and the average price of a coffee or a drink there is around $2, while a day pass at the Hub Hoi An is a staggering $9. That is undoubtedly a point worth mulling over before you venture a visit to this otherwise fantastic place.
Basics
Pricing

Per day: VND 210,000 ($9)
Per week: VND 1,300,000 ($57)
Per month: VND 4,000,000 ($175)
3 months: VND 3,720,000 ($160)

A month 50% discount for the Vietnamese

High-Speed Internet
100 megabit fiber
Open Hours

Monday — Friday: 9 am – 7 pm
Saturday: Closed
Sunday: Closed (24-hour member access)

Ergonomics
Comfortable Chairs
No
Standing Desk
Yes
Workspaces
Dedicated Desks
No
Conference Rooms
No
Private Offices
No
Conference room / Event rooms
Yes
Phone booths / Skype rooms
Yes
Coliving
Yes
Dingo Deli Offers the Most All-Encompassing Service You Can Find in All of Hoi An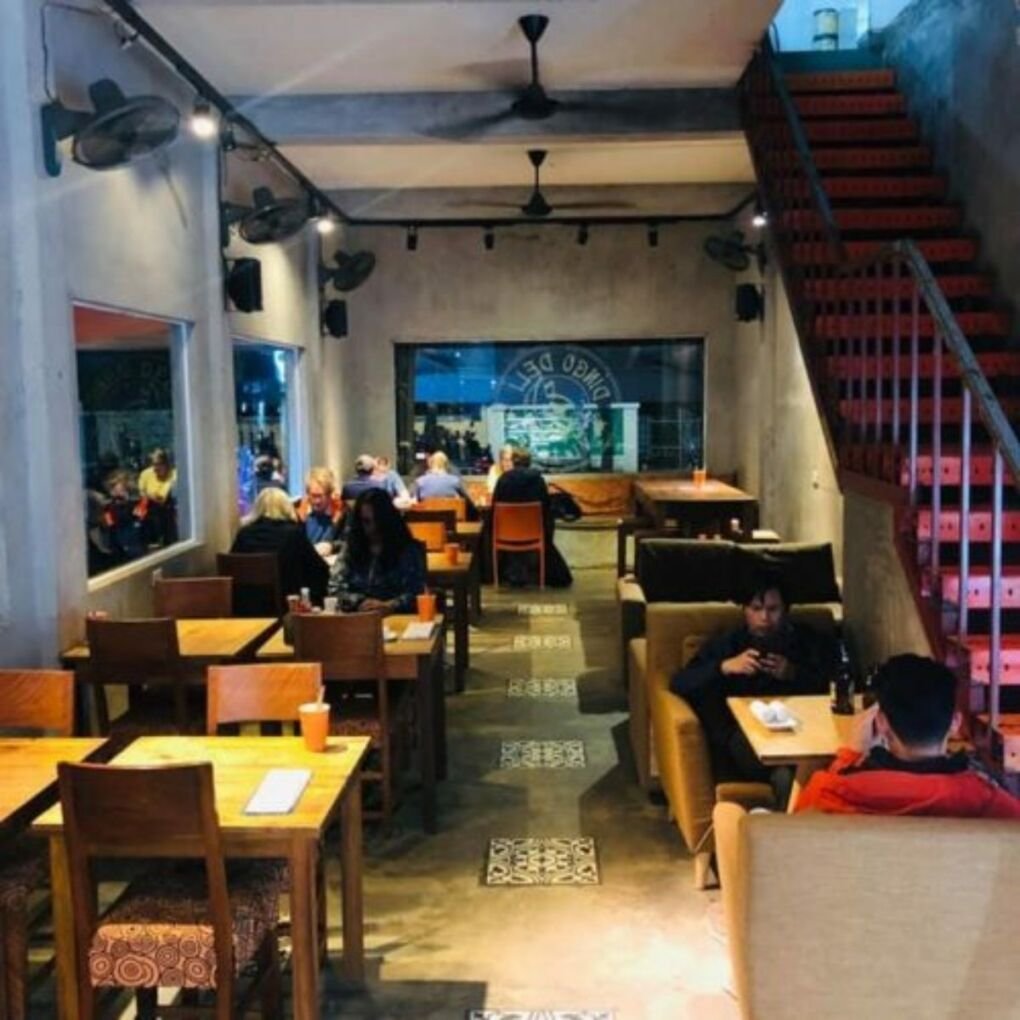 Source: Dingo Deli
Dingo Deli is a Western-style restaurant that offers pizza and roasted dishes, so it is a favorite spot for expats living in Hoi An. Go out the back, and you will find an amazing, secluded, and distraction-free coworking space.
It leaves somewhat to be desired in terms of aesthetics, especially in comparison to the restaurant part. It is nevertheless a functional coworking space that you can easily spend the entire workday at. It is air-conditioned, which is a blessing in itself, and it has a strong Wi-Fi signal. In case there is a power outage, which is anything but unheard of in Vietnam, Dingo Deli has its own generator, so you know you would be able to work without a problem.
The truly awesome part is that you can bring your child with you, as there is a garden playground that you can see from the coworking space. Did we mention they also serve Lavazza coffee?
Service
Price
Sandwiches, salads, and deli boards
From 130,000 VND ($5.5) upwards
Bottomless filter coffee
VND 35,000 ($1.5)
Working hours
7:30 am to 9:30 pm
Address
277 Cua Dai Road
The Espresso Station Has the Best Organic Sips in Hoi An to Power Your Work Efforts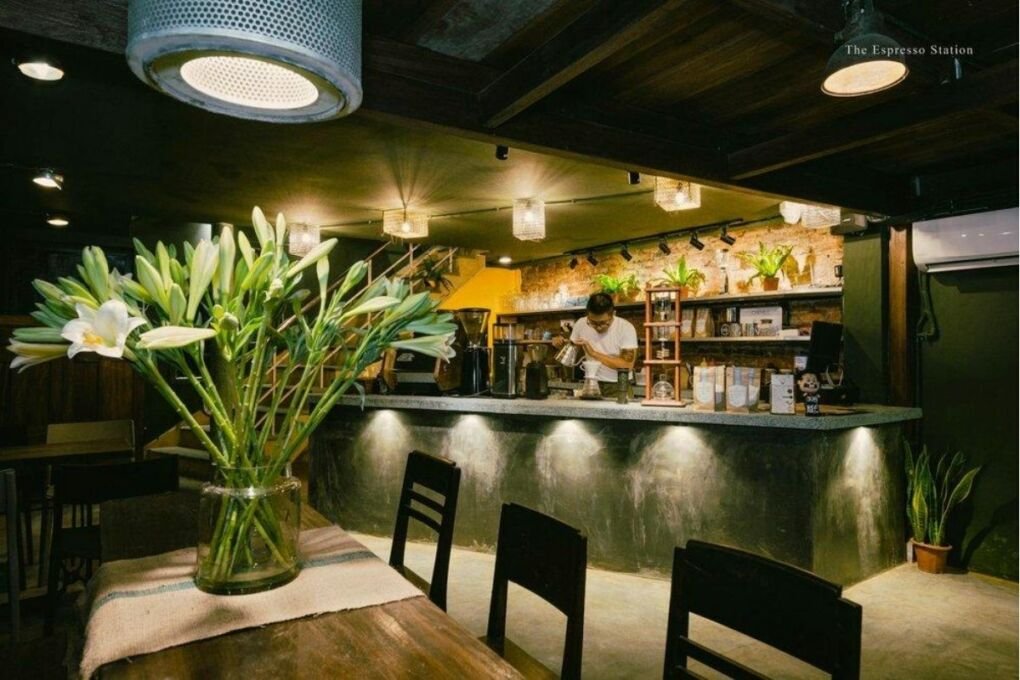 Source: The Espresso Station
The Espresso Station is famous for its delicious coffees made from organic coffee beans. One of the best coffees to get your workday to kickstart on a positive (and delicious) note is their "Dark Soul Latte."
Although The Espresso Station is a cafe and not a coworking space, it is located in a peaceful alley near Hoi An's Ancient Town. It has a small, planted yard where you can tuck away in a corner and work without a problem.
Service
Price
Coffee
VND 45,000–80,000 ($2–$3.5)
Working hours
10 am to 7:30 pm
Address
28/2 Tran Hung Dao street
Reaching Out Teahouse Is the Quietest Place to Work From in Hoi An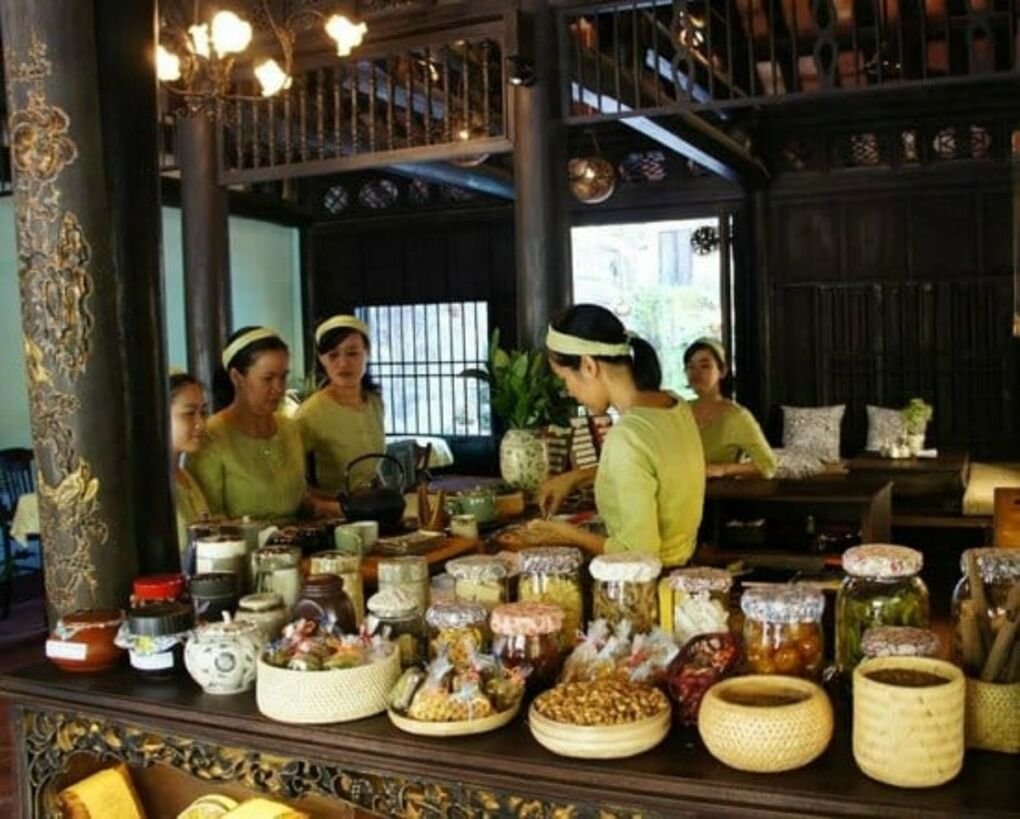 Source: Reaching Out Teahouse
Reaching Out Teahouse is perfect for people who need the utmost silence while they work. The staff at this place is made entirely of deaf people because it is a charity organization whose earnings in part go to empowering the disabled population in Hoi An.
Apart from contributing to a good cause and finding a quiet place to get your work done, you will get quality and unorthodox service here. There are paper and pen sets on each table on which you can write down your orders. Every table also has wooden tiles with standardly used expressions, like "thank you" and "coffee" to facilitate your communication with the staff.
Service
Price
Coffee
VND 80,000–150,000 ($3.5–$6.50)
Working hours
10 am to 7:30 pm
Address
131 Tran Phu street
Rosie's Cafe Is the Most Elegant Space You Can Work From in Hoi An
Source: Rosie's Cafe
Rosie's Cafe also finds itself in a tranquil corner of the Ancient City in Hoi An. There is a backroom that is perfectly suited for working as it is generally not too crowded. There are long bench tables and small individual ones. The place has a lot of natural light and breeziness to help you stay awake and focused on your tasks.
The downside is that, like many other cafes in Hoi An, Rosie's has no air conditioning, so make sure you arrive early and secure a spot as close to a fan as possible. Alternatively, you can seat yourself at the porch to take in the fresh air. After you're done working, you can treat yourself to a smoothie bowl or fresh juice!
Service
Price
Coffee
VND 25,000–50,000 ($1–$2)
Brunch dishes and smoothie bowls
From VND 60,000 ($2.5)
Working hours
7 am to 7 pm
Address
8/6 Nguyễn Thị Minh Khai
Le Fê Cafétéria Has the Most Delectable Snacks to Get Your Creative Juices Flowing
Source: Living+Nomads
Le Fê Cafétéria is possibly the most colorful cafe in Hoi An, perfect for those whose surroundings have an impact on their productivity. It is also extremely quiet, as it is located in a small, peaceful alley. Here you know you won't risk losing your focus and being distracted. The only sound you can make out at times is the Koi Carp fish bubbling up the pond's surface and splashing about.
The passion fruit smoothies are out of this world, and the coffee and tea they serve are also among the best ones in Hoi An. Every Sunday evening at 8 pm, there is an acoustic music performance by local artists. Make sure you check it out!
Service
Price
Coffee
From VND 30,000 ($1.3)
Smoothies
From VND 50,000 ($2)
Working hours
10 am to 10 pm
Address
69/3 Phan Chu Trinh
Avos & Mango Has the Healthiest Snacks That Will Give You Boundless Work Energy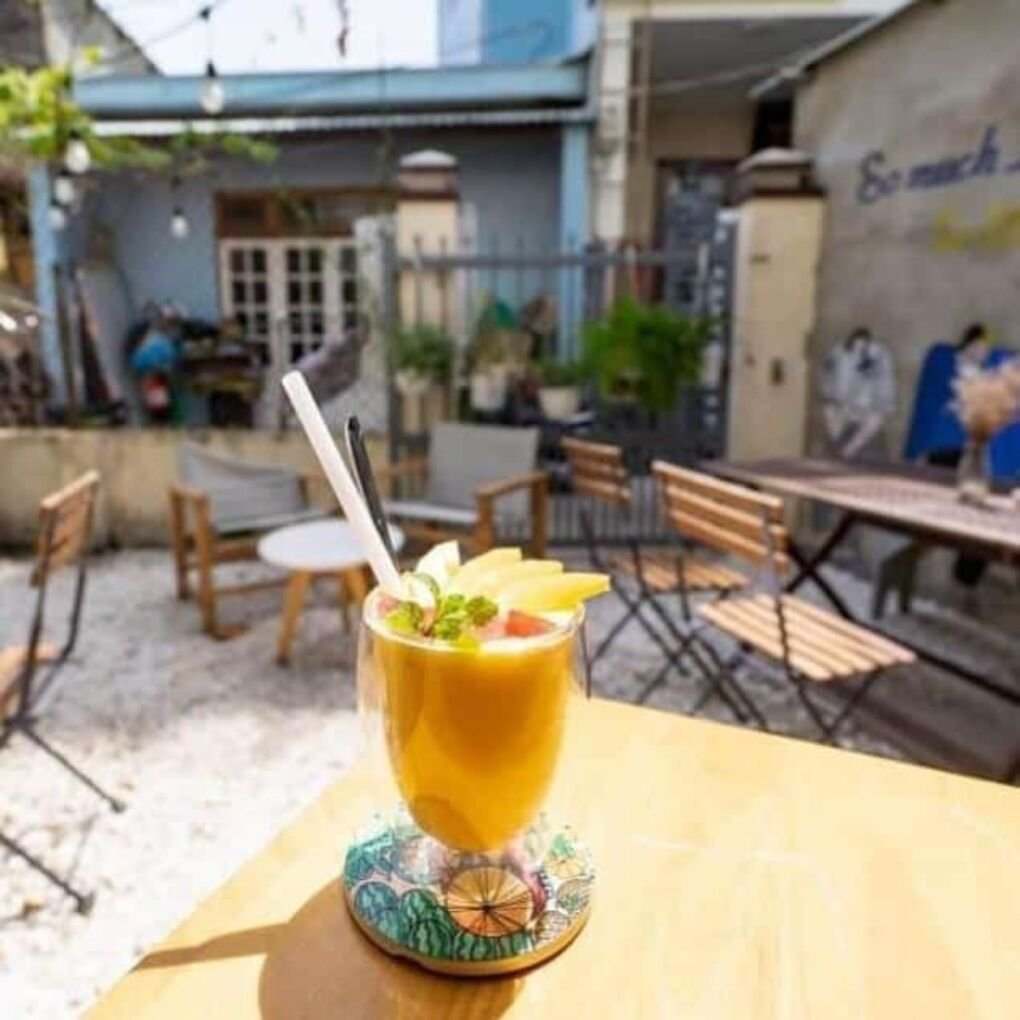 Source: Avos&Mango
Avos&Mango is a relative newcomer to the coworking cafe scene in this coastal town. It has the most enchanting, Instagram-worthy interior design that you can find in the whole of Hoi An. Just beware not to be too distracted by posting your gorgeous selfies to work.
Both the food and the coffee here are affordable, and the Wi-Fi is stable. The background ambiance music is kept at low volumes, so you are unlikely to be bothered by that while getting your work done.
What we liked most about Avos&Mango is that the majority of its menu is composed of delicacies made of mostly avocado and mango. If avocado butter, toast spreads, and avocado and mango salads and spring rolls are not your cups of tea, you can hop to one of the neighboring restaurants and grab a meaty dish for your lunch break.
Service
Price
Coffee
From VND 28,000 ($1.2)
Smoothies
From VND 55,000 ($2.4)
The two-people specialty of the house
VND 90,000 (under $4)
Working hours
10 am to 5 pm
Address
82 Thai Phien
ROAST Coffee & Bakery Is Yet Another Vivid Cafe You Could Work From for a Day in Hoi An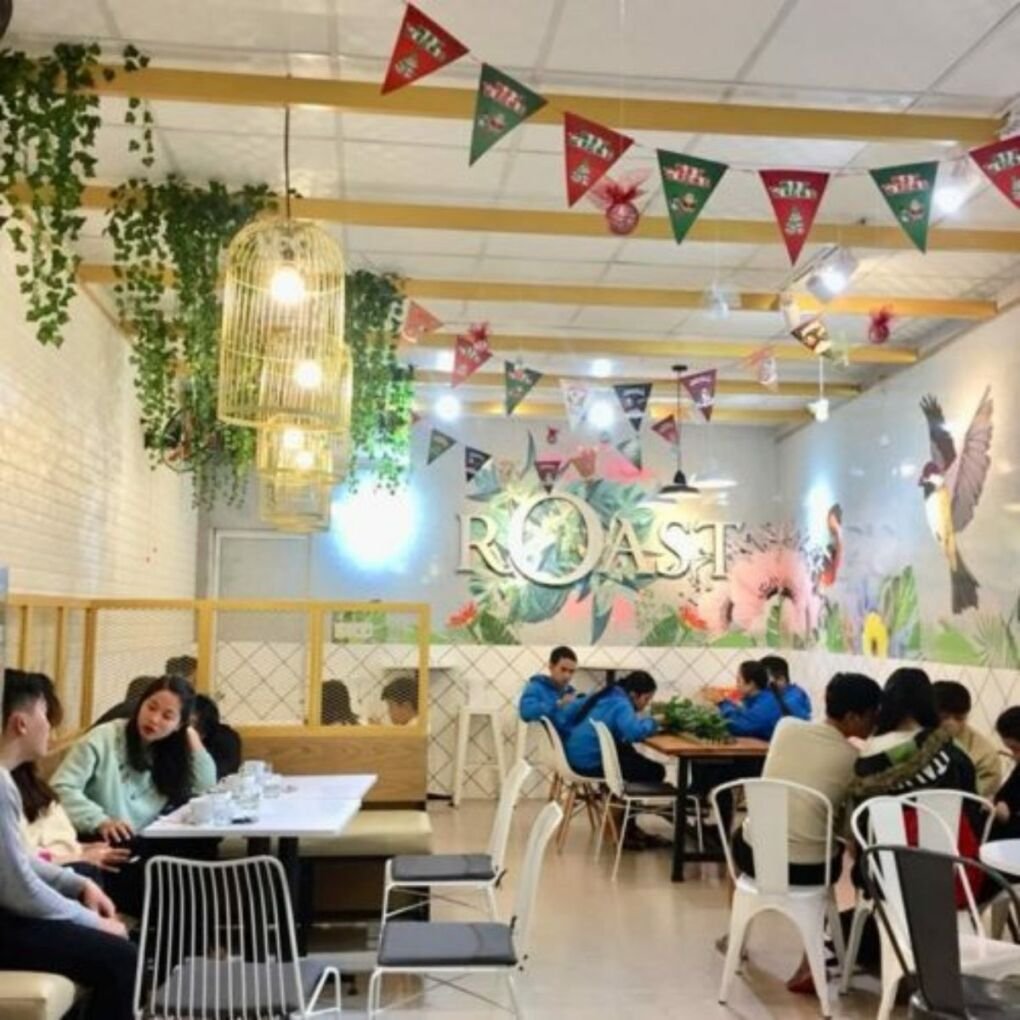 Source: ROAST Coffee and Bakery
ROAST Coffee & Bakery is a bright and lively cafe that has the most delicious donuts that you will find in Hoi An! Apart from that, they serve locally produced and freshly ground Vietnamese coffee that will wake you up in a jiffy!
The setting here is yet another specimen of beautifully decorated cafes in this seaside spot. We believe it will motivate almost anyone who decides to work from here on any given day.
There is a tiny flaw in it serving as a temporary, make-believe office, though. The place tends to attract a generally younger crowd, and it is known to get a bit loud, both in terms of music and chatter.
Service
Price
Vietnamese coffee
From VND 30,000 ($1.3)
Baked goodies
From VND 17,000 ($0.74)
Working hours
7 am to 10 pm
Address
473 Hai Bà Trưng
Mia Coffee Has Genuine Home-Made Coffee That Will Blow Your Mind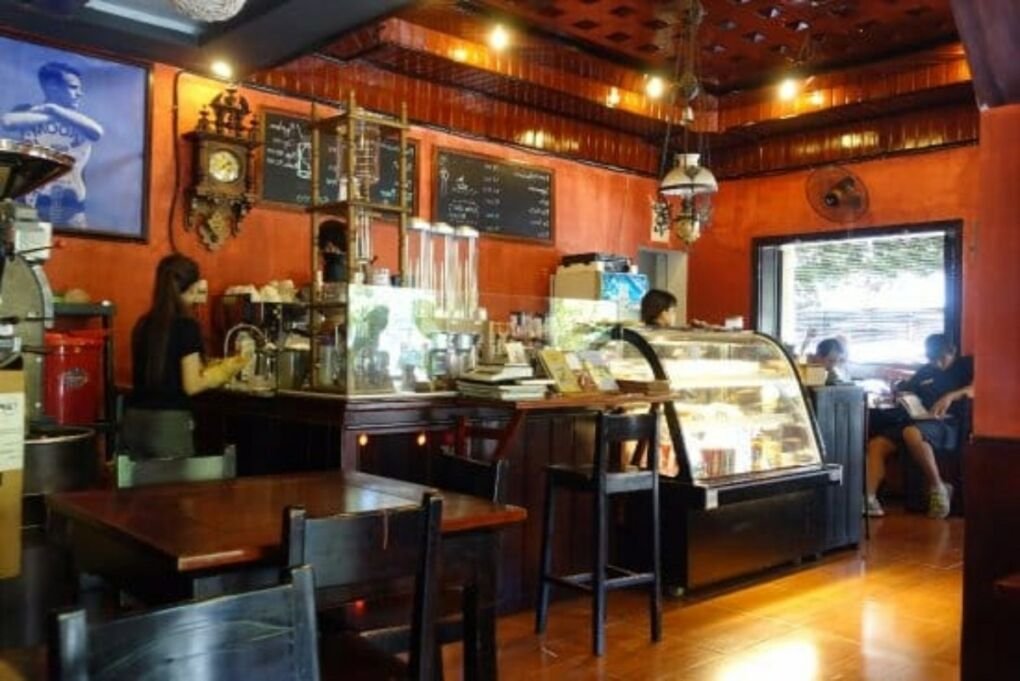 Source: Trip Advisor
Mia Coffee is yet another viable option for working out of the house. Although it lacks aesthetic appeal in comparison to previous mentions on our list, it offers exceptional coffee. It is one of the original coffee roasteries in Hoi An with decades of enviable reputation.
It has two floors, and the one we would recommend for working is the upper floor. The Wi-Fi router is there, so the signal will be more reliable, and it generally has fewer visitors than the terrace in the front.
The food menu is not the best here, but it will do if you're in a hurry. The main focus of the business is coffee, and we have to say that their paninis go great with it!
The locale is not air-conditioned, though, so yet again, we advise you to choose a table near a fan (or two), especially during the summer months. Another important point to mention is that there are plenty of power outlets here, so you won't have issues powering your laptop for an extended work session. Keep in mind that Vietnam uses two-prong plugs, so in case you come from a country that uses the three-prong one, make sure to buy an appropriate adaptor and bring it with you wherever you go.
Service
Price
Coffee
From VND 50,000 ($2)
Toasted paninis
From VND 60,000 ($2.6)
Working hours
7 am to 11 pm
Address
20 Đường Phan Bội Châu
Mun Coffee Is the Place That Will Give You the Best Artistic Kick
Source: Trip Advisor
Mun Coffee has the quirkiest interior of all the places we listed. Keep in mind that you'll have to take a good look around before you even get down to doing any work here. Not only is the furniture choice unconventional for a coffee house, but there are a lot of exotic-looking plants all over the place, as well as some thought-provoking artwork on the walls.
This coffee shop also has two levels. The upstairs is almost always loud and busy, and most people would not be able to work from there. The downstairs area is much quieter and more suited for digital nomads, freelancers, and anyone wanting to get around to doing some work.
Note that the coffee here is cheap and loved by many, the locals in particular. However, it may get a bit too "perfumed" for Western taste buds, especially if you like matcha lattes or similar mixes.
Service
Price
Coffee
From VND 18,000 ($0.8)
Working hours
7 am to 10 pm
Address
79 Phan Chu Trinh
That rounds up our top ten picks of places to work from in Hoi An, Vietnam! If these are not quite up your alley, there are others, so make sure you check them out as well. We liked these nine coworking-friendly spots:
Tip: Check out our guide to the best places to live in Vietnam if you plan to make your move permanently to this incredible country.