Cusco is the seventh-largest city in Peru which is one of the best places to visit in South America. The city is situated at a high elevation in the Andes. Cusco isn't big, and you can mostly move around on foot if you don't mind the steep streets. The best time to stay in Cusco is during the winter months (June–September) when there are fewer rain showers, and the temperature is pleasant. If you're a first-time traveler to Cusco, check out this vlog which illustrates why Cusco is one of the best places to live in Peru.
There aren't many coworking spaces in Cusco, but the available ones offer private offices and comfortable chairs. Cafés and restaurants are also popular among digital nomads and expats, with somewhat reliable internet and great coffee. Here are our top picks for coworking spaces.
Selina CoWork Cusco Is Our Favorite Place to Cowork in Cusco
Image source: Selina CoWork Cusco Website
Selina CoWork Cusco is on Plaza de Armas in the historical center of Cusco, where everything is close by. Artful décor and the fast internet make this coworking place stand out from all others in the city.
We spent hours here in comfortable chairs, enjoying free freshly brewed coffee. The kitchen with a small lounge area found downstairs is great for meeting other coworkers. There are two phone booths you don't have to book ahead, equipped with standing desks. Keep in mind they're not soundproofed well, so others may hear your conversation if you speak too loud.
The food at Selina's restaurant is 15% off for members of the coworking space. You can also participate in all activities available at the Selina hostel, like on-site yoga. Bringing your dog or cat to work is also an option since the space is pet-friendly. All this and the 24/7 opening hours make Selina CoWork a fantastic choice for remote work.
Basics
Pricing

$9 per day
$45 per week
$140 per month

High-Speed Internet
100 megabit fiber
Open Hours

Monday–Friday: 24 hours
Saturday: 24 hours
Sunday: 24 hours

Ergonomics
Comfortable Chairs
Yes
Standing Desk
Yes
Workspaces
Dedicated Desks
Yes
Conference Rooms
Yes
Private Offices
Yes
Phone booths
Yes
Coliving
Yes
La Oficina Cusco Coworking Is Our Least Favorite Place to Cowork in Cusco
Image source: La Oficina Cusco Coworking Facebook
La Oficina Cusco Coworking is located in the Marcavalle neighborhood, almost an hour away from the city center.
The first thing we didn't like are the seats at the hot desks being too close to one another, so others could see what you are working on. You can solve this by paying for a private office, but it is available only at a pricey monthly rate. Ergonomic chairs are not available to everyone, and if you pay for a hot desk, you won't be getting one.
With all this in mind, La Oficina Cusco Coworking is better for companies than for individuals. It may be a good venue for events, meetings, and workshops, but it's far from a good place to cowork.
Basics
Pricing

$26 per day
$66 per week
$235 per month

High-Speed Internet
100 megabit fiber
Open Hours

Monday–Friday: 9 am–7 pm
Saturday: 9 am–1 pm
Sunday: Closed

Ergonomics
Comfortable Chairs
Yes
Standing Desk
No
Workspaces
Dedicated Desks
Yes
Conference Rooms
Yes
Private Offices
Yes
Phone booths
No
Coliving
No
Five Coworking Spaces in Cusco We Also Like
If our top pick is not your cup of tea, check out some of these places:
GenUp Coworking
Ayni Center
Genba Coworking Cusco
Cappuccino Cafe Cusco
Siete & Siete Restocafé
GenUp Coworking
Image source: GenUp Coworking Facebook
GenUp Coworking is five minutes away from the Paradero Magisterio bus station in the Magisterial neighborhood of Cusco. This coworking space may be on the smallish side, but the owners made sure this two-story business is well furnished.
The moment you walk into this coworking space, you feel like you belong there. We came early to check the conference room and see if it will be alright for the meeting later that day. They gave us everything we needed and even offered to prepare snacks for the meeting, free of charge.
You'd think that private offices are more comfortable than designated desks, but here it's the other way around. The office they showed us had four glass tables and chairs with lousy back support. Fortunately, the upstairs area offers hot desks with ergonomic chairs. The space also has personal lockers for storing your things, so you can play foosball or have free coffee on the balcony without worrying about your belongings.
Ayni Center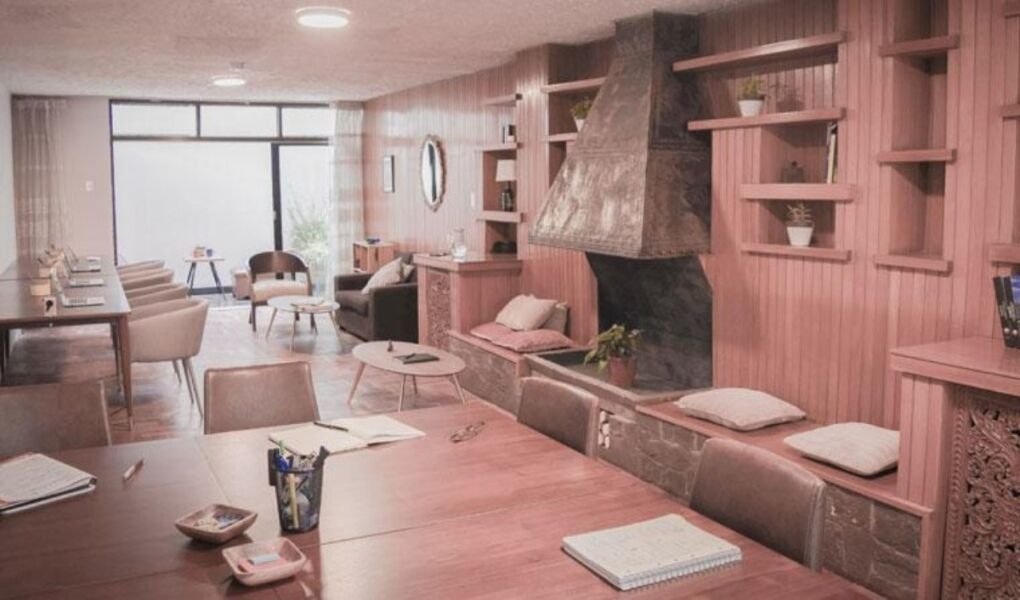 Image source: Ayni Center Website
Ayni Center is in the quiet Santa Mónica neighborhood, surrounded by restaurants and cafés. This space offers three plans—daily, weekly, and monthly—all with different perks. The most expensive one will get you a personal locker, conference room, and access to their coworking network.
Modern design and lodge-like décor in the main room make the place cozy and inspiring for work. Chairs at the hot desks may not be ergonomic, but they will keep you comfortable for a couple of hours. If you need consulting services about your projects, Ayni Center offers legal, tax, and risk management advice—for a fee, of course. The internet is fast, and we didn't have any problems, even when the space was packed. We heard Ayni organizes yoga classes for the members, but there weren't any when we were there.
Genba Coworking Cusco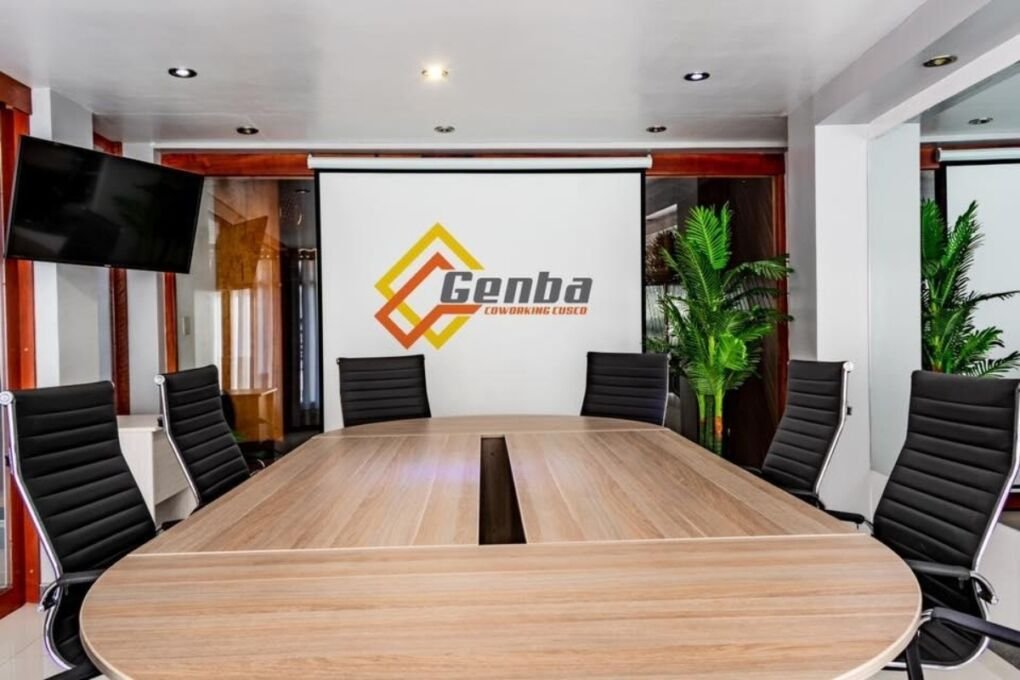 Image source: Genba Coworking Cusco Facebook
Genba Coworking Cusco is located in the neighborhood of Santa Mónica. A great thing about this place is that it offers fast internet and a comfortable setting. Don't worry if you don't speak Spanish since the staff knows English and will always be there to help.
Genba is quite spacious, with lots of room and comfortable chairs, even at hot desks. We decided to try a semi-private office concept, somewhat similar to a cubicle, and we liked it. A large bookshelf serves as the barrier between two desks, although it doesn't stop the noise from annoying you. We were disappointed that two people couldn't use one semi-office for practical reasons, so one of us rented a hot desk. If you are not meeting with clients, having a seat at the hot desk is enough to get the work done and cheaper.
Cappuccino Cafe Cusco
Image source: Cappuccino Cafe Cusco Facebook
Cappuccino Cafe Cusco is in the Plaza de Armas, Cusco's main city square, and offers one of the best views over the city. Unfortunately, there are only three tables on the balcony. If you want to work overlooking the cathedral, you should come here early to beat the crowd.
The cafe is not as comfortable as devoted coworking spaces, but the chairs are decent, so you can work for a couple of hours without getting sore. The coffee is better than the internet and worth the trouble. They also serve a variety of teas and food, so it is a nice place to have brunch.
Siete & Siete Restocafé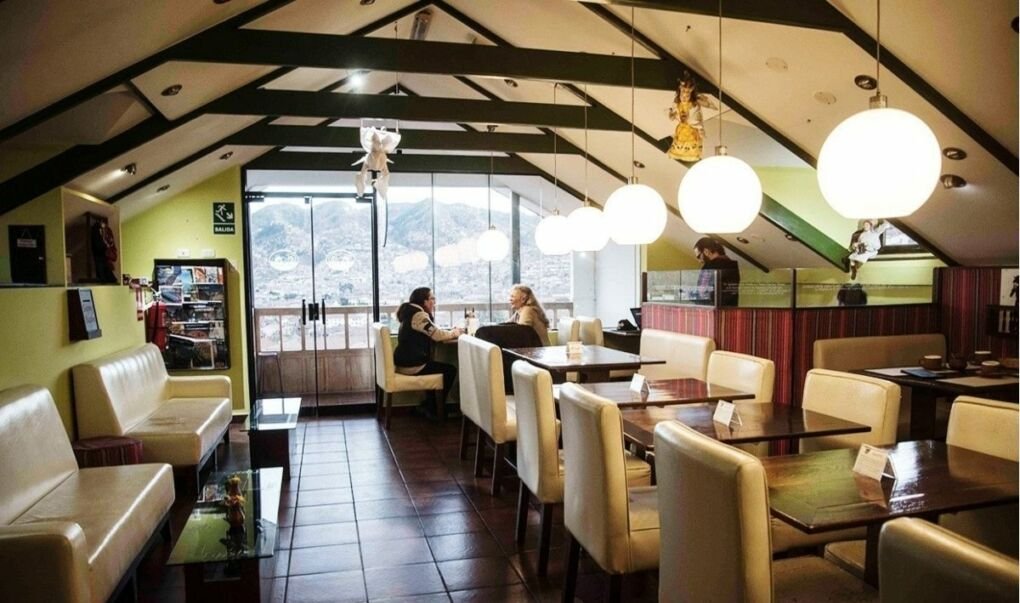 Image source: Siete & Siete Restocafé Facebook
Siete & Siete Restocafé is located in San Blas, one of the steeper neighborhoods in Cusco. The most impressive thing about this coffee shop is the Wi-Fi. It's by far one of the fastest in Cusco.
The greatest downside of this place is the fact that it is not comfortable enough. The tables are too close to each other, and it gets noisier as the day unfolds. The staff is friendly, but don't hog the table with one drink if you plan to stay longer. Our advice is to try something from their seven-of-everything menu, like one of seven coffees or pastries.