The island paradise of Koh Tao, Thailand, is an ideal place to escape the urban culture and enjoy a laid-back work-to-life balance. It also forms part of one of the best places to live in Asia. The perfectly preserved white sand beaches and crystal clear water are enough to attract any tourist, but it's the relaxed, minimalistic lifestyle that makes people want to stay forever. Digital nomads who have visited the island report coming back to the island multiple times. Eventually, many of them settle there for a long-term stay. If it is your first time in Thailand, though, there are many things to know before visiting Thailand for the first time. This includes the best times to visit Thailand as well as interesting facts.
Today, we're going to talk about how you can live and work remotely using the coworking spaces available in Koh Tao.
Let's get one thing out of the right now. There is only a single dedicated coworking space on the entire island. Being a remote island that can only be accessed by water, Koh Tao is not an overly popular digital nomad settlement.
However, as it steadily rises in popularity, garnering some 600,000 visitors per year, we expect more and more coworking and coliving spaces to pop up eventually. There are also plenty of cafes and hotel lounges where you can connect to decent Wi-Fi. Working from a beach bar would also be amazing if it just wasn't so distracting. Here's the list of places to know about:
TAO HUB
Indie Cafe
Dots Coffee
This Is a Book Cafe
AVA Hostel Koh Tao
(Avoid) Plug and Play Cafe
The Best (and Only) Coworking Space on Koh Tao Is TAO HUB
Source: TAO HUB Facebook
TAO HUB is located in the most popular tourist area and entry point to the island, Mae Haad Pier. It may not be visually as impressive as coworking spaces you might see in big cities, but it will get the job done.
The space is equipped with both working and living accommodations, making it a decent all-in-one package. Basic refreshments like water, coffee, and iced tea are free. They also have a bike rental service, which will make covering the island territory easy. There is also a strong focus on community building, with plenty of social events to attend, including things like:
Movie nights
Community lunches
Yoga sessions
Parties
Ping-pong competitions
The space is also open 24/7/365, meaning you can get work done or chill out whenever you want. The only downside is there are no dedicated desks or private office space. The best part about TAO HUB is that it's only two minutes from the beach.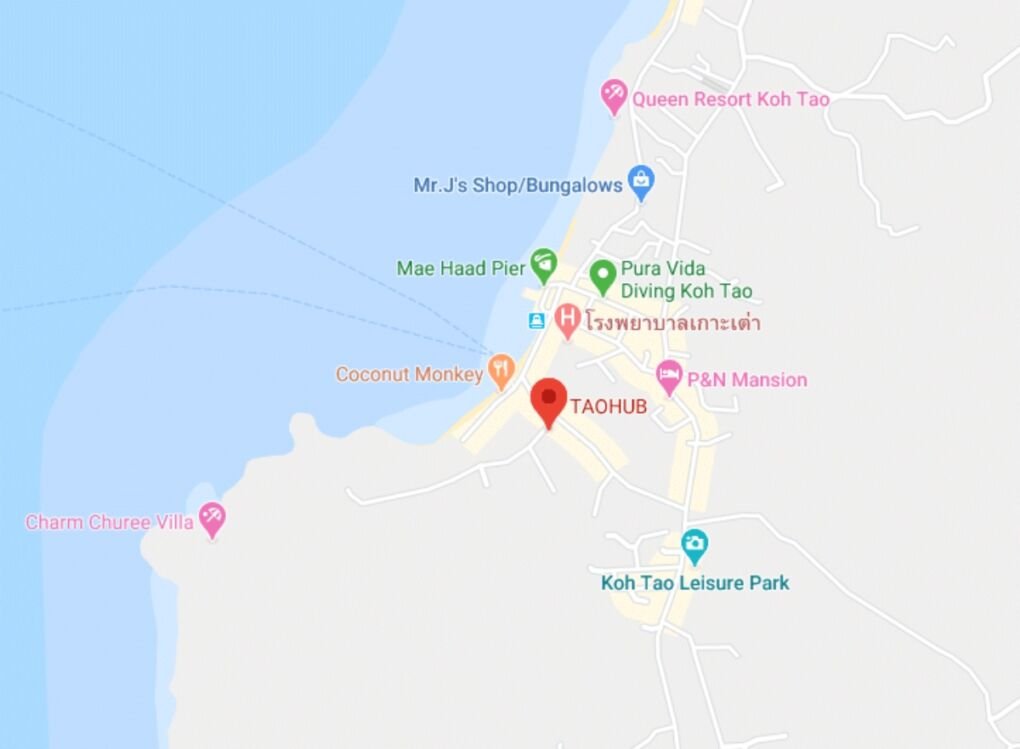 Basics
Pricing
Hot desk per day: $12.50 (THB 400)

Hot desk per week: $47 (THB 1,500)

Hot desk per month: $156 (HRK 5,000)

High-Speed Internet
100 megabit fiber
Open Hours
Ergonomics
Comfortable Chairs
Yes
Standing Desk
No
Workspaces
Dedicated Desks
No
Private Offices
No
Conference room / Event rooms
No
Phone booths / Skype rooms
No
Coliving
Yes
Here Are Some Other Cool Places You Can Work Out of in Koh Tao
Indie Cafe
Source: Facebook Indie
Indie Cafe takes a close second place on our list. It is located near Sairee Beach, which is our favorite area for nightlife on the island. It's a western-style cafe both in the interior design and the menu. It could be your ideal combination of coworking, coliving, and socializing in one location.
On-site, you have a hostel, great familiar food, and access to a rooftop lounge area. The downstairs area can get crowded and loud during peak hours, so it's the upstairs area where you should set up an office. It has a standing desk, a couple of ergonomic chairs, and electric sockets you can use.
Since people do come to Indie as a substitute coworking space, the upstairs is going to be quiet. The only downside is that the space is quite limited, though. We also loved the quirky Wifi password: quityourjob.
Basics
Pricing
No desk prices, and open seating in the cafe as long as you order something
High-Speed Internet
100 megabit fiber
Open Hours

Every day 6:30 am to 7 pm

Ergonomics
Comfortable Chairs
Yes (not everywhere)
Standing Desk
Yes
Workspaces
Dedicated Desks
No
Private Offices
No
Conference room / Event rooms
No
Phone booths / Skype rooms
No
Coliving
Yes
This Is A Book Cafe
Source: This Is A Book Facebook
This Is A Book is a small cafe in the northern part of Mae Haad pier. The idea of the place is to sit down, grab a drink, and read a book. With that in mind, it's not hard to see how working can fit in as well. The chairs may not be office-level, but they're better than in most cafes, and the table is decently high too. Just ask the staff to remove the plant from it and move it closer to one of the exposed electric sockets, and you'll be able to set up your workstation.
The cafe serves sweets and drinks, meaning you can treat yourself while you work. The place is small and peaceful, with no major distractions that could hinder productivity. The cafe works every day, from 8 am to 6 pm.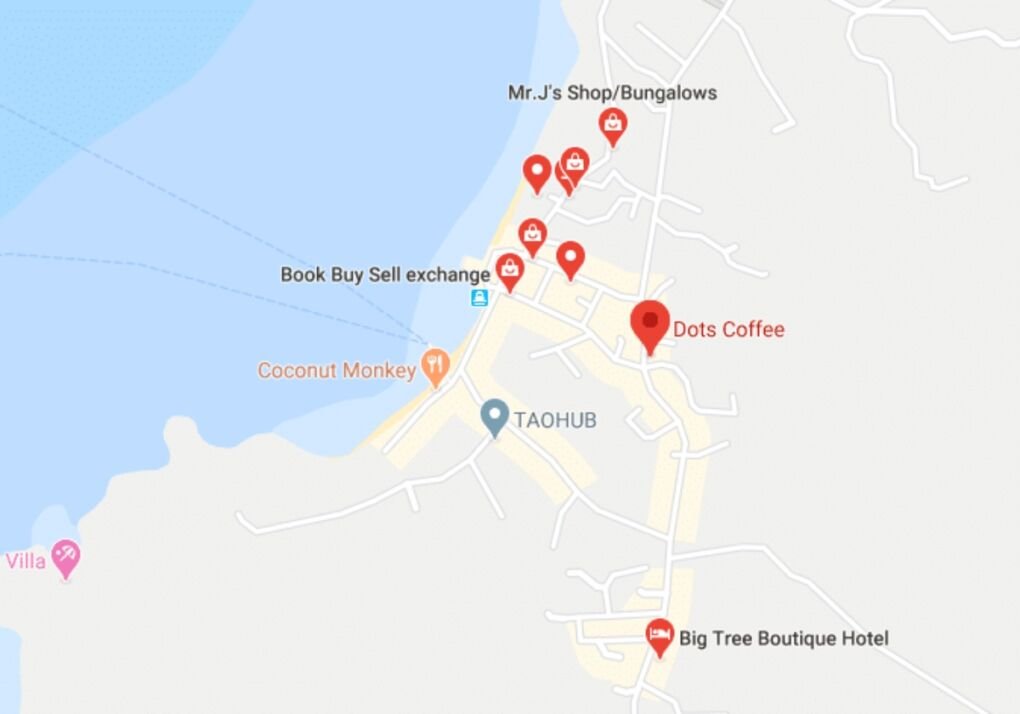 AVA Hostel Koh Tao
Source: AVA Koh Tao Facebook
AVA Koh Tao is a hostel with neat rooms at a reasonable price point. This makes it a good choice for coliving and a decent one for coworking. You can choose to work from your terrace table or hop downstairs to the reception area, where you'll find a minibar.
The wooden tables and chairs at the bar may not be ideal for long, continual sitting. However, the tables are stable and at a good height to place a laptop. You can also use the bar table as a standing desk. The hostel is just a few meters from the beach, and right across the street from the TAO HUB coworking space, in case you need something more.
Dots Coffee
Source: Dots Coffee Facebook
Dots Coffee does advertise itself as a coworking and meetup space for digital nomads. So, how does it compare to similar spaces? It definitely has some of the, if not the fastest, internet connection in the area. According to speed tests, it reaches over 300 Mbps, which is amazing for a remote island. The furniture is not ergonomic and comfortable to sit for more than a few hours, though.
Still, plenty of visitors mention how much they enjoy sitting down, grabbing a drink, and finishing up on some work while at Dots Coffee because of its good internet and laid-back atmosphere. The place is definitely great when you have to drop by and finish some things on the go, and a good meeting spot.
We Recommend You Avoid Plug and Play Cafe for Remote Working
Source: Plug and Play Facebook
In the search for an ideal coworking space on the island, Plug and Play's name sparked our interest. We already knew of a coworking spaces chain in the East Asia region called "Plug and Play". For that reason, we were expecting this cafe to offer something similar. The logo featuring an electric socket made us believe we'll get to plug in our devices, recharge them, and get some work done.
We were hopeful that what we saw in the photos was just the front and that the back of the cafe had more to offer. However, there are no exposed sockets to use, and the chairs and tables were definitely not work-friendly.
We can recommend Plug and Play for many reasons, such as friendly staff and fresh fruit, just not for coworking.