Osaka is becoming increasingly popular among digital nomads and is one of the best places to live in Japan. It's no wonder since it is a mega-hub of tech startups and fresh entrepreneurship. For those who love Japan but find Tokyo overwhelming, Osaka is a great alternative for work and travel.
Osaka is a true coworking hotspot, with over 30 places for working travelers. Here are some we singled out to help you narrow down your choices.
Osakan Space Is Our Favorite Place to Cowork in Osaka
Image source: Osakan Space Facebook
Located in the heart of Osaka's business district, Osakan Space is the most welcoming shared space for international professionals. You'll be in the city center, just minutes away from the central Honmachi station. There are various restaurants around it and even a Starbucks nearby for those of you who prefer the tried and tested over local and new.
Osakan Space has a Coworker Member Choice Award under its belt, and rightly so. Whatever your style of coworking, they can accommodate your needs. If you like to chit-chat and network, you'll love their vast open space area. For those who prefer peace and quiet, there is a large concentration room with no talking. If you want to get super comfy, check out their snug sofa room. If you have a travel stand desk and get tired of all the sitting around, attach it to any surface in any of the rooms to work standing up.
The best thing about this place is the warm and friendly atmosphere. The spaces are luminous and pleasant. They even host different social events there. You'll be surrounded by various professionals from around the globe willing to help and co-learn. With many different skill sets in the mix, you may even find a new business partner or prospect.
Basics
Pricing
2,000 yen per day, 12,000 yen per two weeks15,000 per month
High-Speed Internet
Yes
Open Hours

Monday – Friday: 10 am – 6 pm
Saturday: Closed
Sunday: Closed

Ergonomics
Comfortable Chairs
Yes
Standing Desk
No
Workspaces
Dedicated Desks
No
Conference Rooms
Yes
Private Offices
Yes
Phone booths
Yes
Coliving
No
Line-Up Is Our Least Favorite Space to Cowork in Osaka
Image source: Line-Up Facebook
The Japanese are known for their perfectionism, and a great metropolitan city like Osaka is another proof of that. This holds true for their coworking scene as well. We had to be nit-picky when choosing our least favorite Osaka coworking space. 
Line-up is a decent open-concept coworking space in Nishi Ward. It's on the first floor of a modern building near the Dotonbori river. The place is fresh and hip, great for young creative people who wish to exchange ideas over coffee. The problem lies in the fact that Line-up often hosts various events. Since it is one large open area, this is unfortunate because you cannot work there during these events. If you still decide to give it a go, better check their Facebook page to see if there's anything scheduled for the day.
Basics
Pricing
500 yen per day
High-Speed Internet
Yes
Open Hours

Monday – Friday: 10 am – 7 pm
Saturday: Closed
Sunday: Closed

Ergonomics
Comfortable Chairs
Yes
Standing Desk
Yes
Workspaces
Dedicated Desks
No
Conference Rooms
No
Private Offices
No
Phone booths
No
Coliving
Yes
4 Coworking Spaces in Osaka We Also Like
Narrowing our choices down wasn't easy. But here are the rest of the best:
Common Room Nakatsu in Kita
Inseed in Chuo
D-SPOT-COM Nagahori in Chuo
Juso Coworking in Yodogawa
Common Room Nakatsu in Kita
Source image: Common Room Nakatsu Facebook
Common Room Nakatsu is in the north of the business district, in a modern building where it spans several floors. It is near a subway station, so it is well-connected with the rest of the city. In its vicinity, you can find various shops, parks, and amazing food places.
It's open 24/7, and across its several floors, you can find everything you may need. Apart from all the usual stuff (and it offers ALL the usual stuff), Nakatsu also features such things as a soda fountain and a library. It may be the most peaceful place to work in Osaka, with its traditional Japanese elements. Once you enter, you get to slip into their indoor slippers and sip fresh herbal tea. There is even a tatami room where you can relax and meditate (or work while also trying to meditate). You get a full, immersive experience of the traditional Japanese culture while working stress-free.
Inseed in Chuo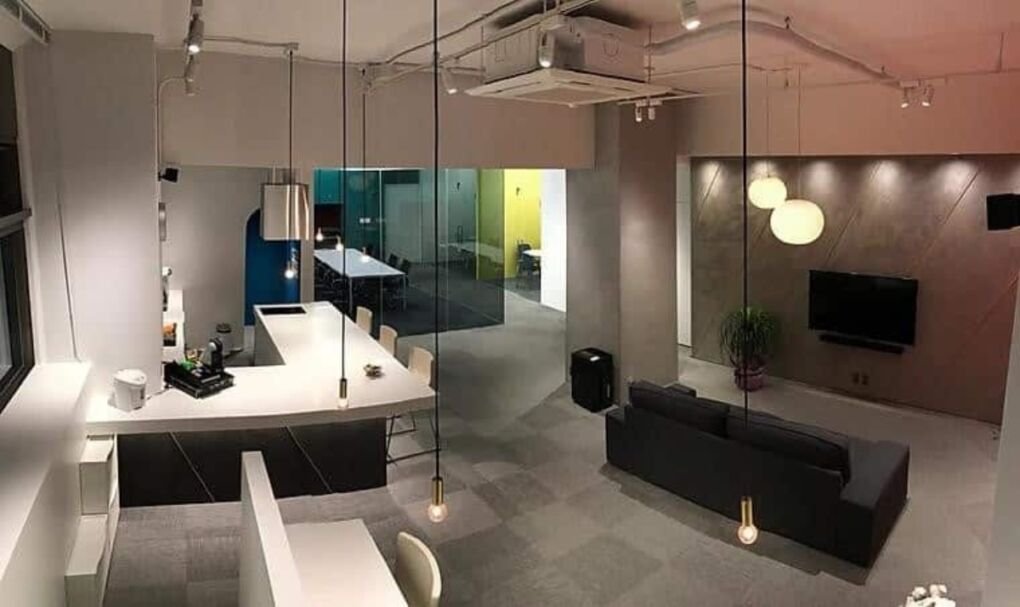 Image source: Inseed
Inseed is yet another coworking gem in the heart of Osaka. Its location is perfect as it's close to the metro station, and you can easily move around from there. As opposed to our previous pick, this place is more modern and slick. The great look comes with a greater price, so be sure to check your budget before venturing here.
This place is fully equipped to accommodate its guests. There are a number of spaces for various purposes. Among these, you can find anything, from individual workstations and two-person booths to a large conference room with a smart projector. There are even a kitchen and a relaxation area. This place is clearly focused on providing the best service to its international guests. That's why the staff speaks English perfectly, but they also speak Mandarin.
D-SPOT-COM Nagahori in Chuo
Image source: D-SPOT-COM Facebook
D-SPOT-COM is a cozy coworking spot downtown. It's close to Nagahoribashi station, so it's easy to access any part of the city. Its rooms cover two floors. There are large open area spaces, as well as small meeting rooms and a chill zone. At 1,000 yen a day, it is also pretty affordable for such a great location.
This coworking space is filled with all the necessities, such as scanners, printers, and comfy chairs. If you carry a lot of stuff around, this may be the perfect place for you as it features personal lockers. You can safely put away anything you may not need instead of cluttering your workspace. With soft jazz playing in the background and a great deal of natural light, you will thoroughly enjoy your time here. Another important thing to mention is that the receptionists' English is pretty good.
Juso Coworking in Yodogawa
Image source: Juso Coworking
Juso Coworking is on the other side of the river, in Osaka's popular shopping and dining area. There are many casual restaurants in the area, as well as a huge indoor shopping mall. If you're traveling with kids, this is a perfect place to keep you both occupied because it is family-friendly.
While you work hard in one of Juso's Pinterest-worthy rooms, your kids can enjoy the playground area. If that is not enough to keep your children at bay, don't worry. Juso Coworking collaborates with a local childcare center. You can drop them off there and work away knowing they're in good hands. There are different space options here too. You may sit in the main open area, a quiet concentration room, or even a private booth.