Thailand seems to be one of those places every digital nomad wants to visit. If you've set your sights on visiting Krabi, you won't be disappointed, as it is one of the best places to live in Thailand. Before visiting, though, there are a few things to know that will help you prepare. You'd probably also be interested to know what the best Krabi coworking spaces are. After all, we all know work never really stops for freelancers.
Despite Krabi being such a popular destination among freelancers, there is still a lack of options for coworking locations in the area. To help you plan your trip and find the best spot to work from in Krabi, we've put together a quick guide to some of the best coworking spaces in the area.
Tip: Find out more about the best destinations in Asia but reading our extensive destination guide.
KoHub is Our Favorite Place to Work in Krabi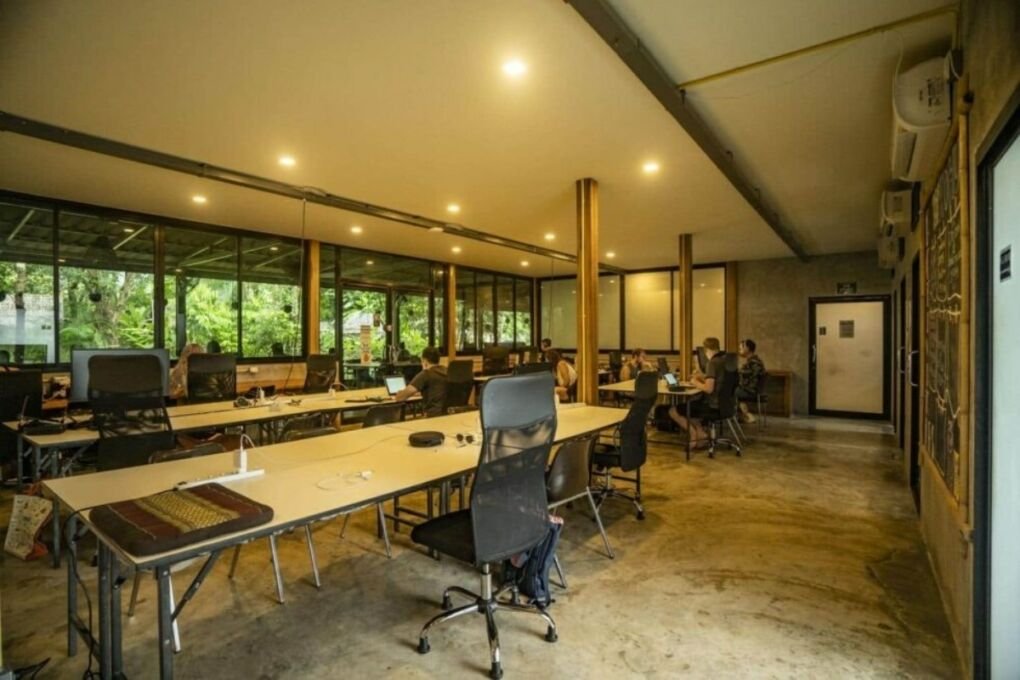 Image Source: KoHub
KoHub is a spacious coworking space located on Koh Lanta island, easily accessible by the local ferry. It is about two hours away from Krabi Town and right across the street from Phra-Ae Beach. Whenever you get tired of sitting in front of your computer, you can take a quick break and go for a swim. The owners of KoHub obviously counted on this since the venue offers showers where you can rinse off before getting back to work.
And that is what KoHub is all about — the perfect blend between a modern environment equipped with high-speed internet and the tropical paradise that Krabi claims to be. What's more, they have launched Project e.Ko Hub with the vision to become the most environmentally-friendly and sustainable coworking environment by 2022.
So what is it about KoHub that makes it our favourite pick? Most importantly, their internet is above all standards for Thailand — it even works during island-wide power outages. The venue is completely optimized to meet your every need — from complimentary beverages to ergonomic chairs, tasty food, an available printer, scanner, copy machine, plug adapters, and Skype booths. Their pricelist includes different packages tailored to everyone's needs and preferences. In short, whatever you want access to during your workday, odds are, you'll find it right here.
The one thing that KoHub doesn't have are standing desks. In case you're traveling to Krabi and want to work from KoHub, we suggest bringing your travel stand desk with you.
Basics
Pricing

฿400/day
฿2,000/week
฿6,500/month

High-Speed Internet
1 Gbps internet and fast Wi-Fi
Open Hours
24/7, year-round
Ergonomics
Comfortable Chairs
Yes
Standing Desks
No
A/C
Yes
Workspaces
Skype Booths
Yes
Leisure Activities

Pool table
Board games
Table tennis
Yoga and Zen zone
Garden and walking track

Daytime Lockers
Yes
Printer, Scanner, Copier
Yes
Private Rooms
Yes
Coliving
Yes
Lekker Cafe Is the Runner-Up on Our Krabi Coworking Spaces List
Image Source: Lekker Cafe' Krabi Facebook Page
Lekker Cafe' is located in Krabi Town itself, which makes it easily accessible for those of you planning to stay in the town. There are multiple supermarkets, grocery stores, and restaurants in the vicinity. Lekker Cafe' also serves food, so you might not even need to leave the space during your workday.
Something you might like about Lekker is the fact that they offer a wide range of items on the menu — including vegetarian-friendly meals — at affordable prices. There is also an outdoor area where you can smoke, and most tables have easy access to electrical outlets.
As Lekker is a blend between a restaurant and a coworking space, there are certain drawbacks. For instance, not all desks and chairs are comfortable enough for several hours of work. It can also get somewhat loud, as some people come here to mingle, not to work.
Basics
Pricing
Per order (there is no fee for spending time in the coworking space)
Open Hours
Every day, 8:30 am–7:00 pm
Ergonomics
Comfortable Chairs
Yes
Standing Desks
No
A/C
Yes
Workspaces
Skype Booths
No
Leisure Activities
Cafe and restaurant
Daytime Lockers
No
Private Rooms
No
Coliving
No
5 Coworking Spaces in Krabi We Also Love
Truth be told, there aren't many coworking spaces in Krabi in the narrowest sense of the word. However, there is a number of cafes that are laptop-friendly, where you can relax over a cup of coffee or tea and work away. Here are some of our top picks.
Zoo Cafe in Krabi Town
Zoo Cafe is a cute little cafe located in the very center of Krabi Town. It is surrounded by hotels and hostels, so there is a pretty high chance you'll be staying in its vicinity. Other amenities located in the vicinity include the Vogue Shopping Center, the Night Market, and a post office. The cafe is open every day from 8 am to 4 pm.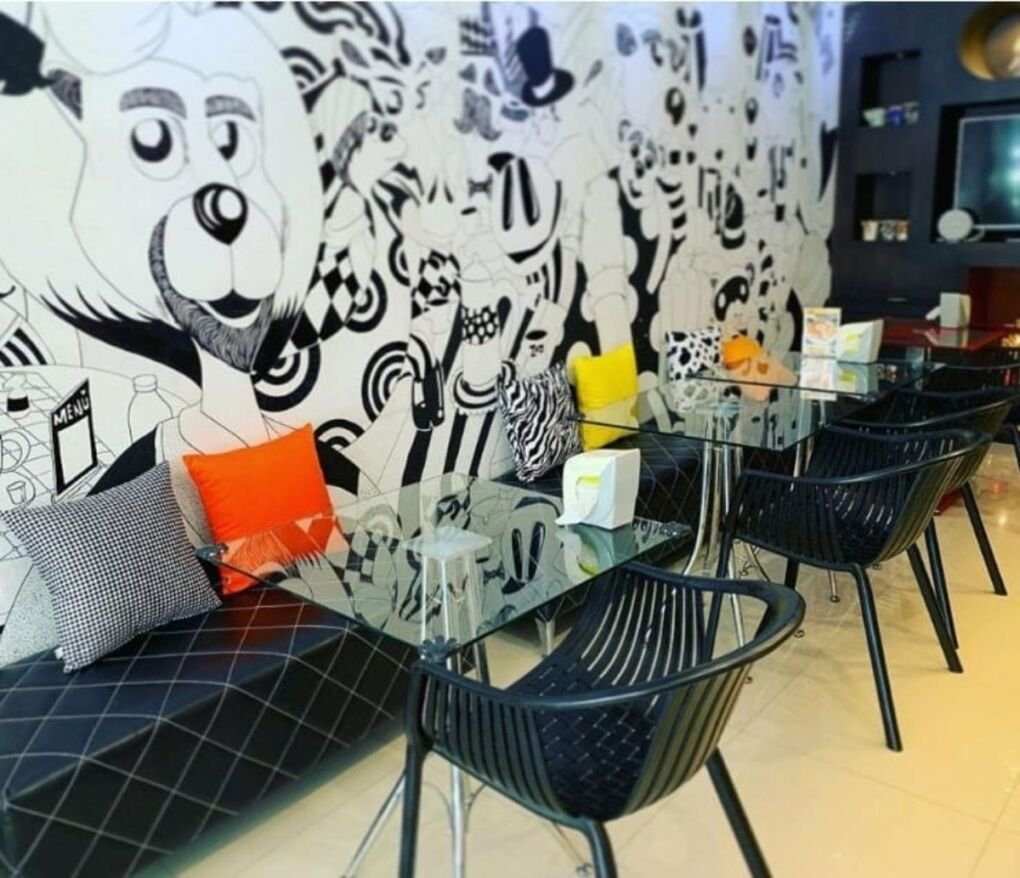 Image Source: Zoo Coffee Krabi Facebook Page
Glur Hostel in Ao Nang
Those of you who prefer staying in hostels will be happy to hear that Glur Hostel offers free Wi-Fi to its guests. The common area is spacious and equipped with tables, chairs, hammocks, and a little kitchen. The hostel also offers other amenities and activities, such as:
A pool surrounded by a scenic garden,
Free rentals of books, DVDs, and mats for the beach,
An array of tours,
Car and bike rental.
Image Source: Glur Hostel
Nomad Hostel in Pak Nam
Nomad is another hostel that offers free Wi-Fi to its guests. What's more, it is adults-only, which means you won't have to worry about being disrupted by noise while working. Each room has air conditioning and a patio.
There is a handful of places of interest in the vicinity of the hostel, such as:
Wat Kaew Korawaram, a Buddhist temple,
Weekend Night Market, a shopping event held every weekend, and
Andaman Cultural Study Center and Museum.
Image Source: Nomad Hostel
Sprucy Cafe in Krabi Town
Sprucy Cafe is quickly becoming popular among coffee lovers — they have a great reputation for serving some of the best coffee in Krabi Town. The establishment is located just outside of the downtown area, which means you will be able to get away from the hustle and bustle. There is a separate coworking area in the back of the cafe. Sprucy is open every weekday from 7:30 am to 6 pm, as well as from 8:30 am to 7 pm on the weekends.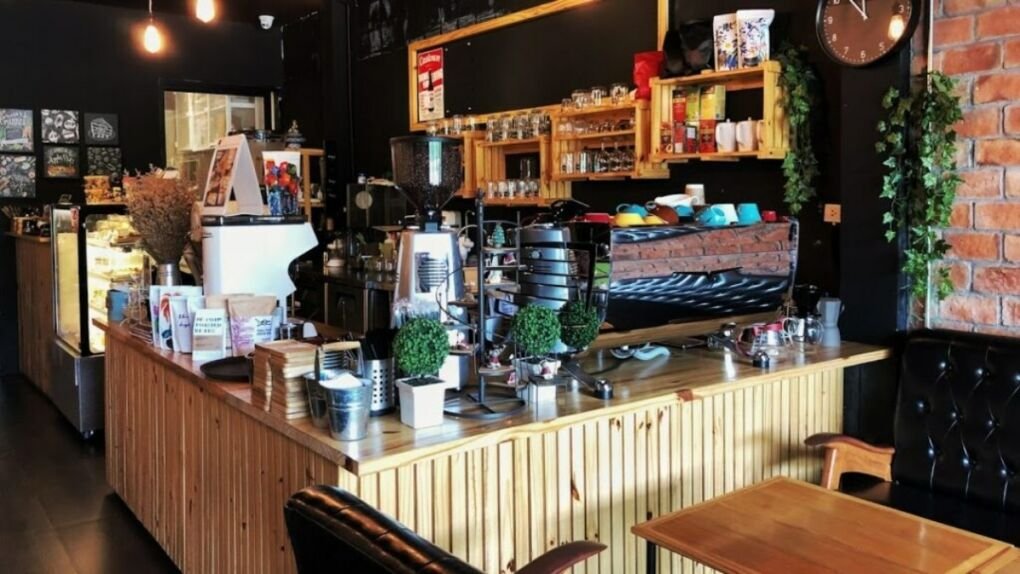 Image Source: Sprucy Cafe
Termsuk Bar & Restaurant in Ao Nang
Further away from Krabi Town, in the Ao Nang Area, Termsuk Bar & Restaurant is a part of the Srisuksant Resort. They boast a high-speed internet connection and proximity to the beach.
Fruit Tree Coffee Shop on Koh Lanta Island
Fruit Tree Coffee Shop is another Koh Lanta gem. It is a part of Fruit Tree Lodge, which means you can also get accommodation here. The coffee shop is open from 7:30 am until 5 pm every day of the week except for Thursdays.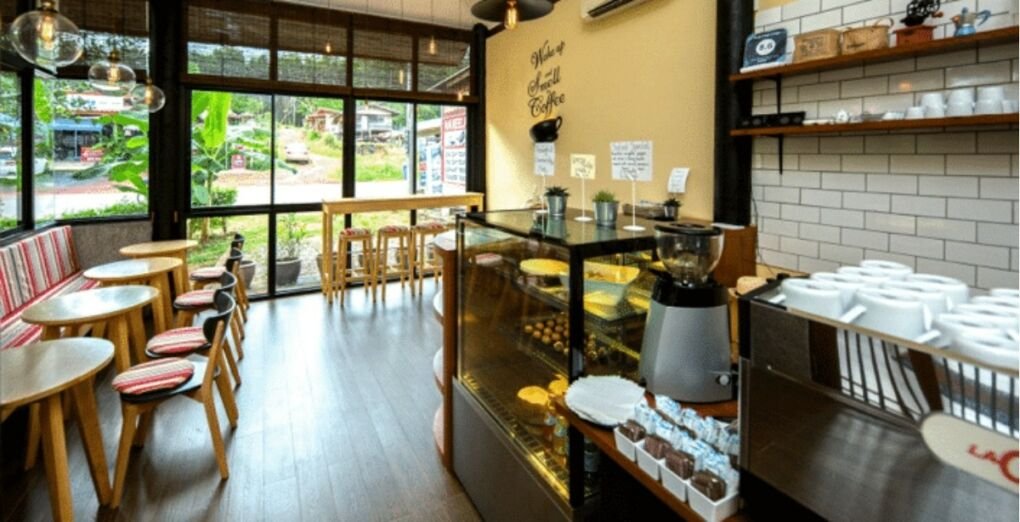 Image Source: Fruit Tree Lodge
Other Coworking Spaces in Krabi
Do none of the spots we listed seem like your cup of tea? Don't worry; there is a handful of other options you can choose from. While none of them are coworking spaces per se, they do provide all the basic things you'll need to get the job done. During your search for the right Krabi coworking space, we suggest you consider: