If you're reading this, that might be because you're itching to hit the road, and your next destination is Mexico. The rich history, fascinating culture, breathtaking art and architecture, unique natural landscape, and delicious food all combine into what will become one of the unforgettable experiences in your life.
There are so many things to do and sights to see. It's a vast country—how will you choose where to stay? If you're a digital nomad, you know you have to plan carefully because you'll be spending the following few months in the place you choose, and you need to make sure that you choose to live in one of the best places in Mexico.
Of the major problems you'll need to face, though, is the ease with which you'll forget about your work. When we are in a beautiful new place, it's easy to let go of our worries and our strife and only think about the attractions (and distractions!) of the environment.
It's okay to relax if you're taking a vacation, of course. It's less okay when your lifestyle depends on your ability to keep your head in the game and keep on working even when you rather wouldn't.
Don't worry—there's a simple solution for that. A practical, motivating coworking space is the answer to all your prayers. The best coworking spaces are organized in a way that helps you stay productive and optimistic. They help you focus, remain efficient for longer, and, ultimately, finish your tasks sooner, so you can roam around and discover all the beauties of the destination you've chosen.
Coworking spaces have been popping around like mushrooms lately, and it might be a bit of a challenge to pick the best among the many options. To lend you a helping hand, we've compiled a list of the best coworking spaces in Mexico.
Nest Coworking Is Our Favorite Place to Cowork in Mexico
Source: Nest Coworking
In a country this big, it's incredibly difficult to single out a coworking we loved most—but Nest Coworking made the cut eventually.
This coworking space is located in Playa del Carmen, a few minutes' walk from the beach. The proximity to the beach means that, as soon as you're done with your work for the day, you can take your towel with you and run off to enjoy the beauty of the sea and the sand. The smell of the sea reaches the coworking spaces, which works wonders to help you relax and focus on your work. To make things even more convenient, this place is a co-living space as well, which is a real time-saver if you don't want to commute.
Nest is visually stunning. The colors fit perfectly with the space, you can see the palm trees from the windows, and there is plenty of natural light. The beauty of it all inspires and keeps optimism in the coworking space at high levels.
The visual impression is just one part of the total atmosphere—the other part is the people who frequent the place. The community there is great—the people are cheerful and happy to help, so the general mood is productive and uplifting. Nest organizes many events to help its members connect and develop their ideas and skills. TEDx events are held there regularly, and members can get discounts if they're interested in attending.
Wi-Fi is fast and reliable, which is extremely important for everybody whose job requires a steady flow of data.
There are ergonomic chairs, so the place is quite comfortable. If you prefer a bit more space to wiggle, you can use the standing desks, which are an excellent option for your back. For those of you who are a bit more laid back—there are bean bags and couches, so you can literally lay back.
You can use the personal locker and the kitchen. They offer free coffee, which is awesome for all of us who are caffeine junkies and can't seem to function without it.
Nest is dog-friendly (but not cat-friendly), so you can bring your furry monster to help you work if you want.
When you need a break, you can take your dog for a walk, or you can grab a cup of coffee and chill out on the beautiful terrace or the patio. There is a swimming pool also, so you can take a quick dip—it would be great for you back after all the hard work you've done!
Basics
Pricing

Per day: MXN 330
Per week: MXN 1,650
Per month: MXN 5,500

High-Speed Internet
Yes
Open Hours

Monday – Friday: 9 am – 8 pm
Saturday: 9 am – 5 pm
Sunday: Closed

Ergonomics
Comfortable Chairs
Yes
Standing Desk
Yes
Workspaces
Dedicated Desks
Yes
Conference Rooms
Yes
Private Offices
Yes
Phone booths
Yes
Coliving
Yes
These Are the Places We Also Loved
If you don't like Nest for any reason, it's fine. As the Latin proverb goes—in matters of taste, there can be no disputes—so here are some other coworking spaces in Mexico you might enjoy.
Technology HUB
Workósfera
YO.KOworking
Nstro.Lab Cowork
Creativa Coworking Morelia
Nevermind
Revo300
El 3er Espacio
Technology HUB
Source: Technology HUB
Technology HUB is a coworking space in Ciudad Juarez. It provides excellent Wi-Fi, which is extremely important for everybody who makes a living by doing anything through the internet.
The space is comfy, as well. If you're a more traditional cookie, you'll appreciate ergonomic chairs. If you don't want to sit down for too long, there are standing desks you can use. Bean bags and hammocks are there to give you the option to work while lazing around, however impossible it sounds. The space adapts to your needs, and you can be comfortable no matter your preferences.
The community is fantastic there. Everybody is helpful and chatty, and you can always just talk to people when you're taking a break. Technology HUB organizes different workshops, events, and programs for its members. It also hosts TEDx events, and community members can attend them at discounted prices.
The space offers plenty of extra equipment, including:
Sound and video recording equipment
AR and VR equipment
Printers, scanners, and photocopiers
Projectors
Microphones
Greenscreen
3D Printer
Dual / single monitors
There is a podcasting room, as well. You can use the kitchen if you want, and coffee and tea are free. There is also an onsite cafe.
When you want to tune out, there is a whole bunch of stuff you can do. There is a ping pong table, pool table, foosball table, and a mini-golf course. You can just take a cup of coffee and chill, or you can look around the gallery.
Open hours

Monday – Friday: 8 am – 4 pm
Saturday: Closed
Sunday: Closed

Price
Per day
MXN 330
Per month
MXN 2,500
Workosfera
Source: Workosfera
As one of the best in Puebla, Workosfera is an astonishingly beautiful coworking space. Both the interior and exterior are beautiful and inspired, and the yard is one of the most relaxing places you'll find.
Workosfera is a co-living place as well, which is very convenient. The open hours are long enough, but if you stay in their accommodation or pay monthly access, you can access the workspace 24/7.
They provide fast and reliable Wi-Fi, ergonomic chairs, and standing desks. There are personal lockers, and you can use their kitchen to make a snack or a full-blown meal if you can tap into your inner Gordon Ramsey. Coffee is free, but there is an onsite cafe if you'd prefer a fancy frappuccino instead of a regular old coffee.
When you need a break, there is a ping pong table you can use and other friendly nomads to play with. You can bring your dog too, because why should it stay in the comfy room while you're trying to earn for the both of you?
Open hours

Monday – Friday: 7 am – 11 pm
Saturday: 7 am – 11 pm
Sunday: 7 am – 11 pm

Price
Per day
MXN 150
Per month
MXN 1,200
Nstro.Lab Cowork
Source: Nstro.Lab
Nstro.Lab Cowork is situated in Monterrey. They provide high-speed Wi-Fi and ergonomic chairs. The place is wheelchair accessible.
Nstro.Lab nourishes its community and organizes many programs, events, and workshops for its members, who often meet for drinks and meals. The space hosts TEDx events, and the members who are interested can get a discount.
They offer some extra equipment you might need, such as printing equipment and projectors. You can use personal lockers, and there is a kitchen if you want to make something when you're feeling peckish. Tea, coffee, and snacks are free.
When you want to take a break and take your mind off work, there is a small library you can take a look at and see if there is anything you like. You can play ping pong or board games with other nomads or just grab a beer and relax. The place is cat and dog-friendly.
Open hours

Monday – Friday: 9 am – 8 pm
Saturday: 10 am – 2 pm
Sunday: Closed

Price
Per day
MXN 100
Per month
MXN 1,500
Creativa Coworking Morelia
Source: Creativa Coworking
Creativa Coworking is located in Morelia. They provide excellent Wi-Fi, so you don't have to lose your mind while waiting for something to load. There are ergonomic chairs and standing desks, so you have the option to continue working even when you can't bear sitting down for another minute.
There is some extra equipment, including printing equipment and 3D printers. Creativa hosts TEDx events, so you might get a discount if you are a member and you want to attend.
You can use personal lockers and the kitchen, and there are Skype rooms at your disposal in case you need privacy. This is great for online teaching and similar jobs.
A crucial benefit to this coworking space is that they offer childcare. Parents among digital nomads often have a problem with finding a reliable place to take their children to while they work, and Creativa has thought of that. It's much more convenient to have childcare at your workplace, isn't it?
Open hours

Monday – Friday: 9 am – 9 pm
Saturday: 9 am – 4 pm
Sunday: Closed

Price
Per week
MXN 550
Per month
MXN 1,500
Nevermind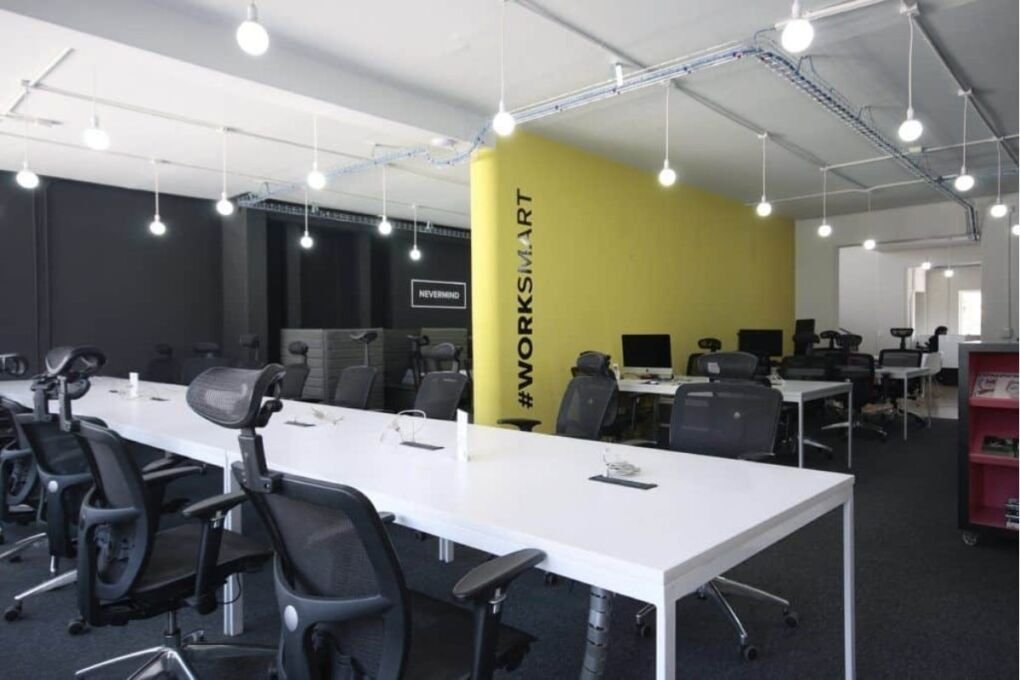 Source: Nevermind
In spite of the passive-aggressive name, Nevermind is one of the most cheerful and productive coworking spaces in Guadalajara. It is surrounded by many cafés and restaurants, which comes in handy when you want to eat something other than snack food during work hours.
The internet is absolutely amazing. There are network cables at every desk, which ensures fantastic speed with an average of about 200 Mbps for download and 143 Mbps for upload. There is Wi-Fi as well, and it's pretty fast too. The reliable internet means that you won't need to get frustrated with a slow connection or inability to upload an important document.
Sadly, there aren't any standing desks, but their ergonomic chairs are excellent and provide good support for your back. If you'd still prefer to avoid sitting all day long, here's a pro tip—you can get a travel stand desk you can take anywhere with you because they are much lighter than the regular standing desks.
Open hours

Monday – Friday: 8:30 am – 8 pm
Saturday: 9 am – 2:30 pm
Sunday: Closed

Price
Per day
MXN 150
Per month
MXN 2,500
Revo300
Source: Startup Hidalgo
Revo300 is a coworking and co-living space located in Pachuca.
They provide fast Wi-Fi and incredibly comfortable ergonomic chairs. There are no standing desks in this coworking space, which is a bummer, but there is a lot of additional equipment, including printers, microphones, projectors, greenscreens, monitors, and so on.
Revo300 takes good care of its community, and there are many benefits to being a member. Some of those are:
Community App
Incubator and accelerator programs
Facebook group for members
Slack channel for members
Events and workshops
Community lunches and drinks
They offer free beer, snacks, and coffee, which you can take with you to the lounge area when you want to take a break and relax. There is an onsite cafe as well, with many more options—but for that, you have to pay extra.
Open hours

Monday – Friday: 9 am – 8 pm
Saturday: 9 am – 2 pm
Sunday: Closed

Price
Per day
MXN 300
Per month
MXN 1,300
El 3er Espacio
Source: El 3er espacio
Located in Mexico City, El 3er Espacio is one of the first established coworking spaces in the entire country.
It provides high-speed Wi-Fi, so you can avoid slow connection-related stress. There are ergonomic chairs, which is awesome, but no standing desks or bean bags, which is not so much.
El 3er Espacio has a great community built over the years. It organizes a plethora of events and workshops, and the members have their own Facebook group to stay in touch with. Everybody is friendly and happy to help if needed.
They provide printing equipment, projectors, and Chromecast. There are personal lockers at your disposal, as well as a kitchen. Tea and coffee are free, and there is a cute lounge area to take a break and relax.
The great location combined with an even better atmosphere make this coworking space one of the best in the entire country, so give it a go when you're next in Mexico City!
Open hours

Monday – Friday: 8 am – 9 pm
Saturday: Closed
Sunday: Closed

Price
Per month
MXN 2,365
Regus Is Our Least Favorite Space to Cowork in Mexico
Source: Regus
Regus is our least favorite coworking space in Mexico. With over 30 locations throughout the country, it is one of the most widespread coworking/office rental companies. Wherever you go in Mexico, chances are you'll stumble upon a Regus or two.
So why do we dislike it? The crucial reasons are:
Detached staff
Unclear pricing
Lack of community
The staff is usually polite, but that's all you can expect of them. There is no helpfulness or interaction you typically expect from a coworking space host. They won't go out of their way to help you solve a problem, and they are not interested in your complaints, should you have some.
The more severe issue is the utter lack of transparency when it comes to pricing. Each location has a different set of prices, and they're only available on request. It's already frustrating (this is the 21st century for the love of the internet), but it gets even worse—even if you get the membership, you won't be able to access all the locations.
To make matters even worse, there is no sense of community whatsoever. You are not likely to meet new people and make new friends.
Basics
Pricing
On request
High-Speed Internet
Yes
Open Hours

Monday – Friday: 8:30 am – 6 pm
Saturday: Closed
Sunday: Closed

Ergonomics
Comfortable Chairs
Yes
Standing Desk
No
Workspaces
Dedicated Desks
Yes
Conference Rooms
Yes
Private Offices
Yes
Phone booths
Yes
Coliving
No