As the capital of Greece, Athens is the first stop in this country for most digital nomads, as it is one of the best places to live in Greece. Several years ago, the city started to nurture the startup scene, and that is how many of today's coworking spaces came to be. It doesn't have many opportunities for individual work, but it's ideal for networking, collaborations, and entrepreneurship. Other than places to work from, Athens is full of history and tradition, so take a look at what else you can do there.
The situation is far from perfect for digital nomads in Athens since it's not easy to find decent internet, even in coworking spaces. Since the city is full of ancient ruins, it turns out it's hard to install fiber optic cables. Because of this, you will mostly get 5–15 Mbps, which can slow down your work. With this in mind, we've prepared a list of coworking spaces you should give a try.
Tip: If you're looking to make a permanent move, check out our guide to the best places to live in Greece.
VIOS Is Our Favorite Coworking Space in Athens
Basics
Pricing
Starting at $139 per month
High-Speed Internet
Yes
Open Hours
24/7
Ergonomics
Comfortable Chairs
Yes
Standing Desk
Yes
Workspaces
Dedicated Desks
Yes
Conference Rooms
Yes
Private Offices
Yes
Phone booths
No
Coliving
No
Vios features a gym, quiet room, sleeping room, massage room, and showers – making it our favorite coworking space in Athens.
It is the first coworking space in Greece that turns workplace well-being into a philosophy.
Vios spaces are scientifically designed based on the WELL standard, enabling you to work in an environment that prioritizes not only productivity but also your health and well-being. Viois is fully equipped with offices, spaces, and facilities to meet the needs of every freelancer, business owner, or a start-up looking for the most economical and productive workplace solution for this new era of work.
Learn more at vios.gr
Spaces Is Our Second Favorite Place to Cowork in Athens
Image source: Spaces Facebook
Spaces is a coworking space belonging to a global brand with locations all over the world. This place offers dedicated desks and offices for monthly rent to individuals, teams, and companies.
It has two floors fully equipped with comfortable furniture, like ergonomic chairs, standing desks, and sofas. There is an abundance of natural light and bright colors, creating ideal conditions for a full day of work.
Dedicated desks are nestled in the corners, providing enough privacy and a tranquil environment. If you come here with a friend, you can use the seating booths with comfortable cushioned seats and desks big enough for laptops and other equipment.
When it comes to Wi-Fi, it's fast and reliable, something not all coworking spaces in Athens have. You can upload and download large files, have uninterrupted video chats, and even watch streaming services.
Many digital nomads, international companies, and local startups use Spaces as their hub, so it is also an awesome place for networking. The roof terrace is a great spot to take a break while admiring the view of the Acropolis and enjoy a cup of coffee prepared by on-site baristas.
Basics
Pricing
€160 per month
High-Speed Internet
Yes
Open Hours

Monday–Friday: 9 am–6 pm
Saturday: Closed
Sunday: Closed

Ergonomics
Comfortable Chairs
Yes
Standing Desk
Yes
Workspaces
Dedicated Desks
Yes
Conference Rooms
Yes
Private Offices
Yes
Phone booths
No
Coliving
No
The Found.ation Is Our Least Favorite Place to Cowork in Athens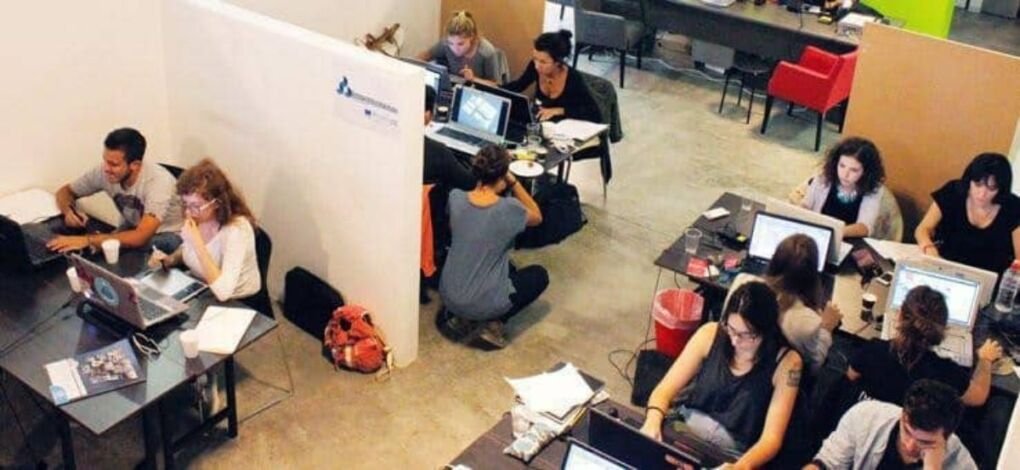 Image source: The Found.ation website
The Found.ation is not a bad coworking space. The main focus of this space is to serve as a startup hub and to provide educational programs for companies and entrepreneurs.
This makes it great for teams and collaborators but not so comfortable for individuals. The space is noisy and crowded, with nowhere to sit and have some privacy. You may be able to catch some quiet time in the morning, but that won't last for long. It's a good idea to come here during the pitching events and workshops since you can meet people and pick up some useful advice for your business.
If you work on a project with other people, The Found.ation is perfect for presentations and meetings. The space comes with a projector, scanner, and printer, as well as PCs if you need them. Otherwise, it's a waste of time for individuals who are only looking for a desk to work from.
Basics
Pricing

€15 per day
€50 per week
€150 per month

High-Speed Internet
Yes
Open Hours

Monday–Friday: 9:30 am–7:30 pm
Saturday: Closed
Sunday: Closed

Ergonomics
Comfortable Chairs
Yes
Standing Desk
No
Workspaces
Dedicated Desks
Yes
Conference Rooms
Yes
Private Offices
No
Phone booths
No
Coliving
No
Four Coworking Spaces in Athens We Also Recommend
Here are some other coworking spaces we also liked in Athens:
Stone Soup
Tzaferi 16
Impact Hub Athens
Athens Place
Stone Soup
Image source: Stone Soup Facebook
Stone Soup is located in the center of Athens and offers office space to small companies and digital nomads. Besides working there, you can also apply for mentorship programs and get consulting services for your projects.
Most of the chairs are ergonomic, but if you fail to grab one, there's plenty of space to install the travel stand desk. A seating set in the lounge area is also fairly comfortable to work, but as a last resort.
They regularly organize events and workshops, as well as casual gatherings, like community lunches and meet-ups. If you want to stretch and relax, you can join the yoga group practicing on the roof terrace in the evenings.
Coffee is not free, but Stone Soup has other perks, like showers and a pet-friendly policy. All members get access to the Slack channel and Facebook group, expanding the opportunities to meet coworkers or contact the staff.
Tzaferi 16
Image source: Tzaferi 16 Facebook
Tzaferi 16 is one of the most popular coworking spaces in Athens. This multi-story space offers open floor plans, creating one big community of coworkers.
Once a factory, today it is a modern space with lots of dedicated desks, offices, and conference rooms for companies and individuals. Members have access to state-of-the-art equipment for meetings, presentations, and workshops.
A fascinating thing about the space is the indoor atrium called the Olive Tree, where you can play basketball or shoot pool with other coworkers. If playing sports is not your thing, the in-house café serves free coffee, and you can enjoy a cup in one of their super comfy chairs.
Unfortunately, Tzaferi is not perfect. This coworking space is a bit pricey. Another issue is the noise since most of the space is open-plan. This is not such a problem for those in closed offices, but people working from dedicated desks may need headphones to drown the noises.
Impact Hub Athens
Image source: Impact Hub Athens Facebook
Impact Hub Athens is a coworking space intended for collaborative projects, meetings, workshops, and individual work.
This space is located inside the townhouse with trees in the courtyard and stone walls inside. Because of this, Impact Hub Athens is a relaxing space ideal for those working in the creative fields or looking for a peaceful environment.
Some chairs are not as comfortable as the others, but you can always use one of the standing desks. In case you need to lie down, there is a lounge area where you can take a nap or enjoy coffee from the kitchen. Just make sure to keep your belongings close since Impact Hub Athens doesn't have personal lockers to keep your things safe.
Athens Place
Image source: Athens Place Facebook
Athens Place is an elegant coworking space in Kolonos with lots of natural light and minimalist design.
All workstations have ergonomic chairs, and some are even equipped with computers and phones. If you need to use the conference room, you will have to book it ahead of time since a lot of members come here for the meetings only. On the bright side, there are plenty of events and workshops, perfect for networking, where you can meet people from various niches.
The owners plan to expand Athens Place to include an outdoor area, a playroom, and a gym for members. For now, that is still in the works, and you will have to be satisfied with simple things, like free coffee and luxurious couches.
More Coworking Spaces and Some Cafés in Athens You Should Check Out: