Beijing is the third most populated city in the world and the capital of China, and one of the best places to live in China. The numbers speak for themselves. The home of the Forbidden City, the Ming Tombs, and parts of the Great Wall, it is known for its many landmarks, rich history, and growing international community.
Over the years, Beijing has become the leading startup hub in the country with ZhongGuancun Street, which is the Chinese version of Silicon Valley. Despite high pollution and cold winters, this city is extremely popular with digital nomads because of the great infrastructure and many coworking spaces. Here are the ones we suggest.
WeWork Is the Place We Loved to Cowork in Beijing
Image source: WeWork Website
WeWork is a coworking giant with 24 buildings in Beijing, and it doesn't seem it will stop growing any time soon. All their locations are strategically positioned in districts bustling with activity, so they are close to public transportation. Several of them are located in the Chaoyang District, the central part of Beijing, where you will also find foreign embassies and CBD (Beijing central business district).
Besides covering the necessities to keep you comfortable, such as ergonomic chairs and standing desks, WeWork offers many amenities, including phone booths, a lounge, and a relaxation area. There is also an area for new mothers, as well as an arcade room. Another great thing is that they serve free, locally brewed beer. If you don't want to mix alcohol and work, they serve free coffee and tea as well. The space is pet-friendly, so your pooch or tabby can keep you company while working. WeWork often hosts events and happy hours that are intended to bring people together and build the community.
Basics
Pricing
RMB 2,000 per month
High-Speed Internet
100 megabit fiber
Open Hours

Monday – Friday: 24 hours
Saturday: 24 hours
Sunday: 24 hours

Ergonomics
Comfortable Chairs
Yes
Standing Desk
Yes
Workspaces
Dedicated Desks
Yes
Conference Rooms
Yes
Private Offices
Yes
Phone booths
Yes
Coliving
No
Prototype Co-working Lounge Page Is Our Least Favorite Place to Cowork in Beijing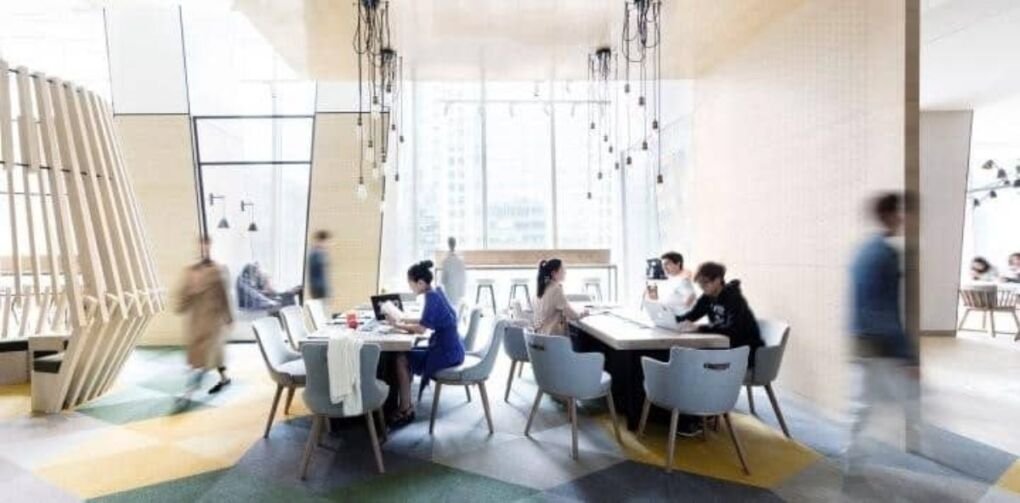 Image source: Prototype Co-Working Lounge Page
Prototype Co-Working Lounge Page is part of the Hotel Jen in the CBD neighborhood of Beijing, offering a large open space with nooks and tables.
Prototype is not a comfortable place to spend the whole day. The chairs are fine for a couple of hours, but for longer periods, consider making some adjustments to your working space, like using a travel stand desk to protect your back. On the bright side, the environment is pleasant, and you can do some quick work when taking a lunch break at the hotel.
Prototype doesn't have private offices, but it offers meeting rooms with AV gear for no additional charge. Happy hour is on Thursdays when the beer is free, and everything else, including food, is 20% off. While being in the Beijing central district does have its perks, there are other, more comfortable, and better-equipped coworking spaces in the area.
Basics
Pricing

RMB 150 per day
RMB 3,500 per month

High-Speed Internet
100 megabit fiber
Open Hours

Monday – Friday: 7 am – 11 pm
Saturday: 7 am – 11 pm
Sunday: 7 am – 11 pm

Ergonomics
Comfortable Chairs
No
Standing Desk
No
Workspaces
Dedicated Desks
Yes
Conference Rooms
Yes
Private Offices
No
Phone booths
No
Coliving
Yes
Four Coworking Spaces in Beijing We Also Love
When in Beijing, stop by some of these other coworking spaces:
KrSpace
Ucommune
Tech Temple
Day Day Up
KrSpace
Image Source: KrSpace Website
KrSpace is in the Chaoyang District, a part of Beijing that is home to some of the most interesting neighborhoods in Beijing, like 798 Art Zone and Sanlitun. Besides Beijing, KrSpace has coworking spaces in Shenzhen, Nanjing, Hangzhou, Shanghai, and Suzhou, with plans for even more.
Open 24 hours every day; this coworking space offers a common area, phone booths, meeting booths, and a reading corner. Standing desks and ergonomic chairs are also available, and there is an event space perfect for presentations. Rooms are bright and create a positive working environment.
If you need privacy, you can book a seat in the nook or a private office. All areas use purified air filters, which is great considering the level of pollution in Beijing. The coffee bar is onsite, but you will also get a complimentary beverage of your choice when you take your spot at the desk.
Ucommune
Image Source: Uncommune Facebook
Ucommune is located in the Dongcheng District, known for its food stalls, architecture, and history. Besides Beijing, Ucommune has offices in Shanghai and Singapore, with over 100 locations in all three cities.
The décor is all about minimalism and promoting ecological values. Coffee and water are free, although using the activity area is limited so that everyone can have their turn. The book bar is a great place to take a break, and you can keep your things in the locker while resting. The infant room and the dining bar are also available, while those with a car are free to use the parking lot on site. 
Day Day Up
Image source: DayDayUp Facebook
DayDayUp is nestled in the CBD area of the Chaoyang District and has another coworking space in the Dongcheng District.
What we liked the most about Day Day Up is the Free Day Pass they offer to new members, so you can see if this is the space for you without paying a monthly fee. Standing desks are by the windows, so you can rest your eyes on the view of the Beijing center. This space also hosts TEDx and company events. Day Day Up is also known as a place good for networking, especially if you want to connect with startups from China.
Tech Temple
Also known as Beixinqiao, Tech Temple is located in the Dongcheng District, close to Metro line 5 and the Confucius Temple.
Tech Temple offers legal and accounting services to its members, which is great if you want to do business in the Chinese market. Its startup events are an excellent opportunity to meet other coworkers, exchange ideas, and find business partners. This coworking space is available 24 hours every day of the week. The only downside is that it doesn't have private offices, so you can end up in a noisy common area.
More Coworking Spaces in Beijing to Check Out:
Nash.Work
WePlus
Coffizz
Spaceyun