Isn't it nice to be able to pack your bags and go on your way without paying any mind to other people's schedules? If there is one crucial benefit to nomad life, that has to be the wonderful independence that comes with it.
Still, even as a nomad, you have to work. Working and traveling at the same time can be both great and terrible. Face it—if you can go to a beach and sip a cocktail from a coconut, you're likely to resent being forced to work.
Coworking spaces exist for that very reason—to make it easier for you to be productive, finish your work earlier, and be on your merry way! It can be difficult to choose a functional coworking space in a given area. If you're going to Phuket, though, you don't need to worry. Phuket is one of the best places to visit in Thailand and is great for digital nomads. There are plenty of good coworking places to choose from. Here are the six coworking spaces we loved and one that we didn't.
Hatch Is Our Favorite Coworking Space in Phuket
Situated in Phuket town, Hatch is a well-organized coworking space. The interior is split into two parts. The front part is a café where you can work comfortably while chatting with the people around you. The back part is a quiet working space where you sit and work in silence when you need to focus. The staff also sometimes enforces silence in this part if asked to.
There are some meeting rooms which are on the smaller side. The largest of them only accommodates about 35 people.
Smoking is banned inside the space, but there is a patio in the back where you're allowed to smoke.
They offer large desks and comfortable chairs, and printers are available at an extra charge. You get one free coffee per day included in the price, so you have to pay extra if you want additional ones. Tea, water, and snacks are free. There is also a popcorn machine you can use!
If you're renting a car, it's easy to find a parking spot. The AC is excellent, which means that it tends to get a bit chilly inside. Bring a hoodie if you don't particularly enjoy the cold. You can find a seat away from the AC or ask a member of the staff to adjust the temperature.
There's one downside to this space – the men's room tends to smell, even though it's kept clean. It's not a big deal, but if you're sensitive to smells, you'll want to find a spot away from the toilet.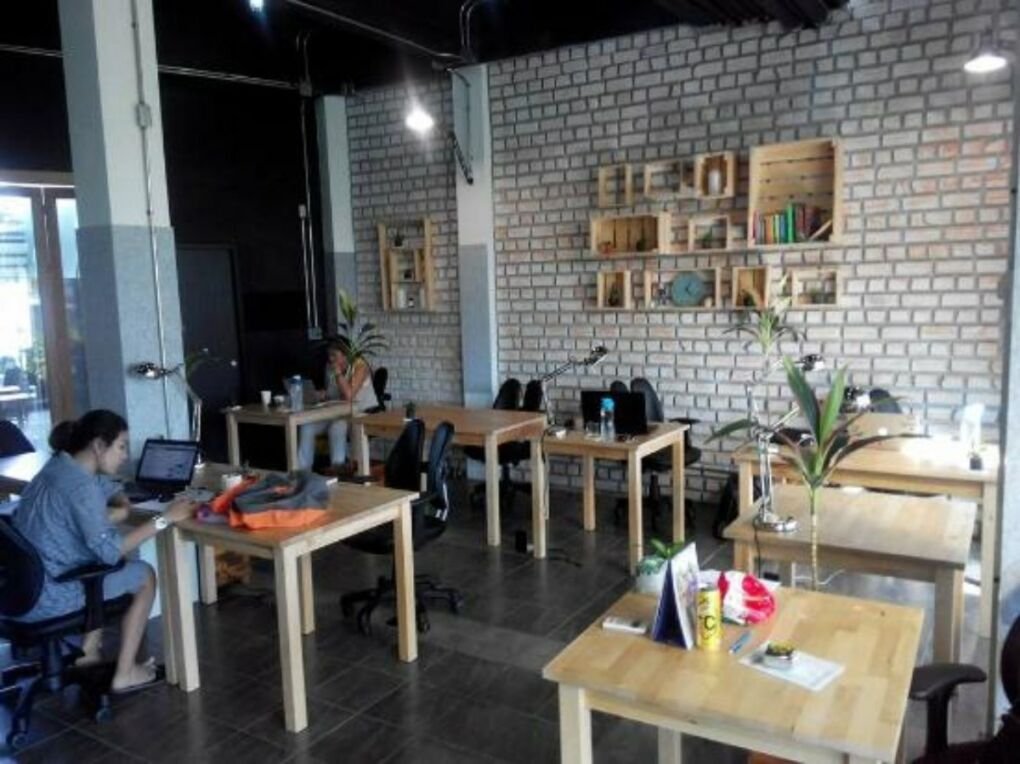 Source: Tripadvisor
They're open every day from 9 am to 10 pm. They charge 250 THB/day, 1500 THB/week, and 5700 THB/month. If you don't want to pay for the whole day, there's an option to pay 180 THB for 5 hours.
All in all, it's a pleasant, cozy coworking space. It's beyond any doubt our top pick for coworking in Phuket.
Basics
Pricing

250 THB per day
1500 THB per week
5700 THB per month

High-Speed Internet
Yes
Open Hours
Every day from 9 am to 10 pm
Ergonomics
Comfortable Chairs
Yes
Standing Desk
No
Workspaces
Dedicated Desks
No
Conference Rooms
Yes (max 35 people)
Private Offices
No
Phone booths
No
Coliving
No
Five More Coworking Spaces We Loved
If our favorite place is not your favorite place for any reason, here are some other coworking spaces we loved. The other five great coworking spaces in Phuket are
CocoWorking Space
Garage Society
Bayaco
Regus
Fin Hostel
Let's take a closer look at each of them.
CocoWorking Space
Source: Coworker
CocoWorking space is proud to present to you what is probably the only place in Phuket without mosquitoes. Or, you know, with the lowest number of them anyway.
It is situated in Cocoville Boutique Villas Resort on the second floor. It's a minuscule coworking space, but they provide standing desks, free coffee, tea, and water. There is also free parking and an incredibly fast internet connection.
Since it's a part of a fantastic resort, there's a lot to do. There are fitness facilities nearby, as well as two swimming pools and a poolside bar. While this doesn't necessarily help you work, it does ensure that you make the most of your breaks!
They work every day from 7 am to 10 pm and charge 200 THB per day, 1300 THB per week, and 3000 per month.
Garage Society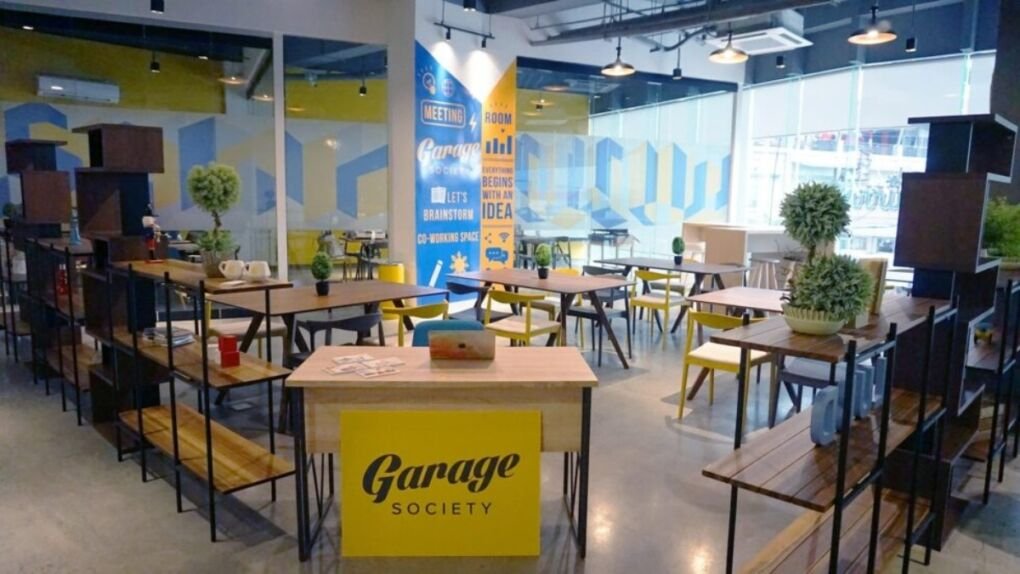 Source: Garage Society
Garage Society is situated on Patong beach, which makes it extremely convenient for everybody who is staying there and doesn't have an irresistible desire to travel to Phuket town every day to work.
There are standing desks and beanbags, which makes Garage Society a fairly comfortable place to work at. Printers and photocopiers are available, and there are personal lockers as well. Only water is included in the price, but there's a café at the premises with a lot of choices at reasonable prices.
They are open Mondays through Saturdays, from 10 am to 7 pm. They charge 300 THB per day, 1400 per week, and 6000 per month.
Bayaco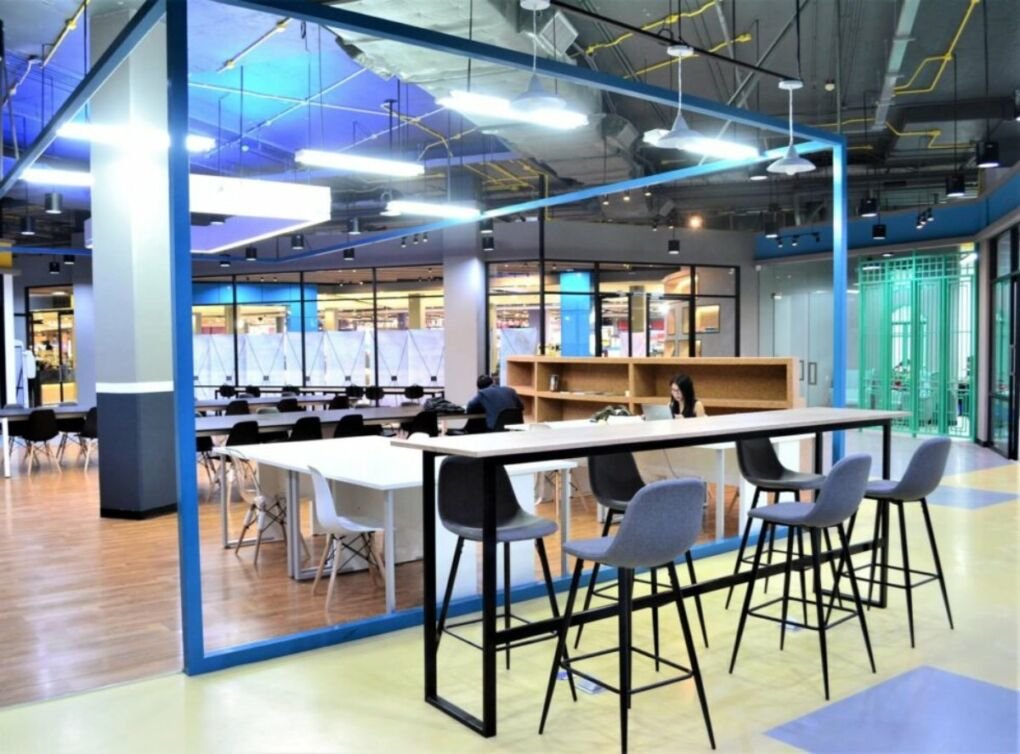 Source: Coworker
Bayaco is a great and affordable option at the edge of Phuket Town. They provide a large hotdesk area and several meeting rooms, ranging in size. The smallest ones are suitable for four people, while the largest one can accommodate up to 70. It can be combined with the next largest into a huge meeting room for up to 120 people.
Some of the most exciting advantages of Bayaco are
A Ping-Pong table
A Skype room
Free coffee.
The place tends to be quite cold, so bring warmer clothes to be comfortable.
The price of a hotdesk is 150 THB per day.
Regus
Source: Regus
Regus provides a space for freelancers and businesses alike. There is a coworking area with hot desks and dedicated desks, but there are also offices and meeting rooms.
It is a decent coworking space with stable Wi-Fi, personal lockers, standing desks, and free coffee and water. The one fantastic aspect of the place is the location—Royal Phuket Marina. It's easily one of the most charming sites in Phuket, so it's bound to inspire you.
They are open Mondays through Fridays, from 8.30 am to 6 pm, and charge 5560 THB per month, both for hot desks and dedicated desks.
Fin Hostel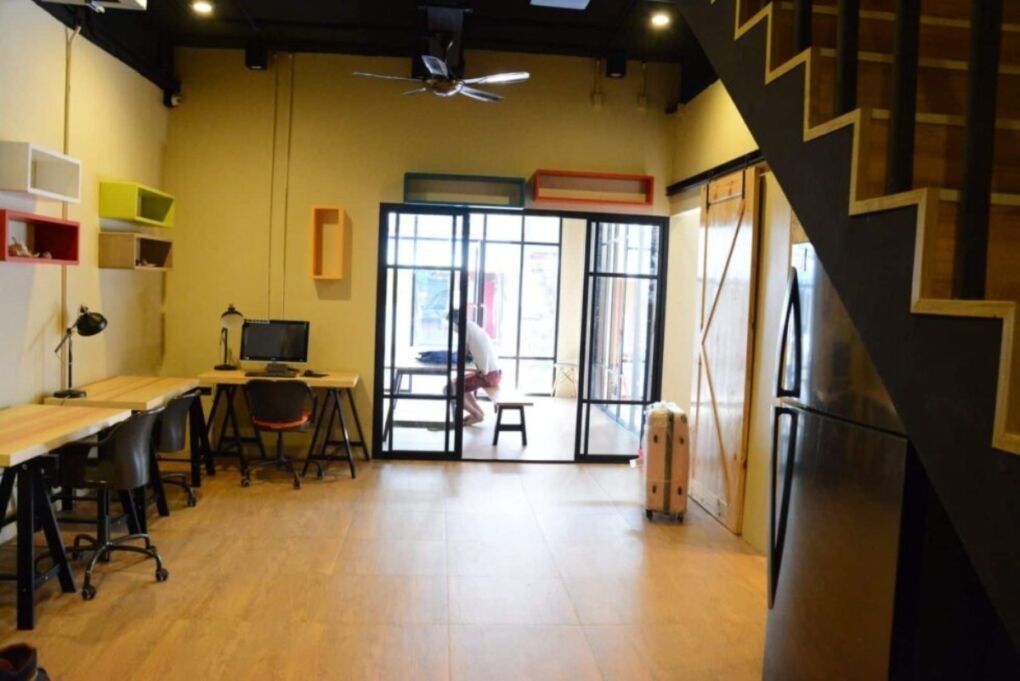 Source: Coworker
Fin Hostel boasts a great location, only a 5-minute walk from the Kata beach. They have standing desks, which are great for your back. There is printing equipment if you need it. The place is dog-friendly, and there's a swimming pool.
This is a co-living and coworking space, and it's excellent value for money. You can pay by the hour (100 THB), by day (500 THB), by week (3200 THB), or by month (12,000 THB).
There are some problems too. The parking space is limited, so there's no guarantee you'll be able to park nearby. If you're planning on staying at the hostel, be aware that there's no lift, which means you may have to climb to the fifth floor on foot if you're not lucky. The hostel is not great for vegetarians and vegans unless you enjoy having the same salad every day.
Asia Pacific Offices Is Our Least Favorite Coworking Space in Phuket
While this coworking space is fairly good for businesses, it is not digital nomad-friendly.
Basics
Pricing
Contact them to find out
High-Speed Internet
Yes
Open Hours
Monday – Friday: 9 am – 5 pm

Saturday – Sunday: Closed

Ergonomics
Comfortable Chairs
No
Standing Desk
No
Workspaces
Dedicated Desks
Yes
Conference Rooms
Yes
Private Offices
Yes
Phone booths
No
Coliving
No