Rio de Janeiro is the most popular city in Brazil and one of the best places to live in South America. Since it's a huge international hub, most of the locals speak English, and you can get by with little to no Portuguese. Safety is a bit of an issue here, but if you stay in groups and avoid certain city areas at night, you should be fine. For the first-timers in this Brazilian metropolis, here is a short travel vlog to help you get to know the city.
Rio has decent coworking spaces, coffee shops, and enough foreigners for successful networking. If you want a reliable Internet connection, you should book a desk at one of the coworking spaces. Rio is still growing as a digital nomad destination, and Internet quality varies in the cafés and hostels. To help you find the best coworking space to get your work done, take a look at our top picks for Rio de Janeiro.
WeWork Carioca Is the Perfect Place to Cowork in Rio de Janeiro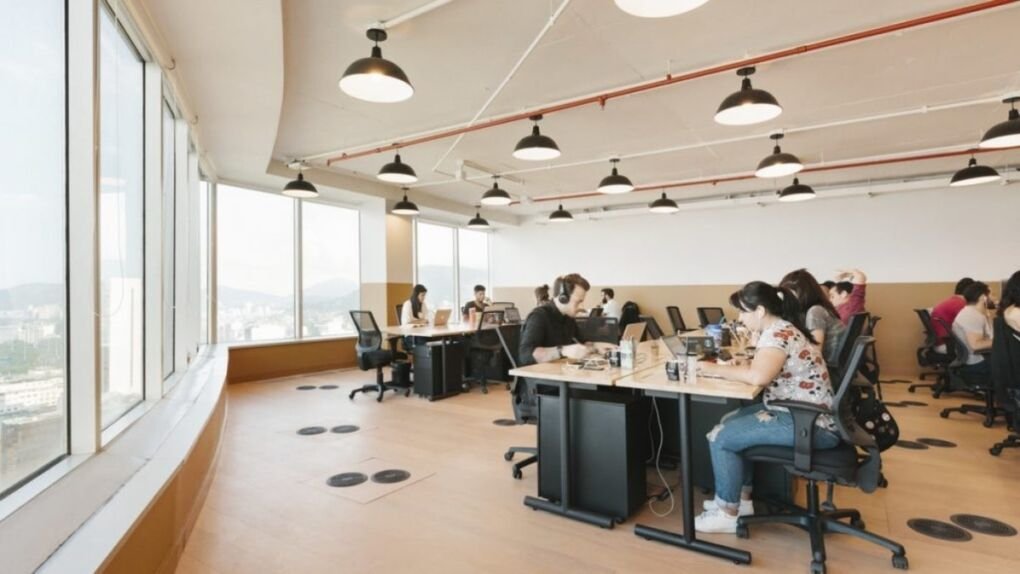 Image source: WeWork Carioca website
WeWork Carioca is a modernly designed coworking space in the popular Centro neighborhood. This is one of the several WeWork locations in Rio — all offering perfect conditions for coworking.
The best thing about WeWork is that it's spacious and divided into zones, so you'll have enough privacy to work in peace. The creative zone has large couches and coffee tables with a footstool here and there. Although not all furniture is ergonomic, you will have no problem finding a standing desk or a cushioned chair. WeWork Carioca occupies six floors in a building offering an inspiring view of the city and the sea. This makes their balconies popular to work from or to have a meeting on.
The wellness room is intended to help you rest, meditate, or nurse, while on-site showers are the perfect way to freshen up when the day is hot. Working at this space gets you free coffee, tea, and fruit water. WeWork Carioca also hosts yoga classes and manicure days — a great reason to leave your things in a personal locker and relax.
Basics
Pricing
BRL880 per month
High-Speed Internet
100 megabit fiber
Open Hours

Monday – Friday: 24 hours
Saturday: 24 hours
Sunday: 24 hours

Ergonomics
Comfortable Chairs
Yes
Standing Desk
Yes
Workspaces
Dedicated Desks
Yes
Conference Rooms
Yes
Private Offices
Yes
Phone booths
Yes
Coliving
No
Fala Brasil House Coworking Is Our Least Favorite Place to Cowork in Rio de Janeiro
Image source: Fala Brasil House Coworking Facebook
Fala Brasil House Coworking is located in the Laranjeiras neighborhood, famous for its local art scene. It's part of a Portuguese language school situated inside an old villa, so foreigners from all over the world frequent the place. While this makes it perfect for networking, spending long hours working here is not recommended.
The chairs are plastic and wooden, of a cheap variety, and quite uncomfortable. We packed our travel stand desk and installed it the moment we saw the chairs, but others had a hard time working here for more than a couple of hours.
Fala is far from being without charm. The space is quiet since the villa is nestled between buildings, down a narrow pathway full of plants. An outdoor terrace is a wonderful spot for having breaks and free coffee with other coworkers. Fala hosts TEDx, workshops, and other events, and you can always rent the space to organize something of your own.
Basics
Pricing

BRL30 per day
BRL200 per week
BRL400 per month

High-Speed Internet
100 megabit fiber
Open Hours

Monday–Friday: 9 am–6 pm
Saturday: Closed
Sunday: Closed

Ergonomics
Comfortable Chairs
No
Standing Desk
No
Workspaces
Dedicated Desks
No
Conference Rooms
No
Private Offices
No
Phone booths
No
Coliving
No
Five Coworking Spaces in Rio de Janeiro We Recommend
Here are some other coworking spaces in Rio every digital nomad should check out:
Nitis Office
Tribo Coworking
Space Coworking
EDX Coworking
WeCompany
Nitis Office in Centro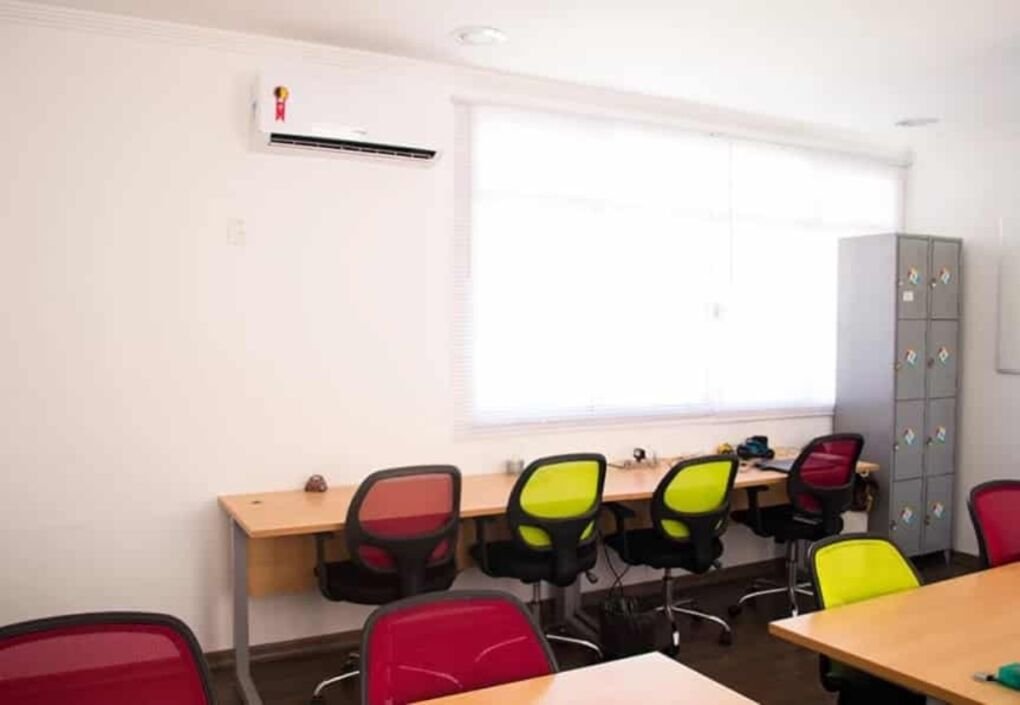 Image source: Nitis Office website
Nitis Office offers 25 workstations in two rooms and a conference room for 12 to 14 people, equipped with a projector and a whiteboard. Secretarial services and use of their phone for local calls are included in the available membership plans.
This space doesn't have a standing desk, but every workstation has a colorful ergonomic chair. The not-so-great thing about Nitis Office is the lack of space for individual work. One desk has several chairs and barely any room between them to give you enough privacy. With that in mind, this coworking space is better for teams or workshops. Getting to Nitis may also be a problem for some since it's on the rooftop, and you have to climb several flights of stairs to get there.
Tribo Coworking in Copacabana
Image source: Tribo Coworking Instagram
Tribo Coworking is one of the most popular in Rio, most likely because it's near the famous Copacabana beach. Basic service like scanning, printing, and photocopying is available for all members, while meeting rooms have to be booked in advance and require an additional fee.
Hot desks have ergonomic chairs and are spacious enough to work comfortably. The only problem is that everyone occupies one room, so it can get noisy at times. Since Tribo doesn't have private offices, the room can turn loud pretty quickly when teams are there discussing a project. This happened a few times while we were there, so we suggest bringing your headphones. There is a large balcony and PS4 when you want to take your mind off work and relax.
Space Coworking in Botafogo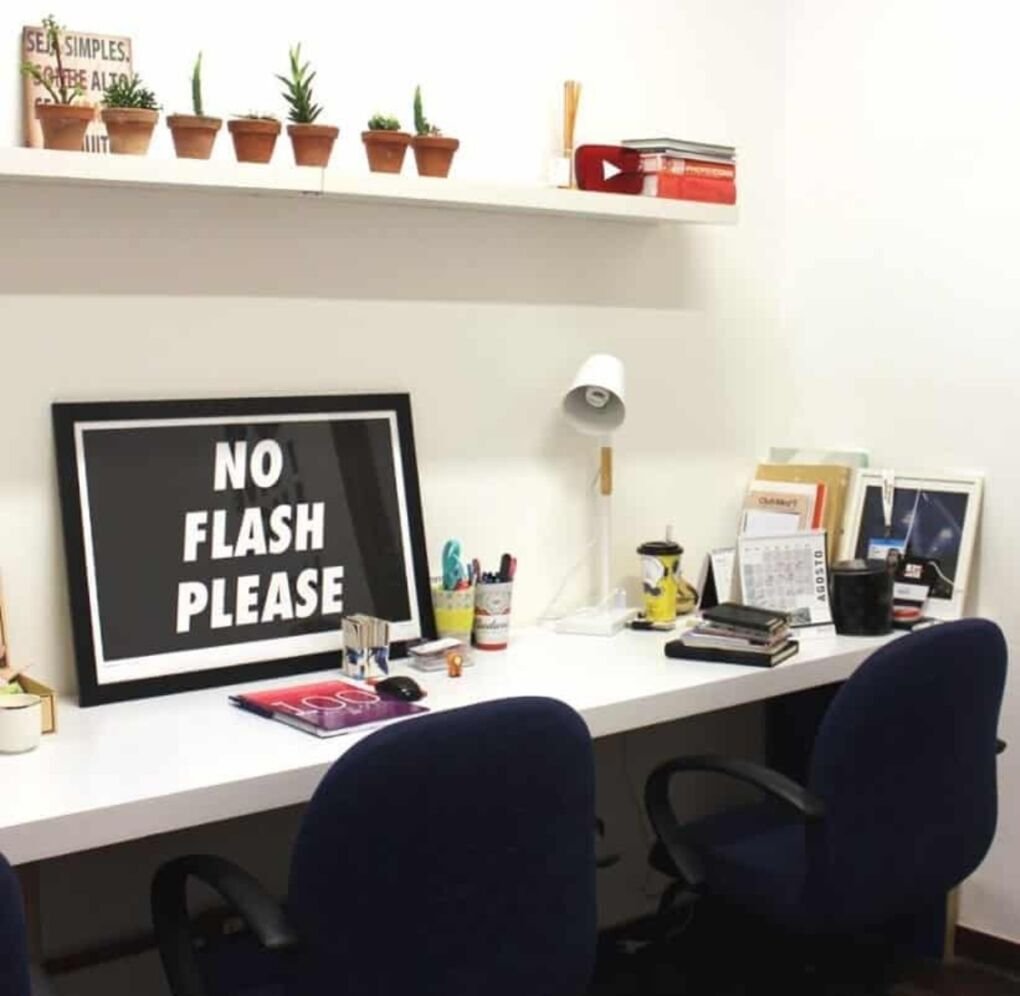 Image source: Space Coworking Facebook
Space Coworking is a cozy space for both individuals and teams near the metro and bus stations. The staff here is the friendliest of all coworking spaces we've been in Rio, always there to help or just chat.
The building doesn't have an elevator, and you will have to climb a couple of winding stairs to Space Coworking. Chairs could use better back support but are still comfortable enough to work for hours. A library has an impressive collection of books and magazines with large chairs by the shelves to relax and read. This is also a good spot to make Skype calls since it's private and has a standing desk for the laptop. Lunchtime was the best part of our working here since the staff cooks tasty local meals worthy of a restaurant.
EDX Coworking in Centro
Image source: EDX Coworking Facebook
EDX Coworking is not a large coworking space, with a desk capacity of 14 people at the most. While this is not good for networking, it's perfect for those who want to concentrate on the workload completely.
The training room is well-equipped and big enough to fit a dozen people who can comfortably attend workshops. Free coffee and drinking water are available in the kitchen, where you can also prepare lunch. All desks have ergonomic chairs and separators, offering semi-privacy from other coworkers.
WeCompany Coworking in Barra Da Tijuca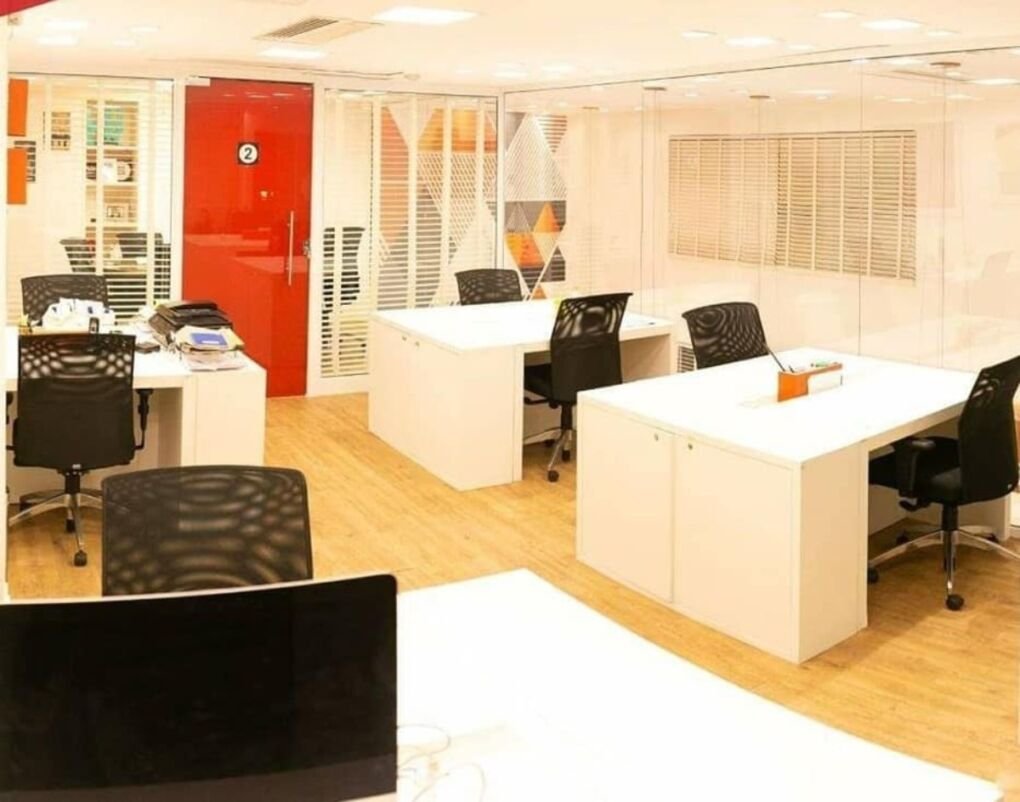 Image source: WeCompany Coworking Facebook
WeCompany Coworking is located inside a shopping mall with opening hours from 9 am to 9 pm on workdays. It stretches across two floors, featuring an open-plan workspace with lots of natural light.
Every desk has an ergonomic chair and lots of pens if you need to write something down. The lounge area downstairs is small, but that is compensated with a café-like outdoor space in front of the building. If you want to go outside without worrying about your things, use a personal locker available for members. WeCompany is a popular coworking space in Rio, so it can get crowded and noisy, especially in the afternoons.
Take a look at other coworking spaces in Rio de Janeiro:
Nex Coworking Rio
Polo Coworking
H+CO (Agamais Coworking)
If you enjoyed visiting Rio de Janeiro, we would recommend exploring the rest of Brazil. Have a look at the best places to live in Brazil, which include the likes of Sao Paulo and Salvador.