Latin America is always worth a visit. Every single country in this part of the world boasts incredible history, rich culture, and breathtaking art and landscapes.
Brazil, though, takes everything to the next level. The beauty and the atmosphere of the country are undeniably attractive. Sao Paulo, in its different parts, perfectly encapsulates the spirit and the grandeur of the country.
With many distractions in Sao Paulo, one of the best places to live in Brazil, it isn't so easy to stay focused. For digital nomads, this problem is even worse. Their ability to travel and experience other cultures directly depends on their ability to work even when the surroundings are so attractive.
So, how to get any job done in Sao Paulo? Here's an easy answer—find a functional coworking space to keep you grounded. A productive and motivating environment will help you keep your head in the game and finish your daily tasks much faster and more efficiently.
There are about 120 coworking spaces in Sao Paulo, though. How do you pick the best one? Don't worry; we've narrowed it down for you. Here are our top picks for a coworking space in Sao Paulo.
oWork Is Our Favorite Place to Cowork in Sao Paulo
Source: oWork.space
Our favorite coworking space in Sao Paulo is located in Cidade Vargas, close to the zoo and the botanical garden. Sao Paulo Expo is nearby as well, which is convenient when you need to shop.
oWork is a co-living space, as well. The combination of co-living and coworking space is a great way to save time because you don't have to commute.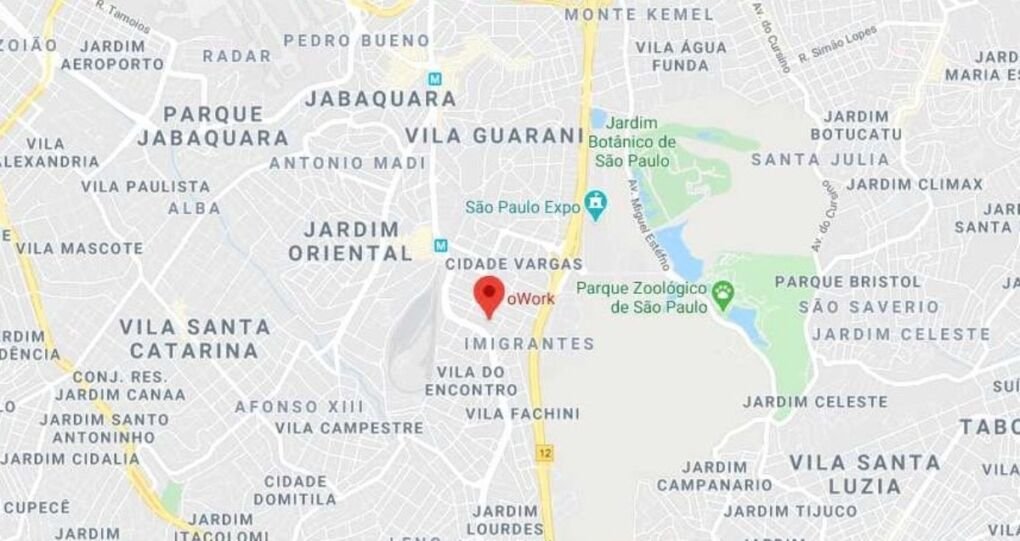 If you're a digital nomad, you know how important it is to have a reliable connection. The glitches in the web coverage affect the focus, cause frustration, and slow down the work. oWork provides excellent Wi-Fi to keep you productive and motivated.
They also provide standing desks, bean bags, and ergonomic chairs. The seating options ensure you'll be comfortable because wiggling on an uncomfortable chair breaks your concentration and wastes your energy. Standing desks help you keep working even when you can't bear to sit down for another moment but you don't want a break just yet. Bean bags are great if you like working while almost laying down.
The community in oWork is nothing short of amazing. The people are optimistic, hardworking, and always willing to help. oWork organizes workshops, events, and community lunches and drinks to help the members make friends and help them develop their fields and skills.
There is printing equipment you can use if you need it. If you don't feel like bringing our laptop with you, you can use one of the available PCs.
There are phone booths and personal lockers you can use. The kitchen is at your disposal if you want to prepare a snack or heat up a meal, but you can also buy snacks onsite.
Coffee is free, but there is an onsite cafe if you crave something more elaborate than a simple cup of coffee. If you can't start your day properly without an extra-large caramel Mochaccino, you can breathe a sigh of relief because you have everything you need here.
When you need a break, you can chill out in the lounge area, or you can grab another nomad and play ping pong!
Basics
Pricing

Per hour: BRL 29
Per day: BRL 99
Per week: BRL 199
Per month: BRL 699

High-Speed Internet
Yes
Open Hours

Monday – Friday: 8 am – 8 pm
Saturday: closed
Sunday: closed

Ergonomics
Comfortable Chairs
Yes
Standing Desk
Yes
Workspaces
Dedicated Desks
Yes
Conference Rooms
Yes
Private Offices
Yes
Phone booths
Yes
Coliving
Yes
Seven Coworking Spaces in Sao Paulo We Also Loved
It takes all sorts of things to build a world, and not everybody likes the same things. If oWork doesn't seem like your cup of tea, don't despair; there are plenty of other options. Here are seven more coworking spaces in Sao Paulo that we enjoyed.
Colab
Blocktime
Pixels
Josefin
Sharing E.C.
Wit.Working
Mako Coworking
CoLab
Source: CoLab
Located in Pinheiros, CoLab is less than 200m from Butanta and Fradique Coutinho subways. There are plenty of restaurants and cafes in the neighborhood, in case snack food and plain coffee don't work for you.
The atmosphere is conducive to work, and the crowd is helpful and optimistic. There is excellent Wi-Fi, which can help you get some work done efficiently, and CoLab provides ergonomic chairs and standing desks, so there are options for those who don't enjoy sitting down too much. You can use the printing equipment.
There is a pretty outdoor terrace where you can go to chill out, and coffee is free. The space is wheelchair accessible, which is great.
Open hours

Monday – Friday: 9 am – 7 pm
Saturday: Closed
Sunday: Closed

Price
Per day
BRL 60
Per month
BRL 650
Blocktime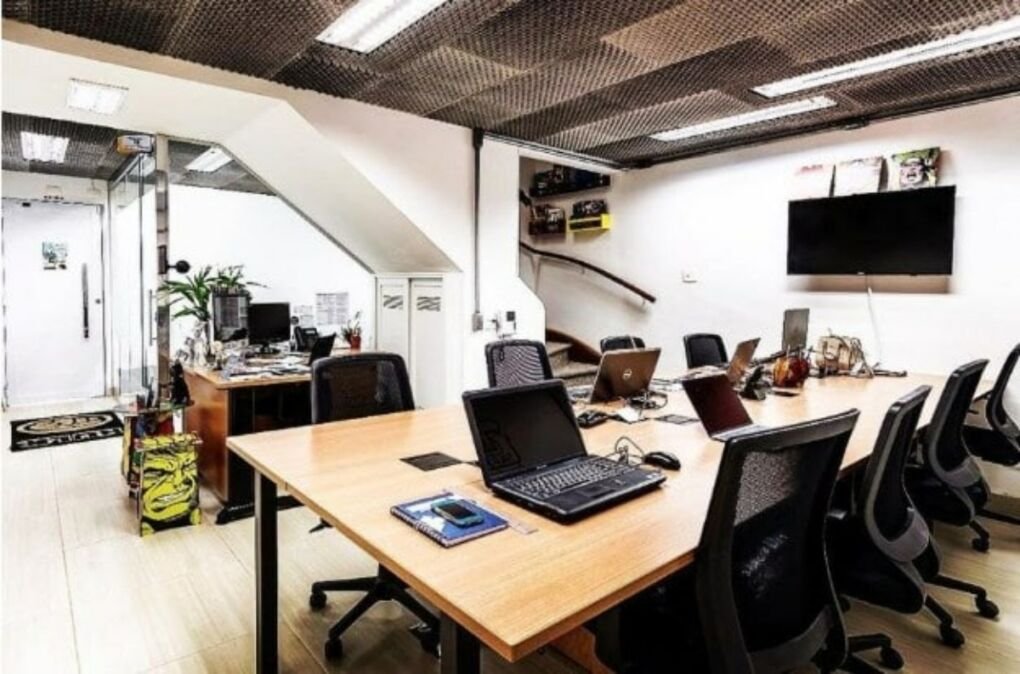 Source: Blocktime Coworking
Blocktime is one block away from the Sumare subway station in Pinheiros. They provide excellent internet connection and ergonomic chairs, which makes working there stress-free and comfortable. There are no standing desks, though, so you might want to take a few short breaks to stretch and walk around.
The community there is cheerful and happy to help with everything you need. Blocktime organizes workshops and events, and it hosts TEDx events. The members often meet for drinks and stay in touch.
If you need extra equipment, you can use printers, projectors, and microphones that are available in Blocktime. There are Skype rooms if you need some privacy and personal lockers if you don't like dragging your stuff around. You can use the kitchen for brewing some coffee or whipping up a quick snack.
The place is cat and dog-friendly, so you and your four-legged monster don't have to be apart longer than you want. When you get tired, you can grab a cup of coffee, or you can find some other nomads and organize a karaoke contest!
Open hours

Monday – Friday: 8 am – 10 pm
Saturday: 8 am – 6 pm
Sunday: Closed

Price
Per hour
BRL 15
Per day
BRL 60
Per month
BRL 500
Pixels
Source: Pixels
Set up in the district of Moema, Pixels is close to Bike Sampa bicycle station and many bus stops.
They offer high-speed Wi-Fi, so you don't have to worry about whether or not you'd be able to do your work and finish it on time. There are ergonomic chairs and bean bags, so you can choose your seating option according to your preference. There is even a hammock if you like to be a bit more comfortable while you work.
You can use the printer, scanner, and personal lockers. There is a kitchen at your disposal in case you need a snack or a cup of coffee. Coffee is free and unlimited.
When you need a break, you can browse through their little library or simply chill out in their great lounge area.
Open hours

Monday – Friday: 9 am – 7 pm
Saturday: Closed
Sunday: Closed

Price
Per day
BRL 79
Per week
BRL 349
Per month
BRL 799
Josefin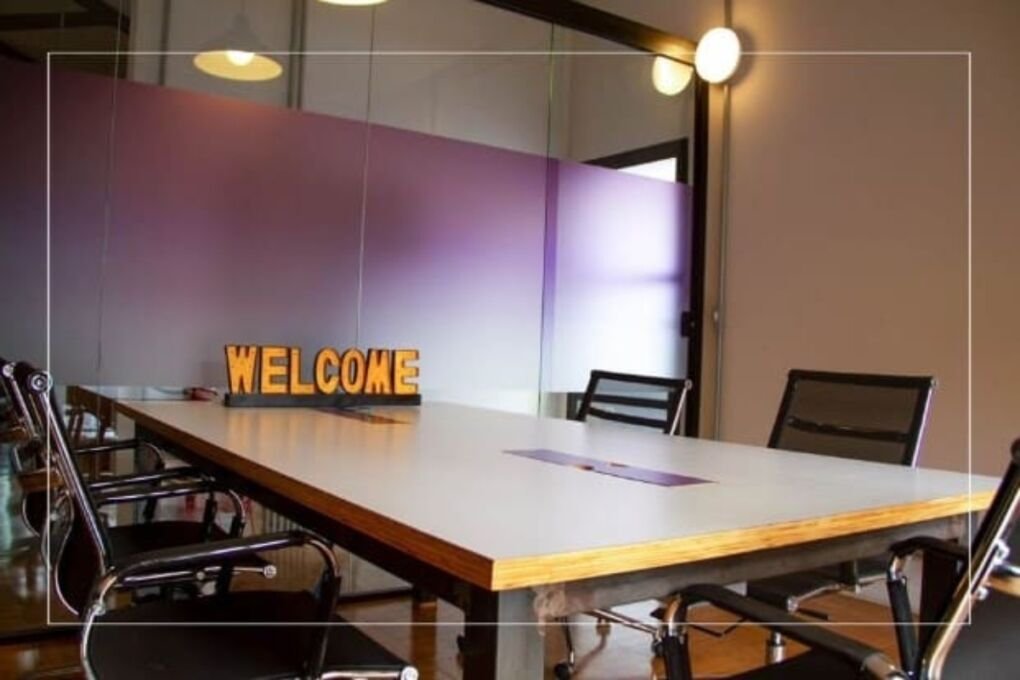 Source: Josefin Coworking
Josefin has two locations:
The place is comfortable to work at because they provide fast and reliable Wi-Fi, as well as ergonomic chairs and standing desks. It's great for all of you who don't want your time at work to take a toll on your back.
If you and your pet suffer from separation anxiety, worry not—Josefin is cat and dog-friendly, so you don't have to leave your four-legged pal all alone in a room somewhere while you work. There is a library for the times when you need a break and entertainment. There is also an impressive outdoor terrace, so you don't have to stay inside during your breaks.
The community is fantastic and very cheerful. Josefin organizes many events to keep its members together and help them develop their talents and skills and improve their knowledge.
Open hours

Monday – Friday: 9 am – 9 pm
Saturday: Closed
Sunday: Closed

Price
Per day
BRL 80
Per month
BRL 900
Sharing E.C.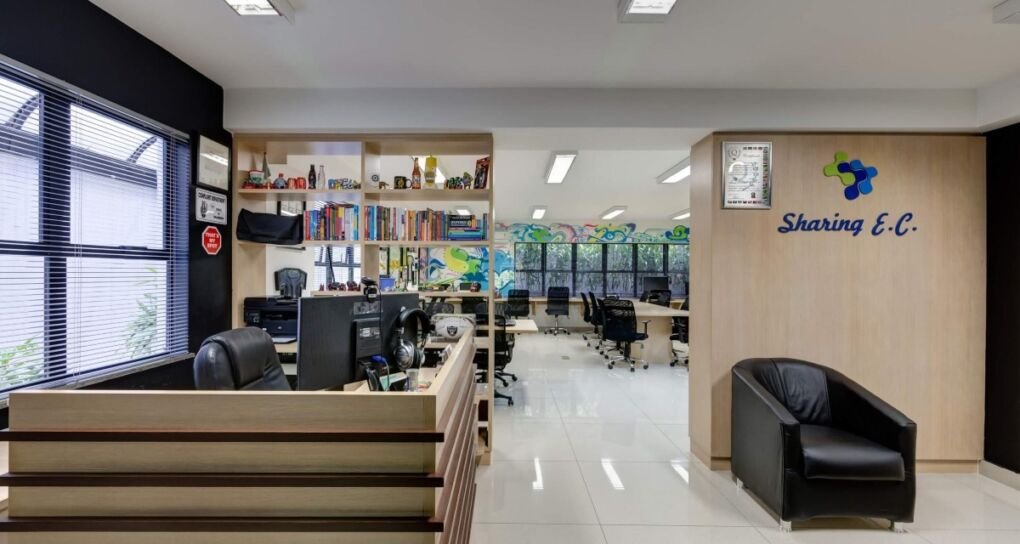 Source: Coworker.com
Located in Pinheiros, Sharing E.C. is surrounded by different restaurants, pastry shops, and other food options, which is great for the picky eaters who can't live on sandwiches.
There is a kitchen with a fridge and a microwave, though, so you can always bring your own lunch and heat it when you want. There is also free coffee and at least eight flavors of tea. The lounge area is large and comfortable, so you can recharge our batteries when you take a break.
Wi-Fi is lightning fast, and there is backup internet as well, so you can rest assured that you won't be left offline in a critical moment. They provide ergonomic chairs, which are very comfy, but they're the only seating option. You might want to take frequent breaks to preserve your back. The space is well-lit, even during the hours when there's little natural light. The interior is cluster-free, and the whole place makes it easy to focus and get some work done.
Open hours

Monday – Friday: 9 am – 5 pm
Saturday: Closed
Sunday: Closed

Price
Per month
BRL 499
Wit.Working
Source: Wit.Working
Wit.Working is located in Sao Jose do Rio Preto. It is a coworking and a co-living space, which can be a great time-saver since you don't have to travel to and from the workspace.
They provide high-speed Wi-Fi, which should make your work a bit less stressful, and standing desks and ergonomic chairs, which should help you retain the health of your back.
You can use their printing equipment, and there is a kitchen, too, if you're feeling peckish and want a quick bite. Coffee is free, and you can buy alcohol if you wish.
Open hours

Monday – Friday: 8 am – 10 pm
Saturday: 9 am – 1 pm
Sunday: Closed

Price
Per hour
BRL 10
Per day
BRL 60
Per week
BRL 255
Mako Coworking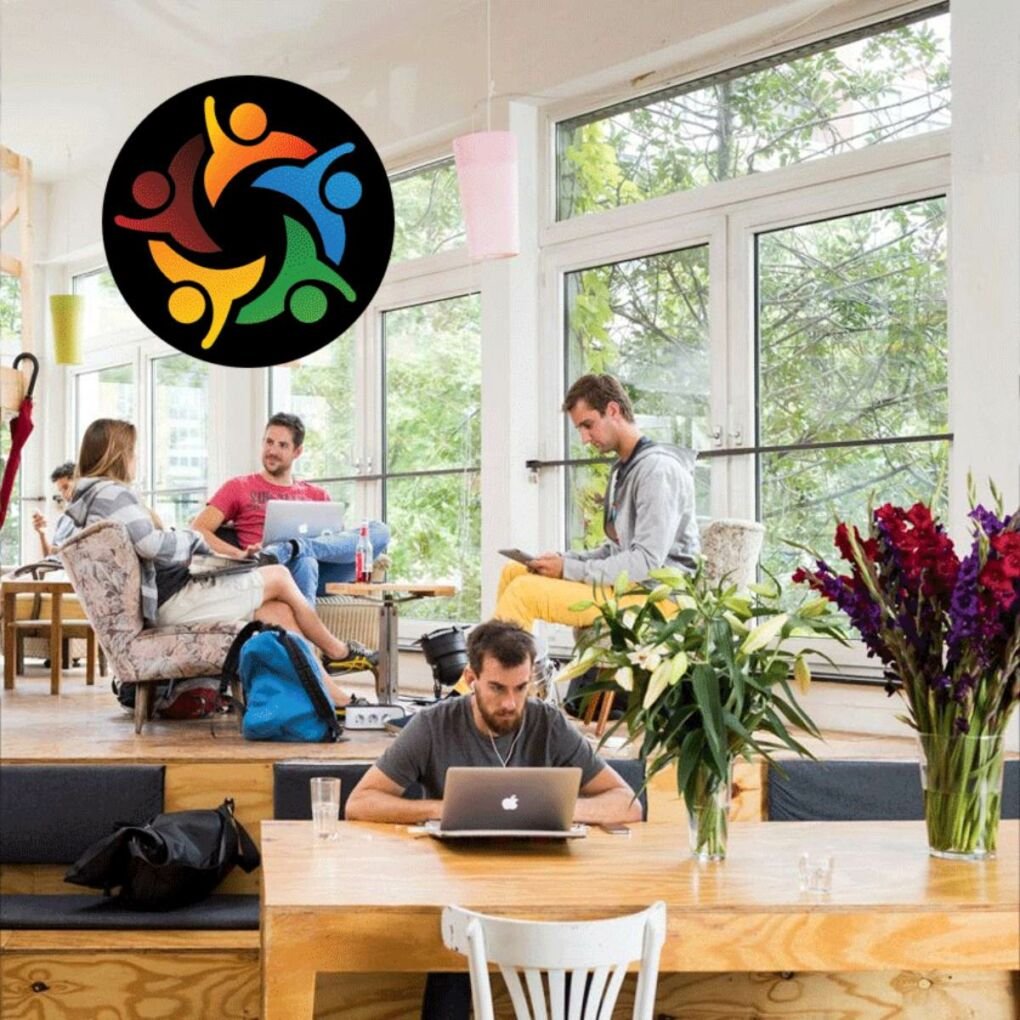 Source: Coworker.com
Mako Coworking is located in Vila Mariana, within walking distance from the Museum of contemporary art and the Afro Brazil Museum.
They provide fast and reliable Wi-Fi, and there are cables as well if you need your connection to be rock-solid. The internet is functional enough for virtually anything you might need, from reading a blog post to uploading a video or video conferencing.
There are printing equipment and a kitchen you can use if you want to. The lounge area is comfy enough to take a rest, have some coffee, and recharge before going back to work. Coffee is free.
The staff is friendly and helpful, and Meko organizes events for its members once a month.
Open hours

Monday – Friday: 8 am – 8 pm
Saturday: Closed
Sunday: Closed

Price
Per day
BRL 899
Pro tip
Many of these coworking spaces don't offer standing desks. If you like a coworking space but would also like to be able to stand up when you get too tired of sitting, you might want to consider getting a travel stand desk. It's a much lighter option, and it's a breeze to set up. It might be a good idea if you tend to suffer from back pains, and it's definitely much healthier than just sitting down all the time. Here's an added plus: you can set it up in your room when you're feeling too lazy to go out!
Regus Is Our Least Favorite Space to Cowork in Sao Paulo
Source: Regus
In our opinion, Regus is the least enjoyable coworking space in Sao Paulo. Of course, it holds over 30 locations in the area, so it may seem highly convenient. You'd think that, once you get the membership, you'd be able to use all the premises, depending on which one suits your needs at the given moment.
So why didn't we like it? There are several reasons, but the main problems with Regus are:
Poorly trained staff
Unclear pricing system
No community
Regus has a high staff turnover, which is always a red flag. The people who work there are, for the most part, inexperienced and untrained, which means that they usually don't even know the system they're supposed to work in. They'll be unsure of which benefits you get with each package, and sometimes they won't know if a membership is valid outside of their original location or not. Regus is a big company, so its workers tend to be cold and detached—completely the opposite of what you'd expect in a regular coworking place.
The problem with pricing is far more severe than the thing with the staff. Every location has a different set of prices they charge for their services, and you can only get them on request. In the age of the internet, this practice is terribly frustrating, and it may even seem untrustworthy. If that wasn't enough, here's more—you never know what you're paying for.
Regus simply lacks a reliable pricing system, which means that you are always unsure of what you're paying for. Obviously, you'll get a seat and a desk, but all the other benefits, including coffee, are up for debate. In one of their offices, it will be included in the price; in the other, it'll be charged extra
It gets even worse. It makes sense that the membership will allow you to use all of their locations. In practice, you don't know which locations—if any—you'd be able to use. You may very well be restricted to your original offices, in which case the essential benefit of Regus—the convenience—will be completely wasted.
Since Regus is an office rental service and coworking is not its main area of business, it's not really all that nomad-friendly. It doesn't attract the startup crowd, so there is zero community to talk about. You may make a friend or two if you're really outgoing and friendly, but don't expect the atmosphere you'd get in a regular coworking space.
All in all, Regus is fine if you're a company representative who needs offices for its staff. If you're a digital nomad, though, you'll probably want to find something else. Have a look at our list of 10 tropical spaces for coliving and coworking in Brazil for some more options to choose from.  If Regus is the most convenient for you, make sure you do your homework and check what is included in the price before you pay it.
Basics
Pricing
High-Speed Internet
Yes
Open Hours

Monday – Friday: 8:30 am – 6 pm
Saturday: Closed
Sunday: Closed

Ergonomics
Comfortable Chairs
Yes
Standing Desk
No
Workspaces
Dedicated Desks
Yes
Conference Rooms
Yes
Private Offices
Yes
Phone booths
Yes
Coliving
No