One of the top destinations on everyone's South African Buckelist is Table Mountain. This historic mountain is more than just a landmark, you'll be surprised to read these facts about Table Mountain and important things to know before visiting South Africa for the first time. Whether you are wondering which vaccinations are needed for South Africa Travel or how high is Table mountain or how long does it takes to hike Table Mountain or the best Table mountain hiking trials then you've come to the right place.
Table Mountain is the most emblematic landmark of the city of Cape Town in South Africa. Millions of travelers from all over the world come to Cape Town every year to see and climb this flat-topped mountain overlooking the mother city. The highest point of Table Mountain is 1 086m (3 563 feet) above sea level.
In fact, it is one of the most visited paid-for monuments in South Africa. Whenever one is at its feet, they become amazed by its impressive stature and beauty.
Here are amazing facts about Table Mountain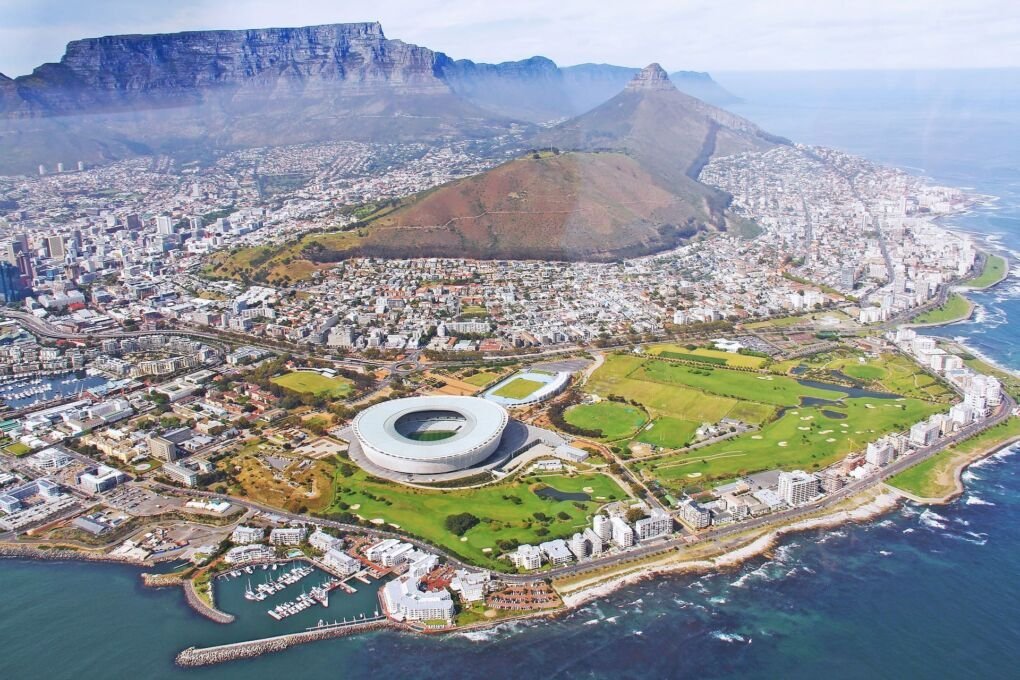 Where is Table Mountain located
Table Mountain is a mountain located in the Table Mountain National Park ( TMNP), previously known as the Cape Peninsula National Park the park was renamed in 1998 and today it's one of the national parks managed by South African National Parks.
The mountain is located in the city of Cape Town in the Western Cape province of South Africa. Another interesting fact about Table Mountain is that it's featured on the city of Cape Town's flag and logo.
Facts about Table Mountain's Native name
The native name for Table Mountain, given by the Khoisan, was "Hoerikwaggo" meaning "Mountain in the Sea." This later changed when the Portuguese explorer, Antonio de Saldanha, who hiked the mountain (the first hike recorded in history) in 1503 and called it Tabao de Cabo ("the Cape Table"). The name was later changed in 1652 when Dutch settlers colonized the region and to refer to the mountain as Tafelberg.
Why is it called Table Mountain today
The Dutch word "Tafelberg" translates to Table Mountain in English. Table mountain has a flat top. This was caused by erosion when water washes smaller and softer types of rocks away from the top of a hill. The strong, durable rock that remains on top of a mesa is called caprock. A mesa is usually wider than it is tall.
Are there animals on Table Mountain
Yes, there are animals roaming Table Mountain. Some sections are fenced, but visitors should look out for Eland, Red Hartebeest, Bontebok, and Zebras.
What can you find on Table Mountain
Table Mountain has been eroded by the action of wind, fire, ice, and water and withstood six million years of erosion and hosts the richest, yet its home to an amazing 8 200 plant species – of which around 80% are fynbos. Over 1,470 of the earth's floral species are found on Table Mountain.
Table Mountain has an abundance of marine life
The Table Mountain National Park Marine Protected Area is home to the Marine Big Five: the Great White Shark, the Southern Right Whale, the Elephant Seal, the Humpback Whale, and the Minke Whale.
How old is Table Mountain
One of the most interesting facts about Table Mountain is that it's one of the oldest mountains on earth. Table Mountain is five times older than the Rockies and six times older than the Himalayas.
Oddly shaped rocks and deep ravines can be found on the mountain created by millions of years of erosion and even glacial scrapings. The rocks at the base of the mountain are shale and the rocks at the western side are Cape granite.
Table Mountain is a 7 Wonders of Nature
The New7Wonders of Nature campaign started in 2007, with the aim to elect the man-made New7Wonders of the World, in which more than 100 million votes were cast. 440 locations from over 220 countries were initially proposed before a final list of 7 was published.
Table Mountain in Cape Town is the only one of the 7 Wonders of Nature destinations on the African continent.
How high is Table Mountain
If you are wondering how tall is Table Mountain? the answer is 1,085 m.
Mount Everest is the world's highest mountain because it has the "highest elevation above sea level." The peak of Mount Everest is 8,850 meters (29,035 feet) above sea level and Table Mountain is only 1,085m so Table mountain is not really a high mountain. The highest point on Table Mountain, Macclears Beacon is made up of the 'Pakhuis' formation made up of sandstone pebbles deposited by glacial action.
Is Table Mountain open today
Table Mountain is open year-round. In the warmer months they open from 8 am to 8 pm and in winter they open from 8:30 am and close at 6 pm.
Table Mountain Café and WiFi Lounge operating hours:
Café – opens with the first car goes up and closes 30 minutes before the last car comes down.

WiFi Lounge – opens with the first car goes up and closes 15 minutes before the last car comes down.
Always check the Table Mountain official website for updated pricing and opening hours.
How long does it take to hike table mountain
There are over 350 trials to climb Table Mountain and it's highly recommended not to climb alone for safety reasons. Also, read my ultimate guide to staying safe in Cape Town and tips for driving in South Africa.
The quickest hiking route Table Mountain takes the average person between 1.5 and 2 hours. Table Mountain National Park contains approximately 160km of cycling track. Access is gained via day permits or annual activity permits. The alternative option is to take the cable car.
Table Mountain Aerial Cableway experience
The Table Mountain Aerial Cableway started operating on October 4, 1929. Today they still operate two cable cars that transport millions of visitors to the top of Table Mountain every year. The capacity of the first cable car was 25 people. Today it can carry 60 visitors to the top;
There are two types of tickets: A morning ticket is valid from 8 am to 1 pm and an afternoon ticket is valid from 1 pm until the last car down, weather permitting. Choose the ticket that corresponds with the time you want to visit the Cableway.
In 2020, the cost of a return cable car ticket is R360 in the morning and R300 in the afternoon per adult and R180 in the morning, and R150 in the afternoon per child. It's highly advisable to purchase a Table Mountain cable car ticket online to avoid waiting in line. If you are South African, don't forget to bring a valid South African ID (passport, birth certificate, ID book) to get a nationals discount. Non-South Africans are advised to bring their ID for identification.
---
Need help planning your Cape Town trip?
---
Travel Insurance for South Africa
Use travel insurance while visiting South Africa so you are covered for theft and medical expenses. There are a lot of adventurous activities to do in SA, and it's best to have peace of mind while diving, hiking and trying some of the best food in the world.
Find out why I recommend World Nomads, check out my World Nomads Insurance review.
Disclaimer: This article contains affiliate links. This means that if you make a booking after clicking on a link, I may receive a small commission at no extra cost to you!