There are many beautiful parks and hiking trails in Johannesburg. Getting outside for even a short hike regularly can reduce your risk of heart disease, lower your cholestrol and blood pressure, and help to prevent type II diabetes.
Not only is hiking good for your health but it improves the quality of your sleep and
Needless to say, hiking in Johannesburg is a fantastic activity to do with friends, family, kids, partners, or even people you don't know! But, trying to pick the best hikes in Johannesburg is no easy task, so if you're wondering where can I hike in Johannesburg, you've come to the right place.
Things To Know Before Hiking in Johannesburg
Before you start planning your Johannesburg hiking escape, remember to check for operation, regulation, and park safety information first. Here are some ideas:
Check the park hours.

Check if there is parking available.

Always bring sunscreen, snacks, and water.

Wear closed shoes

Always have a fully charged phone and power bank, in case of an emergency.

Bring a hiking partner and adhere to these Johannesburg Safety Tips.
Best Hiking Trails in Johannesburg
Hennops Hiking Trails
Hennops Hiking Trails in Magalieslies is one of the most popular hikes near Johannesburg. This family farm is in a truly tranquil setting and its natural beauty includes the Hennops river flowing through a valley bordered by mountain ranges to the north and south.
Hennops Hiking Trails in Johannesburg offer the following:
Krokodilberg Trail
Distance: 10km

Duration: 3 – 4 hours

Degree of difficulty: Average – Difficult

Elevation gain: 400m
Zebra Trail
Distance: 5km

Duration: 2 hours

Degree of difficulty: Easy – Average

Elevation gain: 110m
Dassie Trail
Distance: 2.5km

Duration: 1 – 2 hours

Degree of difficulty: Easy – Average

Elevation gain: 70m
Mountain Bike Trail: 5km/18km – 38km
Klipriviersberg Nature Reserve
This extensive nature reserve covers 640 hectares (1,600 acres) consisting of veld and koppies (hills). This popular reserve has six hiking trails near Johannesburg varying in degrees of difficulty.
There are many wildlife and items of archaeological, cultural, historical, and geological interests in the reserve like Blesbok, Zebra, and other game roam the hillsides of the "rock river mountain" and there are various signposted hiking and biking trails ranging from 2km to 9km.
The circular 8km Dassie Trail starts at the Silent Pools entrance and winds its way to the top of the hill, or take the slightly shorter and flatter Bloubos Trail that follows the river.
Modderfontein Nature Reserve
Modderfontein Nature Reserve is a 5.2 mile lightly trafficked loop hiking trail near Johannesburg that features a lake.
The 265-hectare private Regional Open space is the second-largest private park in Gauteng and includes portions of the Modderfontein Spruit, a number of dams, grassland, and hills. This is one of the best parks for hiking near Johannesburg. The reserve boasts amazing birdlife around its three large dams, perfect for bird watching.
Sable Ranch
Sable Ranch is nestled on a picturesque farm situated on the outskirts of Magaliesburg, a small village set below the Magaliesberg mountain range. Located just 1 hour from the city center, this one of the best hiking trails in Johannesburg.
There are 4 trails: 5km, 8km, 10km, and 12km,s open from Monday to Sunday, as well as on public holidays from 7 am to 5 pm. The last hikers to start at 14:00.
Suikerbosrand Nature Reserve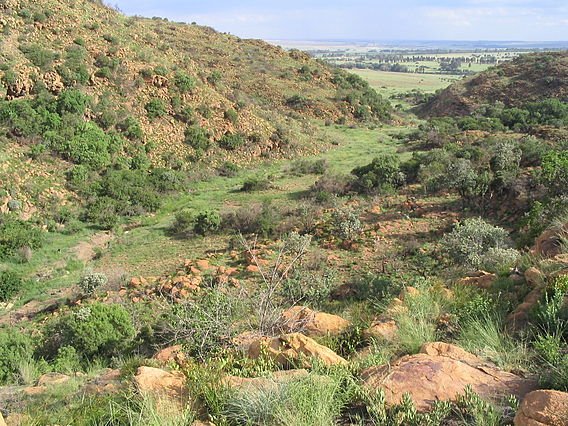 The Suikerbosrand ridge was originally named after sugar cane (probably sorghum) found growing here by the party of general Hendrik Potgieter on 5 June 1836. Later the ridge and consequently the reserve's name became associated with the characteristic Transvaal-sugar bush (Protea caffra), a dominant vegetation type within the area's limits.
The fauna and flora of the rocky Highveld grassland biome are accurately reflected within the >220 km2(85 sq mi) of the unspoiled natural environment.
---
Johannesburg Travel Tips
---
Travel Insurance for South Africa
Use travel insurance while visiting South Africa so you are covered for theft and medical expenses. There are a lot of adventurous activities to do in SA, and it's best to have peace of mind while driving, hiking, and trying some of the best food in the world.
Find out why I recommend World Nomads, check out my World Nomads Insurance Review.
Disclaimer: This article contains affiliate links. This means that if you make a booking after clicking on a link, I may receive a small commission at no extra cost to you!