Look…Switzerland isn't cheap. Being pretty comes at a price, and beautiful Switzerland is no exception. You're not going to find dorm beds for $6 a night like you might in Cambodia, but there are ways to travel Switzerland on a budget and not totally destroy your bank balance. Try not to eat out or buy drinks in bars, get yourself a Swiss Travel Pass and book yourself into the best hostels in Switzerland to see the country on a budget and meet fun-loving travellers along the way. If you're trying to work out the best destinations to stop off in, this guide on "Where to go in Switzerland" should help.
Having travelled this magnificent country twice in one year, here are my picks of the best backpacker hostels in Switzerland – many with a killer view and the facilities you would associate with a hotel!
Best Hostels in Switzerland
1. Balmers, Interlaken
You can't write a list of the best hostels in Switzerland without talking about Balmers Interlaken, a member of Europe's Most Famous Hostels and probably the most well know hostel in Switzerland. This is a great example of a Swiss hostel with all the facilities of a hotel.
There's a massive garden out back with deck chairs, hammocks a massive table to sit around and make friends. There's a small bar / restaurant and even an underground nightclub. Inside the hostel you'll find a room full of hammocks, a games room and both dorms and private rooms depending on your preference. Oh and did we mention there's an outdoor jacuzzi? Oh and a perfect view of Jungfrau, famously known as the "top of Europe".
Price: From €27 a night for a dorm bed. Check availability here.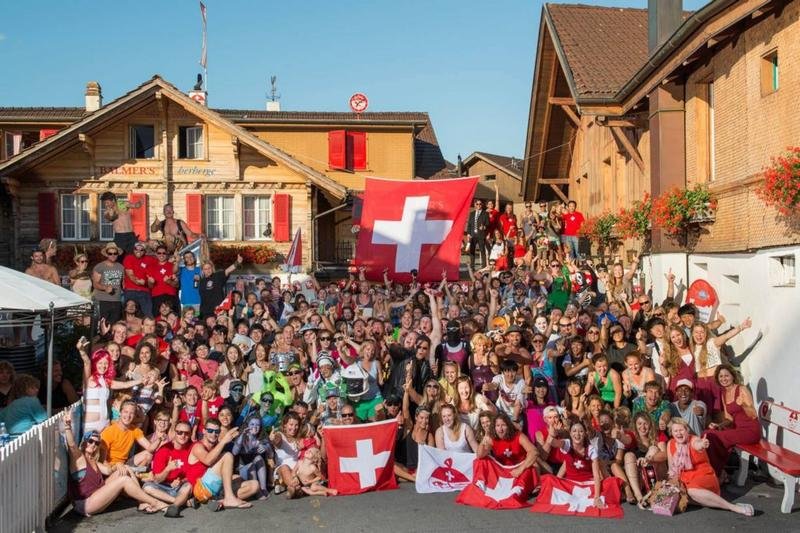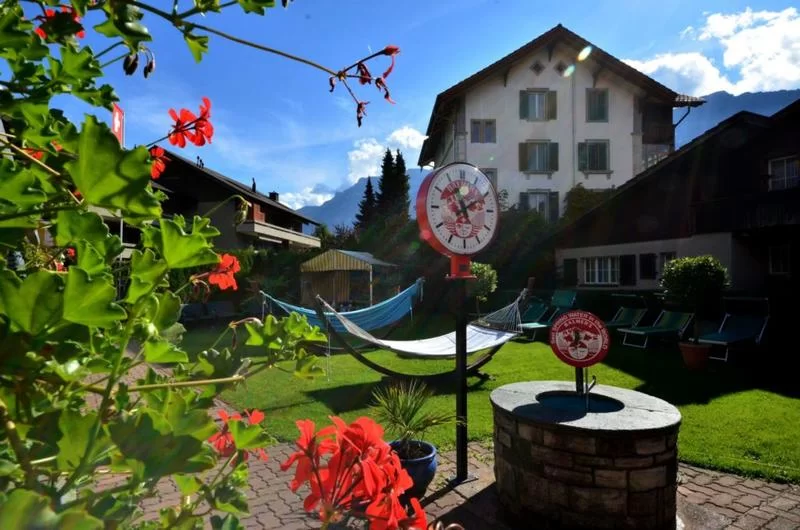 2. Youth Hostel Lugano Savosa, Lugano
This international Youth Hostel in Lugano is another great example of a fun hostel in Switzerland with all the facilities of a hotel. This hostel is very much geared towards groups, long-term travellers and families rather than young party-loving traveller so keep that in mind if you're planning a trip here.
It's situated on the top of a very steep hill in Lugano and facilities include a swimming pool (with slide!) trampolines, volleyball courts and expansive gardens and grounds to chill out in during the summer. This hostel is perfect for those travelling Switzerland on a budget as you can do your washing here for a few euro and cook your own food in the communal kitchen.
Price: From €26 a night for a dorm bed. Check availability here.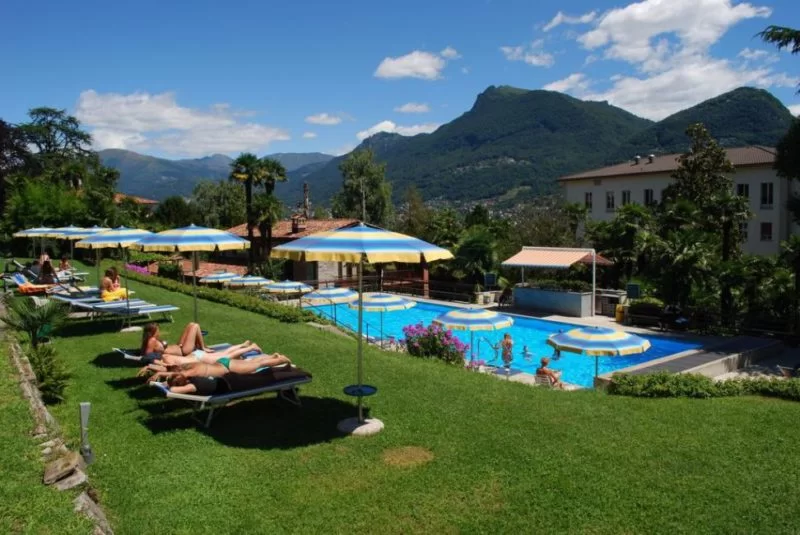 3. Backpackers Villa Sonnehof, Interlaken
Listed by Hostel Geeks as one of Europe's Top Hostels, this 5 star hostel is the perfect base for your trip to Interlaken. The Backpackers Villa Sonnenhof is a luxury hostel with a cosy vibe. Great for budget backpackers, there's a fully equipped kitchen, high speed internet and daily activities organized for guests.
This large chalet-style hostel is perfectly located in Interlaken – a town famous for being the adventure and adrenalin capital of Europe, perfect for those looking to go mountain biking, hiking or jumping out of planes!
Price: From €28 a night for a dorm bed. Check availability here.
4. Valley Hostel, Lauterbrunnen
I'm not sure you will ever find a hostel as beautiful as Valley Hostel in Lauterbrunnen Valley. Located in one of Europe's most beautiful villages, Valley Hostel is a fairytale-like building and really is nothing short of magical. Wake up to beautiful views of Jungfrau, and to the sound of the many waterfalls cascading over mountain tops in Lauterbrunnen.
The building itself is a massive wooden chalet covered in colourful flower baskets, and is as pretty if not prettier than many of the nearby luxury hotels. All the dorms are warm and cosy, with wooden bunk beds and super warm duvets to ensure you have a good nights sleep summer or winter.
Price: From €29 a night for a dorm bed. Check availability here.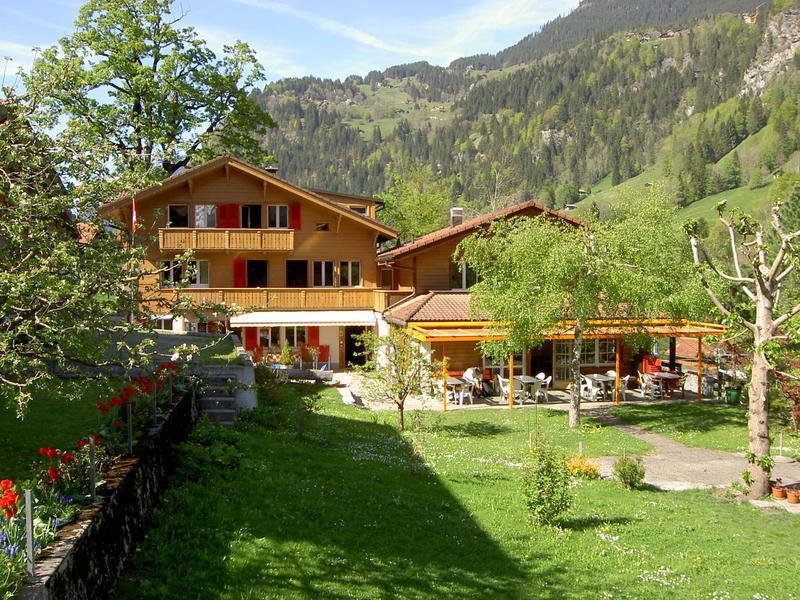 5. Hostel By Randolins St Moritz
St Moritz is known to be the winter playground for the rich and famous from all over Europe. Despite this, if your budget allows, it's still possible to visit this beautiful part of Switzerland for a fraction of the price luxury hotels are charging. Hostel By Randolins, situated slightly outside of town but with incredible views of the mountains is a great budget option in St Moritz.
Granted "budget"in this part of the world means €50 a night for a 6 bed dorm….but once you're sitting in their massive bubbling, outdoor jacuzzi with a perfect with of the snow-capped mountain peaks, that €50 won't hurt so much. The hostel is right next to both ski slopes and hiking trails making it the perfect place to stay for outdoor adventure enthusiasts!
Price: From €51 a night for a dorm bed. Two night minimum stay. Check availability here.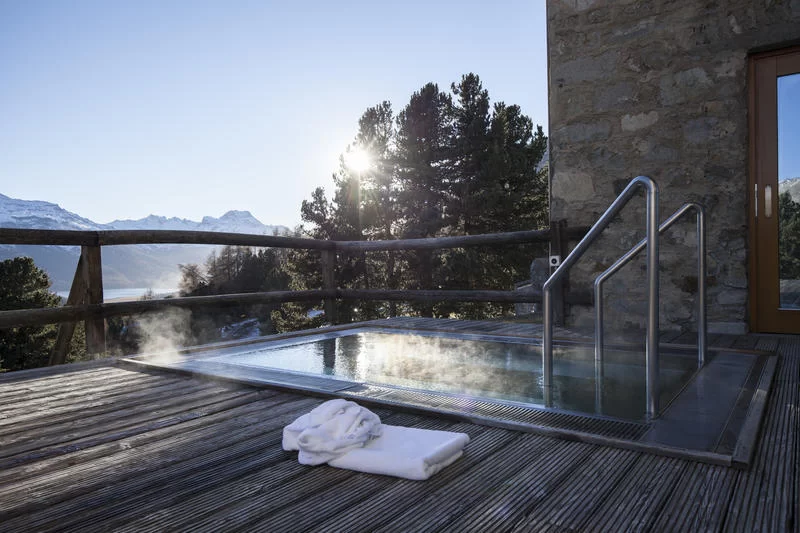 6. Downtown Lodge, Grindelwald
Said to be the "largest lodge in Switzerland", Downtown Lodge in magical Grindelwald, a village listed as one of the most beautiful places to visit in Switzerland many times, is a must-visit hostel in Switzerland.
The hostel is less than 5 minutes walk from the mountain train station – and getting here really is half the fun – while the hostel itself offers breathtaking views of the surrounding landscape including mountain peaks and glaciers!
Summer or winter this is a fun and relatively cheap places to stay in Switzerland…perfect for backpackers on a budget! Free facilities include: a buffet breakfast, games room, ski bus to the slopes, an indoor pool and an outdoor ice-rink in winter!
7. Geneva Hostel, Geneva
While it does lack the beautiful views and charm of the hostels in more rural parts of Switzerland, Geneva Hostel is a super affordable, large and very modern option for anyone looking to travel to Geneva on a budget.
The ceilings are high with big windows, which make the rooms nice and airy in the summer and there is a large common area with high speed internet for the digital nomads among us. Located right in the centre of Geneva within walking distance of the main train station, Geneva Hostel is the perfect base for exploring one of Switzerland's most beautiful and interesting cities.
Price: From €30 a night for a dorm bed. Check availability here.
Have you stayed in any fun hostels in Switzerland? If there are any super cool places to stay not on the list, please leave a comment and let me know!