Justly crowned 'the jewel of the Caribbean,' Barbados is a tropical paradise known for its diverse attractions, friendly Bajan locals, and world-class rum.
Surrounded by the Atlantic Ocean on the East and the Caribbean Sea on the West, the 166 square mile coral island has a proud heritage and vibrant island culture that has intrigued many an explorer.
Visited by nearly one million tourists every year, it's clear to see why the small island nation is renowned among celebrities and 'civilians' alike. But just how safe is Barbados for tourists?
Below, we'll delve into some of the best places to live in Barbados and some areas that should be avoided. Plus, you'll learn fantastic travel tips to get the most out of your island vacation.
Why Visit Barbados
Considered a fantastic destination year-round, Barbados is one of the Caribbean's most sought-after tropical vacation spots. Besides its great weather, beautiful beaches, and exquisite national parks, Barbados is known for its flavorful food and delicious rum.
The island's cuisine is colorful and delicious, with distinct West Indian and Caribbean flavors. You must try the cou-cou and fried flying fish with spicy gravy — the national Barbadian dish.
Now, it's no secret that Caribbean islands have a global connotation with rum, but did you know that Barbados is considered its birthplace? With four active distilleries on the island, you'll soon become well-acquainted with the traditional tropical liquor.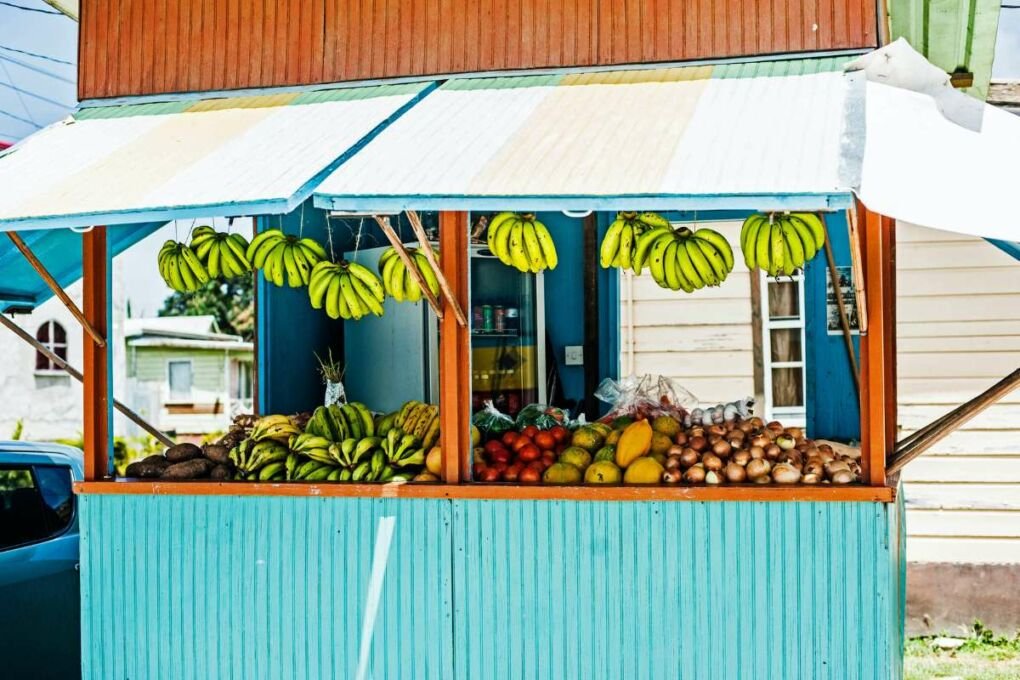 Is Barbados Dangerous?
Barbados is not considered a dangerous place to visit. It has particularly low crime rates as one of the safest islands in the Caribbean.
However, as of recently, you may hear that the island's crime levels are rising; Don't worry, though, as Barbados is still safe for tourists. With a touch of precaution and a dash of common sense, most visits to the tropical paradise are hassle-free.
In saying so, there are specific dodgy neighborhoods and areas you should steer clear of to maintain the security and enjoyment of your trip. Here are two places you should avoid and three that are fantastic for visiting and residing.
Dangerous Areas in Barbados
Crab Hill
Crab Hill is a settlement 15 miles (24 km) north of the capital Bridgetown. Located in the northern end of the St. Lucy parish, Crab Hill gets its name from the many crabs appearing in the area after heavy rainfall.
Crab Hill has more exposed poverty and is more run down than other parts of Barbados. Recent reports of increased gun violence between two community groups in the area have also been in the news.
Seeing as though it's not the prettiest (or most inviting) area and there are no major attractions here, it's best to avoid Crab Hill altogether.
Bridgetown's Nelson St. & Wellington St.
In the hub of Bridgetown, perpendicular streets Nelson and Wellington should be avoided at night. Although they contribute to a lively, local atmosphere during the day, they can become unsafe in the evening.
Home to many local convenience stores and dive bars, the buildings on these streets are more ramshackle and rundown than other parts of Bridgetown. These streets are also very poorly lit at night.
There have been incidents of tourists being hassled here, so it's best to avoid these areas entirely at night, as there are many other lovely parts of Bridgetown to visit instead.
Is it Safe to Live in Barbados?
Yes! It's very safe to live in Barbados. The US Department of State issued a Barbados Travel Advisory that rates the island as a level 1, meaning you should exercise the usual caution when traveling or residing here.
Barbados also has a significant (but friendly) police presence, making tourists and residents feel more secure and at ease.
With a middle-income economy, Barbados offers excellent private and public healthcare options. Although it's not entirely immune to hurricanes, the storms tend to pass north of the island, so Barbados is a little less prone to hurricanes than its Caribbean counterparts.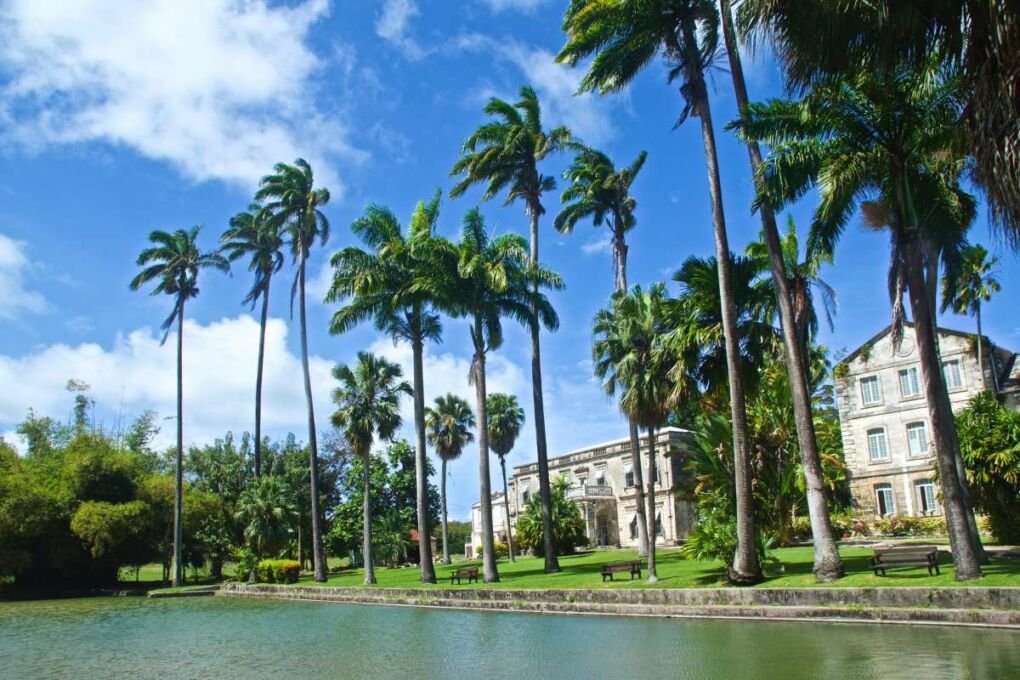 Safe Towns in Barbados
Oistins
As an active little fishing town on Barbados' south coast, Oistins is not only picturesque — it's also extremely safe. With a population of 1471 people, living here allows you to integrate fully with the close-knit community.
Here, you'll mingle with the Bajan domino players and befriend the local fisherman. The area is also a fantastic, peaceful place to work remotely.
Oistins' laid-back vibe is reimbursed with the energy of Fish Friday — an event every weekend where hundreds of people gather to eat the local catches. There are craft stalls, live music, and lots of dancing.
Bridgetown
A UNESCO World Heritage Site, Bridgetown offers the only urban living experience in Barbados. If you're after convenience, variety, and slightly more hustle and bustle than the smaller beach towns, this tropical city will be perfect for you.
Home to impressive colonial architecture and historical museums, Bridgetown is the colorful capital that will leave you besotted with Barbados. The local markets and nightlife here are equally as vibrant, adding to the city's island charm.
Bridgetown also offers efficient public transport, reliable internet, and accessible healthcare. Its proximity to several popular beaches makes it a sought-after home for many expats.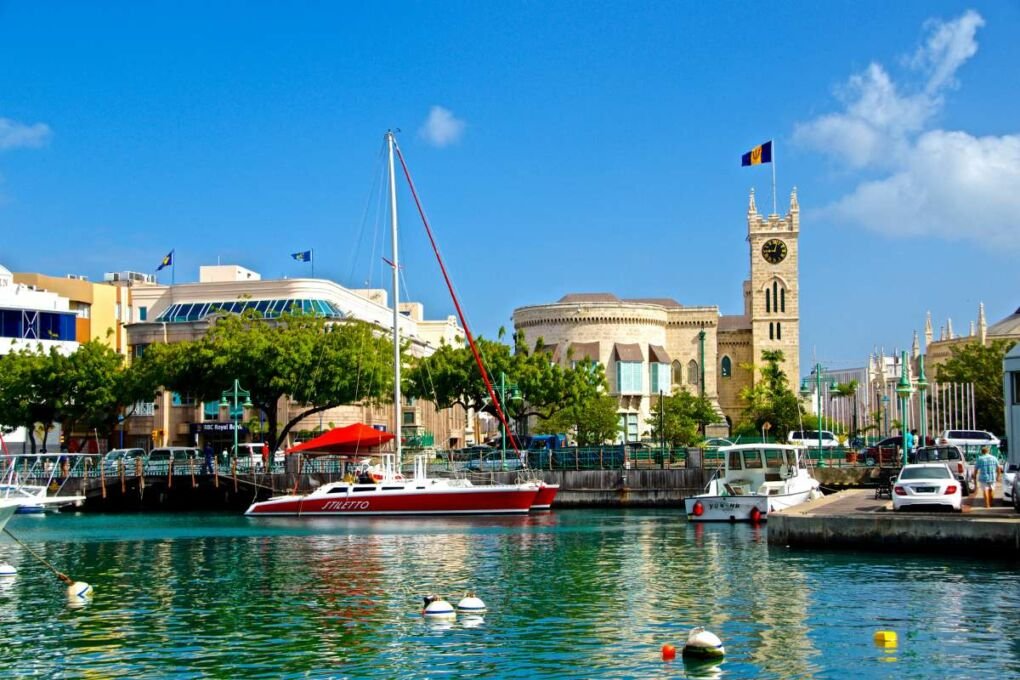 Holetown
Holetown is a small city in the St. James parish on the sheltered west coast of Barbados that has an understated yet exclusive atmosphere. The beaches here have exceptionally tranquil waters, making the town an ideal spot for sunbathers and swimmers.
The town exhibits a beautiful range of restaurants, from Caribbean roadside eateries to fine-dining Asian fusion establishments. The lively evening atmosphere in Holetown is the perfect setting for sunset drinks and some late-night dancing.
The town's West Coast Boardwalk stretches for 1.5 miles (2.5 km) along Holetown's coast, which is a perfect distance for a daily stroll. You can make the flamboyant Chattel Village your go-to spot for lunch and a touch of shopping.
Warnings & Dangers in Barbados
Barbados adopts a peaceful island state of mind. Fortunately, it has a very stable political climate, and most warnings and dangers communicated to tourists come from petty theft cases and extreme weather conditions.
There are some reported incidents of violent crime, such as gun shootings, armed robberies, sexual assault, and gang-related incidents. However, this infrequent violence is not on a scale that will affect you as a tourist, so long as you stay out of trouble and away from the dodgy areas.
It's essential to stay updated on Barbados' weather to monitor any upcoming storms or brewing weather patterns so you can prepare accordingly.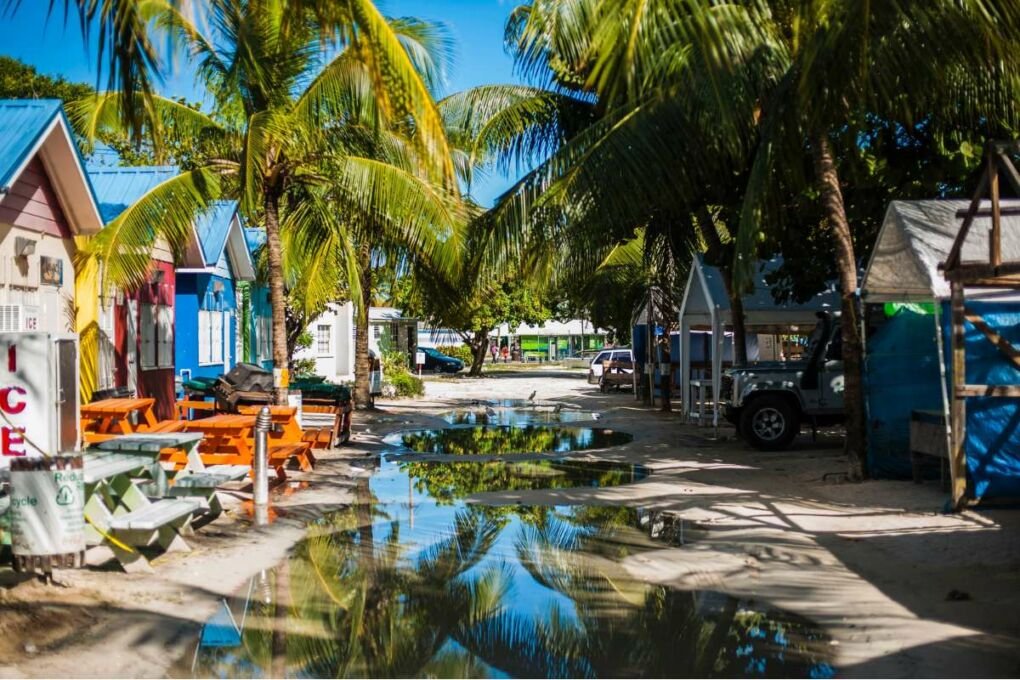 Overall Travel Risk (3/10)
Your visit to Barbados will likely be trouble-free if you consider the precautions below. It's a fantastic getaway destination for families, couples, and solo adventurers — you'll feel right at home on the island in no time.
Some advice? Don't only stick to the resort zones – Barbados offers so much adventure and scenery. It will only leave you in awe of its beautiful surroundings and friendly people, as it's an island that doesn't demand much from you.
In addition to the risks below, watch out for excessive sun exposure, hazardous roads, and rip currents. Here are a few major things to watch out for to remain safe, happy, and healthy on your upcoming trip to Barbados.
Petty Crime
It's important to remember that Barbados is an island with 'low crime,' not 'no crime.' Opportunistic and petty crimes such as pickpocketing and bag snatching can occur in crowded and public places.
Always keep an eye on your belongings, and make sure your bags are closed properly. Remain aware and vigilant, especially if you leave your belongings on the beach while you go for a swim.
For the most part, you won't have to worry too much. Barbados is generally a very safe area. any tourists walk around safely during the day and at night, as long as you avoid the sketchy areas, you'll be fine.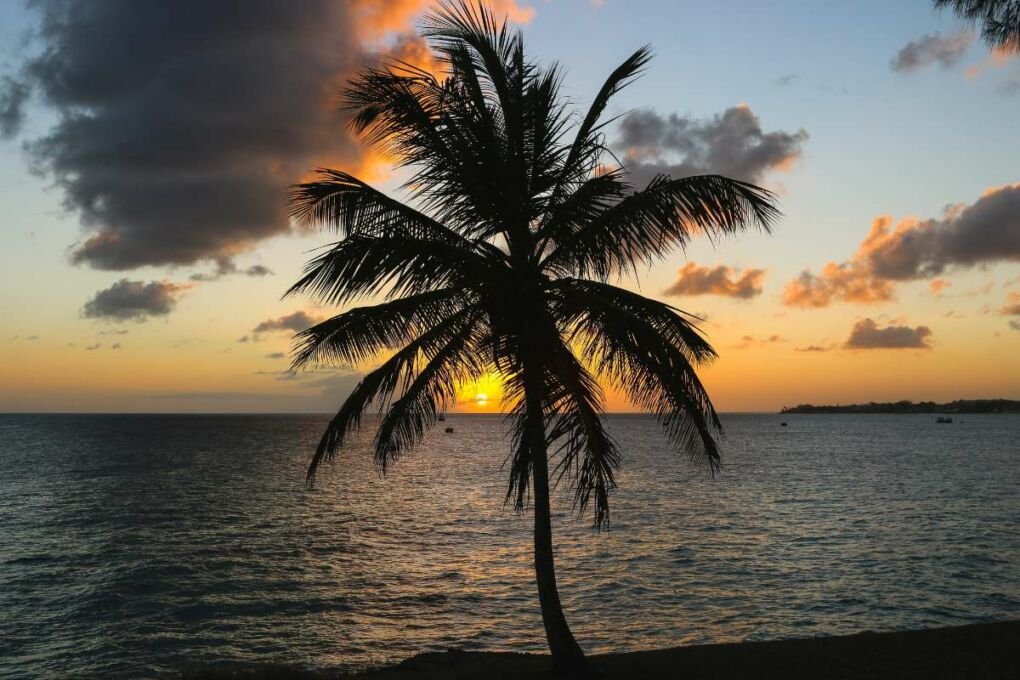 Mosquitoes
Mosquitoes can be prevalent in tropical areas, especially after a heavy period of rainfall. Although tiny, mosquitoes can carry diseases such as dengue fever, which is common throughout the Caribbean.
Symptoms of dengue fever include headaches, nausea, and sore joints and bones. It's only spread through mosquito bites, so the best way to avoid it is by not getting bit.
Bring lots of mosquito repellent and light, long-sleeved clothing for the evening – the little monsters' primetime! Also, double-check that your accommodation has mosquito nets over the beds and windows and a ceiling fan for circulation (which helps propel the mosquitoes).
Cultural Differences
Barbados, like many Caribbean islands, is still a very traditional country. Politeness is highly valued, and people still tend to dress relatively conservatively.
Revealing clothing and beachwear should be reserved for the beach only (i.e., walking around town in your bikini top is not the norm). Additionally, prominent displays of PDA are frowned upon and will earn you disapproving looks from the locals.
Nude bathing (including women being topless) on all the beaches is illegal, as is wearing camouflage clothing (seen as impersonating the military). Both can result in being arrested.
Extreme Weather and Natural Disasters
Hurricane season in the Caribbean starts in June and ends in November. During this time, Barbados is more prone to natural disasters such as heavy rains, surging waves, flooding, and loss of electricity.
Barbados was last hit by hurricane Elsa in 2021, a category one storm with 75 mph (120 kph) winds and heavy rain that brought down trees and damaged the roofs of houses.
To avoid hurricane season, it's always best to plan your Barbados trip outside of the June to November window and especially outside of September to November. Although, if you're willing to risk it, hurricane season is when hotels and guesthouses offer their best prices.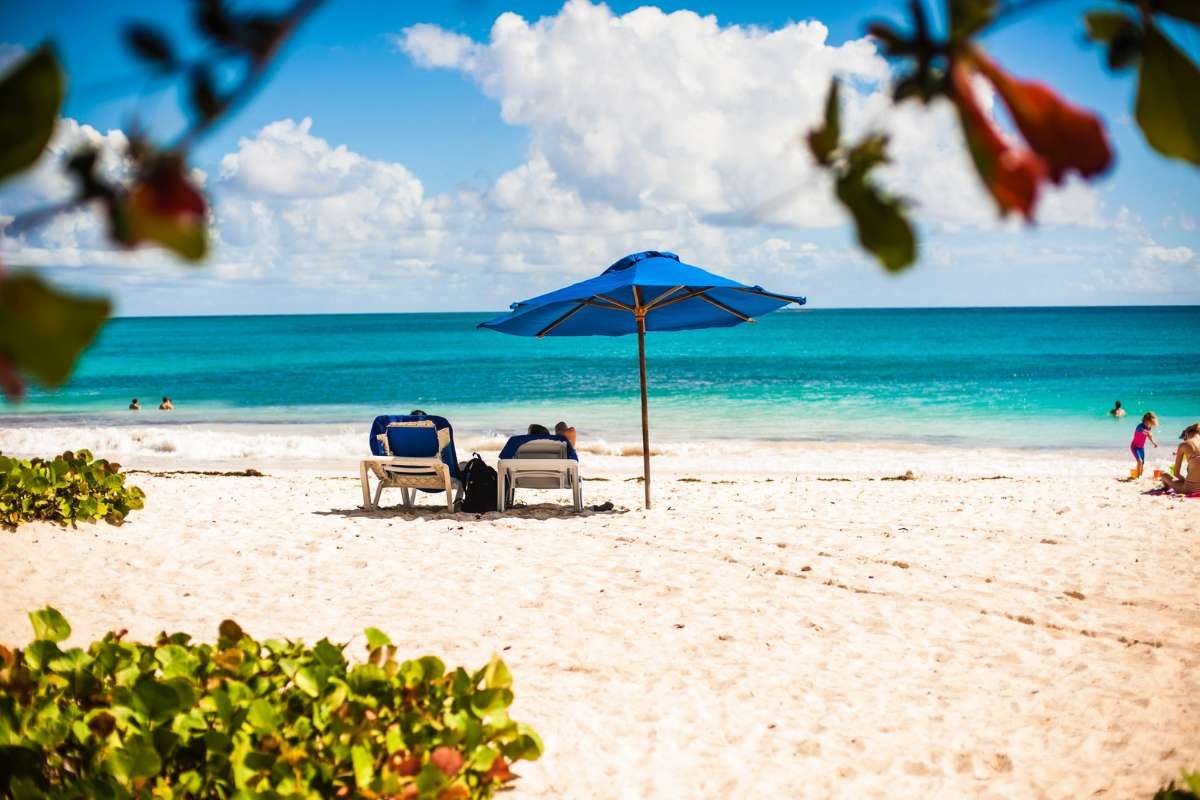 Tips for Staying Safe in Barbados
Staying safe in Barbados is relatively easy. Here are some useful tips to help you get by.
Lock your doors and close your windows: when leaving your car or accommodation, always lock up properly and ensure no valuables are left in sight.
Drive on the left: Unlike the USA and most European countries, Bajans drive on the left-hand side.
Watch out for manchineel trees: These poisonous plants are commonly found on beaches and around the island. The bark, sap, leaves, and fruit are very poisonous, so don't stand under the tree or touch the fruit — especially when it rains.
Don't do drugs: Keep in mind that the possession of marijuana is still illegal in Barbados.
Beware of too much rum in the sun: Caribbean bartenders sure know how to pour a hefty drink, and as dehydration is a common concern in these climates, you may want to limit the rums.
Is Barbados Safe | Frequently Asked Questions
Can You Drink the Tap Water in Barbados?
Yes, the tap water in Barbados is very safe to drink, as it complies with the World Health Organization's drinking water guidelines.
Bring along a reusable water bottle you can refill for your daily excursions. Recycling in the Caribbean is not what it is in the United States or Europe, and most (if not all) plastic bottles will end up in a landfill or the ocean.
In general, be sparing with water in Barbados as it is scarce.
What Should I Be Careful Of in Barbados?
Take care when walking along in dimly lit places. Also, be aware of your surroundings if you draw large amounts of cash from ATMS. Avoid wearing flashy jewelry, and ensure you can always see your belongings in public spots.
Be careful not to get too much sun, as sunburn, sunstroke, and dehydration should not be in the itinerary. Drink plenty of water and use sunscreen, hats, and other cover-ups to protect you from the intense Caribbean rays.
What Languages Do They Speak in Barbados?
The official language of Barbados is English. However, the majority of residents speak Bajan — an English-based Creole with West African influences. Bajan is more commonly spoken among locals in informal settings and casual conversations.
Don't worry, though, as English is perfectly fine for getting around and communicating with the locals. Getting familiar with a few phrases of the Barbados dialect is always a good idea — but remember: de higher de monkey climb, de more he does show he tail!
What is Barbados Most Known For?
Barbados is known for its beautiful beaches, rum, its UNESCO-listed heritage sites, and its friendly people. Its innate beauty is not only formed by the wondrous natural features dotted around the island but also by the pride and geniality of its people.
Once there, check out Harrison's Cave, the Animal Flower Cave, the chattel houses, and the island's other residents — the cheeky green monkeys.