One of the most popular destinations in Thailand, Chiang Mai is a city well worth visiting. Nestled in the mountains of Northern Thailand, Chiang Mai's rich arts and culture merge with a peaceful atmosphere not often found in big cities.
So if you're thinking of making the trip (great choice, by the way), you'll probably be wondering, is Chiang Mai safe?
For the most part — absolutely!
Like in any city, there are a few dangers to keep an eye out for, so it's important to keep your wits about you. This article also covers some scams and annoyances specific to Chiang Mai. Brush up on these, and you'll be all set for a stress-free visit.
Why Visit Chiang Mai
Unlike Thailand's capital city Bangkok, Chiang Mai is known as a pretty safe city. Thanks to its reputation as a safe and vibrant cultural hub, Chiang Mai attracts female solo travelers, backpackers, families, and digital nomads alike.
So why is it so popular to visit? Well, if you weren't convinced by the lush landscapes and thriving arts and culture, maybe the food is the ticket. Chiang Mai is famous for its tasty curry noodle soup Khao Soi, but you'll also find many other delicious dishes, from well-seasoned rice dishes to refreshing desserts.
Besides the food, nature, and culture, Chiang Mai boasts a bustling nightlife scene. There are three main areas to check out:
Old City – Expect live music and chilled-out bars.
Riverside – Want to rub shoulders with other expats? Riverside is chock-full of tourist-friendly bars and restaurants with the perfect view of the Ping River. There aren't many clubs here, so if that's your cup of tea, try the third option.
Nimmanhaemin Road (pronounced Nimman) – On a budget? A younger crowd of students and backpackers congregate on Nimmanhaemin Road, popular for its laid-back vibe and casual dining options.

Is Chiang Mai Dangerous
?
Chiang Mai is by no means a dangerous city. It has a relatively low crime rate compared to other cities around the world, and violent crimes are rare. Petty crime does happen, but it's infrequent.
Of course, it's always important to exercise caution and take necessary steps to ensure personal safety, like avoiding poorly lit areas at night and keeping an eye on your belongings.
You should also make sure to respect the culture. We go into this more later, but drinking in public, any drug use, and insulting the monarchy are all big no-nos.

Dangerous Areas in
Chiang Mai
Chiang Mai's Walking Street
Whilst there aren't really any 'dangerous' neighborhoods in Chiang Mai, touristy areas with a lot of foot traffic have a higher rate of petty crime. When wandering down Chiang Mai's Walking Street, be careful of pickpockets and scammers.
They target foreigners, so don't flash your cash and keep your bags where you can see them. That means, front strapping your backpack- no matter how uncool it feels.
Loi Kroh Road
This is Chiang Mai's 'seedy' neighborhood. Although it is nothing compared to Walking Street in Pattaya, Loi Kroh Road is essentially the red light district of Chiang Mai. Expect pricey drinks, loud music, and a cluster of 'girly bars'.
Prostitution aside, those who visit these bars have the option of paying for female company. Not your thing? Then give Loi Kroh Road a miss.
Is It Safe To Live in Chiang Mai?
Even by Western standards, Chiang Mai is considered safe to live in, and some expats actually feel safer there than in their home countries! Thus, it's' no surprise that The U.S. Department of State's Overseas Security Advisory Council (OSAC) ranked Chiang Mai as the safest place to live in Thailand, as well as the safest city in Southeast Asia.
It boasts a low crime rate compared to other major cities in Thailand, and violent crimes are rare. According to OSAC's Thailand 2020 Crime & Safety Report, Chiang Mai is considered a low-threat location. The report takes into account many factors, from street safety to religious tensions.
As for the latter, Chiang Mai sticks to Thailand's lese majeste law: meaning political and religious views are peoples' private business and shouldn't be discussed openly. In Thailand as a whole, with its mainly Buddhist population, there are few religious tensions, and most people are peaceful.
On the other hand, road safety is a significant safety threat in Chiang Mai. We recommend avoiding driving, and if you must, follow local driving laws and stay off the roads during monsoon season.
As with any urban area, it's important to be sensible and maintain the usual personal safety measures. Petty theft, such as pickpocketing or bag snatching, can happen in crowded tourist areas, so keep your belongings secure.
A big issue when considering how safe it is to live in Chiang Mai is the air pollution. The burning of agriculture causes thick smog that hangs around for several months of the year. During this smokey season, the air quality is very low.
Be sure to take this into account before moving to Chiang Mai, and consider taking a holiday between February and March if you do. Luckily, the rest of the year is clear blue skies all round.
Safe Areas
in Chiang Mai
Nimmanhaemin
Nimmanhaemin is a safe, culturally rich option if you're visiting Chiang Mai. The area is a hotspot for digital nomads and has many cute coffee shops and art galleries to explore.
At night, you can choose between elegant rooftop bars or cozy pubs. There's something for everyone. As for accommodation, Nimmanhaemin has a plethora of options. You can go for cheap and cheerful lodging or treat yourself to a more expensive boutique hotel.
Riverside
Riverside is one of Chiang Mai's more high-end neighborhoods, with steep prices to match. The area is perfect for a relaxed wander, flaunting boutique hotels, artisan shops, quaint cafes, and spas.
A safe and tranquil area, Riverside is a great option for a peaceful stay in Chiang Mai.
Wat Ket
Wat Ket is a far less touristy option to visit in Chiang Mai, meaning you won't have to worry so much about pickpockets and scammers that frequent the tourist hotspots.
Check out Wat Ket for great seafood, a visit to the elephant sanctuaries, or a stroll through Wat Ket Karam Temple.
Like Riverside, this area is a little more expensive. So whilst it is very safe, it might not be the best option for the backpacker on a budget.
Warnings & Dangers in Chiang Mai
Although Chiang Mai is a generally safe city, there are some dangers to be mindful of. These range from simply annoying, like mosquito bites, to pretty serious, like flooding.
The tourist police are quite effective and can be contacted by calling 1155 from a Thai sim card.

Overall Travel Risk in Chiang Mai (3 out of 10)
There are some specific risks in Chiang Mai to be mindful of. Road safety is a big one, as pedestrians tend to be an afterthought for Thailand's overly enthusiastic drivers. Specific to Chiang Mai is the 'haze season', which refers to toxic air pollution spread across a couple of months of the year. This is a serious problem for anyone with lung issues. As with any city, you should be mindful of scams and pickpocketing.
Road Safety
Despite Chiang Mai being less busy than Bangkok, there is still a significant risk of traffic accidents. In 2020, Chiang Mai reported a total of 8,366 road accidents, resulting in 408 fatalities and 8,746 injuries, according to the Department of Land Transport in Thailand.
Whether you're a pedestrian, cyclist, or driving, exercise caution, especially in high-traffic areas. Make sure to follow the traffic rules too.
The public transport system in Chiang Mai is quite safe and reliable. Popular ways of getting around are by taxi, Grab (Thai Uber), tuk-tuks, and songthaews (red trucks).
Pickpockets
Pickpockets can be found in touristy areas wherever you go, and Chiang Mai is no exception.
Keep your valuables safely stowed away, with no flashy phones or cameras on show. Money belts are a great option for hiding your cash, cards, and passport. It's also a good idea to wear bags on the front of your body.
As a rule, don't leave important items in your hostel or hotel room. Some accommodations have security safety boxes for valuable belongings, so it's worth asking about this when you check-in.
Scams
Chiang Mai has its own set of scams to watch out for. These include:
Tuk-Tuk Scam
Tuk-Tuk drivers love to overcharge tourists. Settle on the fare with your tuk-tuk driver before you set off.
Credit Card Scams
Try to use ATMs at your hotel, and avoid the ones near Warorot Market Kad Luang. If anyone offers to help you use an ATM, or is getting a little too close when you're taking out money, stop and wait for another time.
Overpriced Excursions
Do your research before booking any kind of tour or adventure, despite what your friendly tuk-tuk driver or guest house host might say. Otherwise, expect rip-off prices. $150 for a visit to Wat Umong, anyone?
Air Pollution
Between February and April is "haze season", when the countryside fields surrounding Chiang Mai are burned by farmers to fertilize their crops and remove undergrowth. This creates dangerous levels of thick smog. If you have respiratory issues, we recommend not visiting Chiang Mai at this time.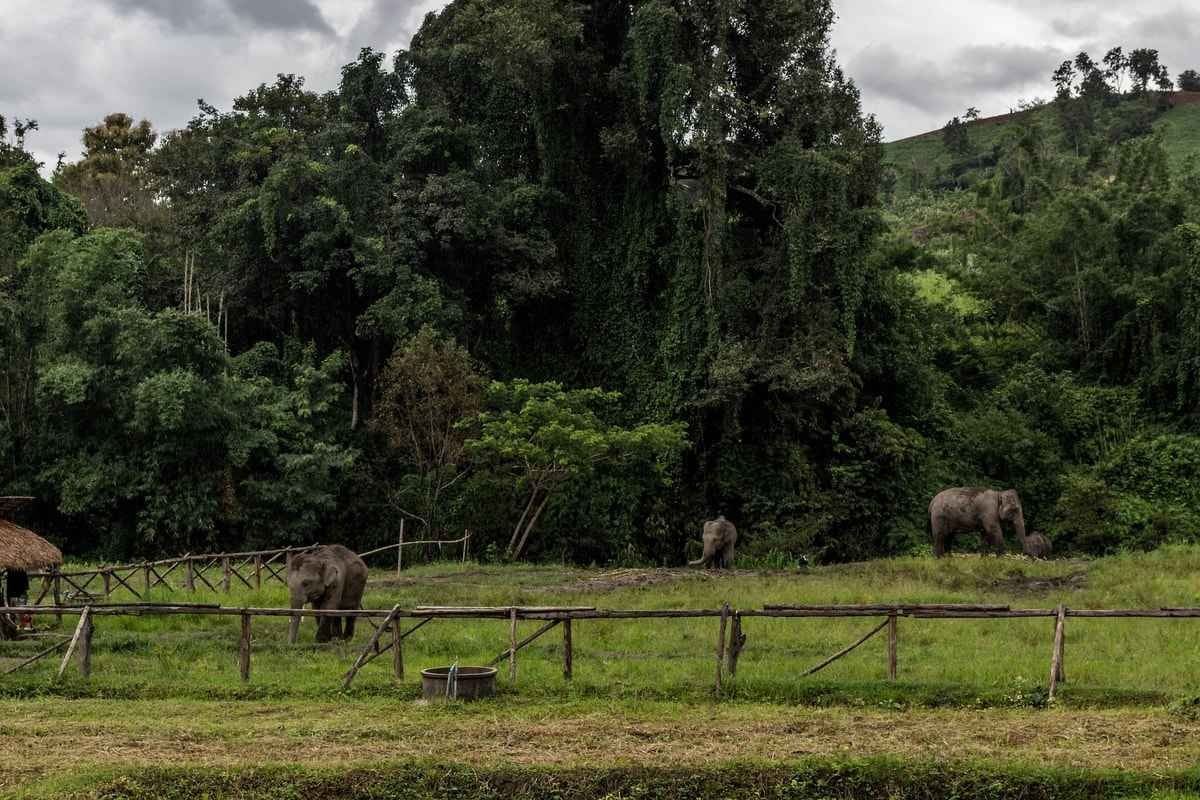 Floods
Monsoon season in Thailand spans from May until October, and heavy rainfall can cause a number of dangers. In Chiang Mai, the streets can become flooded, making driving or walking difficult.
In the more rural areas around the city, mud streams can form too. We recommend waiting out the rain indoors or at the very least, taking it into account when planning your activities. Common sense is your best friend. That means holding off on renting a motorbike or planning a hike until after the monsoon.
Mosquitoes
So small, yet so irritating. Mosquitoes are everywhere in Chiang Mai, but especially in the countryside. If you don't fancy spending your entire visit itching, do yourself a favor and buy an insect repellent.
Tips for Staying Safe in Chiang Mai
By now, you know Chiang Mai is a generally safe city to visit. But that doesn't mean you should throw caution to the wind. Practice the same safety precautions you would in any big city.
Here are our top five safety tips:
Keep your valuables close. Don't leave your passport or large amounts of cash in your hostel or hotel room.
Don't do drugs. In Thailand, dabbling in drugs is a

serious crime

and could land you in jail or with a huge fine. Drug trafficking even carries the death penalty. The police are very strict and sometimes raid Chiang Mai's popular clubs and bars.

Top Tip:

the easiest way to avoid being caught with drugs is simply not to do them!

Avoid dark and dingy areas at night. If it's late, you've had a few drinks, and you aren't sure of the way home (we've all been there), just call a Grab. It's the Thai equivalent of an Uber, and you can easily

download the app here

.

Don't drink in public. It isn't socially acceptable, and around Tapae Gate, it can land you with a

1000 baht fine

(almost $30).

Don't insult Thai royalty- even jokingly. Thai people love their monarchy, so this is an easy way to get in trouble.

Is Chiang Mai Safe
| Frequently Asked Questions
Is It Safe To Walk Around Chiang Mai Alone?
Yes, 100%. The locals are friendly, and the city is very safe. As with anywhere, keep your wits about you.
Is Chiang Mai Safe for Female Solo Travelers?
Definitely. Chiang Mai is a great option for female travelers. The Bangkok Post even found it to be the safest city in Southeast Asia.
Is Tap Water in Chiang Mai Safe To Drink?
In short, no. We recommend making like the locals and sticking to bottled water.
Are The Hospitals in Chiang Mai Good?
Yes, and with low wait times too. Make sure to sort out your travel insurance to avoid high prices at private hospitals. Learn more about hospitals in Chiang Mai here.