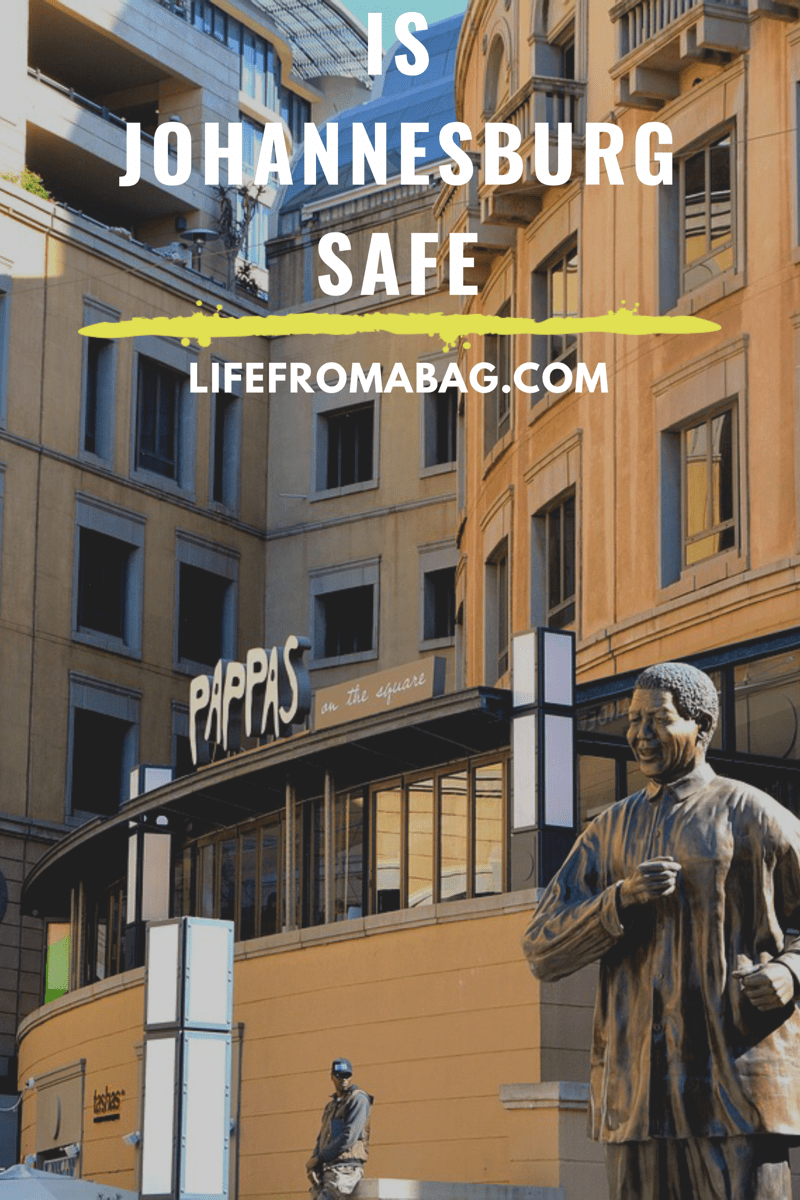 "Is Johannesburg safe for tourists?" – this is one of the most common questions I get when I tell people that I'm South African.
Sometimes I feel like the media portrays Johannesburg as a warzone and as a local, I thought it's best to share what it's like to live in Johannesburg and why is Johannesburg safe for tourists.
The truth is Johannesburg is as safe as any other metropolis in the world. There are areas in Johannesburg that are ok to visit and areas you can visit but must take precautions!
The truth is, Yes, South Africa has crime issues, and we were third in the most dangerous countries list. But, this doesn't mean you shouldn't visit our country.
During Apartheid, Non-whites couldn't vote, live in certain areas, study certain courses, leave their homes after a specific time, go to specific public spaces like beaches, shops, and parks.
Johannesburg became the microcosm of the country's fight against racial discrimination. It was here where two giants of the anti-apartheid struggle, Nelson Mandela and Walter Sisulu, learned the ropes of resistance.
Today income inequality is still visible in Johannesburg. In fact, the World Bank named South Africa as the most unequal country in the world.
While most people think of crime and unfriendly people when you mention Joburg, Here's why I don't think Johannesburg is dangerous.
---
First time in Johannesburg? Read this
---
Why visit Johannesburg
Johannesburg is a vibrant and modern city, just like London and New York! The historic city of Johannesburg was founded in 1886 following the discovery of gold on the farm Langlaagte. The population of the city grew rapidly, becoming a municipality by 1897.
Johannesburg is also known as the City of Gold, or 'eGoli' because of its beginnings as a gold-mining town. Locals simply call it 'Joburg', or 'Jozi'.
Today Johannesburg is home to over 10 million of South Africa's 58 million people. The city is located in Gauteng – the smallest of the nine South African provinces. Gauteng also contributes around 40% to South Africa's GDP.
Is it safe to live in Johannesburg
Yes, Johannesburg is safe to live! As a local, there are certain things you learn from a young age like where to go, areas to not visit in Johannesburg at night, where to find bargains, and basic survival tips!
Northern suburbs like: "Greenside", "Atholl", "Sandown", "Fourways" are generally the nicest places to live in Johannesburg. These areas are where you'll find middle and upper-class Johannesburg families.
Is Johannesburg dangerous
If you are wondering "is Johannesburg is safe for tourists?", Yes, Johannesburg is safe for tourists!
Cape Town is actually more dangerous than Johannesburg, the city of Cape Town ranked #15 on the worlds most dangerous cities list In 2019. The city has a murder rate of 62.3 deaths per 100,000 people. Johannesburg is not mentioned on this list!
In August 2019, the gang-related crime got so bad in Cape Town that the government had to send in the military to intervene.
Is Johannesburg Airport Safe
O.R. Tambo International Airport is one of Africa's biggest and busiest airport. Most international visitors arrive at OR Tambo International Airport in Johannesburg, where there are no overnight flights and all shops close between 11 pm to 6 am.
To answer the question about safety at Johannesburg Airport? Yes, There is airport security and SAPS (South African Police Service) roaming EVERYWHERE! We welcome millions of guests every year and our airport is safe for tourists!
I recommend arriving in the daytime as it's easier to navigate your way through the city and if you'd like to rest, I also shared a list of Hotels near Johannesburg Airport.
Common crime issues in Johannesburg
| Crime / Issue | Risk Level |
| --- | --- |
| Natural Disasters | Low |
| Terrorism | Low |
| Pickpockets | Medium |
| Scams | Medium |
| Sexual Assualt | High |
| Murder | High |
| Car Hijacking | High |
| Mugging Risk | High |
Safe areas in Johannesburg
Maboneng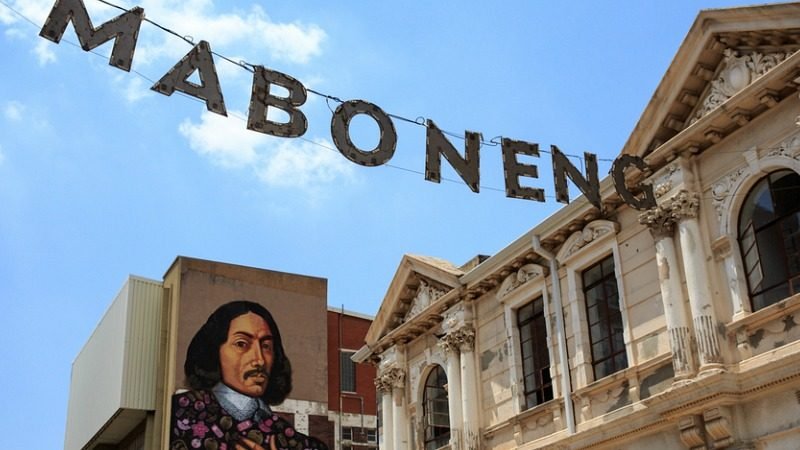 Maboneng is a trendy neighborhood in Johannesburg, It's the best place to experience unique cafés and restaurants, exciting nightlife, and one-of-a-kind shopping!
Maboneng has rapidly become a center of creative energy for urban artists in Johannesburg! It's basically a place to go if you want to meet the "cool kids" of Joburg!
Sandton
The name "Sandton" comes from the combination of two of its suburbs, Sandown and Bryanston.
It's an affluent area in Johannesburg and it grew rapidly in the 1990s as the crime rate increased in the Johannesburg city center and businesses were forced to move out of the CBD.
The JSE (Johannesburg's Stock Exchange) relocated its offices from downtown to Sandton in the 1990s.
The 144 000m2 Sandton City is also known as Nelson Mandela Square – It's one of the largest shopping centers in Africa.
Sandton City is also the richest square mile in Africa and it's also the most popular business hub of Johannesburg.
Rosebank
Rosebank is a cosmopolitan commercial and residential suburb to the north of central Johannesburg.
Rosebank is fairly safe and close to Sandton. There are offices, a mall, hotels, and amazing bars and restaurants in Rosebank.
Braamfontein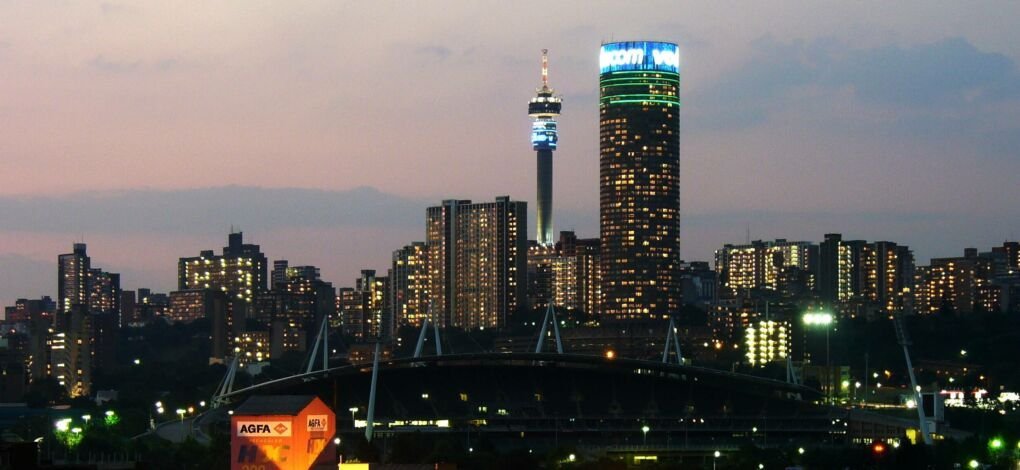 Braamfontein or simply known as Braam is the central hub of Johannesburg.
Home to the Constitutional Court of South Africa, one of the country's best universities – Witwatersrand (Wits) and the iconic Nelson Mandela Bridge – a landmark that connects Braamfontein to the city center.
Braam is also a student hub with many things to do!
No-go areas in Johannesburg
There are a few not so safe areas in Johannesburg. These areas aren't horrible as there are locals who live and work there but as a tourist, it might be a culture shock from seeing how modern the Northern Suburbs are to seeing the slums of Hillbrow.
If you would like to visit these areas, I would only recommend visiting in the day time with a local.
Downtown Johannesburg
After you cross the Nelson Mandela Bridge you'll reach the notorious Joburg CBD. CBD has a high level of muggings and robbery that often involve weapons.
If you plan on visiting this side of town, I wouldn't wear jewelry or carry a camera or even take a laptop bag. Hide your phone, I always hide it in my bra as pickpocketers are plenty in this side of town. The only way to stay safe is to pay attention to your belongings and be aware of your surroundings.
Constant vigilance is the only way for survival in South Africa. Don't let your guard down, if you have a bad feeling, get out of there!
Hillbrow
Hillbrow is home to the Ponte City Apartments – the tallest residential skyscraper in Africa at 173 meters (567ft) tall, Joubert Park – Johannesburg's oldest park, and the Johannesburg Art Gallery (JAG) – one of the biggest art collections in the country!
Although there are many things to do in Hillbrow, this residential neighborhood in Johannesburg is known for its high levels of population density, unemployment, poverty, prostitution, and crime.
Most locals associate the neighborhood with illegal immigrants and they refer to it as a drug haven. There are constant police raids, protests and you hear about females getting abducted and raped or forced into prostitution in this side of town.
I wouldn't recommend going to Hillbrow especially at nighttime!
Are townships in South Africa safe to visit
There are over 180 informal settlements in Johannesburg and the most popular townships in Johannesburg are Alexandra and Soweto.
Alexandra also is known as "Alex" is located near the upper-class suburb of Sandton. The township was founded in 1912 and today Alex still has no tarred roads, rainwater drainage systems, street lighting, or sewerage systems, accompanied by haphazard shack settlement. It's generally safe to visit in the day time but take into consideration all the safety tips I mentioned.
Soweto is an urban settlement in the southwest of Johannesburg. Soweto was established in the 1930s when the White government started to divide Blacks from Whites. Today the township is home to over 1 million people.
Soweto is generally safe to visit in the daytime but I would recommend exploring at night with a local for safety reasons.
South Africa Township etiquette
South African townships are NOT museums. People actually live here and it's important to be respectful. Personally, I have mixed views about township tours.
Yes, it's great for tourists to learn about townships but this doesn't really benefit people living in the townships. In most cases, the tour companies are not owned by locals.
It's also annoying for locals who are trying to live their normal lives to deal with noisy tourists and buses causing traffics on a daily basis.
Don't take pictures of locals without consent.
Don't bargain at the local markets – they are honestly trying to make ends meet to feed their families. 1 USD is like 13 bucks in South Africa, just don't bargain!
Don't take pictures with random kids without their parent's consent.
Don't walk into people's homes.
Where to stay in Johannesburg
There are many hotels in safe areas in Johannesburg! If you're looking for luxury accommodation here are some hotels.
Luxury Hotels in Johannesburg
The luxurious Michelangelo is set in the heart of the Sandton business and leisure district of Johannesburg. It features an indoor pool and fitness center with a sauna and steam room.
Rooms at this 5-star hotel are stylishly decorated and equipped with all modern amenities including minibars, satellite TV, and free Wi-Fi. In-room tea-and-coffee-making facilities are also provided.
Hotel Michelangelo features a 24-hour lounge offering light meals, tapas, and snacks. The Piccolo Mondo Restaurant serves classic Italian dishes accompanied by local and international wines.
Guests can take a dip in Michelangelo's heated swimming pool or relax in the sauna. They can also enjoy access to the Renaissance Spa in the adjacent Michelangelo Towers.
[maxbutton id="1″ url="https://www.booking.com/hotel/za/the-michelangelo.en.html?aid=1558524&no_rooms=1&group_adults=1″ ]
Located in the cultural district of Rosebank, 54 on Bath offers a large terrace area and an outdoor swimming pool. The spacious rooms include a working desk and wide windows.
All modern decorated rooms offer views of the landscaped garden area or the city. Each features a flat-screen TV, free Wi-Fi facilities, and a coffee machine.
The 54 serves breakfast and international cuisine for lunch and dinner in the Level Four Restaurant. Refreshments are provided in the bar, overlooking the garden terrace.
[maxbutton id="1″ url="https://www.booking.com/hotel/za/onbath.en.html?aid=1558524&no_rooms=1&group_adults=1″ ]
The Houghton Hotel, Spa, Wellness & Golf is a 5-star hotel providing accommodation with a restaurant, free private parking, an outdoor swimming pool, and a fitness center.
With free WiFi, this 5-star hotel has a bar and a shared lounge. The accommodation offers a 24-hour front desk, room service, and currency exchange for guests.
The accommodation offers 5-star accommodation with a sauna and terrace. The property also has an on-site indoor pool, hairdressers, and a business center.
[maxbutton id="1″ url="https://www.booking.com/hotel/za/the-houghton.en.html?aid=1558524&no_rooms=1&group_adults=1″ ]
Budget-friendly Hotels in Johannesburg
There are many mid-range budget hotels in safe areas in Johannesburg! Here are some recommendations.
Situated in the center of Johannesburg, within the Melrose Arch Precinct, this design hotel offers luxury accommodations, a 2-minute drive from the M1 motorway. It features a large outdoor pool.
Guestrooms at the Protea Hotel Fire & Ice! by Marriott Johannesburg Melrose Arch feature luxury bedding and floor-to-ceiling windows. All rooms include an LCD TV, a lap-top size safe, and tea and coffee making facilities.
The in-house restaurant serves breakfast, lunch, and dinner daily. Protea's elegant bar serves signature cocktails and milkshakes in an energetic and lively setting. The hotel's Lobby Lounge is located nearby.
[maxbutton id="1″ url="https://www.booking.com/hotel/za/protea-fire-and-ice-melrose-arch.en.html?aid=1558524&no_rooms=1&group_adults=1″ ]
The modern rooms at the Signature Lux Hotel are equipped with oversized queen beds, individually controlled air conditioning, a work desk, and luggage storage. The bathrooms are fitted with a shower.
With an integrated application and the use of free WiFi, guests can arrange housekeeping, room service, and laundry service, as well as a 24-hour self-service check-in from the comfort of their smartphone.
[maxbutton id="1″ url="https://www.booking.com/hotel/za/signature-lux-sandton.en.html?aid=1558524&no_rooms=1&group_adults=1″ ]
The Maslow Hotel
The Maslow Hotel, Sandton features a contemporary décor with carpeted floors, all accommodation at The Maslow is furnished with warm colors. Each suite offers a panoramic city view and comes with a living room and a private bathroom.
With views of the city, the on-site Africology Spa offers products and treatments that are natural, holistic, and eco-friendly. The Maslow Hotel, Sandton offers conference and meeting facilities, and a wedding venue is available on site.
Other facilities include the manicured garden and a transit lounge available for early arrivals and late departure guests. The secure transit lounge is fitted with TV's and shower facilities and light refreshments are available.
[maxbutton id="1″ url="https://www.booking.com/hotel/za/the-maslow-sandton.en.html?aid=1558524&no_rooms=1&group_adults=1″ ]
Budget accommodation in Johannesburg
Whatever your budget is, there are accommodation options for everyone in Jozi!
Offering accommodation in Johannesburg, Curiocity Backpackers has a splash pool, BBQ facilities, and a bar. The property offers bicycles for guests to rent. There is also a games room and free parking for guests.
Guests can prepare their own meals in the shared kitchen which is fully equipped with an oven and fridge.
Curiocity Backpackers offer a range of activities including city walking tours, township tours in Soweto, and public art walks.
[maxbutton id="1″ url="https://www.booking.com/hotel/za/curiocity-backpackers-johannesburg.en.html?aid=1558524&no_rooms=1&group_adults=1″ ]
Linden Guest House features an outdoor swimming pool, bar, a shared lounge, and a garden in Johannesburg. Featuring family rooms, this property also provides guests with a barbecue. Free WiFi and a shared kitchen are provided.
Guest rooms are equipped with a flat-screen TV with satellite channels, a fridge, a kettle, a shower, free toiletries, and a desk. At the guest house, each room is equipped with a wardrobe and a private bathroom.
[maxbutton id="1″ url="https://www.booking.com/hotel/za/linden-guest-house.en.html?aid=1558524&no_rooms=1&group_adults=1″ ]
Vair's Place offers accommodation in Paulshof, 5 minutes' drive from the Barnyard Theatre Rivonia, and 1.9 miles from Sunninghill Hospital. The property has an outdoor pool and free WiFi.
Accommodation is offered in a fully equipped One-Bedroom Apartment or in a spacious suite with tea-and-coffee-making facilities. All units have satellite TV, towels, and bed linen.
[maxbutton id="1″ url="https://www.booking.com/hotel/za/vair-39-s-place.en.html?aid=1558524&no_rooms=1&group_adults=1″ ]
Is Johannesburg safe for solo female travelers
I personally believe if it's your first time traveling solo, you shouldn't come to South Africa.
It pains me to say this because I love my country and I believe it's one of the most beautiful places in the world! I want to share our wildlife, food, and heritage with everyone but, South Africa is best for experienced women travelers with lots of solo travel experience.
Life in South Africa today is not the same way it was 10 years ago. You can never let your guard down, you need to be aware of your surroundings at all times. If it's your first time traveling solo you might not know which signs to look for and how to react in certain situations.
As a local, I'm sharing everything you need to know to stay safe and make the most out of your next trip to South Africa.
Tips for staying safe in Johannesburg
Don't you wish we lived in a world where the possibility of being assaulted, violated, or even murdered wasn't one of the things to take into consideration when traveling or even just living in your own country?
I've shared many safety tips over the years including a solo travelers guide to safety in South Africa which includes details of how to meet other solo female travelers, scams to be aware of, and more.
Apps to download before visiting Johannesburg
Namola – SA's leading safety app that helps you receive emergency assistance when you most need it." The app also supports a family feature to ensure that your loved ones are safe.
Uber – The best way to get around if you don't have a car in SA.
Bull Horns Panic Button – The app allows you to instantly, silently alert your community and emergency responders with just a shake of your phone.
MySOS SA – a panic button app that supports 2-way voice communication and GPS tracking used by more than 100 000 South Africans. The easy intuitive interface allows you to connect to emergency services.
Personal safety gadgets for solo female travelers in Johannesburg
Phone Lanyard: A phone sling where I can attach it to my belt/waist/bag so that I don't drop/lose it (I'd die if anything happens to my phone!) Buy the black one. The elastic is stronger!
Not your typical money belt:

I chose this one and agree with the reviews that the material feels stronger. It's also moisture-wicking and comfortable to wear! I know some similar products already have zippers but this one feels like it holds better but has no zippers. and acts like Spanx!

The double-ended S-biner lock:

With thousands of claims filed annually for lost items, you need a lock that can turn most handbags into thief-proof!

Pacsafe Bra Pouch: Ideal to keep your money, IDs, and credit cards safe from pickpockets and thieves. The turn-and-snap connector clasp design is different from comparable products, easy to use, and prevents the pouch from unsnapping accidentally.
Pacsafe Cash Belt: I

t's metal-free-ish so you can wear it through security without setting off alarms! It holds cash AND your pants up. I love mine!
Portable Door Jammer: Use for a door barricade in an Airbnb or hotel to be able to lock yourself in a room.
How safe is Johannesburg for tourists right now
Johannesburg safety tips
Avoid crowds. If something like protests, demonstrations, or a national crisis of some sort is happening, do not get involved. It may seem tempting, but not engaging will help ensure your safety. Protests in SA usually end in violence and police shooting at protesters.
Don't carry cash. Almost all establishments accept debit and credit cards. Keep in mind that they don't accept any currency other than the South African Rand's (ZAR). I'd recommend getting a Transferwise Bordlessless travel card like mine.
Beware of Card cloning, ATM scams, pickpocketing. Never give anyone your card, ID, or passport (Hotels will usually ask to make a copy of your ID when you check-in, this is normal). Take precautions to avoid identity theft.
If something bad happens (like a life-threatening emergency), call your local embassy for advice. The South African Police Service (SAPS) isn't really the most reliable police force in the world, in most cases, they won't help or they will take your statement and nothing will happen. Speaking of your embassy, make sure you google their address and emergency contact number before coming to South Africa. Most consulates are in the capital city of Pretoria (near Johannesburg).
Sometimes the police will surprise you and help!
If someone robs you. Don't try and fight them, what's more, important your phone or your life? You can report it to the police if you'd like, although they probably won't help, it's worth a try! And you'll need a police report to claim from your travel insurance.
Always vacuum-wrap your luggage. It cost me R90 (about $7) at Johannesburg airport in October 2019. If you want your belongings to be safe – I highly recommend this. Especially for Domestic Flights.
Is it safe to drive in Johannesburg?
Be aware of your surroundings. Whether you are walking or driving. Remember that hijackings and smash-and-grab robberies in cars are common.
Don't leave your handbag or electronics on the seats while driving. When you stop, don't leave them in your car trunk.
Always double check to see if the car door is locked, don't rely on the car remote to automatically do the job but manually check to see if the door is locked, car lock jamming is popular, especially in big cities!
When you get in the car, close your windows and lock the doors.
Hijackings can happen at any time of the day, even at traffic lights or gas stations!
Don't rent a flashy or expensive car, opt for a brand that won't make you stand out like a Ford or Toyota. Volkswagen is one of the most stolen brands in the country!
How to find safe cabs in Johannesburg
Most locals use minibus taxis also known as rideshares in other countries. These can be flagged down on the side of the road (there are specific hand signals for different locations) or you can find a taxi at one of the many taxi ranks in the country.
I wouldn't recommend using this method of transportation because when you don't know where you are going or how to stop a taxi, you will stand out and might attract attention from the wrong people.
I would recommend using UBER, as the drivers will pick you up and drop you off at the exact location of your choice. It's also it's safer (especially at night) and you don't have to pay in cash.
---
More South African Travel Guides
---
Travel Insurance for South Africa
Use travel insurance while visiting South Africa so you are covered for theft and medical expenses. There are a lot of adventurous activities to do in SA, and it's best to have peace of mind while driving, hiking, and trying some of the best food in the world.
Find out why I recommend World Nomads, check out my World Nomads Insurance review.
Disclaimer: This article contains affiliate links. This means that if you make a booking after clicking on a link, I may receive a small commission at no extra cost to you!