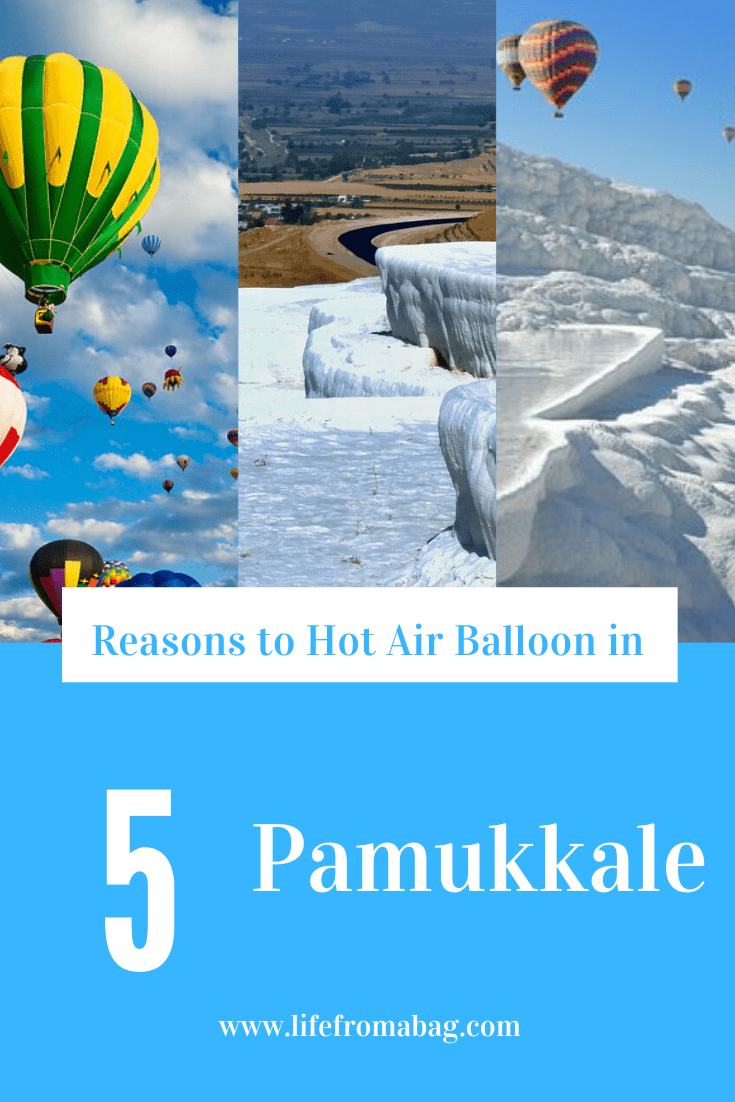 Riding in a hot air balloon in Pamukkale is a once in a lifetime opportunity!
Turkey is one of the most special countries in the world, Home to a range of cultural sites – from a Biblical city (Ephesus) to a Mesolithic temple (Göbekli Tepe) and even a World War One battlefield (Gallipoli).
It's no surprise why Turkey is one of the most visited countries in the world and I honestly can't think of a better place to experience a hot air balloon ride than in Pamukkale in Turkey!
Pamukkale is the site of the remarkably well-preserved ruins of Hierapolis, Greek-Roman city. Known for its surreal, white travertine terraces and hot springs, this UNESCO World Heritage site is worth visiting on your next Turkey trip.
Facts about Hot Air Balloons
Here are some interesting facts about the first successful human-carrying flight machine – the Hot Air Balloon.
Hot air balloons existed before airplanes did
In November 1783, in Paris, France, Brothers, Joseph-Michel and Jacques-Étienne Montgolfier made one of silk and lined with paper that was 33 feet (10 meters) in diameter and launched it — with nobody aboard!
The balloon rose to between 5,200 and 6,600 feet (1,600 to 2,000 m) and stayed aloft for 10 minutes, traveling more than a mile (about 2 kilometers).
The first airplane, built by the Wright brothers and flown on December 17th, 1903.
No matter how scared you may be of heights, you're safe in a hot air balloon basket.
The first hot air balloon passengers were animals
The Montgolfier brothers decided to test a new adaptation using passengers after several changes to their original hot air balloon model.
A sheep named Montauciel ("climb to the sky"), a duck, and a rooster were the first passengers to take a ride in a hot air balloon. The flight was about eight minutes long and the balloon was about 460 meters high.
The first hot air balloon circumnavigation
In March 1999, Bertrand Piccard and Brian Jones flew around the world in the Breitling Orbiter 3, covering 46,759km in 19 days, 21 hours, and 55 minutes!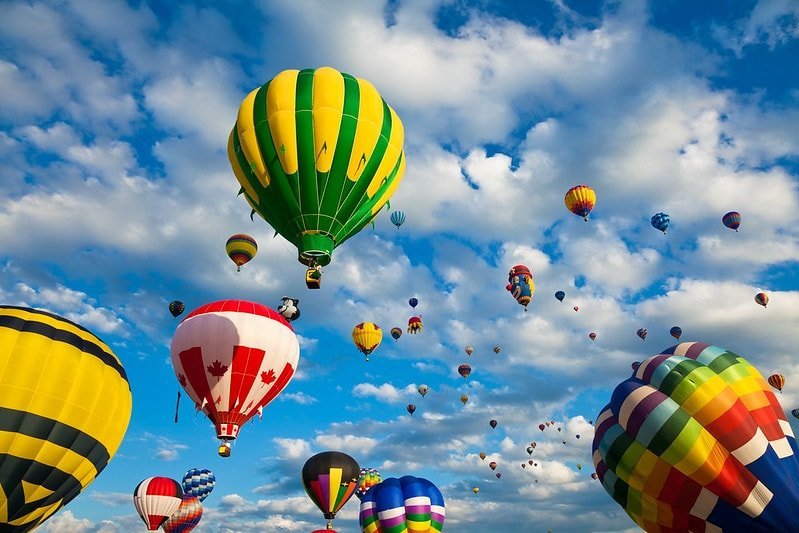 Current Hot Air Balloon Design
The American Ed Yost was the first man to use propane burners and modified the hot air balloon model, as it looks still today.
How Hot Air Balloons Fly
A hot air balloon uses a burner to heat up the air inside the balloon's envelope.
The burner is usually fueled by liquid propane. The burner mixes the fuel with air and ignites the mixture, which creates a flame directly underneath the bottom opening of the hot air balloon. Once the air inside the balloon begins to get warm, the balloon will rise.
The pilot controls the balloon's altitude by releasing hot air from a vent at the top of the balloon, releasing the warmer air causes the balloon to descend.
Are Hot Air Balloons safe
A Hot Air Balloon is relatively safe in the aviation world.
Hot air balloons are an incredibly safe form of flight, and they have become increasingly safe over time. Accidents are uncommon, and fatalities are even rarer.
Reasons to hot air balloon in Pamukkale
Although there are many things to do in Pamukkale, riding a hot air balloon should be high on your list!
A Pamukkale Hot Air Balloon experience is one-of-a-kind because there is nowhere else in the world where you can see travertine terraces like the ones in Pamukkale.
If you need more convincing here are 5 reasons to go on a Pamukkale Hot Air Balloon:
1. Great way to watch the sunrise in Pamukkale
A Pamukkale Hot Air Balloon is the best way to see the sunrise. It's special because you will never see the same sunset or sunrise!
Every day the colors are different. In fact, it has been scientifically proven that getting up to watch the sunrise improves your mood.
Additionally, the sun is a natural source of Vitamin D. In humans Vitamin D changes to calcium in the body which encourages hormone endorphin production. Endorphins give you that feel-good feeling which causes happiness and satisfaction which prevents depression.
2. Offers Best Views of Pamukkale
It will be hard to find better views than on a Hot Air Balloon in Pamukkale.
Flying up to 5,000 feet above the ground on a hot air balloon offers an unparalleled perspective to see how spectacular the land below is (and, unlike an airplane or helicopter, you have 360-degree views around you and, of course, an amazing view.
3. Take Pictures from your Pamukkale Hor Air Balloon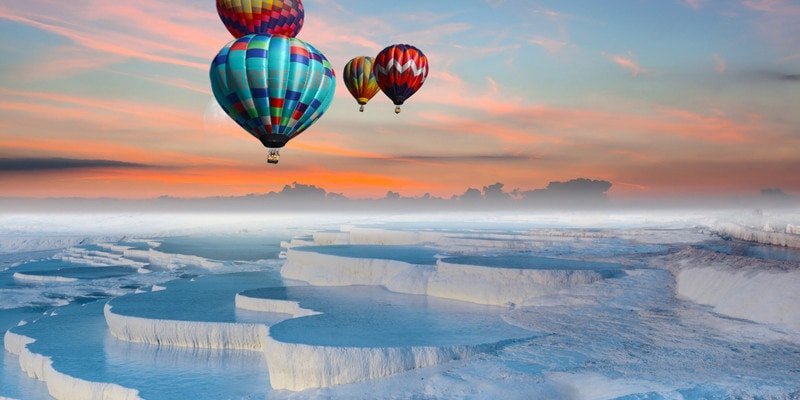 The colors created against the sky by the sun can be incredible!
Take advantage of and enjoy the art that it offers you. It makes for fantastic pictures, not to mention. Snap a few videos, but note to be with the sunset/sunrise as well, you won't regret it.
4. Great way to beat the crowds from a Pamukkale Hot Air Balloon
During my first day in Pamukkale, I was surprised at how many people were there and I shared tips for Pamukkale travel and also noted the importance of visiting early.
Going on a hot air balloon in Pamukkale is definitely one of the best ways to avoid crowds while experiencing this natural wonder of the world!
5. Tick off a Bucketlist Experience
Being in a basket which floats 3.000 feet from the ground and experiencing sunrise over purely white cliffs is once in a lifetime opportunity!
Due to popularity and availability, I highly recommend booking your Pamukkale Hot Air Balloon experience before arriving in Pamukkale. Not only is it cheaper to book online, but you will be guaranteed a space.
Where to stay in Pamukkale
Located in Karahayit, Doğa Thermal Health & Spa offers a spacious garden, an indoor pool and an outdoor pool with free parasols and sun loungers. The property has a physiotherapy clinic on site. Free WiFi access is available throughout.
Rooms here will provide you with flat-screen satellite TV, air conditioning and a balcony. Featuring a hairdryer, private bathrooms also come with a bathrobe and free toiletries. You can enjoy a mountain view and a pool view from all the rooms.
At Doğa Thermal Health & Spa you can benefit from facilities like spa, sauna, Turkish bath, hot spring bath, massage treatments, and fitness center at an additional charge. The 24-hour front desk provides room service. Laundry, dry cleaning, and ironing services can also be offered upon request.
[maxbutton id="1″ url="https://www.booking.com/hotel/tr/doga-thermal-health-amp-spa.en.html?aid=1558524&no_rooms=1&group_adults=1″ ]
Offering a garden, terrace, and an outdoor pool, Venus Suite Hotel is totally renovated in 2015. Free WiFi is accessible in all areas. The property arranges a free transfer service to Pamukkale's centrum every 30 minutes.
Each room here will provide you with air conditioning, an electric kettle, a balcony, and a minibar. Featuring a shower, private bathroom also comes with a hairdryer and bathrobes. You can enjoy city view and garden view from the room. Extras include a safety deposit box and ironing facilities.
At Venus Suite Hotel you will find a 24-hour front desk, providing room service. Other facilities offered at the property include meeting facilities, a shared lounge, and a ticket service. The property offers free private parking as well.
[maxbutton id="1″ url="https://www.booking.com/hotel/tr/venus-suite.en.html?aid=1558524&no_rooms=1&group_adults=1″ ]
This family-run hotel offers contemporary accommodation and a sauna along with free Wi-Fi. It is located opposite the popular terraces of Pamukkale.
Hotel Hal-Tur has soundproofed rooms of varying sizes, each equipped with air conditioning, satellite TV, and a minibar.
Relaxation facilities at Hal-Tur Hotel include a hot tub, a large courtyard with a swimming pool, a children pool, an indoor pool, and a sauna.
[maxbutton id="1″ url="https://www.booking.com/hotel/tr/hal-tur.en.html?aid=1558524&no_rooms=1&group_adults=1″ ]
---
Amazing places to go for a hot air balloon around the world
There are amazing places around the world to go for unique air balloon experiences.
The largest hot air balloon event is held in Albuquerque, New Mexico. You can see 700 balloons in the sky in all shapes and sizes over nine days during the Balloon Fiesta.
Hot Air Balloon in Pilanesberg, South Africa
There's nothing like a safari experience from your bird's-eye perspective!
Bagan, Myanmar Hot Air Ballon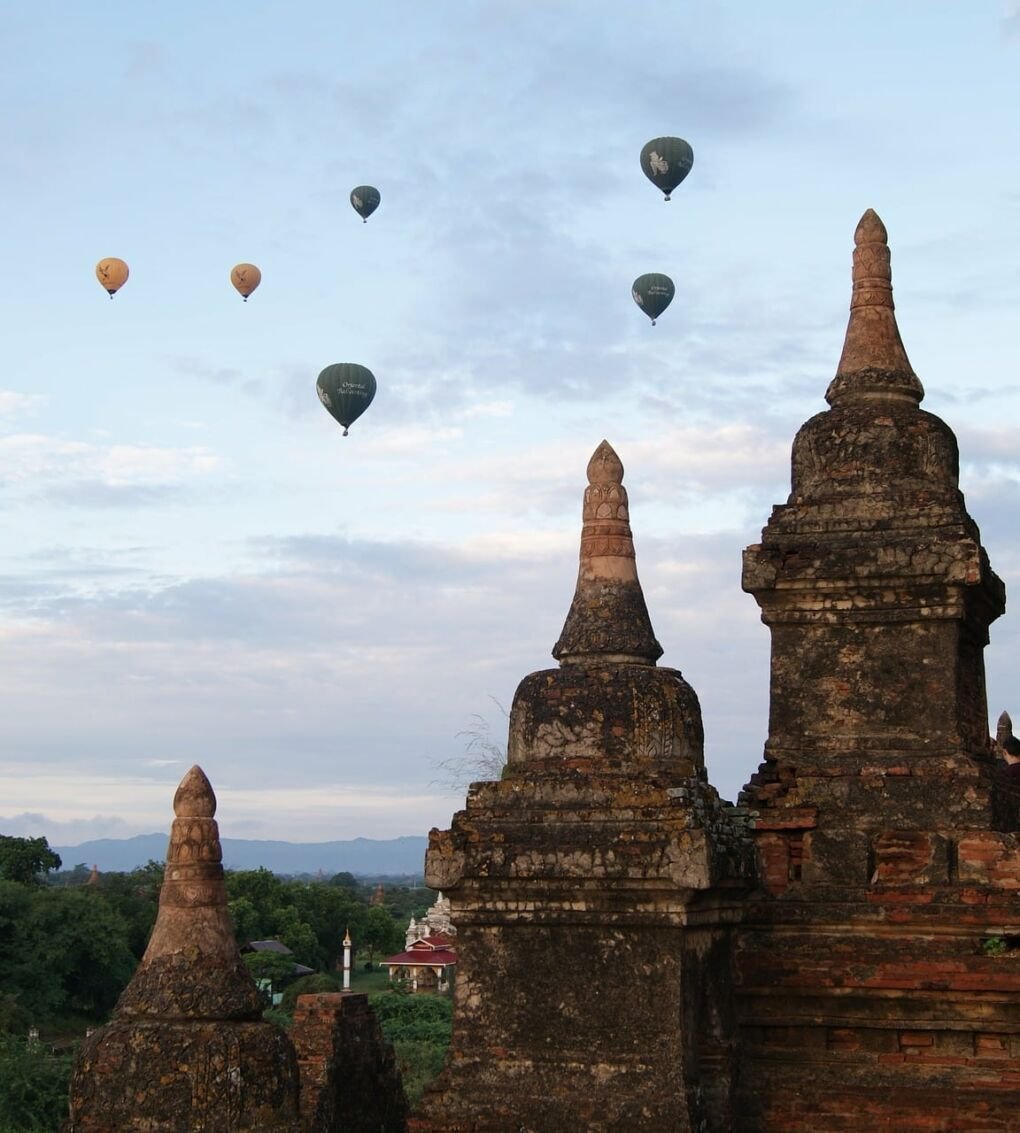 See thousands of historic temples, pagodas, and monasteries, mostly built between the 11th and 13th centuries.
Hot Air Balloon in Luxor, Egypt
Explore the best landmarks of Egypt while drifting peacefully over ancient temples, the Nile River, and the tombs at the Valley of the Kings.
Hot Air Balloon in Cappadocia, Turkey
Hot air balloon over a rocky landscape of natural wonders and human aptitude.
---
More Turkey Travel Guides
---
Get Insurance before visiting Pamukkale
Use travel insurance while visiting Pamukkale so you are covered for theft and medical expenses. There are a lot of adventurous activities to do in Turkey, and it's best to have peace of mind while hiking and doing water sports.
Find out why I recommend World Nomads, check out my World Nomads Insurance review.
Disclaimer: This article was sponsored by Hektor Travel Consultancy and it contains affiliate links. This means that if you make a booking after clicking on a link, I may receive a small commission at no extra cost to you!