If you are planning a trip to Bali and wondering where are the best places to go in Canggu?
Canggu is located on the southern coast of Bali extending north of Kuta along 10 km of beach. There are many places to go in Canggu and it's known as a hotspot for digital nomads, surfers, and yoga lovers!
Although Canggu is not It's not yet as luxurious and expensive as spots such as Kuta, Seminyak or Uluwatu, it has something for everyone!
Things to know before going to Canggu
Where in Canggu
Canggu is a coastal village and a 10 km beach on the south coast of Bali, Indonesia.
Canggu consists of almost three parallel running villages with their own beach areas: Berawa Beach, Batu Bolong, and Echo Beach.
It's bordered by the larger and busier road called Jalan Raya Canggu to the north about 5 km inland. It lies approximately 10 kilometers north of Kuta and it's a 45-minute to 1-hour drive from the airport, depending on the traffic.
When traveling from the airport, don't pay more than IDR 200 000 and you may be able to get it for lower if you're a good negotiator. I wouldn't recommend using the taxis outside the airport as they tend to overcharge.
I highly recommend walking to the airport entrance and ordering a car or scooter taxi from GoJek or Grab Apps.
How to pronounce Canggu
Canggu is pronounced as "Chan-goo".
How to get around Canggu
The best way to get around Canggu is by scooter.
The area doesn't have a lot of sidewalks and it's hard to walk around especially when it's dark because the streets are narrow.
I lived on the main road of Batu Bolong and although everything was within walking distance it was impossible to even cross the road at times due to traffic and lack of street lights.
I recommend renting a motorbike or making use of the GoJek or Grab app to order bike taxis. Taxis aren't expensive and you'll never get lost because the driver knows the area and shortcuts.
How to rent a bike in Canggu
In order to rent a motorbike in Bali, you only need your Passport and Money.
Most places don't offer lessons so it's best to assume that most people around you (especially tourists) are either learner drivers or have no experience.
To rent a bike in Canggu, expect to be charged between IDR 50 000 – 70 000 per day or even monthly deals of IDR 600 000 – 800 000.
You can always negotiate for a lower price. It's important to remember that with most travel insurance companies, you are required to have a motorbike license to be able to claim money if you are involved in a bike accident.
Is Canggu safe
Canggu is as safe as anywhere in Bali, but you need to take precautions like you would in any other area.
The most common types of crime include people grabbing your phone or bag when riding on a scooter. A few villa break-ins especially in the daytime because criminals know that most people are out during the day.
Tips for driving in Canggu
There is always traffic in Canggu and you need to be alert at all times. Don't drive while listening to music with headsets.
If you're not comfortable with driving catching a Go-Jek or Grab – Indonesia's version of Uber. It's a cheap option and is safer if you don't want to drive.
Things to do in Canggu
There are many things to do and places to go in Canggu, here's a list of my favorites!
Surf lesson
Canggu is one of the most popular places in Bali for surfers and it's also a great place to learn how to surf!
In the five kilometers of coastline in Canggu, there are five beaches and they are all black sand: Berawa Beach, Nelayan Beach, Batu Bolong Beach, Echo Beach, and Pererenan Beach.
Watch the sunset at La Brisa
La Brisa is one of the most popular places to go in Canggu to watch the sunset!
With sand, seashells, antique buoys, handmade fishing rods, straw baskets, fishing nets, hand weaved chairs, benches, and swings. It's no surprise why this beach restaurant is so popular.
Nothing beats sipping on a refreshing drink while watching the surfers riding the golden sunset waves.
Unwind at a yoga class
Looking to practice yoga in Canggu? There are many places to go in Canggu for yoga, from open-air classes to beach classes and even free classes. Here are some of the best studios:
The Practice
A high-end yoga center with amazing classes and world-class teachers in a truly breathtaking setting!
Location:

Jl Batu Bolong No.94A, Canggu.

Open:

daily 7 am – 8 pm
Samadi Bali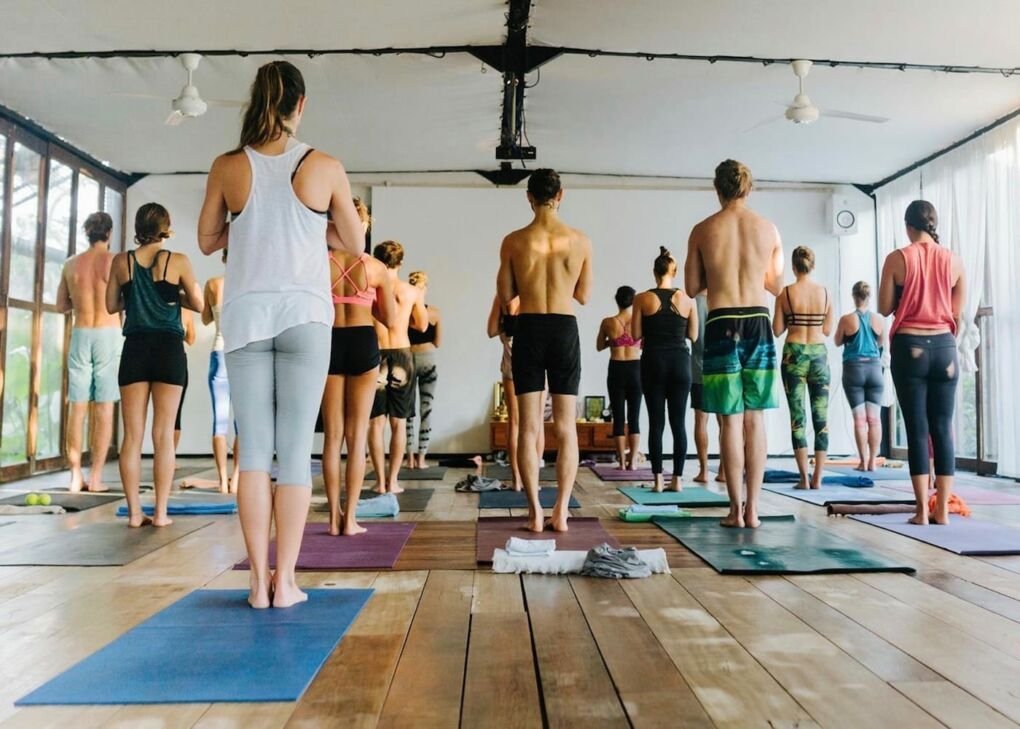 The best place to go in Canggu to find yoga classes, yoga teacher training, and holistic wellness treatments all under one roof.
Location: Jl Padang Linjong No. 39, Echo Beach, Canggu
Open: daily 7 am – 9 pm
Pranava Yoga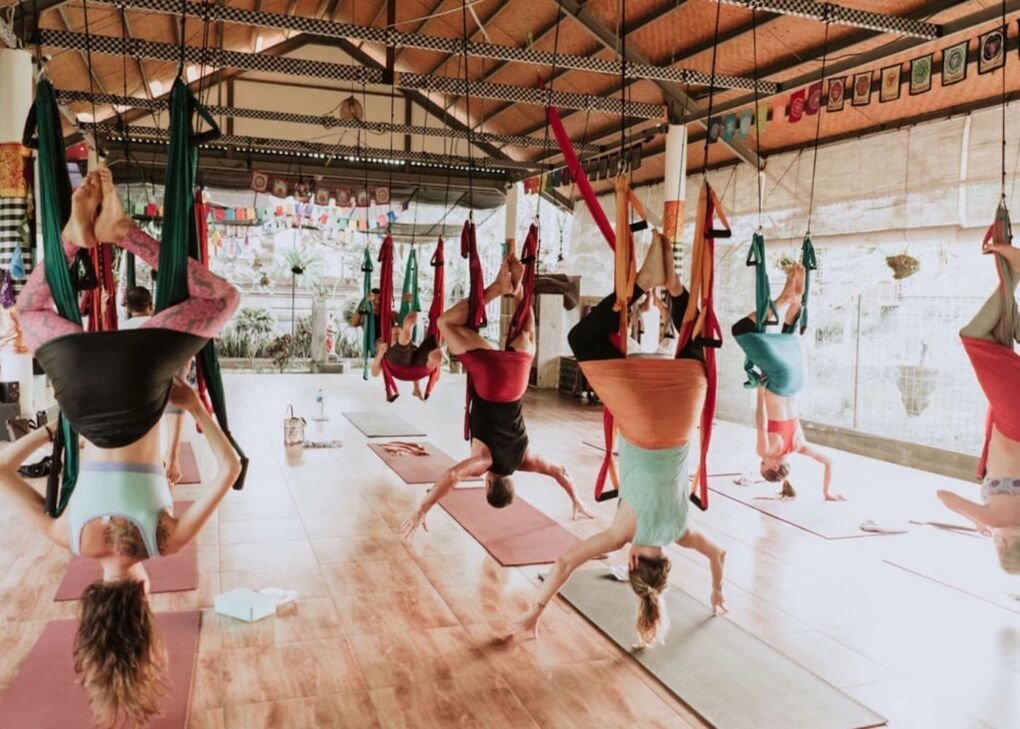 Anti-gravity yoga and daily classes for all levels in a community environment.
Location: Jl Pantai Berawa Br Pelambingan No. 37
Open: Daily, 10 AM – 6:30 PM
Explore the markets
Canggu is home to many markets. Here are some of the best places you should visit:
Berawa Kitchen Market – on Saturdays between 1 pm to 9 pm.
Old Mans Market – lively marketplace with over 150 stalls.
Samadi Sunday Market – near Echo Beach, they sell fruit + veg and other foods as well.

filled with hipster cafes, stays, and everything quirky.
Experience a traditional Balinese dance
Head to Hotel Tugu in Canggu and experience live Balinese dance and musical performance.
The event is open to both people staying at the hotel and visitors every Thursday night.
Hotel Tugu Bali was the very first hotel in Canggu, and also has a museum that holds the biggest collection of fine Indonesian art and cultural antiques in the country.
It's worth a visit, even if it's just for a coffee!
Places to go in Canggu – Unique Experiences
Try a Nitrogen Expresso Martini in Bali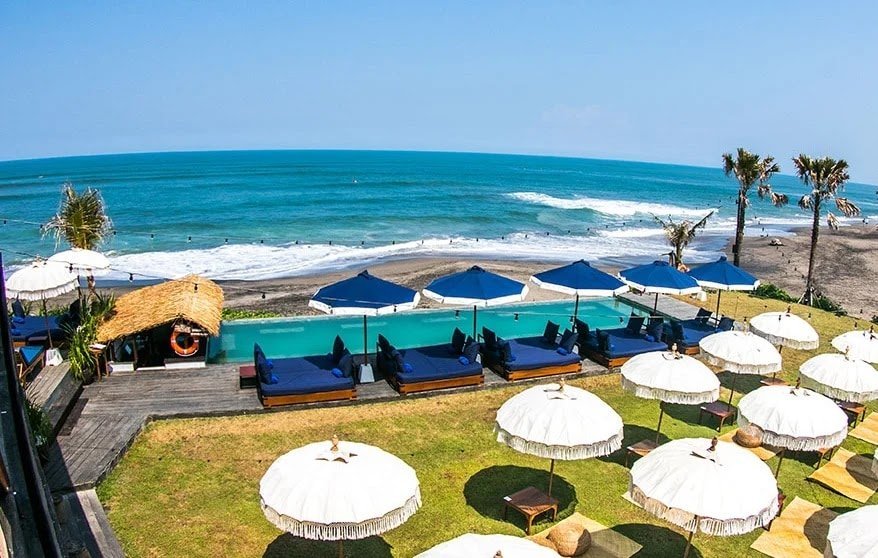 Location: Jalan Pura Dalem, Canggu, Canggu, North Kuta, Badung Regency, Bali
Open: 10 AM to 10 PM
Find the famous Canggu Shortcut
The notorious Canggu shortcut is a small brick road between rice fields. It's known for traffic, road falling apart and for some odd reasons cars always attempt to use the shortcut but most don't make it!
Find the bar behind a broken fridge door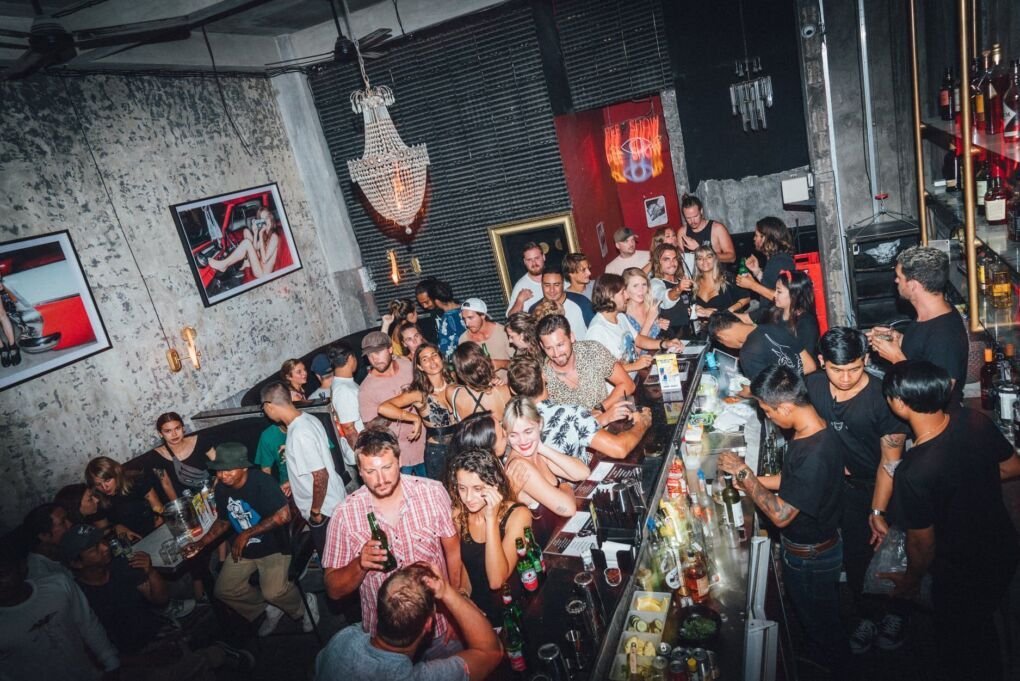 Bali is home to many quirky bars including one Hidden in a mini-mart in Canggu. At the back of the mini-mart is a fridge labeled "broken" and behind the door lies a speakeasy. The bar, called Black Cat Mini Mart, is located at Jalan Subak Canggu in Bali.
Throw axes like Vikings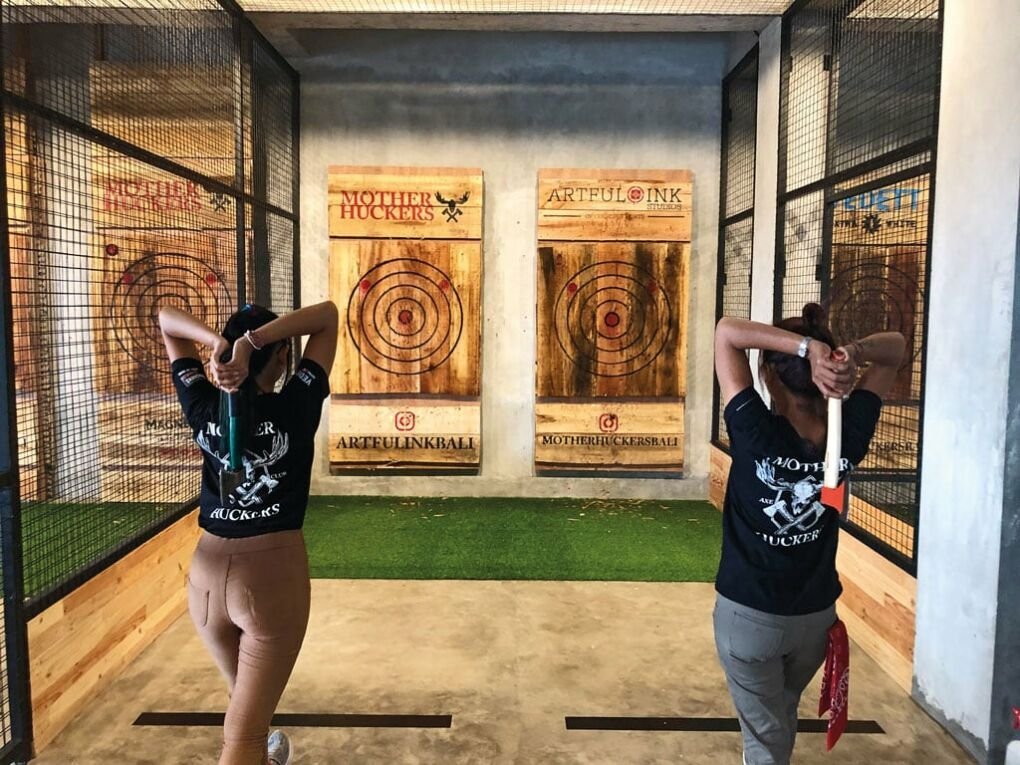 Mother Huckers is bringing the thrill of a traditional Canadian backyard pastime to the Island Of Gods! They combine the rush of ax throwing with great music, cold beers & lively atmosphere. It costs IDR 250,000 per adult and IDR 200 000 per child.
Book online to reserve your spot at Mother Huckers.
Location: Jl. Batu Belig, Kerobokan Kelod, Kec. Kuta Utara, Kabupaten Badung, Bali 80361
Open: Daily, 2 PM – 10 PM
Get a scoop of Nitro Ice Cream
The Creamery serves the best sundaes, milkshakes, ice cream sandwiches, nitro ice cream, and frozen yogurt on the island! Some of the best flavors include black forest, red velvet, and dark chocolate.
They also have every topping you can imagine and you can expect 100% natural ingredients and 0% artificial stuff! At the moment (October 2019), they have a Milkshake Monday and Sandwich Saturday special where you buy one and get one free.
Location 1: Jl. Pantai Berawa No.8, Tibubeneng, Bali
Location 2: Tamora Gallery, Pantai Berawa, Bali
Day trips from Canggu
If you fancy leaving Canggu for the day, you can easily plan a trip to the other islands or hop on a scooter and drive to one of these amazing locations for day trips from Canggu.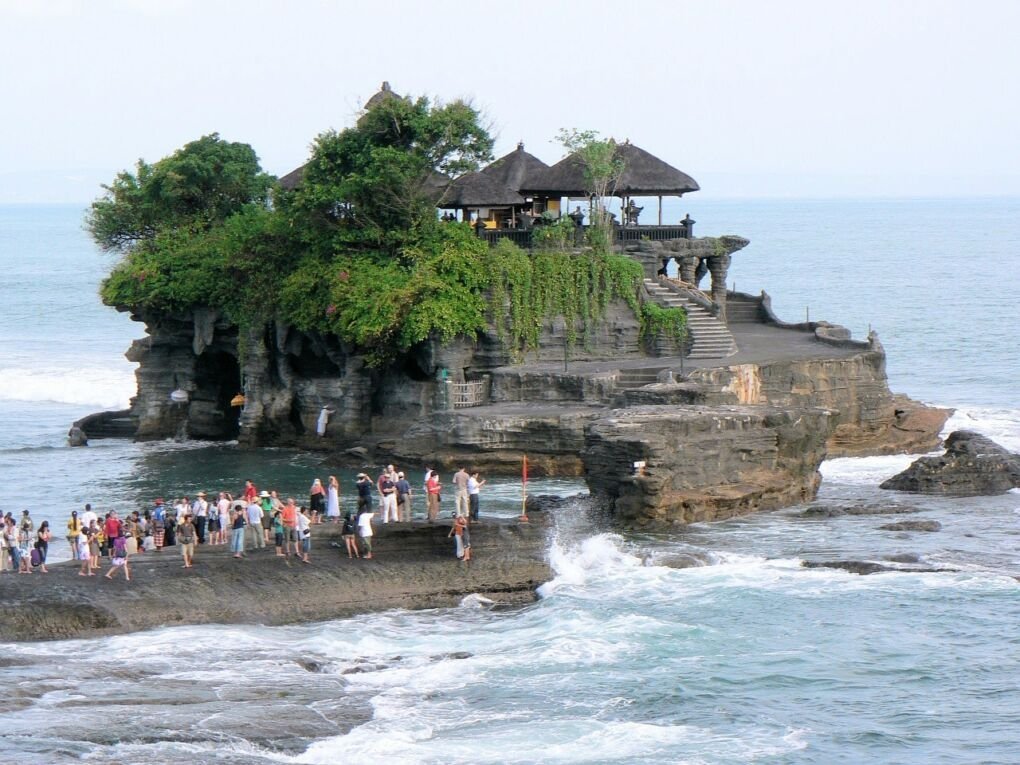 Tanah Lot means Land in The Sea. Tanah Lot is one of seven sea temples that form a chain along the island's southwest coast, with each temple built to be in sight of the next. Its located about 30 km from Canggu in Tabanan. The temple is about 300 meters offshore and there are many legends and myths surrounding its historical roots.
Tanah Lot Temple is open Sun-Sat (7:00 AM – 8:00 PM).
Explore Pantai Soka
Soka is a boulder-strewn black-sand beach near one of the best rice fields in Bali, with several low-key eateries & the Museum Ogoh-Ogoh Soka. Just 1.5 hours from Canggu, this is one of the best day trips from Canggu by scooter.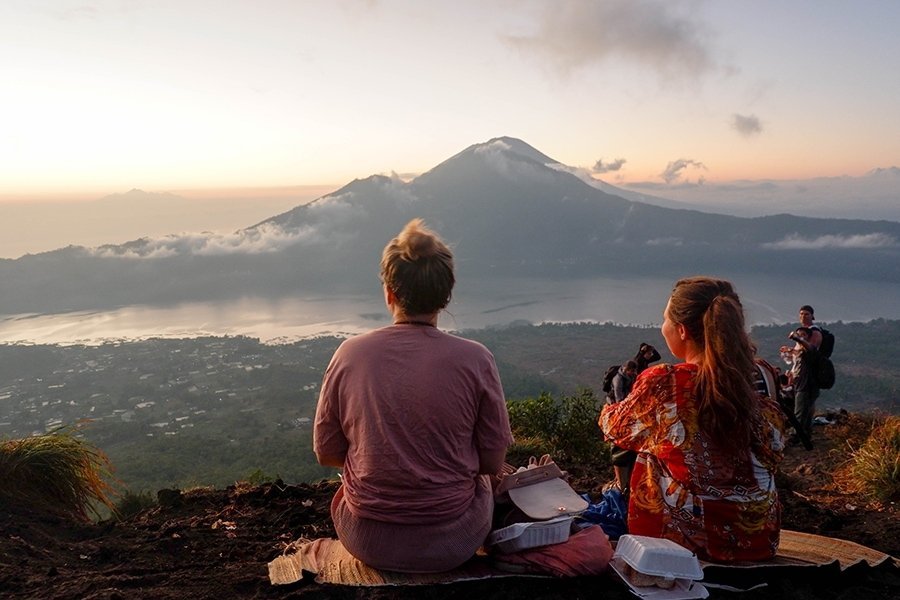 One of the best day trips from Canggu! Watch the sunrise from the top of Mount Batur on an early morning hike up Bali's most emblematic mountain.
Experience the stunning views from the active volcano near the village of Kintamani, and learn more about the region from a local private guide.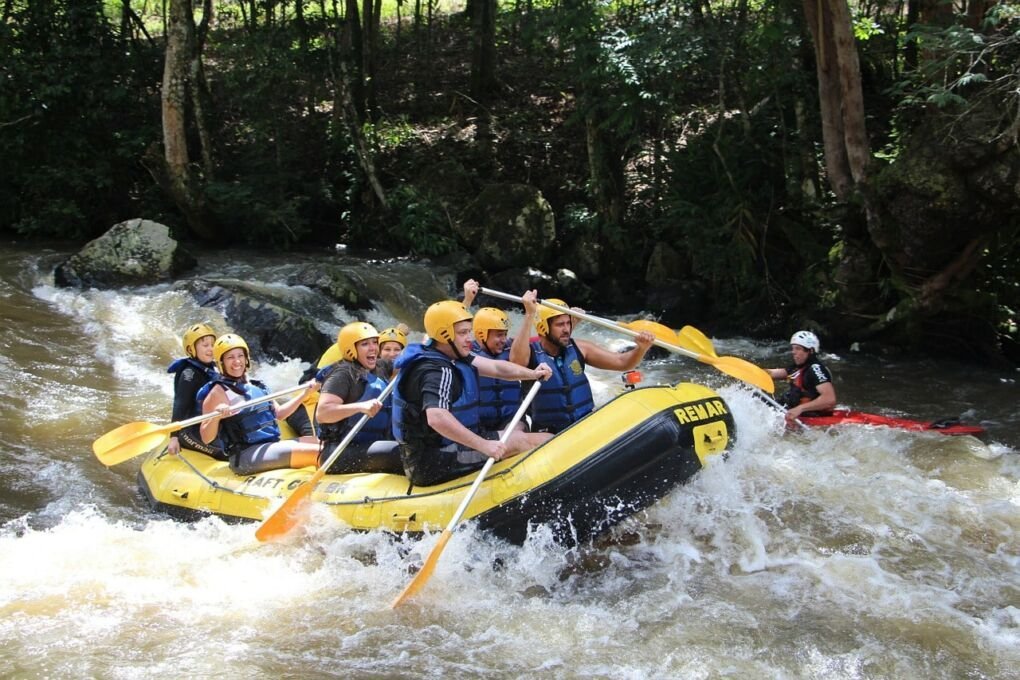 The Ayung River is Bali's longest river in Indonesia. It runs for 68.5 kilometers from the northern mountain ranges, passing the regeneration of Bangli, Badung, Gianyar, and Denpasar before discharging into Sanur's Badung Strait.
The river is famous for white water rafting.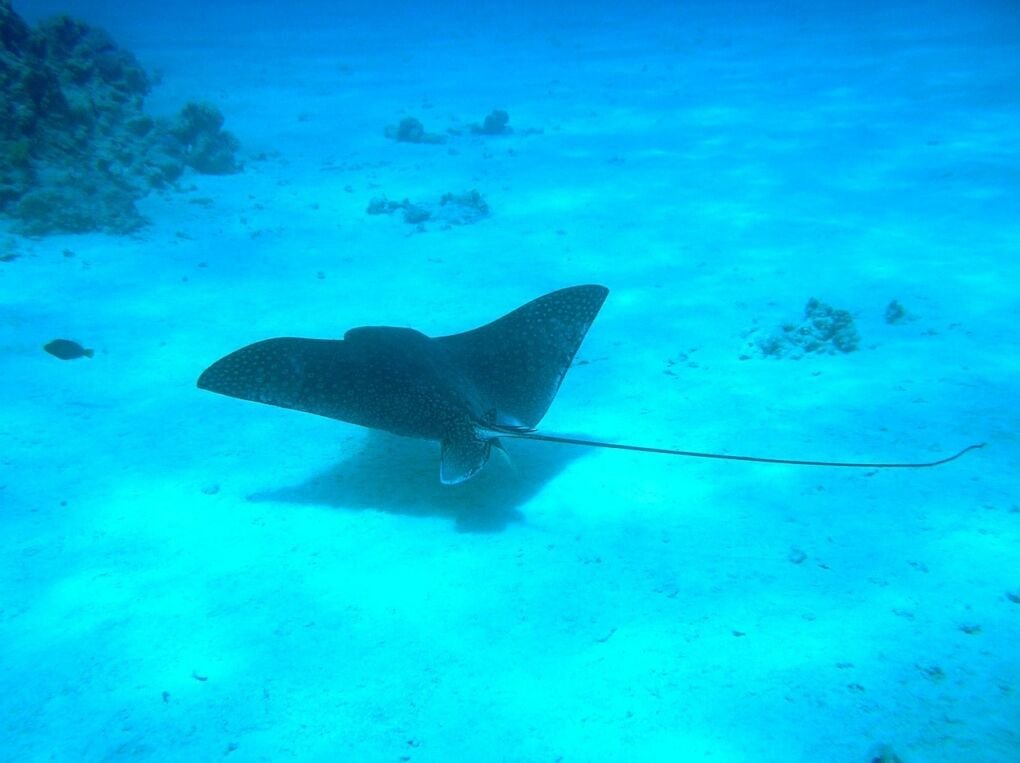 Swim with Nusa Penida's magnificent manta rays on one of the most incredible snorkeling day trips from Canggu.
Stop at the iconic Manta Bay, explore Crystal Bay's natural beauty, and head to Mangrove Point for the Indian Ocean's ideal snorkeling experience.
Alternatively, you can explore all Nusa Islands in 4 days to see some of Indonesia's 17 ooo + Islands.
See Bali's picturesque rice terraces, regional temples, and spectacular scenery.
Discover an active volcano and lake in Kintamani. Discover Balinese culture on tropical plantations and the glorious heritage and nature, and more.
Gili Islands
The Gili Islands are a group of 3 tiny islands – Gili Trawangan, Gili Meno, and Gili Air – in Indonesia, near the coast of northwest Lombok Island.
Gili Trawangan is the westernmost island, perfect for awesome sunset shots, the great food scene, an entertaining nightlife.
Gili Meno is located in the middle of Lombok's three Gilis. It has a population of about 300, mainly concentrated in the center of the island. The main income of the population comes from tourism, coconut plantation, and fishing. There are beaches all around the island, as well as an impressive bird sanctuary.
Gili Air is closest to the Lombok mainland it is the most overlooked of the three Gili islands in terms of development. However, that is all set to change as the market here is geared very much towards the budget traveler and tropical island explorer. A lot of visitors actually prefer the grassroots atmosphere of Gili Air and the feeling of really being part of a close-knit local community.
Uluwatu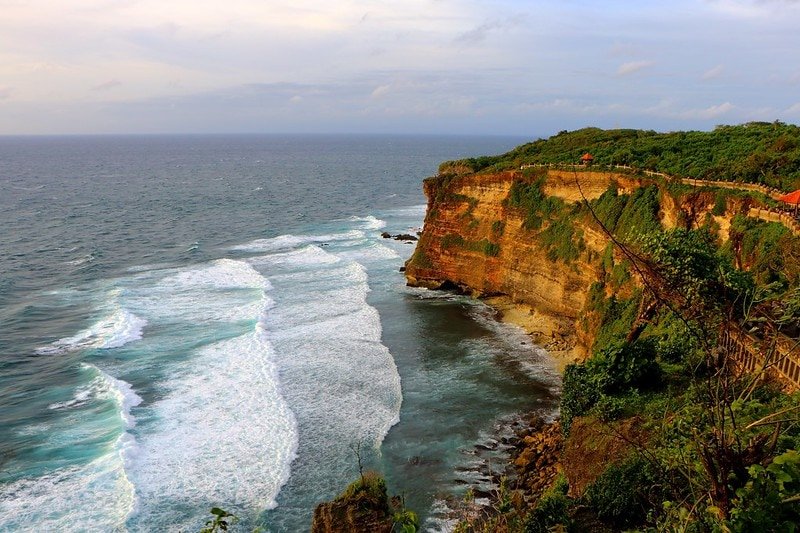 Uluwatu is one of the most picturesque places to visit in Bali, not only is Uluwatu the perfect day trip from Canggu but there are so many things to do in Uluwatu. The area is famous for its breathtaking cliffs, lack of traffic, and one-of-a-kind beaches.
Nusa Lembongan
Nusa Lembongan is an 8 km2 island that is surrounded by the clearest turquoise water imaginable. With a population of about 5000, this island has a perfect balance of gorgeous beaches for relaxing and fun activities for active travelers. This is a popular destination for snorkeling and surfing with fewer crowds.
Taman Tirtagangga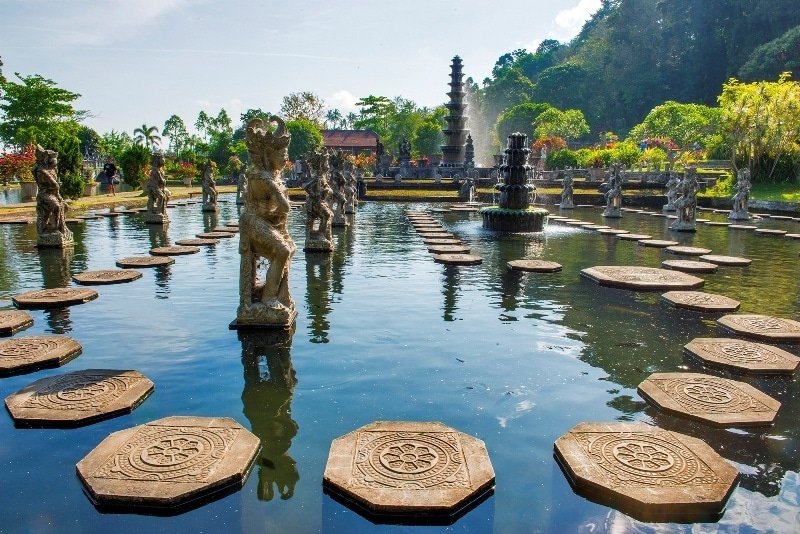 Known for its Karangasem royal water, bathing pools, a Patirthan temple, its cultural and religious significance, Tirtagangga Palace is one of the best day trips from Canggu. Just a 2.5-hour drive from Canggu, the palace shows a unique mixture of Balinese and Chinese architecture. It was built-in 1948 and today visitors can take a dip in the swimming pool, see the amazing fish or have a sip of the holy water before enjoying lunch at the restaurant.
The Best of Canggu
Places to go in Canggu – Co-Working Spaces
Canggu is a digital nomad haven and home to many co-working spaces. To be honest, I found some of them to be expensive compared to what they offer, so I included the best some places for co-working in Canggu that are actually quiet cafes where you don't have to pay a fee to work but can just buy a meal and use their free WiFi.
Dojo Co-Working Space in Canggu
Dojo in Canggu is a hip two-story venue a stone's throw from the world-famous surf break Echo Beach.
It boasts state-of-the-art facilities, 6 business grade load-balanced fiber-optic lines, an amazing pool surrounded by lush tropical gardens, air-conditioned conference rooms, 3 x air-conditioned soundproof private skype booths, hot showers and a mix of large breezy spaces and nooks for collaborative or individual work.
They are also known for regularly hosting events with and for the community, including masterminds, workshops, community BBQs, skill-sharing sessions, networking events, inspirational events, and social meetups.
ZIN Cafe in Canggu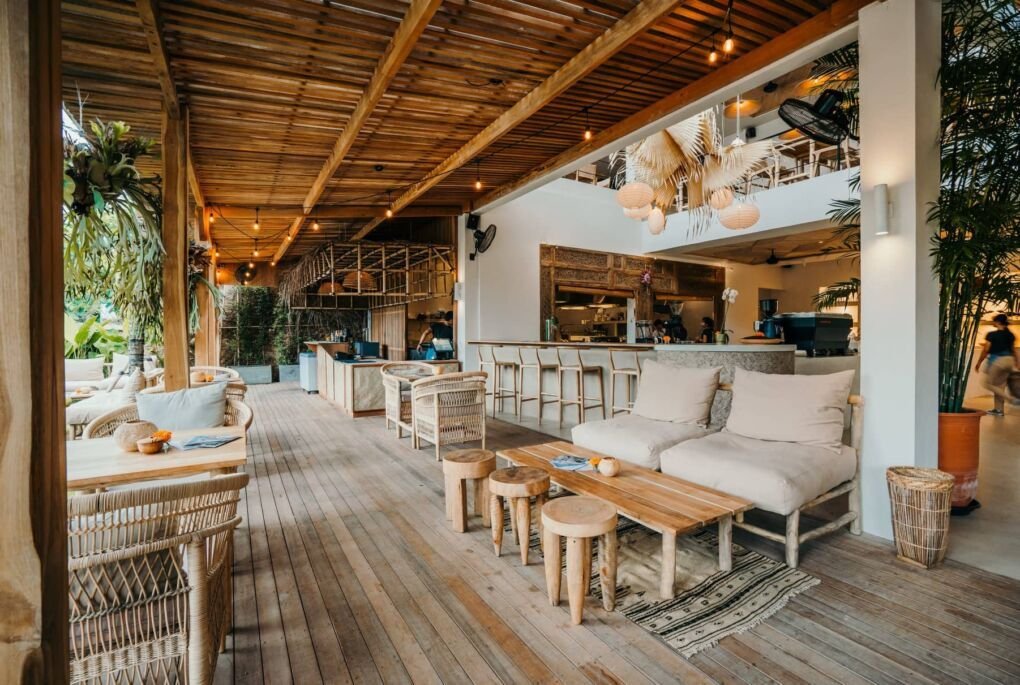 ZIN Cafe is an open-air 3-floor space, bright and breezy for relaxing, dining, networking or working.
Located at the end of Jalan Nelayan, only 2 minutes from the sea, this masterpiece bamboo building provides the freshest of organic and local ingredients. From Insta-worthy smoothie bowls, all-day breakfast, a large range of vegetarian dishes, and twisting regional Indonesian dishes – there's no wonder digital nomads are literally flocking there!
I loved working at ZIN Cafe because it was one of the few places that opened at 7 am.
Outpost Co-working & Coliving in Canggu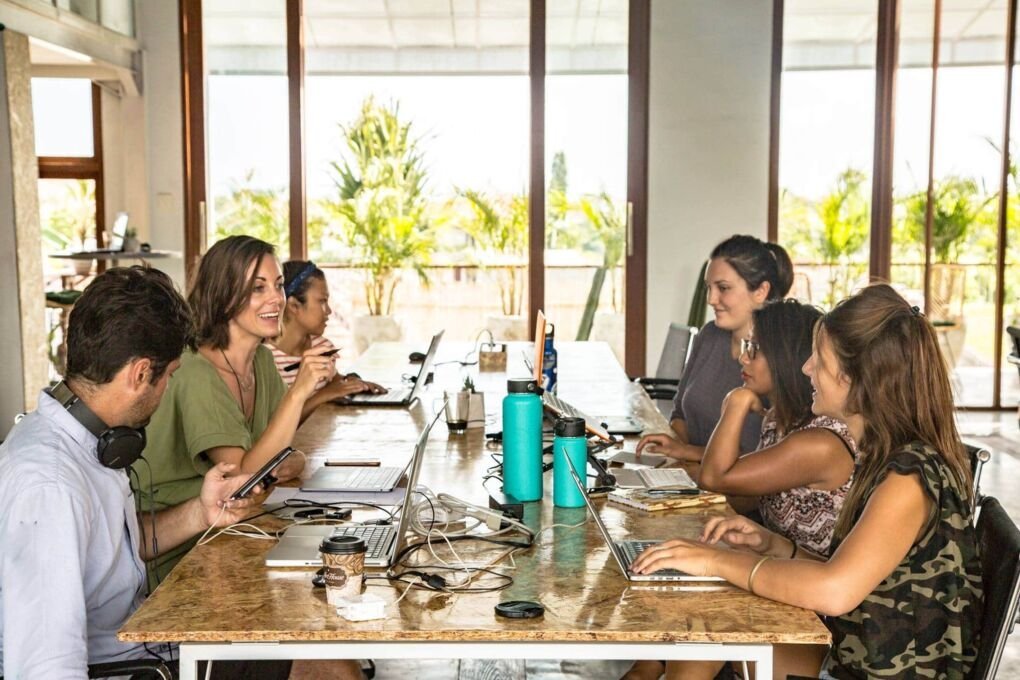 Outpost offers co-working and co-living spaces in three locations in Bali and one in Cambodia. Canggu Membership also includes free use of their Ubud space, so you can explore Bali and stay productive!
Some of my favorite cafes
Pangaea Cafe
The Loft
Manas Cafe
Places to go in Canggu – Nightlife
Old Man's Canggu
Old Man is a beer garden near the dark sand beachfront of Batu Bolong Beach, it's popular for happy hour deals, and live music. They have different events each night but Wednesday's are the biggest party night by far. Expect beer pong, people dancing on tables and club music!
Location: Jalan Pantai Batu Bolong No.117X, Canggu, Badung, Bali 80351
Open: Daily from 7 am to 1 am
Pretty Poison in Canggu
Popular with the skating crowd in Canggu, Pretty Poison is a bar with a skating park. They have live bands, open mic evenings, and great crowds. Tuesdays and Thursdays are the best days to go!
Location: Jalan Subak Canggu, Canggu, Badung, Bali 80361, Indonesia
Open: Daily from 4 pm to midnight
Deus Ex Machina in Canggu
Deus is a cafe, art gallery, bar, vintage motorbike shop, and surfboard factory!
It's a popular place for surfers and motorsports enthusiasts. They have an amazing range of cocktails including 1-liter jugs.
The best day to go in on Tuesday for their Tacos-n-Tatts Tuesday. Where you can get a free tattoo for totally free when you buy tacos. Get there early if you want a tattoo – the event starts at 5:30 PM!
Location: Jalan Pantai Batu Mejan No.8, Canggu, Badung, Bali 80361, Indonesia
Open: Daily from 7 am to midnight
Places to go in Canggu – Vegan Food
Bali is a vegan food haven! There are many places to go in Canggu for Vegan food, you could probably eat at a different vegan restaurant every day during your stay in Bali.
Kari Restaurant in Canggu
Kari Bali is one of my favorite places to go for lunch!
They have the best freshly squeezed fresh juices and affordable meals. The staff members are amazing and it's generally a great place to hang out or meet friends for brunch!
Location:

Pantai Batu Bolong St No.46C, Canggu, North Kuta, Badung Regency, Bali 80351

Open: Monday – Saturday from 9 AM – 9:30 PM
I Am Vegan Babe in Canggu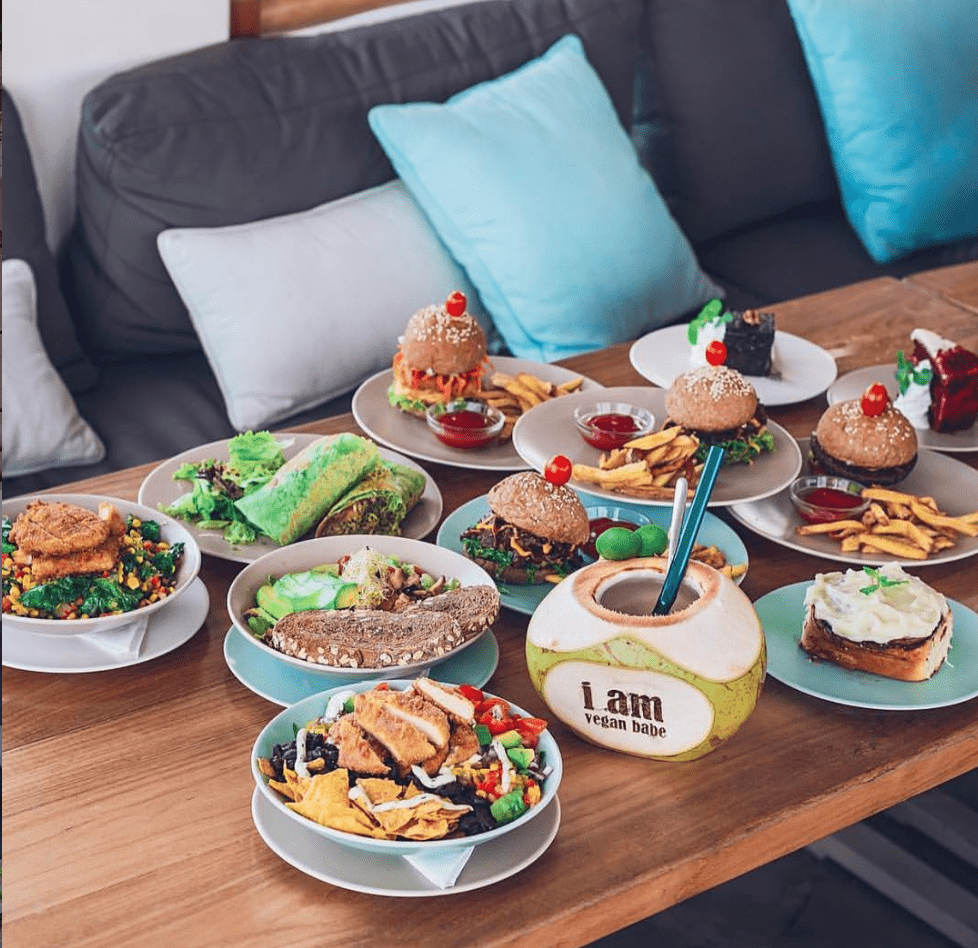 This 100% Plant-Based restaurant specializes in delicious breakfast and lunch ONLY.
Location: Jl. Tanah Barak No.49, Canggu, Kec. Kuta Utara, Kabupaten Badung, Bali 80351
Open: 7 AM to 4:30 PM
Oma Jamu Vegan in Canggu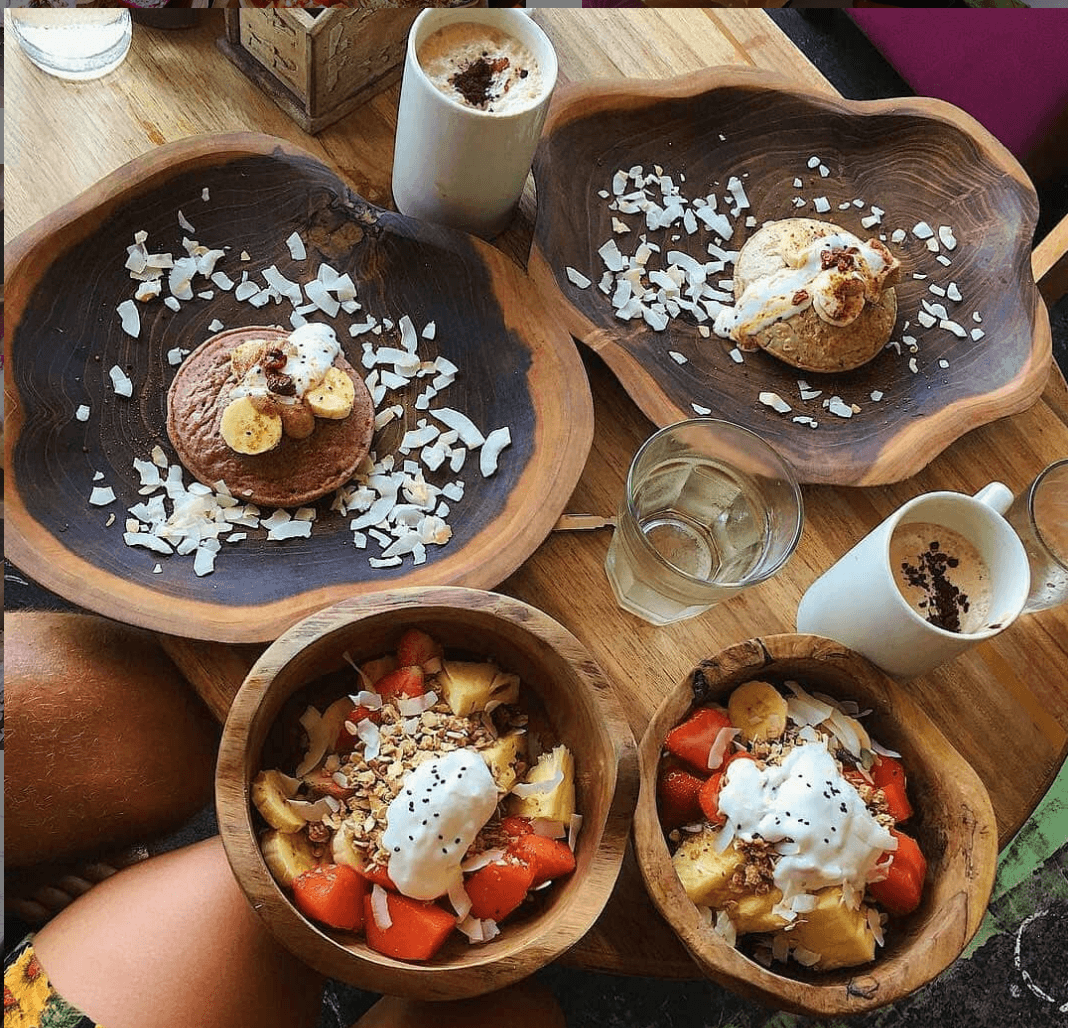 Oma Jamu is an amazing buffet style vegan restaurant, It's more expensive than an average Indonesian restaurant but the food is worth it! I loved their Turmeric cappuccino!
Location: Front of Pura Puseh, Jl. Pantai Batu Bolong No.46a, Canggu, Kec. Kuta Utara, Kabupaten Badung, Bali 80361
Open: 7 AM to 9 PM
Places to go in Canggu for Indian Food
If you love spicy food as I do, you'll find that food in Bali not spicy and you'll end up asking for Sambal (chilli sauce) with every dish. While living in Canggu I discovered a few amazing vegan Indian places
Roti Daal in Canggu
This is probably the most authentic Indian restaurant in Canggu! The eatery dishes up the best vegetarian & vegan Indian plates. Think dhal, Matar Paneer, samoosas, Alu Gobi, Malai Kofta and even masala chai.
Location: Jl. Pantai Berawa, Canggu, Kec. Kuta Utara, Kabupaten Badung, Bali 80361
Open: 7:30 AM to 10 PM
Art of Spice to Canggu
Art of Spice in Bali is an upscale Indian restaurant serving some of the most authentic Indian dishes in Bali. It's a great place to go for a date night!
Location: Jl. Batu Belig, Kerobokan Kelod, Kec. Kuta Utara, Kabupaten Badung, Bali 80361
Open: Daily from 10 AM to 10 PM
Roti Canai in Canggu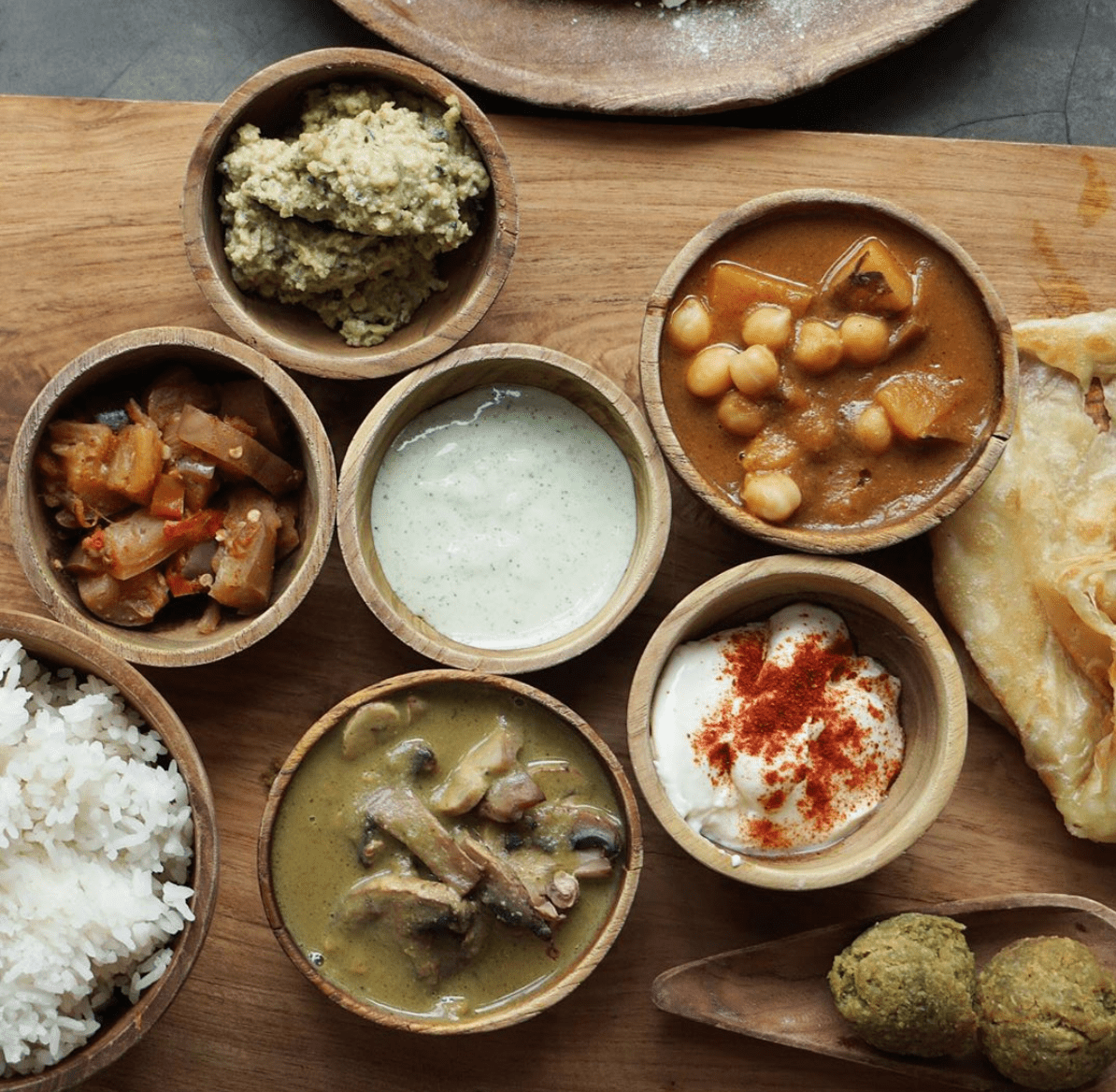 The first time I walked into Roti Canai Street Food – I actually left because I wanted garlic naan and dhal and they don't really have a wide selection of Indian dishes.
They have western food like Bali Bowls, and avo on toast, etc. The only "Indian food" they have is roti and you can have it with curry or savory toppings like ice cream and toppings.
Location: Jl. Pantai Berawa, Canggu, Kec. Kuta Utara, Kabupaten Badung, Bali 80361
Open: 7 AM to 10 PM
Places to go in Canggu – Indonesian food
Go Warung Hopping in Canggu! Authentic dishes from around the archipelago are available at fixed prices, making you feel more at home in Indonesia, giving you a cheaper alternative to the prices charged in restaurants and hotels.
Many Warungs are simply wooden shacks with a few plastic chairs along the roadside, a table (if anything), a rice cooker, and a frying pan gas stove.
A warung is a type of small family-owned business — a small restaurant or café — in Indonesia, and to a lesser extent, Malaysia. A warung is an essential part of daily life in Indonesia.
Warung Dandelion in Canggu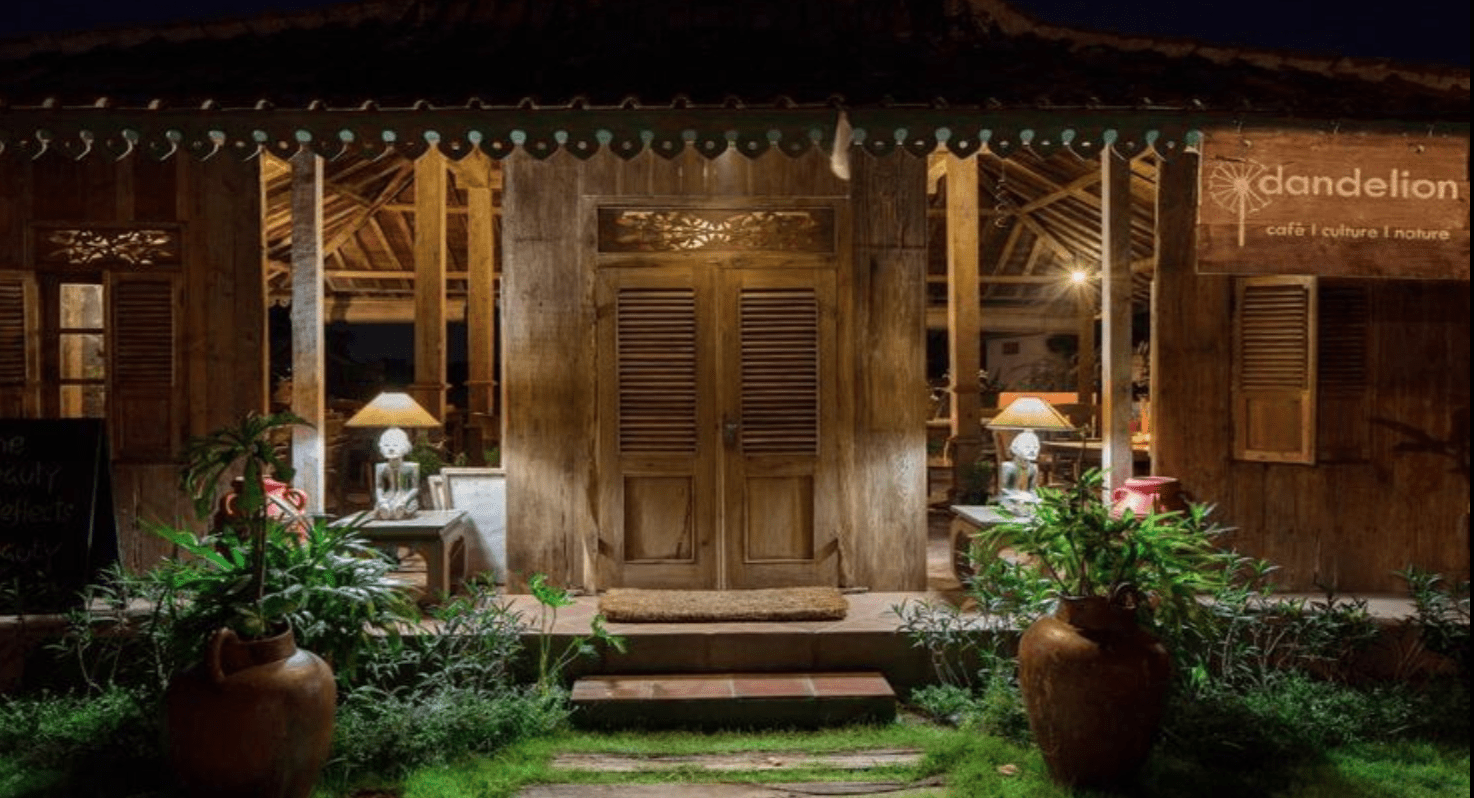 Warung Dandelion is one of the most famous Indonesian restaurants in Bali.
You'll be blown away by the amazing menu, vegan options, and amazing service.
Location: Pantai Batu Bolong St No.10, Canggu, North Kuta, Badung Regency, Bali 80361
Open: 3 PM to 10 PM
Ulekan Bali
Most people's impression of Indonesian food doesn't extend beyond Nasi Goreng (fried rice) and Mie Goreng (spicy fried noodles).
Ulekan Bali is the place to go for a fine dining Indonesian experience. We had dinner for two and it cost us US$ 25. One thing to keep in mind is that its always busy so it's important to make a reservation dinner at Ulekan Bali.
Location: Jl. Tegal Sari Jl. Pantai Berawa No.34, Tibubeneng, Kec. Kuta Utara, Kabupaten Badung, Bali 80361
Open: 11 AM to 10 PM
Warung Bu Mi in Canggu
Location:

Pantai Batu Bolong St No.52, Canggu, North Kuta, Badung Regency, Bali 80361

Open: 10 AM to 10 PM
Places to go in Canggu – Beauty Guide
Need braids in Bali? Call Kantina
There's nothing as stressful as finding a salon where they do African Hair when traveling!
Ask any black girl and she'll tell you! You're either charged extra or they simply say sorry we can't help.
You have no idea how happy I was to find Katina in Bali. He's based in the capital city, Denpasar but his a mobile hairdresser and can basically come to any location in Bali. Find him on Instagram.
Want a face of gold? – Gold Dust Canggu
Everyone from Kim Kardashian to Jessica Alba has been touting these gold face masks. If you want to try this gold mask, head to Gold Dust in Bali – proud of its reputation for offering the best non-cosmetic facials in Bali.
Their signature face treatment, the 24K GOLD facial is the star of the show and unique to GOLDUST – that's how they got the name! Prepare to leave feeling like GOLD.
The signature anti-aging facial stimulates collagen production and reduces fine lines and wrinkles. After a deep cleanse pure 24K GOLD is applied and infused into the skin with a GOLD micro roller. This luxurious treatment leaves your skin nourished, hydrated, and glowing.
In October 2019, the facial took 90 minutes and cost IDR 1 450 000. They also have a GOLD Botox LED Facial which costs 1 250 000. Visit their site for updated pricing and bookings.
Wanna get a face beat? Head to Bali Makeup School
Head to the Bali Makeup School is owned by Ken Alcindor, an international Dior makeup artist.
Not only do they do makeup but they offer workshops, classes and you can even get a certificate after completing your course.
Where to stay in Canggu
Canggu is the main area where all the major shops, bars, and restaurants are located. For good walking distances.
Anginsepoi Resort features villas with outdoor showers and traditional Balinese décor with a contemporary flavor. The resort offers free Wi-Fi and massage services at a charge. A restaurant offers views of the Indian Ocean.
[maxbutton id="1″ url="https://www.booking.com/hotel/id/angin-sepoi.en.html?aid=1558524&no_rooms=1&group_adults=1″ ]
Set in Canggu and with Echo Beach reachable within 1.9 km, Body Factory Bali offers a garden, non-smoking rooms, free WiFi and a fitness center. All guest rooms come with air conditioning, a flat-screen TV with cable channels, a fridge, a kettle, a shower, a hairdryer, and a desk. At the hotel, the rooms come with a wardrobe and a private bathroom.
[maxbutton id="1″ url="https://www.booking.com/hotel/id/body-factory-bali.en.html?aid=1558524&no_rooms=1&group_adults=1″ ]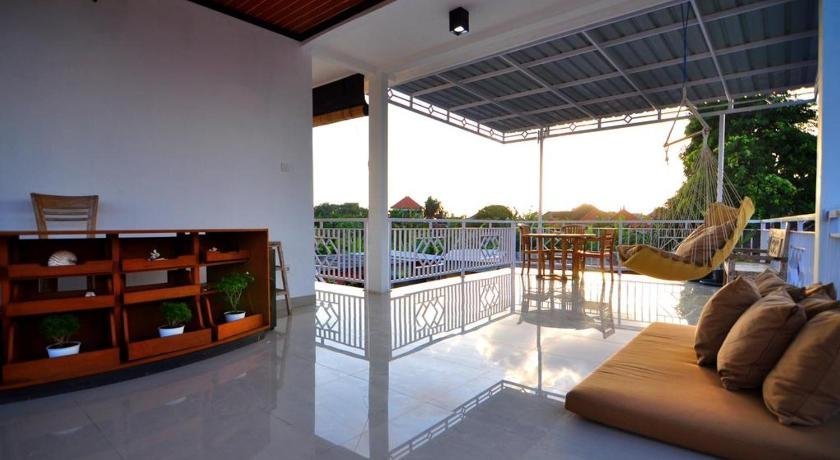 Located in Canggu, 2.8 km from Echo Beach, Olala Homestay Canggu features private accommodation with free WiFi and a terrace. Both a bicycle rental service and a car rental service are available at the homestay.
[maxbutton id="1″ url="https://www.booking.com/hotel/id/olala-homestay.en.html?aid=1558524&no_rooms=1&group_adults=1″ ]
---
More Indonesia Travel Guides
---
Best Travel Insurance for Bali
Use travel insurance while visiting Bali so you are covered for theft and medical expenses. There are a lot of places of interest in Bali, and it's best to have peace of mind while swimming, hiking and trying some of the best food in the world.
Find out why I recommend World Nomads, check out my World Nomads Insurance review.
Disclaimer: This article contains affiliate links. This means that if you make a booking after clicking on a link, I may receive a small commission at no extra cost to you!