Are you in need of a serene and scenic getaway? Looking to unwind and take in breathtaking mountain views, breathe in crisp cool air, and immerse yourself in a vibrant culture with a friendly community? Well… Kyrgyzstan is the place for you.
This unsung hero of Central Asia is tucked between the Tien Shan and Pamirs mountain systems and was once a stop on the Silk Road. The landlocked country, also known as The Kyrgyz Republic, shares borders with Uzbekistan, China, Tajikistan and the capital city of Almaty, which is one of the best places in Kazakhstan.
Did you know that Kyrgyzstan gained its independence from the Soviet Union in 1991? Since then, the country has become a hidden gem for people from all walks of life.
With its growing popularity, you might have a very important and expected question. Is Kyrgyzstan safe for tourists? How about we break it down for you?
Why Visit Kyrgyzstan
The first thing worth noting when talking about Kyrgyzstan is its magnificent mountains. The Tien Shan is an expansive mountain range that covers many countries but mostly lies in Kyrgyzstan. Paired with this, Kyrgyzstan is a unique destination with one of the best festivals in the world, the World Nomad Games.
There are countless hiking trails across the country. You could go swimming in Issyk Kul Lake, the second-largest alpine lake in the world. Looking for an equine-themed adventure? Imagine how fun sightseeing while horseback riding through the Chon Kemin National Park would be.
The local communities are extremely friendly and happy to share their culture. You could visit Son Kul Lake and experience life as a Kyrgyz nomad by staying within a yurt camp.
You cannot forget to take in the culture and history. Visit the State History Museum of Kyrgyzstan, which happens to be one of the largest museums in Central Asia. You could also visit The Toktogul Literature Museum or the Sulayman-Too National Historical in Osh.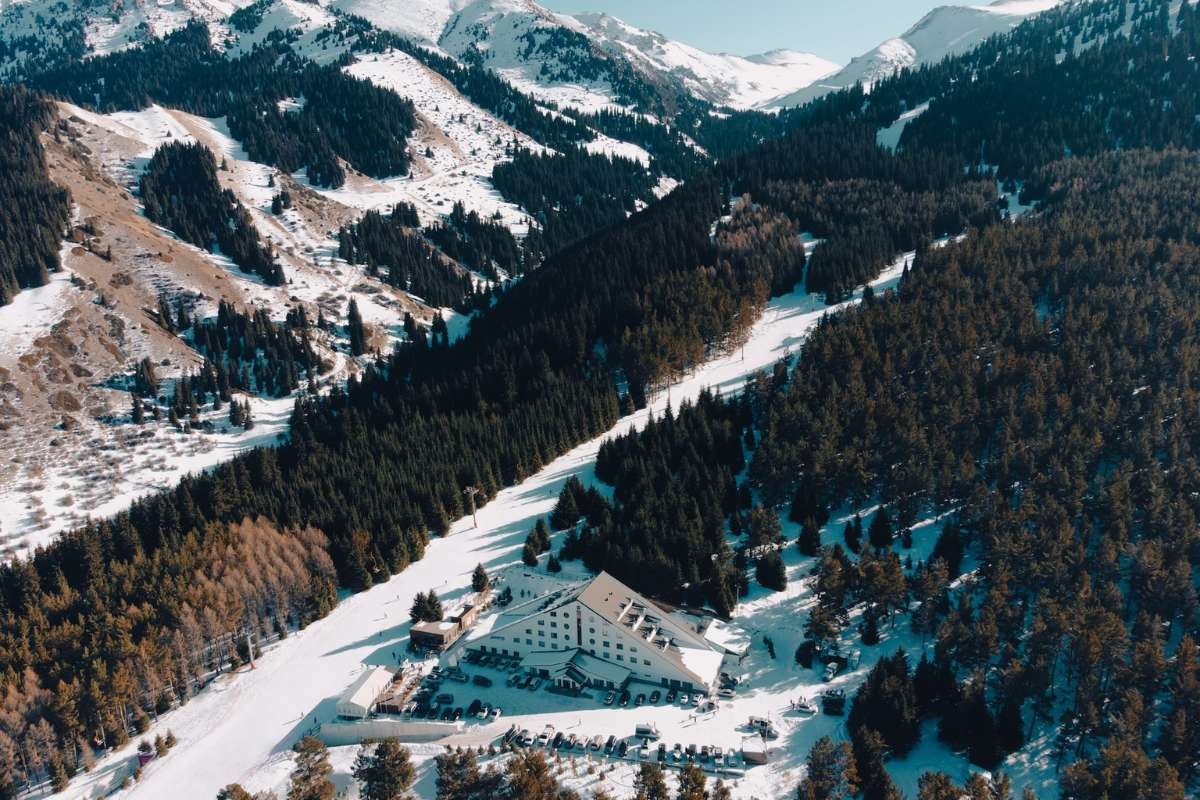 Is Kyrgyzstan Dangerous?
The snowy mountainous country is a beautiful travel destination and relatively safe as well. But like with every place, it has its drawbacks. Tourists can be targeted, especially for petty small-time crimes like pickpocketing, scams, and bag snatching. The more serious crimes mostly affect locals.
The organized crime market is prevalent due to corruption in the country. Although the government has taken steps to try and get rid of corruption and bribery, it remains a problem. Keep in mind that the weather can be extreme. The climate crisis has hit Kyrgyzstan hard and has led to more natural disasters responsible for a negative impact on the economy.
Dangerous Areas in Kyrgyzstan
Mailuu-Suu
The quaint, tucked-away region of Mailuu-Suu is considered to be one of the most dangerous places in the country. It is surprisingly not due to crime but instead due to its high levels of radioactivity.
Between 1946 and 1968, there was a facility that processed and stored Uranium supplying nuclear weapons to the USSR. Radioactive waste was not disposed of safely, and up until today, the town suffers because of it. Residents being exposed to radioactive materials and waste has led to an increase in cancer (especially lung, breast, and stomach cancer) and birth defects.
A bacteria was discovered in rivers that caused typhoid fever, which means that anytime there's a flood, earthquake, or land/mudslide, the land and rivers are further contaminated.
Kyrgyzstan–Uzbekistan/ Kyrgyzstan-Tajikistan Borders
Kyrgyzstan shares borders with different countries. You might be thinking it's a bonus point for collecting stamps in your passport, right? Not necessarily in this case. Because of the unrest and crime in some countries, borders could be closed at any minute should a threat arise.
The Kyrgyzstan–Uzbekistan and Kyrgyzstan–Tajikistan borders are quite dangerous. When unrest and conflict break out at the borders, it is deathly dangerous for anyone nearby. You could be detained or seriously injured and caught in a crossfire.
Being safe at border crossings is an essential tip. Always take your passport with you and double-check that the border is secure for crossing (has it been declared safe by government officials?)
Is it Safe to Live in Kyrgyzstan?
You might know that Kyrgyzstan is a beautiful place to live, but you're probably wondering how safe it is.
Locals are very friendly with tourists and folks looking to relocate. The sense of community and togetherness makes it warm and welcoming. Can you feel Kyrgyzstan beckoning you to visit yet? Families are friendly enough to show and invite you into their yurt (portable round tent), tell you about their history, and share their culture through food and experiences.
As far as safety goes, it's not 100% free of crime. But if you stick to the safe areas, heed the warnings, and listen to the locals, your journey in or through Kyrgyzstan can be a safe, unforgettable, and transformative one.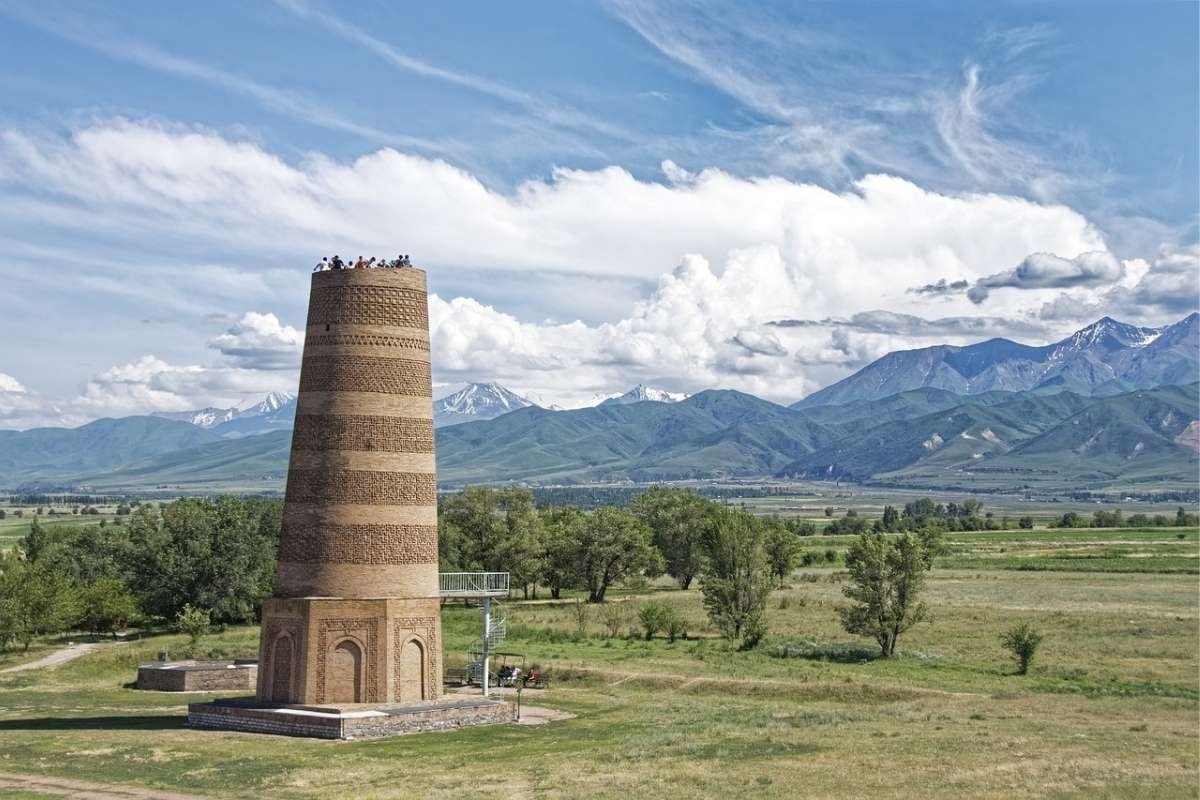 Safe Areas/Cities in Kyrgyzstan
Bishkek
Bishkek is the capital of Kyrgyzstan and has a population of over one million residents. The city has generally low crime rates and is the safest city in Kyrgyzstan for locals and tourists.
Which city has both the largest mosque and largest orthodox church in Kyrgyzstan? Yes, Bishkek! You can see the Central Mosque of Bishkek and the Cathedral of St. Equal-to-the-Apostles Grand Duke Vladimir.
Nature has so much to offer in Bishkek. You could go hiking in Ala Archa National Park or swim in the warm waters of Issyk Kul Lake. In the afternoon, you could take a slow stroll down Erkindik Boulevard and stop for ice cream or grab a bite to eat.
Arslanbob
Located in the Jalal-Abad area of Kyrgyzstan, Arslanbob is home to a must-see Walnut Forest.
The village has some of the most breathtaking hiking trails and mountain views. The Autumn Walnut harvest happens from September to October, and it's a major attraction for families. You could go hiking through the Walnut Forest or head to Arslanbob waterfalls.
Interested in seeing religion and architecture? Well, then you should see Jalal-Abad Mosque and the Uzgen Minaret to get a taste of religion, history, and architecture.
Karakol
The fourth largest city in all of Kyrgyzstan, Karakol, is located off the east of Issyk Kul Lake.
Did you know that the Karakol Ski Base is the highest ski slope in Central Asia? Well, now that you know, are you excited at the idea of going skiing with all those heavenly mountain views?
Karakol offers close proximity to the Tien Shan mountain ranges. This means that you'll be able to go on an exhilarating hike or just admire the views.
The city shows a beautiful mix of cultures in its architecture, its communities, and its delicious cuisine. If you're a fan of dumplings, you have to try some Manti and not forget Ashlan-Fu, the unofficial dish of Kyrgyzstan. You can feast on the sights and on the food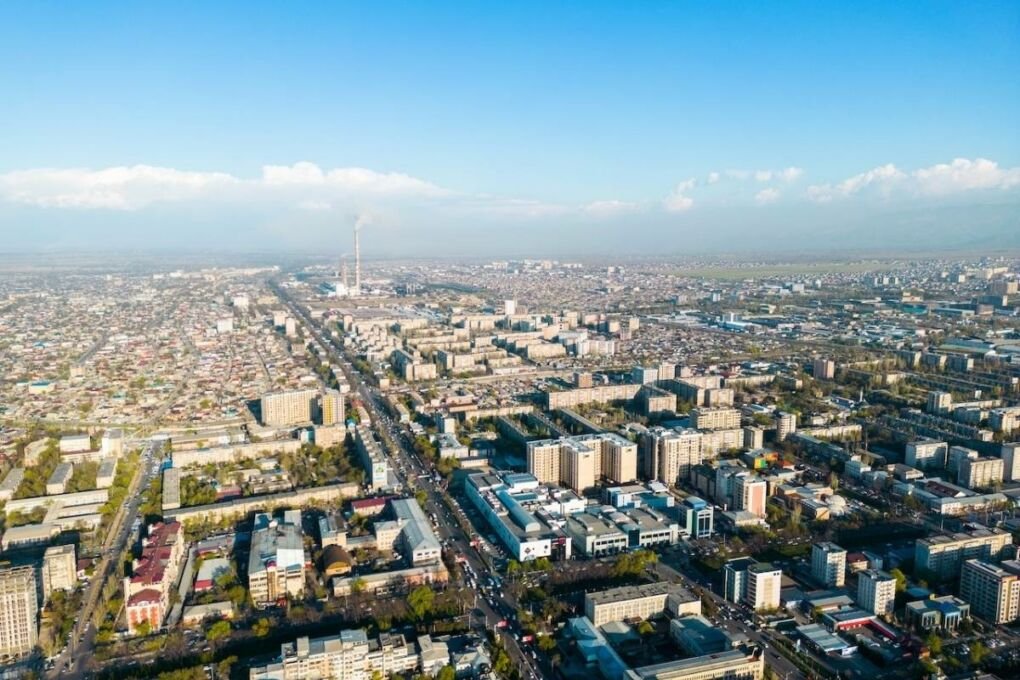 Warnings & Dangers in Kyrgyzstan
Kyrgyzstan has so much to offer. Mountain views to die for, a rich culture, and friendly people. The serene snow-capped destination does, however, come with its dangers.
The criminal aspect of the country is the biggest danger when visiting. There are petty crimes but also organized crime due to the country being a transitional place.
If you plan your trip and figure out what your journey will be, you can avoid any potentially dangerous situations and, therefore, make the best of your adventurous trek through Kyrgyzstan.
Overall Travel Risk (4/10)
The tight-knit community within Kyrgyzstan is welcoming and friendly and is known for making visitors feel at home. The scenic beauty of the country is enough to entice you, but are the dangers powerful enough to cancel out the good?
We've found that the biggest concerns and risks that may influence your travels to Kyrgyzstan are mainly crime and corruption, natural disasters, human and drug trafficking, and lastly, radioactivity in certain areas.
Kyrgyzstan has its risks. There are things to consider when planning your trip to the mountainous wonderland. Doing recon will not only help you decide if the destination is fit for you, but it will also aid the planning process.
Crime and corruption
Petty crimes such as pickpocketing and bag snatching are common occurrences in most, if not all, travel destinations. Kyrgyzstan is no different. There have also been reports of crimes like robbery, house and car break-ins, and vandalism.
Corruption and bribery are some of the biggest crimes in Kyrgyzstan. These kinds of crimes can be small-time bribes for parking tickets or delve deep into the world of organized crime. Either
way, we'd recommend that you be cautious of corrupt officials and any unsavory activity while in Kyrgyzstan or anywhere for that matter. Stay safe and stay legal.
Natural Disasters
Kyrgyzstan commonly experiences natural disasters which impact the country in different ways.
The country faces droughts, floods, land and mudslides, downpours, earthquakes, and avalanches. Natural disasters threaten the safety of locals, tourists, and wildlife, but it doesn't stop there. In a country that has a large agricultural sector, natural disasters are devastating to the land and, therefore, the economy.
The best way to be safe is to plan your trip. Watch for weather warnings and try to have an action plan should something happen. Stick with the locals and stay informed.
Drug and Human Trafficking
Did you know that Kyrgyzstan is a "transit country"? Transit countries are stops on routes from one country to the other, used in organized crime operations like human and drug trafficking.
Drugs are manufactured and prepared in one place and are transported through Kyrgyzstan to other countries. This is possible due to poor border patrol at some locations and corrupt officials giving the okay for smuggling. The domestic use of drugs in Kyrgyzstan is much lower than the trade of it.
Human trafficking in Kyrgyzstan occurs when people are forced into jobs in neighboring countries. Transnational criminal networks use and trade people (be it by choice or against their will) in different fields (agriculture, construction, domestic, and even sexual). While locals are more at risk for human trafficking, as a tourist, you should still be cautious.
Radioactivity
Back in the day, while part of the Soviet Union, Kyrgyzstan processed and stored Uranium. To this day, there are countless waste sites in areas like Mailuu-Suu. People who live there, along with the land, buildings, and air, are all subjected to radioactive exposure.
Being in an area with high levels of radioactivity has severe long-term effects like cancer. Many residents in these areas are diagnosed with cancer due to their prolonged exposure to radioactive materials.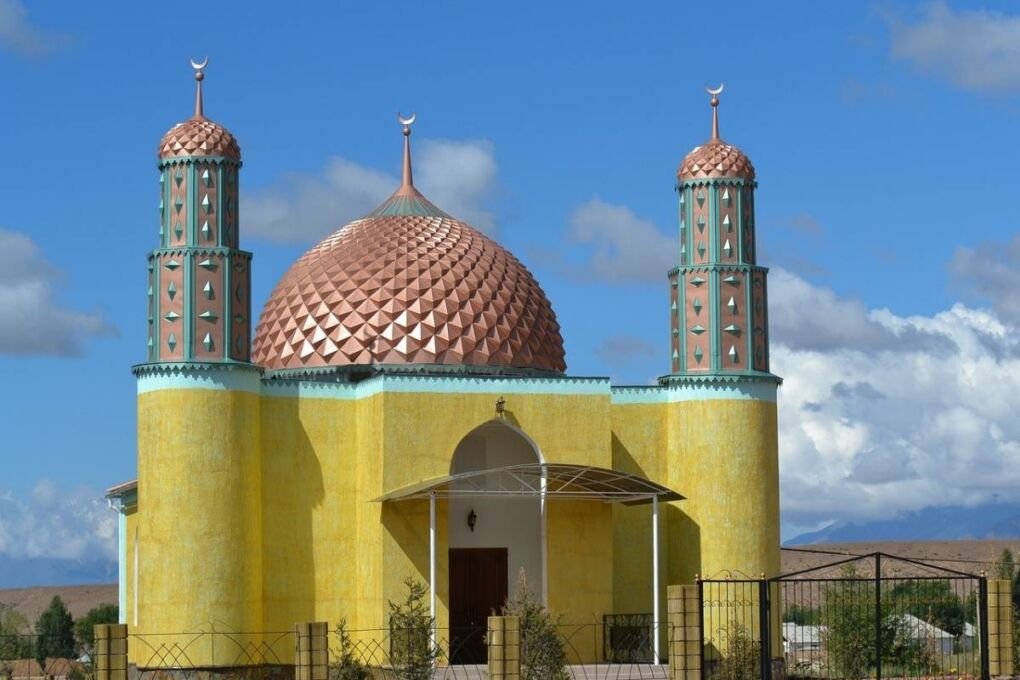 Tips for Staying Safe in Kyrgyzstan
Kyrgyzstan offers a fairly safe getaway. As with any trip, it is useful to remember a few things to keep you safe while enjoying the sights. Here are a few tips to hold dearly:
Plan ahead and wisely: Doing research on your travel destinations is an invaluable hack. Coordinate your trip with your desired season, stay up to date with news on the country, note the safe areas and dangerous ones, and stay organized to avoid any mishaps.
Always carry identification: As a tourist, you should always carry your passport. Officials could stop you at any time, and if that happens, you will easily be able to validate your identity and visa status.
Steer clear of demonstrations: Should a protest or any kind of demonstration occur, you should try to keep as far away from it as possible. Staying away from demonstrations ensures that you won't be physically hurt (in the demonstration or by police) or, worse, detained/arrested.
Be alert and aware of your surroundings: Regardless of how safe or unsafe a place is, always stay alert. Watch your belongings, don't flash your cash around, be cautious at atm's, watch your drinks, and don't wander off at night by yourself.
Pack a diverse wardrobe:

The weather could change at any moment, and it's highly advised to be prepared. If you're traveling in the summer months, packing a light jacket is wise. Pack a sturdy pair of hiking boots or trainers for those tranquil strolls.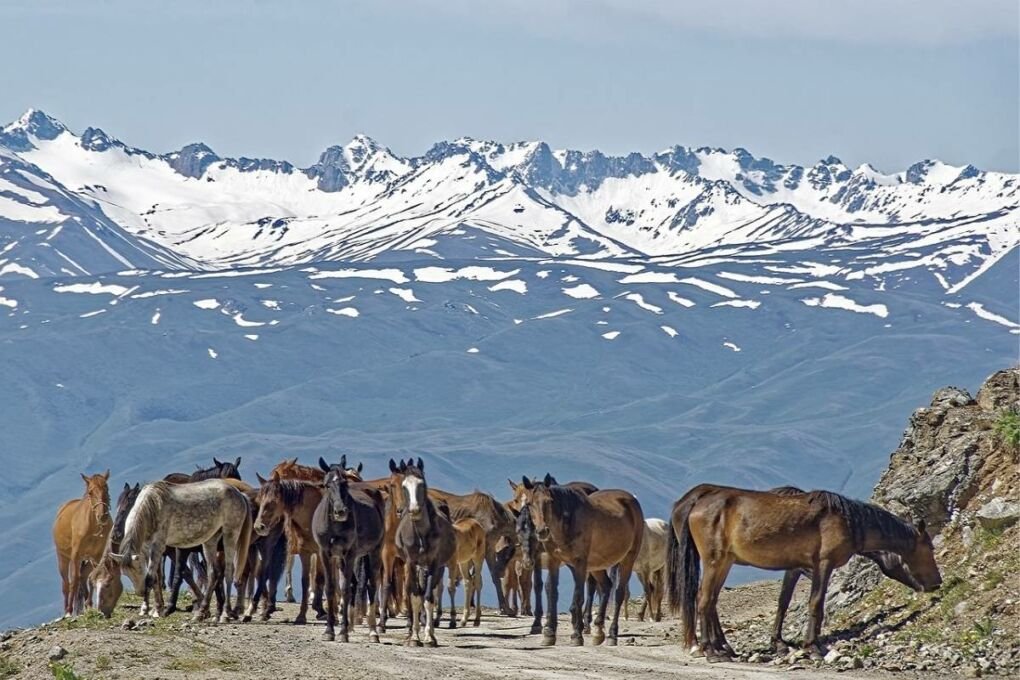 Is Kyrgyzstan Safe | Frequently Asked Questions
Do I need a visa to travel to Kyrgyzstan?
Depending on where you're from, you might be able to travel to Kyrgyzstan without a visa. Citizens from certain countries do not need a visa at all, while some are allowed to visit Kyrgyzstan for up to 60 and 90 days, respectively.
You are able to obtain a Visa upon arrival at the Manas International Airport (which will be valid for a certain amount of time, depending on your country of origin).
What languages are spoken in Kyrgyzstan?
The people of Kyrgyzstan speak different languages. Although not in abundance, you will find English speakers, especially those in the tourism sector. Kyrgyz and Russian are the official languages of the Kyrgyz Republic and are spoken by most nationals. There are additional languages spoken by certain groups/sectors, such as the Turcik Uzbek.
Is it safe in Kyrgyzstan at night?
Where you stay will influence how safe it will be for you to wander around at night. While Kyrgyzstan is generally safe, it is best not to walk around late at night, especially not all by yourself.
If you do end up having a night out, make sure to know where you are and which roads and establishments are safe at night. It is safest to be in a group and preferably with a local to direct you.
What vaccinations are required to visit Kyrgyzstan?
Before traveling to Kyrgyzstan, you need to get your routine vaccinations (Chickenpox, Influenza, Measles-Mumps-Rubella, Polio, Diphtheria-Tetanus-Pertussis, and shingles). It is also required that you are up to date with your COVID-19 vaccinations.
Hepatitis A and B vaccinations are also recommended in addition to vaccinations for Tick-borne Encephalitis, Typhoid, and Rabies (if you plan on being around wildlife).